New River Trail: Hike or Bike This Scenic 57-Mile Rail-Trail in Southwest Virginia
The 57-mile New River Trail is the centerpiece of New River Trail State Park, a wildly scenic linear park in Southwest Virginia.
Across the length of the New River Trail, you'll cross 32 trestle bridges and go through two railroad tunnels. You'll also enjoy scenic New River Valley views.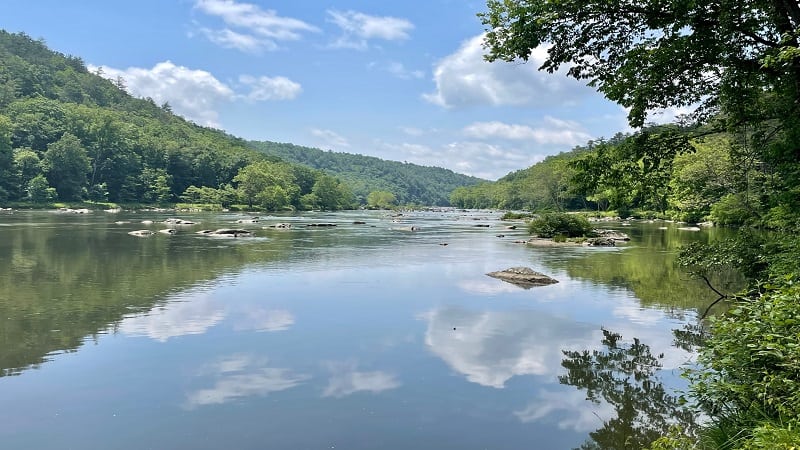 The trail is open to cyclists, walkers and horseback riders. Multiple access points make it a cinch for visitors of all ages to enjoy this beautiful rail-trail.
Of note, Virginia State Parks is currently working to restore or replace all the bridges on the trail. At times, this may necessitate closure of trail sections.
With this in mind, it's wise to consult the park website or contact the park by phone for updates on potential closures.
Biking the New River Trail
The New River Trail is a wide trail made of crushed limestone. It's great for a casual stroll, but it's even better if you want to go for a bike ride.
I biked the entire trail from end-to-end, but since there are many parking lots, including horse trailer parking, you can start or end where you like.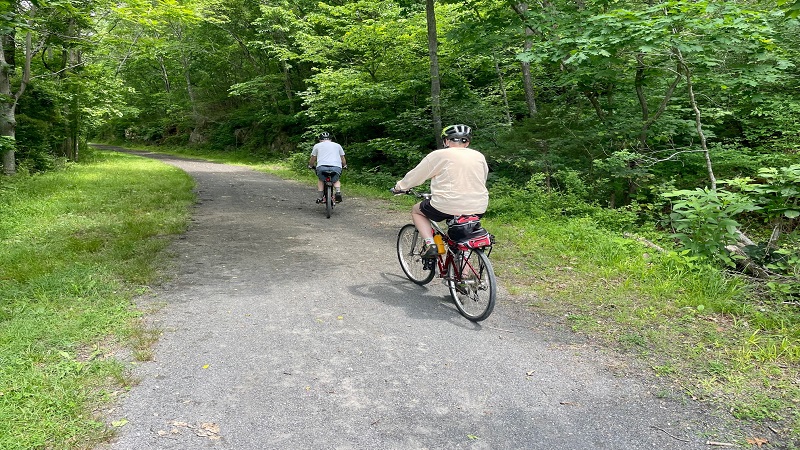 The New River Trail State Park map breaks out the trail into 16 segments that range from 1.2 miles to 6.4 miles.
There are benches, picnic tables and restrooms (vault toilets and porta-potties) all along the rail-trail.
The trail crosses over several roads and private driveways, but there are no large or dangerous street crossings that can be troublesome.
New River Trail Segments
The park map identifies trail segments from south to north, but I explored this trail by bicycle from north to south, starting in Pulaski.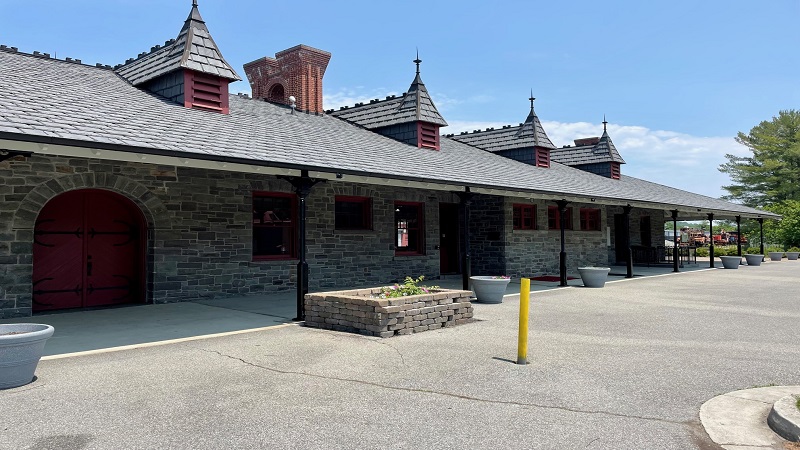 There are two ways to begin this trail from Pulaski. One way is to begin at the historic train station, which was first built in 1888, via the 2.5-mile Dora Trail.
It's both free and legal to park here overnight if you plan to bike a stretch or the full trail and overnight at a park campground or in one of the trail towns.
Before you begin, stop in the Ratcliffe Transportation Museum for artifacts and exhibits that share the culture and history of Pulaski, a former railroad town.
Inside, you'll also find an impressive model train display that wows with a size of 80 feet long by 26 feet wide. The display depicts mid-1950s Pulaski.
Outside, there's a LOVE sign, which was installed in September 2022. The work of art represents the area's train heritage, wildlife and recreational activities.
On nice days, look for a food truck in the parking lot called Lizard Licks Snowballs, which sells refreshing shaved ice treats in downtown Pulaski.
Dora Trail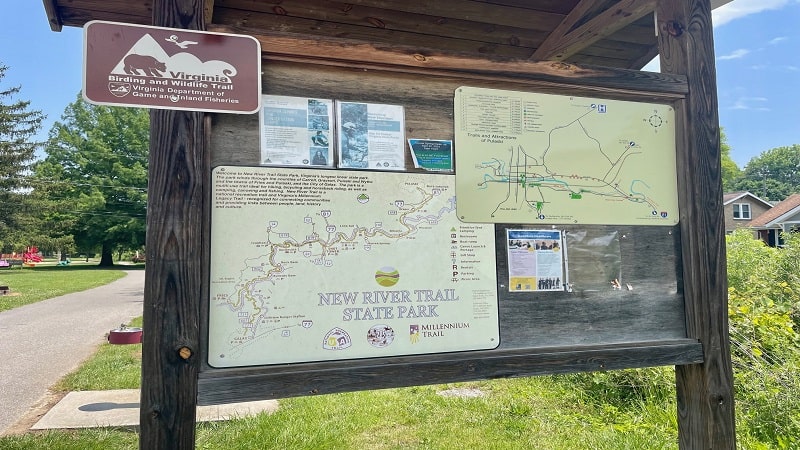 The trailhead for the Dora Trail is located on the east end of the parking area at the historic train station, which was rebuilt in 2011 after a fire in 2008.
Of note, there is a farmers' market that takes place in the parking lot of the train station on Tuesday evenings from April through September.
At the trailhead, you'll see a large kiosk with a map of Pulaski's attractions, as well as a map of New River Trail State Park.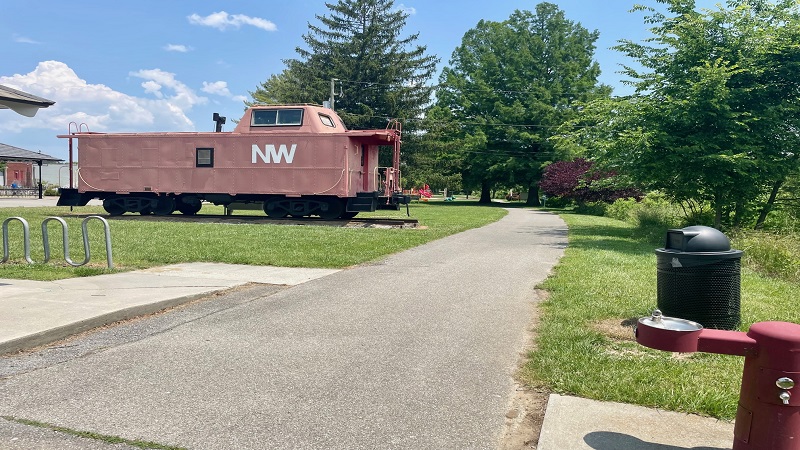 Just past the kiosk, there's a historic train car on the left side of the trail. There's also a water fountain and a playground.
In 0.8 miles, you'll reach Cool Springs, then Heritage Park, which has a picnic shelter, a playground and a pollinator garden to attract butterflies and bees.
The trail terrain also changes from paved asphalt to gravel as you sidle up against Peak Creek. A new bike park soon turns up on the left side of the trail.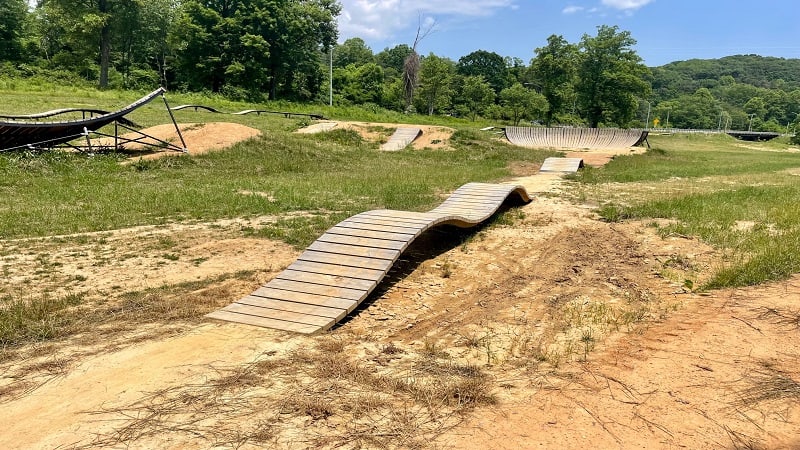 This bike skills park was opened in October 2022 and features more than 35 wooden features, like ramps, jumps and bridges.
Continue on, then ascend and loop until you reach the start of the New River Trail. There is a trail kiosk. Turn left here for the New River Trail.
If you were to turn right, it would be a short ride to the Dora Junction.
Dora Junction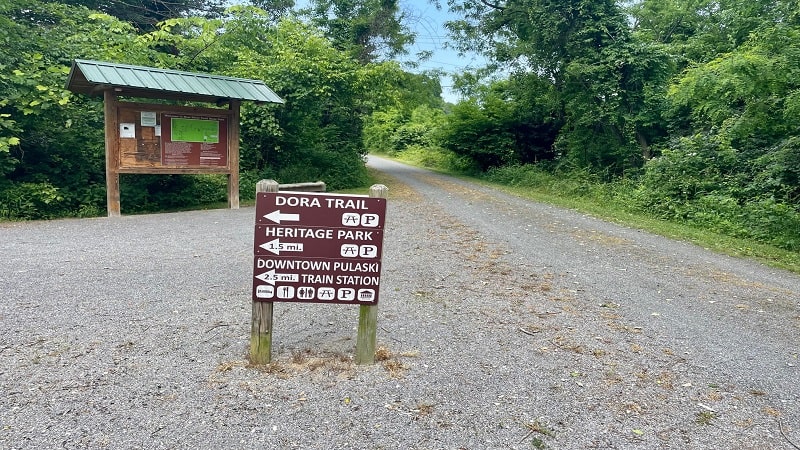 The second way to start on the New River Trail is from the Dora Junction trailhead, which is located just off Main Street in Pulaski.
Here you'll find picnic tables and restrooms. However, overnight parking is not allowed at this trailhead.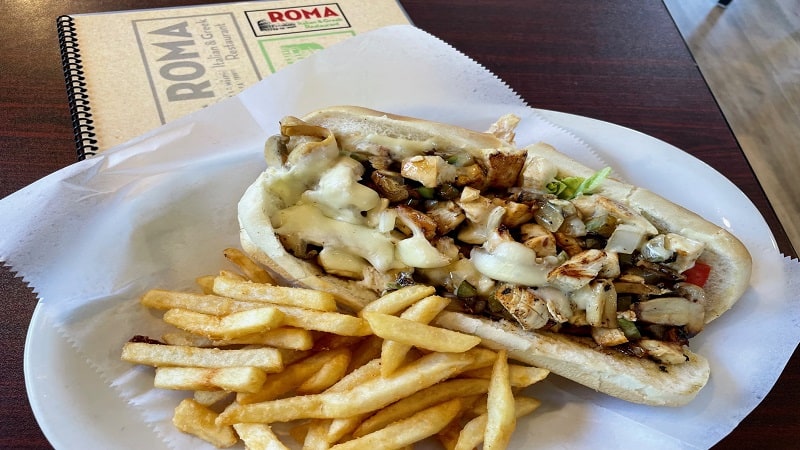 The Dora Junction trailhead is a stone's throw from sit-down restaurants, like Roma, as well as a McDonald's, a Food Lion and a Dollar General.
The New River Trail begins on the east end of the parking lot. From here, it's no more than one mile to where the New River Trail meets the Dora Trail.
Dora Junction to Draper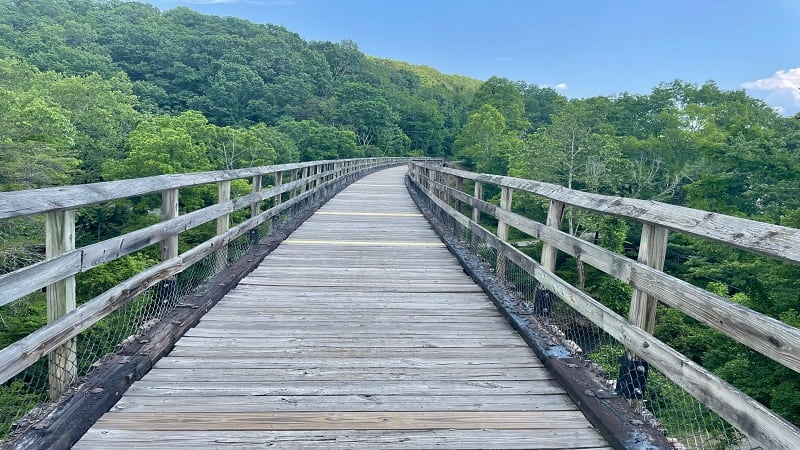 This 4.2-mile section of the New River Trail begins with a ride over the first of 32 trestle bridges. This one runs over Peak Creek.
Keep your eyes open. Within 0.5 miles, you'll see on the left the only original railroad crossing signal that remains on this scenic rail-trail.
Continue on and you'll reach a series of sculptures that work together to create what's called the "Ghost Train." It turns up on the right side of the trail.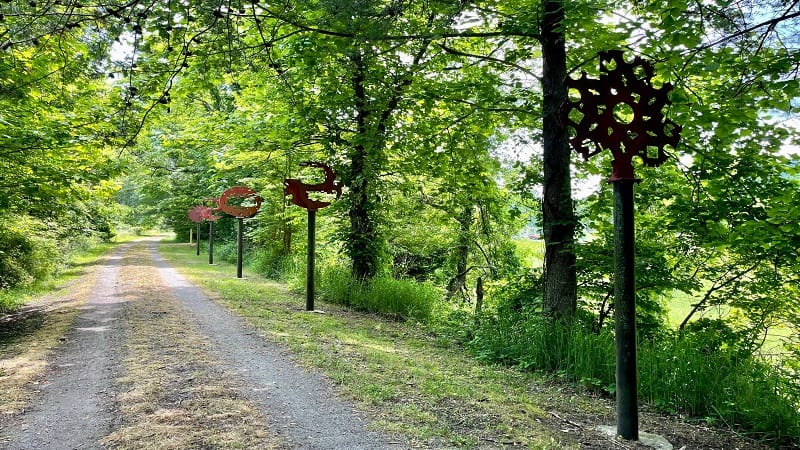 The idea is that when you view the sculpture through one of the telescopes on either end the five metal cut-outs look like a train coming down the track.
At the end of this stretch, you'll reach the tiny hamlet of Draper. Just steps from the trail on the right is Draper Mercantile.
Draper Mercantile is open from 8 am to 3 pm Tuesday through Sunday. There's a restaurant, a coffee shop, a candy case and plenty of adorable gifts.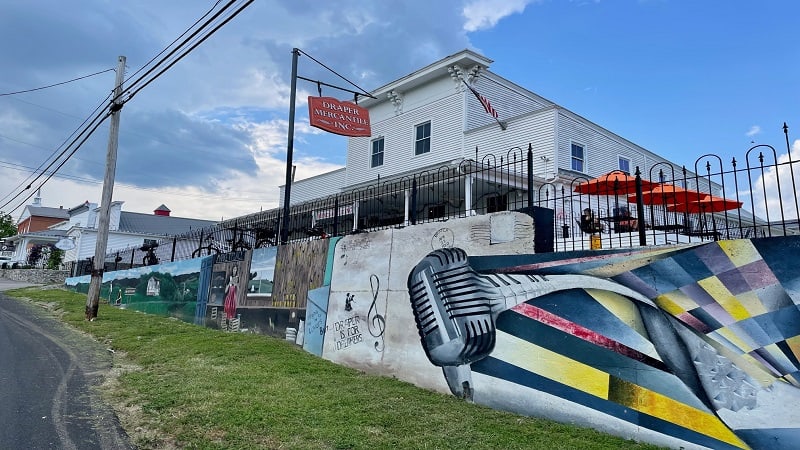 They also rent bikes if you want to park at Draper Mercantile and bike a little ways along the trail in either direction.
Draper to Hiwassee
From Draper, it's 4.0 miles on the New River Trail to Hiwassee. Shortly, you'll cross another trestle bridge, this time over Sloan Creek.
Get ready to enjoy big views across bucolic farmland as you cross the bridge. Then, one more wooden bridge as you curve alongside the New River.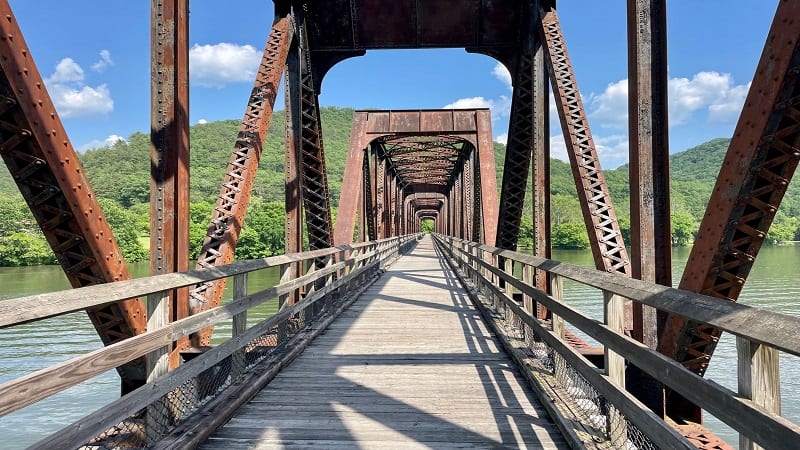 The views are fantastic, but the best is yet to come. As in, the Hiwassee Bridge, which crosses over the New River.
This 951-foot-long wood and steel bridge is one of three major bridges you will cross as you traverse the New River Trail. It's quite a beauty, too.
Once you reach the other side, carefully cross over Julia Simpkins Road at the crosswalk. You'll see a parking lot, then a picnic table, on your right.
Hiwassee to Allisonia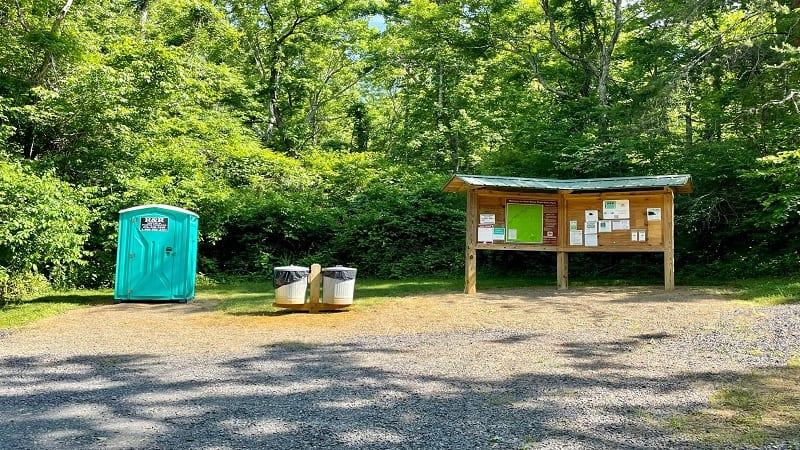 Continue on and you'll soon see a sign for the Hoover Mountain Bike Trail, a system of seven mountain biking trails that range from 0.15 to 1.1 miles.
Just left there is a dedicated parking lot for the trails that includes a porta-potty and a picnic table. There is also a trail kiosk with a trail map.
To the right of the trail kiosk is the start of the Miner's Loop Trail. In total, there are just over three miles of easy and moderate mountain bike trails.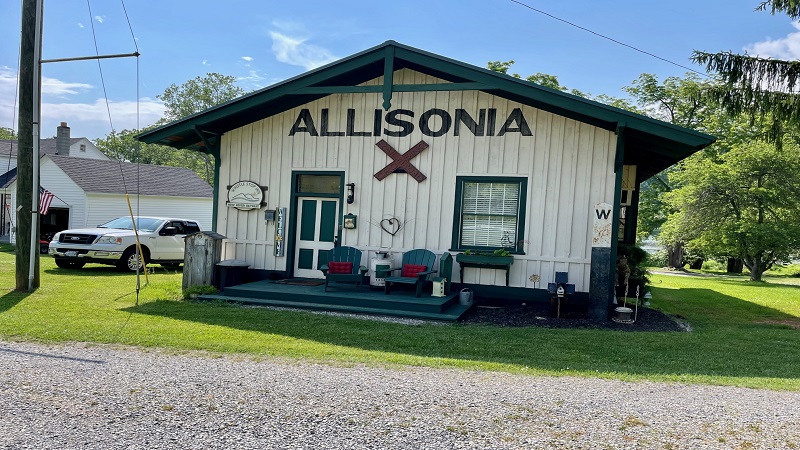 Shortly, you'll reach Allisonia, which once was home to five iron mining companies. A one-time train depot in Allisonia is now a vacation cottage.
It's easy to spot too since it reads "Allisonia" in big letters and is decorated with a railroad crossing sign. The cottage rental is called the Whistle Stop Inn.
Allisonia to Lone Ash
Near the start of the 6.4-mile stretch between Allisonia and Lone Ash is the Big Reed Trestle, which crosses over Big Reed Island Creek.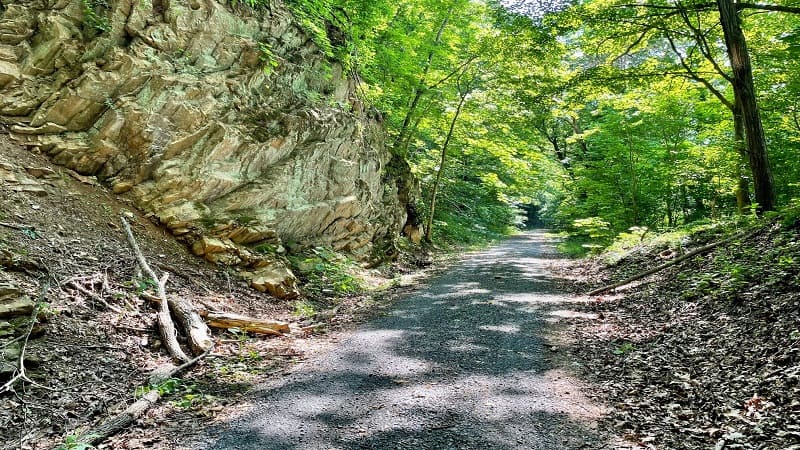 This section of trail is unique in that you'll see sandstone cliffs on either side, as if the railroad needed to forge a path through a very rocky section.
Continue on and you'll soon exit Pulaski County as you cycle along this mostly shaded stretch of rail-trail. When you do, you'll see a wooden bench.
Pass under the Calfee Memorial Bridge, which allows State Route 100 to pass over the New River. At Lone Ash, there's a picnic table and a vault toilet.
Lone Ash to Foster Falls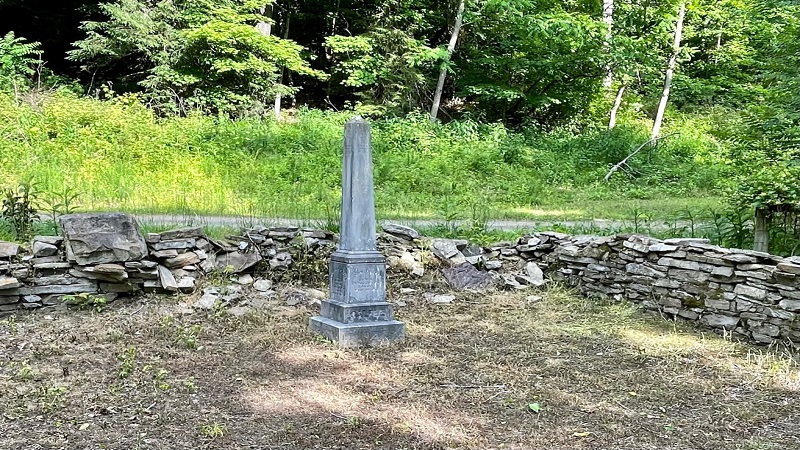 On this next 5.0-mile stretch, you'll soon see the Calfee Cemetery on the left side of the trail. John Calfee, the first mayor of Pulaski, was lain to rest here.
Your next stop is Foster Falls, which is home to the 10-room Inn at Foster Falls, a gift shop, boat and bike rentals, a playground and a campground.
Millrace Campground has 21 primitive camping sites adjacent to the New River. This campground is for tents only. As in, no RVs or travel trailers.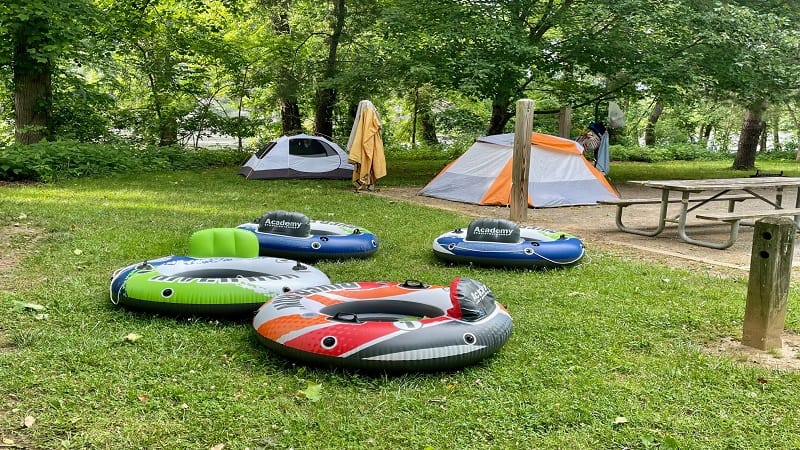 The Foster Falls Livery rents bikes, canoes, kayaks and tubes. They can also shuttle you up or down the river to paddle back to the shop on the New River.
The Inn at Foster Falls offers a continental breakfast, as well as an afternoon dessert social with such treats as sticky toffee pudding. Delicious.
There is also a pantry in the lobby that sells trail snacks, like breads, crackers and nuts, as well as chicken salad and pimento cheese.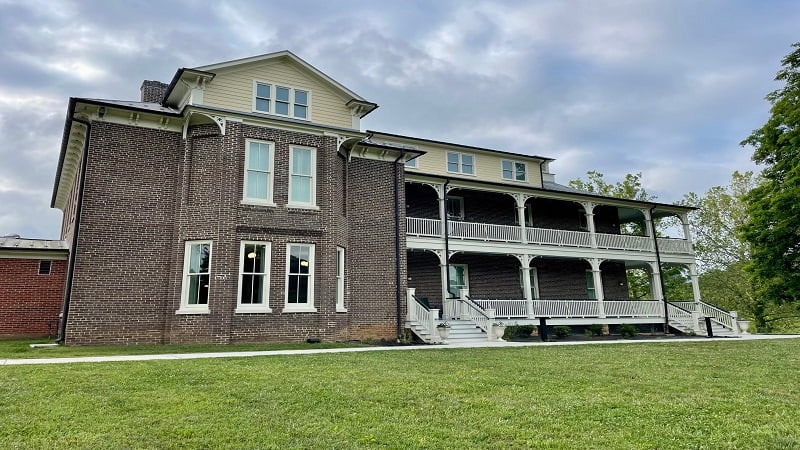 Lots of parking is available if you want to begin walking or biking the New River Trail from here. Foster Falls is also the site of various ranger-led programs.
Foster Falls to Shot Tower
It's a 1.2-mile ride to Shot Tower Historical State Park, which features the 75-foot-tall Shot Tower. The Shot Tower made shots (small pellets) for shotguns.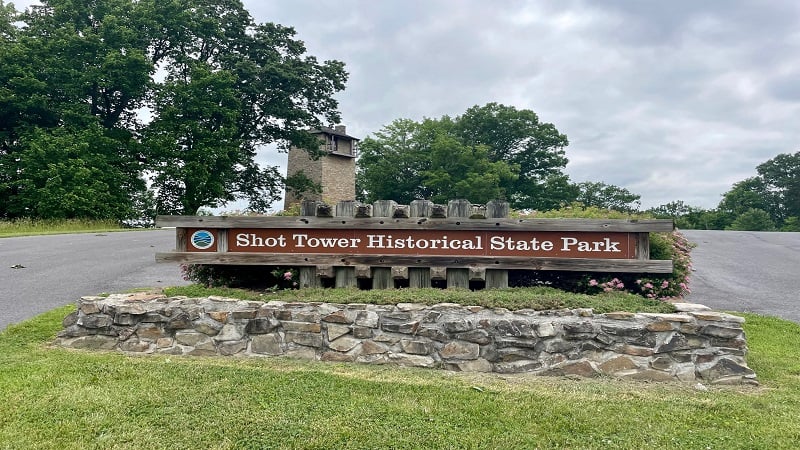 The Shot Tower is one of three that remain in the United States. In 1981, the tower became a historic landmark. It is now managed by Virginia State Parks.
You can access the historic Shot Tower by way of a staircase that is steps from the New River Trail. Note, it's too steep to carry your bike to the top.
Alternatively, take the gravel path to the left of the staircase, then turn right onto Pauley Flatwoods Road and circle around to the parking lot.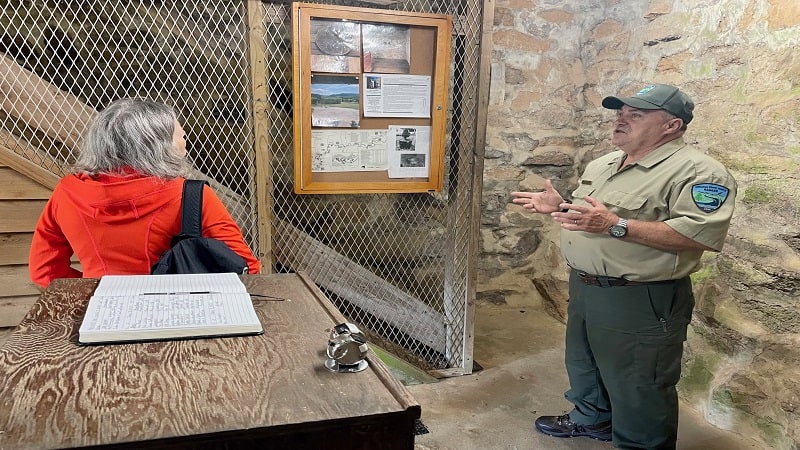 Often you'll find a park ranger on-site who can give a short overview of the Shot Tower. You can also climb the stairs to the top of the historic tower.
Shot Tower to Austinville
Once back on the New River Trail, continue west and bike under Interstate 77, a major north-south thoroughfare in Southwest Virginia.
The trail continues to follow along the New River to Austinville, which was once home to lead mines that were key to the economic success of the region.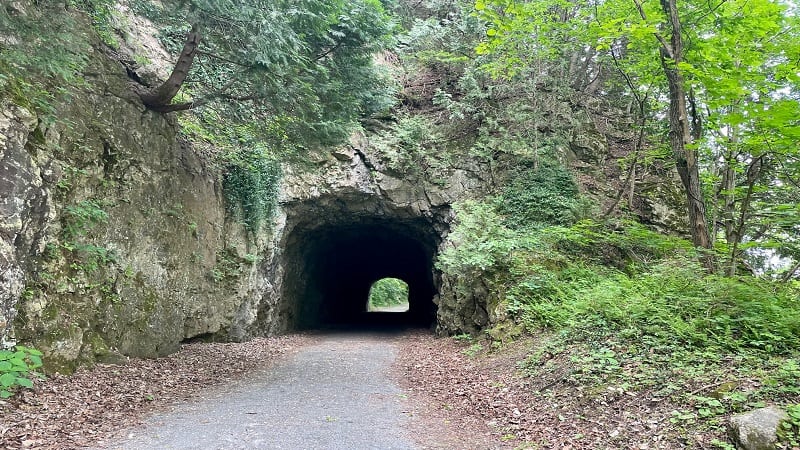 You'll cross a trestle bridge over Buddie Branch. Then, a tunnel. This short tunnel is the first of two tunnels you'll bike through on the New River Trail.
As you exit the railroad tunnel, look up to see yellow chains hanging from a post. During the railroad days, these would be leather straps instead of chains.
They were a warning system to workers working on top of the train car while in motion. If they get brushed by the straps, they were approaching a tunnel.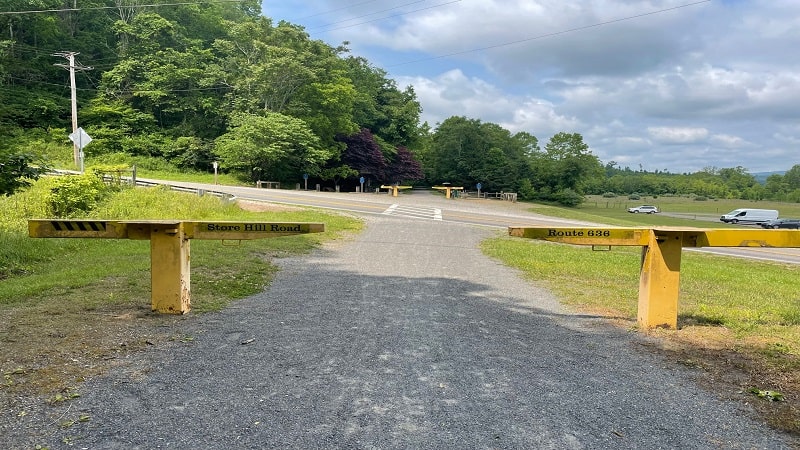 Cross over Store Hill Road and you'll see the parking lot on the right. On the left is a trail kiosk with a map and two shaded picnic tables.
Austinville to Ivanhoe
As you continue on this next 2.8-mile stretch, you'll see what appears to be retired mining equipment on the right, though there is no signage.
Cross over a scenic trestle bridge. On the other side, look for signage for the Ivanhoe Birding Trail on the left side of the rail-trail.
You will see two brand-new shaded picnic tables, as well as a grassy trail that sets off to the left of the picnic tables.
The trail loops 1.5 miles through native and pollinator-friendly grasses and plants. It's also quite sunny, so bring sunglasses.
As you walk past the picnic tables, you'll see trails that go left and right. The right trail is the loop, but the left trail leads to river's edge for bridge views.
There is no signage, but the park hopes to add signs to the birding trail in the coming year. You'll soon reach the first of two parking lots for Ivanhoe.
The second is just after you cross the 670-foot-long Ivanhoe Bridge. From this parking lot you can see remains of the Ivanhoe Furnace.
Ivanhoe to Buck Dam
The next stretch is 3.1 miles. This forested section leads to Buck Dam, which was built in the early-1900s by the Appalachian Power Company.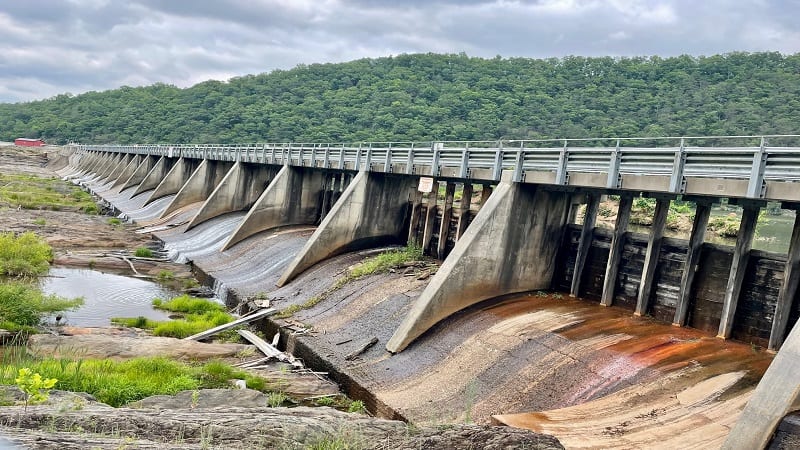 Buck Dam is a 42-foot-tall concrete dam with a 1005-foot-long spillway. I didn't see much water flowing, but it's still used to generate hydroelectric power.
The dam is gated off now, but it's still a site worth a stop on the New River Trail. There's also a trail kiosk and a small parking lot.
Buck Dam to Byllesby Dam
Just upriver you'll see another dam, the 64-foot-tall concrete dam called Byllesby Dam that is also still used to generate hydroelectric power.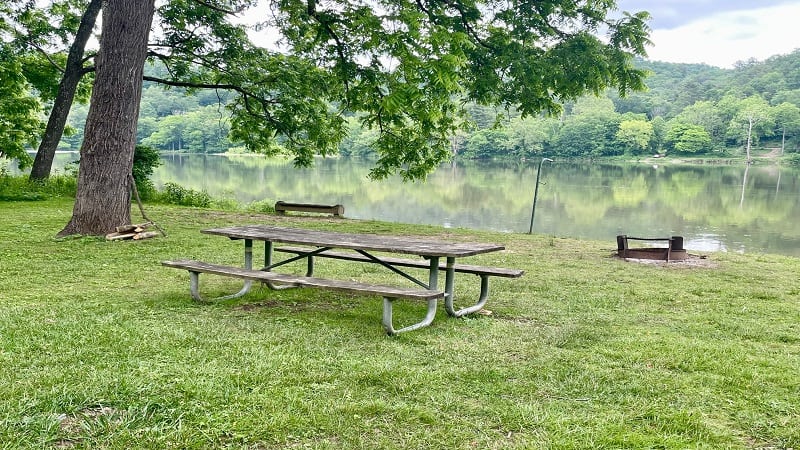 But first, you'll reach a pleasant picnic area at river's edge that has picnic tables and grills, as well as a few wooden benches.
The Byllesby Dam is just 2.6 miles further up the trail from Buck Dam. It's also worth a stop for this historic landmark that dates more than 100 years.
Byllesby Dam to Fries Junction
It's just 2.5 miles from Byllesby Dam to Fries Junction, which is where you'll find a split in the trail, sending the trail to both Fries and Galax.
On the way, you'll cross over Brush Creek. You'll also see picnic tables with river views that make great spots to stop if you packed a lunch.
From Fries Junction, it's 12 miles to Galax and 5.5 miles to Fries. There's also a shaded picnic table and a vault toilet at Fries Junction.
Fries Junction to Gambetta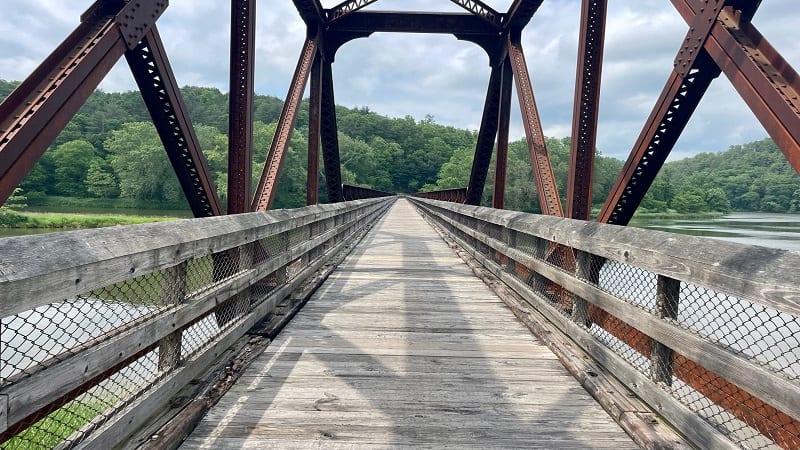 Tackling the longer segment first, get ready to cross over the 1,089-foot-long Fries Junction Bridge. You'll then reach the second tunnel on the trail.
It's quite dark too and there are no lights inside the tunnel, so turn on your bike light. You may even want to walk your bike.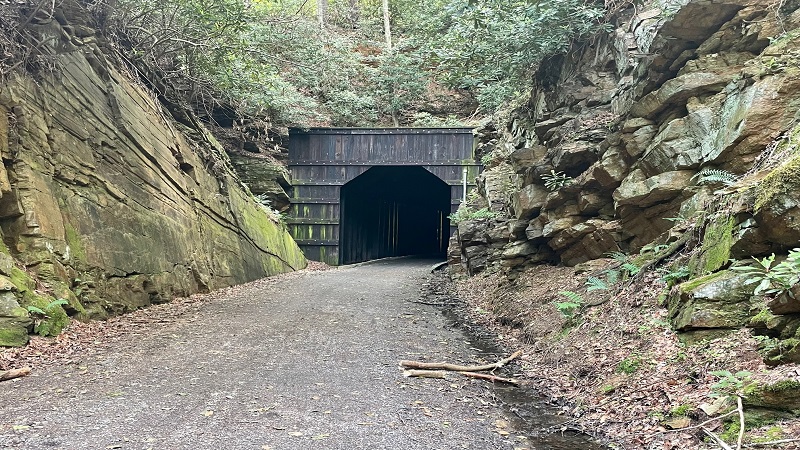 As you continue on this 2.5-mile section, enjoy the views of cascading Chestnut Creek on the left side of the trail. There's also a bench.
There is a parking lot where the rail-trail intersects State Route 793.
Gambetta to Chestnut Yard
Continue biking alongside Chestnut Creek and you'll soon reach a trestle bridge that guides you over Chestnut Creek.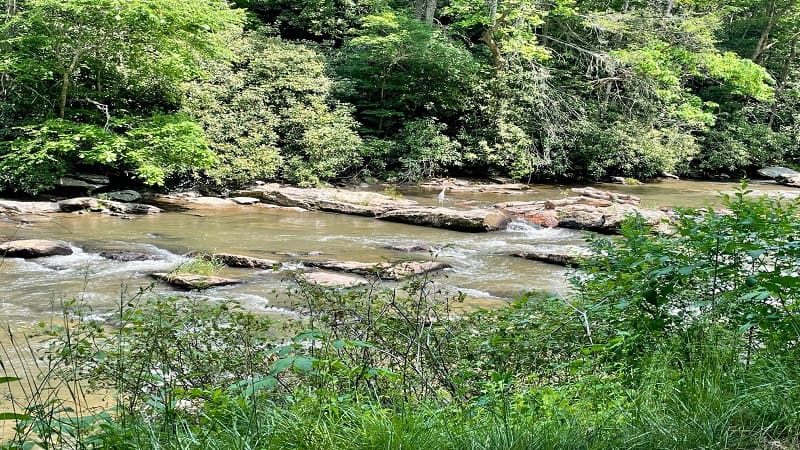 It's a fairly straightforward section of rail-trail through the forest until you reach Chestnut Yard.
Cross over Iron Ridge Road and you'll see a small parking lot. It's got room for just a handful of cars, maybe three or four cars.
Chestnut Yard to Cliffview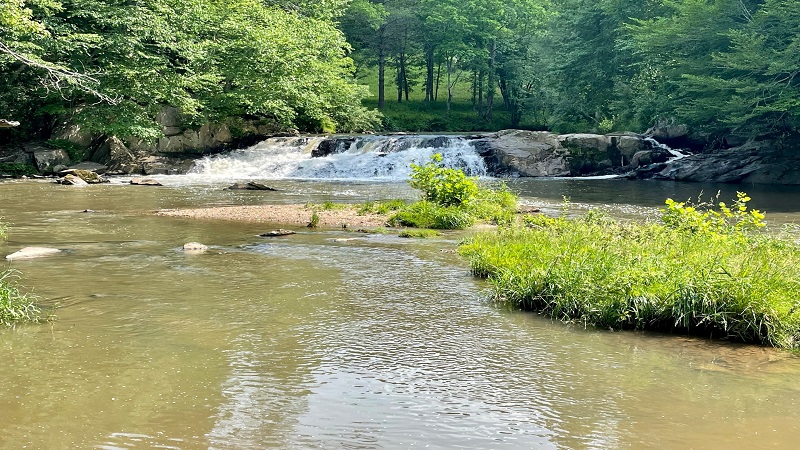 On this next 4.0-mile stretch, get ready to be wowed by Chestnut Creek Falls. A shaded picnic table allows for fantastic views of the cascades.
You'll then cross over Chestnut Creek one more time on a trestle bridge. Be prepared to stop now and again since there are plenty of nice creek views.
As you near Cliffview, you'll first reach Cliffview Campground, which has 12 primitive camp sites. Interestingly, there are no actual cliff views.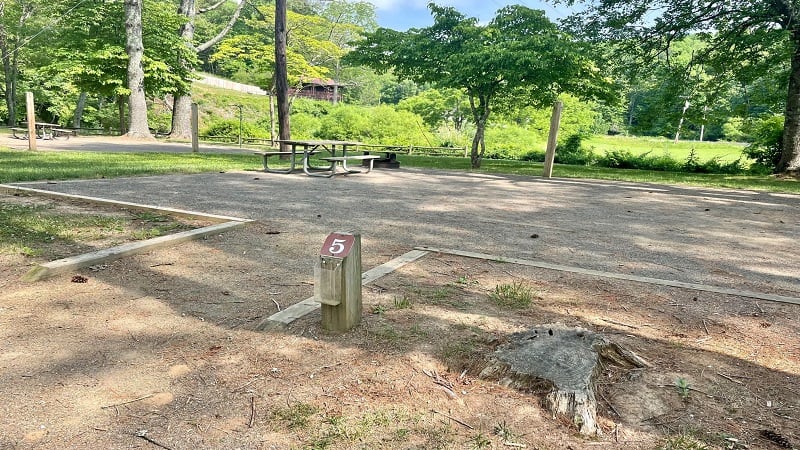 You'll also see Dannelly Park, a green space in Galax with a playground, a super-size parking lot and plenty of spots to drop in a fishing line.
Continue on to reach Cliffview, which has a parking lot and a park office with an on-duty ranger and a gift shop for souvenirs and refreshments.
Cliffview to Galax
This last segment is just 2.2 miles and includes at least two trestle bridges. You'll continue riding alongside Chestnut Creek until you reach the terminus.
Along the way, you'll pass New River Trail Cabins, which is home to 12 cabins. I stayed in the "Three's a Crowd" cabin, which boasts river and trail views.
To be honest, it's a pretty ideal place to stay if you are planning to walk or bike along the New River Trail. You literally can't get any closer to the trail.
At the terminus in Galax, you'll see a red train car (that matches the one in Pulaski) as well as an artistic bass fiddle that celebrates the town of Galax.
Fries Junction to Fries
Rewind back to Fries Junction and you can bike the 5.5 mile route to Fries. This delightful section closely follows the New River.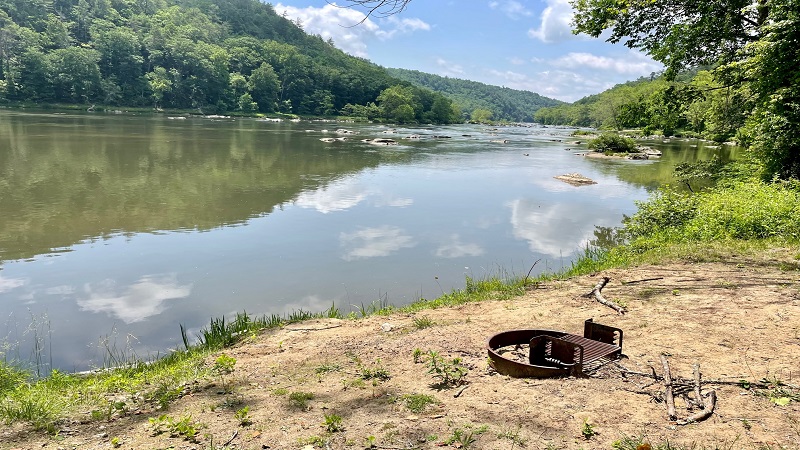 Your first stop is the Double Shoals Campground, a small campground with just two primitive camping sites. It's right on the river and boasts great views.
There are several benches along the way so you can take a seat and take in the river views. As you close in on Fries, note New River Outdoor Adventures.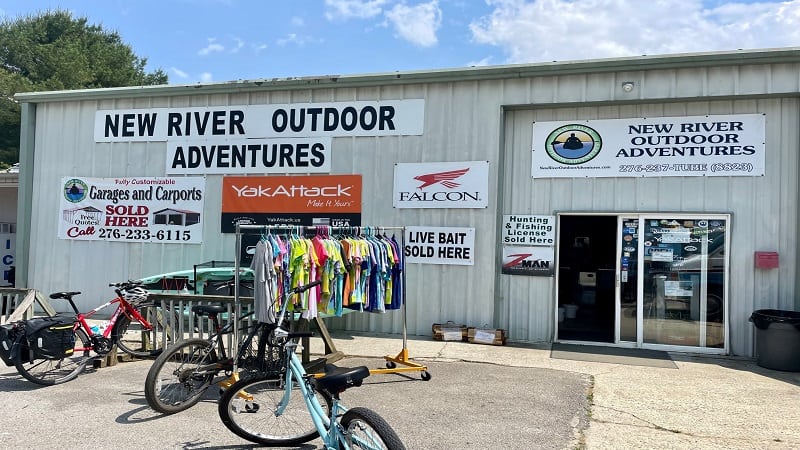 You can rent kayaks, canoes, inner tubes and bikes. The outfitter also runs a shuttle service if you want to go up or down the trail or river. Pedal or paddle back.
I booked a kayak for a two-mile scenic float, which was perfect. The outfitter dropped me off in Fries and I paddled my way back to the outdoor shop.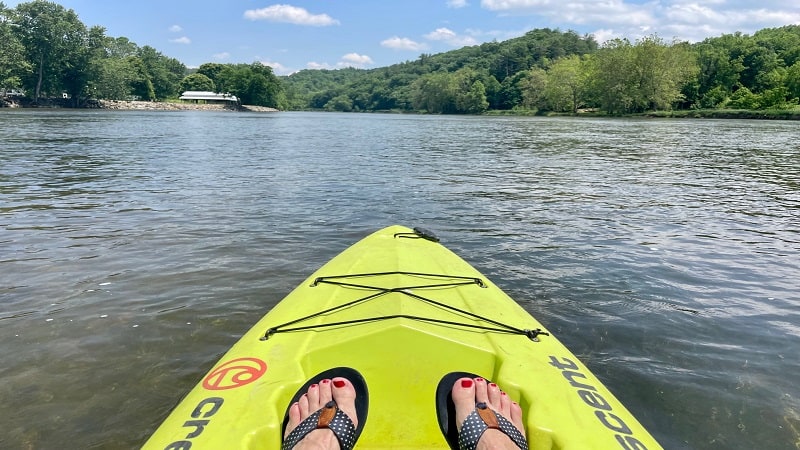 Next door to the outfitter is a gas station and a convenience store with a grill that sells burgers, hot dogs, subs and salads, as well as breakfast sandwiches.
If you continue past the outfitter to the terminus in Fries, you will arrive at Fries Park, which has a playground and riverfront picnic tables.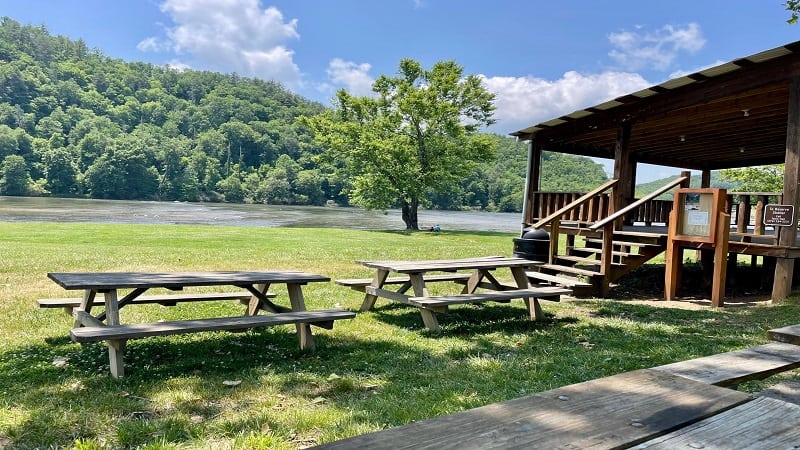 At Fries Park, you'll also find The Frosty Monkey for ice cream and snow cones, as well as Windy River Café.
Trail Towns
In addition to Pulaski, which has museums, sit-down restaurants and murals, as well as the historic Jackson Park Inn, there are other trail towns to explore.
Namely, Galax and Wytheville. Galax is at the south end of the trail, while Wytheville is an easy 25-minute drive from the north trailhead in Pulaski.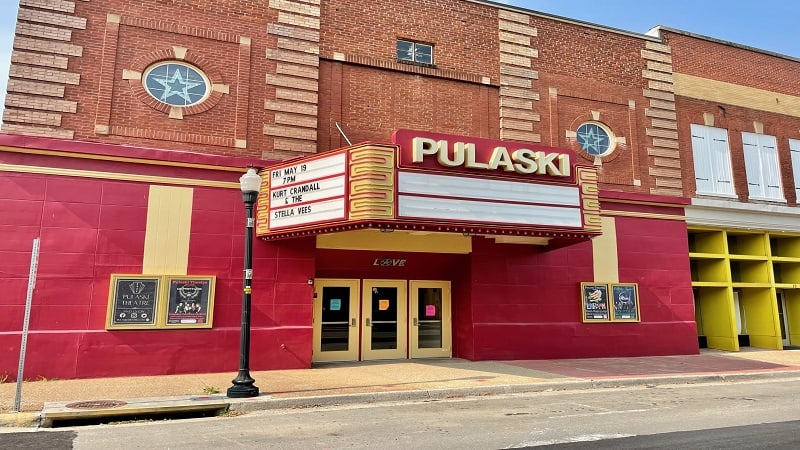 These trail towns have charming Main Street culture, including cute cafes, coffee shops, restaurants and historic attractions.
Both towns also have a variety of accommodations options, from cabins and campgrounds to budget motels and historic hotels.
Wytheville
A short drive from the New River Trail, there's a lot to love about Wytheville, a town named for George Wythe, a signer of the Declaration of Independence.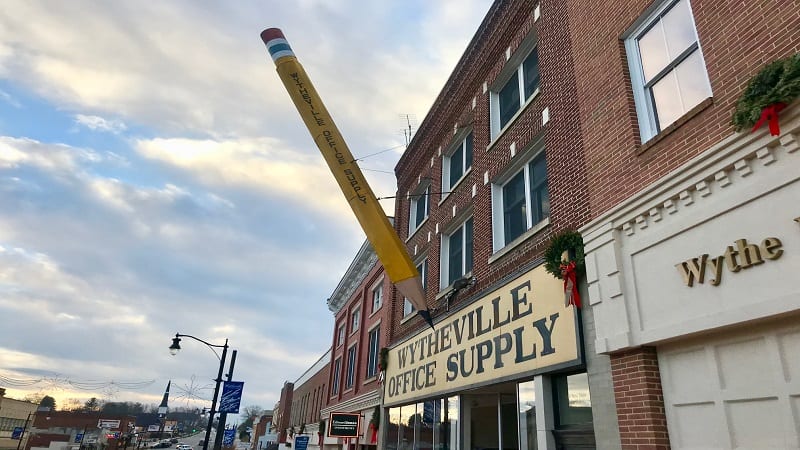 Wytheville has lots of cool attractions, too. Among them, a rainbow-painted hot air balloon water tower and the "Big Pencil" at Wytheville Office Supply.
From downtown Wytheville, it's also an easy 20-minute drive to Big Walker Lookout, a 100-foot-tall tower with mountain panoramas for miles.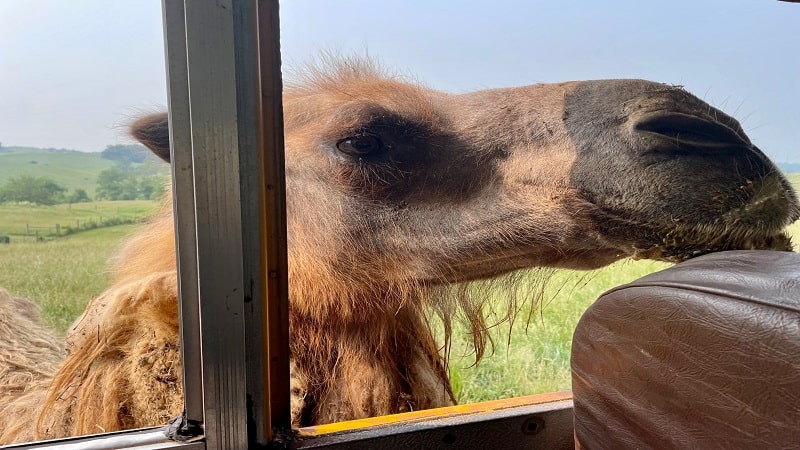 It's also a short drive to Fort Chiswell Animal Park (Puff the camel is an absolute riot), as well as West Wind Farm, a scenic vineyard and winery.
When you're hungry, look to Skeeter's World Famous Hot Dogs, as well as 7 Dogs Brewpub, which has great food and great beers.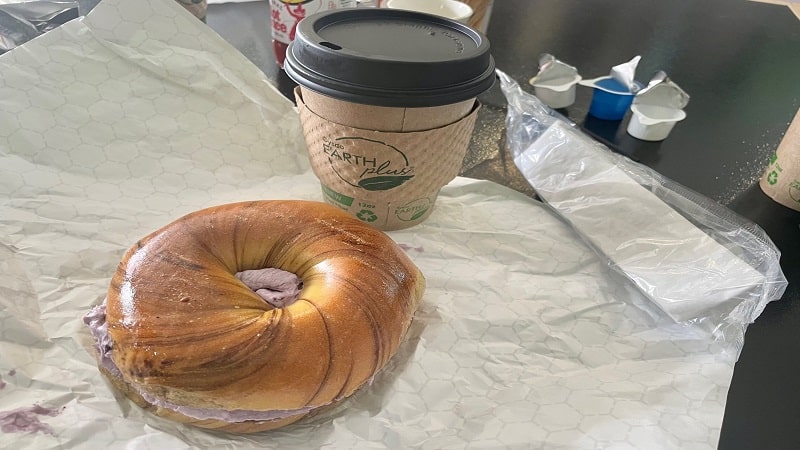 At Ghetti's Café, enjoy coffee, bagels (shipped in from New York, by the way) and salads, as well as create-your-own pasta plates.
Enjoy a glass of wine at Petals, which is both a florist and a wine bar. From here, the historic Bolling Wilson Hotel is just around the corner.
At the Bolling Wilson Hotel, settle in at The Perch, the hotel's rooftop bar with views across Wytheville and the Blue Ridge Mountains.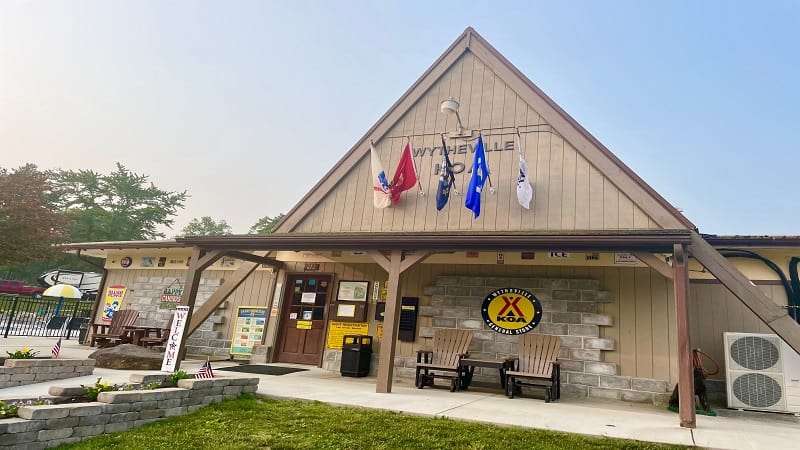 If you prefer a campground stay, the Wytheville KOA is just 10 minutes from downtown Wytheville. There's a pool, mini golf, a bowling alley and more.
Galax
Galax is best known for old-time music. In fact, Galax is home to the annual Old Fiddlers' Convention, which takes place in August.
Over a week, attendees are treated to plenty of old-time and bluegrass music. It's no wonder Galax is the "World Capital of Old Time Mountain Music."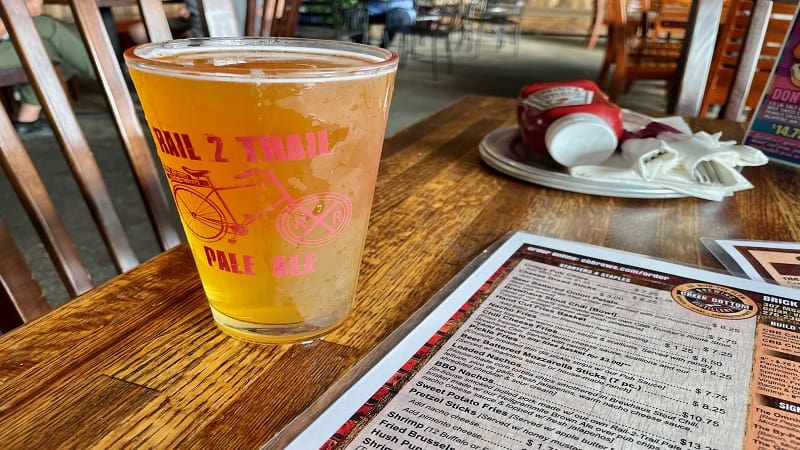 When you're ready to eat, you've got options. Creek Bottom Brewing Company is a favorite for lunch or dinner. Beer lovers, order the Rail 2 Trail Pale Ale.
For breakfast, I suggest Briar Patch Café on Main Street for delicious coffee and even more delicious breakfast sandwiches.
At lunch, their menu boasts an array of made-to-order sandwiches with names like Banjo BLT, Honky Tonk Club, Pimento Picker and New River Dip.
If time allows, stroll downtown Galax for shops like Tizzy Lizzy Grooming (dog treats, etc.) and Chapters Bookshop (they've got wine, too).
In town, you'll also find New River Trail Outfitters, which rents and sells bikes, including e-bikes. They also offer a trail shuttle service.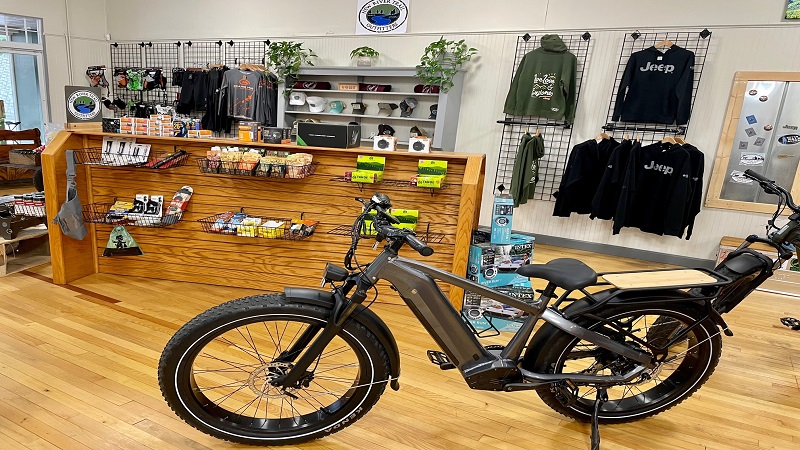 Stay the night at New River Trail Cabins, or book a room at the Hampton Inn in Galax. Both are great options for a stay-and-bike getaway.
New River Trail Trip Ideas
There are many ways to spend time on the New River Trail, but some sections are more scenic than others. Here are my top five recommendations:
#1: Fries to Fries Junction
Park at Fries Park for an 11-mile round-trip ride to Fries Junction. Consider picking up lunch at Windy River Café to eat at the picnic table at the junction.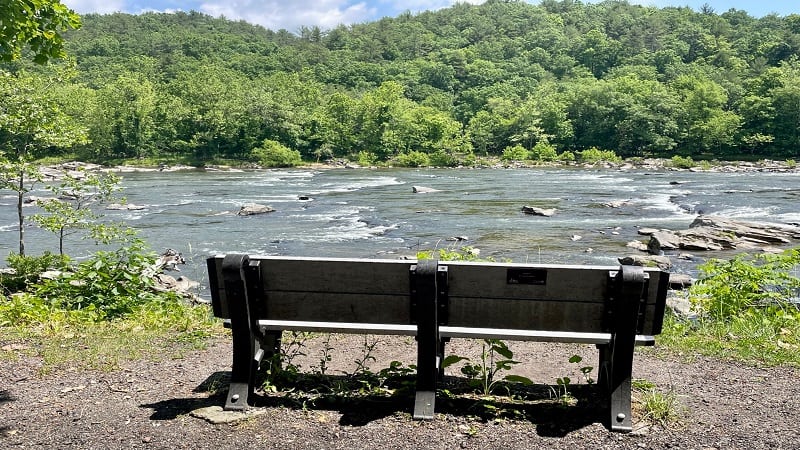 This route boasts loads of views across the historic New River. There are plenty of benches too when you want to take a break by the flowing river.
Stop at New River Outdoor Adventures to add a short paddle in a kayak or canoe to your itinerary. You can also arrange a float in inner tubes.
If you like, tack on an extra 1.6 miles round-trip from Fries Junction to Galax so you can cross scenic Fries Junction Bridge and go through a train tunnel.
Post-ride, treat yourself to a scoop at The Frosty Monkey at Fries Park to celebrate completion of this scenic ride.
#2: Draper to Allisonia
Park at Draper Mercantile and fuel up with breakfast or lunch before hopping on the New River Trail for this 12.8-mile round-trip ride to Allisonia.
Bring your own bike or rent a bicycle at The Junction in Draper. You'll cross several trestle bridges, including the 951-foot-long Hiwassee Bridge.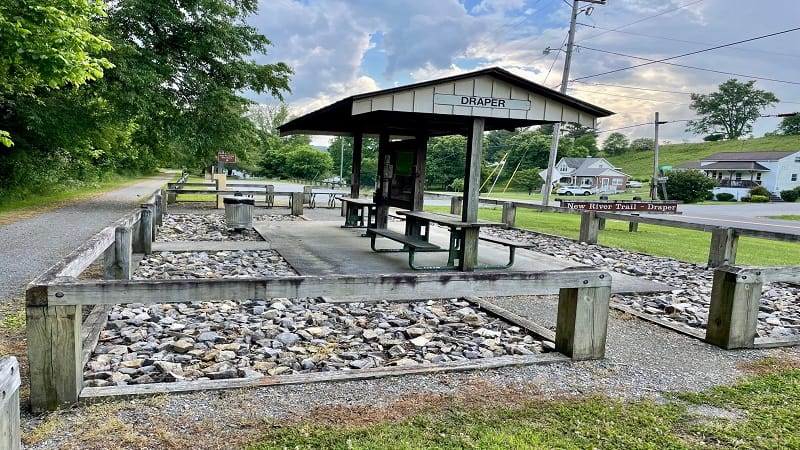 The pastoral views are beautiful. Stop and savor farmland vistas. Turn around at the Whistle Stop Inn. This one-time train depot is now a cottage rental.
It's easy to spot too since "Allisonia" is written on the outside in big letters. Post-ride, treat yourself to a well-deserved snack at Draper Mercantile.
#3: Foster Falls to Austinville
Park in the large parking lot at Foster Falls, which features historic buildings, bike rentals, a gift shop, a campground and the 10-room Inn at Foster Falls.
This 19.6-mile out-and-back ride to Austinville wows with its first stop at the 75-foot-tall Shot Tower. Enjoy a brief ranger program and climb to the top.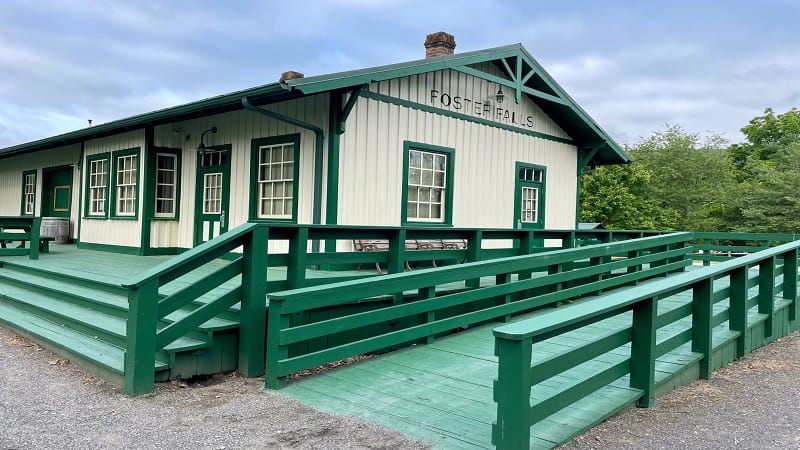 Cross a scenic trestle bridge over Buddie Branch. Then, a tunnel. This short tunnel is one of two tunnels you can bike through on the New River Trail.
When you return to Foster Falls, pop in the park office or livery for a reward snack, like an ice cream bar. The Inn at Foster Falls also sells snacks.
#4: Galax to Chestnut Yard
It's a 12.4-mile out-and-back ride from Galax to Chestnut Yard. You'll start by crossing two trestles, as well as New River Cabins.
Once you reach Cliffview, stop in the park office for a snack, a cold drink or souvenirs before continuing on to Dannelly Park and Cliffview Campground.
At the turn-around point, you'll see Chestnut Creek Falls. There is a shaded picnic table that makes a perfect place to stop for a picnic lunch.
Once you return to Galax, plan to stroll Main Street. There's a weekly farmers' market on Thursdays and Saturdays.
#5: Ivanhoe to Byllesby Dam
It's an 11.4-mile round-trip ride from Ivanhoe to Byllesby Dam. Park in the large lot at Ivanhoe and check out remains of the Ivanhoe Furnace.
From here, you can also admire the 670-foot-long Ivanhoe Bridge. You'll soon reach Buck Dam, a 42-foot-tall concrete dam with a 1,005-foot-long spillway.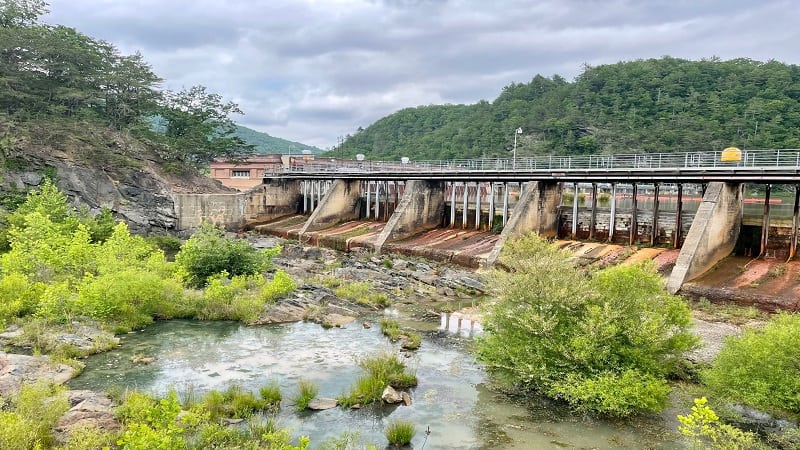 As you continue, stop for a riverside picnic area. You'll soon see 64-foot-tall Byllesby Dam. The Appalachian Power Company built both historic dams.
When you return, you can add an extra 2.4 miles round-trip by biking past Ivanhoe to the start of the Ivanhoe Birding Trail, an easy 1.5-mile loop trail.
Wrap-Up Notes
Whether you bike the entire New River Trail in one day, break it up over several days, or simply bike one section, you're in for a real treat.
From tunnels to trestles to historic sites, like the Shot Tower, there's a lot to see and love all along this rail-trail that closely follows the New River.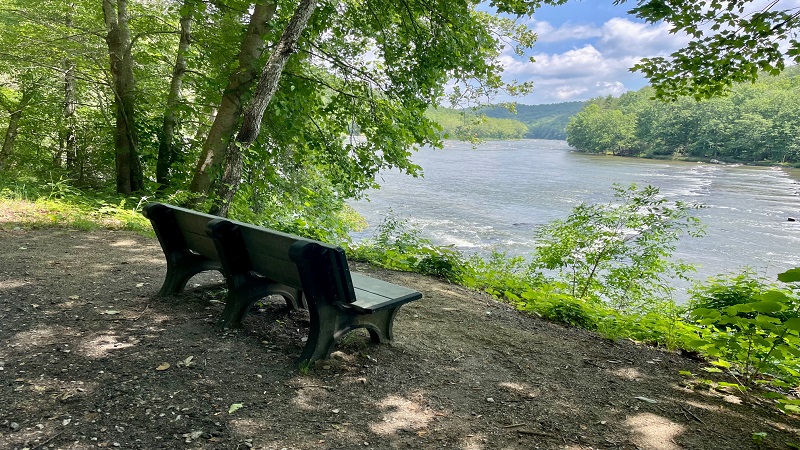 New River Trail State Park is open daily from dawn to dusk. Park office hours vary by season. The park fee is $7 per vehicle year-round.
If you'd like to get involved with the state park, consider making a donation to or serving as a volunteer with Friends of New River Trail.
Disclosure: This post was sponsored by Visit Wytheville. However, all views and opinions expressed here are my own.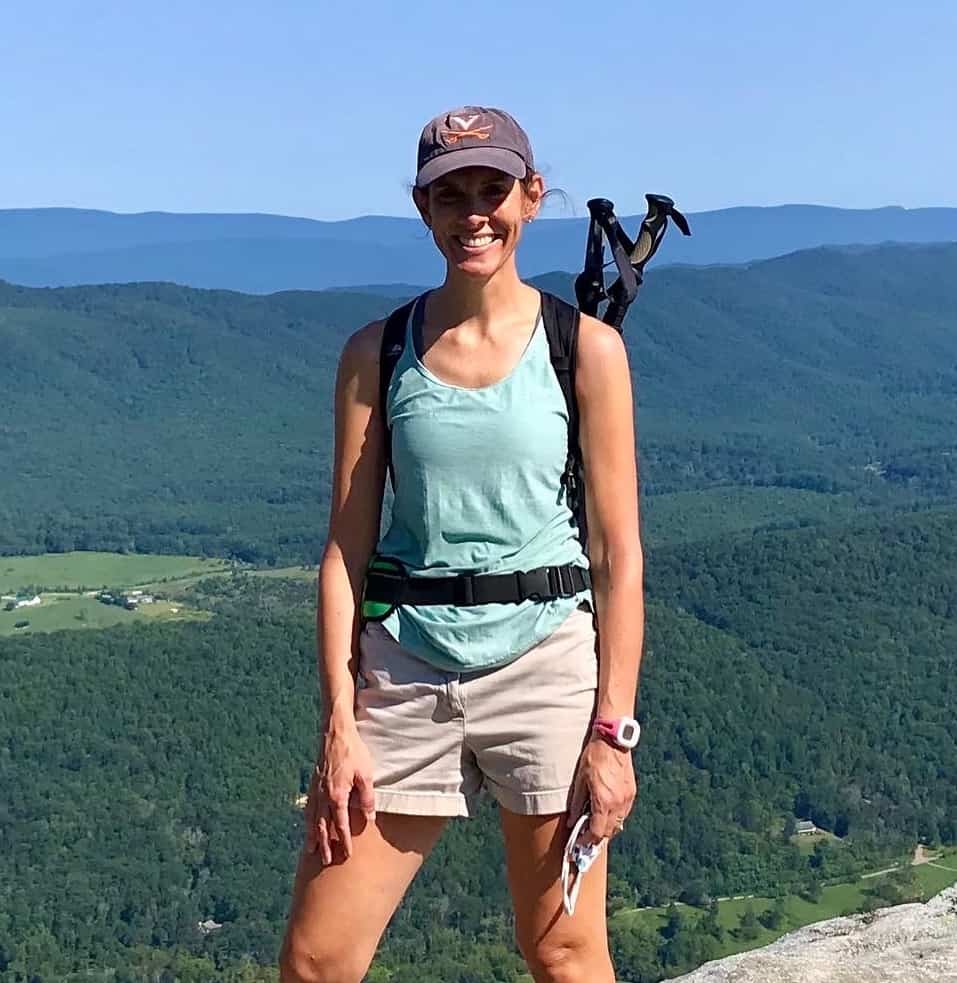 Erin Gifford is the editor of Go Hike Virginia. She has completed more than 300 hikes in Virginia. She is also the author of three hiking guidebooks from Falcon Guides. Need help finding a hike? Check out the Trail Finder feature or send Erin a message.