16 Spectacular State Park Hikes in Virginia
We're so fortunate to have 41 delightfully scenic state parks here in Virginia. Nearly all have at least one hiking trail.
Many draw in park-goers with sandy beaches, glistening lakes and scenic overlooks. For those who love to explore our state parks on two feet, sign up for Trail Quest.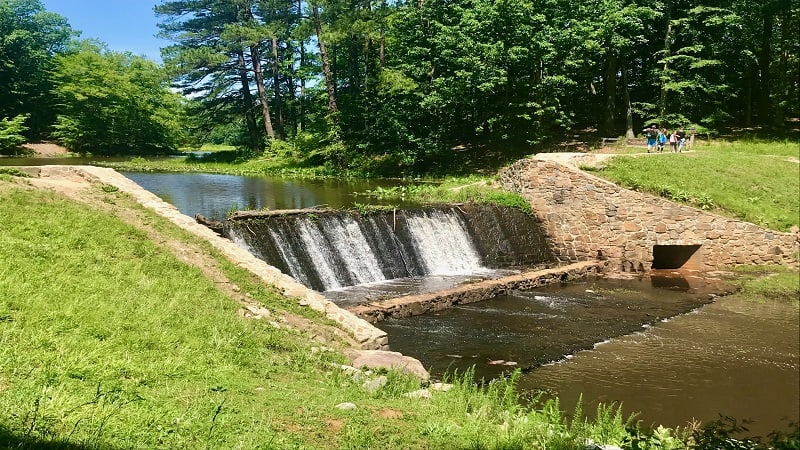 Trail Quest is a free self-guided activity that allows visitors to earn pins when they visit state parks. Visit every state park to receive a Master Hiker completion certificate.
As you begin (or continue) your quest to visit every state park, I've compiled 16 state park hikes that are absolute must-dos.
Many hikers rave about Blue Suck Falls at Douthat State Park, at least on AllTrails. I'll be honest, I was not impressed, largely because it was barely a trickle on my visit.
The real winner is the Tobacco House Ridge Trail, which sets off from the back of the White Oak Campground. From here, it's a short hike to the scenic lake overlook.
Continue on to reach a dam-created waterfall at Wilson Creek. Here you'll find several large flat rocks to relax on, as well as a fishing pond for children.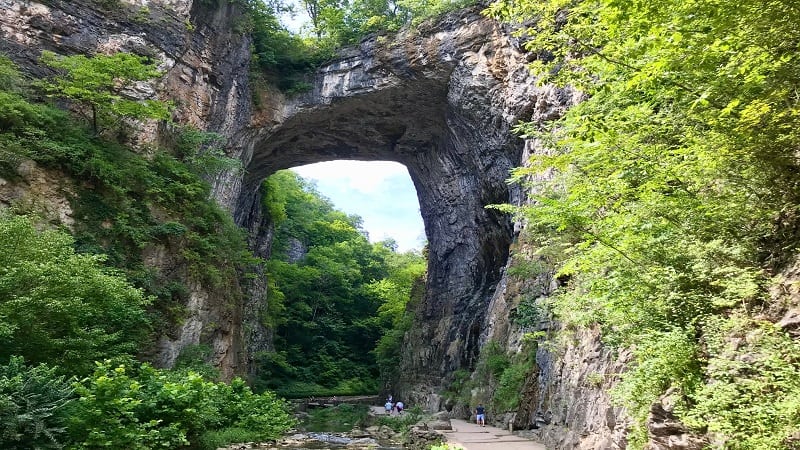 The easy-breezy hike to Lace Falls on the Cedar Creek Trail is the one to do at Natural Bridge State Park. For one, this trail guides you under the 215-foot-tall namesake arch.
It's not hard to be awed by the natural limestone arch that deservedly holds a place on the National Register of Historic Places. It was once owned by Thomas Jefferson, too.
Under the bridge, look up and to the left to see George Washington's initials. He carved them on the bridge in 1750. A white outline makes the initials easier to see.
One of the most popular scenic overlooks at Sky Meadows State Park is actually divided in two – Lower Piedmont Overlook and Upper Piedmont Overlook.
Both can be reached quickly (but be ready for a healthy ascent) along the Piedmont Overlook Trail, which sets off near the Park Office.
Re-trace your steps once you've fully savored the overlooks or continue on to the Ambassador Whitehouse Trail for more far-reaching views from Whitehouse Overlook.
#4: Wilburn Ridge (Grayson Highlands State Park)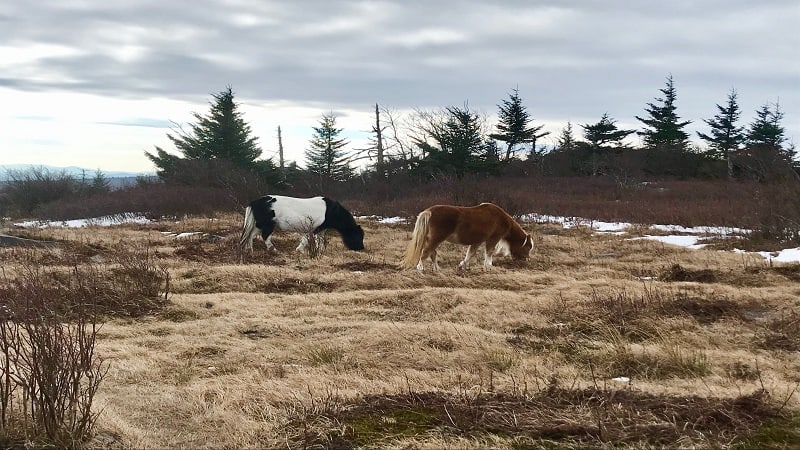 You can't go to Grayson Highlands State Park and not hike to see the free-roaming wild ponies, at least not on your first visit to this state park in Southwest Virginia.
Plan to park at Massie Gap. Your first steps will be on the Rhododendron Trail on your way to Wilburn Ridge, a gorgeous landscape of grassy balds and alpine meadows.
From here, you can hike north on the Appalachian Trail to Wilburn Ridge or south to Lower Wilburn Ridge. You'll see plenty of wild ponies on both scenic routes.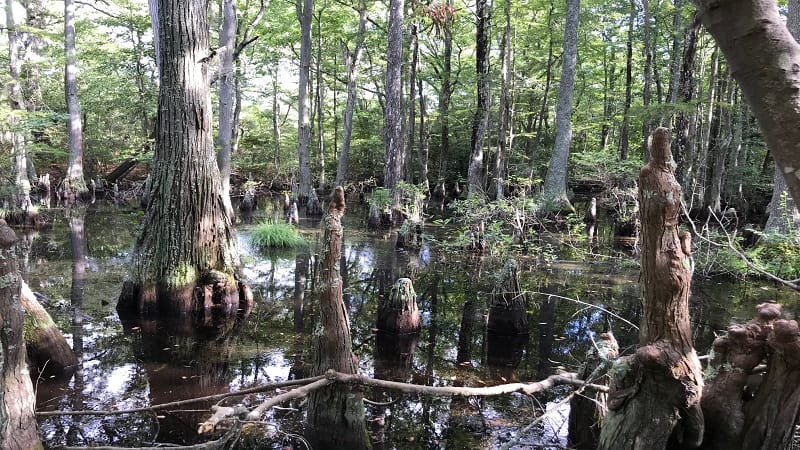 At First Landing State Park, this easy hike guides visitors over a freshwater cypress swamp that wows from the get-go with quirky bald cypress trees with knobby "knees."
This shaded loop hike begins to the right of the Trail Center. Plan to meander along a trail of crushed pine needles, packed sand and wooden boardwalk.
A delightful hike at any time, this hike is bucket list-worthy when completed in late-fall and winter. Murky waters transform into a delightful rainbow of colors.
#6: Turtle Island (Smith Mountain Lake State Park)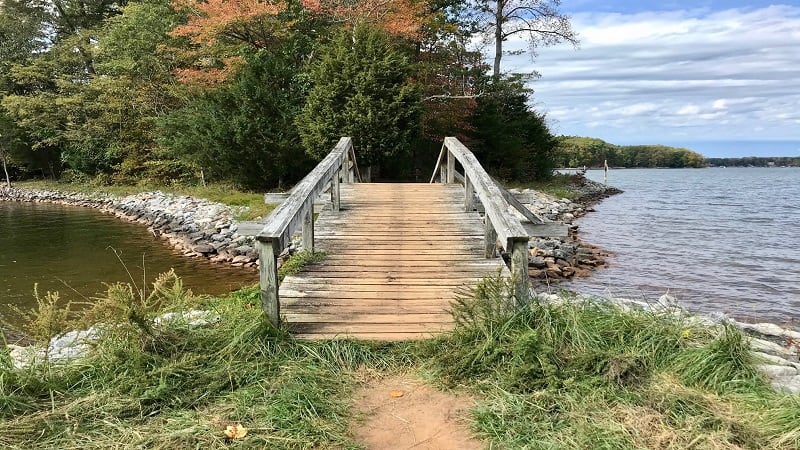 Smith Mountain Lake State Park may be better known as a go-to destination for water sports, but there's a lot to love on dry land too, like the Turtle Island Trail.
This popular 1.4-mile loop hike leads to a small island and a path that outlines the perimeter of the island. A small beach area precedes the footbridge to the island.
Look for placards early in this hike that educate park-goers on how abandoned fields at the state park transformed into a wooded forest over the course of 125 years.
#7: Twin Pinnacles (Grayson Highlands State Park)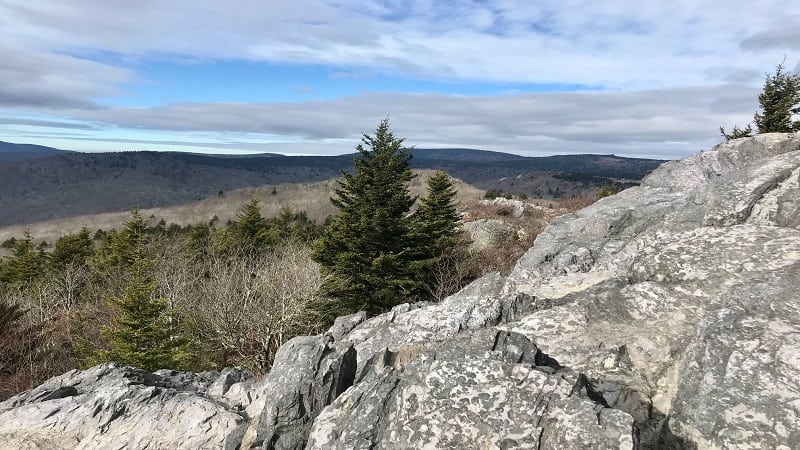 Of course, it's mandatory to seek out free-roaming ponies at Grayson Highlands State Park, but you can also hike to two of Virginia's tallest peaks while in the park.
Even better, you won't need to move your car to do so. The Big Pinnacles Trail, which connects with the Twin Pinnacles Trail, also sets off from the Massie Gap parking area.
On this fairly easy hike, take in all the far-reaching views from Big Pinnacle and Little Pinnacle. Interestingly, Little Pinnacle is 21 feet taller than Big Pinnacle. Go figure.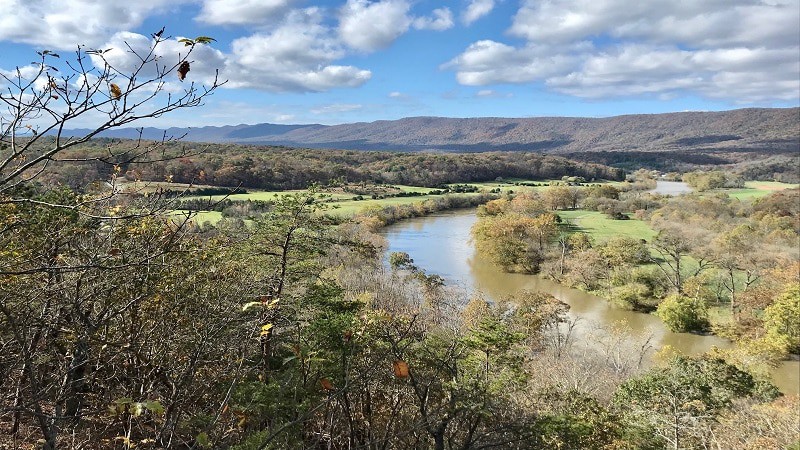 Shenandoah River State Park has more than 20 named hiking trails, making it hard to zero in on one or two hikes. However, a hike to Culler's Overlook is a must-do.
You can also drive to Culler's Overlook for sweeping views across Massanutten Mountain, as well as the Shenandoah Valley. But, what's the fun in that?
To reach Culler's Overlook, take the Hemlock Hollow Trail to the Overlook Trail. You'll first pass the visitor center, then it's on to the wooden overlook. Plan to take it all in.
#9: Fossil Beach (York River State Park)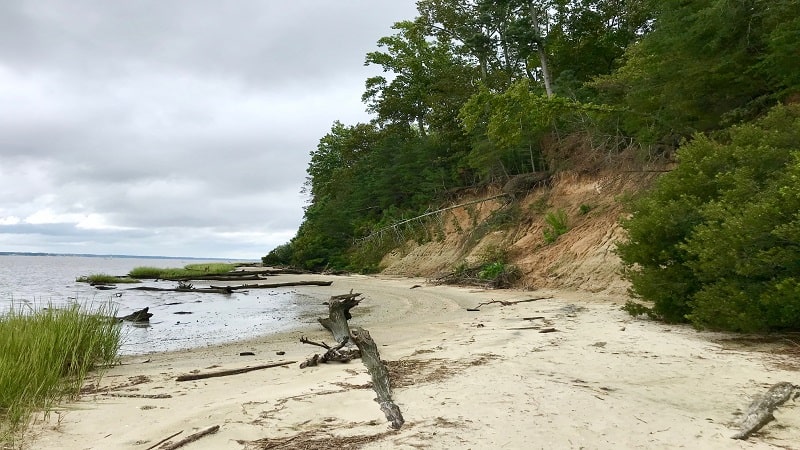 The coastal hike to Fossil Beach at York River State Park guides park-goers along the Woodstock Pond Trail and Mattaponi Trail to reach the soft sand of Fossil Beach.
Look for treasure-hunting fiddler crabs scurrying in the tall beach grasses. Keep your eyes open for sharks' teeth and fossilized mollusk shells, like the Chesapecten Middlesex.
Every visitor is allowed to take home one fossil from Fossil Beach as a souvenir. The best time to hunt for fossils is at low tide.
#10: Beaver Lake (Pocahontas State Park)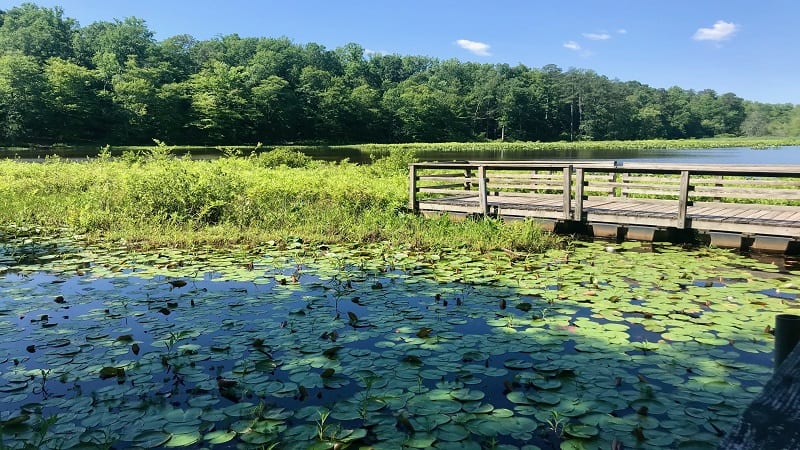 The walk around Beaver Lake at Pocahontas State Park is a relatively secluded loop with mild terrain and evolving scenery, like bridges and wooden boardwalks.
The views across lily pad-strewn Beaver Lake are especially delightful. Even better, wooden benches turn up every .5-mile along this shaded hiking trail.
Late in the hike, look for a dam that gracefully cascades water onto a scenic spillway. This is an exceptionally popular spot to stop for a snack break or to re-hydrate.
#11: Molly's Knob (Hungry Mother State Park)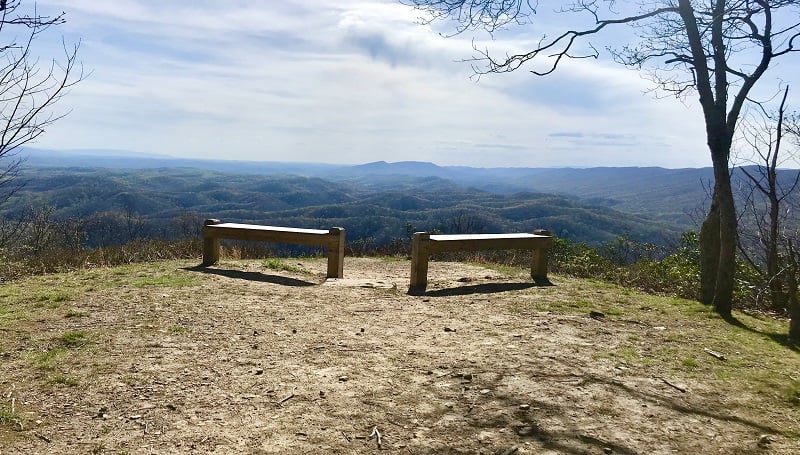 Hiking to Molly's Knob deserves a spot on your hiking bucket list, but it's not for the faint of heart thanks to an elevation increase of 200+ feet in the last .2-mile.
This hike really makes you earn the payoff views. When you reach Molly's Knob, two wooden benches welcome worthy hikers who have made it to the top.
The mountain views to the south and west are outstanding. Plan to sit awhile to re-hydrate and re-fuel before the relatively easy descent back to the parking lot.
#12: Bay View Trail (Mason Neck State Park)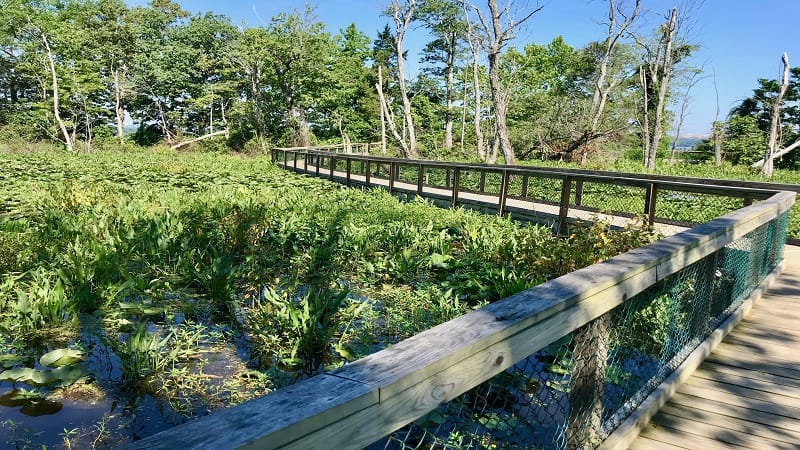 The flat, shady Bay View Trail at Mason Neck State Park may clock in at just 1.0-mile, but it's a nice loop hike that wows with dramatic views across Belmont Bay.
Take in the eclectic mix of wooded forest, sandy coastline and verdant wetlands. A wooden boardwalk guides visitors across a lily pad-strewn freshwater marsh.
Post-hike, enjoy lunch in the large picnic area, burn off energy on the playground or settle in under a shady tree on the small sandy beach at Belmont Bay.
#13: Lover's Leap (Natural Tunnel State Park)
There's a lot to love about Natural Tunnel State Park, which wows with a massive limestone cave that began to form more than one million years ago.
This cave was converted to a train tunnel, which today is used by Norfolk Southern to carry coal. Ride the chairlift to the base to walk along a paved path to the mouth of the tunnel.
Once you return to the top, stroll the easy-going Lover's Leap Trail to Lover's Leap Overlook for sensational views of Natural Tunnel and the surrounding area.
#14: Stuart's Knob (Fairy Stone State Park)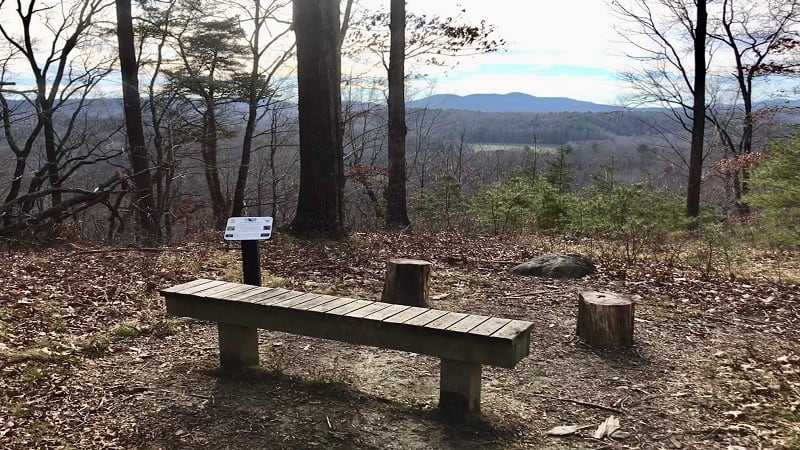 Little Mountain Falls may get all the love at Fairy Stone State Park, but the hike you really want to do is on the other side of Fairy Stone Lake, at Stuart's Knob.
Stuart's Knob was the site of an iron mining operation from the late-1700's to the early-1900's. Today, mine openings remain here and there across the mountain.
Plan to cobble together several trails at Stuart's Knob for surface mines, as well as scenic lake and mountain overlooks along the Upper and Lower Stuart's Knob Trails.
#15: Bushey Point (Leesylvania State Park)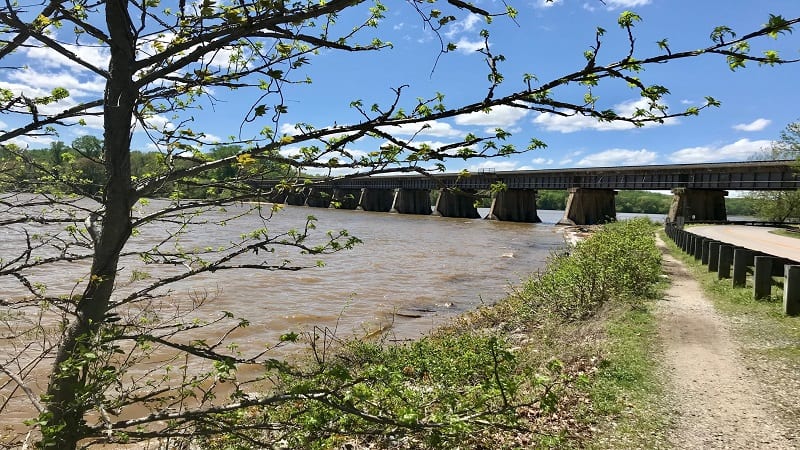 At Leesylvania State Park, follow the Bushey Point Trail along the Potomac River to Powell's Creek. Be sure to walk along the sandy beach for shell hunting.
Park in boat launch parking for easy access to the Bushy Point Trail. On a warm day, watch sailboats and motor boats set off from the tidal shores of the Potomac River.
Post-hike, settle in for lunch at the large picnic area or let the kids burn off some energy at the large playground adjacent to the water.
Easy coastal hiking trails wow visitors all across Belle Isle State Park. At 1.9 miles (one-way), the Mud Creek Trail is the longest trail in this state park.
On my recent visit, I patched together several trails, including the Mud Creek Trail, to create a delightful hike with boardwalk trail, coastal marshes, even a small beach.
Walking along the Mud Creek Trail near the campground, look right as you enter the White Oak Swamp Loop. In winter, you may spy a rainbow of colors on the murky waters.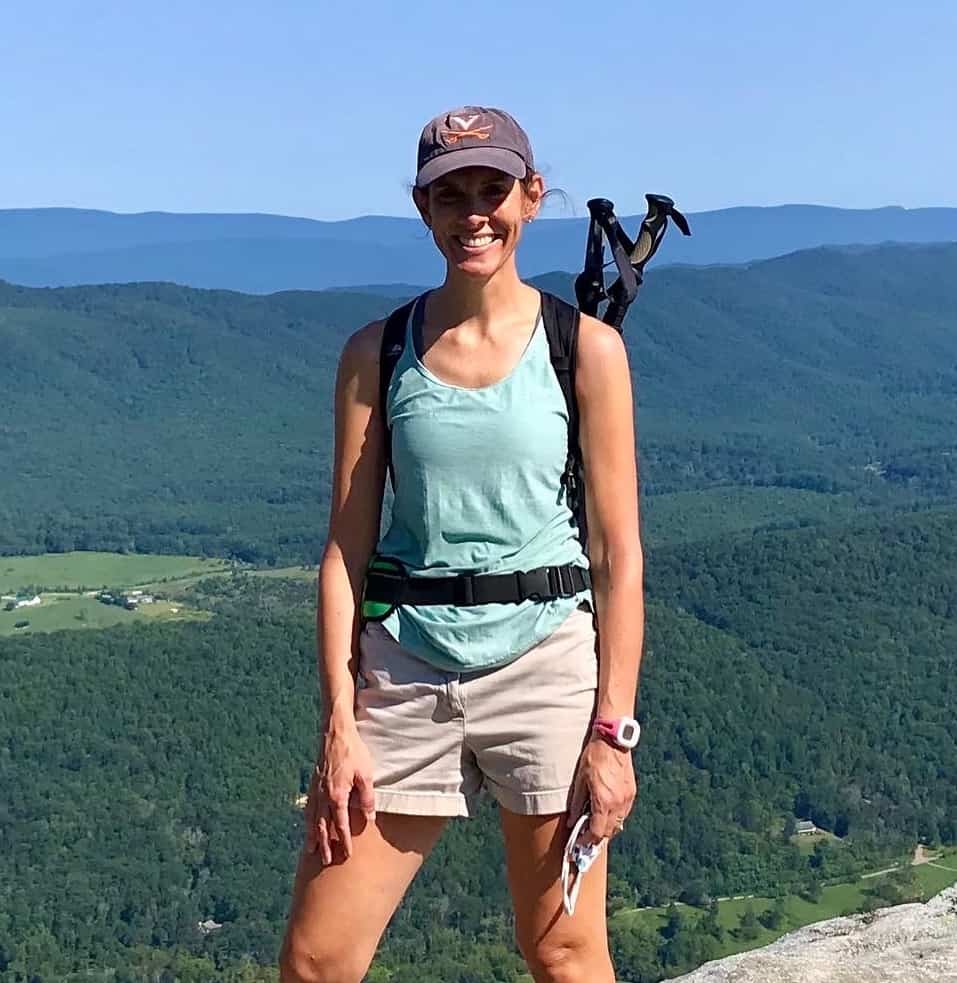 Erin Gifford is the editor of Go Hike Virginia. She has completed more than 300 hikes in Virginia. She is also the author of three hiking guidebooks from Falcon Guides. Need help finding a hike? Check out the Trail Finder feature or send Erin a message.