Crabtree Falls: Hike to the Top of the State's Tallest Waterfall in Nelson County, Virginia
For those who love a good waterfall hike, add Crabtree Falls in Nelson County to your ever-growing list of must-do hikes in Virginia.
I've completed quite a few waterfall hikes (Roaring Run Falls, Little Stony Falls, etc.), but the major cascades of Crabtree Falls are in a league of their own.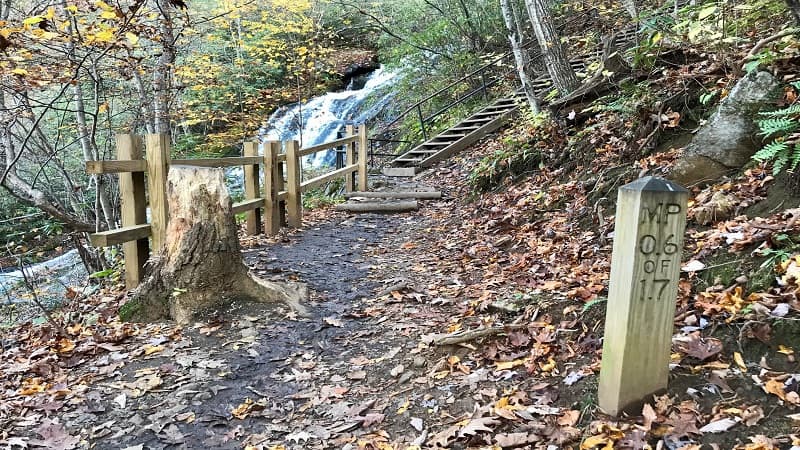 This waterfall tops them all at a height of 1,214 feet tall. It's literally as tall – maybe taller – than an actual skyscraper. Now that's tall.
According Nelson County, Crabtree Falls is the highest waterfall east of the Mississippi River. Seriously, so tall.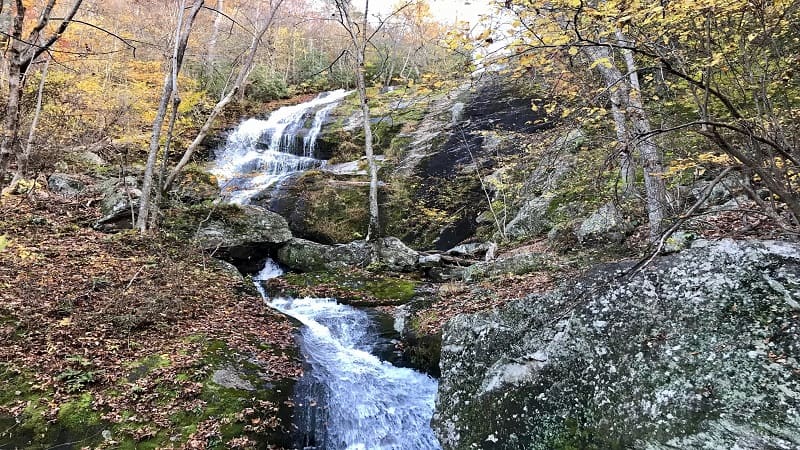 Crabtree Falls puts on a good show too thanks to five tumbling cascades that are within view nearly every step of the hike along burbling Crabtree Creek.
The total distance of this out-and-back hike is 3.3 miles. There is a good bit of elevation, but this view-packed hike will put a smile on your face with each step.
| Trail Stats | |
| --- | --- |
| Length | 3.3 miles |
| Difficulty | Moderate |
| Trail Type | Out-and-Back |
| Elevation Gain | 1,122 feet |
| Duration | 2.5-3 hours |
| Terrain | A mix of dirt trails and stone or wooden steps |
| Dog-Friendly | Yes |
| Fee | $3/vehicle |
| Driving Directions | Click Here |
Crabtree Falls Day Use Area
Crabtree Falls is located at the Crabtree Falls Day Use Area, which is tucked away in the George Washington National Forest. It's $3/car, so be sure to bring cash.
The physical address for the day use area is 11581 Crabtree Falls Highway in Montebello. It's a stone's throw from the scenic Blue Ridge Parkway.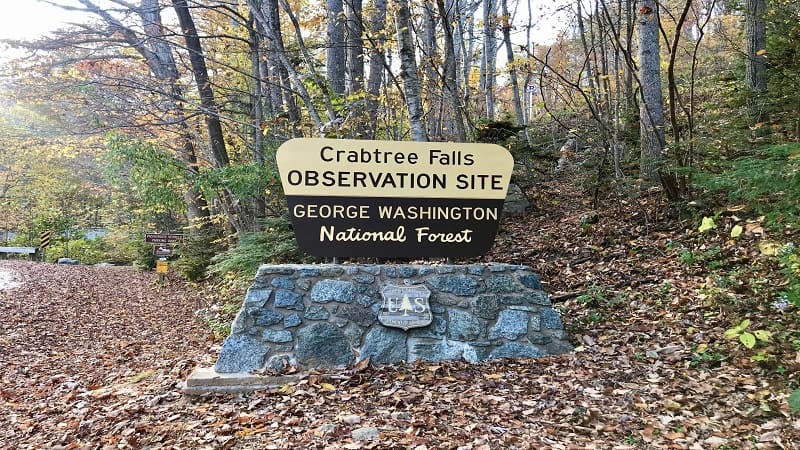 If you have a U.S. park pass your entry fee is covered. Scribble your pass number on the payment envelope and deposit. Place the receipt on your dashboard.
Proceed into the day use area. For parking, there is both an upper lot and a lower lot. The upper parking lot is closest to the trailhead, but not by much.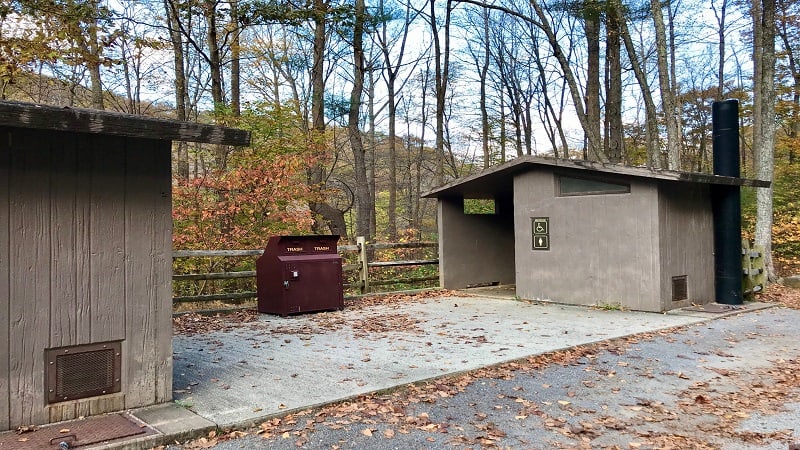 As you near the Crabtree Falls trailhead you'll find his and hers vault toilets to the left, a massive trail kiosk to the right. There are also several benches.
Crabtree Falls Hike
Crabtree Falls is accessible to those of all ages and abilities. From the trailhead, Lower Falls is a short distance, just 500 feet ahead on paved trail.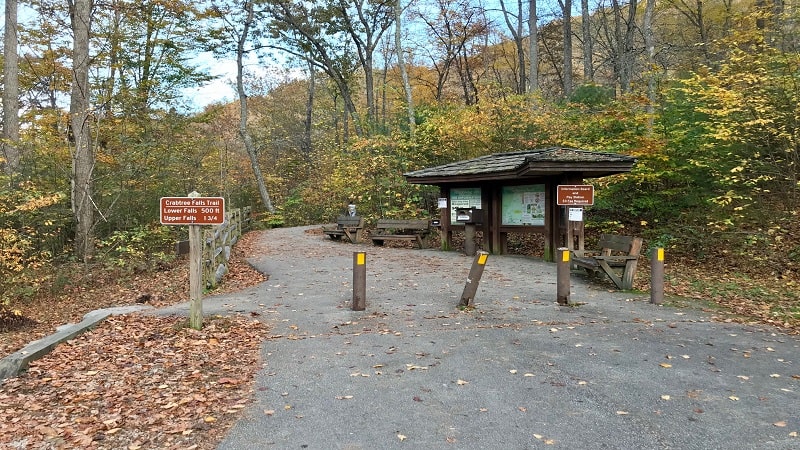 The Lower Falls is a beauty. At the .1-mile mark, you'll reach the first overlook at the base of the falls. From this viewing platform, soak in this natural wonder.
A trail sign directs you right for the switchback-laden Crabtree Falls Trail to be awed by the cascades as you ascend to the top of this beautiful waterfall.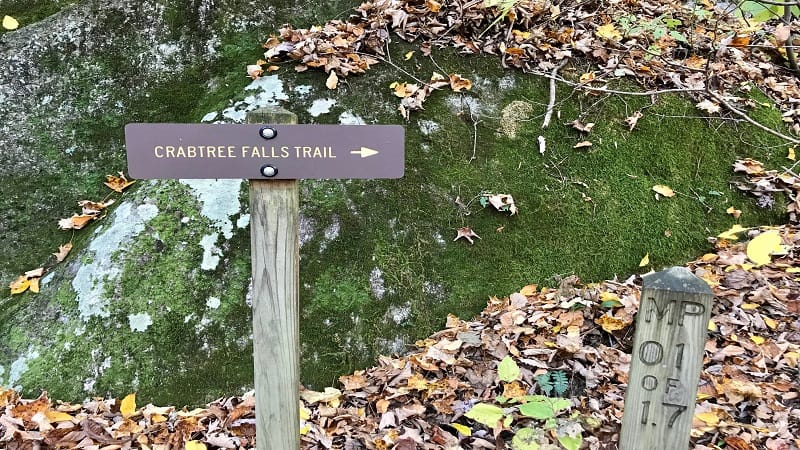 At the .3-mile mark, you'll reach another observation deck, then a set of wooden stairs. At the .6-mile mark, there's an area to walk out for waterfall views.
In a few more steps, there is another wooden overlook, and thankfully, a bench to sit for a spell before proceeding to the upper levels of Crabtree Falls.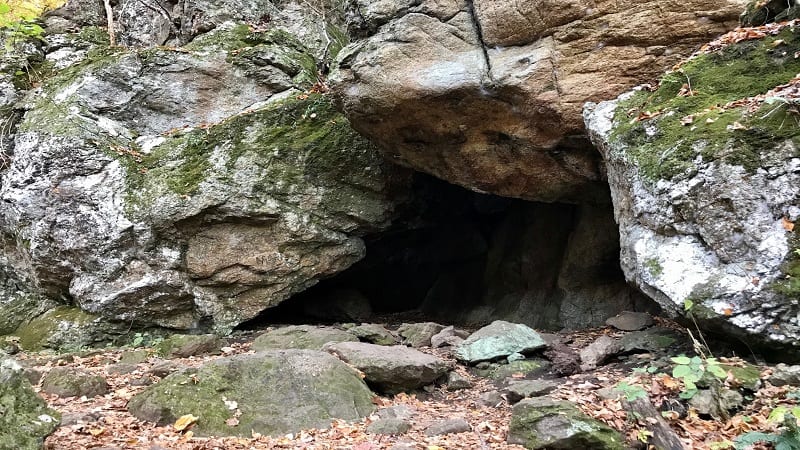 At the .75-mile mark, you'll see a small cave to the right of the trail. Allegedly, this was formed by fallen boulders. Young children will love this, for sure.
Crabtree Falls Overlooks
You'll reach three more overlooks before reaching a trail sign at the 1.4-mile mark noting this spot as the last spot for scenic views of the falls.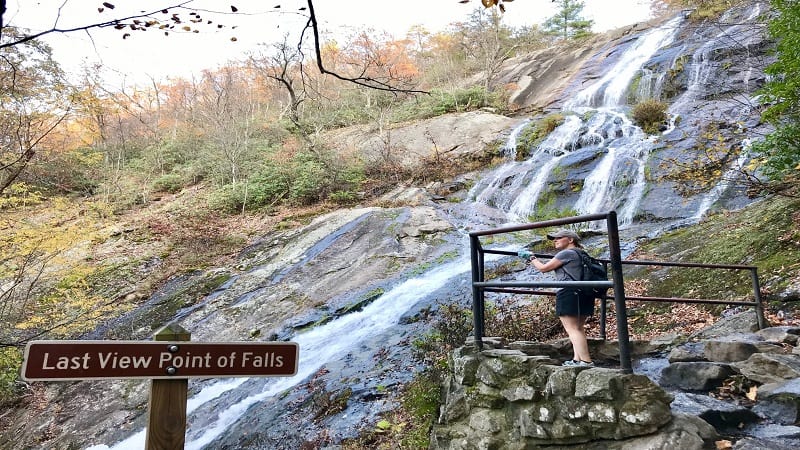 At this point, you can either turn around or continue on another .3-mile to see what else there is to see. I was curious, so of course I pressed on to the end.
At the 1.7-mile mark, a bridge goes over top of the falls. There's also a wooden overlook. Then, a stone viewing area and eye-pleasing mountain vistas.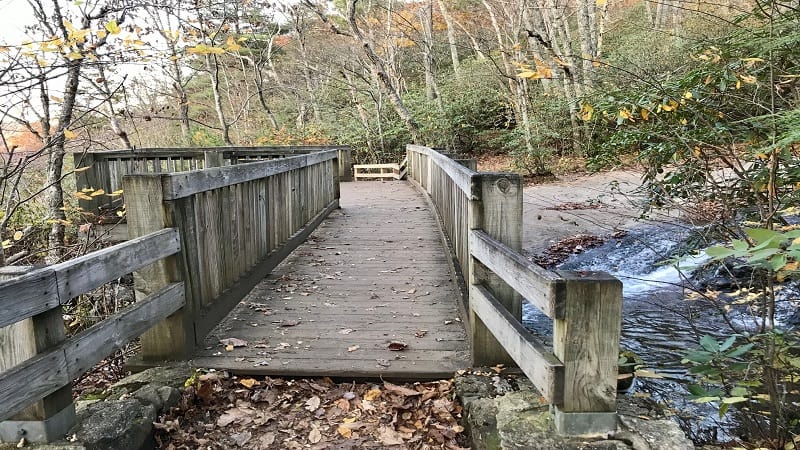 The views across the Blue Ridge Mountains and Tye River Valley are spectacular. I only wished I could have been there for sunset. As it was, we arrived post-sunset.
As this is an out-and-back day hike in Central Virginia, simply re-trace your steps to the parking area.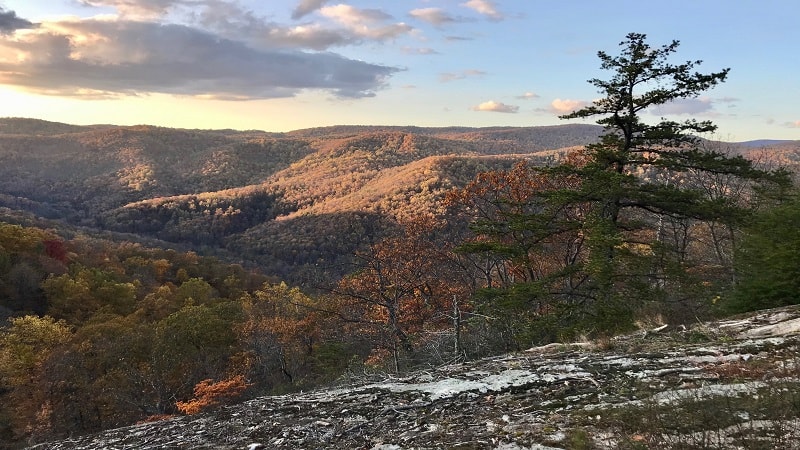 Hike Options
Since there are so many waterfalls and cascades, it's a snap to shorten this hike by re-tracing your steps once you've gotten your fill of the falls.
From upper falls, tack on an extra 2.4-miles by hiking to Crabtree Meadows.
As you reach upper falls, look right. The trail continues to the Crabtree Meadows parking lot. This leads to Spy Rock, which wows with scenic views.
Wrap-Up Notes
From the parking area, the Crabtree Falls hike took us nearly two hours, including time spent ogling and snapping loads of photos of the falls and mountains.
While at Crabtree Falls Day Use Area, don't miss the 110-foot-long wooden bridge that crosses over the Tye River.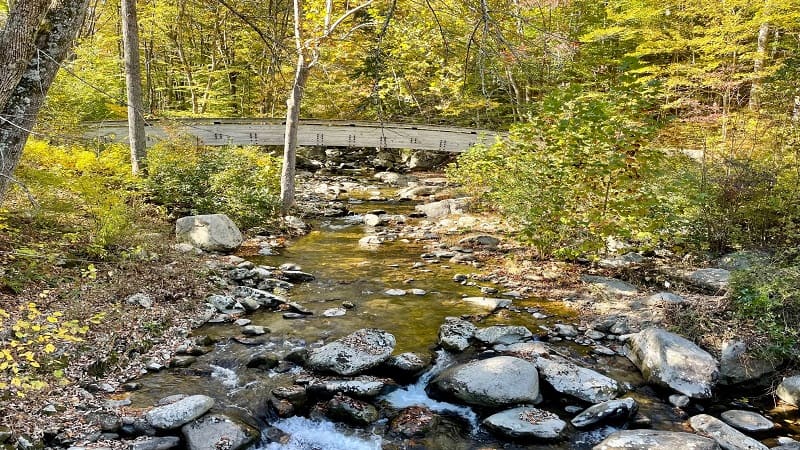 This $62,000 laminated arch served as the starting point for the hike until the mid-1980's. This beautiful bridge was shipped from New York in one piece.
A crane lifted the bridge into place in 1978. Today, this bridge is merely decorative. It's located just off the lower lot as you drive into the day use area.
Crabtree Falls is a beauty. If you're looking for more waterfall hikes in Virginia, I've got you covered with nearly two dozen hikes to gushing waterfalls.