White Oak Canyon Trail: A Refreshing Hike to Lower Falls at Shenandoah National Park
Not long ago, I hiked the White Oak Canyon Trail to Lower Falls from the boundary trailhead outside Shenandoah National Park. This may be my new favorite hike.
The out-and-back hike is just 2.9 miles, but it's so beautiful, so refreshing. Also, so popular given the overflow parking lot I spied on my way home ($10/car).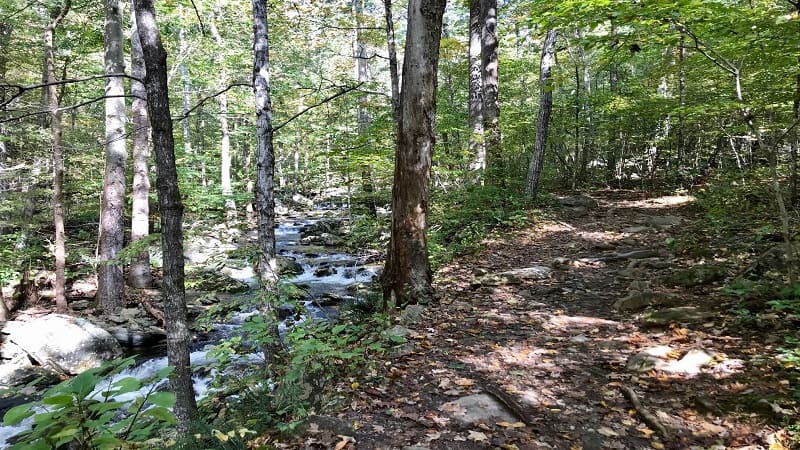 I tackled this moderate hike on a Friday morning, so the trail wasn't terribly busy (yet), though there were at least 15 cars in the main lot when I arrived.
From this parking area, you can access the White Oak Canyon Trail and Cedar Run Trail, both of which are quite well-liked among park-goers.
| Trail Stats | |
| --- | --- |
| Length | 2.9 miles |
| Difficulty | Moderate |
| Trail Type | Out-and-Back |
| Elevation Gain | 417 feet |
| Duration | 2-2.5 hours |
| Terrain | Mostly dirt & rock trails |
| Dog-Friendly | Yes |
| Fee | $30 per vehicle (good for seven days) |
| Driving Directions | Click Here |
White Oak Canyon
You can access both the White Oak Canyon Trail and Cedar Run Trail from Skyline Drive. However, for this hike, you want to use the boundary trailhead.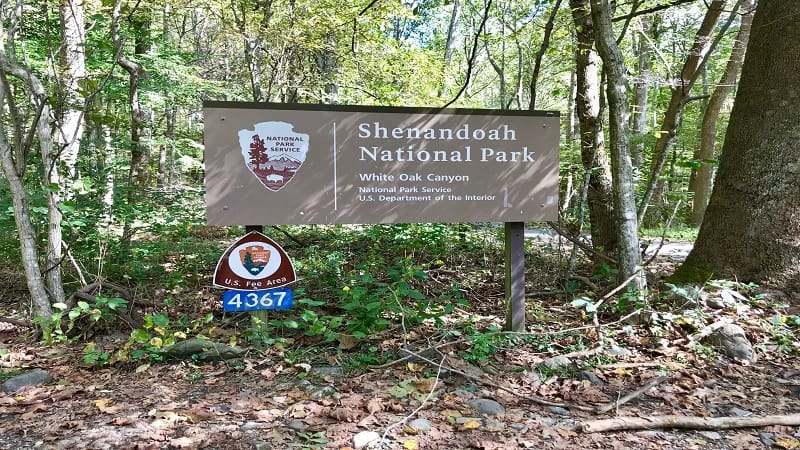 Okay, what's that? A boundary trailhead is a trailhead located on private property. Often, just steps away from the park boundary.
The popular Little Devils Stairs, Old Rag and Robertson Mountain hikes are all accessed by way of boundary trailheads on the edges of the park.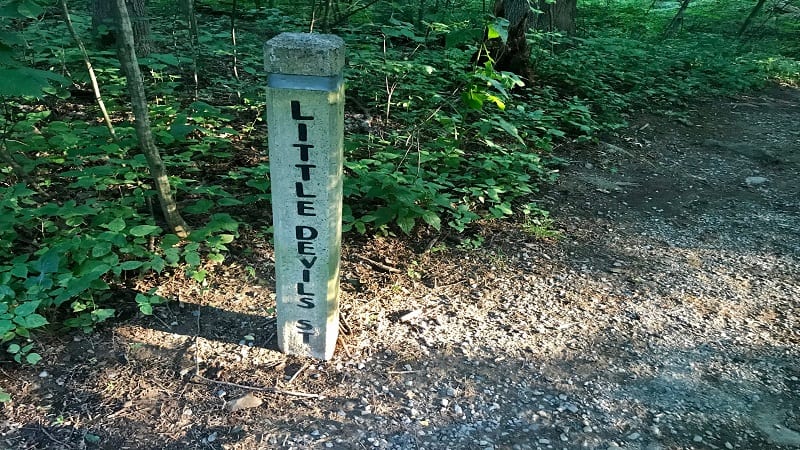 The link above to driving directions will take you to the boundary trailhead for the White Oak Canyon Trail. I also suggest that you print out a trail map.
This National Park Service map of the White Oak Canyon Area includes written directions. There is no cell service on the hiking trail (at least not for AT&T users).
Worse, even once you reach Sperryville (if you go back that way, rather than via Madison), you still won't have cell service. Just something to keep in mind.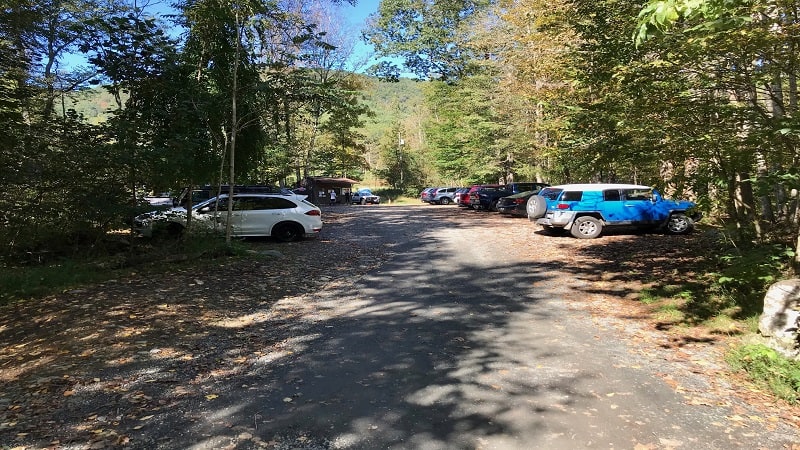 You won't be able to map your way back home from your phone. You'll have to rely on the written directions (in reverse, of course). Just a heads up.
Once you arrive at the parking area, you'll note that it's quite large. It's much bigger than the lots for most park trails, maybe with the exception of Mary's Rock.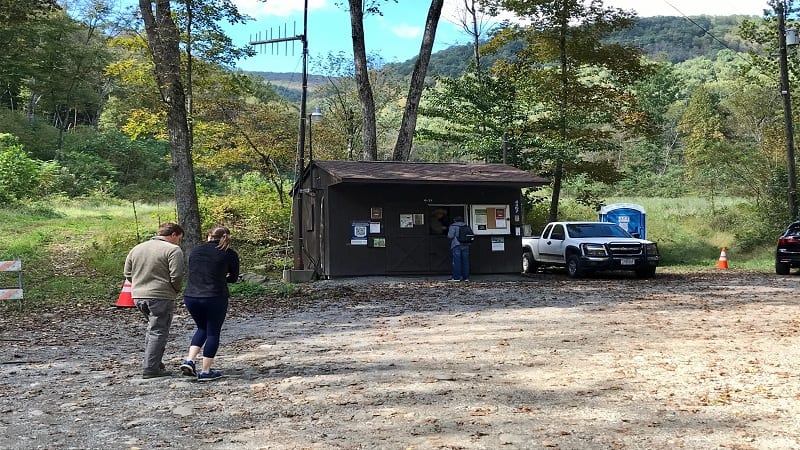 Still, given there's a large overflow lot. It must not be big enough, at least not on weekends.
To the left of the trailhead is a ranger station. Show your annual park pass or pay the entry fee. You will receive a receipt to place on your dashboard.
White Oak Canyon Trail
The blue-blazed hike begins simply enough, on the typical hiking trail of dirt and rocks. In less than 0.1-mile you will reach a metal pedestrian bridge.
Cross over babbling Cedar Run into Shenandoah National Park (from private property). At the 0.15-mile mark, you will reach a fork in the trail.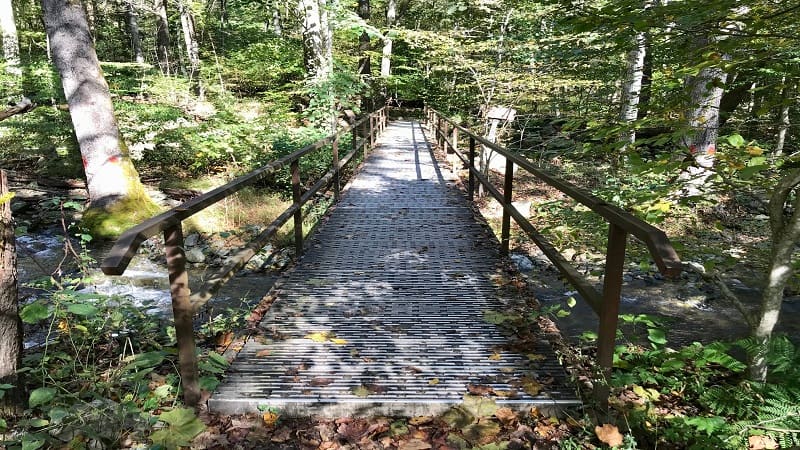 Veer right for the White Oak Canyon Trail. The left-most trail is the Cedar Run Trail. In a few more steps, you will reach the first of two simple water crossings.
Then, the second of two bridges, this time crossing over the Robinson River, a tributary of the Rapidan River in Madison County, Virginia.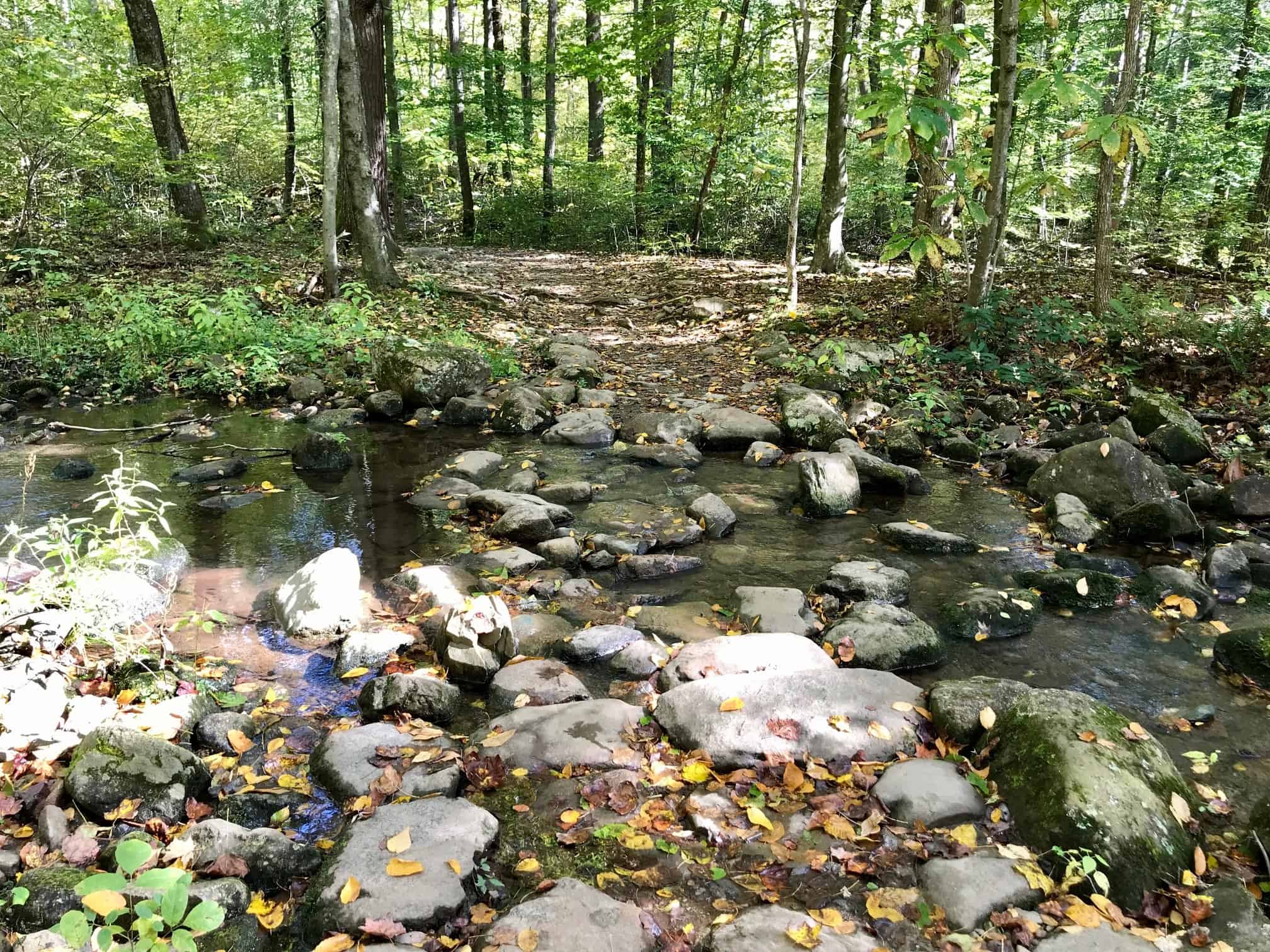 Just past the 0.5-mile mark, there's an easy rock scramble that takes you close to the edge of the cascading crystal-clear water.
Much of the hike is adjacent to the rolling river, so it's very relaxing to take in the babbles and burbles of the flowing water.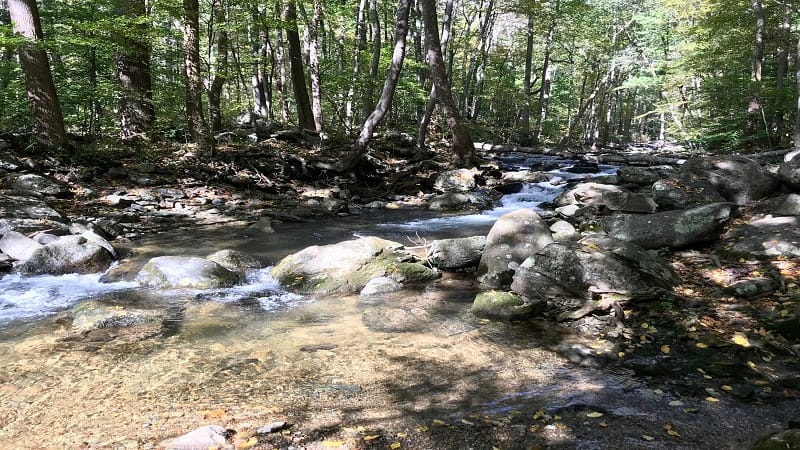 There are several spots along the hike where the trail sidles up against the water. These are perfect spots to stop, take off your shoes or skip a few stones.
At the 0.75-mile mark, you'll see a concrete trail marker on the right, then the hiking trail moderately ascends.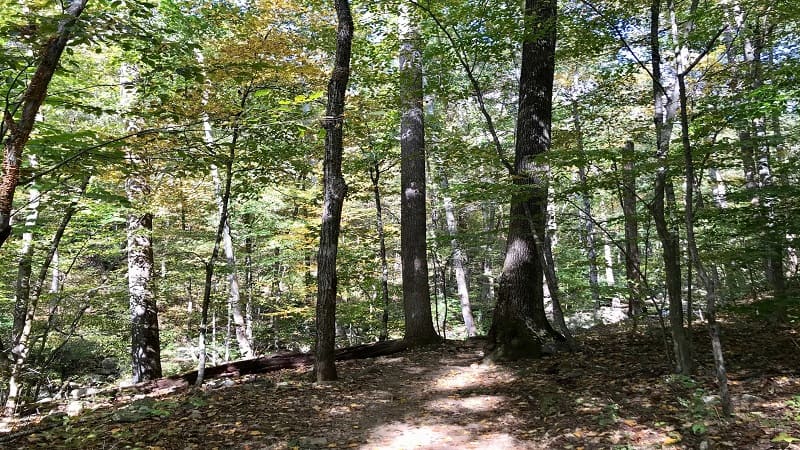 In a few more steps, you'll see a double blue blaze and the trail does a steep zig to the right. But first, some flat rocks and calm waters for a nice snack break.
Post-snack, you can tackle the rocky switchback in the trail. It's not long, leveling off quickly then descending before reaching a field of giant rocks.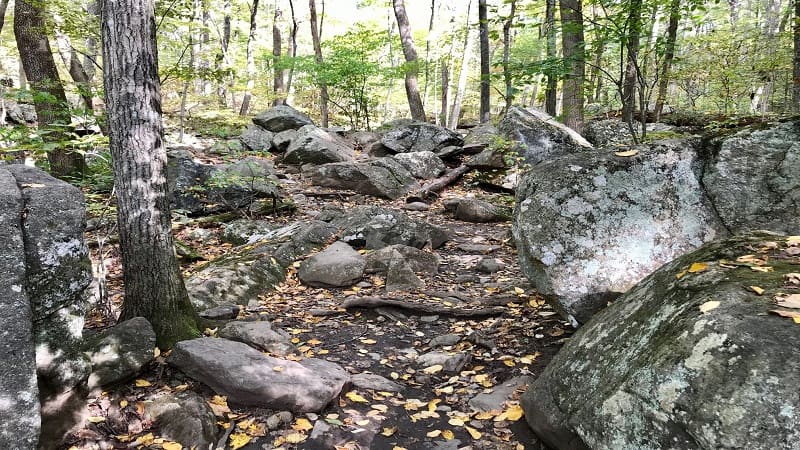 It's a must to go up, over, around, in between these massive rocks. Just because it's fun.
At the 1.4-mile mark, you'll reach another small stream, then some stone steps that take you up and to the right on the trail.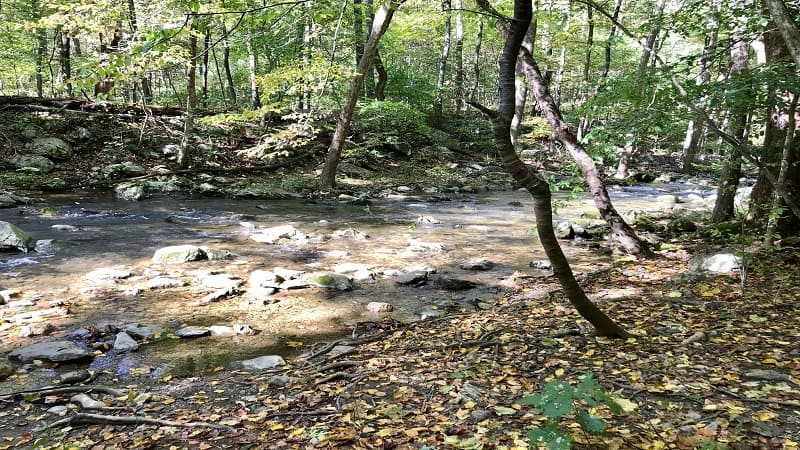 In a few more steps, you have arrived at Lower Falls. From here, the White Oak Canyon Trail continues on to Upper Falls, but for now, this is the endpoint.
There are a variety of routes to scramble down to the basin of Lower Falls. The White Oak Canyon swimming hole is beyond popular in warmer months.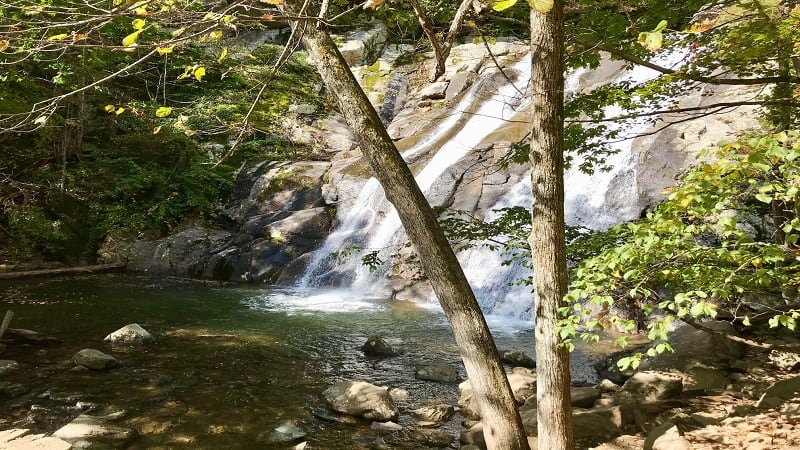 Since this is an out-and-back hike, simply re-trace your steps to return to the parking area.
Wine Pairing: DuCard Vineyards
A refreshing glass of wine is the perfect way to celebrate completion of a hike, especially one that leads to one of the national park's most beautiful waterfalls.
Fortunately, DuCard Vineyards is less than a 15-minute drive from the White Oak Canyon parking area on Weakley Hollow Road.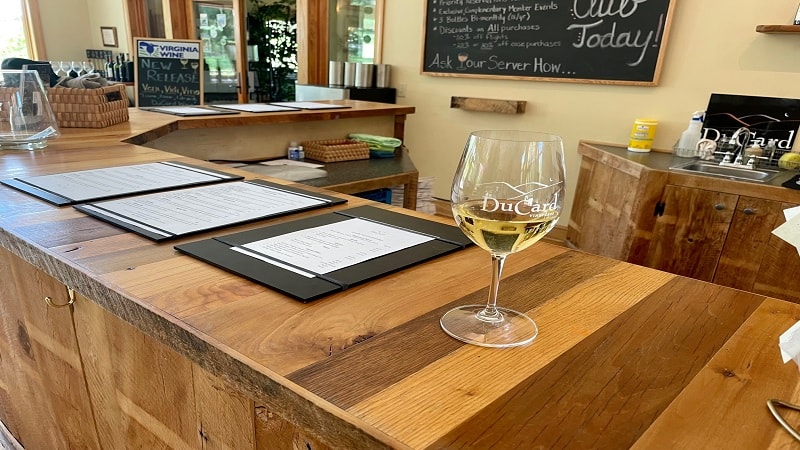 This hike pairs especially well with a glass of Shenandoah, a delightful and sweet white wine. Much like the hike to Lower White Oak Falls, this wine is very popular.
It's so popular (the wine, that is) that Shenandoah often sells out, even though DuCard Vineyards typically limits purchase to two bottles.
Note the label illustration of Lower White Oak Falls. Can you love this wine more? Even better, there's a philanthropic component to this white wine.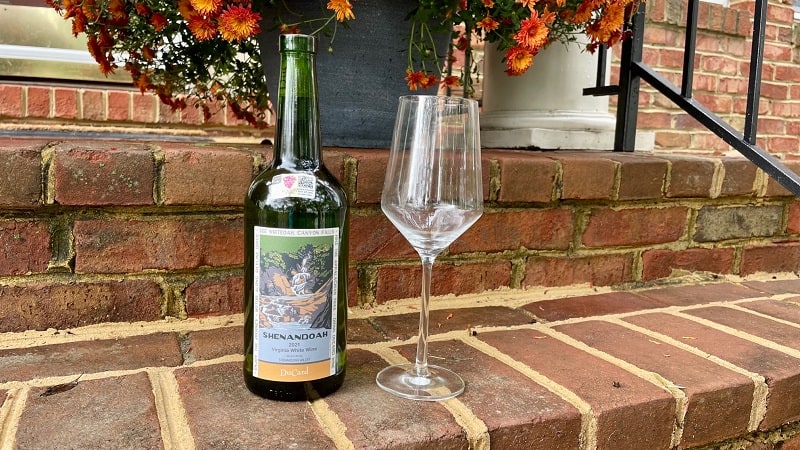 A portion of sales is donated to the Shenandoah National Park Trust. A good back-up wine is the Gibson Hollow, a crisp, satisfying white.
On weekends, look for live music, even food trucks from time to time, as you take in the vistas from the patio at this scenic Shenandoah Valley winery.
Wrap-Up Notes
It took me 90 minutes to complete this hike. It's beautiful, especially in fall. If you like Shenandoah waterfall hikes, this hike is one to love.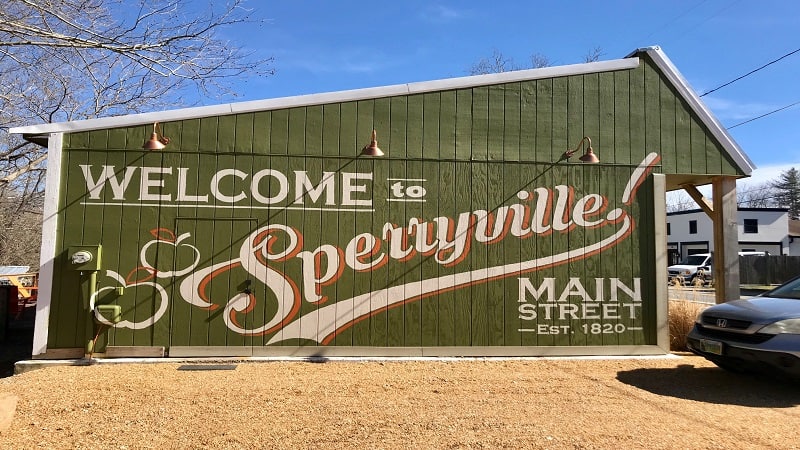 The town of Sperryville is a 30-minute drive from the start of the Whiteoak Canyon Trail. It's the closest town if you want to grab a post-hike bite.
Burgers N Things is a popular spot for burgers, subs and milkshakes. There's plenty of outdoor seating too so you can further enjoy the day.
Disclosure: This post was sponsored in part by DuCard Vineyards. All views and opinions expressed here are my own.