White Oak Canyon & Cedar Run: A Loop Hike with Oasis-Like Water Views
In October, I hiked to Lower Whiteoak Falls at Shenandoah National Park. It was a gorgeous hike, but since then, I'd been eager to tackle the full loop.
The full loop includes the White Oak Canyon Trail and Cedar Run Trail. It's a strenuous 8.8-mile hike that rewards with oasis-like water views for much of the hike.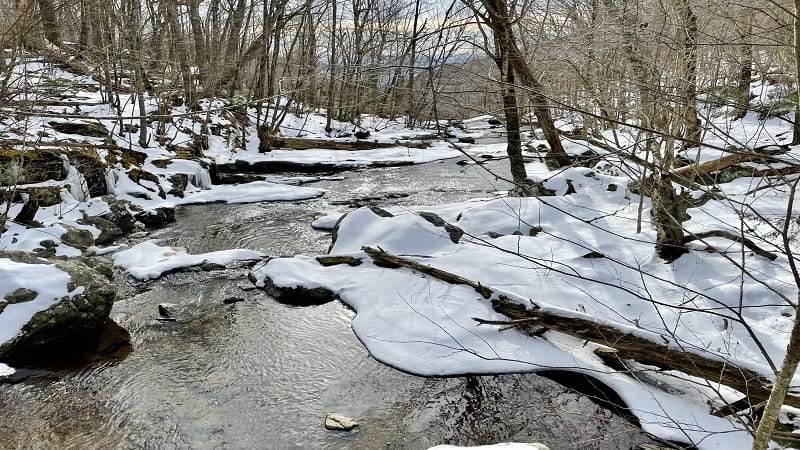 I set dates to complete this hike twice and twice I had to cancel at the last-minute due to weather. Then, I saw that a MeetUp group set a date to tackle this hike.
I jumped on the waiting list. A day or so before the hike, I made it onto the attendees list. If only the weather would cooperate to allow for safe hiking in the snow.
| Trail Stats | |
| --- | --- |
| Length | 8.8 miles |
| Difficulty | Strenuous |
| Trail Type | Loop |
| Elevation Gain | 2,320 feet |
| Duration | 6-7 hours |
| Terrain | Mostly rock & dirt trails, some stairs & rock scrambles |
| Dog-Friendly | Yes |
| Fee | $30 per vehicle (good for seven days) |
| Driving Directions | Click Here |
Arriving at the Trailhead
We set off to complete this hike from the trailhead located at the White Oak Canyon boundary parking area. This is not on Skyline Drive. It's on Chad Berry Lane in Syria.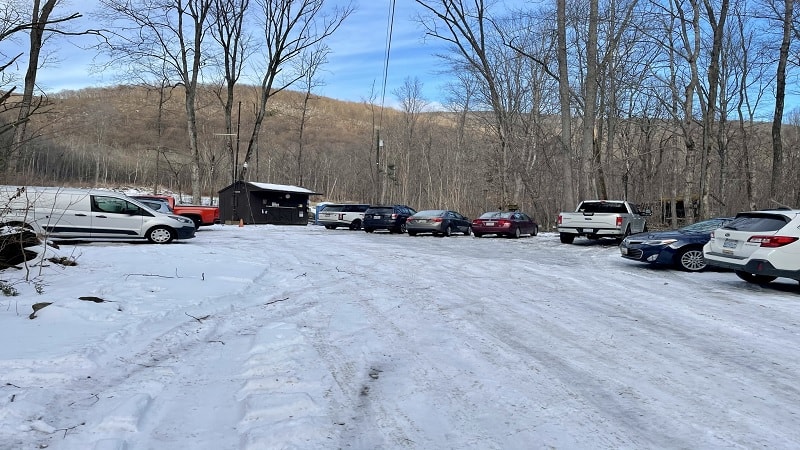 Boundary trailheads are located on private property. Often, mere steps from the park boundary. The Little Devils Stairs and Old Rag hikes both begin from boundary trailheads.
Once you arrive in the parking area, you'll note it's quite large. It's much bigger than the parking lots for most park trails, but it fills quickly, even in winter months.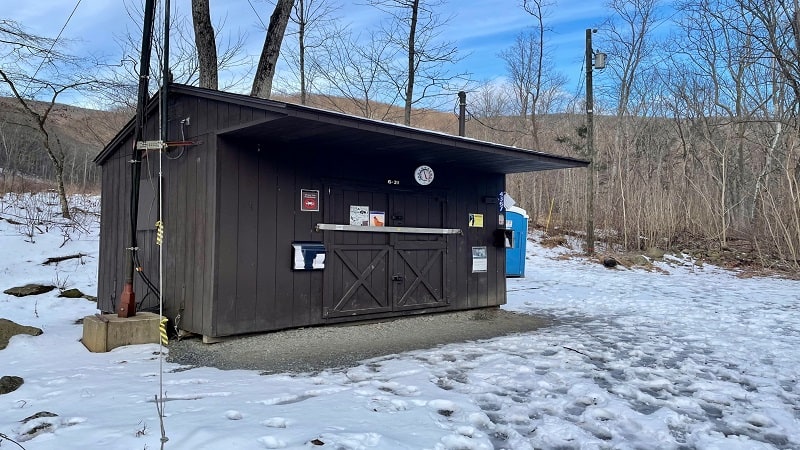 A snowplow isn't known to regularly (if at all) clear this parking lot. When I arrived there was a good deal of snow and ice, reducing the number of parking spots.
The trailhead is at the front of the lot. To the left is a ranger station where you show your annual pass or pay an entry fee. In the off-season, the booth is often unstaffed.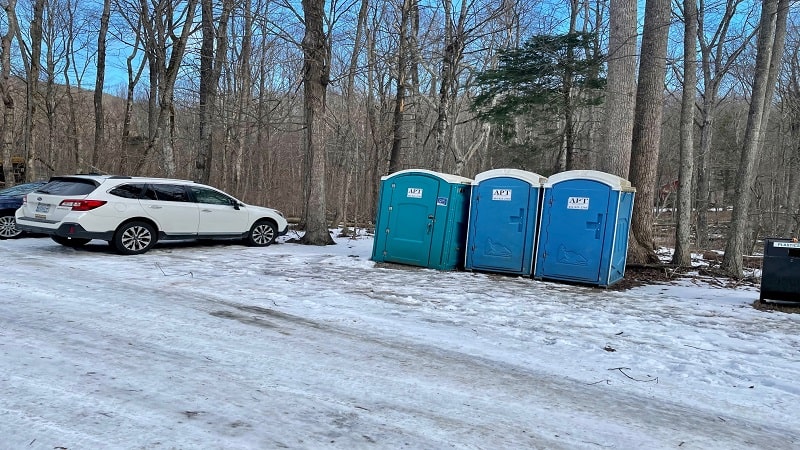 You'll find several porta-potties toward the front of the parking lot. There is also an overflow lot for parking. The last time I was here, it was $10 per vehicle.
The First Steps
The hike begins simply enough, on typical trail terrain of dirt and rocks. In less than .1-mile you will reach a metal bridge to cross over babbling Cedar Run.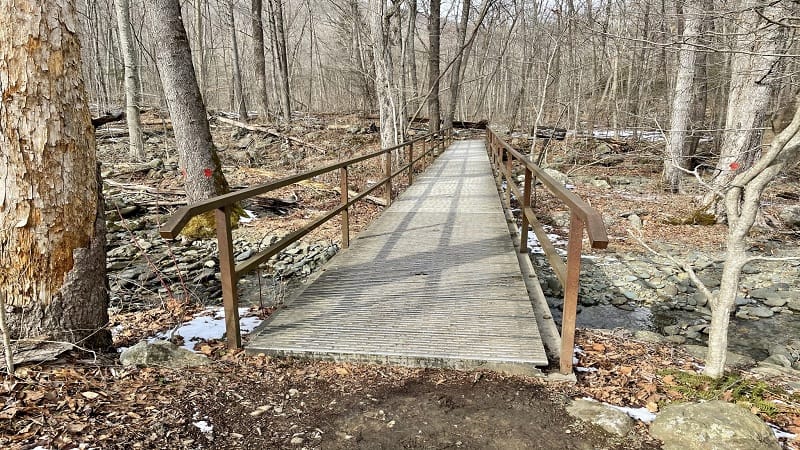 Once you cross the bridge, you are in Shenandoah National Park. Near the .2-mile mark, you will reach a fork in the trail. We stayed right for the White Oak Canyon Trail.
To be honest, you can go either way. Some people prefer to go up White Oak Canyon, down Cedar Run. Others like to go up Cedar Run, then return on White Oak Canyon.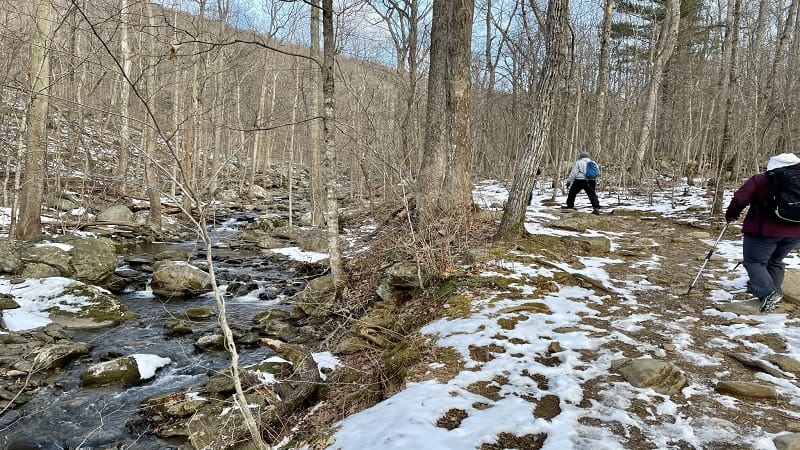 By going up the White Oak Canyon Trail, the cascades and falls flowed toward us rather than away from us.
In a few more steps, you will reach the first of two uncomplicated water crossings. Then, the second of two bridges appears, this time crossing over the Robinson River.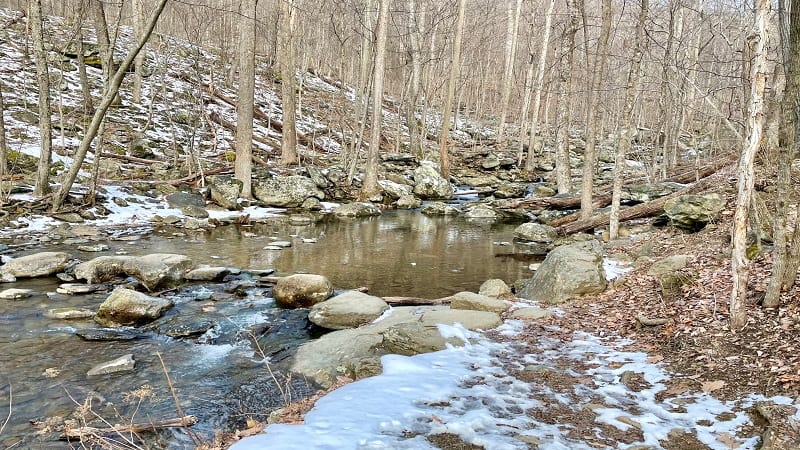 Just past the .5-mile mark, there's an easy rock scramble that takes you close to the edge of the cascading crystal-clear water.
Much of the hike is adjacent to the rolling river, so it's very relaxing to take in the babbles and burbles of the flowing water.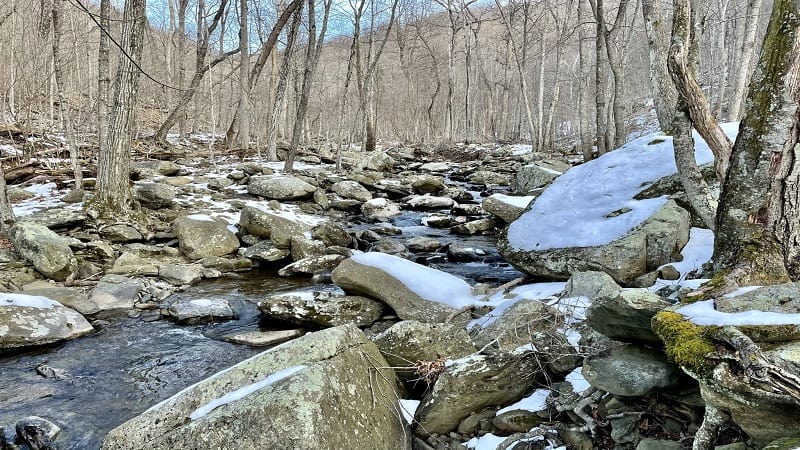 There are several spots along the hike where the trail goes right up against the water. These are perfect spots to stop and skip a few stones.
At the .8-mile mark, you'll see a concrete trail marker on the right, then the hiking trail moderately ascends.
In a few more steps, you'll see a double blue blaze and the trail does a steep zig to the right. Thankfully, the rocky switchback isn't long and levels off quickly.
The trail then descends to reach a small field of gigantic rocks. It's mandatory to go up, over, around and in between these massive rocks. Just because it's fun.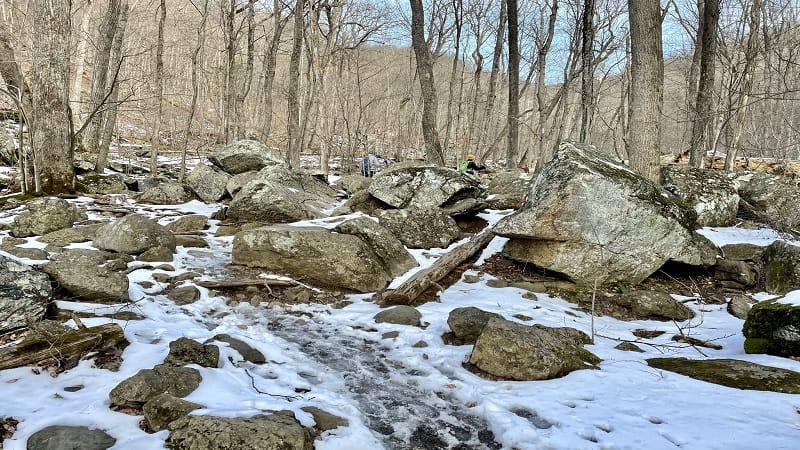 At the 1.4-mile mark, another water crossing. Then, some stone steps that take you up and to the right on the trail. In a few more steps, you have arrived at Lower Falls.
Take time to savor Lower Falls, then keep your eyes open for the trail to continue on the right. From here, it gets steep with easy rock scrambles here and there.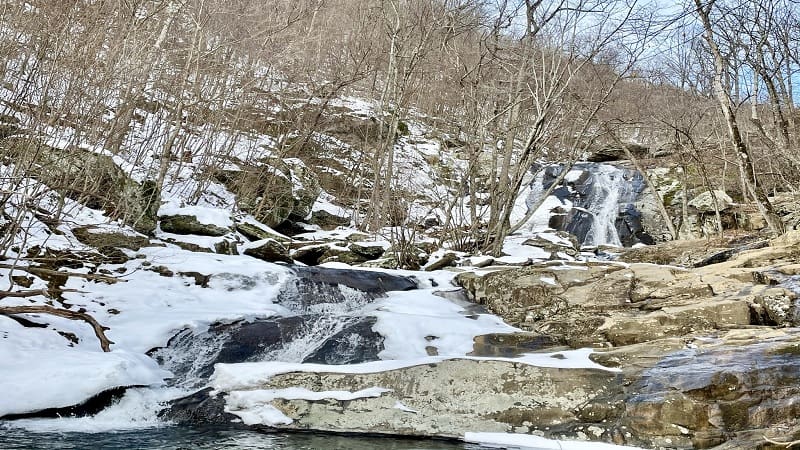 At the 1.8-mile mark, an unofficial scenic viewpoint on the left allows for far-reaching mountain views that are clear and unobstructed in all four seasons.
Upper Whiteoak Falls comes into view at the 2.4-mile mark. If hiking in winter, keep your eyes open for dangling frozen icicles hanging from exposed rocks and soil.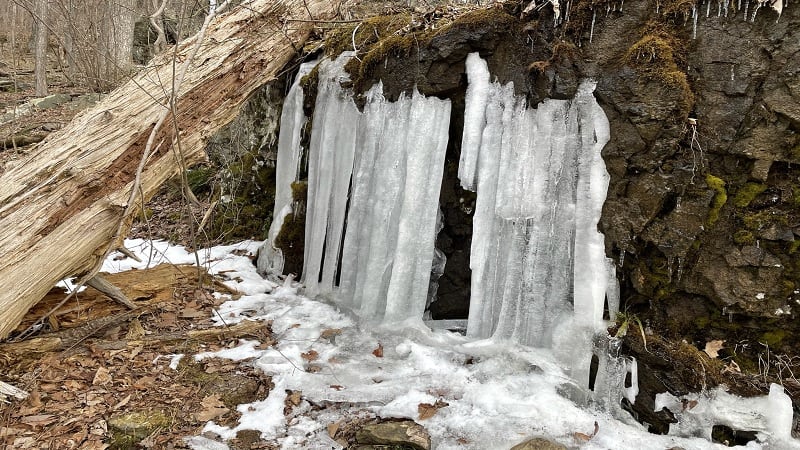 Continue ascending along switchbacks to more gently gain elevation. You'll encounter rocky steps along the way, too. At the 2.8-mile mark, a warning for hikers.
Here you'll reach a sign that begins with "Attention Hikers." You are now at the half-way point and are about to pass the point of no return. Do not exceed your abilities.
This is not the half-way point of the hike. This is the mid-way point between the boundary area and Skyline Drive. This is also half-way to peak elevation on this hike.
If you choose to press on, you will be presented with more stone steps built into the trail. Then, at the 2.9-mile mark, an official viewpoint with a marker.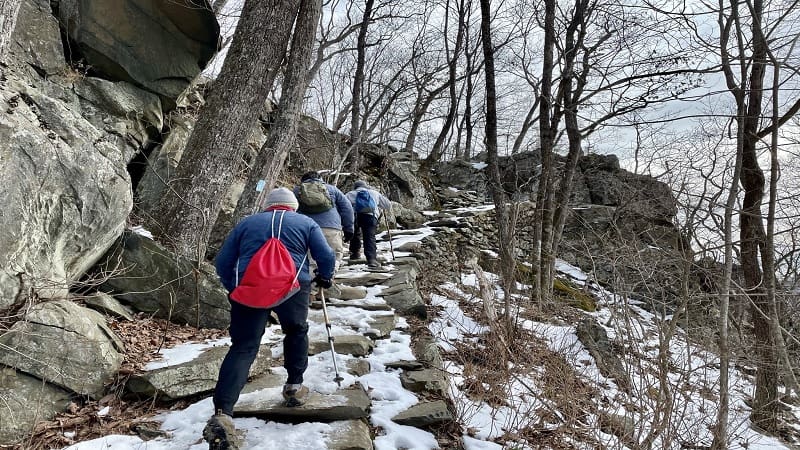 Here you can take in views of what I can only assume is "Upper" Upper Whiteoak Falls (you know, since we passed Upper Whiteoak Falls .5-miles back on the trail).
Continue on, then cross a footbridge over the Robinson River at the 3.1-mile mark.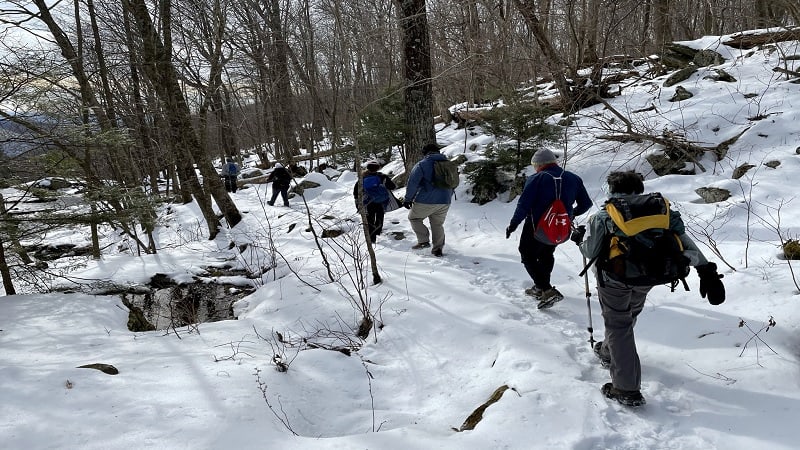 In a few more steps, you will turn right to connect with the White Oak Canyon Fire Road. From here, it's a long, uneventful, uphill slog. In snow, no less, for us.
At the 4.8-mile mark, the fire road becomes the Skyland-Big Meadows Horse Trail. Sadly, uphill. The ascent isn't terrible, but it does feel never-ending at times.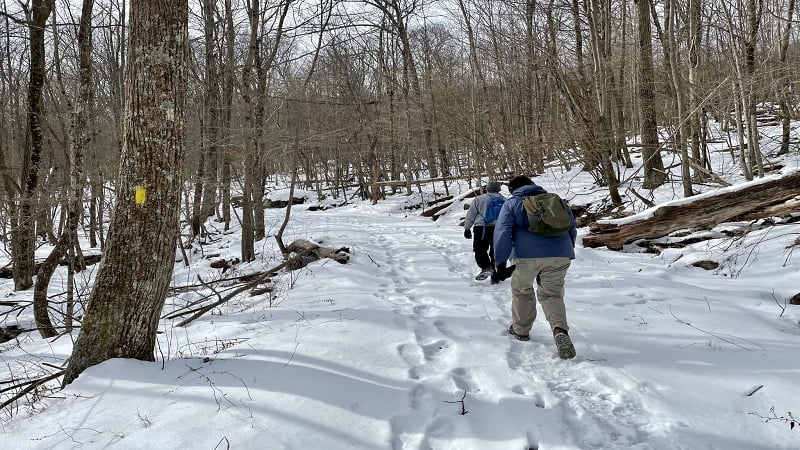 Turn left onto the Cedar Run Trail at the 5.5-mile mark. From here, the hike is almost entirely downhill, on mostly rocky terrain. Again, there was lots of snow, too.
Speaking of snow, a good two-thirds of this hike was on snow-covered terrain. Even though there was no snow in Northern Virginia. It was microspikes for the win.
At the 5.7-mile mark, the trail sidles up alongside Cedar Run. You'll walk beside the cascading water for the next three miles. But first, a water crossing.
I didn't think we'd encounter a water crossing on this side of the trail until we did at the 7.0-mile mark. You'll need to use a dead tree and protruding stones to cross Cedar Run.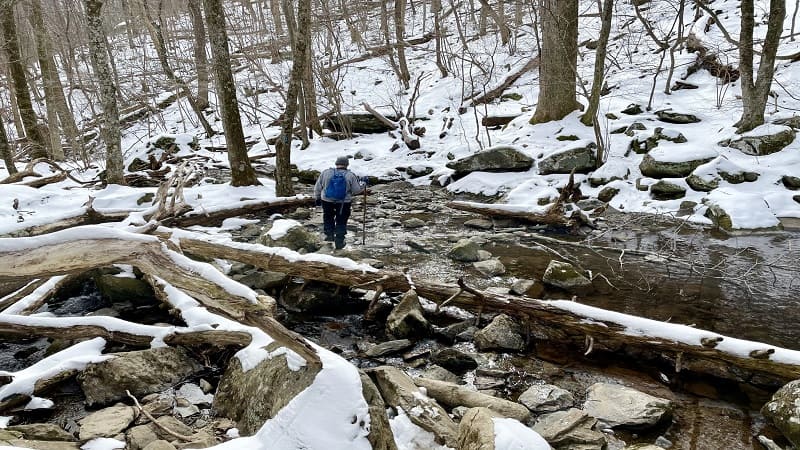 The second of two water crossings turns up at the 8.1-mile mark. This one is also a little bit tricky, but manageable nonetheless.
At the 8.6-mile mark, the snow on the trail all but disappears. It's a cake walk from here to the end. Turn right at the 8.7-mile mark and you're steps from the parking area.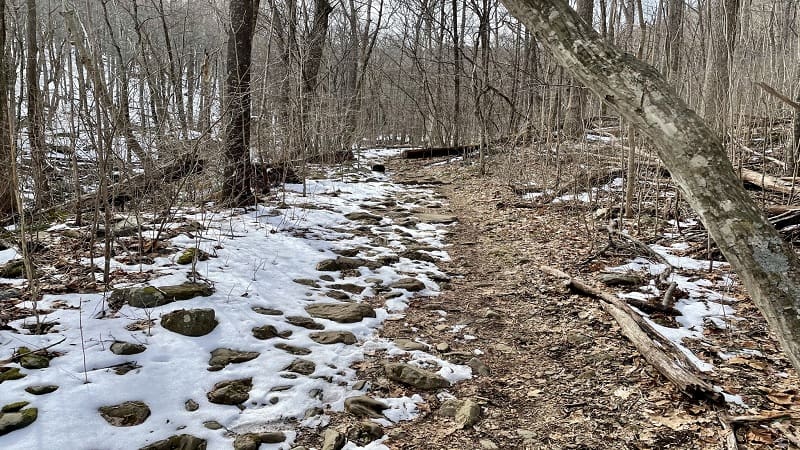 Hike Options
There are a variety of options when it comes to White Oak Canyon. One option is the 2.9-mile out-and-back hike to Lower Falls on the Whiteoak Canyon Trail.
Alternatively, you could complete a 4.8-mile out-and-back hike on the White Oak Canyon Trail that includes both Lower Falls and Upper Falls.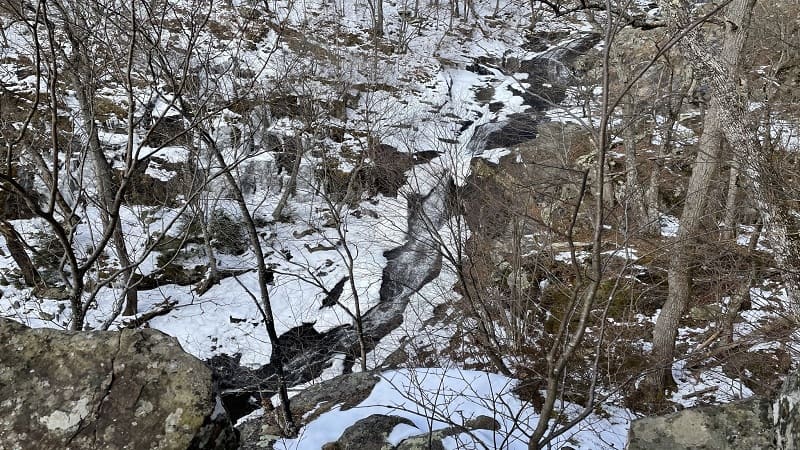 One more option is a 5.8-mile out-and-back hike that includes Lower Falls, Upper Falls and "Upper" Upper Falls. All three routes are exceptionally scenic and five stars.
Wrap-Up Notes
From the parking area, it took me five hours to complete this hike. It's a beautiful hike, but one that requires added focus in winter on snow-covered, rocky terrain.
It's worth noting that there are several watering holes and swimming holes along the hike that would be refreshing on warm, humid days.
The town of Sperryville is a 30-minute drive from the trailhead. It's the closest town if you want to grab a post-hike bite.
Burgers N Things is a popular spot for burgers, subs and milkshakes. There's plenty of outdoor seating too so you can further enjoy the day.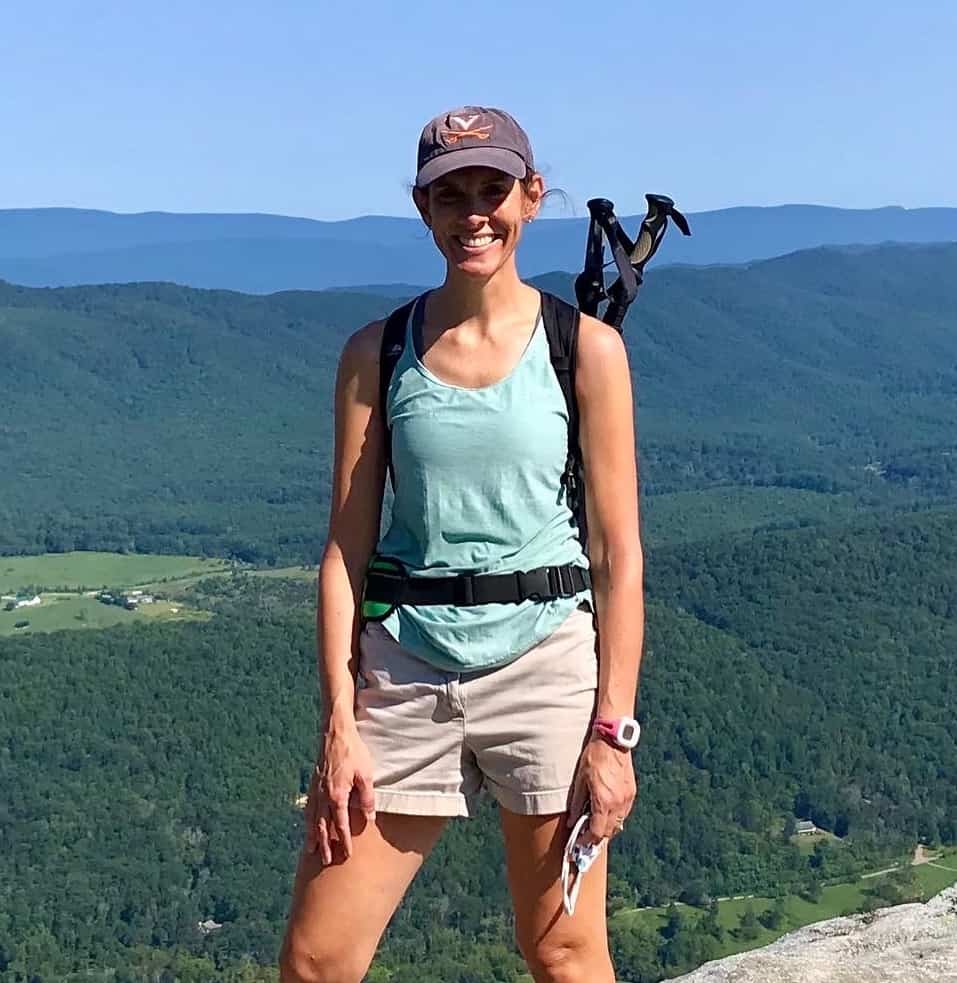 Erin Gifford is the editor of Go Hike Virginia. She has completed more than 300 hikes in Virginia. She is also the author of three hiking guidebooks from Falcon Guides. Need help finding a hike? Check out the Trail Finder feature or send Erin a message.