Little Stony Falls: A Peaceful Waterfall Hike in Southwest Virginia
If you're looking for peace and quiet, there's a very good chance you'll find it on the leafy hike to Little Stony Falls near Dungannon, Virginia.
I hiked the shady Little Stony National Recreation Trail to the cascading waterfalls on a recent Sunday morning. I didn't see a single person on the yellow-blazed trail.
It's 2.4 miles to reach the falls. The trail follows Little Stony Creek through a 400-foot-deep and 1700-foot-wide gorge along an old railroad bed in Scott County, Virginia.
Interestingly, you also walk alongside Little Stony Creek on the hike to Cascades Falls. However, the trailhead for that hike is in Pembroke, nearly three hours away by car.
Both waterfall hikes are in the Jefferson National Forest. Could a burbling creek really flow that far? Clearly, I need to investigate.
| Trail Stats | |
| --- | --- |
| Length | 4.8 miles |
| Difficulty | Moderate |
| Trail Type | Out-and-Back |
| Elevation Gain | 666 feet |
| Duration | 3-4 hours |
| Terrain | Mostly dirt & rock trails, some rock scramble |
| Dog-Friendly | Yes |
| Fee | Free |
| Driving Directions | Click Here |
Arriving at the Trailhead
The parking area is situated at the Hanging Rock Recreation Area, a day-use area within the Jefferson National Forest. It's a sizeable lot with room for at least 20 cars.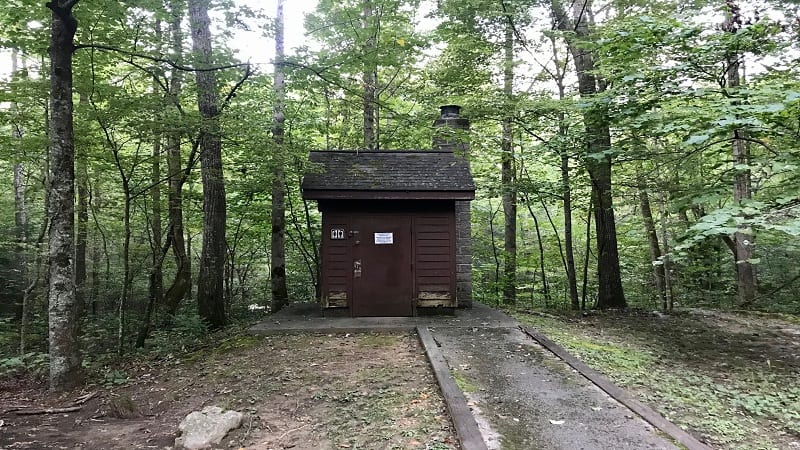 Here you'll find several picnic tables, as well as a vault toilet and several short spur trails leading to the edge of Little Stony Creek.
The First Steps
The trailhead is located to the right of a large kiosk with a map, as well as several notices. You know, the basics, like forest rules, leave no trace, stay on the trail.
The first few steps along the mostly dirt and rock trail are quite dark. It was hard to tell whether the foliage was especially dense or it was just early (I set off on the trail at 8:15 am).
Along the way to Little Stony Falls, you will cross three wooden bridges over the flowing creek waters. The first appears at the .1-mile mark.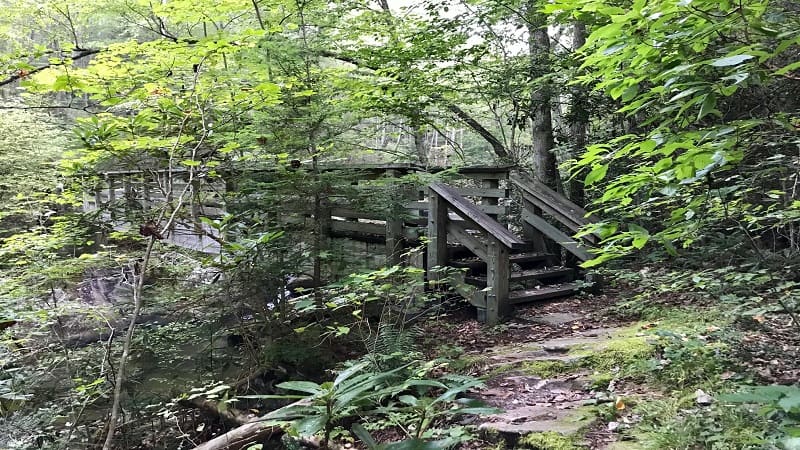 In a few more steps, you'll reach a tangle of fallen trees to navigate around to get back on the trail. At the .6-mile mark, heads up for a double yellow blaze.
The relatively flat, easy trail ends here. At least for now. To your right, you've got to scramble up and over a massive field of rocks.
Within less than one-quarter mile, the rock scramble is complete. Turn left to step back onto the mostly dirt trail to continue on to Little Stony Falls.
Near the 1.4-mile mark, you'll reach the second bridge to cross over the creek. Then, at the 1.8-mile mark, heads up again for a second double yellow blaze.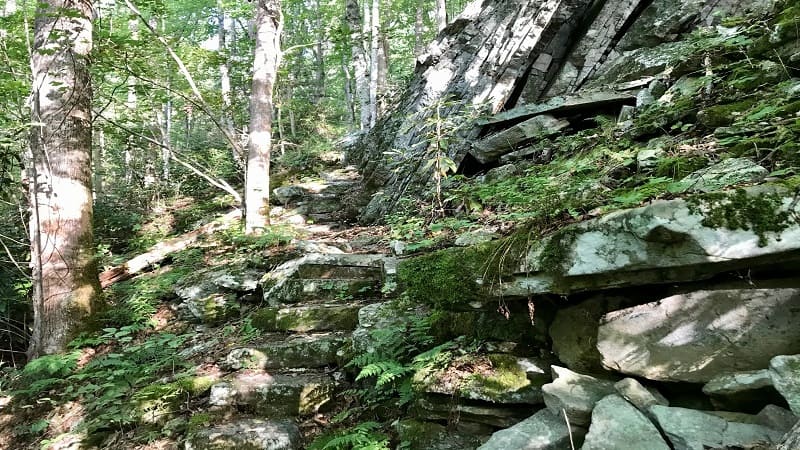 Turn right here to go up the hill. In a few more steps, you will reach stone stairs and a funky rock formation, then a mossy rock scramble.
The Lower Falls appear by the 2.1-mile mark. There's a fairly large rock on the left that you can walk out onto for some nice photos of the waterfalls.
From here, you can also step down onto some rocks to get up close to Lower Falls.
Continue on to cross some flat rocks adjacent to the gently cascading falls. You'll see a yellow blaze to the far right that guides you to the main attraction.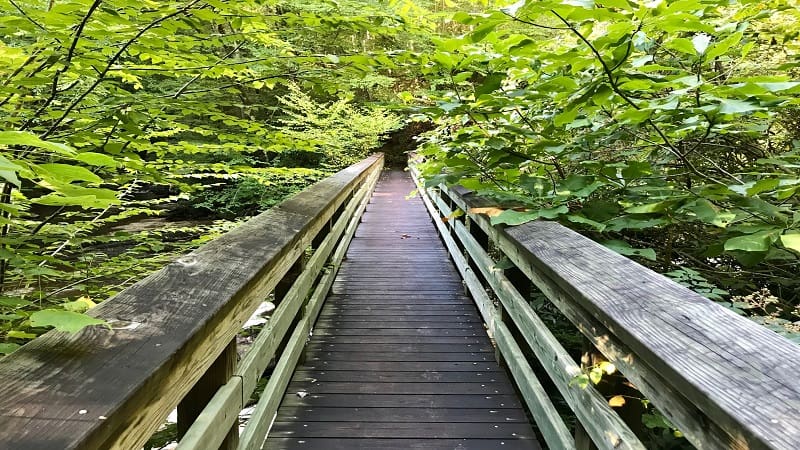 At the 2.2-mile mark, you'll cross the last wooden bridge. In a few more steps, you will approach the viewing platform for Little Stony Falls.
According to AllTrails, this is Middle Falls. This is not the main attraction. However, the stairs to continue on this trail are closed (due to landslides, according to the U.S. Forest Service). You cannot reach Upper Falls.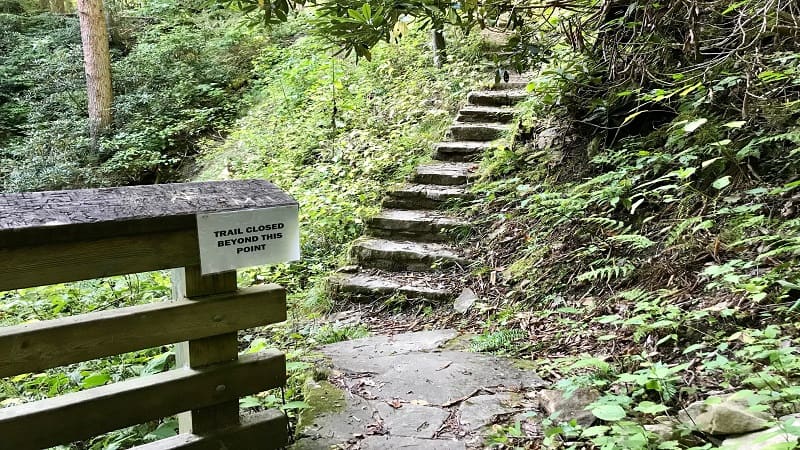 This is not a disappointment. Middle Falls are absolutely stunning. They are also supposedly taller and more impressive than Upper Falls. That's good enough for me.
Just before you reach the viewing platform, there's a fairly steep trail that will take you down to the basin of Middle Falls. It's a delightful swimming hole, so please do enjoy before you return to your car.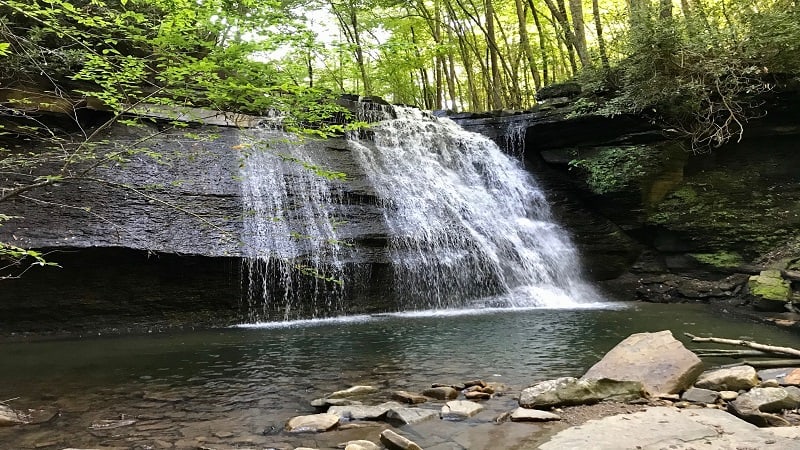 This is an out-and-back hike, so simply re-trace your steps to return to the parking area.
Wrap-Up Notes
From the parking area, it took me nearly 2.5 hours to complete this hike, including time spent at the refreshing basin of the waterfall.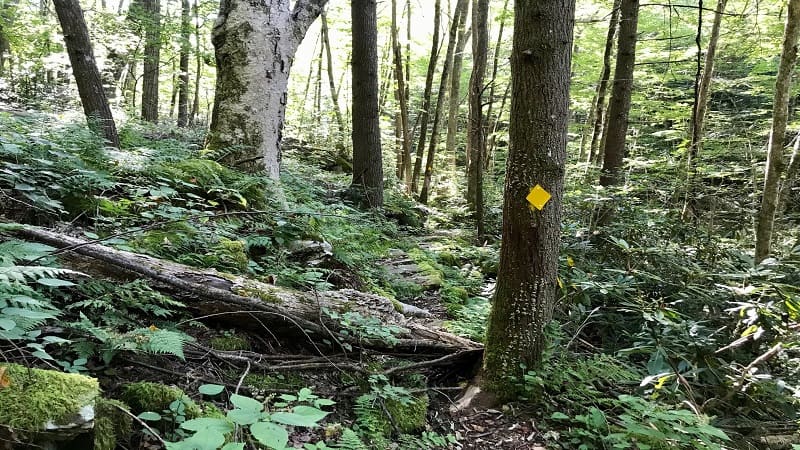 This area is largely a dead zone for AT&T cell phone subscribers. Keep this mind and don't let your mind wander too much on the drive to the trailhead. You may not be able to rely on your phone to map your way out of the area.
Eager to do two waterfall hikes in one day? The trailhead for the Little Stony Falls hike is just a 30-minute drive from Devil's Bathtub.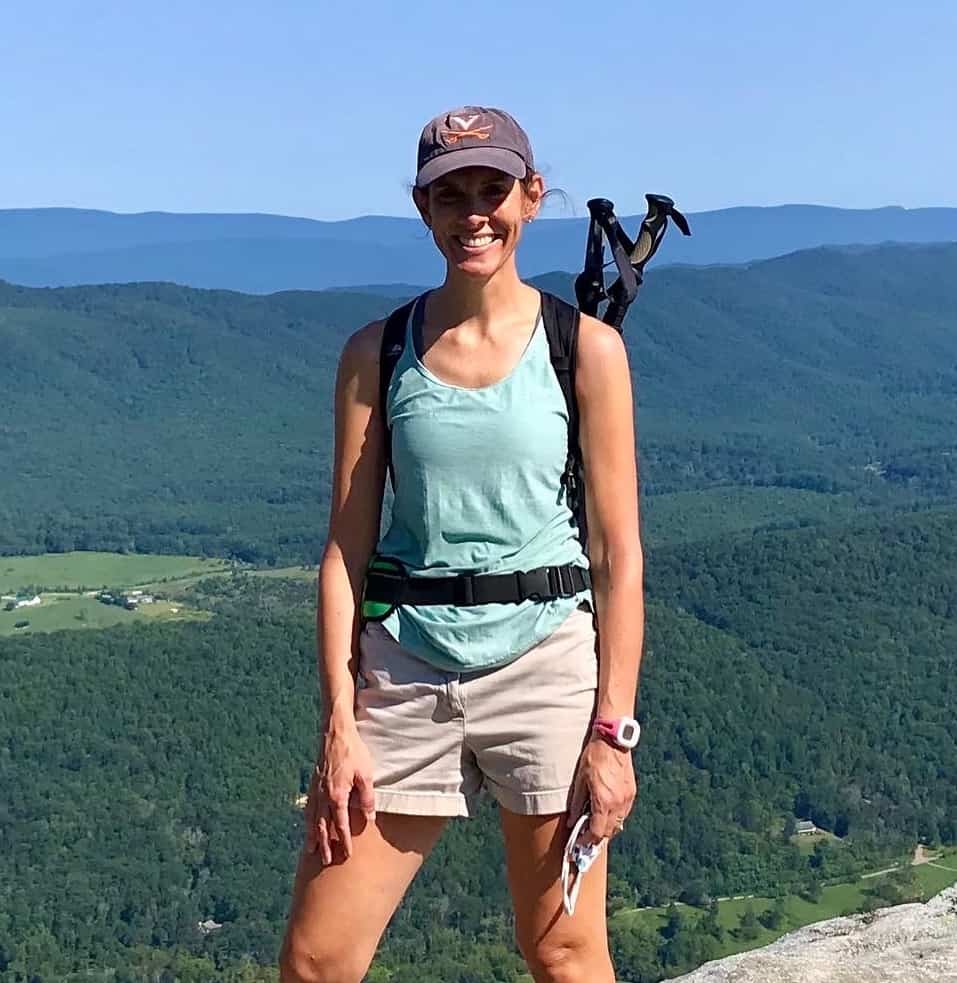 Erin Gifford is the editor of Go Hike Virginia. She has completed more than 300 hikes in Virginia. She is also the author of three hiking guidebooks from Falcon Guides. Need help finding a hike? Check out the Trail Finder feature or send Erin a message.