Difficult Run: An Impossibly Perfect Hike to Great Falls
A couple of weeks ago, I hiked from the parking lot at Difficult Run in Stream Valley Park to the overlooks at Great Falls Park. This is my new favorite hike to Great Falls.
There are several ways to enjoy the park's naturally cascading rapids, including by way of the River Trail at Great Falls Park. This begins steps from the parking area.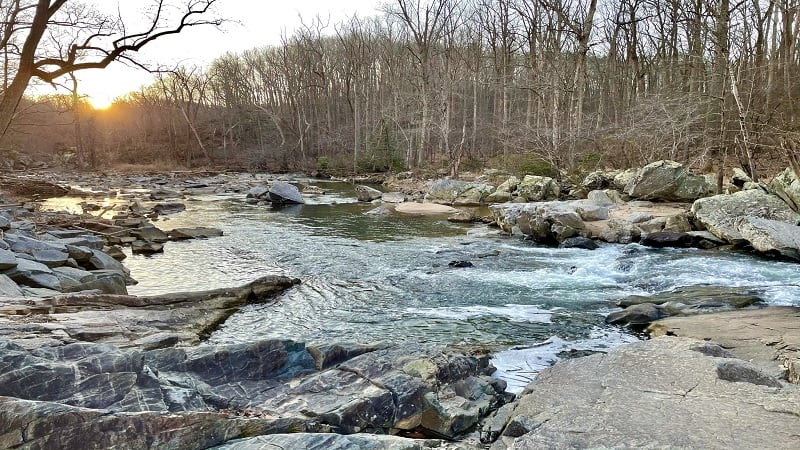 A second way to go is by way of Riverbend Park. This county park is literally next door, allowing for an easy hike along the Potomac Heritage National Scenic Trail.
I've completed and loved both of the above hikes, but the hike to the Great Falls overlooks from Difficult Run is my favorite. It was truly the perfect way to spend a Friday morning.
| Trail Stats | |
| --- | --- |
| Length | 5.1 miles |
| Difficulty | Easy |
| Trail Type | Loop |
| Elevation Gain | 443 feet |
| Duration | 3-4 hours |
| Terrain | Dirt and rock trails, some gravel and easy rock scrambles |
| Dog-Friendly | Yes |
| Fee | Free |
| Driving Directions | Click Here |
Arriving at the Trailhead
The Difficult Run parking area is adjacent to Georgetown Pike in Great Falls. Many cars motor along this road at a good clip, so be careful entering and exiting the lot.
You'll find there is room in the lot for maybe 25 cars. This seems like a lot of parking, but not on a Saturday morning at 10 am. The parking area will be at capacity.
I completed this hike on a recent Friday morning. Even at 7:30 am, there were already two or three cars. The trailhead for this hike is at the back of the parking lot.
The First Steps
This hike begins along a casual green-blazed gravel path, first alongside Difficult Run, then closer to Georgetown Pike. The cars are quite noisy, but soon all will be calm.
You'll meander along the path through a forest. Now leafless, the cars are right next to you as you hike along the trail. At the .3-mile mark, walk under Georgetown Pike.
Once you proceed past Georgetown Pike, you will officially enter Great Falls Park. As if by magic, the roaring sounds of cars and trucks seem to melt away.
The trail soon sidles up to cascading Difficult Run. There are multiple opportunities to get close to water, which alternates between blissfully calm and furiously rushing.
At the .5-mile mark, you'll reach a beach-like area that must be heaven in summer. It's an ideal spot to kick off your shoes and wade into refreshing Difficult Run.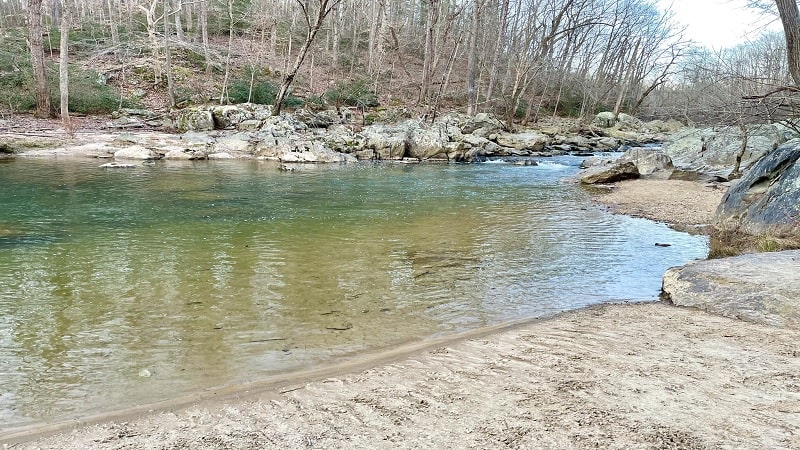 In a few more steps, you'll approach a cascading section with large rocks you can scramble to get closer to the flowing waters. I felt like a kid clambering across the rocks.
At the .9-mile mark, turn left onto a spur trail in the direction of the Ridge Trail. In a few more steps (uphill), you'll turn left again to officially step foot on the Ridge Trail.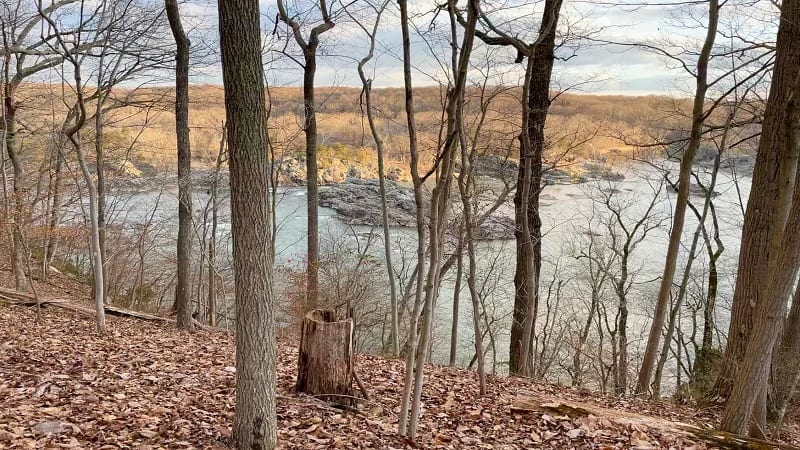 At the top of the hill, you'll reach another trail marker and booming views of the Potomac River. Certainly, they were booming in winter through leafless trees.
Continue ascending until you reach a lone picnic table at the 1.1-mile mark. This would make an ideal spot for lunch (sadly, it was just past 8 a.m. when I approached).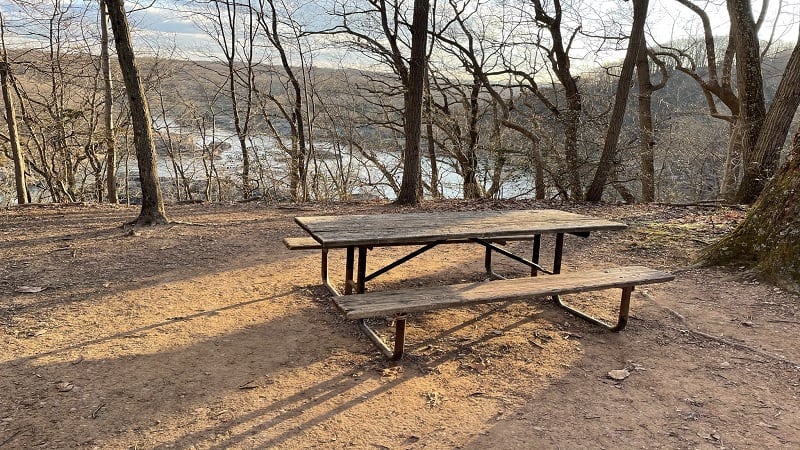 Proceed past the picnic table. You'll keep on uphill for another .2-mile, then you'll begin a fairly rapid descent as you get closer to the Potomac River.
At the 1.5-mile mark, turn right for the River Trail. Shortly, you will reach a beach-like area. You are not allowed to swim or wade in the Potomac River, but do enjoy the views.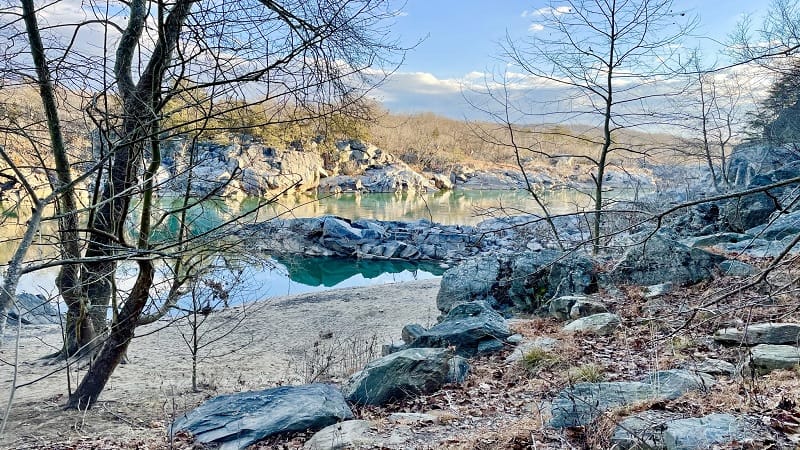 I arrived on a calm day and the river was like glass. Truly, completely still. Better, it was a gorgeous blue-green color. I was utterly enamored with the views from here.
As you proceed on, the hike becomes more wooded as you're set further back from the Potomac River. Plan to walk across a few wooden bridges as the hike proceeds.
At the 2.0-mile mark, you'll reach a paved road to Sandy Landing. This is an emergency boat ramp. Proceed past this road and stay right for the River Trail.
Continue on and you'll reach overlook after overlook from high up on the cliffs. At this point, the river will be so far down below. The views are literally everything.
From here, you'll traverse some boardwalk trail and cross over a wooden bridge. At the 2.4-mile mark, you'll pass through a historic preservation area.
Heads up for a trail sign near the 2.5-mile mark to turn right to stay on the River Trail. It can be easy to miss as you're walking through the preservation area.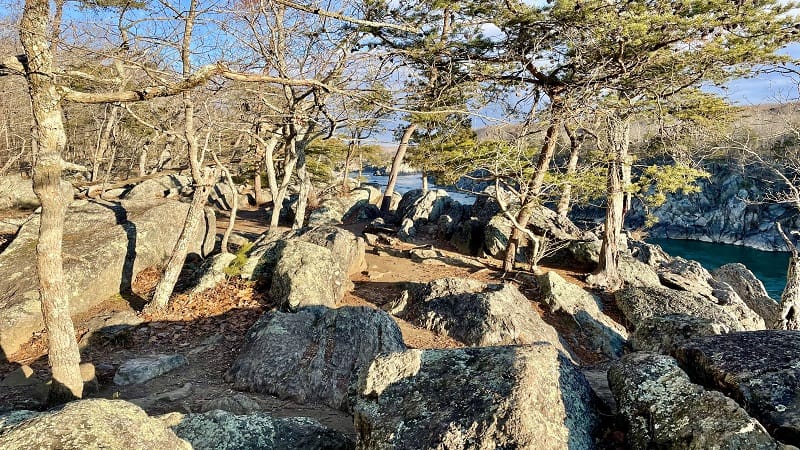 Once you exit the preservation area, there are a lot of easy rock scrambles that set you up for easy-going water views. You'll soon exit into the park's flat picnic area.
At the 3.1-mile mark, you'll reach Overlook #3. There are actually two large, accessible overlooks at Overlook #3, as well as a beloved High Water Marks pole.
Re-trace your steps to the main trail and proceed north to Overlook #2. This overlook is also accessible by way of a wooden ramp. There is one overlook, but it is rather large.
Again, re-trace your steps to the main trail and continue north to Overlook #1. This overlook is not accessible but is the closest to the tumbling falls.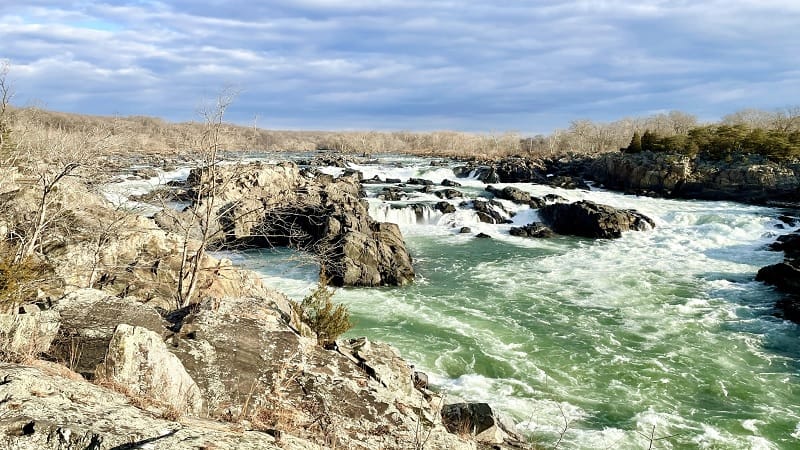 My favorite overlook is Overlook #2, but Overlook #1 is ideal for ogling whitewater kayakers as they navigate the swirling cascades of Great Falls. So much fun.
From here, you can continue north to enter the Great Falls Visitor Center (currently closed due to COVID) or return to your vehicle when you are ready to go.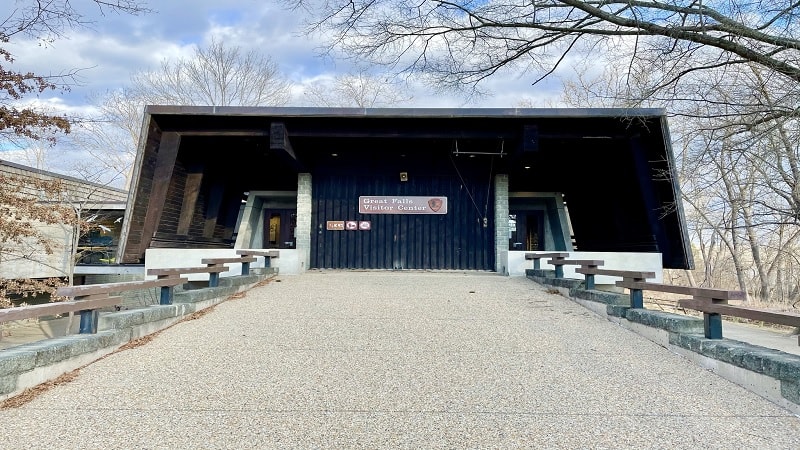 From the visitor center, re-trace your steps on the trail, then stay right just after Overlook #1 to connect with Old Carriage Road, a wide gravel path.
Old Carriage Road runs through the large picnic area and parallels the River Trail. At the 3.8-mile mark, stay right to continue on Old Carriage Road.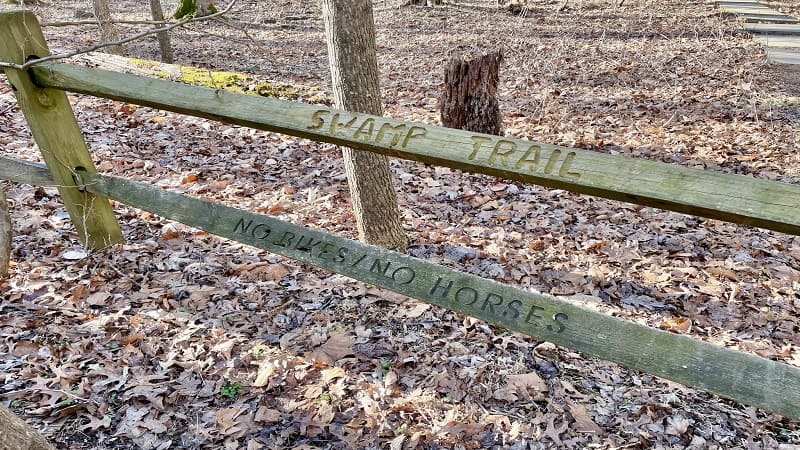 At the 4.0-mile mark, turn right for the Swamp Trail. The trail narrows as you go away from the river and into the woods, crossing several footbridges along the way.
Stay right at the 4.4-mile mark for the Swamp-Ridge Connector Trail (not marked), then turn left on the Ridge Trail when the trail dead-ends at the 4.7-mile mark.
This next part is tricky since it's not marked. In just a few steps, you'll turn right to descend along the Wolfpack Trail. There are no trail signs, at least none that I noticed.
I sensed I was nearing the end of my hike and literally only thought to turn right when I saw a couple of chatty ladies walking dogs coming up the Wolfpack Trail. Phew.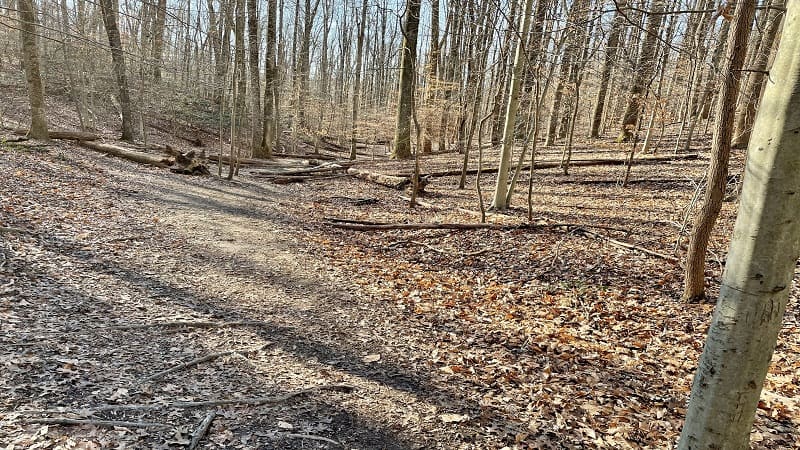 At the 5.0-mile mark, you'll cross over two-lane Georgetown Pike (be careful) to return to the parking lot and complete this delightful loop hike.
Wrap-Up Notes
From the parking area, this hike took me nearly 2.5 hours to complete, including time spent reveling in the views. It really is a beautiful hike.
There are so few hikes I want to repeat, mostly because I want to hike new trails to add content to this website. However, I could hike this one again and again (and again).
I'm certain this hike gets incredibly busy in warm weather months. Even in winter, I imagine the parking lot fills up quickly on weekends.
That noted, plan to go early, on a weekday if you can to avoid the crowds. Let me know what you think about this hike. It's a real gem.