Apple Orchard Falls: Hike to a 200-Foot-Tall Waterfall Near Bedford, Virginia
The 2.9-mile out-and-back hike to 200-foot-tall Apple Orchard Falls begins at the Sunset Field Overlook parking lot at milepost 78 along the Blue Ridge Parkway.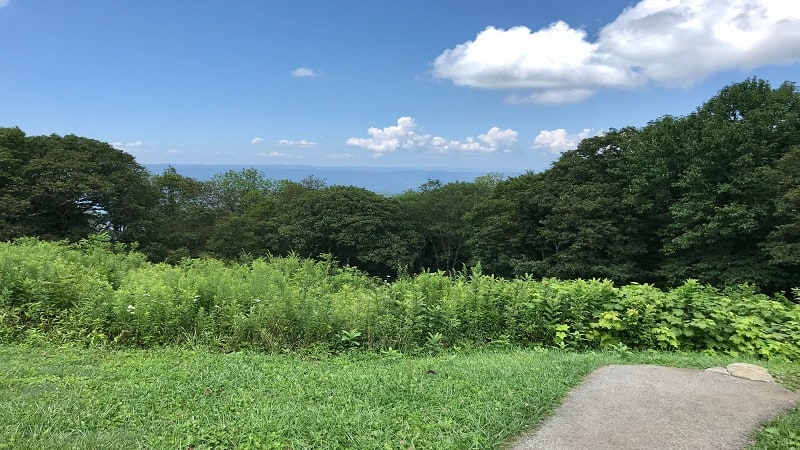 The overlook lot is easy to find as you're motoring along the scenic byway.
It practically begs you to pull over to take on this refreshing hike to one of the best waterfalls in Virginia.
| Trail Stats | |
| --- | --- |
| Length | 2.9 miles |
| Difficulty | Moderate |
| Trail Type | Out-and-Back |
| Elevation Gain | 1,040 feet |
| Duration | 2-3 hours |
| Terrain | Mostly dirt & rock trails, some stairs |
| Dog-Friendly | Yes |
| Fee | Free |
| Driving Directions | Click Here |
Apple Orchard Falls Hike
There are at least a dozen parking spaces and we had no trouble finding one on a Sunday afternoon in August.
The first paved steps from your vehicle past the large trail sign wow with wide-open valley views. Be sure to pause to snap a few photos.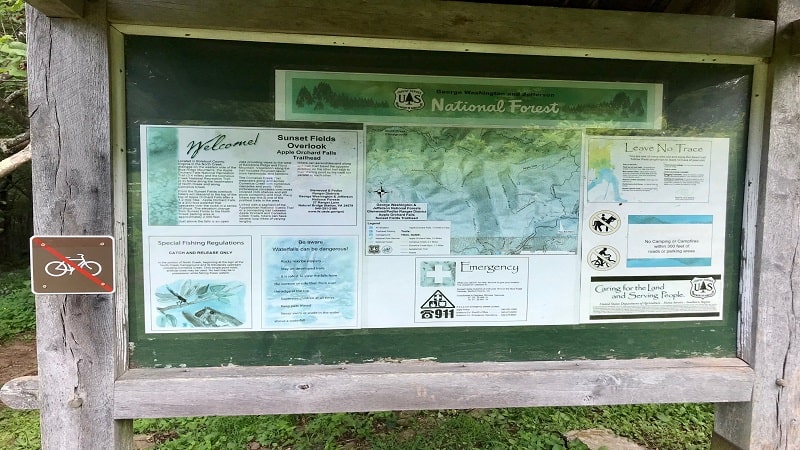 In a few more steps, there is a large trail sign welcoming visitors to this section of the George Washington and Jefferson National Forest.
A topographical map created by the United States Forest Service shares what you'll see along the trail, including mountains, ridges, creeks and gaps.
Apple Orchard Falls Trail
After the first paved steps, the Apple Orchard Falls Trail quickly curves to the right into the forest.
In an instant, you will become enveloped by a rich, green canopy of towering cove hardwoods and fragrant hemlocks.
From here, the descent along a terrain-rich trail made of dirt and rocks begins, inching you ever closer to one of the most dramatic waterfalls in Virginia.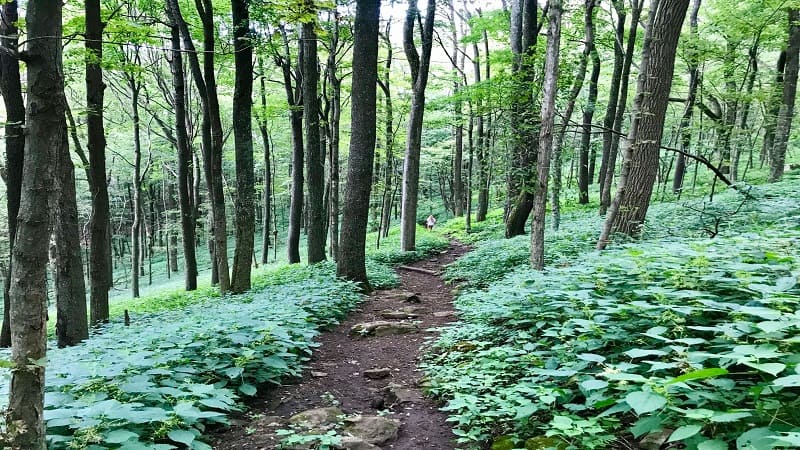 At the .2-mile mark, you'll reach a trail sign that can easily confuse, but continue straight ahead to remain on the blue-blazed Apple Orchard Falls Trail.
After a few more steps, you'll reach the first of two switchback sections to help ease the steep descent along the trail.
Cornelius Creek
A gently flowing creek (Cornelius Creek, I presume) comes into view on the left-hand side.
At the .8-mile mark, you will reach an intersection with the Cornelius Creek Trail.
Continue straight to bypass this trail, then bear left at the blue-blaze when the trail splits into two trails.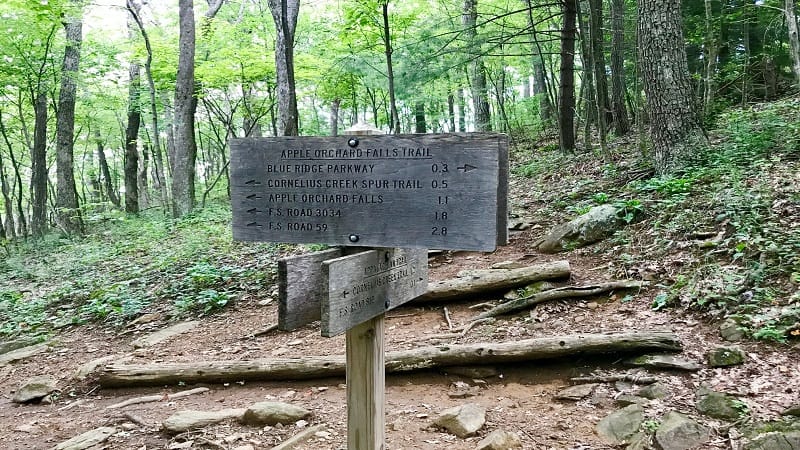 A playful water crossing rewards hikers of all ages, as does a cascading stream to the left of the trail, which comes into view near the one-mile mark.
As you continue on, you'll pass several giant boulders, as well as a huge tree taken down at some point by a massive force.
At the 1.1-mile mark, descend 25 wooden steps and cross a wooden bridge to reach the banks of an inviting waterfall. It's an ideal stop for a snack break.
Take off your shoes to splash around in the refreshingly cool waters that cascade downstream. This, however, is not the waterfall. The best is still yet to come.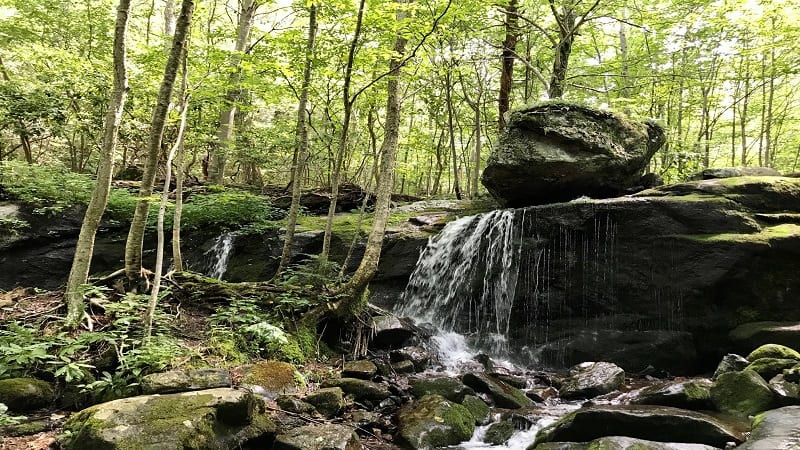 In another .1-mile, look left at the large rock face. Climb up the side to a curious small cave.
In this same spot, there's also a large tree just off the trail that has clearly been a favorite with local woodpeckers. How many holes can you count?
Big Mountain Views
By this point, the waterfall is close at hand. But first, you must descend several sets of wooden steps.
Pause after the first set for views to the west of Floyd Mountain and Backbone Ridge. It's hard to beat a hike with mountain views and crashing waterfalls.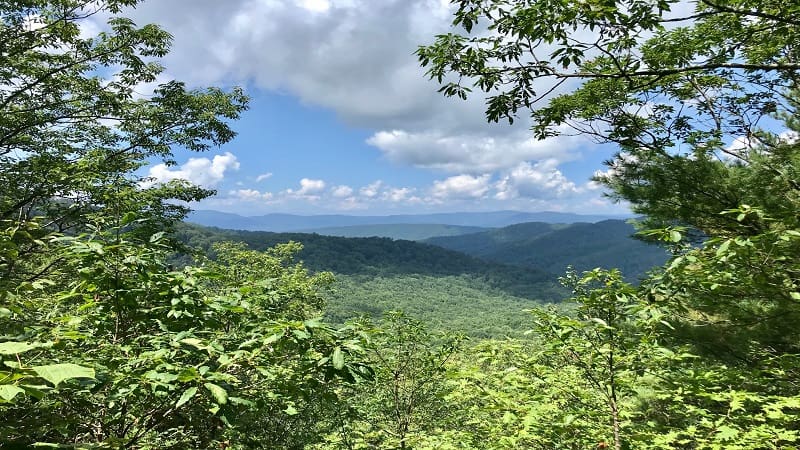 In a few more steps, you'll reach another short staircase. Then, the final descent of more than 120 steps to the waterfall viewing area.
Mid-way, there is a platform that offers up the first views of the falls. There is also a bench, an ideal stop for rest on the way back up.
Apple Orchard Falls
Once you reach Apple Orchard Falls, you'll cross a small wooden bridge and go up a few steps to be front and center at the falls.
There's a bench and a number of good size rocks that make a perfect spot for lunch in front of the falls.
Scramble some rocks for a better view of this striking 200-foot-tall waterfall.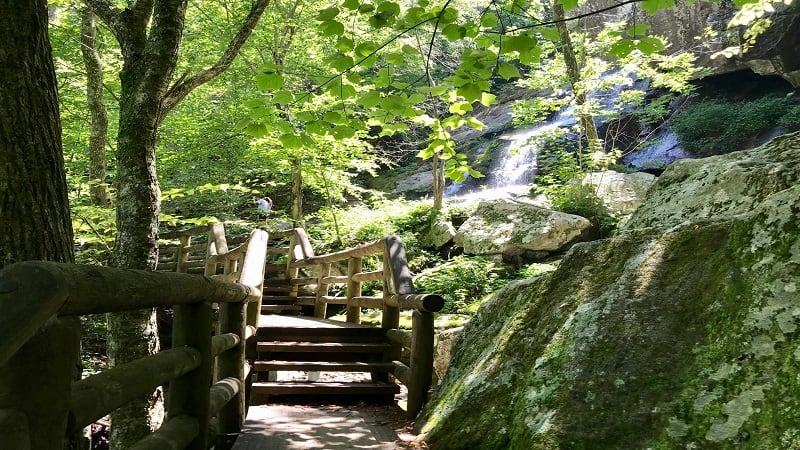 Re-trace your steps to the parking lot but take your time since the hike is all uphill on the way back. Watch your step as you navigate rocks and tree roots.
It can be easy to be careless when fatigued from the difficult uphill climb. You can also make this a loop hike by starting at the North Creek Campground.
Hike Options
For a longer hike, add on a second waterfall that's less than 10 minutes south on the Blue Ridge Parkway.
The Fallingwater Cascades Trail at milepost 83 is an out-and-back 1.2-mile trail to a small waterfall where kids can splash their feet in the water.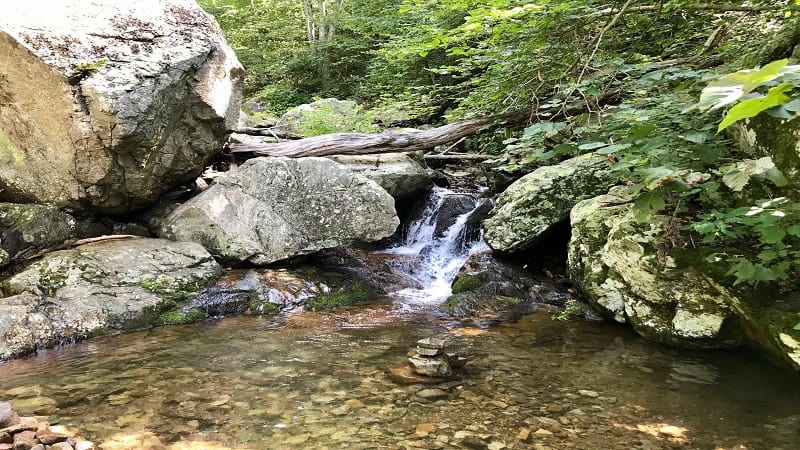 For a shorter hike, stop at the small splashy waterfall at the 1.1-mile mark of the Apple Orchard Falls Trail, then return to your car.
A third option is to summit Apple Orchard Mountain (elevation 4,206 feet) once you've explored all of Apple Orchard Falls.
You can reach the summit by way of the white-blazed Appalachian Trail, which intersects the waterfall trail at the .3-mile mark (turn right) of this hike.
Wrap-Up Notes
From the parking area, this hike took me close to 90 minutes. However, there is no need to rush. Simply savor the forest views.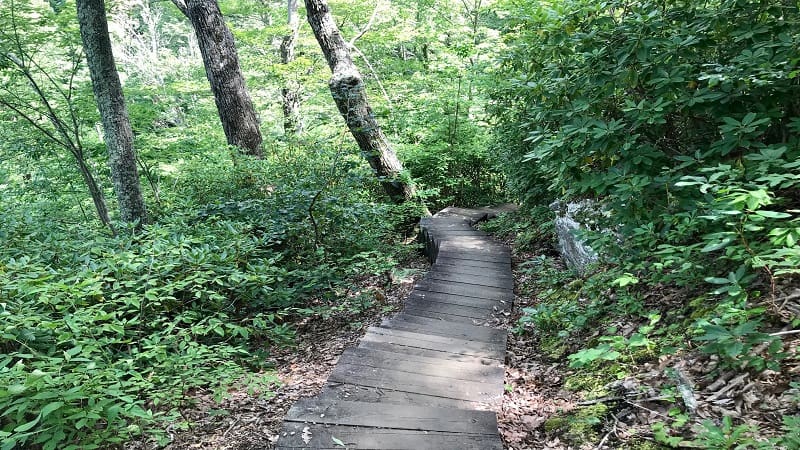 There is no porta-potty and the closest town to fuel up – both with gas and with food – is Buchanan. The town is four miles off milepost 90 from the scenic byway.
Traipse across the swinging pedestrian bridge that crosses over the James River or float on a tube courtesy of Twin River Outfitters.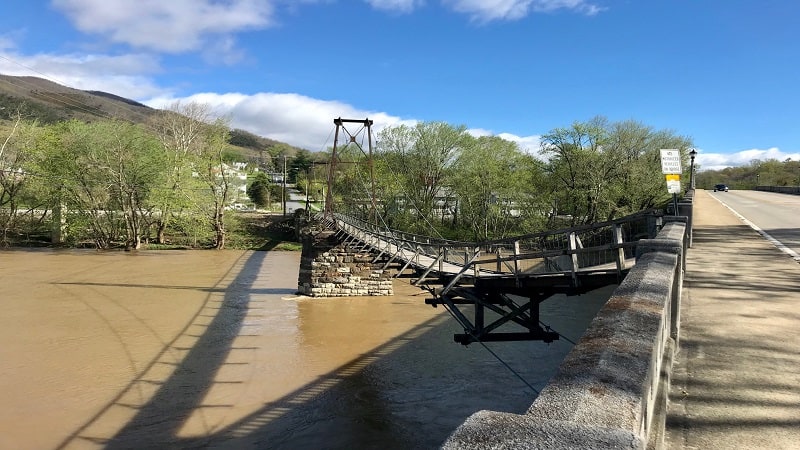 For eats, try the Buchanan Fountain and Grille, a 1950's-style diner that kids will love.
Order up a salad, a burger, a wrap or a pizza. Save room for a scoop of Hershey's ice cream. Maybe even a milkshake. Yum-o.
Eager to step foot on more scenic hiking trails? Check out my favorite hikes near Lexington, Virginia.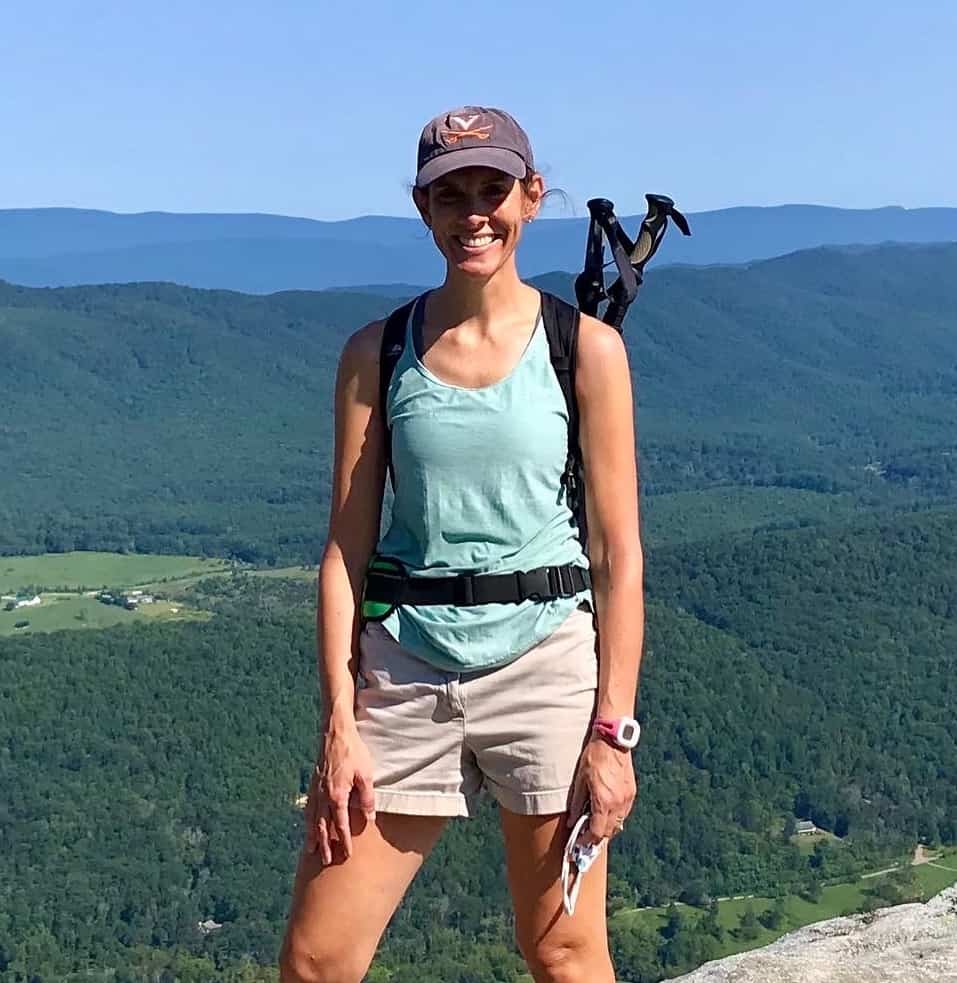 Erin Gifford is the editor of Go Hike Virginia. She has completed more than 300 hikes in Virginia. She is also the author of three hiking guidebooks from Falcon Guides. Need help finding a hike? Check out the Trail Finder feature or send Erin a message.