A Forested Hike to 40-Foot-Tall Stiles Falls in Shawsville
I was eager to hike to Stiles Falls in Shawsville, but a little nervous, too. The trail is on the grounds of Alta Mons, an outdoor ministry and faith-based summer camp.
I'm used to hiking on public lands, like national forests, nature preserves and state parks. Was I really allowed on a hiking trail on private grounds?
I was definitely overthinking this. The bigger concern should have been that I arrived one hour before sunset, not that I was planning to hike on private property.
If I'd taken the time to even skim the Alta Mons website, I would have quickly noted that the hike to Stiles Falls is open to anyone and everyone, from dawn until dusk.
Since I'd arrived so late in the day, this 3.3-mile out-and-back hike was largely a sprint. It was worth it though for the creek crossings and 40-foot-tall waterfall.
| Trail Stats | |
| --- | --- |
| Length | 3.3 miles |
| Difficulty | Moderate |
| Trail Type | Out-and-Back |
| Elevation Gain | 338 feet |
| Duration | 2-3 hours |
| Terrain | Mostly dirt & rock trails, some gravel road |
| Dog-Friendly | Yes |
| Fee | Free |
| Driving Directions | Click Here |
Arriving at the Trailhead
Alta Mons is steps from the South Fork of the Roanoke River, which more or less runs alongside State Route 637 (aka Alleghany Spring Road) south of Shawsville.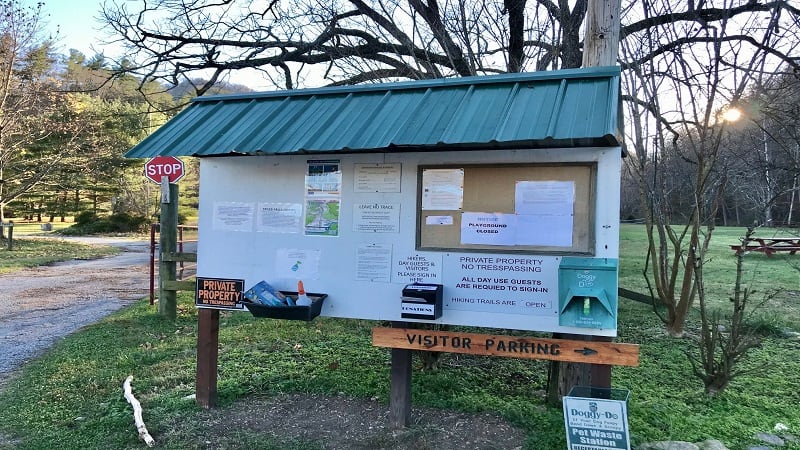 As you drive in to Alta Mons on Crockett Springs Road, there's a large gravel lot for visitor parking to the right. You'll see a large trail kiosk at the corner.
Before you lock up your car, bring a pencil or pen. Alta Mons asks that all day use guests sign in and sign out. You'll need to know your license plate number, too.
The First Steps
The trail begins just past the trail kiosk, on a gravel road. This is the road you came in on, Crockett Springs Road. You'll pass a playground, a pool and picnic tables.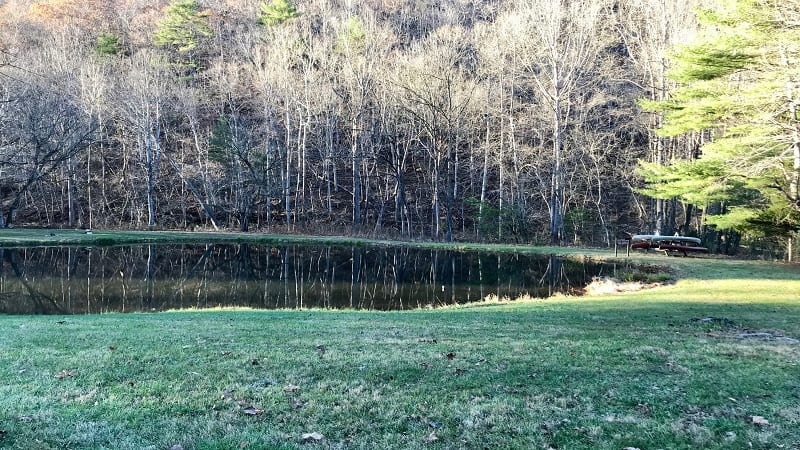 Shortly, you'll see a few cabins, then a small pond and a few canoes on the right. At the .5-mile mark, a concrete bridge for cars takes you over Purgatory Creek.
At this point, the trail scoots left and is still a gravel road. At the .8-mile mark, you'll see a small wooden bench overlooking the gently flowing creek.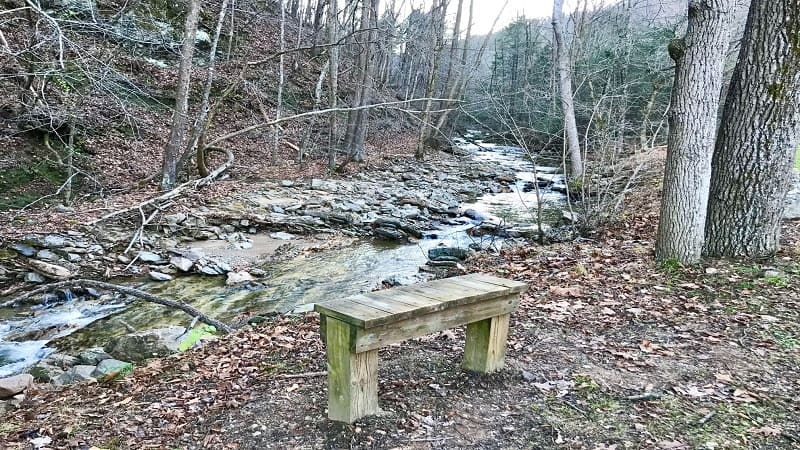 The trail begins in earnest at the .9-mile mark. At the very least, it's more grass, dirt and rocks. You'll see a trail sign nudging you to turn left to continue on to Stiles Falls.
At the 1.1-mile mark, you'll see a sign to stay left for Stiles Falls, as well as a trail map and a brief history behind the name of the falls. It's juicy, too.
Allegedly, a sailor for the Confederate States Navy during the Civil War named Randolph Stiles was showing off at the falls at a Sunday School picnic.
He was swinging from tree limbs, much like he did swinging from ship riggings, when he fell to his death, thereby giving "Stiles Falls" a double meaning. Yikes.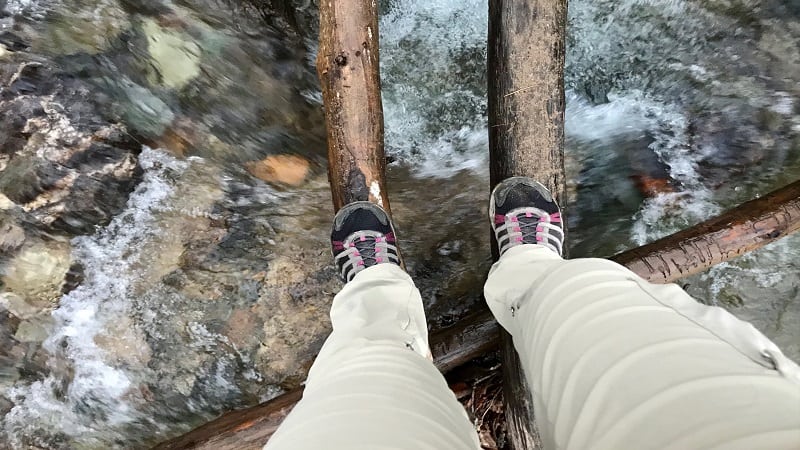 In a few steps, you'll reach the first of three water crossings as the now white-blazed trail skirts along rolling Purgatory Creek. Along the way, peaceful cascades.
The second opportunity to hopscotch the creek appears at the 1.3-mile mark. From here, ascend a few precarious steps. A hand-rope is on the left at the 1.5-mile mark.
From here, there's just one more crossing over Purgatory Creek. The tumbling waterfall is now close at hand and makes its appearance at the 1.6-mile mark.
As you approach the waterfall, you'll see a steep path going up to the left. This is not a legitimate path and will only lead to injuries if you take it to the top of the falls.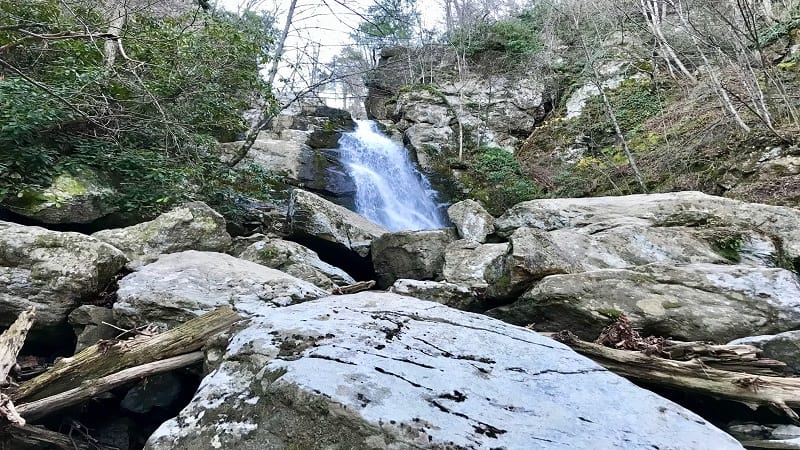 Instead, stay to the right for a rock scramble around Stiles Falls. There is a small basin, but you'll need to deftly navigate some very large rocks to get there safely.
Enjoy your time at the falls, then re-trace your steps to the parking area. It's really a beautiful, forested hike.
Wrap-Up Notes
From the parking area, this waterfall hike took me nearly 90 minutes to complete, including time spent ogling and snapping photos of the falls.
Eager for more hikes? Here are more trails when you want to go hiking in Roanoke, Virginia (or near Roanoke).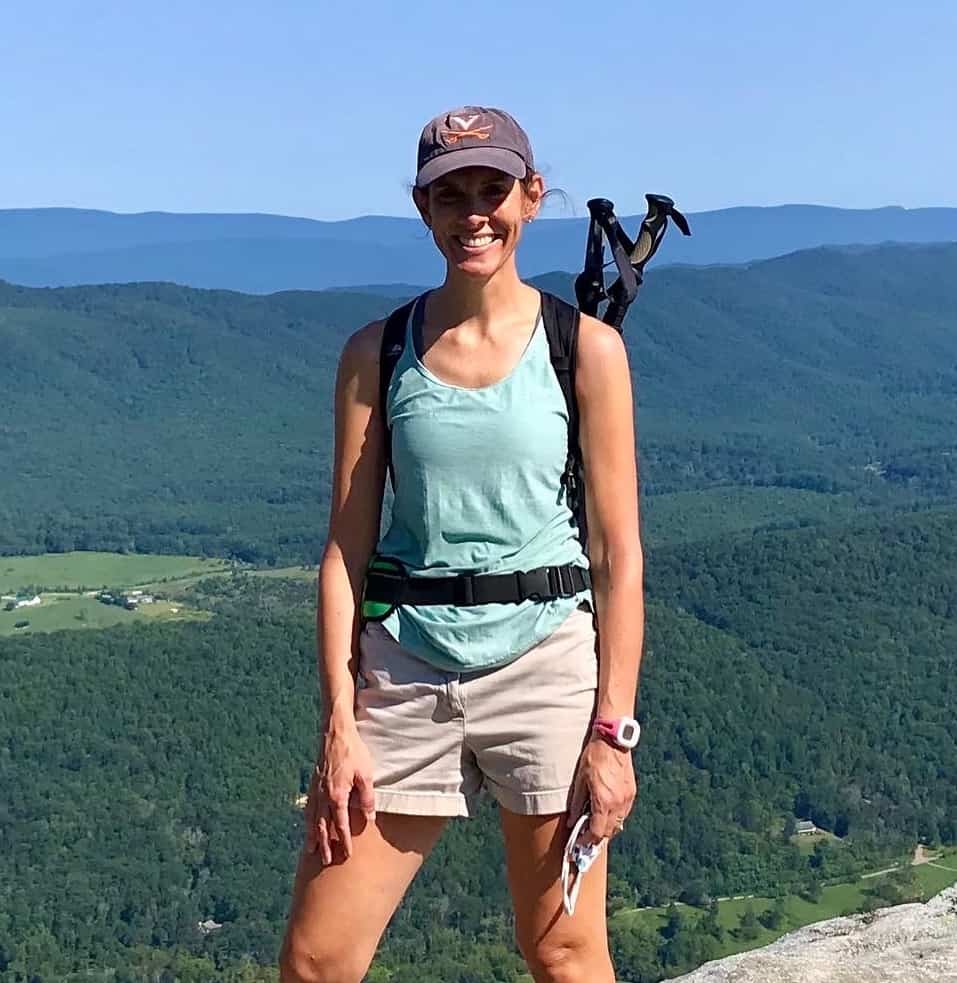 Erin Gifford is the editor of Go Hike Virginia. She has completed more than 300 hikes in Virginia. She is also the author of three hiking guidebooks from Falcon Guides. Need help finding a hike? Check out the Trail Finder feature or send Erin a message.