A Scenic Hike to Quantico Falls on the Quantico Cascades Trail
A few weeks ago, I explored Prince William Forest Park in Triangle for the first time. I'm still wondering why it took me so long to seek out this forested gem.
The park is only one mile from I-95 and it's super-easy to access. No narrow gravel roads to navigate. You know, the ones that will not fit two cars side by side. Phew.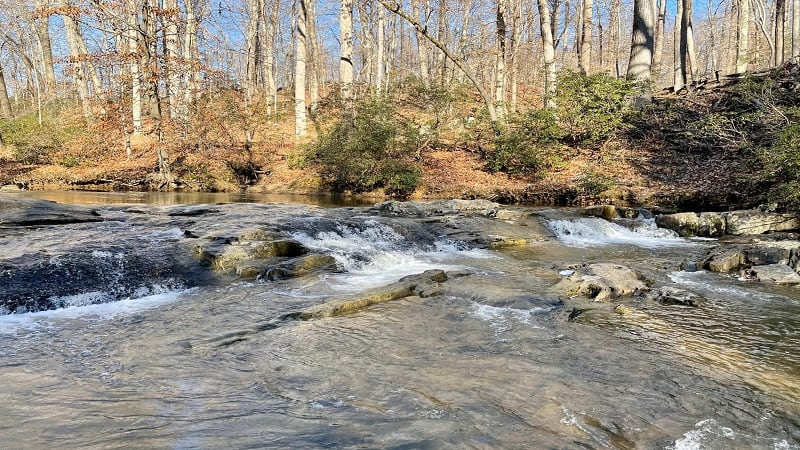 I hiked an easy 2.2-mile loop along the Laurel Trail Loop and Birch Bluff Trail for views of South Fork Quantico Creek. Then, I wanted to see Quantico Falls.
My son and I made it to the falls by way of a 2.0-mile out-and-back hike, but it was not without a bit of unexpected bushwhacking to reach the delightful falls.
| Trail Stats | |
| --- | --- |
| Length | 2.0 miles |
| Difficulty | Easy |
| Trail Type | Out-and-Back |
| Elevation Gain | 177 feet |
| Duration | 1.5-2 hours |
| Terrain | Mostly dirt trails |
| Dog-Friendly | Yes |
| Fee | $20 per vehicle (good for seven days) |
| Driving Directions | Click Here |
Arriving at the Trailhead
The hike begins from a parking area on the right side of Scenic Drive (the park's main road). Here you'll find a nice picnic area with a handful of picnic tables.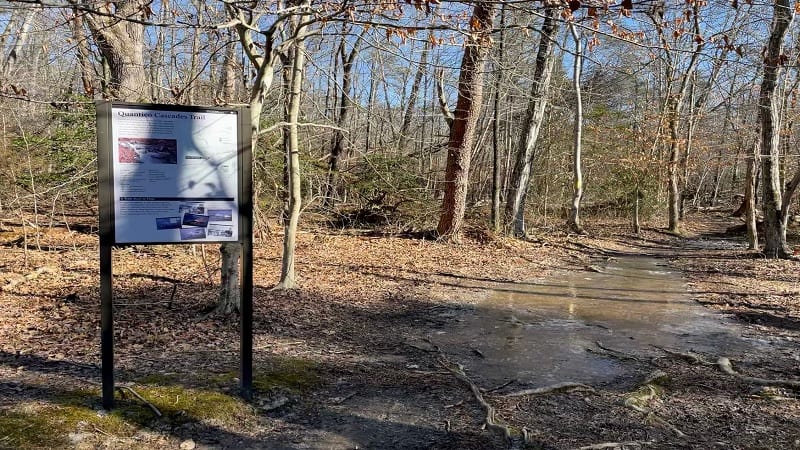 A large sign marks the start of the yellow-blazed Quantico Cascades Trail. Plan to wind along a ridge before you reach the tumbling cascades of Quantico Creek.
On AllTrails, this hike is listed as the Quantico Falls Trail. Of course, "cascades" and "falls" are not the same. This is a bit of foreshadowing. More to come in a few more paragraphs.
The First Steps
As the hike begins, you'll walk through a forest of oak and pine trees. At the .1-mark, you'll reach a double yellow blaze. Turn left here for the Geology Trail.
The trail sign reads Geology Trail, but the placard at the trailhead refers to this wide path as Lake One Road (though you won't see a sign referencing Lake One Road).
In a few more steps, stay right at the placard for Dinosaurs and Volcanoes. Some 500 million years ago, volcanoes erupted and dinosaurs roamed in this very region.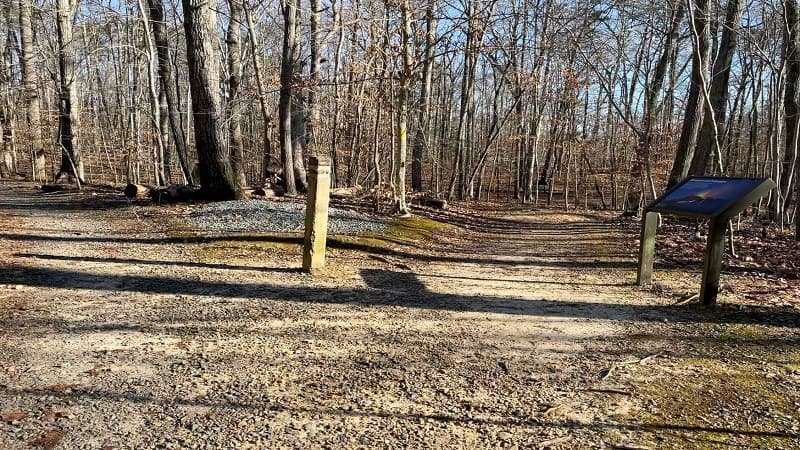 Continue winding along the ridge. It's a delightfully serene hike. At the .6-mile mark, the trail crosses over the North Valley Trail, then descends in another .1-mile.
When it does, you'll see another placard. This is the Fall Line, an area where Quantico Creek ceases to be navigable by boat as water cascades over metamorphic bedrock.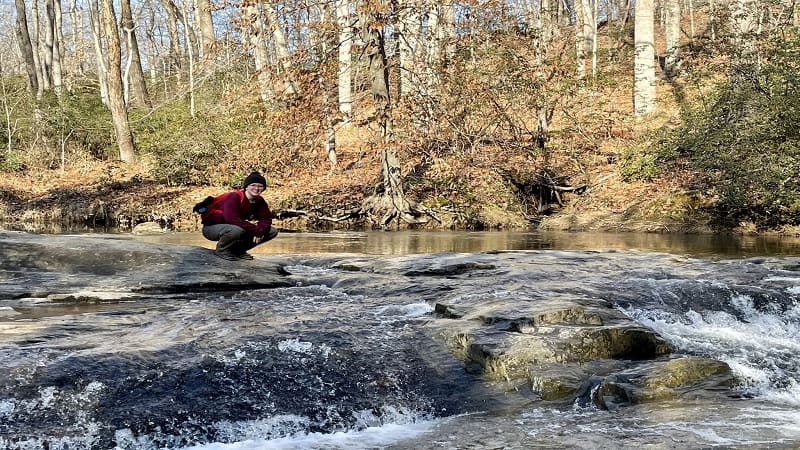 At the .9-mile mark, you will reach the tumbling cascades of Quantico Creek. They are beautiful, but where is the waterfall? And, how do you get to the waterfall?
The "official" map on AllTrails indicates that there is some way to cross Quantico Creek, then cross back to reach the falls that stem from Camp Four Lake. Nope.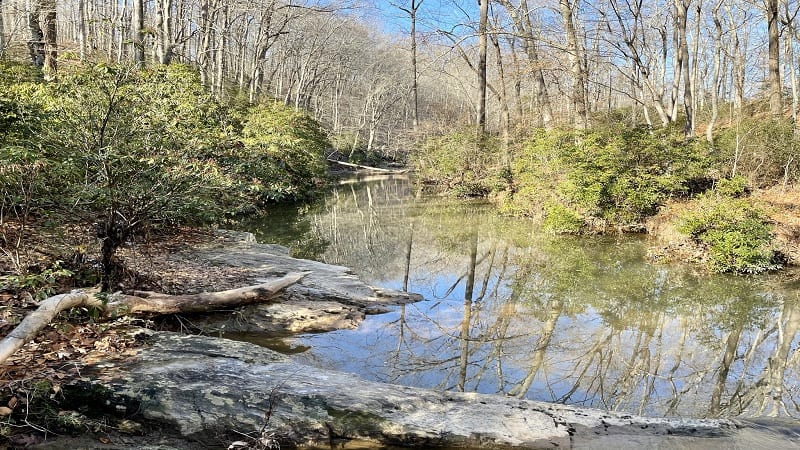 It was very confusing. Honestly, there wasn't even a path on the other side of Quantico Creek to make it seem more obvious that you cross the cascading waters.
There was, however, a fairly rugged path leading up the creek, past the cascades. We started, then turned back. We started again, then turned back again.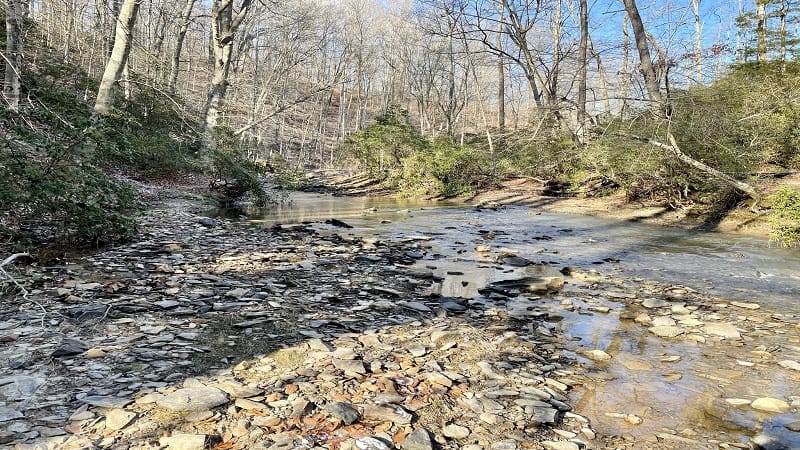 Eventually, we pressed on to the falls. I could hear them. I knew they were close at hand. So, we bushwhacked our way to Quantico Falls.
To bushwhack is to "force one's way through a forested or overgrown area where no patch exists." Technically, we followed a rough path bushwhacked by someone else.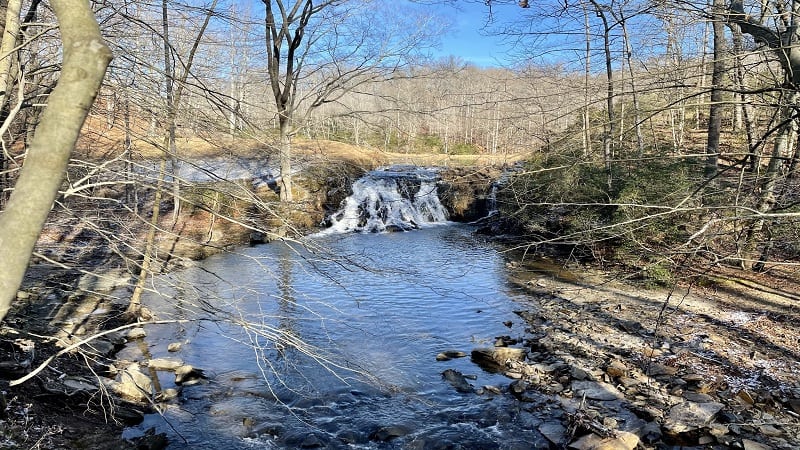 Honestly, it was a bit precarious, but it was just .1-mile from the cascades to the falls. There's a nice swimming hole, too.
I have to wonder why there is no dedicated trail or footbridge to cross over Quantico Creek to reach and enjoy Quantico Falls. Maybe that's in the works for the future.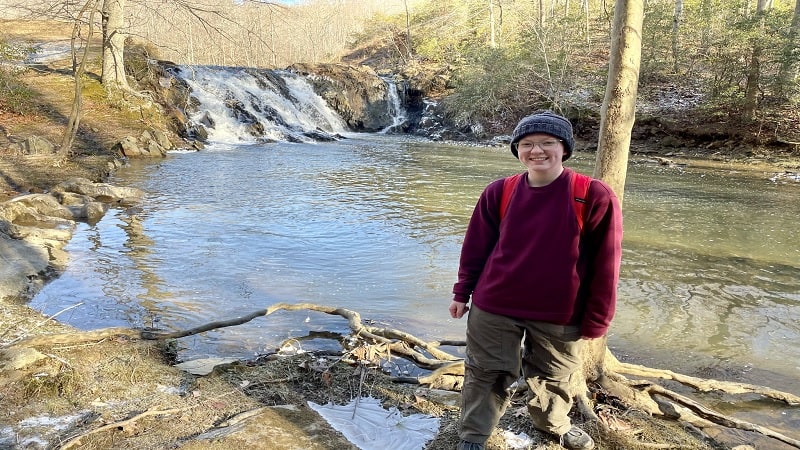 From the falls, simply re-trace your steps to return to the parking area.
Hike Options
From this parking area, you can also walk across Scenic Drive to hike the Mary Bird Branch Trail. This is an easy leg stretcher hike at just 1.2 miles in length.
The Mary Bird Branch Trail connects with Old Blacktop Road, then the High Meadows Trail, so it's easy to get more steps in before you leave the park.
Wrap-Up Notes
From the parking area, this hike took us just over one hour to complete, which may or may not include time spent mulling over whether to proceed to Quantico Falls.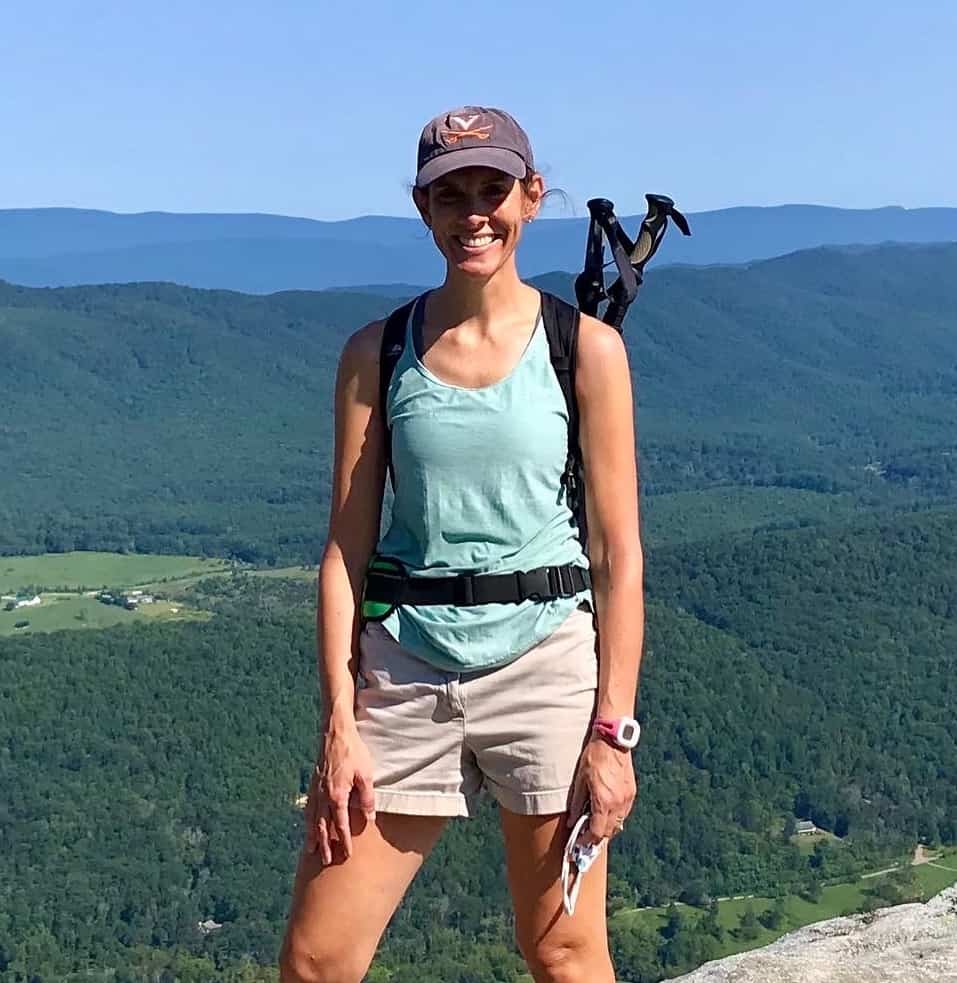 Erin Gifford is the editor of Go Hike Virginia. She has completed more than 300 hikes in Virginia. She is also the author of three hiking guidebooks from Falcon Guides. Need help finding a hike? Check out the Trail Finder feature or send Erin a message.