St. Mary's Wilderness: A Scenic Hike to St. Mary's Falls Near Vesuvius, Virginia
I can finally say that I checked off the waterfall hike at St. Mary's Wilderness near Vesuvius, Virginia. This was my second attempt, and it was a big win.
The first time was early in my journey here at Go Hike Virginia. I was not prepared for the water crossings and had to turn back before the waterfall.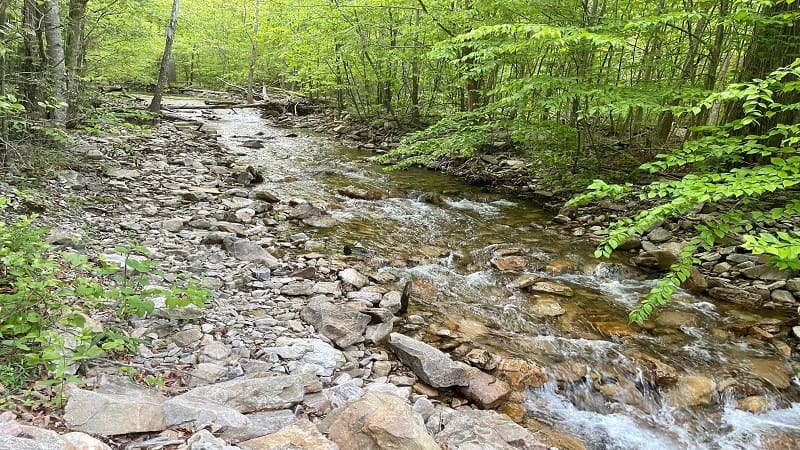 This was probably two years ago. Given this hike is 2.5 hours from where I live, it was disappointing to not be able to see St. Mary's Falls.
On my second attempt, I was prepared. I had water shoes and I set out with a fellow hiker, and one who was even completing the 52 Hike Challenge.
| Trail Stats | |
| --- | --- |
| Length | 4.7 miles |
| Difficulty | Moderate |
| Trail Type | Out-and-Back |
| Elevation Gain | 400 feet |
| Duration | 3-4 hours |
| Terrain | Mostly dirt & rock trails |
| Dog-Friendly | Yes |
| Fee | Free |
| Driving Directions | Click Here |
St. Mary's Wilderness
St. Mary's Wilderness is a designated wilderness area that covers nearly 10,000 acres just north of the Blue Ridge Parkway.
This U.S. wilderness area is located within the George Washington National Forest. It's also Virginia's largest wilderness area.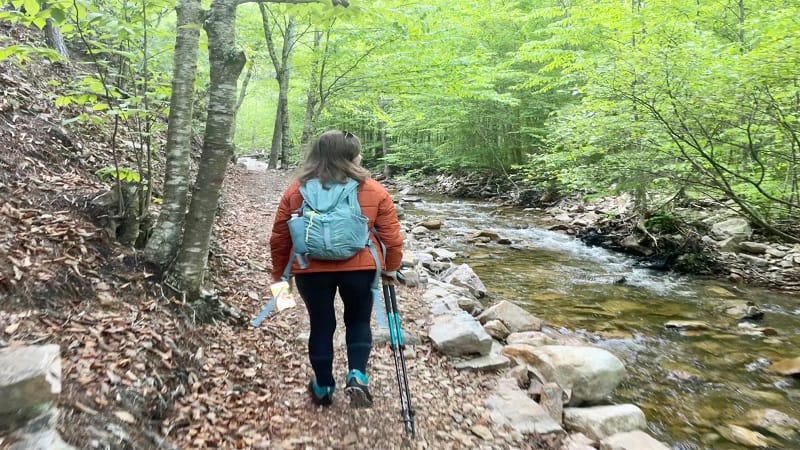 At one time, as early as the 1900s, the St. Mary's River gorge was mined for iron ore and manganese ore. The mines were abandoned in the 1950s.
The ore was transported to the railway via a 2,200 foot flume down Sugar Run Branch. You may see some remains of the one-time mining operations.
There are several miles of trail within Saint Mary's Wilderness, including the Mine Bank Creek Trail, Cellar Mountain Trail and Bald Mountain Trail.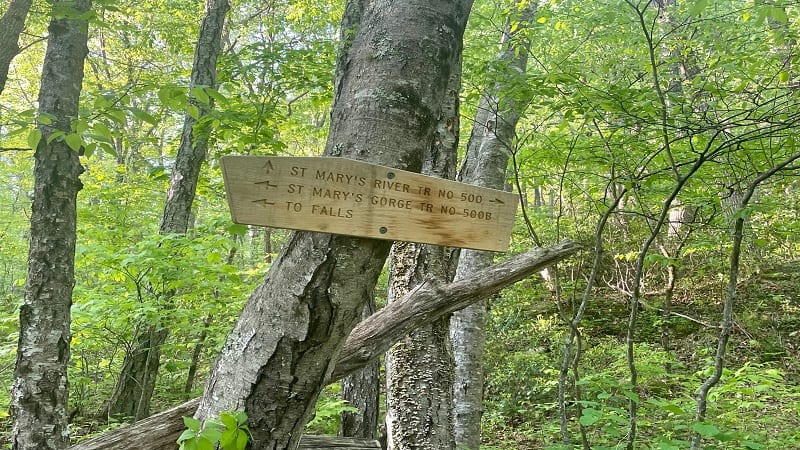 However, the St. Mary's River Trail (also called the St. Mary's Falls Trail) that leads to beautiful waterfalls is the most popular trail in this wilderness area.
This trail features five river crossings, and of course, breathtaking St. Mary's Falls. At the falls, there is a refreshing swimming hole, so bring a towel.
St. Mary's Falls Parking
First things first, parking. To reach the trailhead, you'll complete the last 0.7 miles of your drive on St. Mary's Road. This will be a bumpy gravel road.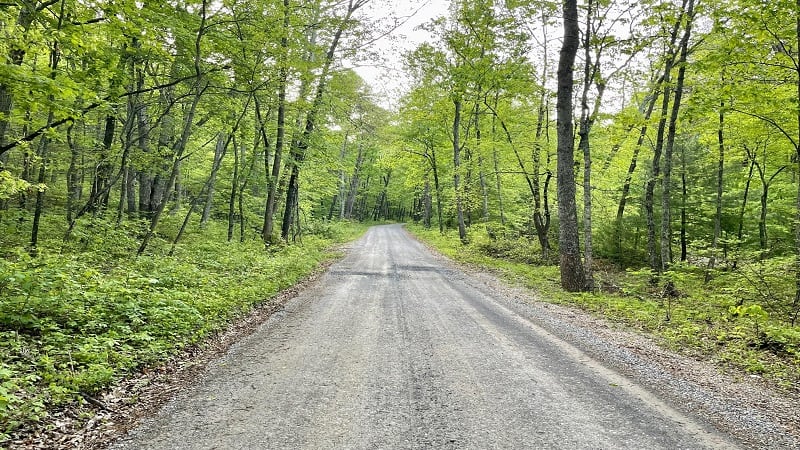 It's not terrible, and you can easily manage this road in a sedan, but it's good to be prepared. It's a tight squeeze, too.
This road dead-ends at the parking lot for this hike. It's a good size lot, with room for at least 20 cars, but I imagine it fills up quickly on warm weather weekends.
Once the trailhead parking lot is full, it's full. There's nowhere else to park, so I suggest you arrive early as not to get shut out of this bucket list-worthy hike.
St. Mary's Falls Trail
Once you park, you'll see the trail head at the back of the parking area. There is also a trail kiosk with a large trail map of the wilderness area.
Before you set out, note that there are few trail signs and blazes. There are no footbridges to cross the rivers. It's largely an unmarked trail. This is intentional.
Because this is a wilderness area, it is managed to protect its primitive nature. You will, however, see a few spraypainted arrow signs that help guide the way.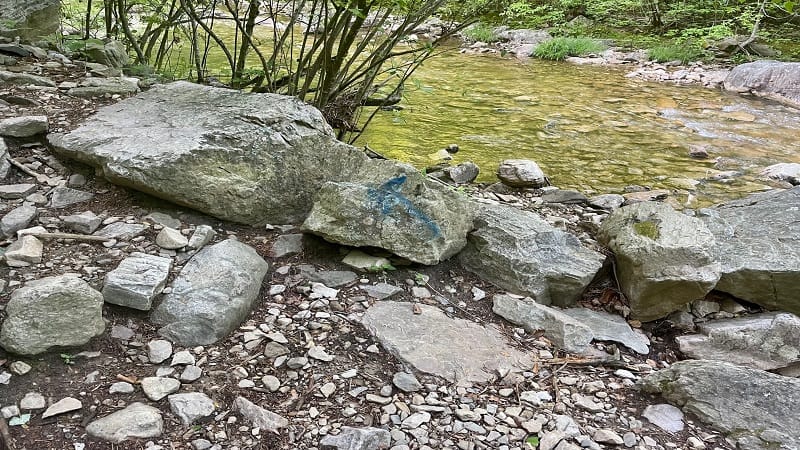 It's not clear whether the blue and red spraypainted markings were placed by the U.S. Forest Service or by fellow hikers. Regardless, they are helpful.
Walk past the trail kiosk and you'll begin to hike under a forest canopy that meanders alongside the gently flowing St. Mary's River. The water is crystal clear.
There is a mild ascent, but you'll hardly notice. It's a beautiful forested hike and the sounds of the burbling river are intoxicating.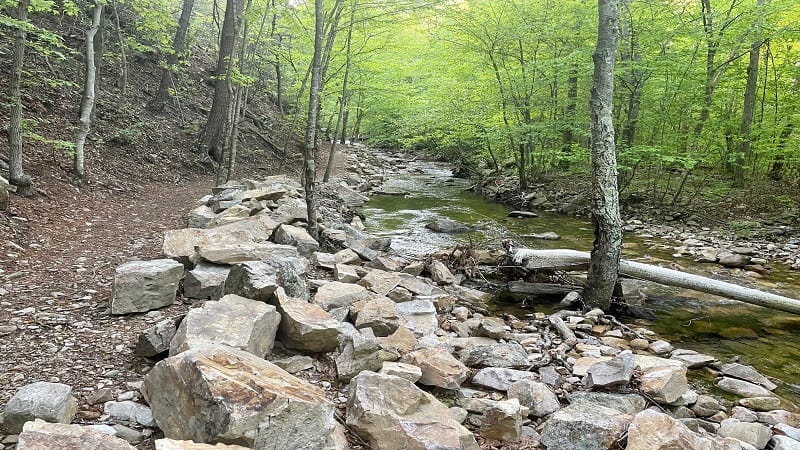 You won't reach your first river crossing until around the 1.2-mile mark. The first four (of five) are within a 0.5-mile stretch on the trail.
St. Mary's River Crossings
When you reach the first river crossing, you'll quickly note that there are no stepping stones to guide you across the river.
You will see the trail continue on the other side of the river, and you will wonder how to get there. You must cross the river. You will get wet. Full stop.
Water levels will vary throughout the year. In early-May, the water was as low as around my ankles or as high as mid-calf. There was some current, too.
You'll cross over, then cross back. You'll then cross over, then cross back again. As you close in on the falls, there's one more crossing. But first, water shoes.
Durable Water Shoes
For this hike, I highly recommend wearing old sneakers or durable water shoes with a sole that grips and also protects your feet on the rocky hiking trail.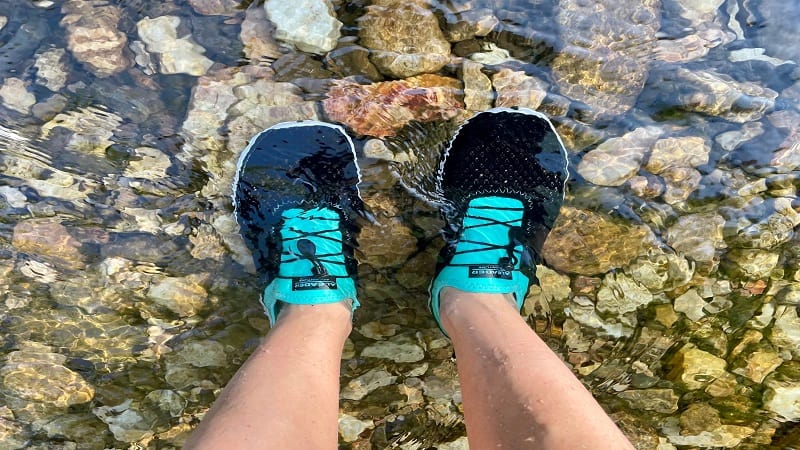 I bought slip-on water shoes from Aleader more than a year ago. They worked out perfectly and I wore them for most of the hike.
These water shoes slip on easily and the soles are similar to sneakers. I felt comfortable wearing them from the first crossing all the way to the falls.
You do not want to keep changing in and out of water shoes, especially since there are five river crossings. You'll also want to wear them at the waterfall.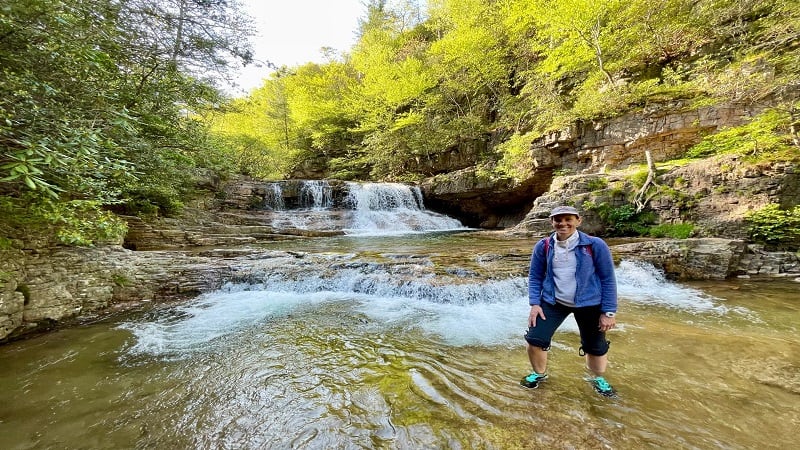 To be honest, I wore these water shoes from the falls all the way back to my car in the parking lot. They were totally fine as a hiking shoe.
St. Mary's Falls
At the 2.2-mile mark, you're a short distance from the final river crossing, but first you'll need to skirt along the river, up against a rock wall on your left.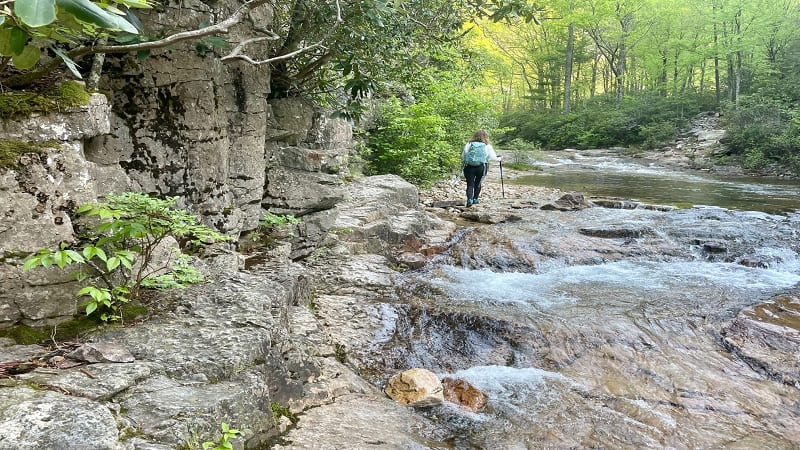 You'll cross the St. Mary's River one last time at the 2.3-mile mark. You'll then pass by a few camp sites, and in another 0.1 mile you'll be at the falls.
St. Mary's Falls is nothing short of spectacular. It was definitely worth the wait. Even better, we arrived before 9 am and had the falls all to ourselves.
The falls are breathtaking, but you can also enjoy a splash thanks to a deep swimming hole near the base of St. Mary's Falls.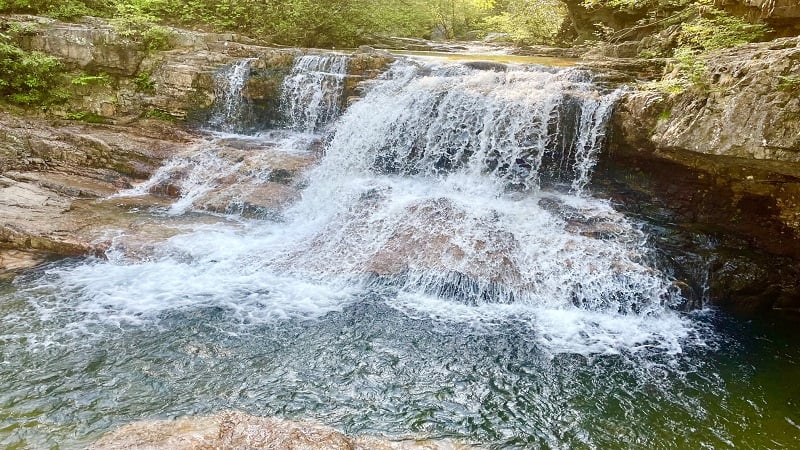 Allow plenty of time to enjoy the main waterfall, as well as small waterfalls that cascade into the river. This is a great place to stop for a snack, too.
There is no viewing platform, but there are plenty of large rocks to sit on and have a little bit of time to yourself before getting back on the main trail.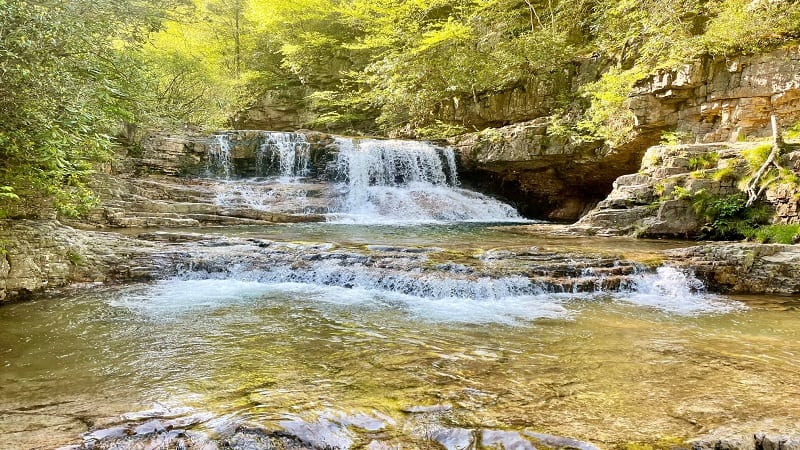 Once you've enjoyed the falls, simply re-trace your steps to return to the parking area. Of course, you'll have to re-cross the river five times on the way.
Camping Near St. Mary's Falls
A quick word about camping near St. Mary's Falls. As you hike to the falls you will notice several primitive camp sites. None of these are legal camp sites.
You can camp within St. Mary's Wilderness, but there are rules that dictate where camping or backpacking is allowed.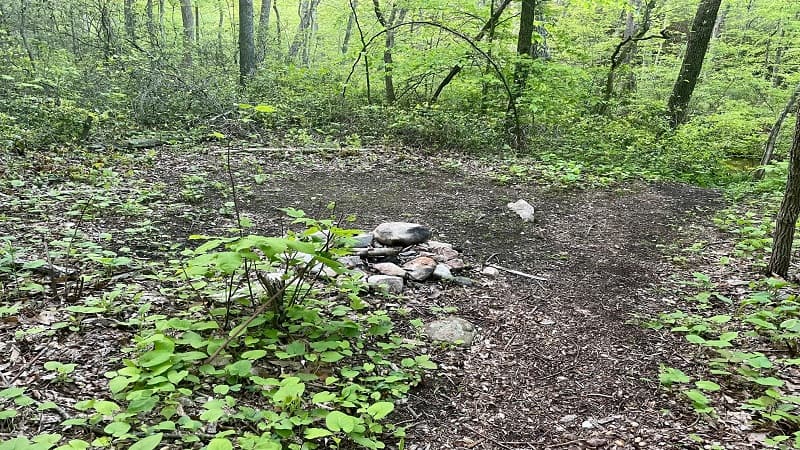 You are not permitted to set up a tent or a camp site within 150 feet on either side of the St. Mary's Trail. The sites you see are in violation.
The wilderness area also dictates that you cannot camp up to 500 feet beyond the falls. We did not hike past St. Mary's Falls, but keep this in mind.
Wrap-Up Notes
From the parking area, this out and back hike took us 2.5 hours, including time spent reveling in mountain laurel and taking in all the views.
This hike is fairly close to several other area waterfall hikes, which notably do not feature stream crossings, including White Rock Falls and Crabtree Falls.
For those who prefer to pair a waterfall hike with a summit hike, there are a few vista-laden hikes nearby too, including Spy Rock and The Priest.
The hike to St. Mary's Falls is a short drive from I-81, so it's an easy one to check off if you're cruising north or south along the interstate.