Cascades Falls Trail: A Five-Star Hike to a Stunning Waterfall in Pembroke, Virginia
If you love waterfall hikes, the 4-mile out-and-back hike on the Cascades Falls Trail to 66-foot-tall Cascades Falls is one to put high on your list of must-do hikes.
This hike in Pembroke, Virginia has nearly all five-star reviews. I had to complete this one to see if the hike, and the waterfall, lived up to the hype. They did.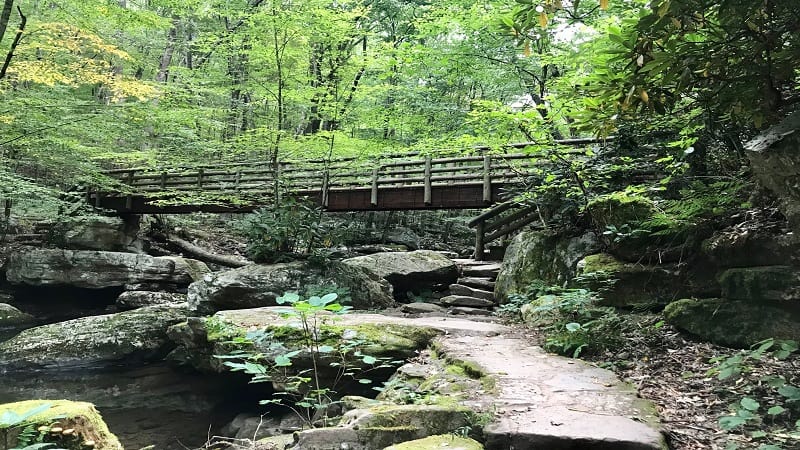 Set in the Jefferson National Forest, there is a $3 admission fee to park for this Southwest Virginia hike, which is located in the Cascades Day Use Area.
The address is 2068 Cascades Drive in Pembroke. It's an easy 20-minute drive from Mountain Lake Lodge in Pembroke (aka Kellerman's from Dirty Dancing).
There are three hikes at Mountain Lake Lodge, including a gorgeous sunset hike to Bald Knob. If you have the time, these are scenic and enjoyable.
| Trail Stats | |
| --- | --- |
| Length | 4 miles |
| Difficulty | Moderate |
| Trail Type | Out-and-Back |
| Elevation Gain | 663 feet |
| Duration | 2.5-3 hours |
| Terrain | Mostly dirt & rock trails |
| Dog-Friendly | Yes |
| Fee | $3/vehicle |
| Driving Directions | Click Here |
Cascades Falls Hike
Once you arrive at the parking area, place your $3 into the envelope on arrival (honor system). Tear off the receipt and place it on your dashboard.
America the Beautiful passholders, your fee is covered by the annual pass. Simply write your pass number on the envelope and deposit it into the repository.
There is plenty of parking (at least on a weekday) at this day use area managed by the USDA Forest Service. There are also picnic tables and restrooms.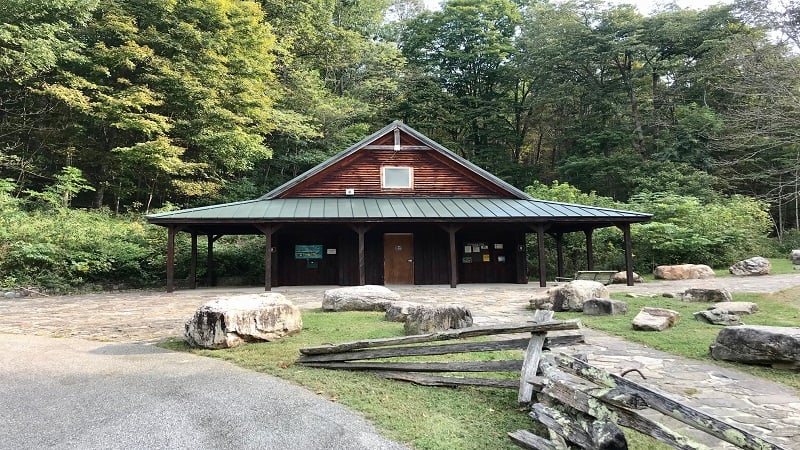 Cascades Falls Trail
The trailhead for the Cascades National Recreation Trail (also, Cascades Falls Trail) is located at the back of the parking area, to the right of the restrooms.
You'll see a kiosk to the right and will quickly learn that there are two ways to Cascades Falls. Interestingly, there is an Upper Trail and a Lower Trail.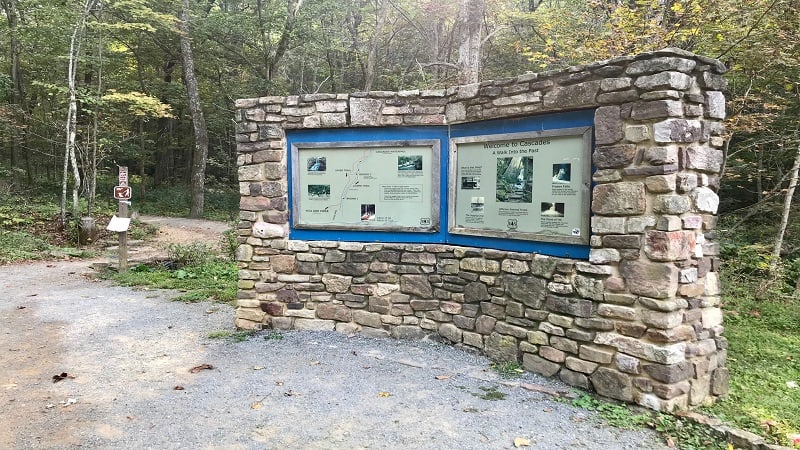 Snap a quick photo of the large trail map. It would be very difficult to get lost on the way to the falls, but I always like to take a photo, just in case.
Upper Trail is described as an "uphill challenge," while Lower Trail is described as a "more scenic hike." I opted for Lower Trail. Both trails begin at the same trailhead.
It's worth noting that there are several points along the trail where you can switch from Lower to Upper or Upper to Lower if you want more or less of a challenge.
Little Stony Creek
As you begin to hike, you'll see a short spur trail at the .15-mile mark where you can walk out onto the rocks for your first up-close views of Little Stony Creek.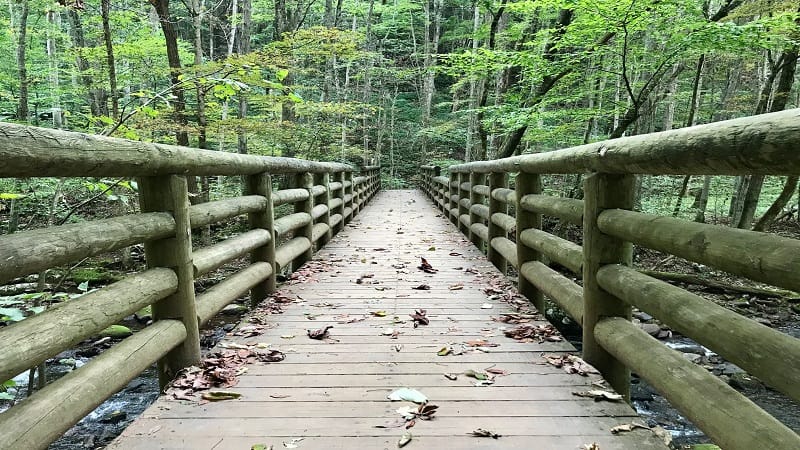 In a few more steps, you have a choice to make. Turn right to cross a bridge over Little Stony Creek.
You'll then see the first of several benches for a quick rest before continuing on to Cascades Falls. This is Lower Trail.
For Upper Trail, do not turn right at the bridge. Instead, continue straight ahead to ascend up the hill.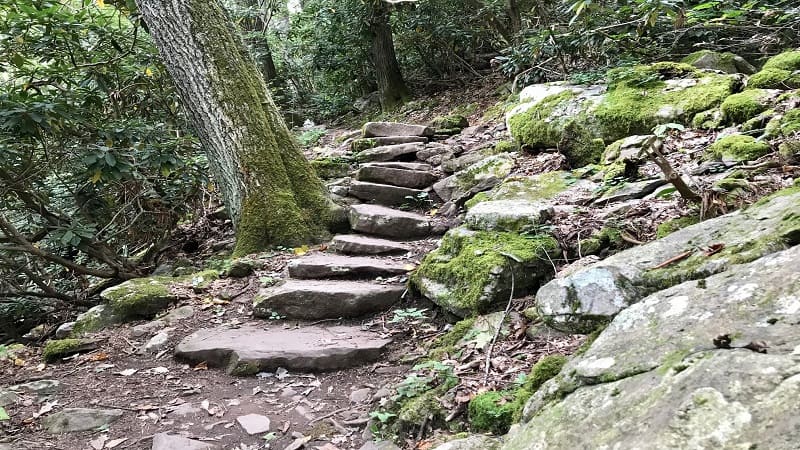 On Lower Trail, you'll see a set of stone steps. There are quite a few sets of stone steps, which are easier on knees, bodies and dogs than rock scrambles.
At the .35-mile mark, you'll reach a very scenic point to quickly divert off the trail to the left. You can walk right up to the water's edge, to an idyllic watering hole.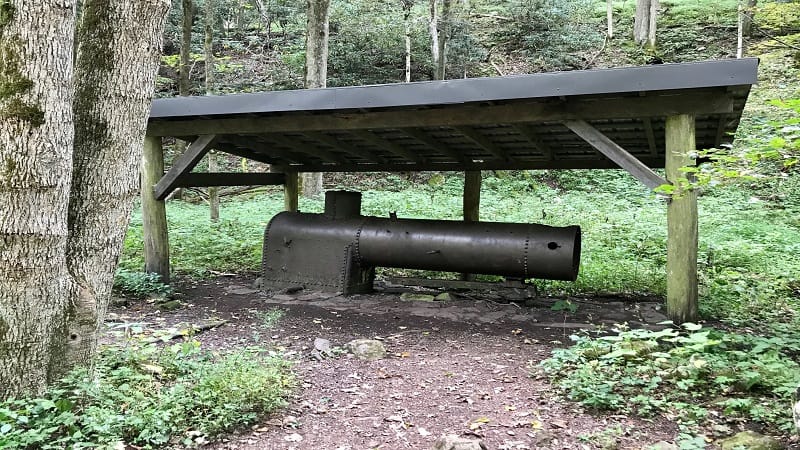 An Old Boiler comes into view on the right side of the trail at the .5-mile mark. This Old Boiler powered a sawmill that was here in the 1920s and 1930s.
Watering Holes
Walk a flat man-made stone path alongside gently flowing Little Stony Creek. At the .8-mile mark, there's a delightful photo op of cascading falls.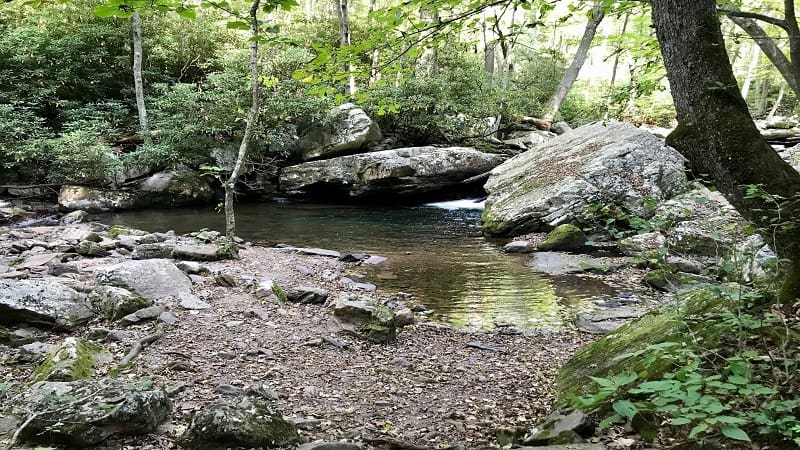 As you proceed, there are lots of spots along Lower Trail to walk right out to the water's edge. Kids and dogs will love getting so close to the gently-flowing water.
Cross a second bridge over Little Stony Creek at the 1.1-mile mark. Once over the bridge, you will see a trail sign. Turn right to continue on to Cascades Falls.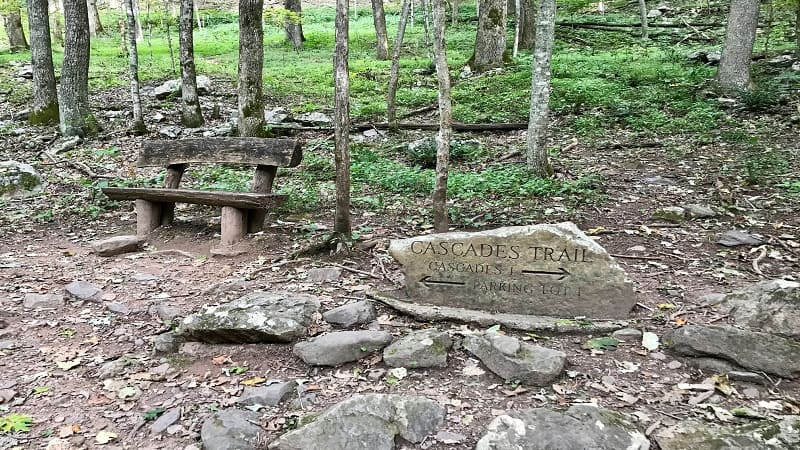 Near the 1.3-mile mark, you will cross over a small bridge, which thankfully is there since this section of trail would be quite challenging without a bridge.
In a few more steps, you'll see a few massive trees that have been blown down. These are fun to navigate over, under or around.
Just before the 1.6-mile mark, there's one more bridge and more stone steps, then in another quarter-mile, a section of large flat rocks adjacent to the creek.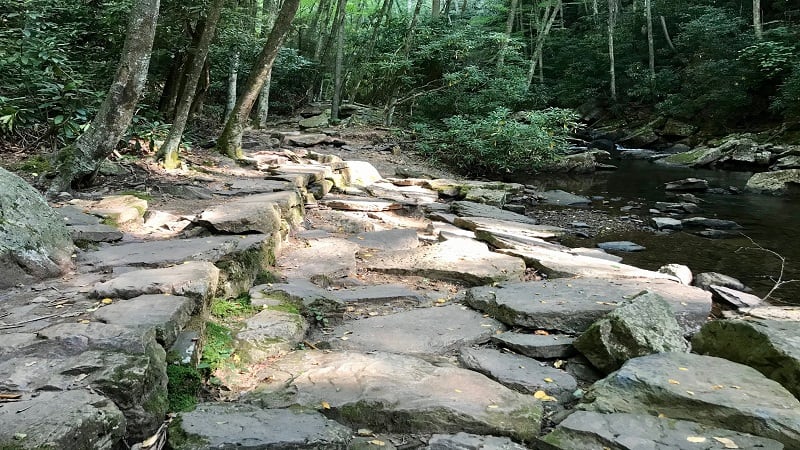 Cascades Falls
At the 1.9-mile mark, you will come around a corner, then boom. There's Cascades Falls, in all its glory. In just a few more steps, you will reach the waterfall basin.
You have officially arrived at the falls at the 2-mile mark. There is a viewing platform a few steps above the waterfall basin.
There's also a second-level viewing area that gets you very close to Cascades Falls.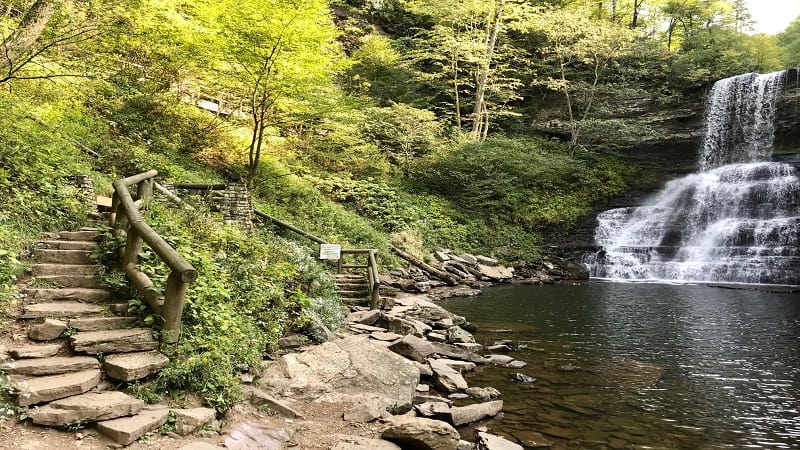 The second-level viewing area is two or three stories above the water. From this platform, you can really see the water forcibly crashing down on the rocks below.
The waterfall basin is sizeable, and yes, you can swim at Cascades Falls. However, there is a sign noting strong currents, so use caution if you choose to do so.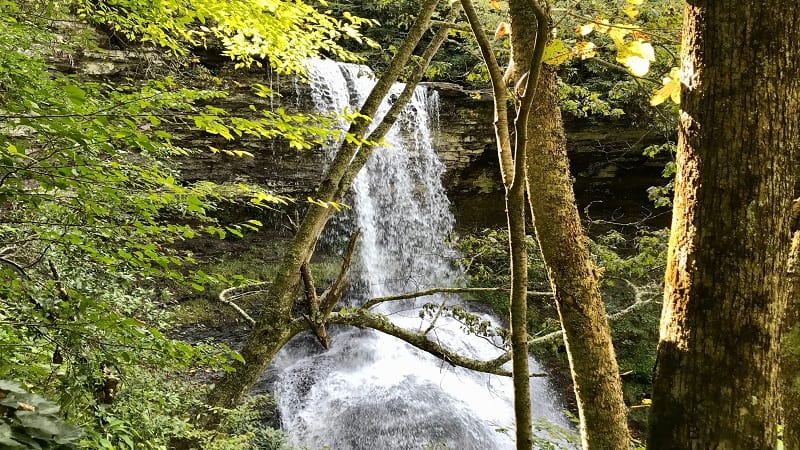 Since this is an out-and-back trail, simply re-trace your steps to return to the parking area once you have finished enjoying the waterfall and swimming hole.
Wrap-Up Notes
From the parking area, this hike on the Cascades Falls Trail took me nearly two hours to complete, including time spent enjoying the falls.
There are no trail markers or blazes on this trail, but it's well-maintained and easy to stay on track. There are also several benches for a rest along Lower Trail.
The only trail from the parking area goes to Cascades Falls. You will not criss-cross with other trails, except when Upper Trail and Lower Trail merge to reach the falls.
Since rock scrambles have been replaced with natural stone steps and stone walkways that blend into the leafy forest, this trail is very dog- and child-friendly.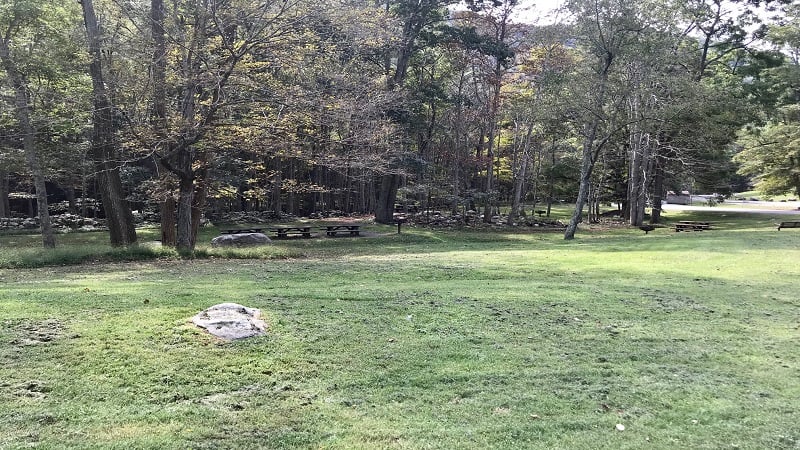 Bring a picnic lunch to enjoy at the picnic tables adjacent to the parking lot. This is a day-use area. There is no camping allowed at or near Cascades Falls.
You cannot drive to Cascades Falls. However, this hiking trail in Southwest Virginia is manageable for all levels and makes for an enjoyable shaded hike.
This cascading waterfall hike in Giles County is a 30-minute drive from Blacksburg and a one-hour drive from Roanoke.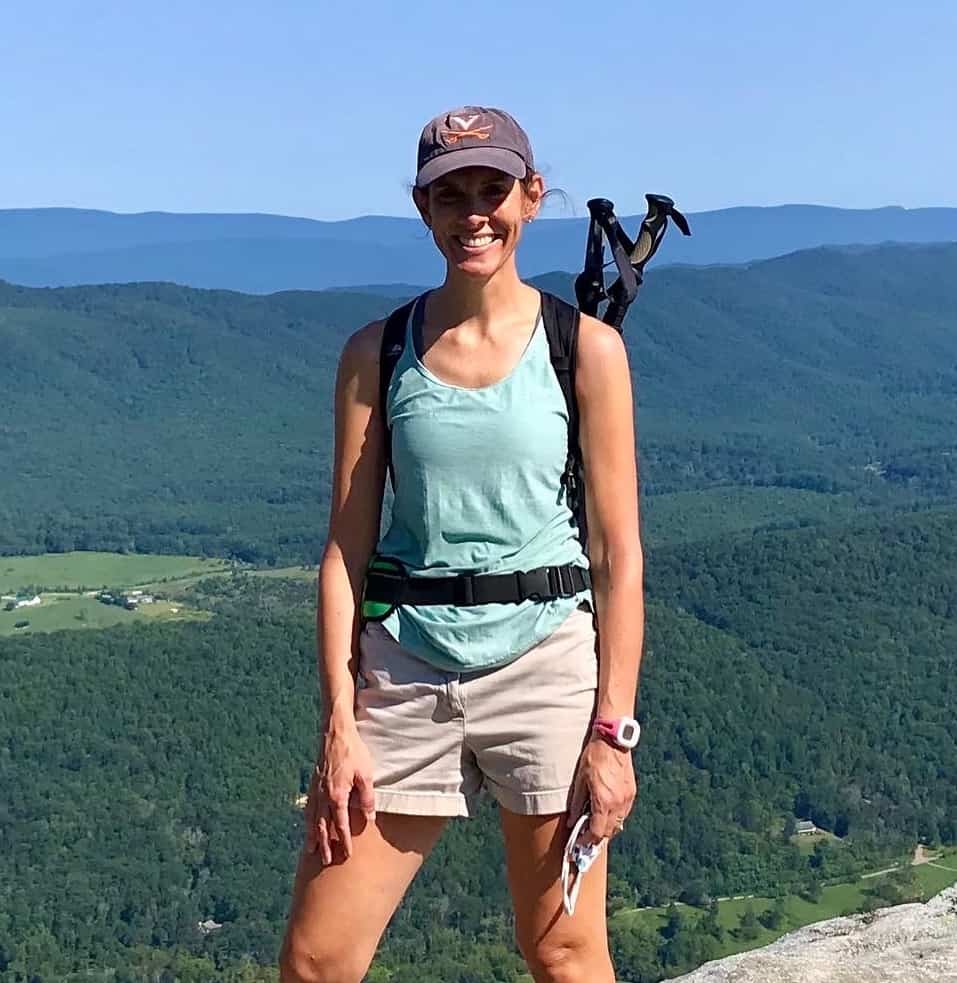 Erin Gifford is the editor of Go Hike Virginia. She has completed more than 300 hikes in Virginia. She is also the author of three hiking guidebooks from Falcon Guides. Need help finding a hike? Check out the Trail Finder feature or send Erin a message.