Overall Run Falls: Hike to the Tallest Waterfall at Shenandoah National Park
Not long ago, I hiked the Thompson Hollow Trail to Overall Run at Shenandoah National Park. I thought I was en route to 93-foot-tall Overall Run Falls. Nope.
It was a nice hike, and led to a dreamy swimming hole, but the tallest falls in the park were not on this route. Worse, I had no cell service. I couldn't even re-route.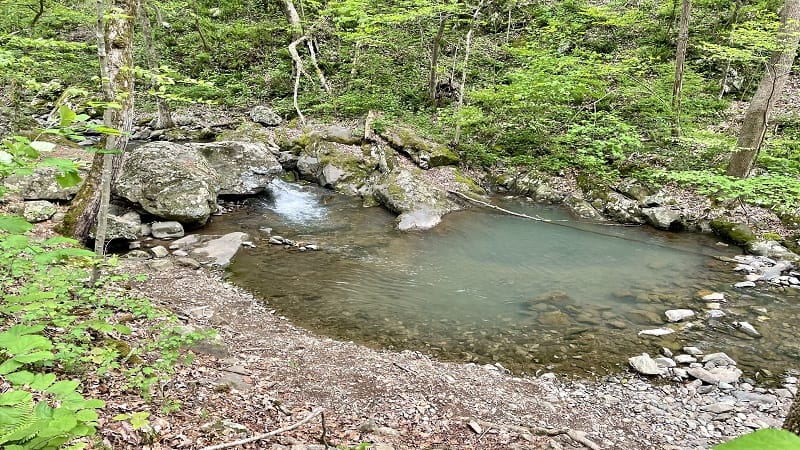 This time, I had more time and had my ducks in a row for this 8.8-mile hike that also begins on the Thompson Hollow Trail. I also managed to see Overall Run Falls.
It was a great day for the Overall Run Falls hike, too. The park had finally greened up and the temps were in the upper-60s. Just right for fair weather hikers.
| Trail Stats | |
| --- | --- |
| Length | 8.8 miles |
| Difficulty | Moderate |
| Trail Type | Lollipop |
| Elevation Gain | 2,028 feet |
| Duration | 5-6 hours |
| Terrain | Mostly gravel, dirt and rock trails |
| Dog-Friendly | Yes |
| Fee | Free |
| Driving Directions | Click Here |
Overall Run Falls (Boundary Trailhead)
This hike begins at a boundary trailhead. You can also reach Overall Run Falls from Skyline Drive – by way of the Mathews Arm Campground.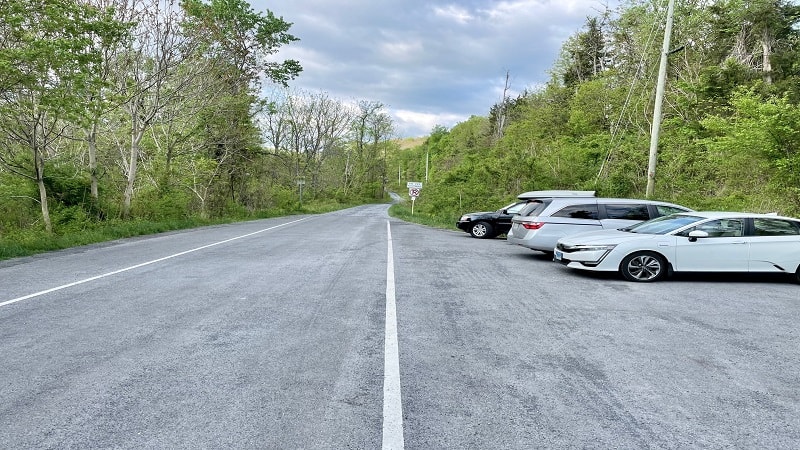 For this hike, drive to the end of Thompson Hollow Road in Bentonville. You will see a small lot as well as room to park parallel on either side of this two-lane road.
The trailhead is basically an "End State Maintenance" sign at the point just past the parking area where can you no longer proceed. At least, not in a car or truck.
Your hike begins on a gravel road. This is still Thompson Hollow Road (State Route 630), but now it's only accessible to a handful of residents on this private road.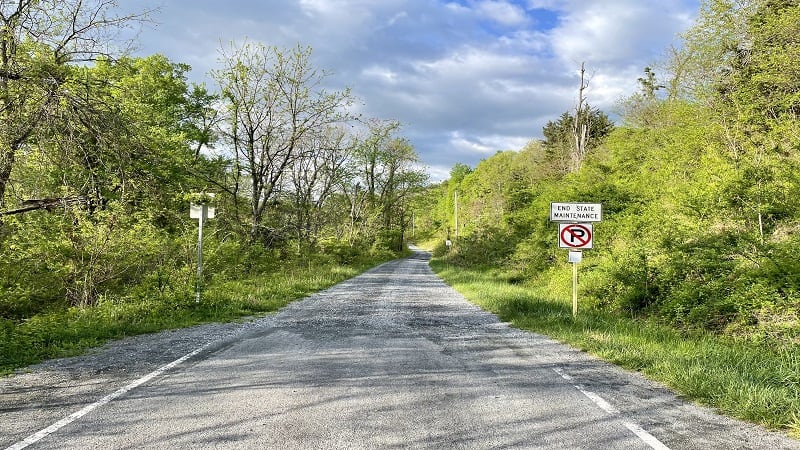 At the .2-mile mark, you'll reach a chain across the road to keep out cars. Now it's really only for private residents. A blue blaze says it's for hikers, too.
In a few more steps, the trail becomes an actual hiking trail (dirt, rocks, roots) as it veers off into the woods. You are now entering Shenandoah National Park.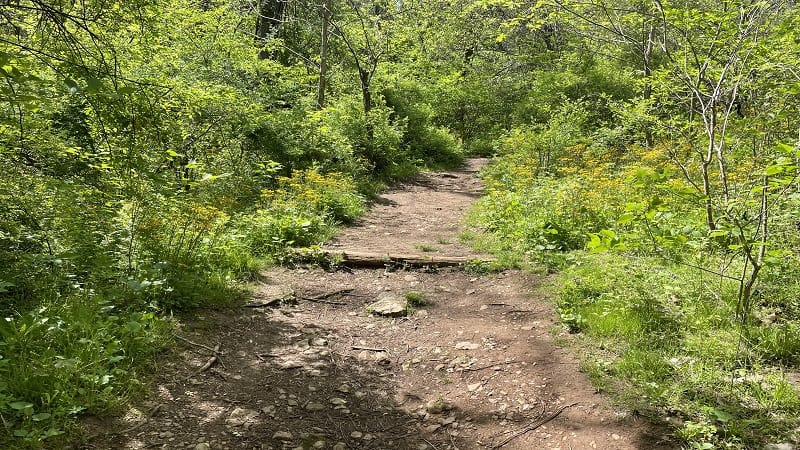 You'll reach a concrete trail marker at the .3-mile mark. Follow the arrow for the Overall Run Trail. Proceed along the forested trail, then up a dozen wooden steps.
Swimming Hole
At the 1.0-mile mark, the trail dead-ends at the Beecher-Overall Run Trail. Turn right, but don't go too quickly. You may miss a fantastic swimming hole.
A few steps after you turn onto the Beecher-Overall Run Trail look for an opening on the left and walk toward the large rocks and refreshing cascades. It's an oasis.
This is Overall Run and it's a perfect spot to take off your shoes and wade into the water. It's also a sweet spot for a picnic and sunbathing. Take your time and enjoy.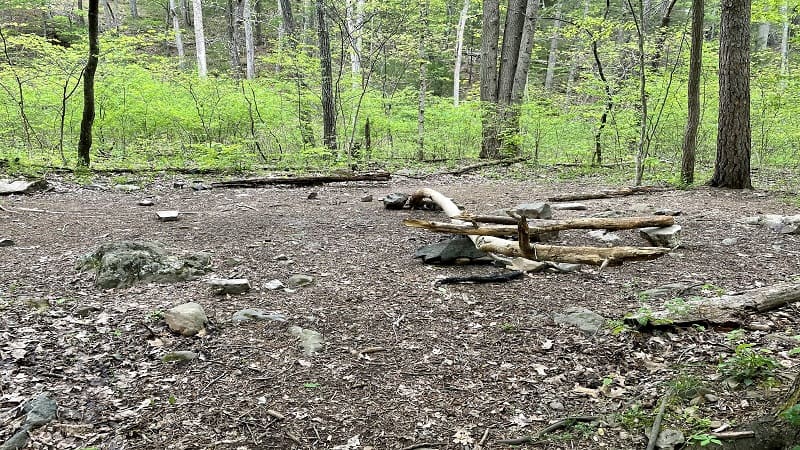 When you're ready, continue descending along the Beecher-Overall Run Trail. At the 1.5-mile mark, a primitive camp site turns up on the right side of the trail.
The trail soon splits, so stay left for the Overall-Beecher Connector Trail (on the concrete marker, it reads Overall/Beecher Trail). Then, three easy water crossings.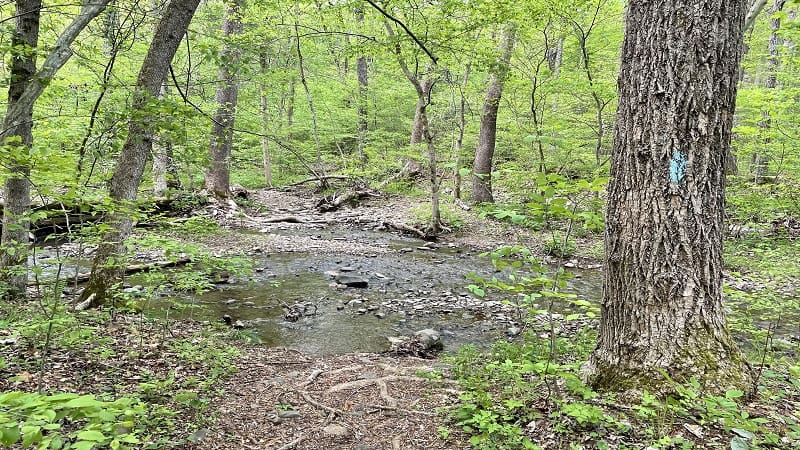 After the third crossing, the ascent begins. From here, it's an uphill climb for three miles. The trail alternates between rather steep, then nearly flat, repeat, repeat.
At the 2.5-mile mark, the trail splits again. Veer left for the yellow-blazed Beecher Ridge Trail. It's confusing because both ways are for the Beecher Ridge Trail.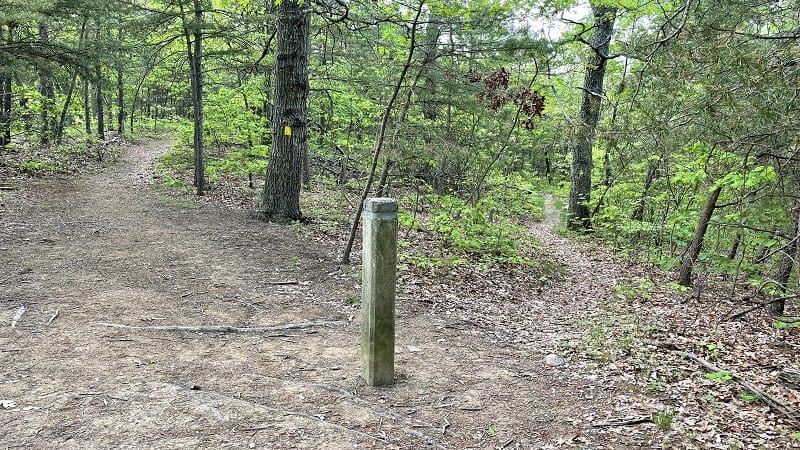 The ascent is complete when you reach a concrete trail marker at the 4.8-mile mark. Turn left here for the Mathews Arm Trail and descend the wooden steps.
Mountain Views
At the 5.2-mile mark, turn left for the Tuscarora-Overall Run Trail, then get ready for some serious views (and the falls, too).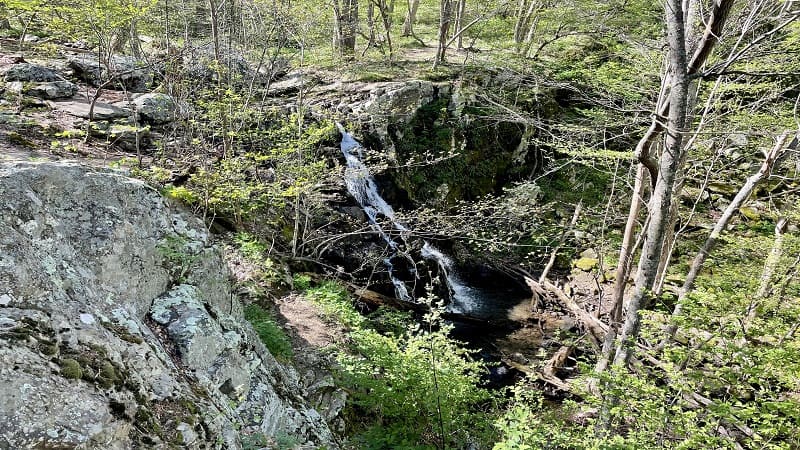 You'll catch your first glimpse of Overall Run Falls from a rocky overlook at the 5.7-mile mark. There are actually two overlooks, though you are above the falls.
You'll soon see the mountains through the trees. They look lovely, but they are obstructed. Be patient, a wide-open overlook is coming.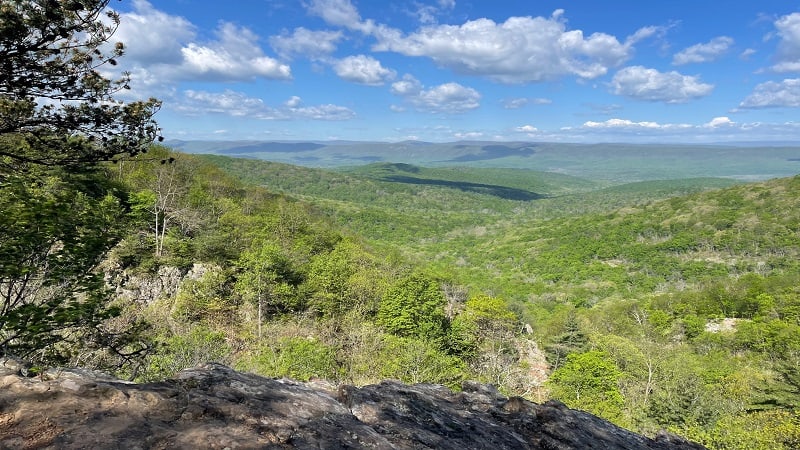 In a few more steps, you'll reach the first of three wide-open overlooks with seriously booming mountain views. You can also see Overall Run Falls.
Note that there is no safe way to reach the base of the falls. You will see a super-steep bushwhacked path or two, but going off-trail was not my jam this day.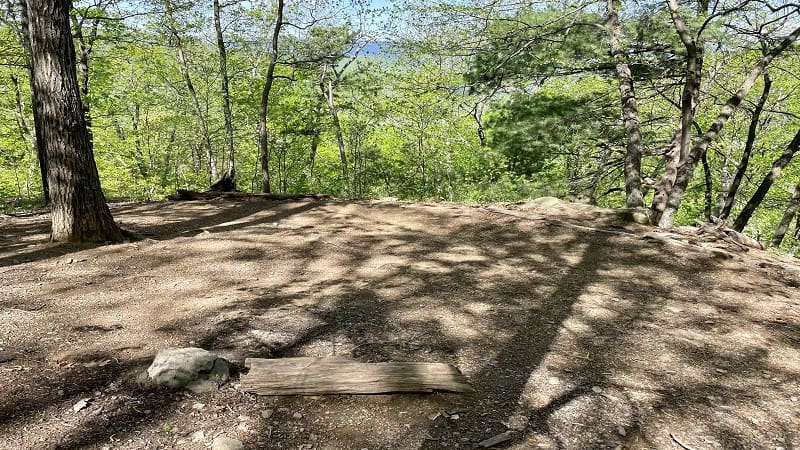 Worse, keep your eyes open for rattlesnakes. I thankfully did not see any on my hike, but they've been known to turn up on the off-trail path to Overall Run Falls.
Continue on (as in, on the designated trail) and you'll reach a primitive camp site at the 6.1-mile mark. It's quite large with room for several tents.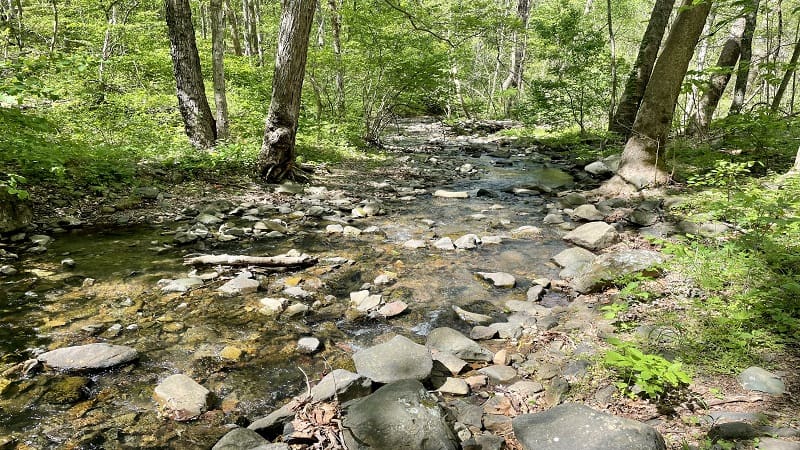 As you near the end of this hike, you'll encounter easy water crossings at the 6.8- and 7.2-mile marks, then it's an easy-going walk alongside burbling Overall Run.
At the 7.9-mile mark, turn right onto the Thompson Hollow Trail for the final steps to the parking area. At the 8.8-mile mark, your hike is complete. Celebrate.
Hike Options
I'm a big fan of loop hikes, but you can also turn this into a 6.0-mile out-and-back hike, though it will be a steep trek in a few sections.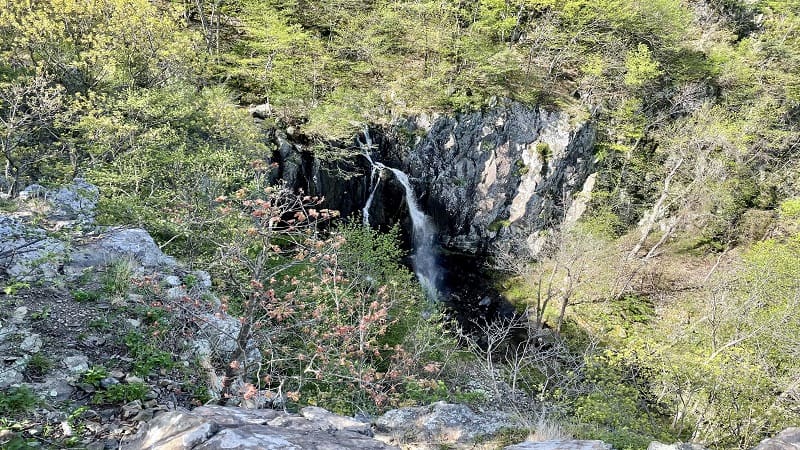 For this hike, turn left onto the Beecher-Overall Run Trail at the 1.0-mile mark. Then, take this all the way to the three overlooks for mountain and waterfall views.
Of course, as I noted above, the easy-breezy 1.9-mile hike on the Thompson Hollow Trail to the refreshing cascades and swimming hole is a lovely option, too.
Wrap-Up Notes
From the parking area, this lollipop hike took me four hours to complete, including time spent savoring the views at the lookout points along the way.
While the fee is $30 per vehicle to enter Shenandoah National Park, there is no repository anywhere on this trail to pay a fee, which is why I listed this hike as free.
Hungry? This trailhead is a 20-minute drive from Front Royal where you'll find plenty of options for snacks and sips, including tasty burgers at Blue Wing Frog.
For more waterfall hikes at Shenandoah National Park in Virginia, check out a few of my favorites, including Lewis Falls, South River Falls and Whiteoak Falls.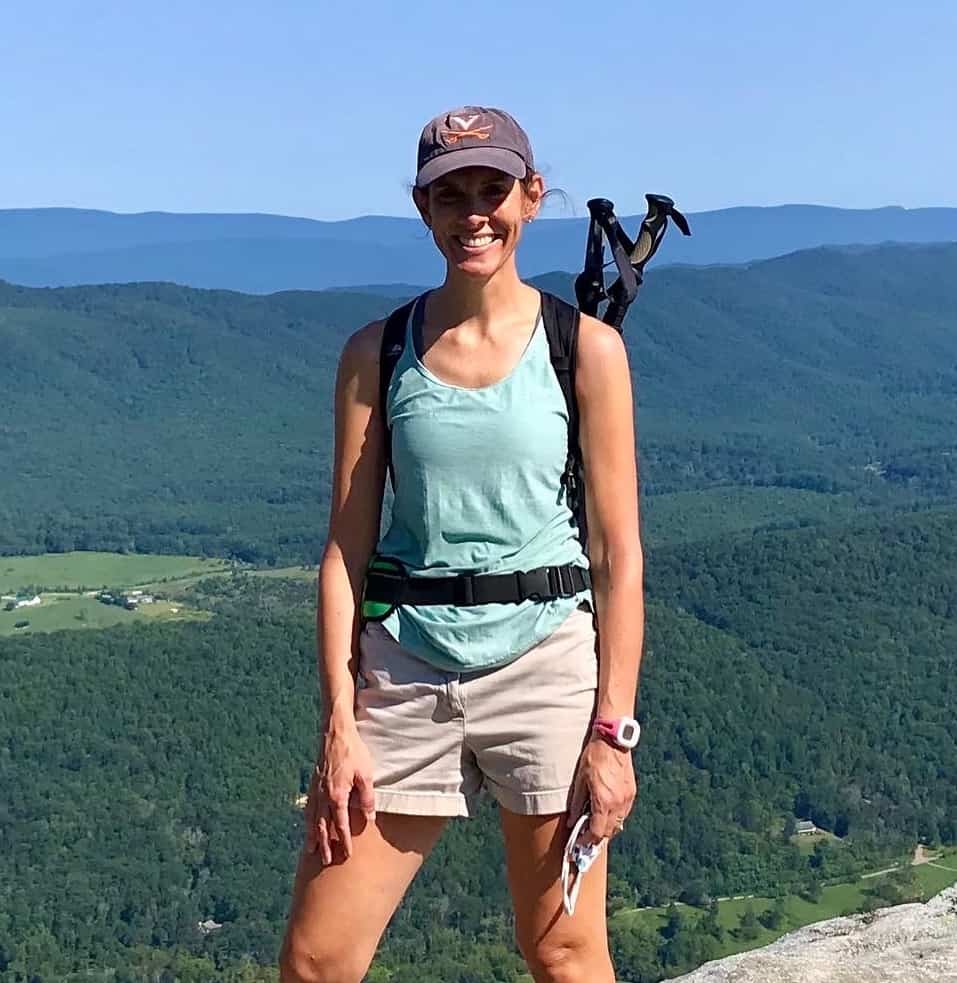 Erin Gifford is the editor of Go Hike Virginia. She has completed more than 300 hikes in Virginia. She is also the author of three hiking guidebooks from Falcon Guides. Need help finding a hike? Check out the Trail Finder feature or send Erin a message.