30 Best Day Hikes in Northern Virginia
There are many scenic hikes in Northern Virginia. There's no need to drive to Shenandoah National Park when vistas, foliage, waterfalls and wildlife are here.
To help you get out on the trails, I've pulled together my favorite day hikes in Northern Virginia. Trust me, you can't lose with any of these.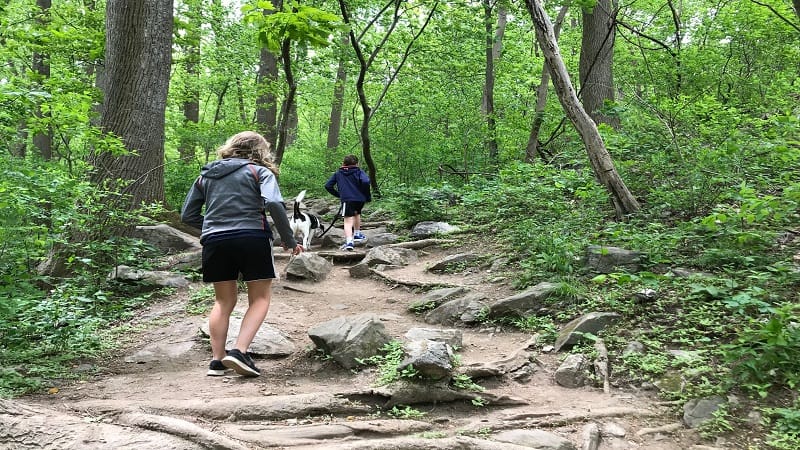 Best Hikes in Northern Virginia
Whether you're looking for waterfalls, rock scrambles or scenic views, you're covered. To make it easy to find trails, I have grouped hikes by county or city:
All of these 30 hikes fall into the easy to moderate range, and many are five miles or less. Get ready to live your best life on Northern Virginia's best hiking trails.
Alexandria Hikes
Given its proximity to Washington, DC, there aren't as many hiking trails in Alexandria as there are in the western and southern reaches of Northern Virginia.
Still, thanks to Huntley Meadows Park and Dyke Marsh Wildlife Preserve, even the Mount Vernon Trail, there are ways to get out on nature trails.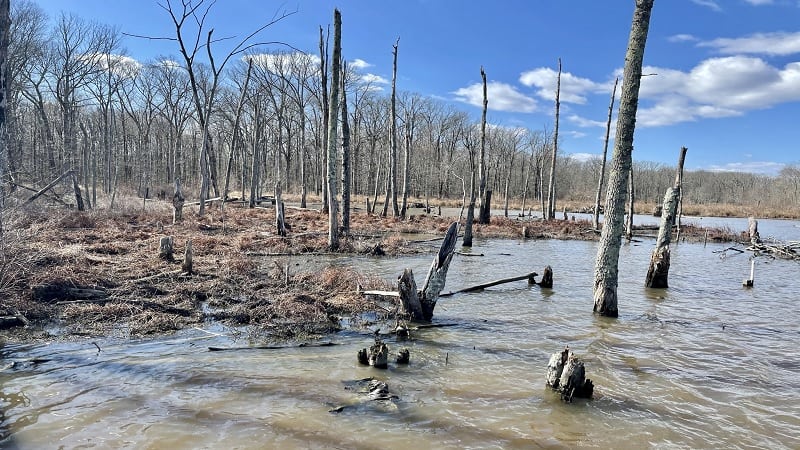 When you need your nature fix in Northern Virginia, you don't need to put many miles on your car. A wildlife-filled oasis awaits at Huntley Meadows Park.
This freshwater wetland area is one of the rarest natural habitats in Fairfax County. It's home to a range of wildlife, from great egrets to barred owls.
Three hiking trails – Cedar Trail, Deer Trail and Heron Trail – create an easy 1.8-mile loop. The flat trails are a favorite with families and wildlife photographers.
Arlington County Hikes
Like Alexandria, there are fewer trails in Arlington County, but a favorite of mine is one I recently completed for the first time, Theodore Roosevelt Island.
In the coming months, I hope to explore Potomac Overlook Regional Park and Gulf Branch Nature Center to get more of a taste of Arlington's nature trails.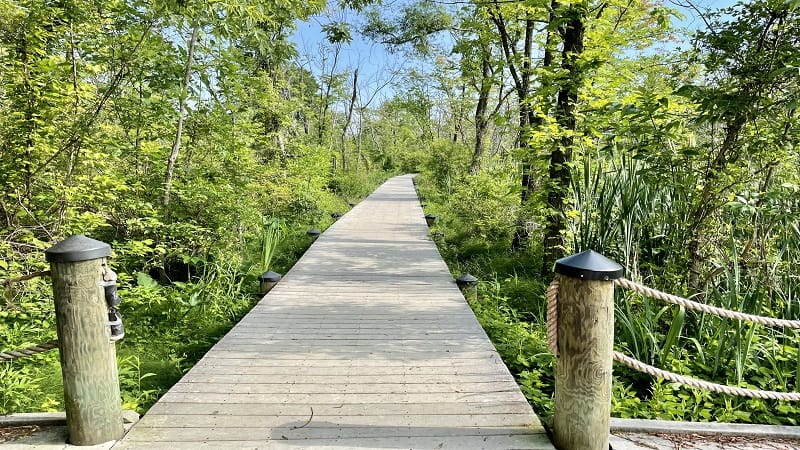 This 1.9-mile loop hike along the perimeter of 89-acre Theodore Roosevelt Island starts in Arlington, though the island is technically located in Washington, DC.
It's a lovely hike with views and lots to learn about our 26th president, Theodore Roosevelt. Try to go on a weekday. The parking lot fills quickly on weekends.
The focal point is a 17-foot-tall bronze statue of President Theodore Roosevelt. There are also four 21-foot-tall granite tablets inscribed with famous quotes.
Fairfax County Hikes
As we move away from Washington, DC, the number of hiking trails jumps considerably thanks to several state, national and regional parks in Fairfax County.
There are lots of trails to explore at Great Falls Park, Riverbend Park and Mason Neck State Park, enough for more than a few visits.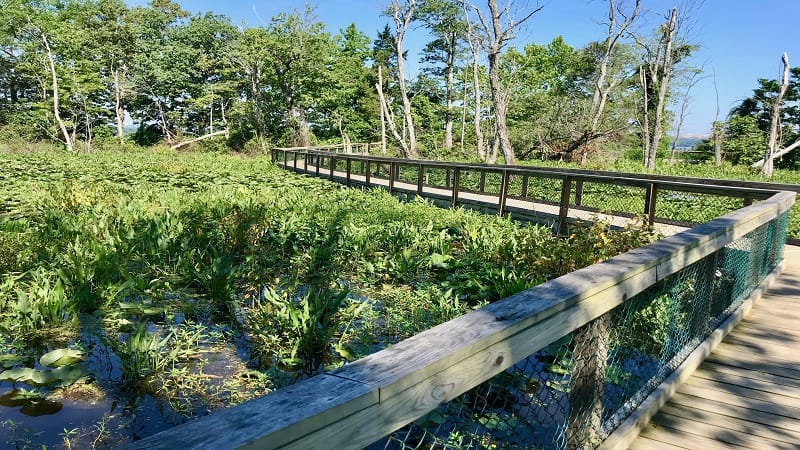 The flat, shady Bay View Trail at Mason Neck State Park may clock in at just 1.0-mile, but it's a nice loop hike that wows with dramatic views across Belmont Bay.
Take in the eclectic mix of wooded forest, sandy coastline and verdant wetlands. A wooden boardwalk guides visitors across a lily pad-strewn freshwater marsh.
Post-hike, enjoy lunch in the large picnic area, burn off energy on the playground or settle in under a shady tree on the small sandy beach at Belmont Bay.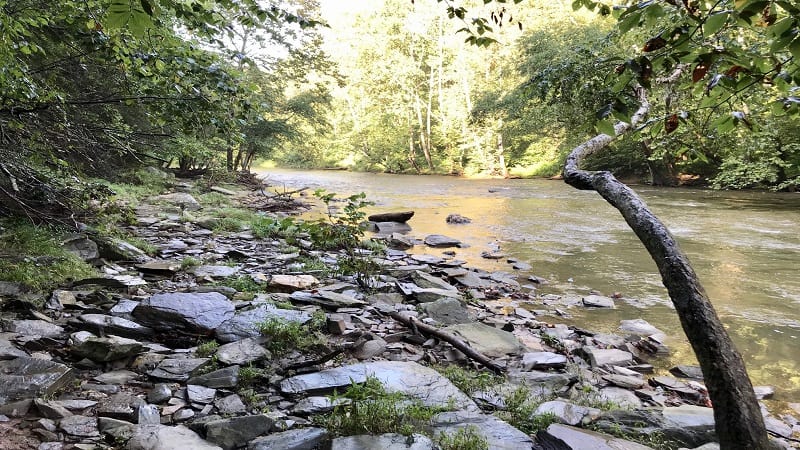 The 19.6-mile Bull Run Occoquan Trail snakes along Bull Run between Bull Run Regional Park in Centreville and Fountainhead Regional Park in Fairfax Station.
Few hikers take on the entire trail, but the easy 3.0-mile loop that includes the Union Mill Trail and a section of the Bull Run Occoquan Trail is a keeper.
The forested hike begins at Hemlock Overlook Regional Park in Clifton. The trail meanders along the banks Bull Run, then past Virginia's first hydroelectric dam.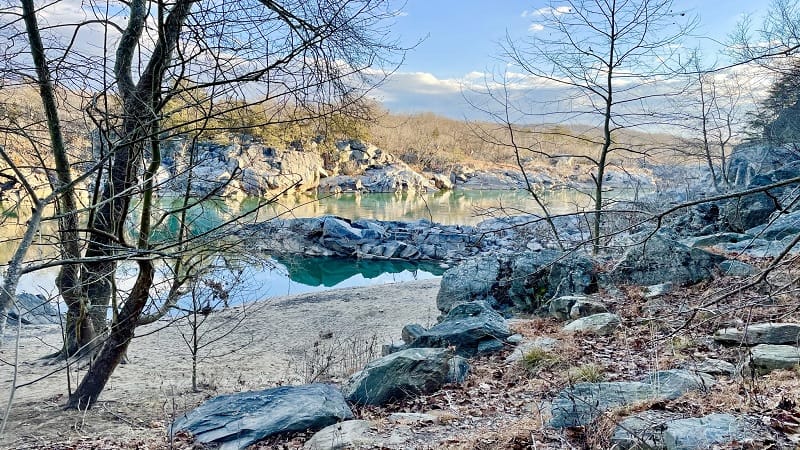 The loop hike that begins at Difficult Run in Stream Valley Park and slowly makes its way to Great Falls Park truly is impossibly perfect. This may be my favorite hike.
Early in the hike, the trail sidles up to cascading Difficult Run. It's now easy to get close to the water, which alternates between blissfully calm and furiously rushing.
Stop at each of the three Great Falls overlooks, including the first one, which offers the very best views of kayakers navigating the raging river waters.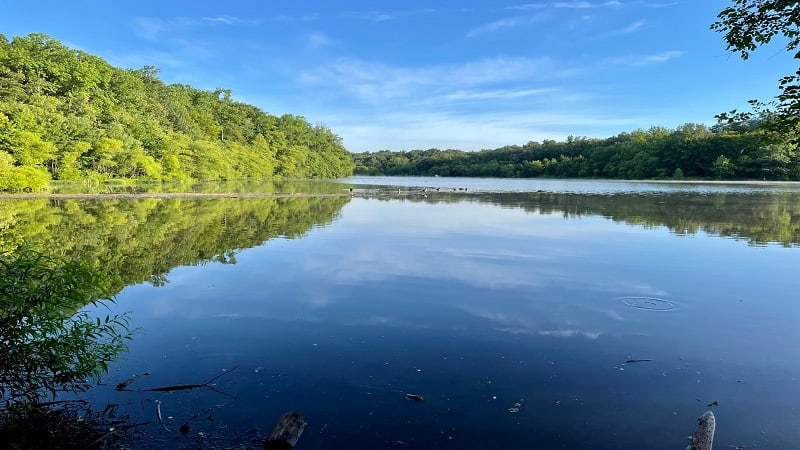 In Springfield, the 4.2-mile Lake Mercer Loop encircles 154-acre Lake Mercer. It's a shady and mostly paved trail that's a nice way to start or end the week.
You'll cross over a pedestrian footbridge and walk behind single-family homes. In a few more steps, you can step right out to the lake for water views.
In the middle of the hike, walk over Lake Mercer Dam for the best lake views of the loop. This easy-going trail is a perfect pick when you just want to get into nature.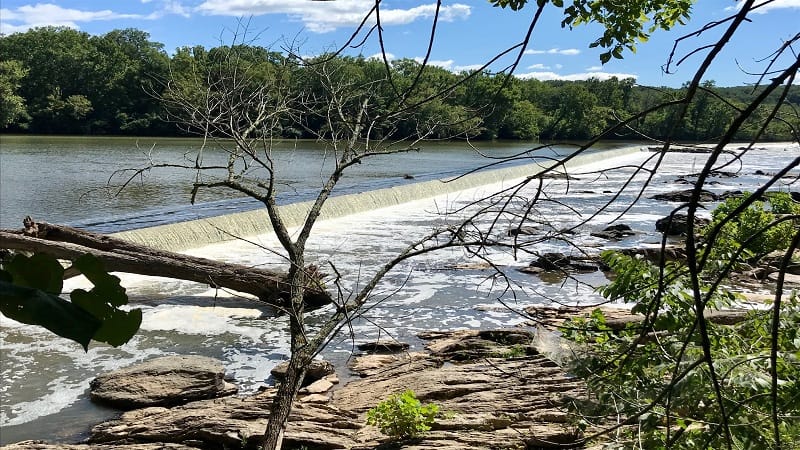 A second dreamy way to reach the Great Falls overlooks (aside from motoring directly to Great Falls Park) is by way of Riverbend Park.
The hike begins alongside the Potomac River on the Potomac Heritage Trail. Plan on small rock scrambles and wooden bridges as you make your way to the falls.
But first, stop for the gorgeous waterfalls of the Washington Aqueduct Dam, which is just up-river from Great Falls. Clamber out onto the large rocks for better views.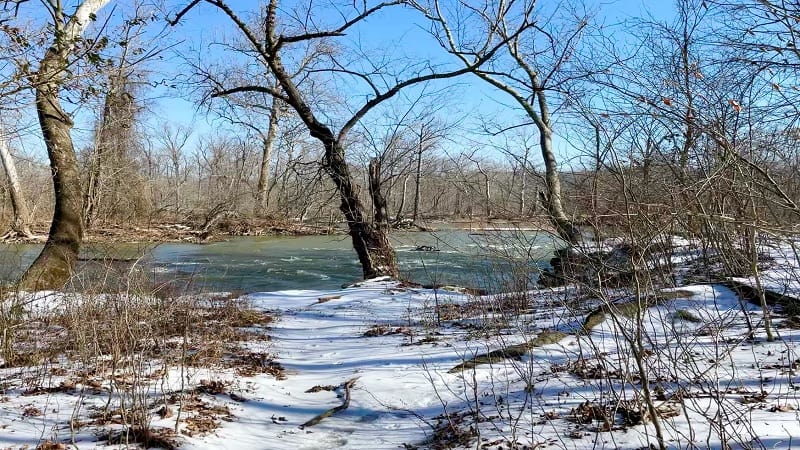 Seneca Regional Park is a hidden gem. It's so hidden that some locals don't know about this forested wilderness area that sits alongside the Potomac River.
Several hiking trails criss-cross this park, including the Potomac Heritage Trail, a national scenic trail that spans nearly 900 miles across four states.
Savor the river views, even check out a beaver's dam, and cross over several wooden bridges before the end of this easy-going loop hike through the woods.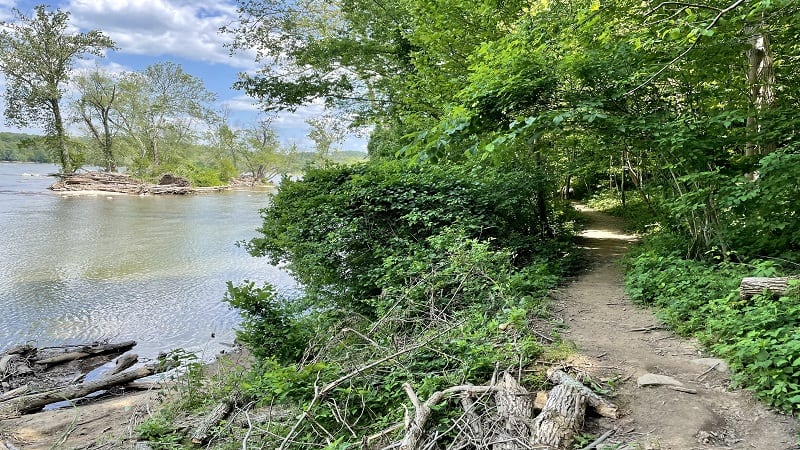 The 3.9-mile loop hike at Turkey Run Park is one of my favorite hikes. Kids will love this one too thanks to rock scrambles, water crossings and massive boulders.
This hike begins with a descent of 170 feet, down at least 100 steps. From here, savor epic views across the Potomac River before hop-scotching over Turkey Run.
Yellow blazes lead visitors to cross a ravine on a three-inch-wide wooden board, scramble alongside Dead Run and take in waterfalls before the end of this hike.
Fauquier County Hikes
In Fauquier County, there are several hikes that step foot on the Appalachian Trail, including hikes at and near Sky Meadows State Park in Delaplane.
On its own, Sky Meadows has more than a dozen hiking trails across this 1,860-acre state park. They've got a primitive hike-in campground, too.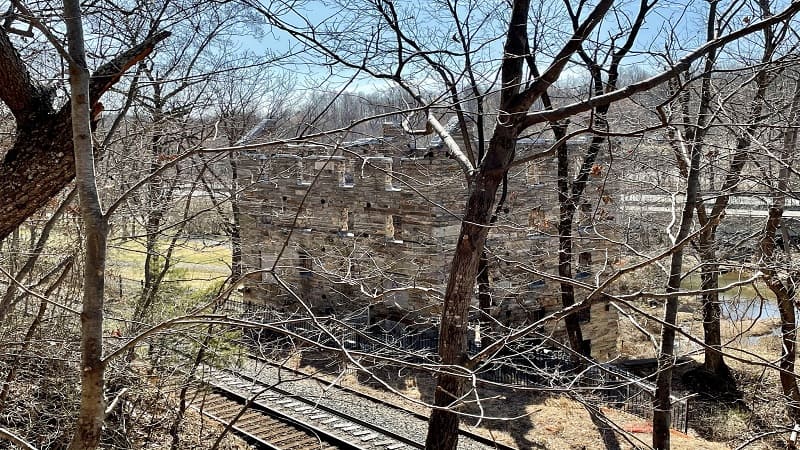 There are three trails at the Bull Run Mountains Natural Area Preserve: Yellow (Beech Ridge Loop), Green (Fern Hollow Loop) and Red (Dawson's Trail).
There's a lot to see at this wooded nature preserve too, like a former ice house, an old mill, an old wooden home and historic family cemeteries (on the Red Trail).
Chapman's Mill was built between 1737 and 1742. The mill changed hands several times before ceasing operations in 1951. Arson destroyed the mill in 1998.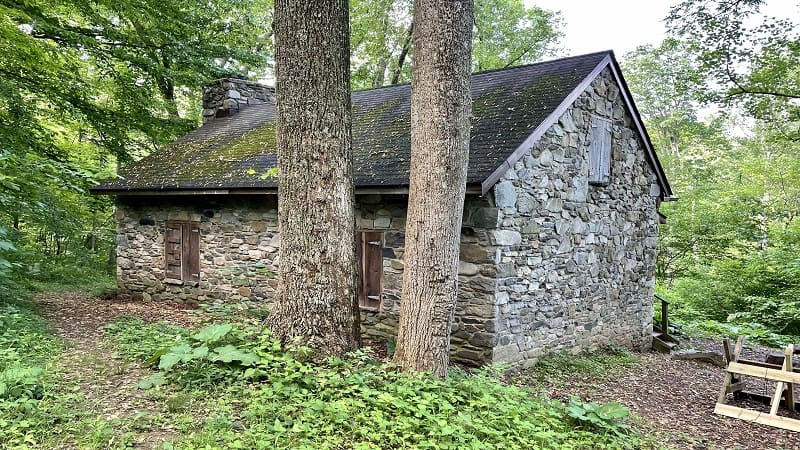 Myron Glaser Cabin is one of several dozen primitive Potomac Appalachian Trail Club (PATC) cabins for rent in Virginia, Maryland, West Virginia and Pennsylvania.
Most hike-in cabins, like Range View Cabin, can be rented by anyone. Some cabins, like Myron Glaser Cabin, are reserved for PATC members.
This 4.5-mile out-and-back hike begins from a parking area off Blue Ridge Mountain Road, near Route 50. Be aware, the "Trailhead Parking" sign is small.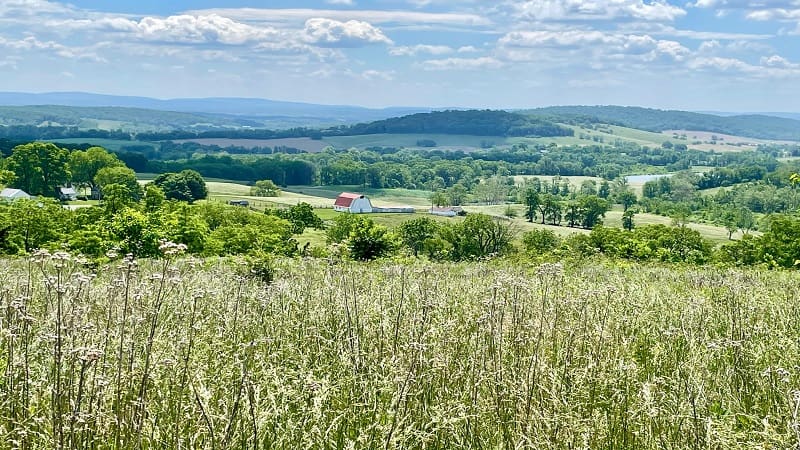 Let me start by noting that I tackled this 3.5-mile loop at Sky Meadows State Park in the wrong direction. You really do want to do this one clockwise.
Clockwise, you'll ascend the South Ridge Trail, then descend the North Ridge Trail. This way, pastoral views across Fauquier County will be front and center.
On this hike, plan to pass several wooden benches to take a seat and enjoy the vistas, as well as the Snowden Manor Ruins Site, which includes a stone fireplace.
One of the most popular scenic overlooks at Sky Meadows State Park is actually divided in two – Lower Piedmont Overlook and Upper Piedmont Overlook.
Both can be reached quickly (but be ready for a healthy ascent) along the Piedmont Overlook Trail, which sets off near the Park Office.
Re-trace your steps once you've savored the overlooks or continue on to the Ambassador Whitehouse Trail for more views from Whitehouse Overlook.
Loudoun County Hikes
More than half of my favorite trails in Loudoun County are along the white-blazed Appalachian Trail, including Bears Den Overlook, Buzzard Hill and Raven Rocks.
There are historic hikes too, like forested trails in Leesburg at Ball's Bluff Battlefield Regional Park and Red Rocks Wilderness Overlook Regional Park..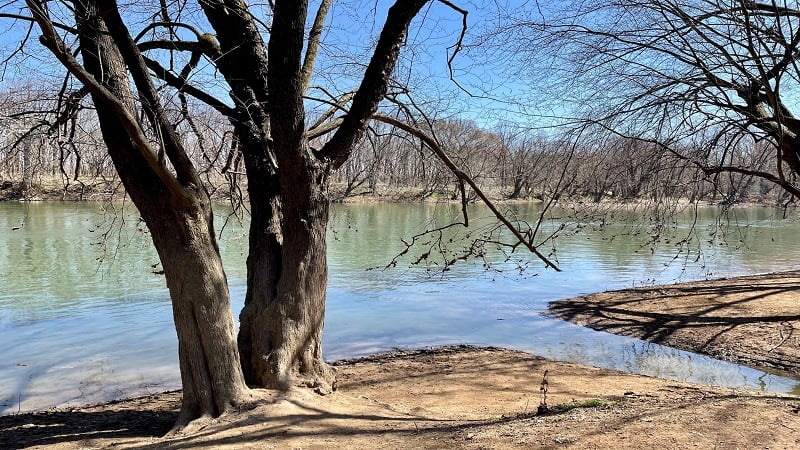 There are seven hiking trails at Ball's Bluff Battlefield Regional Park in Leesburg, including a section of the 710-mile Potomac Heritage National Scenic Trail.
This regional park sits on the site of the Battle of Ball's Bluff, a ferocious Civil War clash on a bluff over the Potomac River that took place on October 21, 1861.
Battlefield interpreters lead tours that range from introductory (45 mins) to in-depth (90 mins) on the history of this bloody battle between North and South.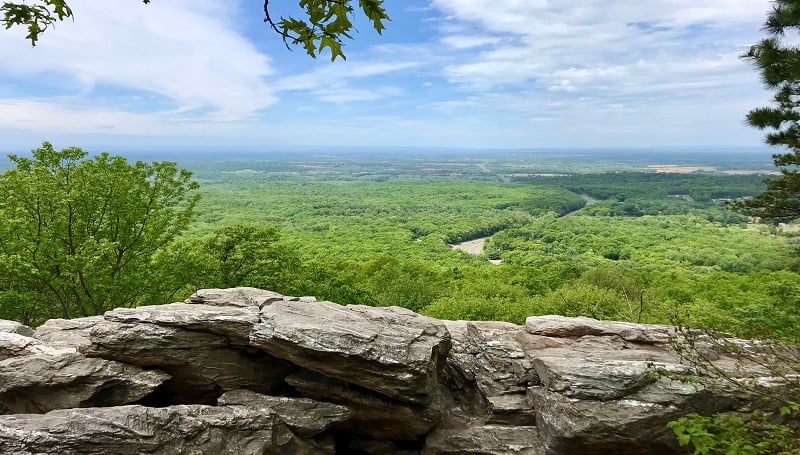 Set in pastoral Loudoun County, the hike to Bears Den Overlook takes visitors along a delightful, shady stretch of the Appalachian Trail in Bluemont.
But first, plan to walk along a .3-mile blue-blazed spur trail from the large parking area to connect with the white-blazed Appalachian Trail.
From here, it's a short walk to the ever-scenic Bears Den Overlook. You'll navigate tree roots, boulders, wildflowers and rocky terrain along the way.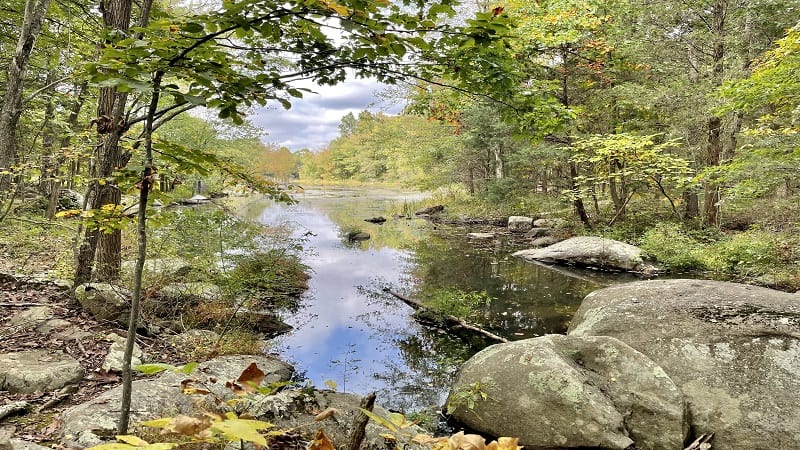 Blue blazes lead the way on this 8.3-mile loop hike around 350-acre dam-fed Beaverdam Reservoir in Ashburn.
This hike begins from the corner of the lot at the National Recreation & Park Association building. From here, enjoy a counter-clockwise loop for the best views.
Near the end of the hike, a rock scramble is a perfect way to complete this loop. Swimming is not allowed in the reservoir, but you can fish for bass and catfish.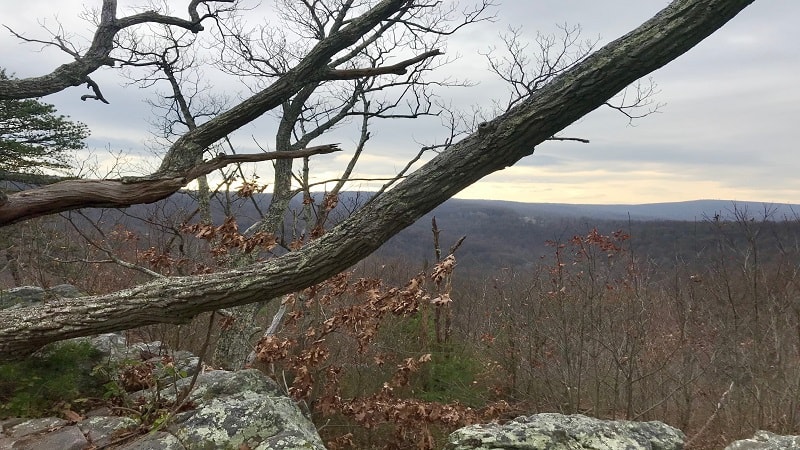 The wooded 3.5-mile out-and-back hike to Buzzard Hill on the Appalachian Trail wows with a creek crossing, a small waterfall and west-facing views.
Near the top, you will reach a primitive campsite with a fire ring, but press on. The far-reaching views you've worked for are just a few more steps from here.
At the 1.7-mile mark, keep your eyes open for a short spur trail on the left. This will lead you to the west-facing overlook at Buzzard Hill.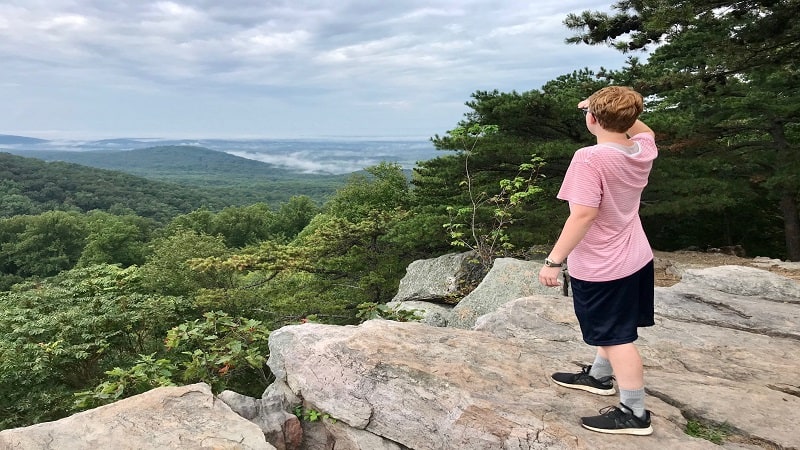 One of the most popular hikes in Loudoun County is the 5.1-mile out-and-back trek to Raven Rocks along the Appalachian Trail in Bluemont.
It's a rocky climb with an elevation gain of more than 1,500 feet that rewards your efforts with sweeping valley and mountain views.
This hike follows along a rock-laden section of northbound trail. You may even bump into a thru-hiker or two, depending on the time of year you hike the trail.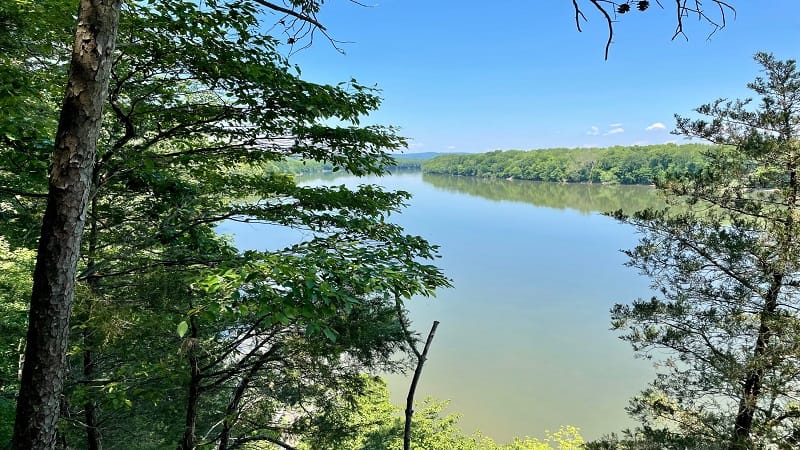 At Red Rock Wilderness Overlook Regional Park in Leesburg, the 1.2-mile loop hike around this 67-acre park is a must-do for river views and forested trails.
At this small wooded park, there are winding nature trails, as well as several historic buildings from the 1880s, including a Carriage House and an Ice House.
The property dates back to 1869 when a wealthy industrialist purchased 2,000 acres in Loudoun County. This section was donated in 1978 for use as park land.
Manassas Hikes
Best known for Manassas National Battlefield Park, it's no surprise that you'll find hiking trails across this 5,100-acre park managed by the National Park Service.
One of my favorites is the First Battle of Manassas Trail, but there are several other trails that also provide an overview of key Civil War events on this site.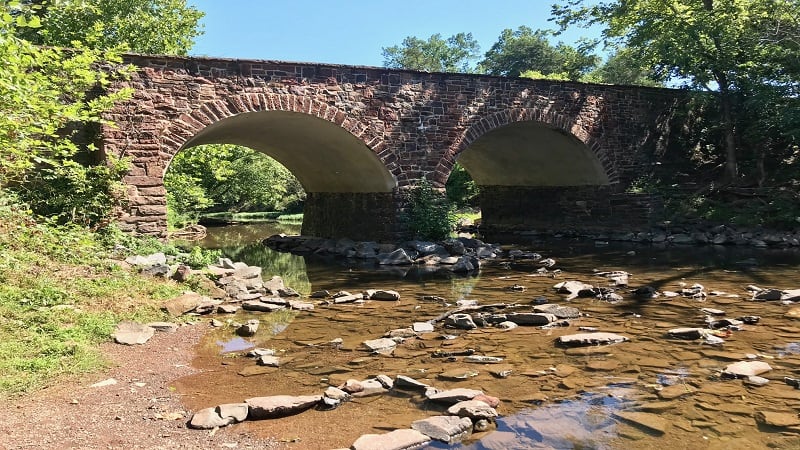 For a satisfying hike that goes beyond forest and trees, look to the 5.5-mile First Battle of Manassas Trail at Manassas National Battlefield Park.
Wander open fields where Union and Confederate armies first engaged in combat on July 21, 1861 as cannons fired and troops clashed during the Civil War.
This trail also includes forested miles that balance out time spent in full sun exploring field artillery. For a shorter hike, try the 2.6-mile Matthews Hill Loop.
Prince William County Hikes
You'll find public use nature spaces in Prince William County, including Prince William Forest Park, Leesylvania State Park and Conway Robinson State Forest.
Here you can enjoy miles and miles of hiking trails at tidal wetlands and wooded forests, as well as along trails that boast far-reaching river views.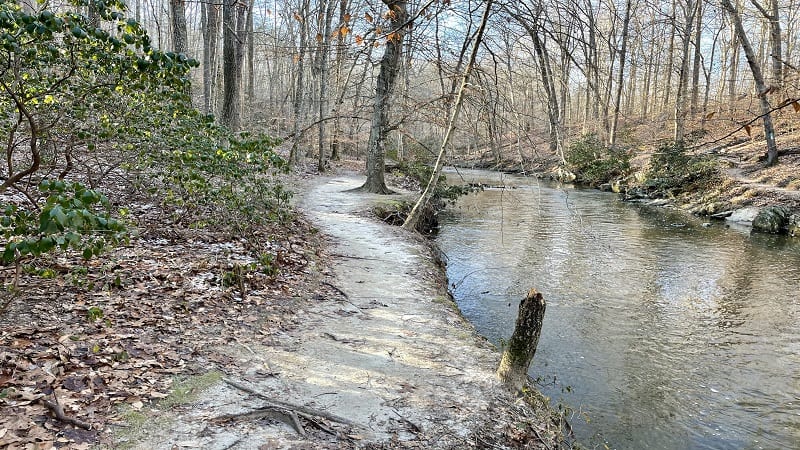 At Prince William Forest Park in Triangle, an easy 2.2-mile loop hike guides visitors along the scenic Birch Bluff and Laurel Loop Trails.
The forested hike begins amongst many trees. The sandy trail soon hugs South Fork Quantico Creek, enabling you to enjoy the cascades and rocky beach area.
Near the end, walk across a delightful wooden bridge. In another .5-mile, you will apparoch a clearing, picnic tables and a fun playground for small children.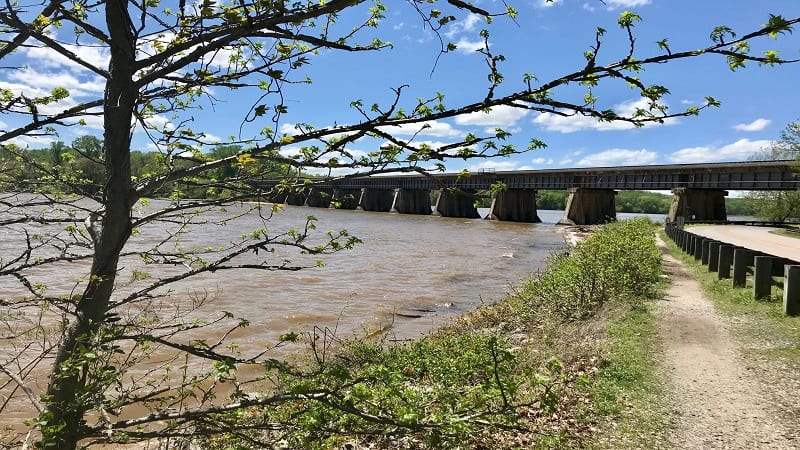 At Leesylvania State Park, follow the Bushey Point Trail along the Potomac River to Powell's Creek. Be sure to walk along the sandy beach for shell hunting.
Park in boat launch parking for easy access to the Bushy Point Trail. On a warm day, watch sailboats and motor boats from the shores of the Potomac River.
Post-hike, settle in for lunch at the large picnic area or let the kids burn off some energy at the playground at nearby Neabsco Creek Boardwalk.
It's a cinch to cobble together a scenic loop hike along the four marked trails (blue, yellow, red and orange) at 444-acre Conway Robinson State Forest.
You can also stick to the blue trail for a 3.3-mile wooded hike through a large grove of old growth hardwood trees and over a couple of small water crossings.
Late in the hike, tall loblolly pines and white pines begin to intermix with old hardwoods. It's dreamy to walk through this picturesque tunnel of towering pines.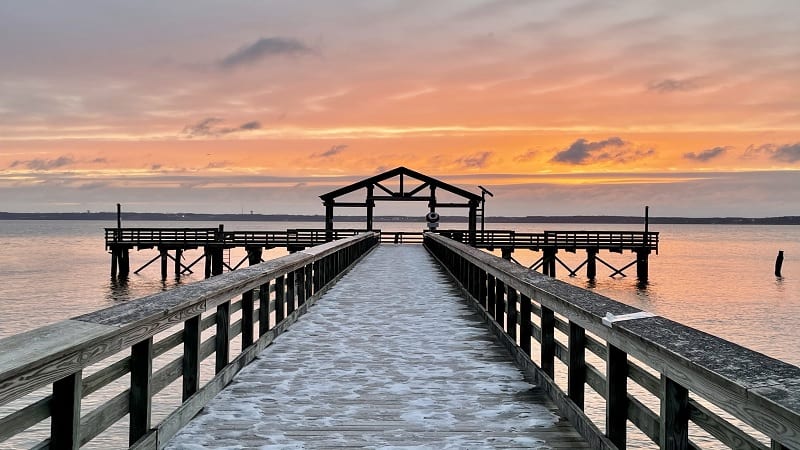 First things first, the trailhead for the Lee's Woods Trail is steps from a small sandy beach and a fishing pier, so savoring a coral-colored sunrise from here is a must.
There's a lot of history to this hike, including Freestone Point, which was once used as a lookout point by rifle-toting soldiers in the Civil War.
As you walk along this historic loop trail, you'll see the Lee and Fairfax family homesteads, an old cemetery, a naval cannon and a former Civil War fort.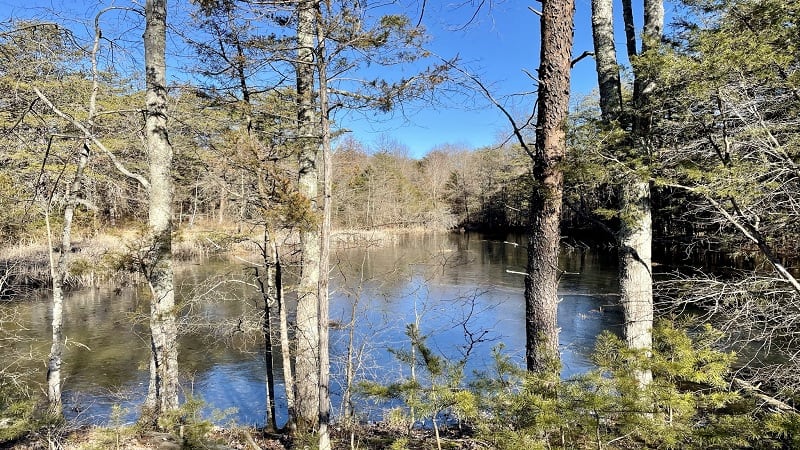 Leopold's Preserve is a 380-acre nature preserve that surrounds Villages of Piedmont, a community of single-family homes and townhomes in Haymarket.
On this hike, cross wooden boardwalks, stop for creeks and streams, climb atop tree stumps, observe wetlands and read up on nature on placards.
There are seven miles of easy-going nature trails. The nature trail loop is 4.7 miles and encircles the entire neighborhood.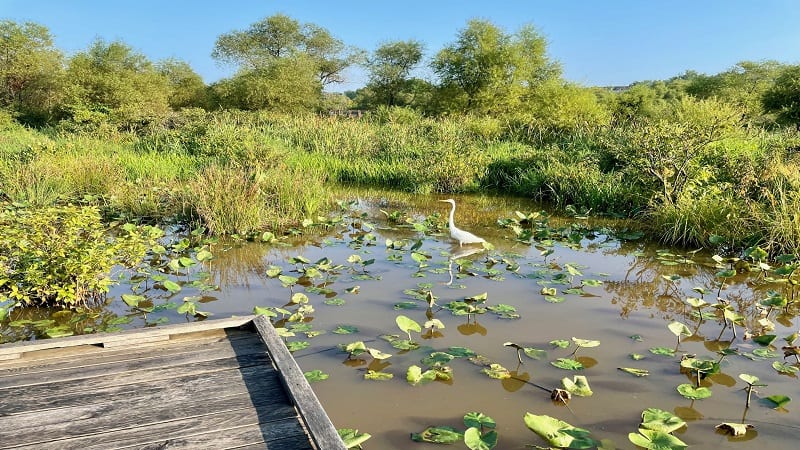 This easy 1.7-mile hike along the Neabsco Creek Boardwalk in Woodbridge is tops among birders eager to ogle snowy egrets, wood ducks and red-winged blackbirds.
It's also not unusual to see beavers, ospreys and great blue herons as you stroll along the 10-foot-wide boardwalk trail, particularly in the early-morning hours.
Along the boardwalk trail, make time for two-story observation platforms, which allow visitors to savor the far-reaching vistas across Neabsco Creek. Ahh, relaxing.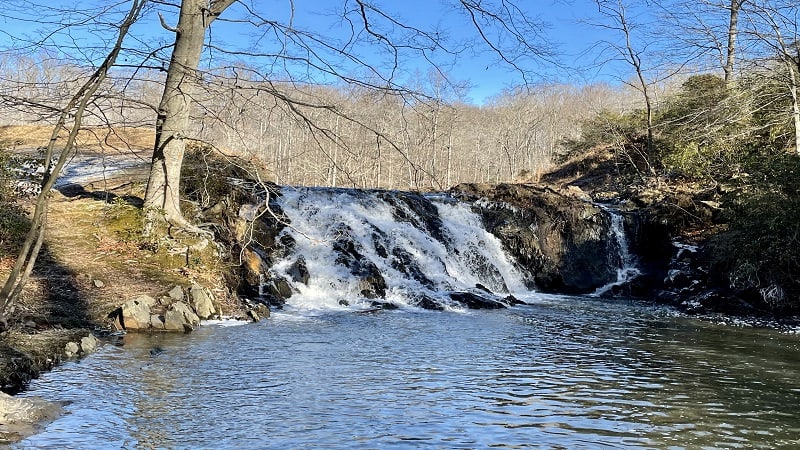 A hike on the yellow-blazed Quantico Cascades Trail at Prince William Forest Park leads to a tumbling waterfall, but it's not entirely a cakewalk to reach the falls.
Let's just say that a bit of bushwhacking may be required. Or at the very least, you'll need to follow a rough path bushwhacked by someone else.
This 2.0-mile out-and-back hike leads to cascading Quantico Creek, then proceeds on to Quantico Falls, which stems from Camp Four Lake.
Stafford County Hikes
Stafford County is home to historic battlefield parks, county parks, nature preserves, and one of our newest state parks, Widewater State Park.
Look for easy-going hikes and trails that lead to scenic views across rivers, creeks and streams. It's easy to get outside to enjoy nature in Stafford County.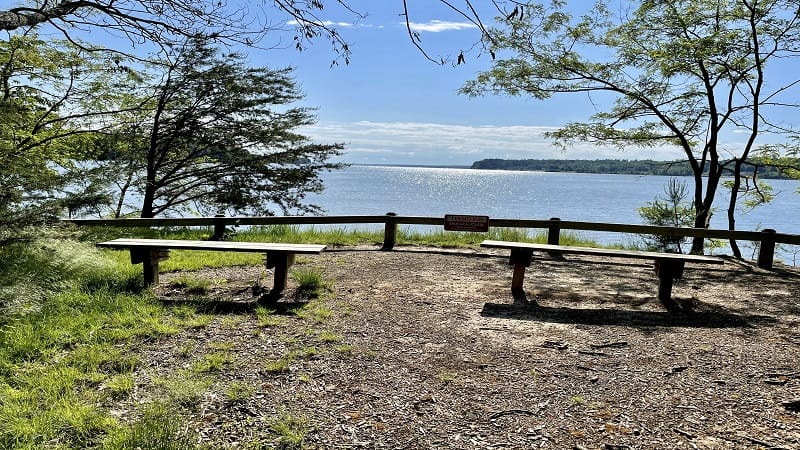 There's a hidden gem tucked away in Stafford County. It's called Crow's Nest Natural Area Preserve, and let me tell you, it's pretty awesome.
On this 895-acre peninsula made up of tidal and non-tidal wetlands you'll find five hiking trails, including the Crow's Nest Point Trail to Boykin's Landing.
The hike begins under a canopy of bright-green leaves. The foliage can be so dense that the hike can feel quite dark, even on cloudless days.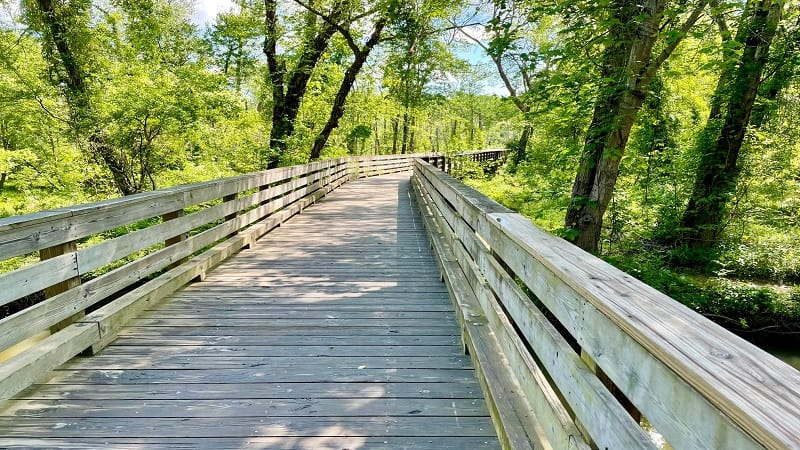 The 1.7-mile hike around the 17-acre Government Island on a scenic heritage trail is shaded, easy-going and rich with history. In fact, the island was once a quarry.
In 1791, the federal government purchased the island to quarry freestone (Aquia Stone) for the original construction of the White House and U.S. Capitol Building.
It should come as no surprise to learn that Government Island is "America's Historic Stone Quarry." It's also on the National Register of Historic Places.
At Widewater State Park in Stafford, the primary hiking trail sets off just behind the visitor center. It's the .8-mile red-blazed Long Pond Trail.
This easy trail begins along a dirt path toward Aquia Creek. Several well-placed wooden benches allow hikers to savor far-reaching views across the water.
As you continue on, you'll pass a small beach, a canoe launch and Long Pond, as well more benches. The forested trail then loops back to the visitor center.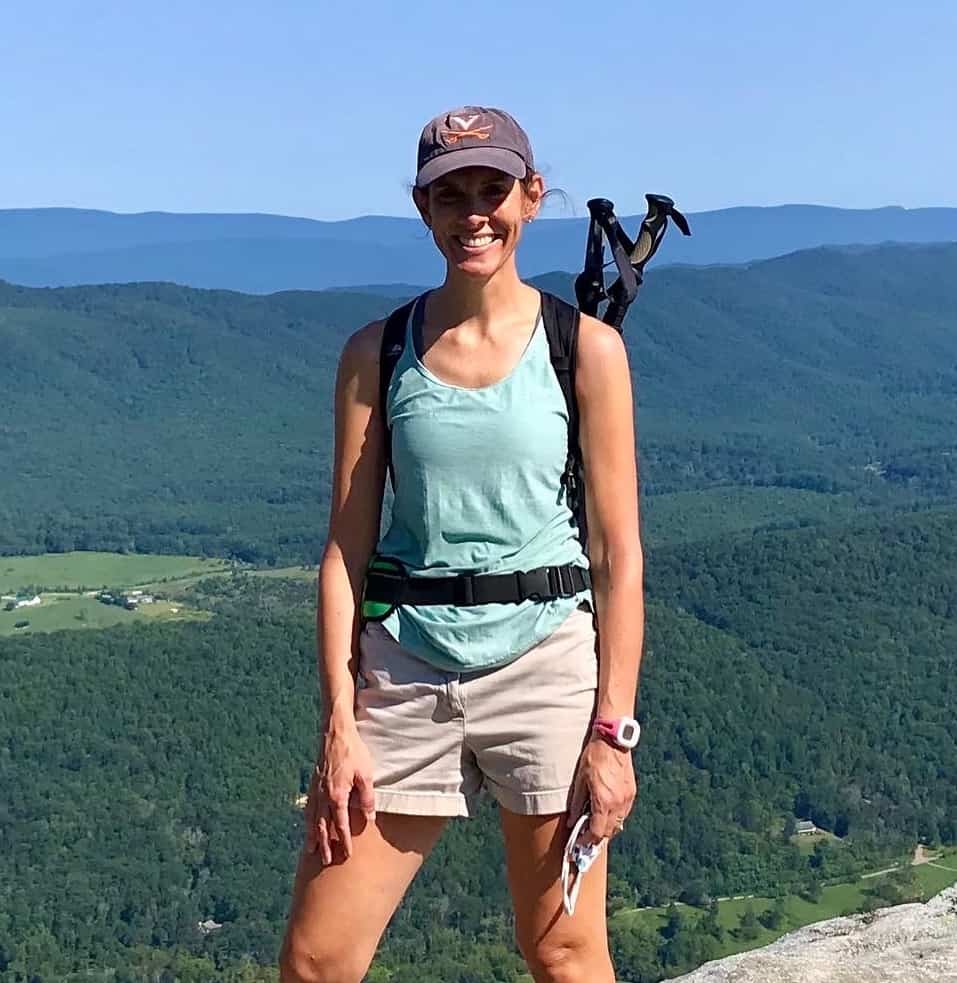 Erin Gifford is the editor of Go Hike Virginia. She has completed more than 300 hikes in Virginia. She is also the author of three hiking guidebooks from Falcon Guides. Need help finding a hike? Check out the Trail Finder feature or send Erin a message.