A Scenic Hike Filled with Pastoral Vistas at Sky Meadows State Park in Fauquier County
If you've not yet been to Sky Meadows State Park in Delaplane, Virginia (Fauquier County), make a plan to go. A few days ago, I completed my fourth hike there this year.
Thanks to more than 20 miles of hiking trails that criss-cross this pastoral state park, it's a cinch to visit several times and not complete the same hike more than once.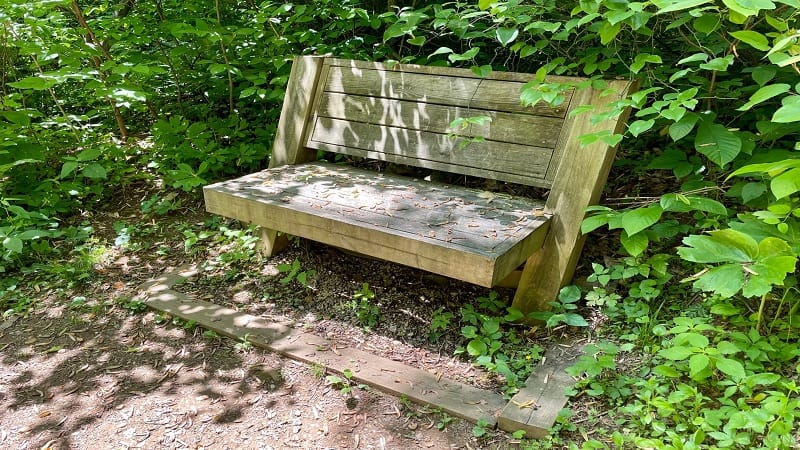 This time, I tackled a 3.5-mile loop hike on the North Ridge Trail and South Ridge Trail. The far-reaching pastoral views were first-rate. I highly recommend this hike.
On many loop hikes, it hardly matters whether you go clockwise or counter-clockwise, but you want to do this one clockwise (I hiked this route counter-clockwise).
| Trail Stats | |
| --- | --- |
| Length | 3.5 miles |
| Difficulty | Moderate |
| Trail Type | Loop |
| Elevation Gain | 797 feet |
| Duration | 2-3 hours |
| Terrain | Mostly dirt, rock and grass trails |
| Dog-Friendly | Yes |
| Fee | $7 per vehicle weekdays ($10 per vehicle weekends, Apr-Oct) |
| Driving Directions | Click Here |
Arriving at the Trailhead
When you arrive at Sky Meadows State Park, park in the main parking lot on the west side of U.S. Route 17. There is a fairly large lot in front of the Visitor Center.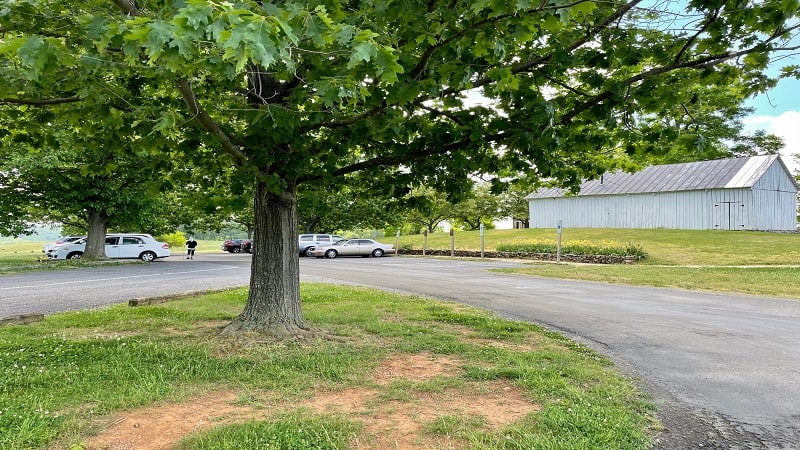 Thie Visitor Center has nature exhibits and a gift shop, as well as restrooms. You'll find a historic area too, featuring the mid-19th century Mount Bleak House.
From here, walk up Route 710 (the main park road) in the direction of the Park Office. The hike begins on Boston Mill Road, just left of the Park Office.
The First Steps
Before I proceed, note that the following description is for a counter-clockwise hike since that's what I did. You honestly can go either way on this loop hike, but…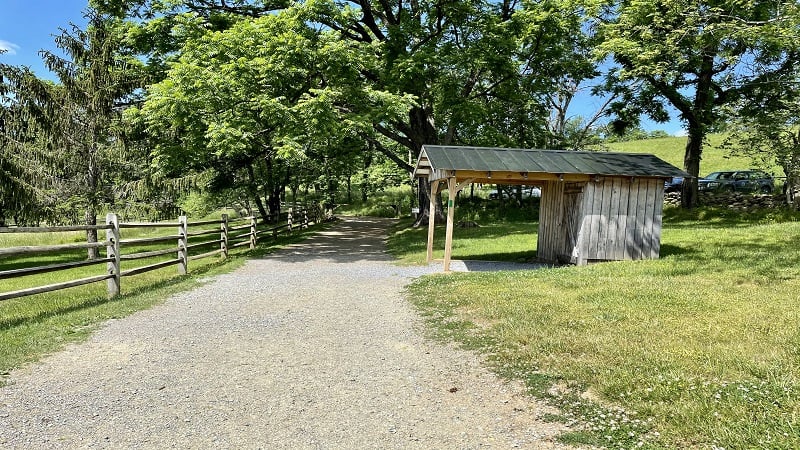 I personally think the best views are on the North Ridge Trail and they are better seen on the downhill (clockwise), which is the only reason I suggest hiking clockwise.
Boston Mill Road is marked with green blazes. It looks like a service road, but it's an official park trail. Proceed slowly as not to miss the first turn on the right.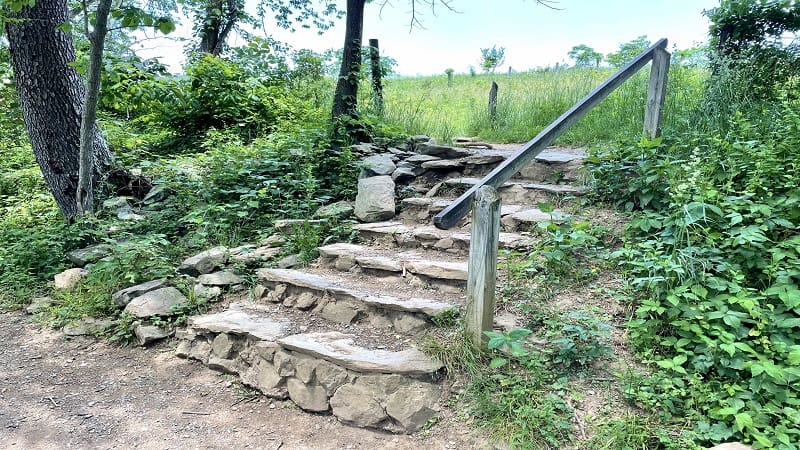 At the .1-mile mark, you'll reach a trail marker. Turn right to walk up a set of stone steps. Then, stay left for the blue-blazed North Ridge Trail.
It's a steady ascent, so get ready to dig deep. It's pretty much a full-sun slog for the first .5-mile and the gorgeous views of rolling farmland are behind you.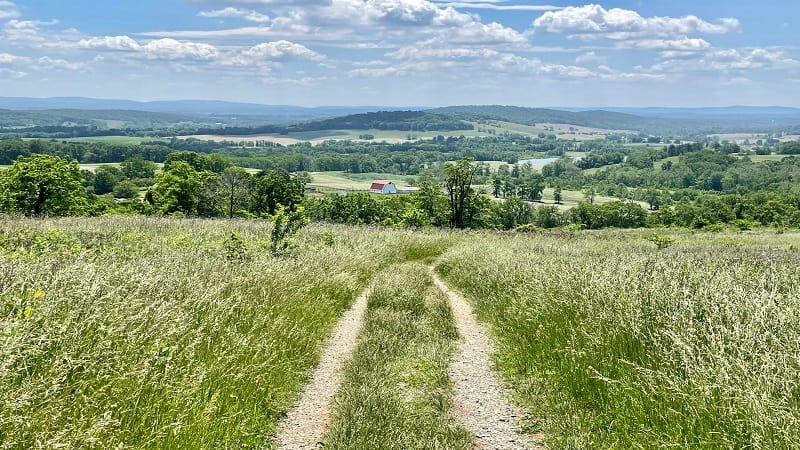 Every couple of minutes you'll find yourself turning around to snap photos of the spectacular pastoral scenery. About halfway up, you'll reach a wooden bench.
At the .6-mile mark, the trail intersects with the Piedmont Overlook Trail. Stay left for the North Ridge Trail and a brief (and well-shaded) respite from the uphill climb.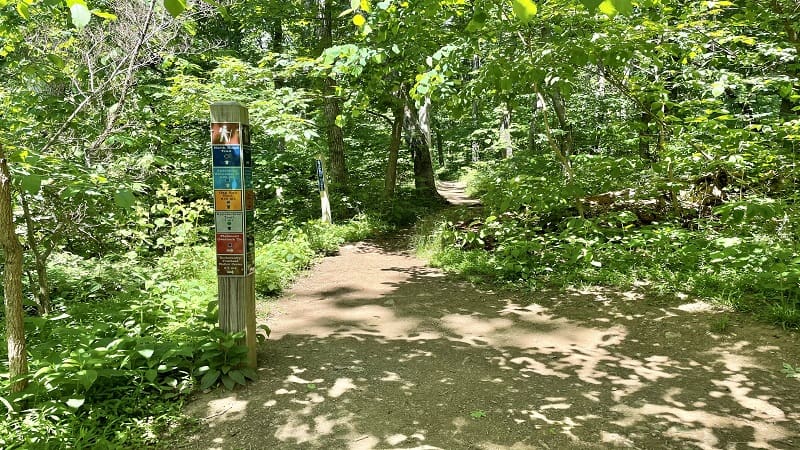 Continue along this forested path. At the .9-mile mark, the trail intersects with the Gap Run Trail, which leads to the primitive camp sites at Sky Meadows State Park.
The North Ridge Trail meets the South Ridge Trail at the 1.5-mile mark. You will also reach a bench to settle in on to celebrate the end of the uphill section of this hike.
Turn left here to begin hiking downhill along the yellow-blazed South Ridge Trail. This section, in my opinion, is uneventful. Worse, there is more full sun on the way down.
At the 2.1-mile mark, you'll reach a comfy bench. Then, another one turns up on the right at the 2.6-mile mark, as well as a spur trail for George's Overlook.
It's a short .1-mile walk to George's Overlook for southeast-facing views. I did not venture out, though I did when I hiked a separate loop hike at the park in January.
You will see a yellow South Ridge Trail marker on the left, so continue downhill on a now more grassy route. At the 2.8-mile mark, another wooden bench. Also, ruins.
As in, the Snowden Manor Ruins Site. A very short spur trail leads to a former home, including a stone fireplace. Then, a dead-end at the 3.1-mile mark.
Turn right here to stay on the North Ridge Trail. At the 3.2-mile mark, turn left onto green-blazed Boston Mill Road for the final gravel steps to the end of this hike.
Wrap-Up Notes
From the trailhead adjacent to the Park Office, this hike took me 75 minutes, including time spent ogling the rolling farmland and pastoral vistas.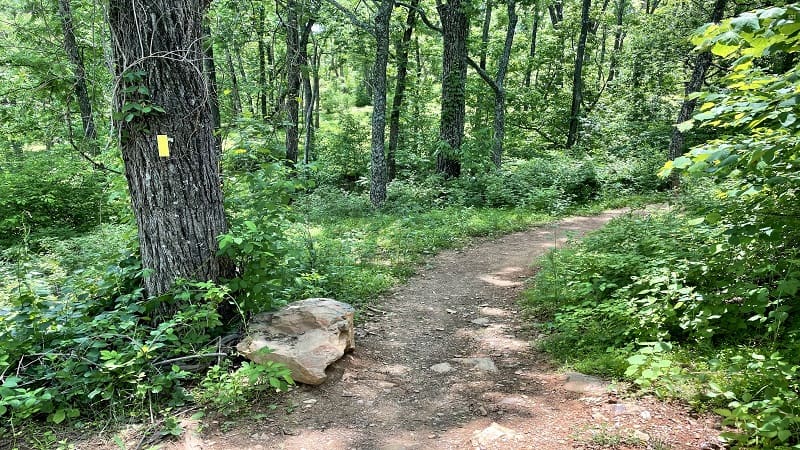 If you like this hike, you may like a larger loop hike (5.5 miles) along the Piedmont Overlook Trail and Ambassador Whitehouse Trail, as well as the South Ridge Trail.
The two other hikes I've completed at Sky Meadows State Park include Lost Mountain (4.0 miles, loop) and Old Trail (5.1 miles, loop).
Hungry for more? Take a look at 15 of the best hikes near Bluemont, Virginia to find a few more hikes to add to your must-do hiking list.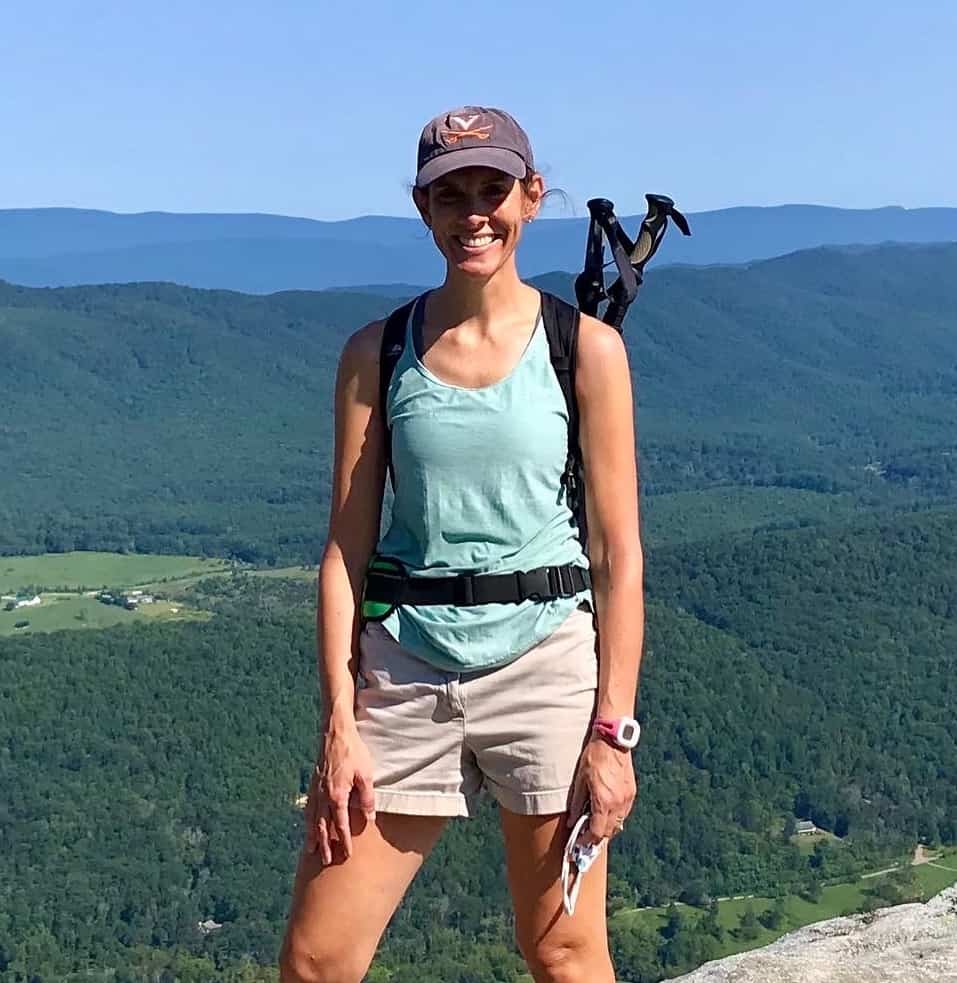 Erin Gifford is the editor of Go Hike Virginia. She has completed more than 300 hikes in Virginia. She is also the author of three hiking guidebooks from Falcon Guides. Need help finding a hike? Check out the Trail Finder feature or send Erin a message.