Theodore Roosevelt Island: A Family-Friendly Loop Hike Near Washington, DC
I've lived in Northern Virginia for more years than I can count, yet it was not until this past summer than I set off on a hike around Theodore Roosevelt Island.
I was able to convince two of my kids to come with me, and we made our way east to the edge of Washington, DC.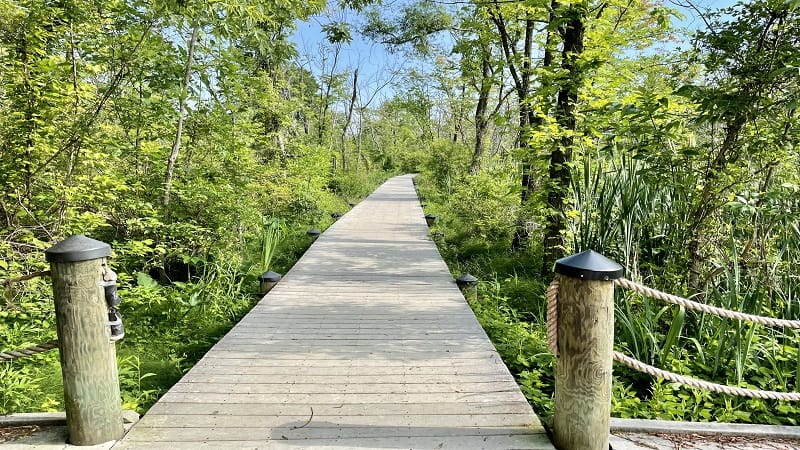 This easy hike around the perimeter of the 89-acre island begins in Arlington, but the island is officially considered a part of Washington, DC.
It's a beautiful hike with plenty to learn about our 26th president, Theodore Roosevelt. If you can, go on a weekday. The parking lot fills quickly on weekends.
| Trail Stats | |
| --- | --- |
| Length | 1.9 miles |
| Difficulty | Easy |
| Trail Type | Loop |
| Elevation Gain | 56 feet |
| Duration | 60-90 minutes |
| Terrain | Gravel, dirt and boardwalk trails |
| Dog-Friendly | Yes |
| Fee | Free |
| Driving Directions | Click Here |
How to Get to Theodore Roosevelt Island
Theodore Roosevelt Island is located along the George Washington Memorial Parkway. It's just southeast of the Key Bridge.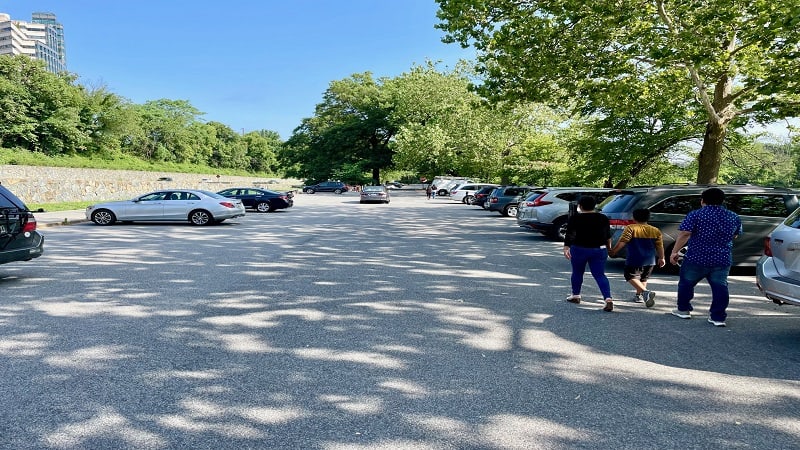 The lot is large, with room for several dozen cars. Maybe even 100 cars. We arrived by 9 am on a Monday and there were already a dozen cars in the parking lot.
No car? No problem. Theodore Roosevelt Island Park is a short walk from the Rosslyn Metro Station, which serves Orange, Blue and Silver Line trains.
From Rosslyn, walk toward the Key Bridge to Lynn Street, then turn right onto a connector path just past Langston Blvd that leads to the park.
The parking area is a Capital Bikeshare bike rental location. The fee is $1 to unlock a bike, then $.05/min for a classic bike or $.15/min for an ebike.
Theodore Roosevelt Island is the northern terminus for the paved 18-mile Mount Vernon Trail, which runs all the way to George Washington's Mount Vernon.
Theodore Roosevelt Island Trails
The hike begins with an easy walk across a footbridge over the Potomac River that leads to Theodore Roosevelt Island, which is a unit of the National Park Service.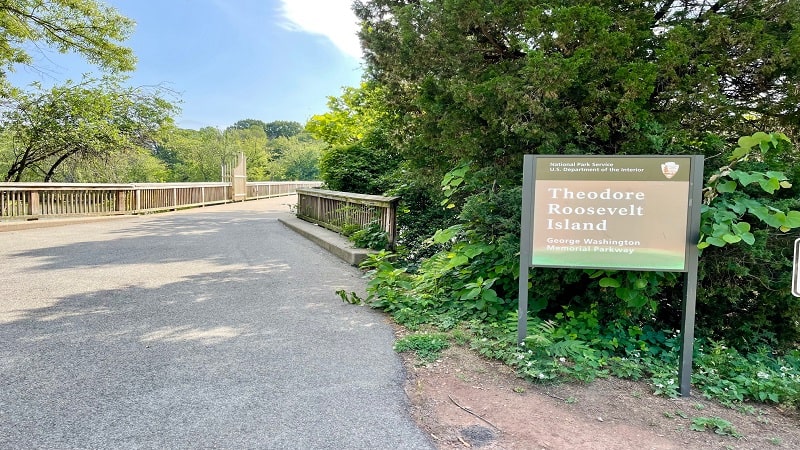 Once across the bridge – at the 0.1-mile mark – turn right for a counter-clockwise loop. In a few more steps, veer to the left to explore the memorial.
There are three short trails on the island, each named for a habitat the trail passes through. These are the Swamp Trail, the Woods Trail and the Upland Trail.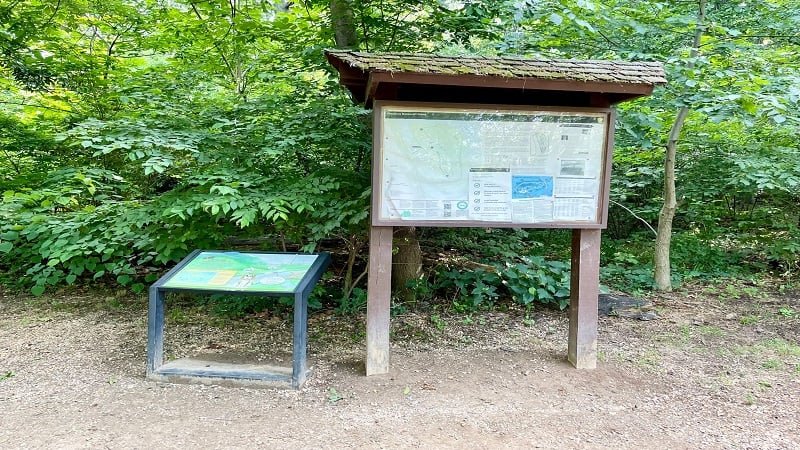 This hike loops along the Swamp Trail, which passes through a cattail marsh and swampy woods. It also includes a stop at the monument to Theodore Roosevelt.
For kids, open up the Theodore Roosevelt Island Scavenger Hunt on your phone. Kids can also complete activities to earn a Junior Ranger badge.
Theodore Roosevelt Island History
For over 100 years, the island was called Mason's Island. It was home to John Mason, grandson of George Mason. Mason left in 1832. No one lives here now.
The land was purchased, then transferred to the federal government, in the early-1930's. From 1934 to 1937, the Civilian Conservation Corps cleared the land.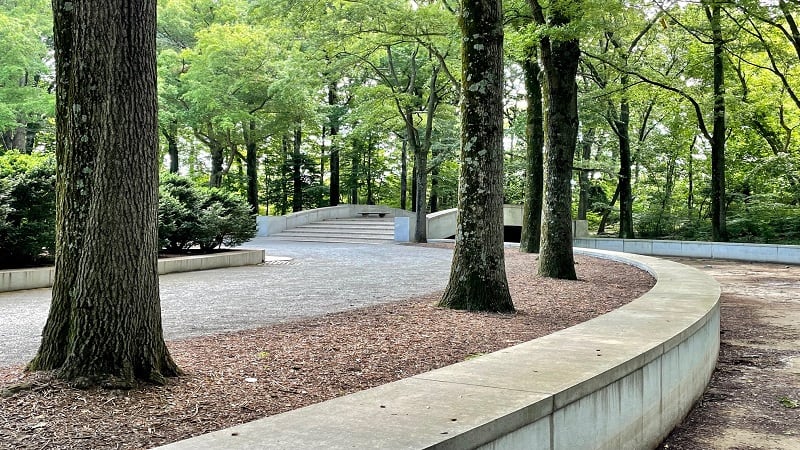 Work came to a halt in the 1930's and did not resume until after World War II. The memorial was constructed between 1963 and 1967.
Today, the memorial is a large oval-shaped plaza with a water-filled moat and two fountains. On our visit, the moat and fountains were empty.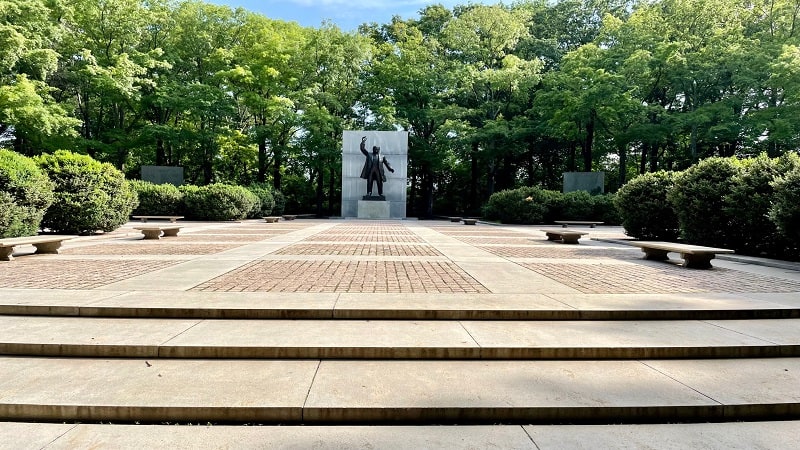 The focal point is a 17-foot-tall bronze statue of President Theodore Roosevelt. Four 21-foot-tall granite tablets are inscribed with his most famous quotations.
Once you've finished exploring the memorial plaza, re-trace your steps. Turn left at the .3-mile mark onto the Swamp Trail.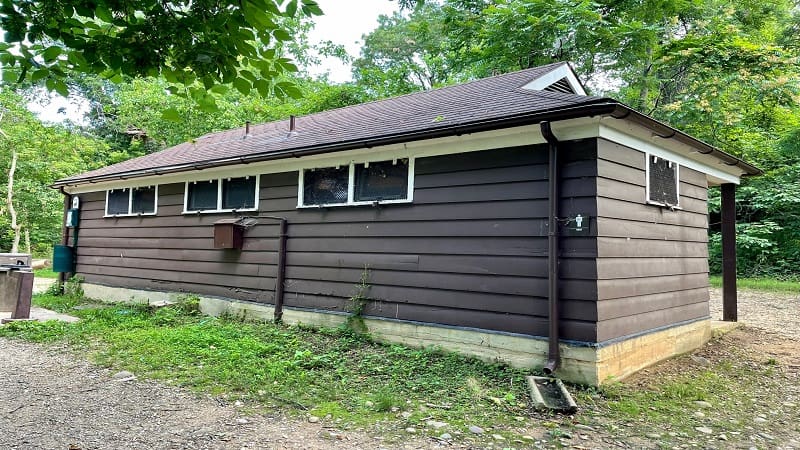 Dense foliage of the upland forest shades this mostly gravel path. At the .6-mile mark, you will reach restrooms and a water fountain on the left.
Wooden Boardwalk Trail
In a few more steps, the trail turns to boardwalk as you walk across a freshwater tidal marsh and alongside the Theodore Roosevelt Memorial Bridge.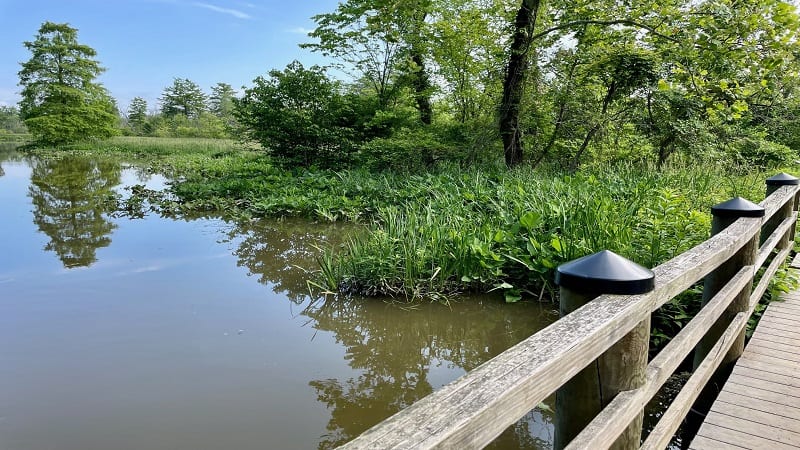 Along this delightful section of boardwalk trail, you'll see benches here and there to settle in on and enjoy the views. At the .9-mile mark, walk out onto an overlook.
By the 1.3-mile mark, the boardwalk ends. Then, look for a short spur trail on the right to walk out to water's edge. There's also what looks to be a wooden wigwam.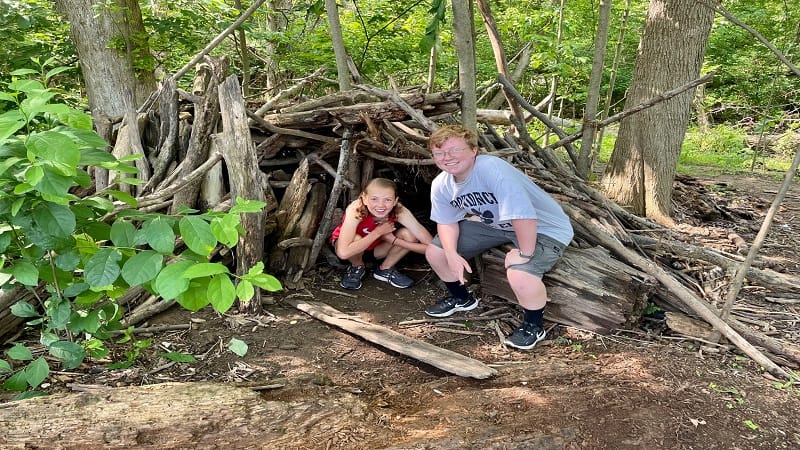 Here you can look across to see Georgetown's Waterfront. Re-trace your steps to return to the now mostly dirt hiking trail. Turn right to continue along the loop.
As you walk, you'll enjoy more views from the island, including views of the Key Bridge, Georgetown and the office buildings in Rosslyn.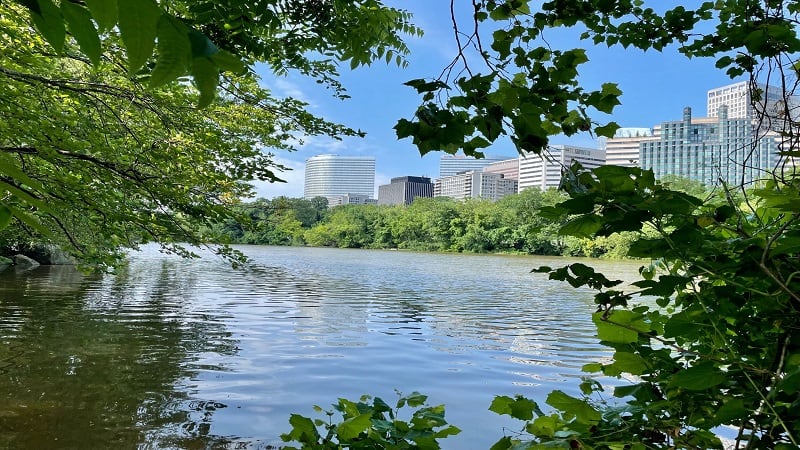 Keep your eyes open for educational placards that are both history- and nature-oriented, including one on the unmistakable red-winged blackbird.
At the 1.8-mile mark, turn right to re-trace your steps over the footbridge. In a few more steps, you will arrive at the parking area to complete your hike.
Wrap-Up Notes
From the parking area, this Northern Virginia hike took us just under one hour, including time spent reading a few of the educational placards along the way.
Theodore Roosevelt Island is free and is open year-round from 6 am to 10 pm. Restrooms on the island close in the winter – from October to April.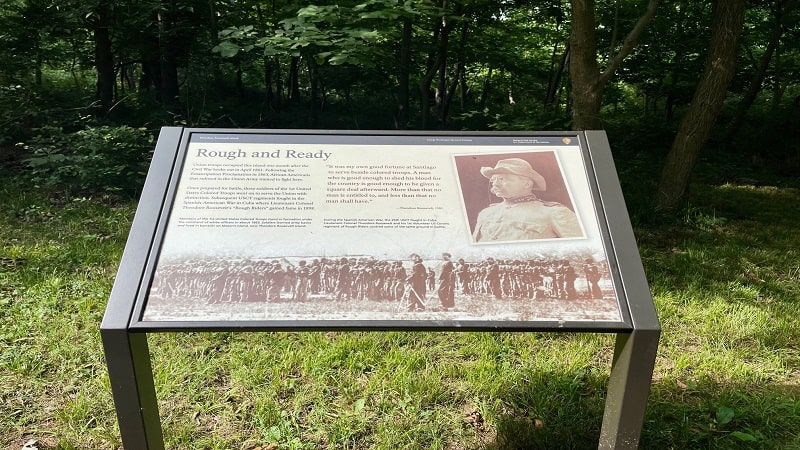 In winter, there is a porta-potty near the restrooms. Dogs are allowed at Theodore Roosevelt Park and the hiking trails are stroller-friendly.
If you have the time, I suggest either bringing your own bike or renting a bike from Capital Bikeshare to bike less than three miles to Gravelly Point Park.
It's an easy ride on the paved Mount Vernon Trail to the perfect spot for watching planes take off and land at Reagan National Airport. Highly recommend.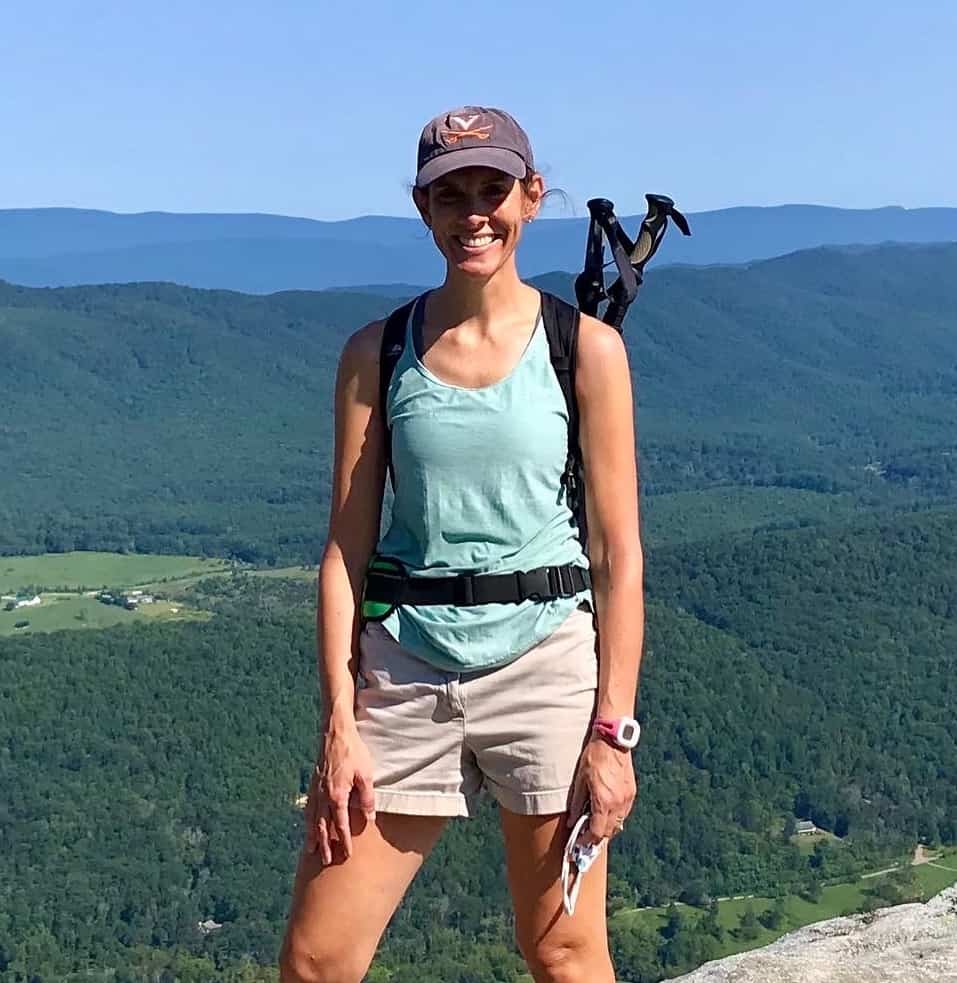 Erin Gifford is the editor of Go Hike Virginia. She has completed more than 300 hikes in Virginia. She is also the author of three hiking guidebooks from Falcon Guides. Need help finding a hike? Check out the Trail Finder feature or send Erin a message.