Raven Rocks: Hike the Appalachian Trail to Scenic Views in Bluemont, Virginia
One of the most popular hikes in Loudoun County is the 5.1-mile out-and-back trek to Raven Rocks along the Appalachian Trail in Bluemont, Virginia.
It's a rocky hiking trail with an elevation gain of more than 1,500 feet that rewards your efforts with sweeping valley and mountain views.
This hike follows a meandering route along a rock-laden section of northbound trail. You may bump into a thru-hiker or two, depending on the time of year.
My son and I met a clear veteran on the trail today. His trail name was Pine Stick.
| Trail Stats | |
| --- | --- |
| Length | 5.1 miles |
| Difficulty | Strenuous |
| Trail Type | Out-and-Back |
| Elevation Gain | 1,509 feet |
| Duration | 3-4 hours |
| Terrain | Dirt & rock trails, some rock scramble |
| Dog-Friendly | Yes |
| Fee | Free |
| Driving Directions | Click Here |
Raven Rocks Hike
When you first arrive at the small lot off Route 7 on Pine Grove Road in Bluemont, you'll notice that there are few parking spaces for such a popular hike.
On weekends, every space in this lot will be filled and cars will parallel park behind parked cars. We arrived by 7 am and there were already five cars in the lot.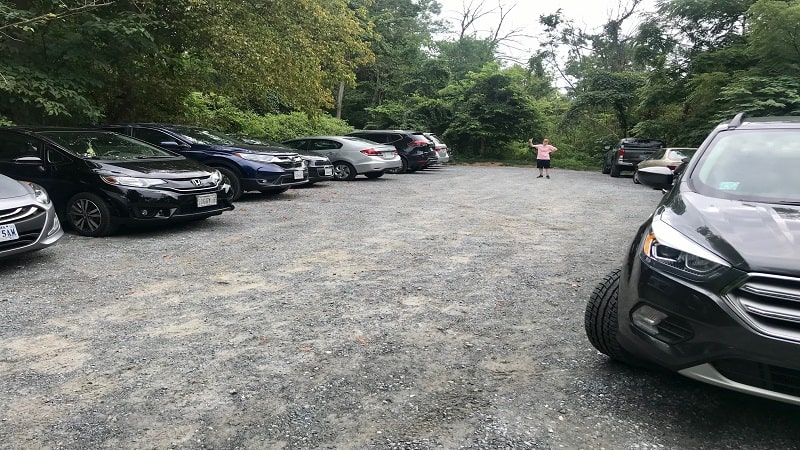 If you get a space, back in to make it easier to exit at the end of your hike. It was a bit touch and go this morning as to whether we would be able to escape the lot.
As in, escape without gently tapping another packed in car in the process. That was easily the hike's biggest challenge.
Hiking the Appalachian Trail in Virginia
Look for a large trail sign, which marks the Raven Rocks trailhead. Ascend the trail, first on steps built into the trail, then on trails of dirt and mid-size rocks.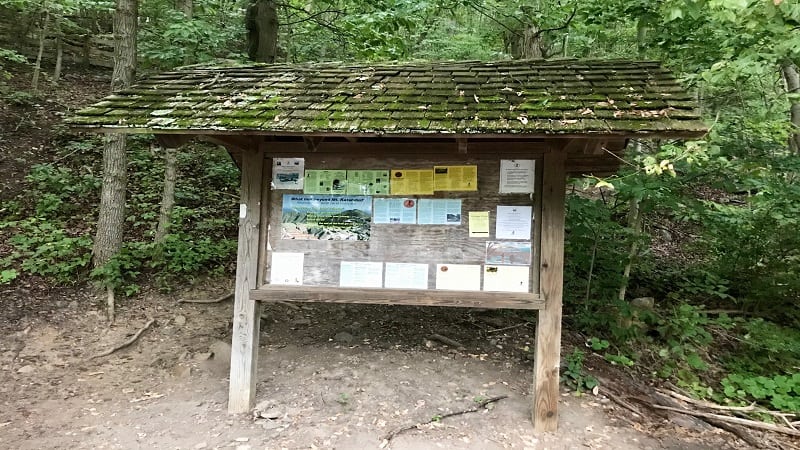 This section of the Appalachian Trail is fondly referred to as the Roller Coaster and it's not hard to see why as you go up and down stretches of trail.
Plan on a steep climb, then a flat section, then a steep decline. Repeat, repeat.
As a side note, while the parking lot is next to a busy four-lane stretch of Route 7 the sounds of cars motoring east and west will be a memory by the .5-mile mark.
Listen for birds singing, leaves rustling and woodpeckers pecking. It's a good workout, but also a very relaxing walk in the thick forest.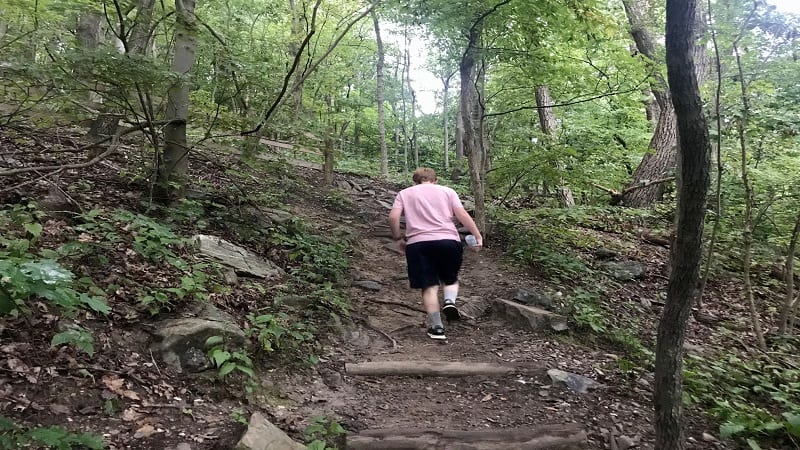 At the .6-mile mark, the trail gets interesting thanks to what I can only call a mini rock scramble. Watch your footing as you traverse mid-size and large rocks.
Rock Scramble
You may hear a stream burbling under the rocks, though you may not see it flowing. Once you cross the rocks, you will ascend for the next mile.
This will take you to the second of three peaks. Continue downhill for .5-mile, carefully watching for rocks and roots that may trip you up on the way down.
At the 1.95-mile mark, there is a scramble across rocky terrain. Watch your steps as you cross a field of rocks.
Some rocks are not as stable as others, so keep this in mind as you zigzag over to the other side. Once on the other side, you'll see a blue blaze on the left.
This short spur trail just past Raven Rocks Hollow Run leads to a primitive camping site with a fire ring. There is also a camp site on the right side of the trail.
The white-blazed Appalachian Trail is to the right of this trail, so keep your eyes on the prize. You don't want to unintentionally veer off course now.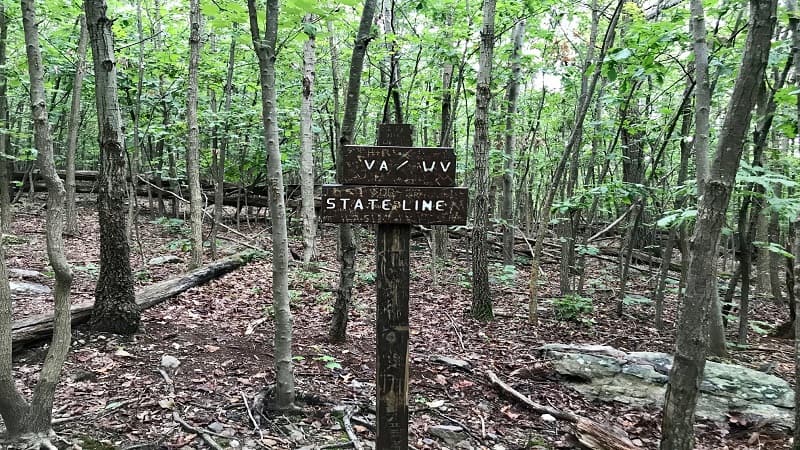 At the 2.4-mile mark, keep your eyes open for the brown VA / WV State Line sign as you leave Virginia and cross the West Virginia border.
Raven Rocks Overlook
From here, the summit is close as the forest begins to clear and more light falls onto the trail. In another .15-mile you will reach the Raven Rocks overlook.
This rocky outcropping is broken up into three sections with space to settle down on a rock for a snack and more than a few gulps of water to re-hydrate.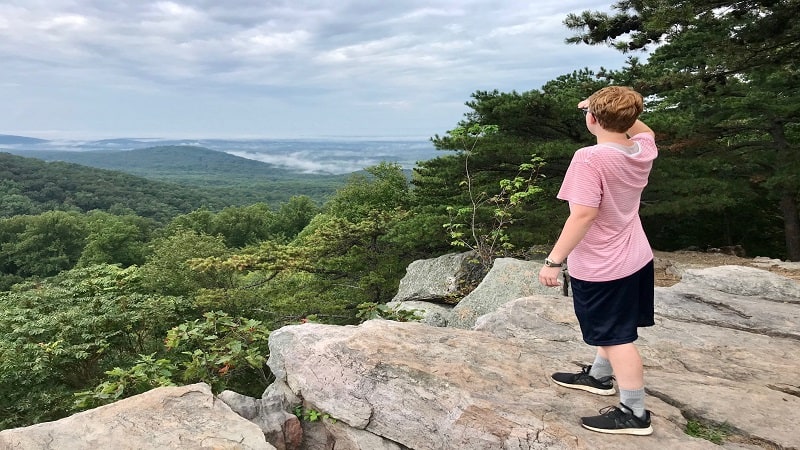 Revel in the breathtaking views of the Blue Ridge Mountains and Shenandoah Valley. There's no need to rush back back to the small parking lot.
Thanks to east-facing views, Raven Rocks is a great hike for sunrise-seekers. When you're ready, simply re-trace your steps back to your car. Well done.
Hike Options
For a longer hike, follow the white blaze on the northbound Appalachian Trail past Raven Rocks. Re-trace your steps when you've gotten in enough steps.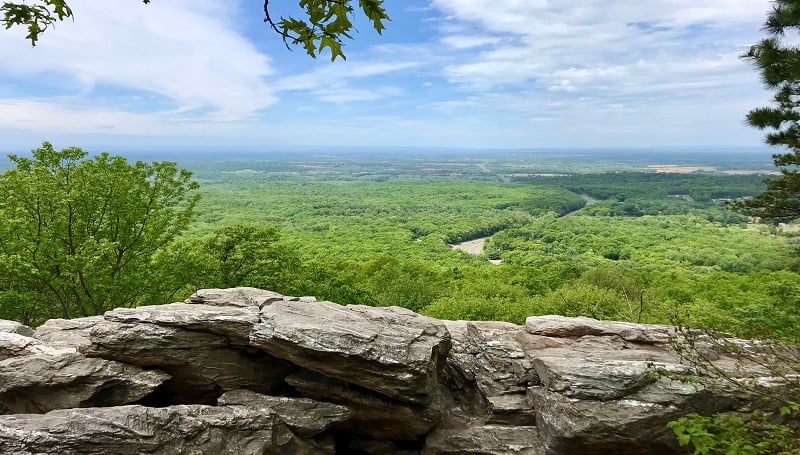 For a short, easy hike, opt for the 1.9-mile out-and-back Bears Den hike to a rocky overlook with great views. The trail head is across Route 7 from Raven Rocks.
As a bonus, there is a ample parking for this hike in Northern Virginia. The parking lot is much larger and can accommodate many more vehicles.
Wrap-Up Notes
From the parking area, it took my son and I nearly three hours to hike to the summit, savor the views and return to the car for the return drive home.
For a sip or a snack at the end of the hike, look to Bear Chase Brewery. This farm brewery is across Route 7 from the Raven Rocks parking area.
It's a great place to relax after a hike with views across the Shenandoah Valley. You'll find a large grassy space for young children and inviting Adirondack chairs.
Bear Chase Brewery serves up craft beer, as well as pizza, pretzels and cornhole. For good beer, it's a popular spot in Loudoun County.
Hungry for more? Take a look at my favorite hikes near Bluemont and hikes near Leesburg to find a few more hikes to add to your must-do hiking list.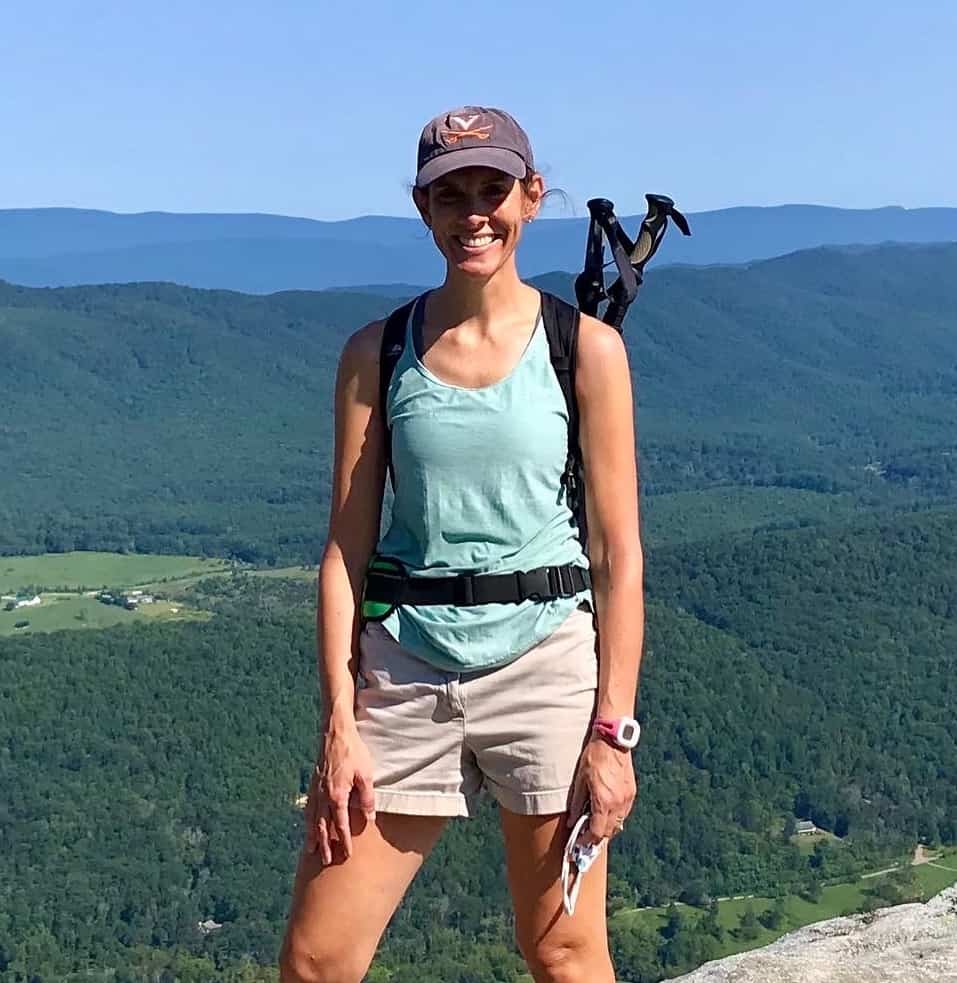 Erin Gifford is the editor of Go Hike Virginia. She has completed more than 300 hikes in Virginia. She is also the author of three hiking guidebooks from Falcon Guides. Need help finding a hike? Check out the Trail Finder feature or send Erin a message.