Beaverdam Reservoir: Enjoy a Loop Hike Around a 350-Acre Man-Made Lake in Ashburn, Virginia
Not long ago, I left home in search of the answer to the age-old question, "Can you hike all the way around Beaverdam Reservoir?" I would not return until I knew.
This may not be an age-old question, but I was curious. There was no clear answer about circumnavigating the 350-acre Beaverdam Reservoir in Ashburn, Virginia.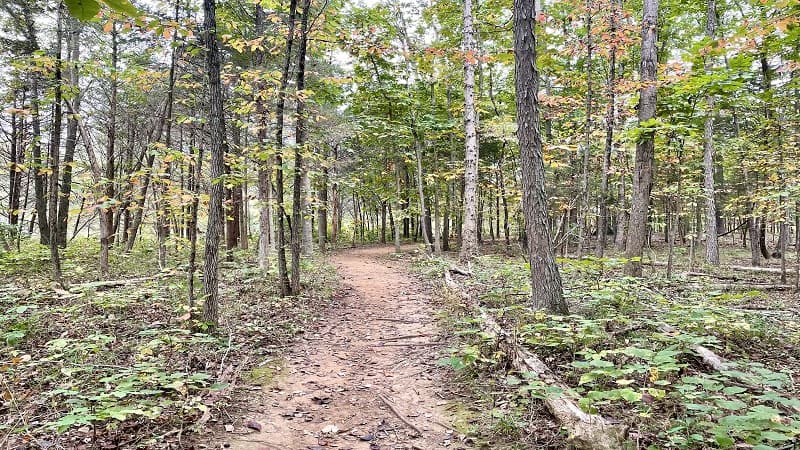 AllTrails lists four different hikes and various voices in Facebook hiking groups contradict each other about whether you can hike in a full loop.
Having just returned from the reservoir, I can tell you that you can walk all the way around this man-made lake. I would strongly suggest you wear long pants.
The blue-blazed hiking trail is overgrown in some places, especially on the less-traveled west side, but it's still fairly easy to stay on this enjoyable hiking path.
| Trail Stats | |
| --- | --- |
| Length | 8.3 miles |
| Difficulty | Moderate |
| Trail Type | Loop |
| Elevation Gain | 282 feet |
| Duration | 3-4 hours |
| Terrain | Mostly dirt & rock trails, some gravel roads |
| Dog-Friendly | Yes |
| Fee | Free |
| Driving Directions | Click Here |
Beaverdam Reservoir
There are two primary areas to park for a loop hike. The first is at the National Recreation and Park Association (NRPA) at 22377 Belmont Ridge Road in Ashburn.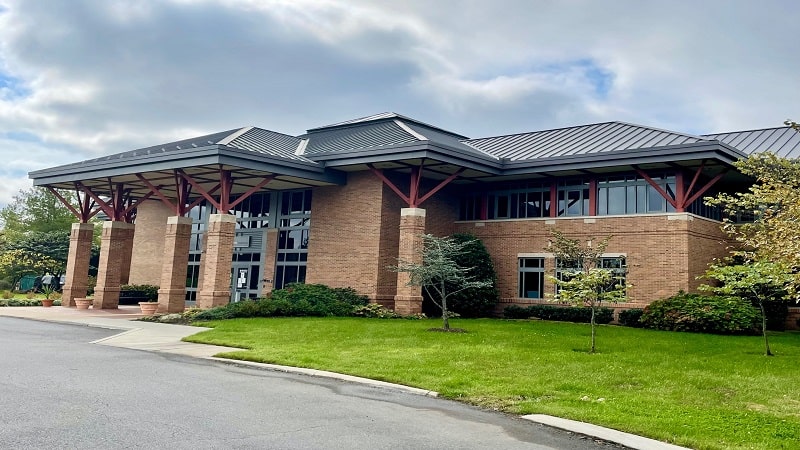 NRPA is adjacent to Brambleton Park, which is home to several baseball fields. That noted, there are lots and lots of parking spaces.
You can also navigate to Mount Hope Church at 42507 Mount Hope Road. Continue past the small church to a lot for the reservoir at the end of the road.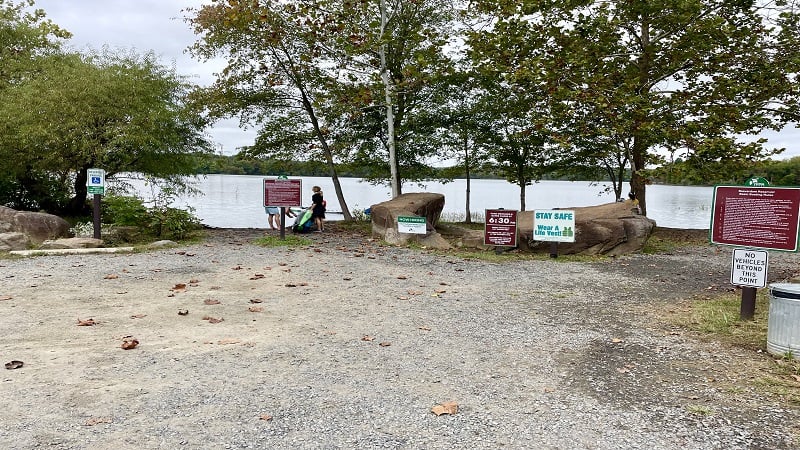 If you use Apple Maps to navigate to Beaverdam Reservoir, you may be led astray. You may be taken down a gravel road on the west side of the reservoir.
You can access the hiking loop here, but you really don't want to start here. I suggest a start from the southwest corner of the NRPA parking lot.
To the right of the NRPA building, a paved path leads past an apiary and a little free library to connect with the wooded hiking trail around Beaverdam Reservoir.
Beaverdam Reservoir Trail
Look at the Beaverdam Reservoir trail map, which is posted in three or four locations around the dam-fed reservoir. You'll note that there is one primary trail.
There are a couple of side trails, marked with yellow or orange blazes, but these are connector trails that lead into neighborhoods and to the ball fields.
From the paved path adjacent to the NRPA building, turn right at the little free library, then turn right again on a paved path in a few more steps.
At the .1-mile mark, you will see a trail sign on the left and a path that leads into the woods. You'll arrive at a fork in the trail at the .2-mile mark.
I suggest that you stay right for a counter-clockwise hike since the east side of the trail is better maintained and has more views across the scenic reservoir.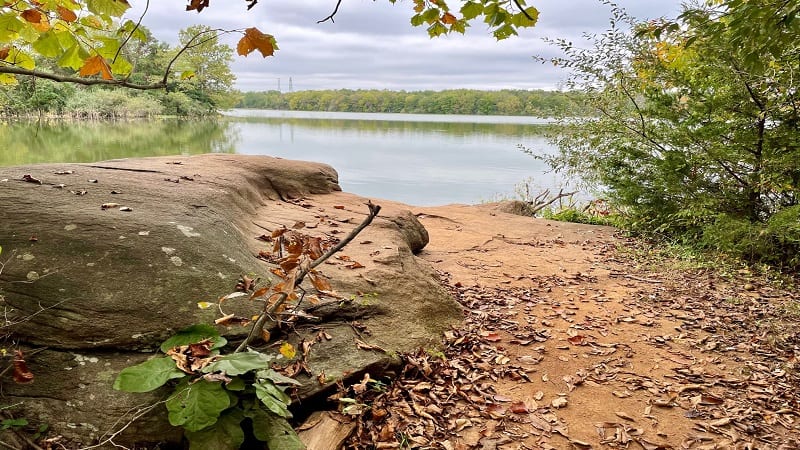 From here, it's a peaceful shady walk with more than a few spots to step out to the reservoir for views or to sit on top of a large rock for a snack or lunch break.
At the .4-mile mark you will reach a large, rusted piece of equipment. I searched and searched but it seems no one knows exactly what this is. Ahh, curiosity…
You will arrive at the parking lot on Mount Hope Road at the 1.3-mile mark. This is where water enthusiasts drop in kayaks, canoes and stand-up paddleboards.
Mount Hope Road
On fair-weather weekends, this lot can quickly fill to capacity, even before 9 am. This is another reason I suggest parking your vehicle at the NRPA building.
Here, you have a choice to make. You can either turn around for a 2.6-mile out-and-back hike or continue on for more steps or to tackle the entire loop.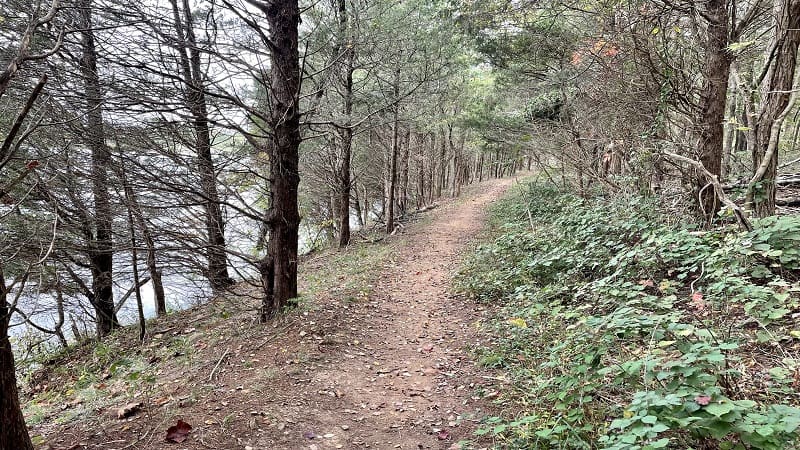 I say this because this 1.3-mile (one-way) stretch is the best section of the entire trail. Every time I have come here, this section has been very well-maintained.
The blue-blazed trail picks up on the other side of the parking lot. This next section may or may not be cut back for hikers.
This day, the trail looked good. There are fewer views, but also fewer visitors, so it's rather quiet (except when it gets close to Belmont Ridge Road).
At the 3.2-mile mark, turn left onto a gravel service road that runs behind single-family homes in the Preserve at Goose Creek neighborhood.
Beaverdam Creek
You'll be on a gravel road for some time as you're led past the dam and over Beaverdam Creek. The gravel road ends at the 4.5-mile mark (Reservoir Road).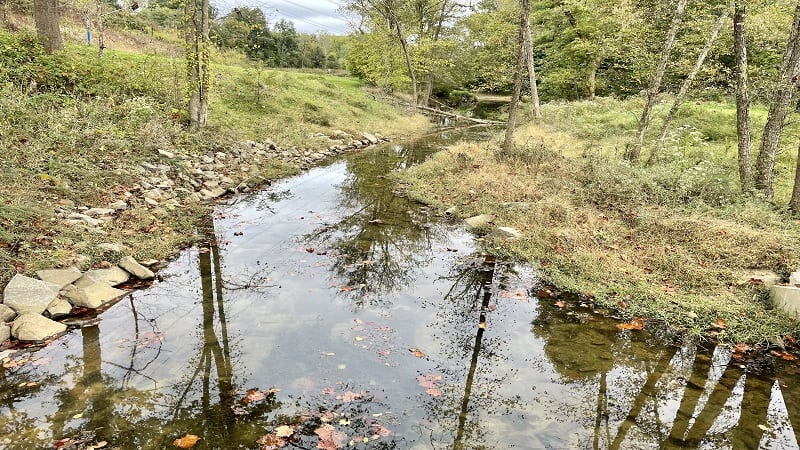 On the left there is space to take out your own kayak or canoe (there are no boat rentals at the reservoir). This is where Apple Maps leads you.
Keep your eyes open and you will see a sign that reads "Trail to Brambleton." Walk past that sign and follow the blue blazes to continue along this hiking loop.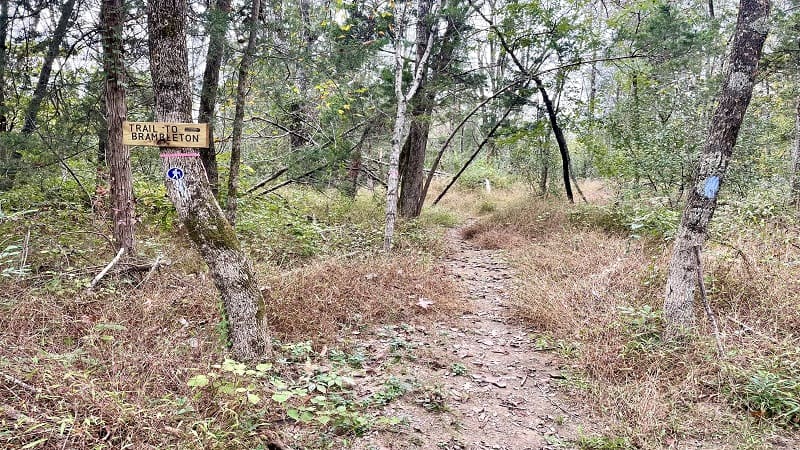 Over the next few miles, you will encounter forest, open fields and the overgrowth (and possibly ticks) that trail reviewers gripe about with regard to this hiking trail.
Honestly, I thought it would be worse based on what I had read. However, I also wore long pants and I think that may have made all the difference.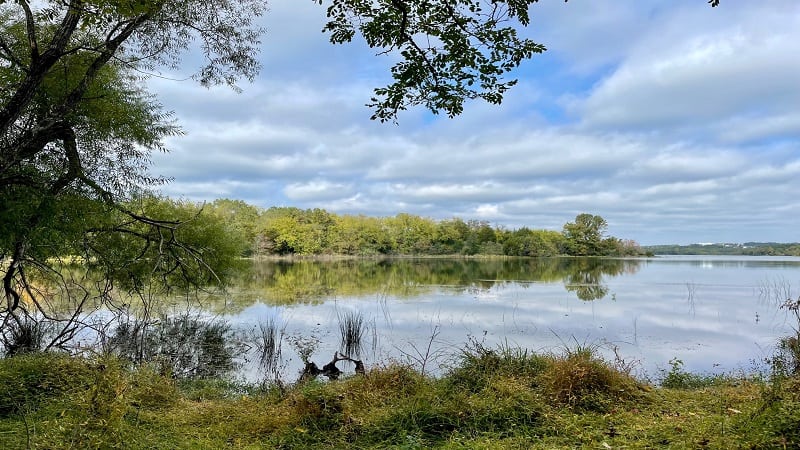 Along the way, you can cross over small creeks and savor the silence. Mind you, it was a Wednesday, but I didn't see a single person on this section.
At the 6.6-mile mark, you'll reach another open space where you can take out a human-powered watercraft or drop in a fishing line.
You'll also find a few more rusted relics from days long since gone. Among them, some old appliances, maybe a refrigerator or range. You make the call.
Continue along for more chances to take in the views across the reservoir. As you near the end, you'll arrive at a fun rock scramble at the 8.1-mile mark.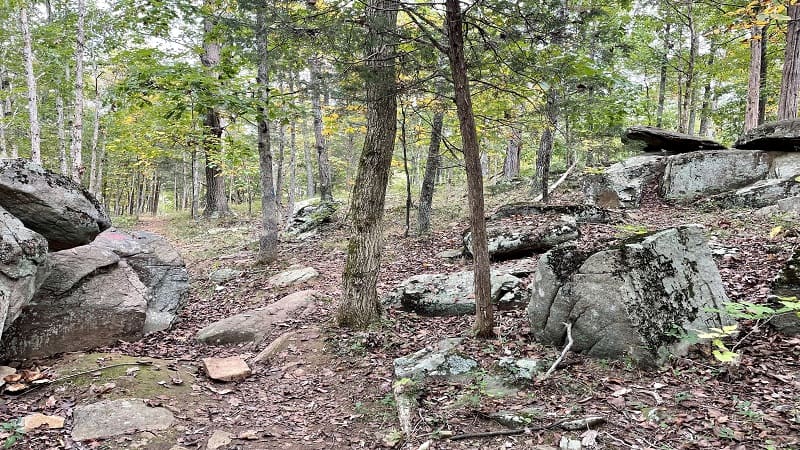 After the scramble, you will close the loop and turn right to re-trace your steps to the parking area. Your hike is complete at the 8.3-mile mark.
Beaverdam Reservoir Park
The 350-acre Beaverdam Reservoir is a source of public drinking water for Loudoun County and sits on 635 acres of land available for public access.
Thanks to a partnership between Loudoun Water and NOVA Parks, visitors can access the land for recreational activities, like hiking, paddling and fishing.
Beaverdam Reservoir is open from sunrise to sunset. Swimming is not allowed. More than a dozen geocaches are hidden around the reservoir.
Anglers can fish from the shore or from a non-gas boat. Beaverdam Reservoir is stocked with fish, too. Anglers may catch bass, catfish, bluegill, crappie or panfish.
As early as 2023, Beaverdam Reservoir Park will open up as a 60-acre public park. It will have a welcome center, rental boathouse and educational programs.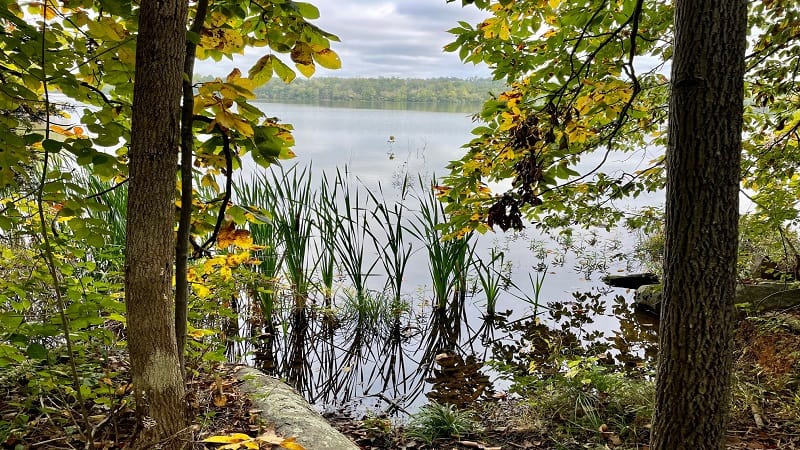 A 10-foot-wide shared bike and pedestrian path will lead in from Belmont Ridge Road. Look for more parking, as well as more paved and natural trails.
For more area hikes, I hope you'll check out my posts on Northern Virginia hikes and fantastic fall foliage hikes in Virginia.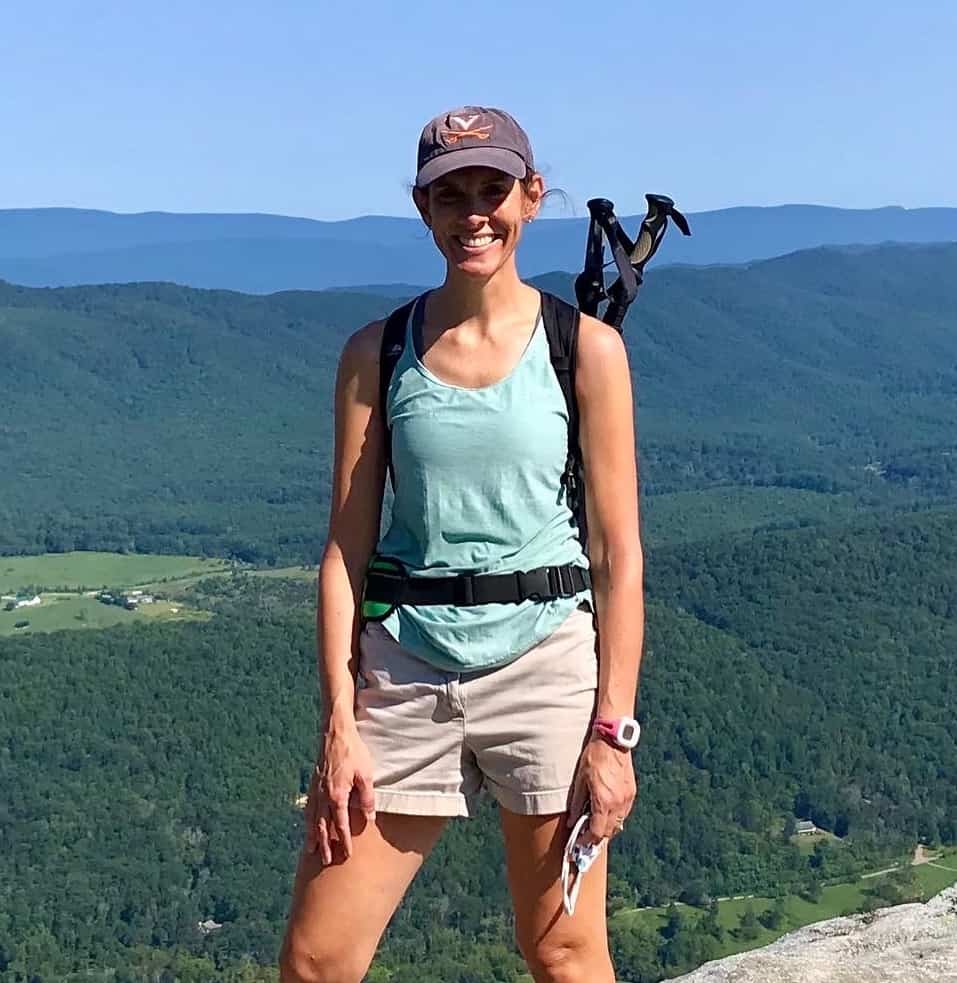 Erin Gifford is the editor of Go Hike Virginia. She has completed more than 300 hikes in Virginia. She is also the author of three hiking guidebooks from Falcon Guides. Need help finding a hike? Check out the Trail Finder feature or send Erin a message.