Huntley Meadows Park: A Scenic Wetlands Hike in Alexandria, Virginia
Huntley Meadows Park is a waterfowl-filled oasis in Northern Virginia. When you're craving time in nature, this 1,452-acre suburban park in Alexandria is perfect.
This freshwater wetland area the largest park run by the Fairfax County Park Authority. It's also one of the rarest natural habitats in Fairfax County.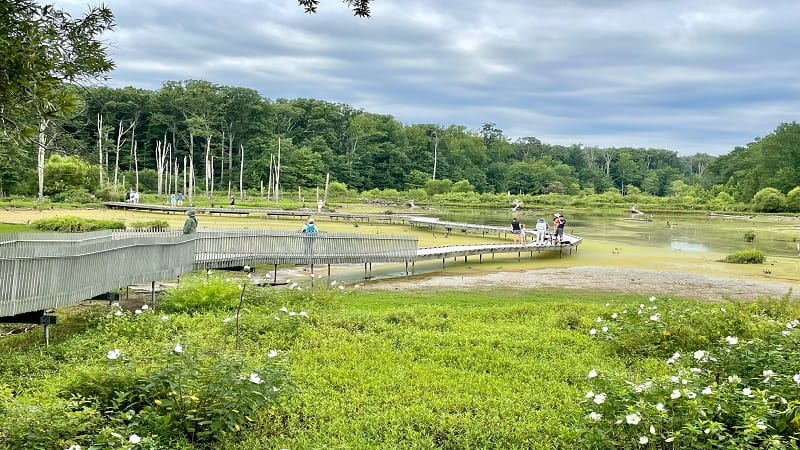 Huntley Meadows park is home to a diversity of wildlife, from barred owls to great egrets. There are three hiking trails: Cedar Trail, Deer Trail and Heron Trail.
Cobbling these three trails together creates a relaxing 1.8-mile loop hike. The easy, flat trails are a favorite with families, as well as wildlife photographers.
As you walk, you'll see the Huntley Meadows Park trail map alongside the trail in several places. Scan the QR code to open up a mobile version of the map.
| Trail Stats | |
| --- | --- |
| Length | 1.8 miles |
| Difficulty | Easy |
| Trail Type | Lollipop |
| Elevation Gain | 16 feet |
| Duration | 1 hour |
| Terrain | Gravel, paved, boardwalk sections |
| Dog-Friendly | Yes (no dogs allowed on boardwalk sections) |
| Fee | Free |
| Driving Directions | Click Here |
Huntley Meadows Park
Huntley Meadows Park is located at 3701 Lockheed Blvd, in the Hybla Valley section of Alexandria. It's also a short 15-minute drive from historic Mount Vernon.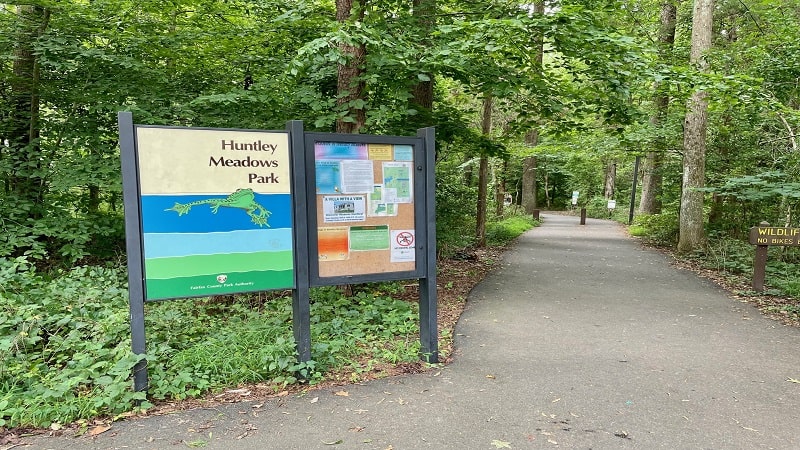 The parking area is large, with room for at least 30 or 40 cars, but the lot can fill up quickly. That noted, your best bet is to enjoy this hike early in the day.
A large trail kiosk in the southeast corner of the parking lot marks the start of the hiking trail. There are no blazes, but it's nearly impossible to go off-trail.
Cedar Trail
The hike starts on the Cedar Trail. In a few steps, you'll see the Norma Hoffman Visitor Center, which offers programs like family walks and nature drawing.
Step inside to see a small wildlife exhibit on local wildlife and sensitive habitats. There is also a restroom inside the large visitor center.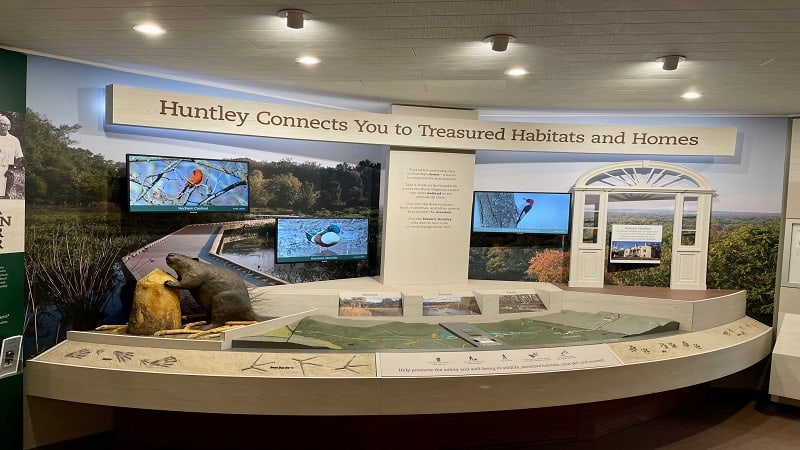 In a few more steps, a comfy bench. You'll see quite a few benches along this hike, so when you're ready for a break, it's very likely that a bench is within view.
Heron Trail
At the .3-mile mark, the trail splits. Stay right for the Heron Trail, which will shortly transition into an easy-going boardwalk trail. However, there are a few rules.
Specifically, no dogs, no jogging, no fishing and no bikes. If you can stay on top of these rules, you'll be in for an enjoyable day at Huntley Meadows Park.
From here, savor the far-reaching views across the scenic wetlands. Keep your eyes open for box turtles and waterfowl, like wood ducks, in the fresh waters.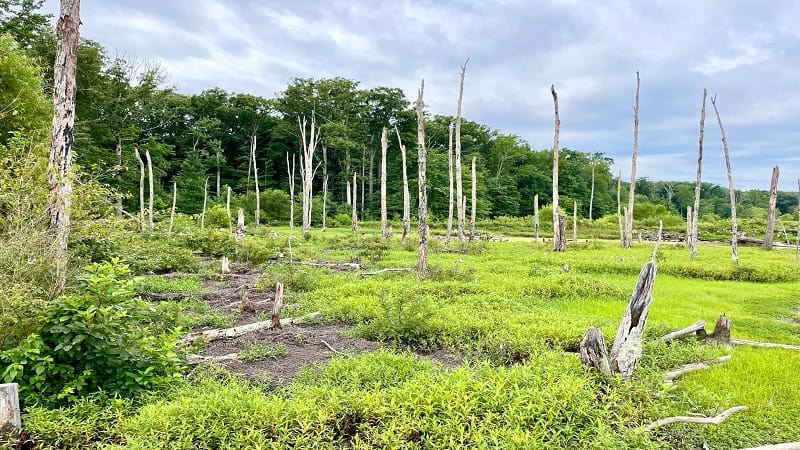 At the .5-mile mark, the trail splits again. Whether you go right or left is up to you. The two segments of trail re-connect in a short .1 miles.
As you meander along the serene stretch of boardwalk trail, you'll reach an observation platform at the .8-mile mark, enabling you to see across the wetlands.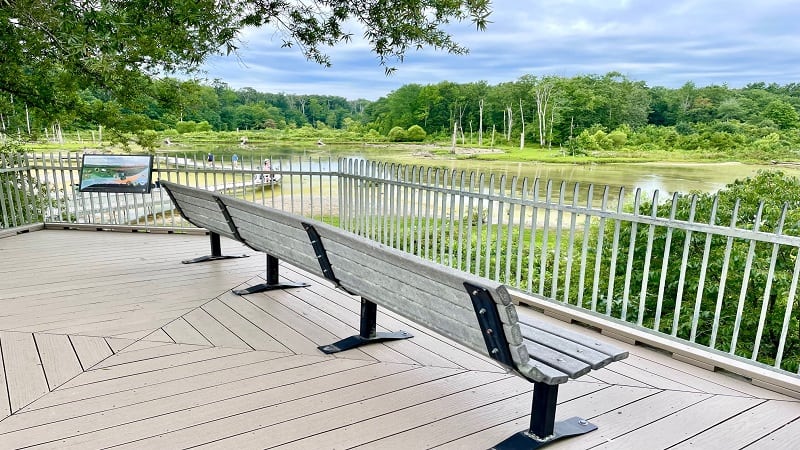 Look out for a beaver dam. The beavers are responsible for the freshwater wetlands at Huntley Meadows Park, controlling water flow from Dogue Creek.
Deer Trail
The boardwalk soon ends, transitioning into gravel trail. The trail also changes names, from the Heron Trail to the Deer Trail, as it winds through the forest.
The rest of the hike continues through the woods. At the 1.5-mile mark, you will close this loop. Turn right on the Cedar Trail to walk toward the visitor center.
Your hike is complete at the 1.8-mile mark. Celebrate, maybe with a second loop along the delightful sections of boardwalk at this suburban park.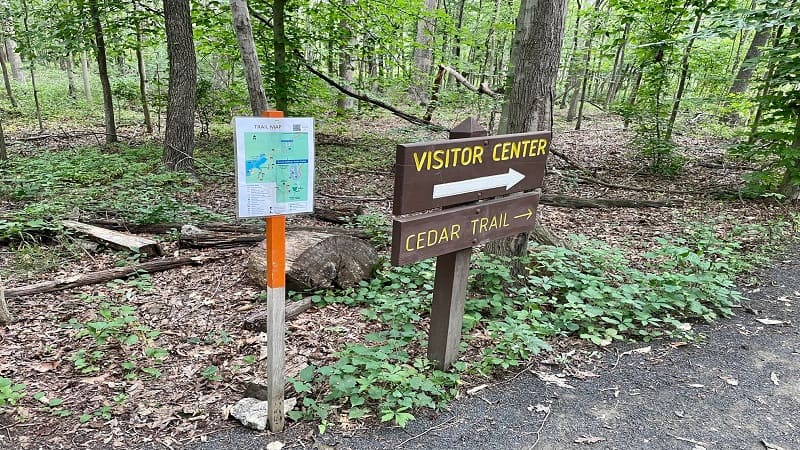 Wrap-Up Notes
This easy hike in Northern Virginia took less than 45 minutes to complete, including time spent enjoying the views across the wetlands.
Thanks to the beavers, the water flow at the park is constantly changing, so no two visits are the same. I will definitely be back in the future.
As a quick side note, on-leash dogs are allowed at Huntley Meadows Park, but only on the paved and gravel trails, not on any of the boardwalk sections.
For history lovers, note that guided tours of nearby Historic Huntley, a Federal period villa, take place on Saturdays at 10:30 am and 12 pm.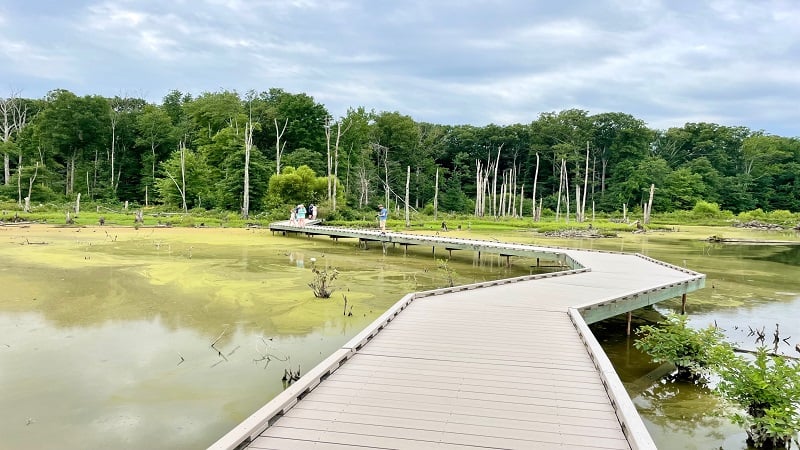 Up for another hike? Check out my list of the best hikes near Alexandria, including Winkler Botanical Preserve and Turkey Run Park.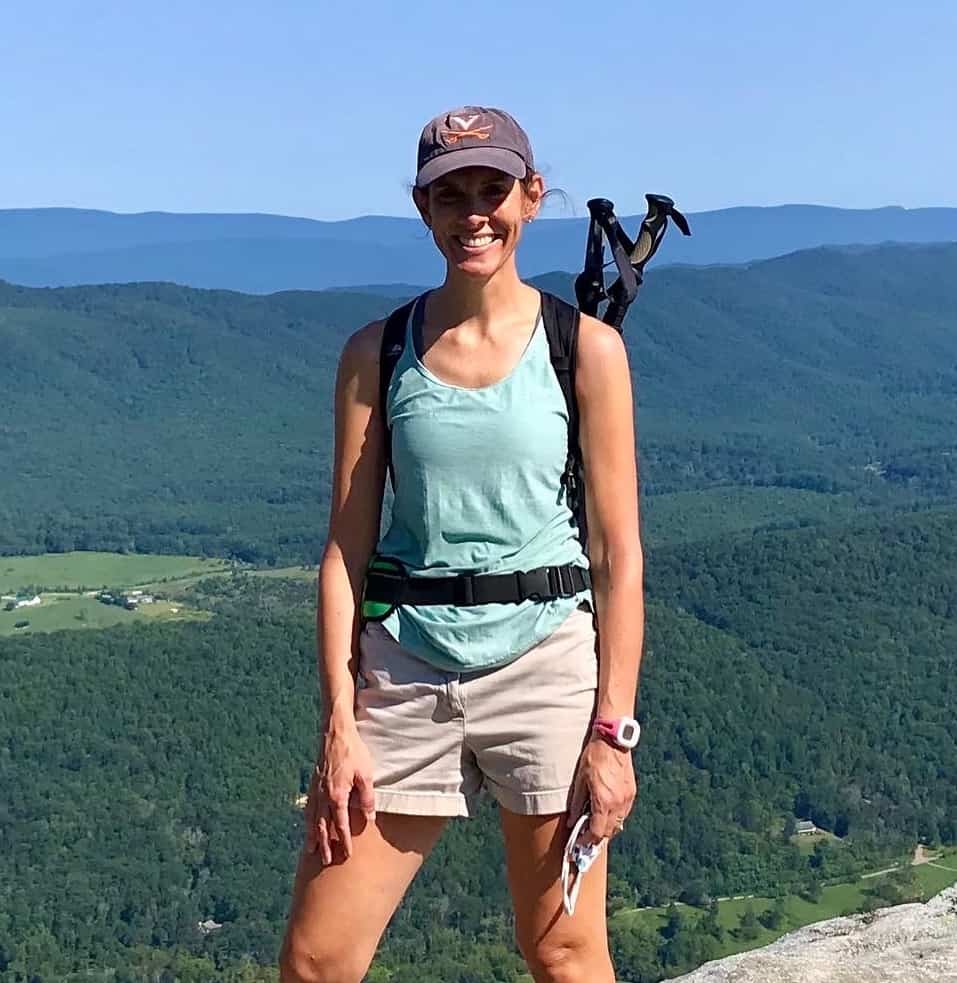 Erin Gifford is the editor of Go Hike Virginia. She has completed more than 300 hikes in Virginia. She is also the author of three hiking guidebooks from Falcon Guides. Need help finding a hike? Check out the Trail Finder feature or send Erin a message.