Hiking the Bull Run Occoquan Trail in Clifton, Virginia
As I was searching for new hikes in Northern Virginia I stumbled on the Bull Run Occoquan Trail.
This 19.6-mile hiking trail snakes along Bull Run through scenic woodlands between Bull Run Regional Park in Centreville and Fountainhead Regional Park in Fairfax Station.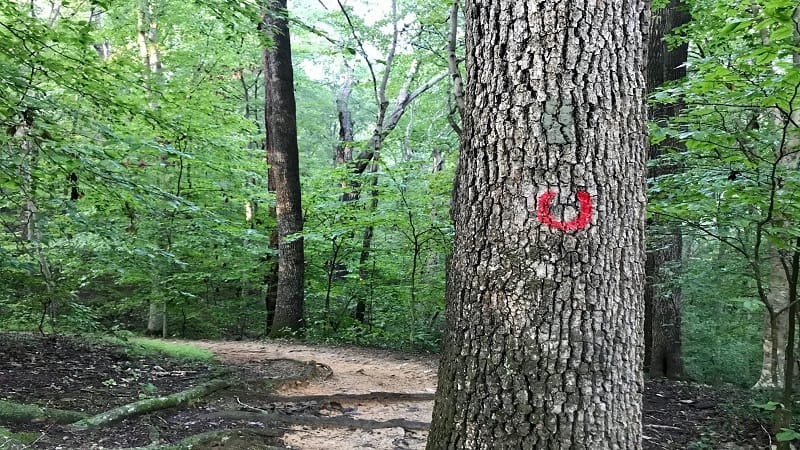 There are several parking areas strategically placed along this forested trail, making it easy to complete this trail section-by-section if you wish.
I picked up the trail somewhere in the middle, at Hemlock Overlook Regional Park. I hiked a scenic 3-mile loop called the Union Mill and Bull Run Occoquan Trail Loop on AllTrails.
This hike only included a 1.4-mile riverside section of the Bull Run Occoquan Trail. A red horse trail and a yellow horse trail connected this blue-blazed park trail to the parking area.
| Trail Stats | |
| --- | --- |
| Length | 3.0 miles |
| Difficulty | Easy |
| Trail Type | Loop |
| Elevation Gain | 328 feet |
| Duration | 1.5-2.5 hours |
| Terrain | Mostly dirt & gravel trails, some easy rock scramble |
| Dog-Friendly | Yes |
| Fee | Free |
| Driving Directions | Click Here |
Arriving at the Trailhead
The parking area is rather spacious with room enough for a couple dozen cars if they are packed in tightly.
I was the first to arrive just before 8 am but by the time I finished up close to 10 am there were at least a half-dozen cars.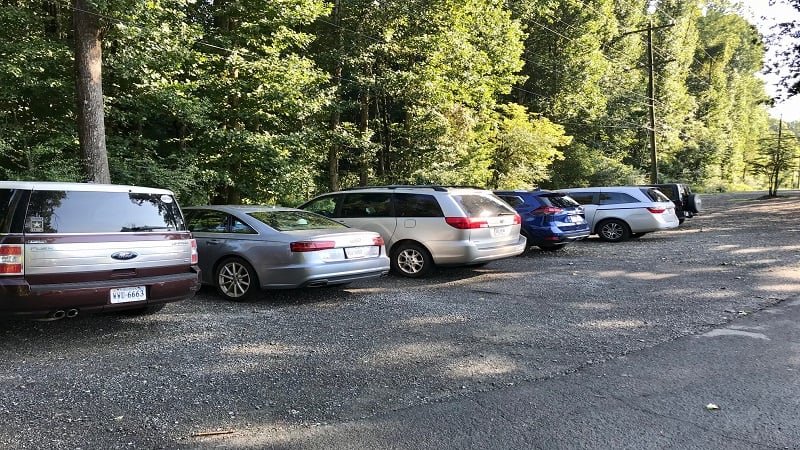 The Paradise Springs Winery sits just across the street from the parking area. The vineyard is on-site and a large green space with picnic tables welcomes children, pets and wine enthusiasts. There is also a food truck on-site if you want to wind down your hike with a bite.
The First Steps
As you stand facing the parking area, you'll see a large sign for Hemlock Overlook Regional Park to your left.
Just to the left of this sign is a sign for the Bull Run Occoquan Trail, which marks the trailhead. Continue past this sign onto the mostly dirt trail through the leafy forest.
This section of trail, know simply as Red Trail, is marked by red horseshoe blazes on the trees to mark the multi-use trail for hikers and horses.
The kid-friendly trail continues down, then up a bit, then descends once more until you reach the river at the .9-mile mark.
Here you may also see colorful kayaks waiting to be put into the water by the guides with Adventure Links.
Unfortunately, I don't think this was to be this year due to coronavirus. None of the kayaks look like they got good use this season.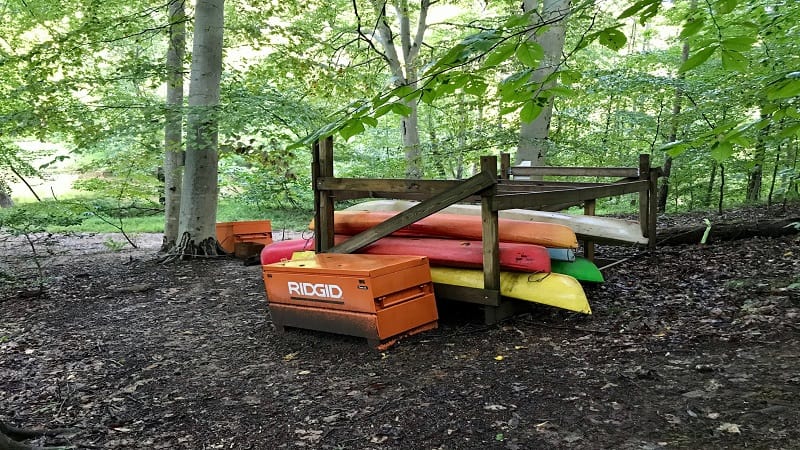 Once you reach Bull Run, turn right to connect with the blue-blazed Bull Run Occoquan Trail to follow this meandering trail along the banks of the river.
Over the next mile or so on this section of trail you will encounter a few easy rock scrambles that kids will enjoy (adults too). You'll also navigate across a couple of easy stream crossings.
At the 1.65-mile mark, you will see on the left what was once Virginia's first hydroelectric dam.
Today it is covered in graffiti and serves little purpose as far as I could tell. At this point, the river became more active and several signs warn hikers not to swim in this area.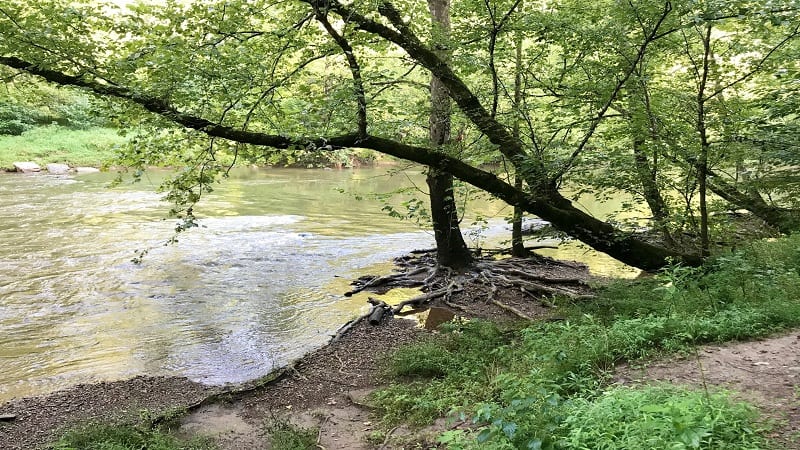 You may not be able to swim (honestly, the water was quite rough by the dam), but there are several spots where you can step off the trail to toss in stones. This can be a fun break for hikers with small legs.
The trail splits in two at the 2.3-mile mark. You can go left to continue on the blue-blazed Bull Run Occoquan Trail to Bull Run Regional Park.
Or you can choose the path on the right to hook up with the Yellow Trail, which is marked by yellow horseshoe blazes.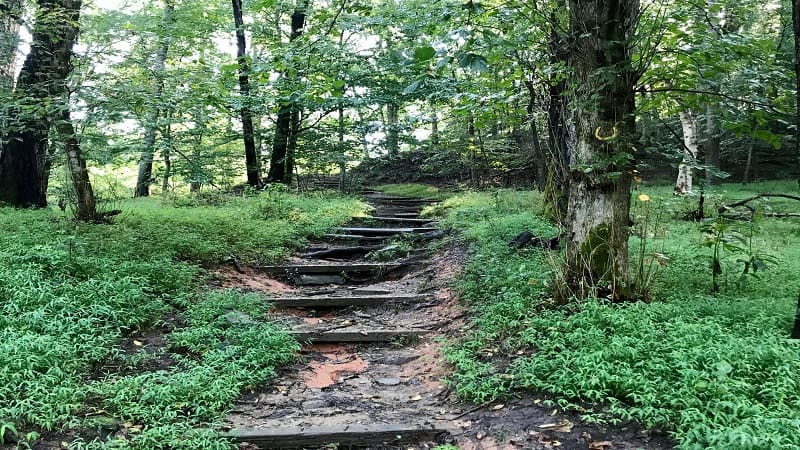 At this point, you'll need to recoup your elevation and ascend steps over the next .2-mile to the original elevation level.
You'll then continue into an open field that was once (and hopefully next year will be again) home to the outdoor challenge course operated by Adventure Links.
It was honestly quite sad to see the outdoor activities, like the zipline, ropes course and gaga ball pit, so overgrown with grass and weeds.
There is also a picnic pavilion and a campfire pit, as well as a lodge and bathhouse for summer camps (for next year, I hope).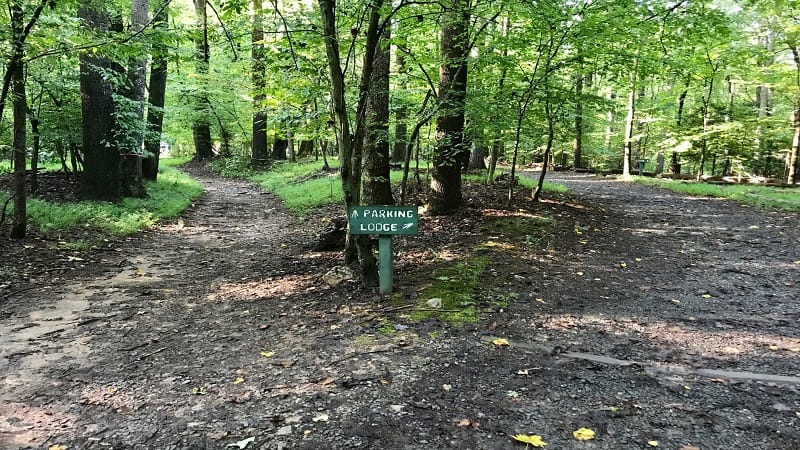 Shortly, you'll see the trail split to go left for parking and right for the lodge. Choose the left trail for the parking area and continue on until you reach the road.
From here, go straight, then turn left at the T-intersection and you will begin to see your parking area.
Hike Options
For a longer hike, simply follow the blue-blazed Bull Run Occoquan Trail as far as you like, then re-trace your steps when you feel you've gotten in the distance you want for the day.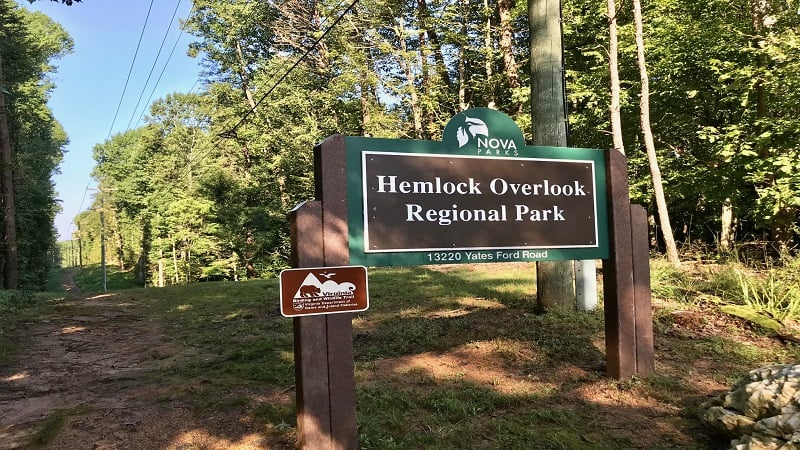 For a shorter hike, bypass the Red Trail and opt for the Union Mill Trail, which begins to the immediate left of the Hemlock Overlook Regional Park sign.
In .3-mile, this trail will connect at the river with the Bull Run Occoquan Trail. Turn right, then choose the Yellow Trail at the split to return to the parking area for a loop hike that's 1.7-miles.
Wrap-Up Notes
From the parking area, it took me nearly 90 minutes to complete this shady loop hike in Virginia. This trail can get muddy after a rain, so keep this in mind.
There were plenty of wet and muddy sections, but thankfully none were impassable.
While Paradise Springs Winery (noted above) is a popular post-hike option, another great option with kids in tow is Peterson's Ice Cream Depot on Main Street in historic Clifton. It's a six-minute drive from the parking area and absolutely worth a stop for a scoop.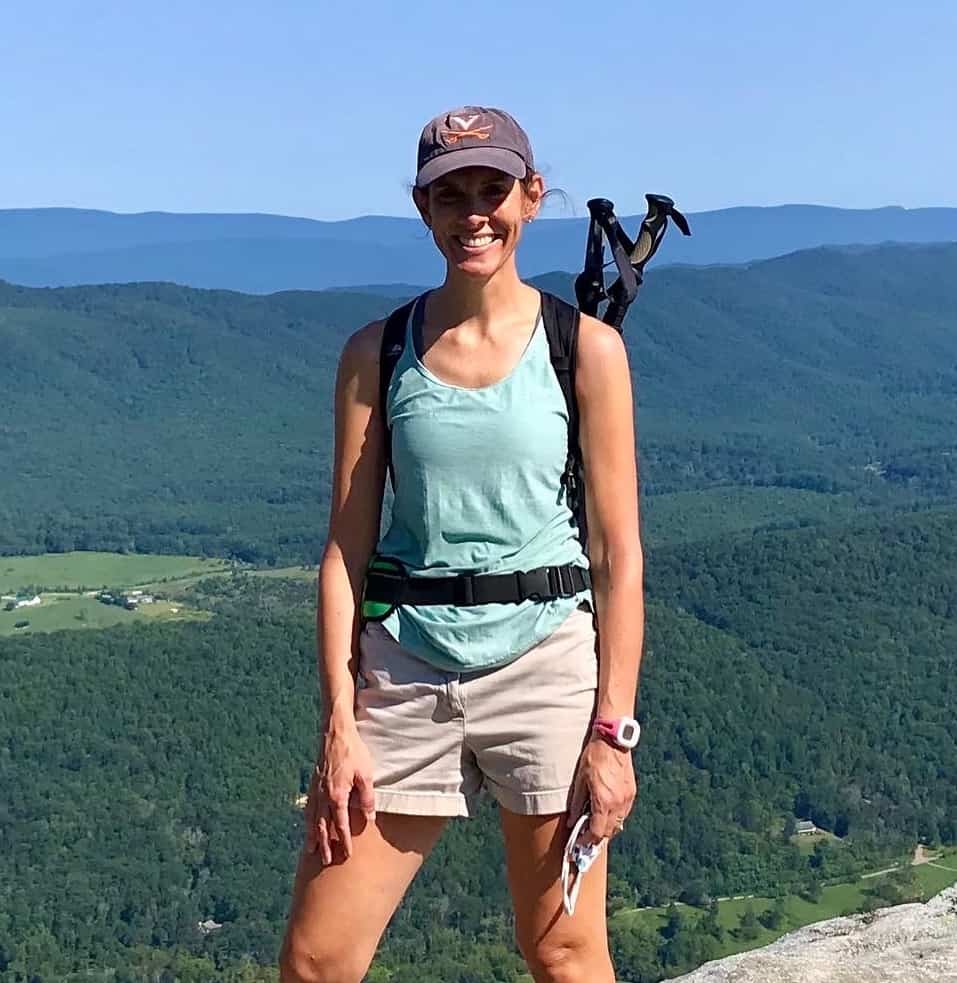 Erin Gifford is the editor of Go Hike Virginia. She has completed more than 300 hikes in Virginia. She is also the author of three hiking guidebooks from Falcon Guides. Need help finding a hike? Check out the Trail Finder feature or send Erin a message.