Leesylvania State Park: Enjoy Scenic Views on the Bushey Point & Powell's Creek Trails
Situated in Prince William County, Leesylvania State Park is a delightful waterside park on a peninsula that juts out into the Potomac River.
I explored this state park a few weeks ago, first settling in for a colorful sunrise from the fishing pier at Freestone Point before tackling the historic Lee's Woods Trail.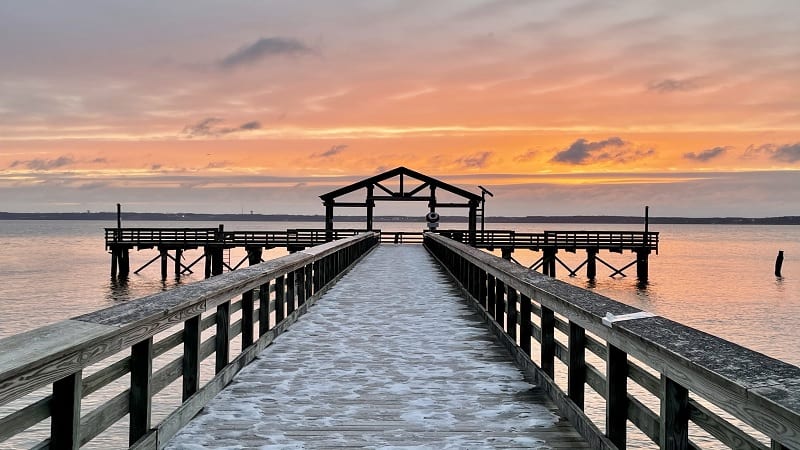 Once I finished this hike, I drove to the opposite side of this 556-acre park to hike the Bushey Point and Powell's Creek Trails.
With less than seven miles of hiking trails, one could easily hike this entire park in one day and still have plenty of time to enjoy a picnic lunch or time on the water.
| Trail Stats | |
| --- | --- |
| Length | 3.2 miles |
| Difficulty | Easy |
| Trail Type | Lollipop |
| Elevation Gain | 240 feet |
| Duration | 1.5-2 hours |
| Terrain | Mostly dirt & rock trails, some gravel trails |
| Dog-Friendly | Yes |
| Fee | $7 per vehicle weekdays ($10 per vehicle weekends, Apr-Oct) |
| Driving Directions | Click Here |
Arriving at the Trailhead
The parking area for the Lee's Woods Trail is large, but the parking area for hikes on the Bushey Point, Powell's Creek and Potomac Heritage Trails is really, really large.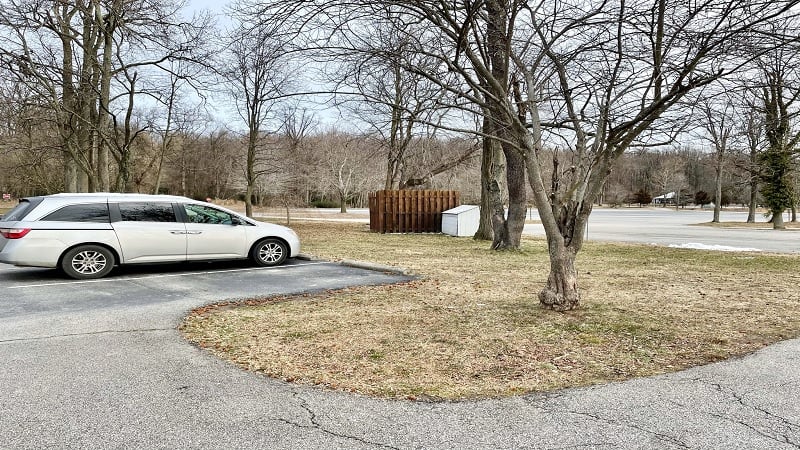 Since this state park is better known for its water activities, like fishing, motor boating, kayaking and canoeing, most spaces are taken up by river enthusiasts.
Still, there's plenty of room for hikers, like you and me, to find parking in this sizeable lot. From the lot's south end, you're a few steps from the Bushey Point Trail sign.
The First Steps
Walk past the brown trail sign and you'll notice an exercise trail that diverts to the right after a few steps. Stay left to continue on the forested Bushey Point Trail.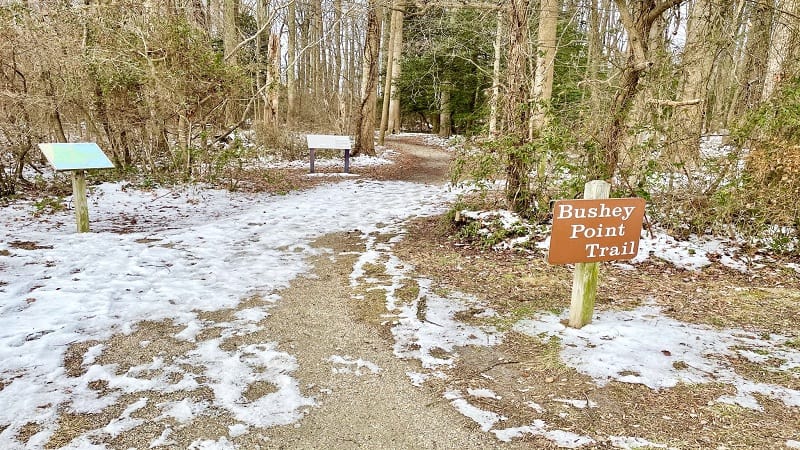 At the .1-mile mark, you'll arrive at the first of several wooden bridges that lead you over current or former inlets. You'll see a green trail sign before you cross the bridge.
You're now walking alongside easy-going Powell's Creek. At the .2-mile mark you'll reach a boat ramp to drop human-powered canoes and kayaks into the calm waters.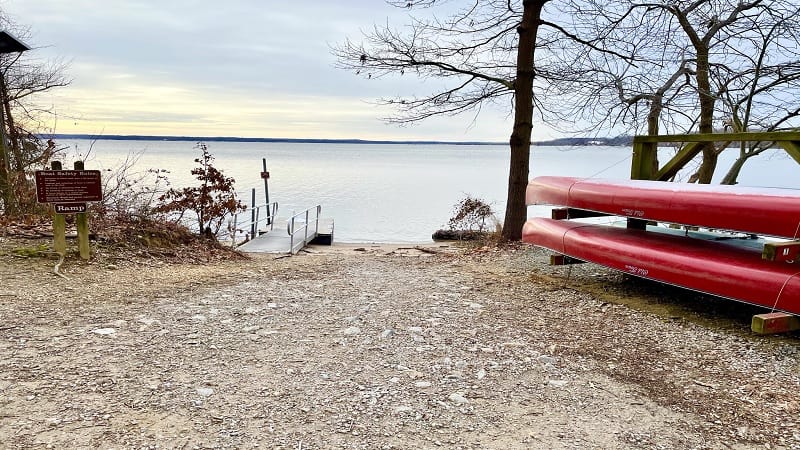 To the right, you'll shortly see a small primitive campground for tents only. Campsites with picnic tables are available to those entering the park by canoe or kayak.
At the .3-mile mark, you'll be able to step down onto a driftwood-strewn beach. You may also spy something mysterious washed up on shore. As in, mystery snails.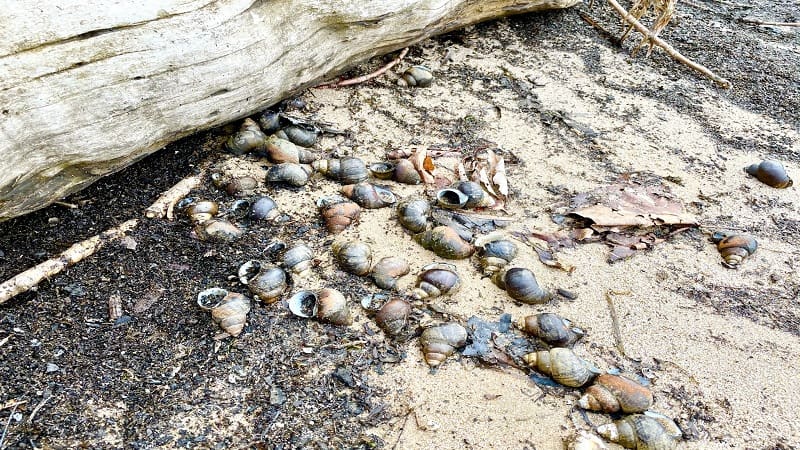 Mystery snails are the largest freshwater snails in the region and can grow to up to three inches. In Virginia, they are common in the Potomac and Susquehanna Rivers.
At the .4-mile mark, you'll reach an overlook for your first glimpses of Powell's Creek Bridge. This is an active railway bridge where trains cross several times a day.
Continue along and you will walk under the bridge. At the .6-mile mark, the trail gently descends into a densely wooded section of this state park.
The hiking trail then gains elevation until you reach the blue-blazed Powell's Creek Trail at the .9-mile mark. Stay left, then walk down a set of wide stairs.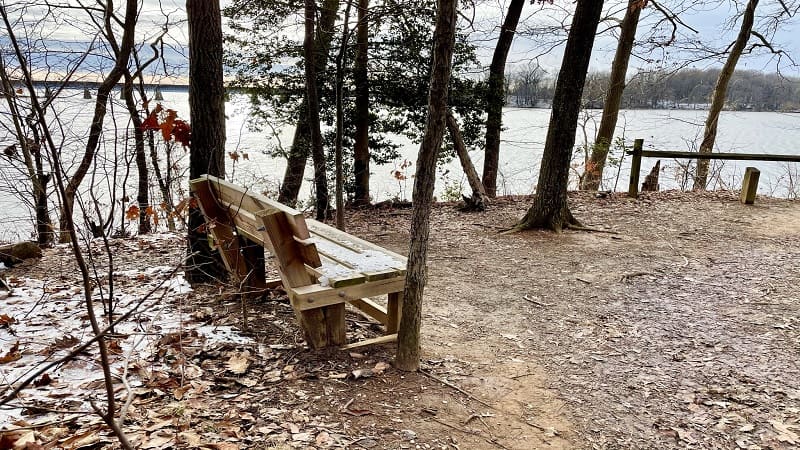 In a few more steps, cross over a wooden bridge. At the 1.1-mile mark you will arrive at a scenic overlook at Bushey Point with a bench for views across Powell's Creek.
Continue on and you will reach a second bench at a rather confusing intersection. It's confusing because there's no clear indicator as to which way to go.
I turned left because I could see on the park map that there was a "scenic view" of some kind. It turned out to be a beaver's dam, Honestly, I didn't see much.
From the beaver's dam, re-trace your steps. You will see a trail go off on the left. Do not take this trail. I did and it was a big mistake. Huge.
I ended up walking the wrong path for about .2-mile before I turned around. My guess is that this eventually leads into the neighborhood adjacent to the state park.
Instead, stay right until you again reach the wooden bench. From here, turn left and you will shortly see a blue-blaze indicating you are in fact going in the right direction.
At the 2.1-mile mark, the Powell's Creek Trail (blue blazes) meets up with the Potomac Heritage Trail (purple blazes). At this point, you'll see both blazes on trees.
In a few more steps, keep your eyes open for the blue blazes to take a sharp turn to the right. This will keep you on the Powell's Creek Trail.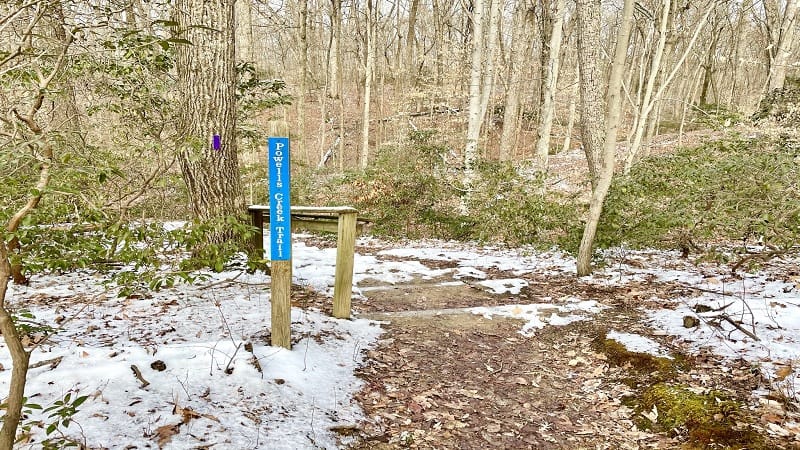 From here, continue on until you see the blue Powell's Creek Trail sign again. Turn left, then re-trace your steps all the way back to the parking area.
Hike Options
For a shorter hike, walk to the Bushey Point overlook with the bench at the 1.1-mile mark. Re-trace your steps for an enjoyable 2.2-mile out-and-back hike.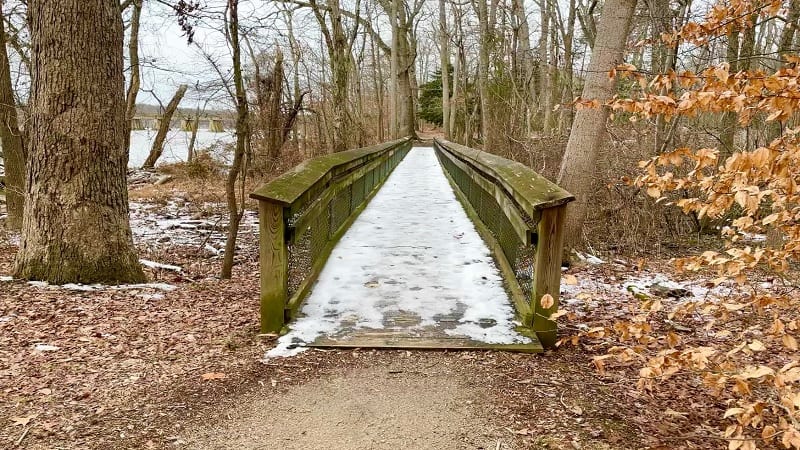 Alternatively, tackle another hiking trail in the park, like the 2.0-mile Lee's Woods Trail. This loop hike has plenty to offer in terms of Civil War history and scenic views.
Wrap-Up Notes
This hike took me one hour, 20 minutes to complete, but mind you, that includes time spent wandering down a wrong path here and there.
Still, it's an easy-going hike in the Virginia State Parks system that I'd like to do again when the park begins to green up with leaves and flowers.
The address for this state park with a visitor center, playground, boat launch and picnic shelters is 2001 Daniel K Ludwig Drive in Woodbridge, Virginia.
While in the area, make the short drive to Neabsco Creek Boardwalk at Rippon Landing Park. The views across the tidal wetlands from the wooden boardwalk are fabulous.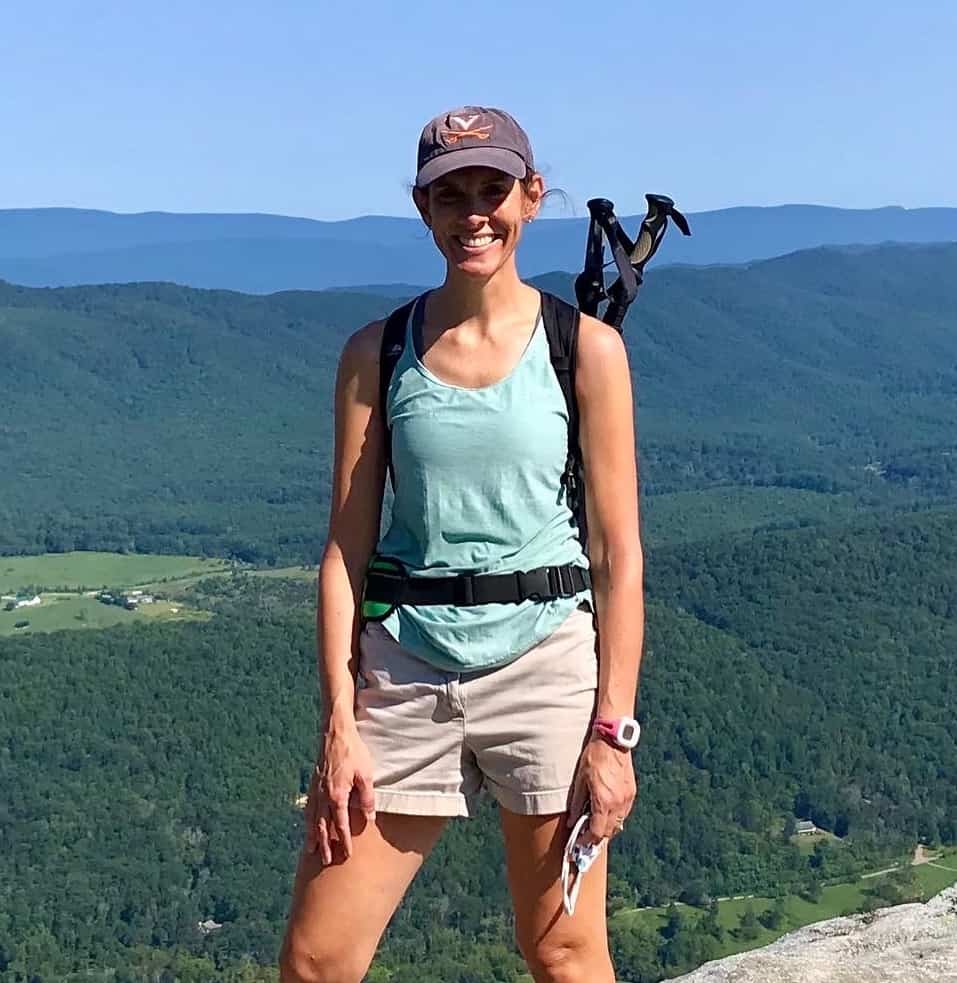 Erin Gifford is the editor of Go Hike Virginia. She has completed more than 300 hikes in Virginia. She is also the author of three hiking guidebooks from Falcon Guides. Need help finding a hike? Check out the Trail Finder feature or send Erin a message.