Conway Robinson State Forest: An Easy Wooded Loop Hike in Gainesville
There are 26 state forests in Virginia. As recently as last week, I had been to only one. In looking at the list of state forests, I hadn't even heard of most of them.
There are few state forests near me in Northern Virginia. Also, not every state forest is hiker-friendly or even open to the public.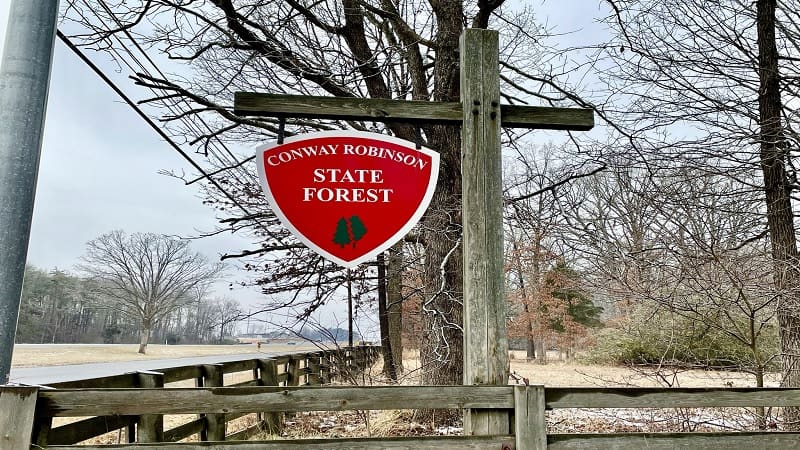 What I mean by "hiker-friendly" is that some forests do not have a good system of trails. I learned this later on a perimeter hike at Whitney State Forest.
Trails go any which way. Thankfully, an AllTrails user made some sense of the trails at Whitney State Forest to create an easy loop, but it still looks like a mess.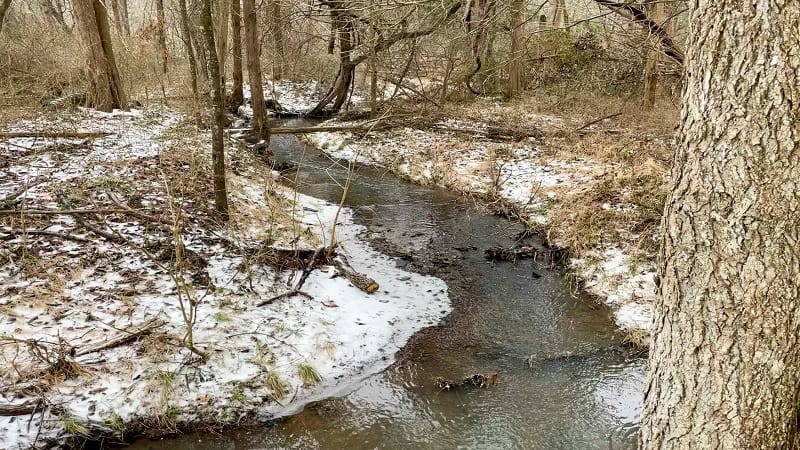 Meanwhile, other state forests, like Old Flat State Forest in Grayson County and Chesterfield State Forest in Chesterfield, are not open to visitors.
Conway Robinson State Forest in Gainesville has four marked trails – blue, yellow, red and orange. Just two – blue and yellow – are accessible from the parking area.
| Trail Stats | |
| --- | --- |
| Length | 3.3 miles |
| Difficulty | Easy |
| Trail Type | Loop |
| Elevation Gain | 135 feet |
| Duration | 1.5-2 hours |
| Terrain | Mostly dirt trails |
| Dog-Friendly | Yes |
| Fee | Free |
| Driving Directions | Click Here |
Conway Robinson State Forest
Conway Robinson State Forest is a 444-acre suburban state forest that's adjacent to Route 29 and is a five-minute drive from Manassas National Battlefield Park.
There are two parking lots, including a small lot for five cars and a large lot for 10 or more cars. There are also three picnic tables and a picnic pavilion.
The blue trail is a loop that begins on the left side of the parking lot. The out-and-back yellow trail is on the right and connects with the blue trail in two places.
The First Steps
Old growth hardwoods dominate this state forest. This made for a pretty brown hike in winter for nearly the first two miles. There were no leaves, no colors.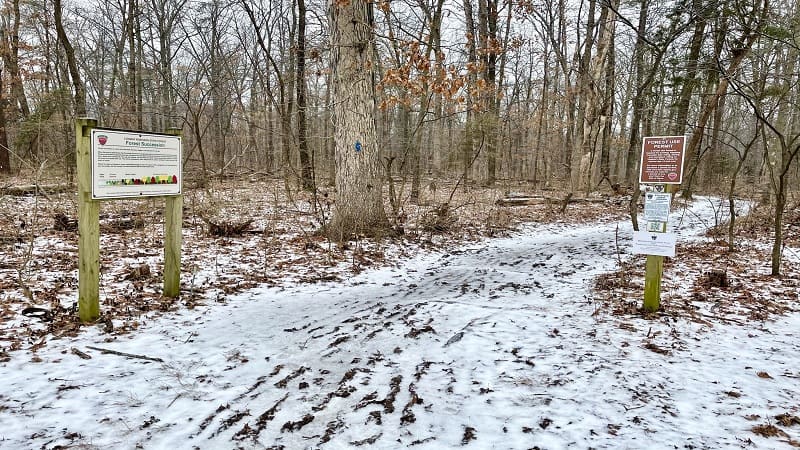 In summer, I presume the forest fills up with green leaves that not only muffle the sounds from Route 29, but also hide the neighborhood on the west side.
At the .6-mile mark, you'll reach an easy-peasy water crossing. Then, at the .9-mile mark, you'll reach an intersection with the yellow trail.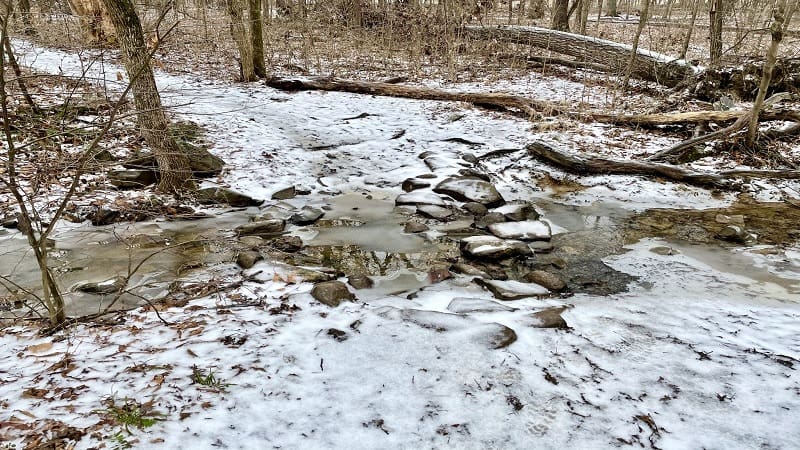 Here you can turn right onto the yellow trail to loop back to the parking area for an under 2.0-mile hike. Instead, I continued along the blue trail.
In a few more steps, the blue trail intersects with the orange trail. If you turn left on the orange trail it will re-connect with the blue trail in .7-mile.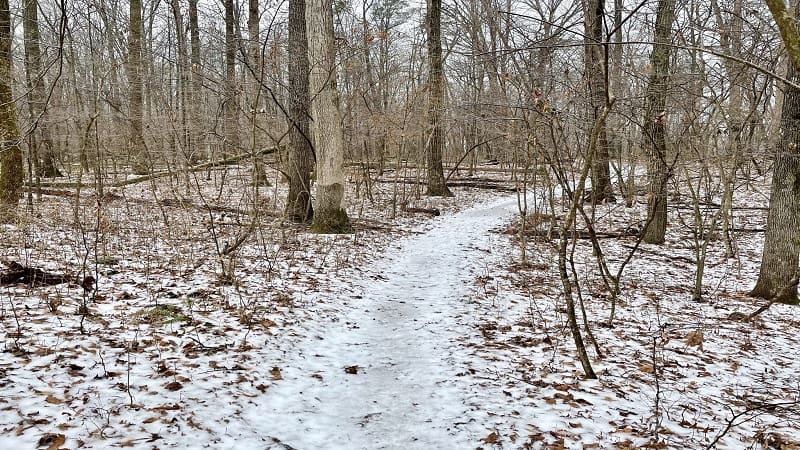 Again, I stayed on the blue trail, which by the way, is very well-marked. The trail breaks two more times. At the 1.6-mile mark, stay left for the blue trail.
By this point, I've been walking nearly two very brown, very ho-hum wintry (and icy) miles. A gorgeous green pine forest then begins to spring up before my eyes.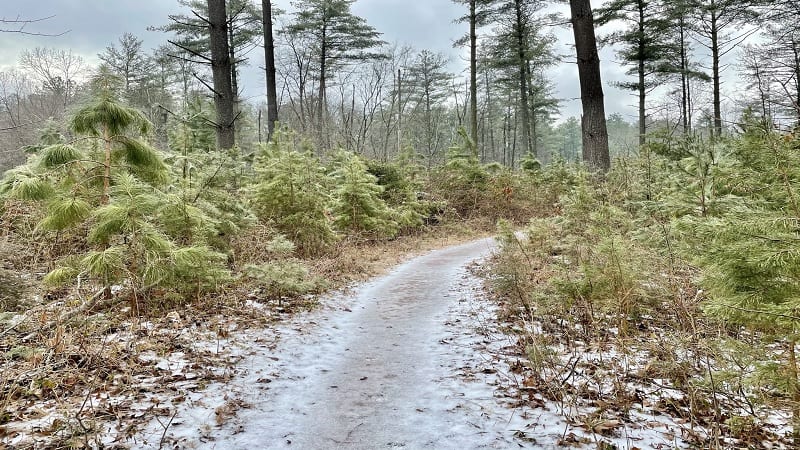 Ever slowly, there's one, then two white pine trees intermixed with old hardwoods. Then, tall loblolly pines. The more steps I take, the more green I see. It's beautiful.
At the 1.9-mile, stay left again for the blue trail. Then more pines come into view. Turn right at the 2.2-mile mark for a tunnel of towering pines.
You'll cross over a small creek at the 2.4-mile mark. Turn right in a few more steps to meander along trail that is now alongside Route 29.
From here, cross over two or three wooden bridges. You're now back into nearly all hardwood forest. No more green. At least not when hiking in winter.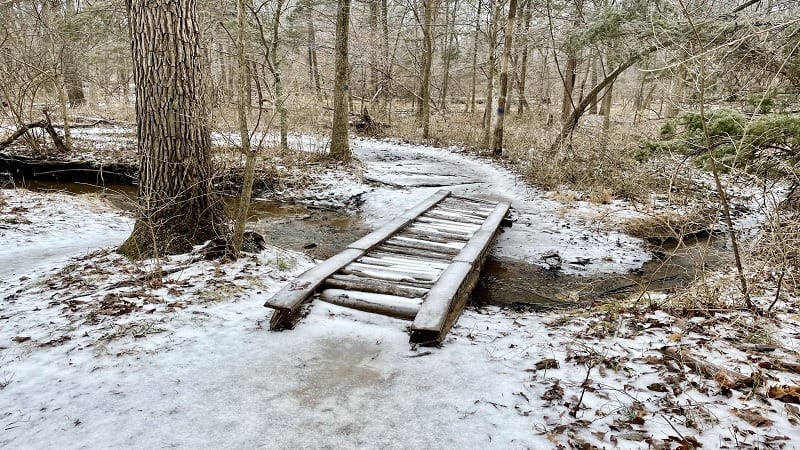 At the 3.3-mile mark, the blue trail merges with the yellow trail. Stay left and you're only a few more steps from the parking area.
Wrap-Up Notes
This hike took me 90 minutes to complete. I was a bit slower given the ice on the trails (which is why microspikes for hiking are a must).
There are only a few miles of hiking trails at Conway Robinson State Forest, but it's easy to get in your steps for the day. You may want to print out the trail map.
It's also wise to note that this state forest can get very muddy. Thankfully, the ice covered up the mud. Otherwise, it would have gotten very messy, very quickly.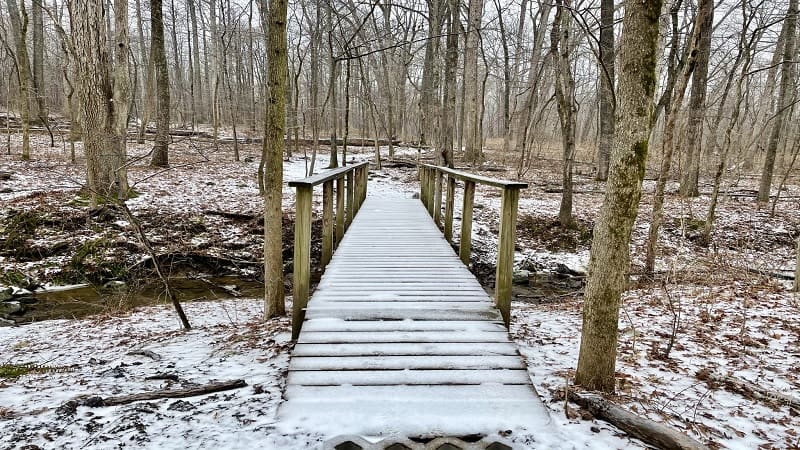 I will definitely come back in summer, on a very dry day when all the leaves are green and at peak. I'm eager to explore this state forest in another season.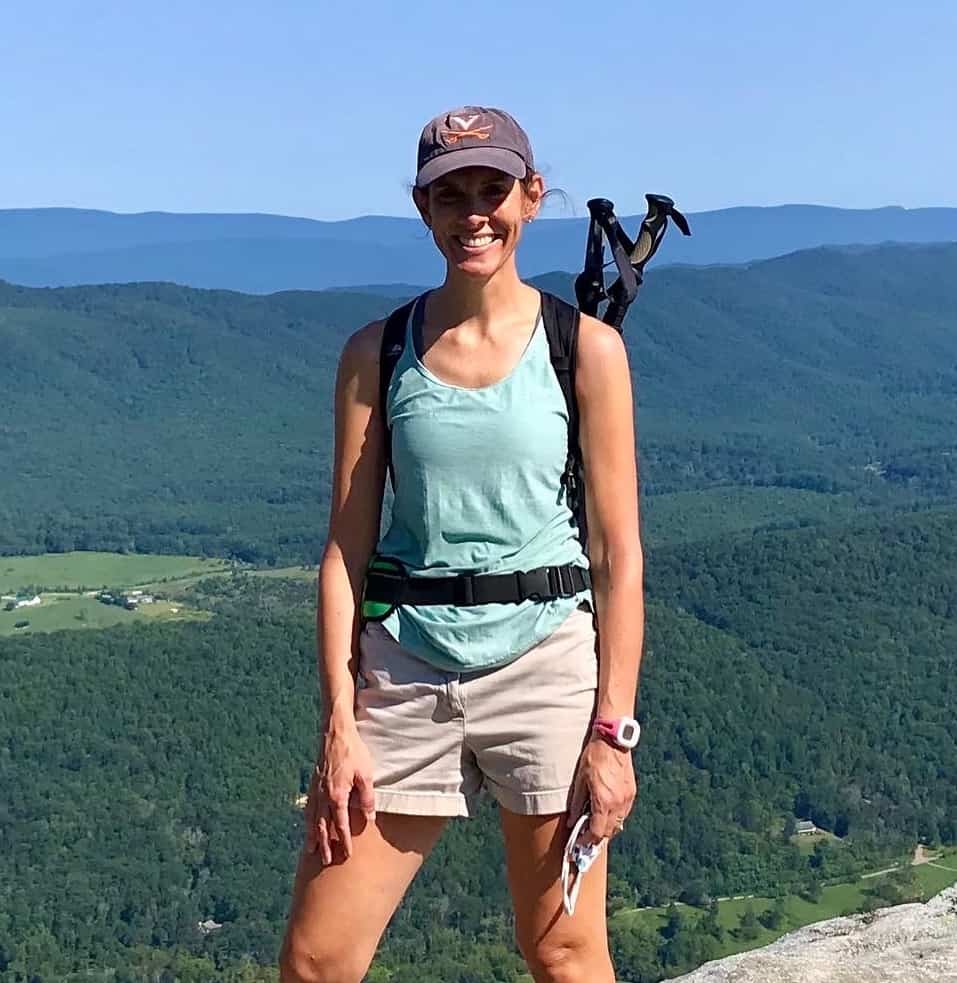 Erin Gifford is the editor of Go Hike Virginia. She has completed more than 300 hikes in Virginia. She is also the author of three hiking guidebooks from Falcon Guides. Need help finding a hike? Check out the Trail Finder feature or send Erin a message.