Boykin's Landing: A Forested Hike to Breathtaking Views Across Potomac Creek
There's a hidden gem tucked away in Stafford County. It's called Crow's Nest Natural Area Preserve, and let me tell you, it's pretty fantastic.
You'll find five hiking trails on this 895-acre peninsula made up of tidal and non-tidal wetlands in between two tidally-influenced creeks, Potomac Creek and Accokeek Creek.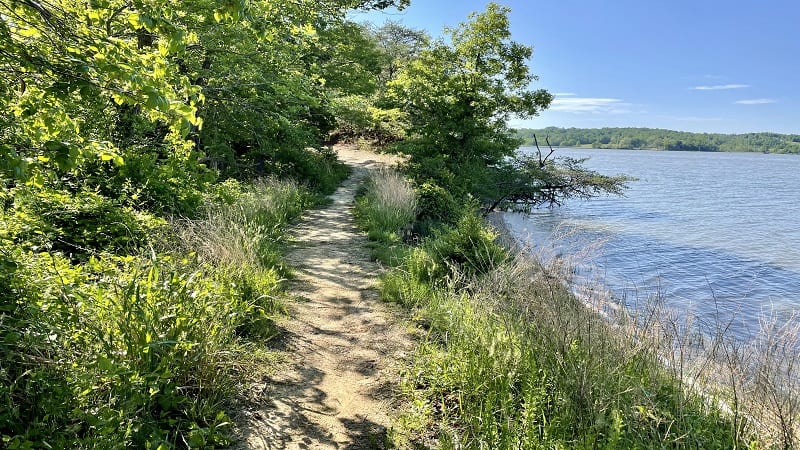 There are two ways to enter Crow's Nest Natural Area Preserve, the most popular being Raven Road given its access to four of the five hiking trails.
However, the Raven Road access point is only open Thursday-Sunday, so keep this in mind if you plan to explore this forested nature preserve on foot.
| Trail Stats | |
| --- | --- |
| Length | 3.6 miles |
| Difficulty | Easy |
| Trail Type | Out-and-Back |
| Elevation Gain | 246 feet |
| Duration | 1.5-2 hours |
| Terrain | Mostly dirt and sand, some gravel |
| Dog-Friendly | Yes |
| Fee | Free |
| Driving Directions | Click Here |
Arriving at the Trailhead
From Raven Road, a two-mile gravel road leads to a parking area with 18 parking spaces. This nature preserve may be lesser-known, but the lot can fill up quickly.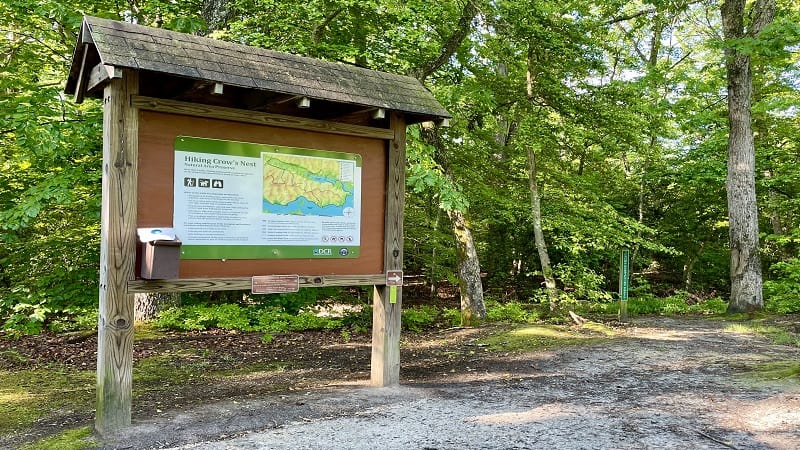 Three trails set off from the parking area, including the Crow's Nest Point Trail, Accokeek Loop Trail and the Potomac Overlook Trail.
To hike to Boykin's Landing, following the Crow's Nest Point Trail until it meets the Boykin's Landing Trail. You'll take this forested path all the way to the viewpoint.
The First Steps
The trailhead for the Crow's Nest Point Trail is located on the east side of the parking area. You will see a large kiosk and a green sign marking the start of the trail.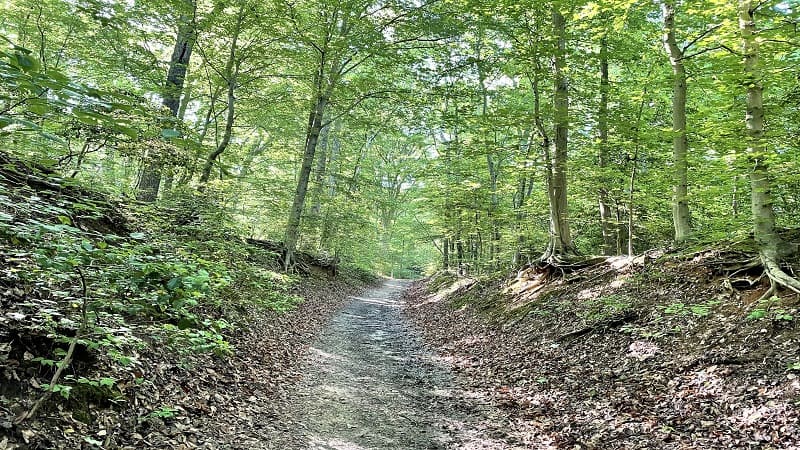 The hike begins under a lush canopy of bright-green leaves, guiding you into a mature hardwood forest. The trail is wide, on a base of mostly dirt and sand, some gravel.
On some sections of trail, the foliage is so dense that the hike can feel quite dark and shady, even on cloudless days. This hike will no doubt be nice and cool in summer.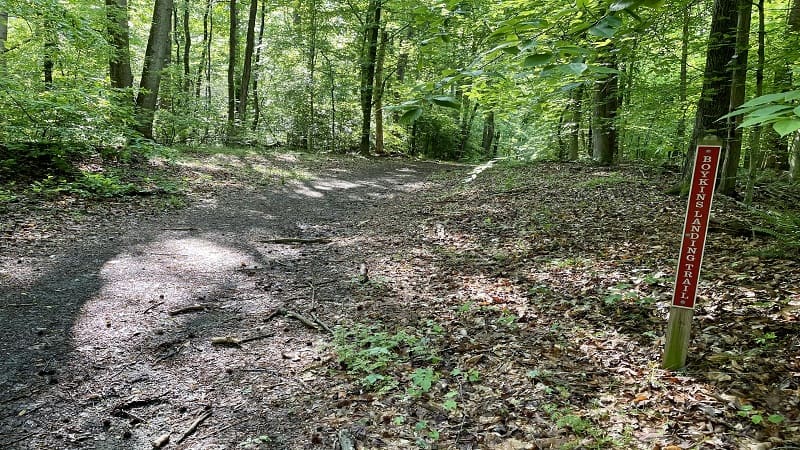 At the .7-mile mark, you'll reach a fork in the trail. Stay right for the red-blazed Boykin's Landing Trail. The trail veers right again and narrows at the 1.2-mile mark.
In a few more steps, you'll catch your first glimpses of Potomac Creek through the trees. Then, the hiking trail sidles right up against the water for pristine views.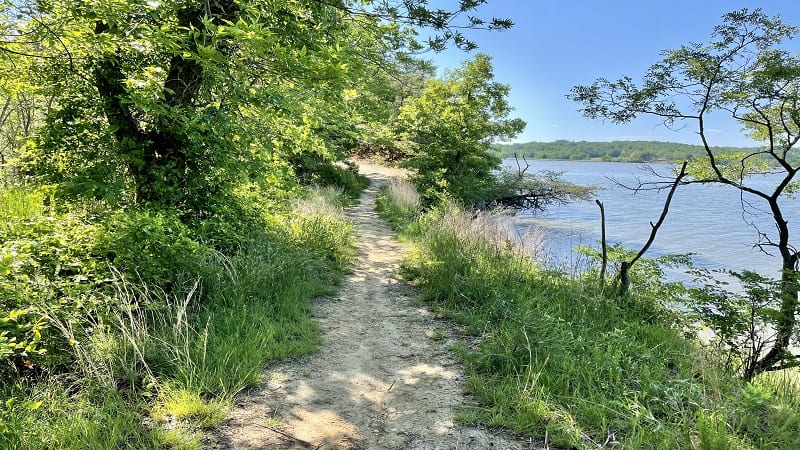 At the 1.8-mile mark, you will arrive at Boykin's Landing. There are a few wooden steps guiding you to the viewpoint, and what a viewpoint it is. Woah.
There are two benches at Boykin's Landing, encouraging you to sit and stay awhile. Re-hydrate here and take in the breathtaking views across Potomac Creek.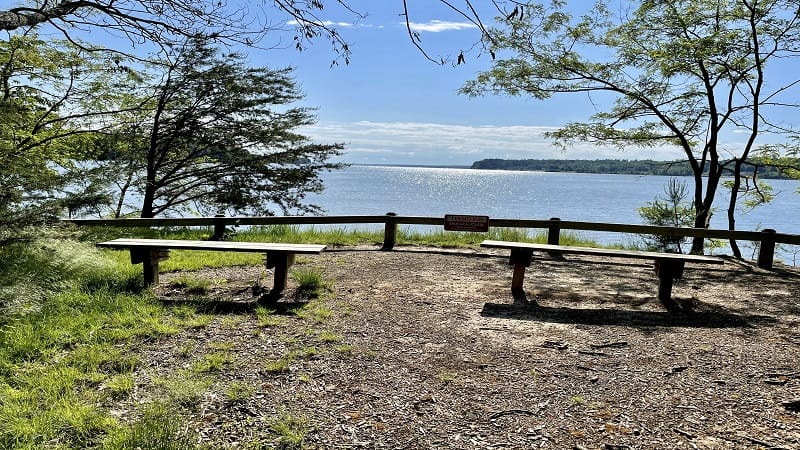 Since this is an out-and-back hike, simply re-trace your steps to the parking area once you've soaked in all the views.
Hike Options
For a longer hike, consider taking the Crow's Nest Point Trail to Crow's Nest Point. This is a 5.5-mile out-and-back hike that affords similar views across Potomac Creek.
For a shorter hike to water views, try the Potomac Overlook Trail. This 1.0-mile out-and-back hike also begins at the main parking area.
The Accokeek Loop Trail is a 3.0-mile trail that leads to a birding pond. For birders, here's a checklist of birds you may see at Crow's Nest Natural Area Preserve.
Wrap-Up Notes
From the parking area, this hike took me 75 minutes, including time spent on the benches enjoying the water views on this delightful Northern Virginia hike.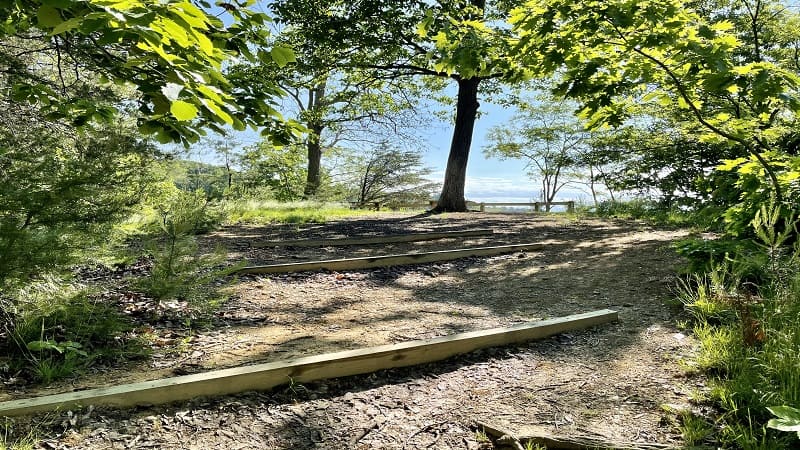 Not all nature preserves are pet-friendly, but this one is, and I saw several on-leash dogs enjoying a Saturday morning stroll as I was walking back to my car.
There's a lot to love for paddlers, too. A canoe and kayak launch is located at the Brooke Road access point for a paddle along the 8.0-mile Crow's Nest Water Trail.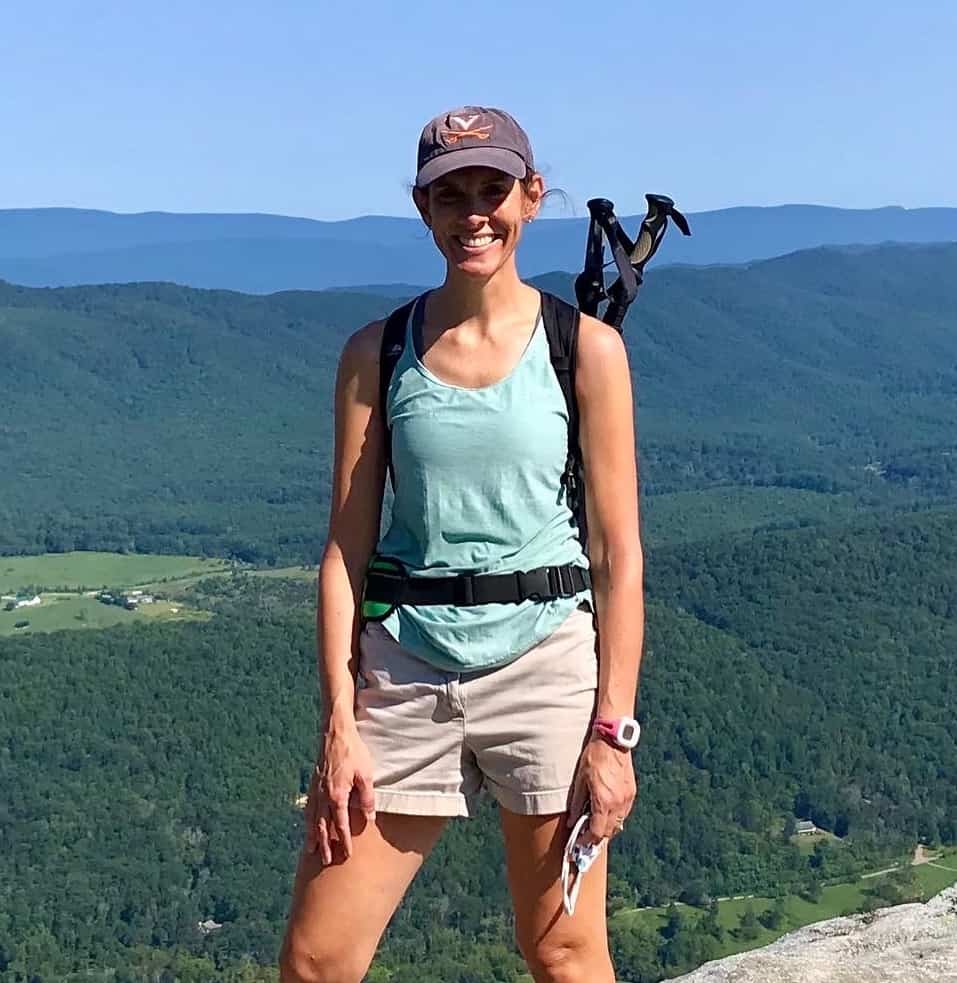 Erin Gifford is the editor of Go Hike Virginia. She has completed more than 300 hikes in Virginia. She is also the author of three hiking guidebooks from Falcon Guides. Need help finding a hike? Check out the Trail Finder feature or send Erin a message.