Sky Meadows State Park: This Rewarding Loop Hike Stuns with Far-Reaching Views
Sky Meadows State Park in Delaplane may be the closest state park to my home (in Loudoun County), yet I've only been one time since the pandemic began.
That was two weeks ago. Honestly, I don't know why I waited so long to explore this gem in my backyard. I was glad I finally did though because this park is gorgeous.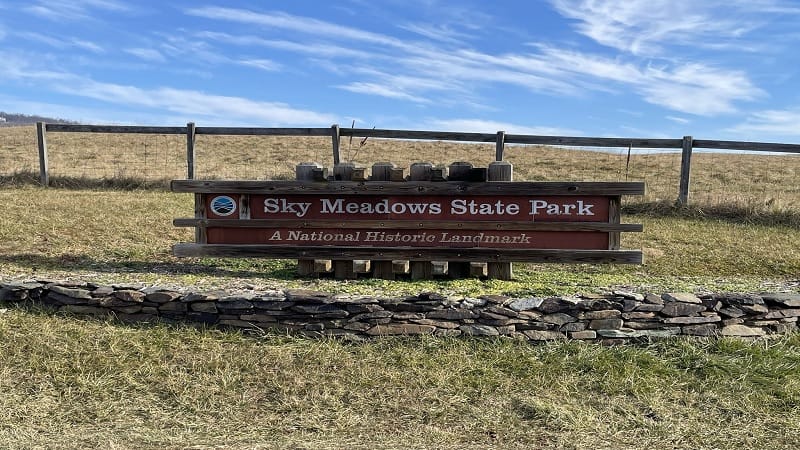 Set in far northwest Fauquier County, Sky Meadows is a stone's throw from Paris (oui, oui). There's no Eiffel Tower, but The Ashby Inn is equally charming and elegant.
More than 20 miles of trails cover Sky Meadows State Park. On the west side of Route 17 are the Blue Ridge Trails, while the Lost Mountain Trails are on the east side.
This day, I cobbled together several trails to create a loop that wowed with far-reaching views and an enjoyable (if short) stretch of white-blazed Appalachian Trail.
| Trail Stats | |
| --- | --- |
| Length | 5.5 miles |
| Difficulty | Moderate |
| Trail Type | Loop |
| Elevation Gain | 1,066 feet |
| Duration | 2.5-3.5 hours |
| Terrain | Mostly dirt, rock and grass trails |
| Dog-Friendly | Yes |
| Fee | $7 per vehicle weekdays ($10 per vehicle weekends, Apr-Oct) |
| Driving Directions | Click Here |
Arriving at the Trailhead
If you follow driving directions on AllTrails, you will arrive at Sky Meadows, but the directions drop you off at the Park Office. Don't do that. You can't park there.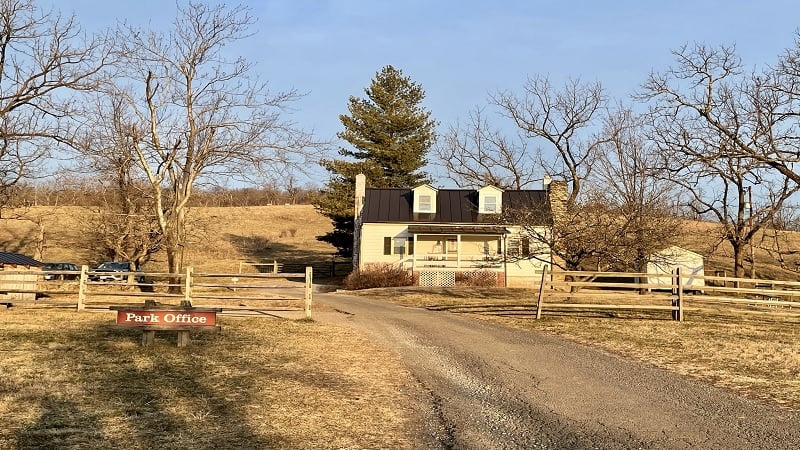 Instead, park in the main parking lot on the west side of Route 17. There is a fairly large lot in front of the Visitor Center. You'll find restrooms there, too.
From here, walk up Route 710 (the main park road) in the direction of the Park Office. The hike begins on Boston Mill Road, just left of the Park Office.
The First Steps
Boston Mill Road is marked with green blazes. It looks like a service road, but it's an official park trail. Proceed slowly as not to miss the first turn on the right.
Just before the .1-mile mark, you'll reach a trail marker. Turn right to continue along the red-blazed Piedmont Overlook Trail. It's a steady ascent, so get ready to dig deep.
Thankfully, a couple of benches offer a chance to catch your breath at the .3-mile mark. You'll be rewarded for your efforts with views from Lower Piedmont Overlook.
From here, continue up the hill until you reach another bench, this one at Upper Piedmont Overlook, at the .6-mile mark. Both overlooks wow with east-facing views.
Continue past the benches at Upper Piedmont Overlook, through a horse gate, into the forest. You'll reach a rainbow trail marker at the .7-mile mark.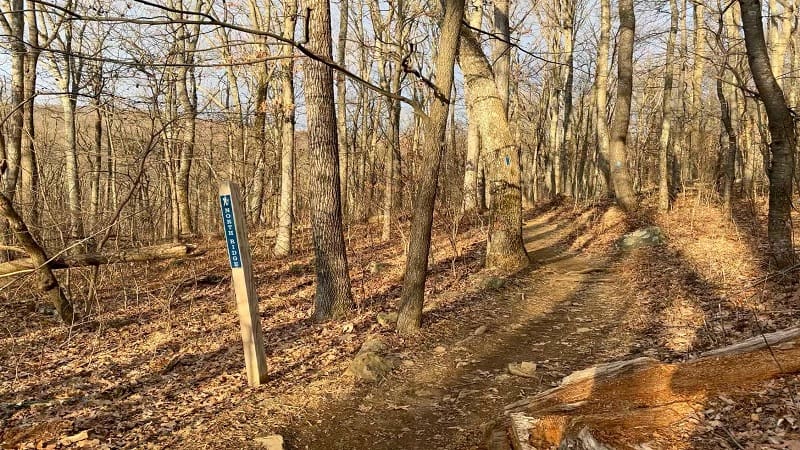 Turn right here for the blue-blazed North Ridge Trail. Turn right again in a few more steps – at another rainbow trail marker – for the Ambassador Whitehouse Trail.
At the .9-mile mark, you may feel as though you're exiting the park. You are. You'll walk up a few stone steps, walk alongside a field, maybe hear the drumming of a woodpecker.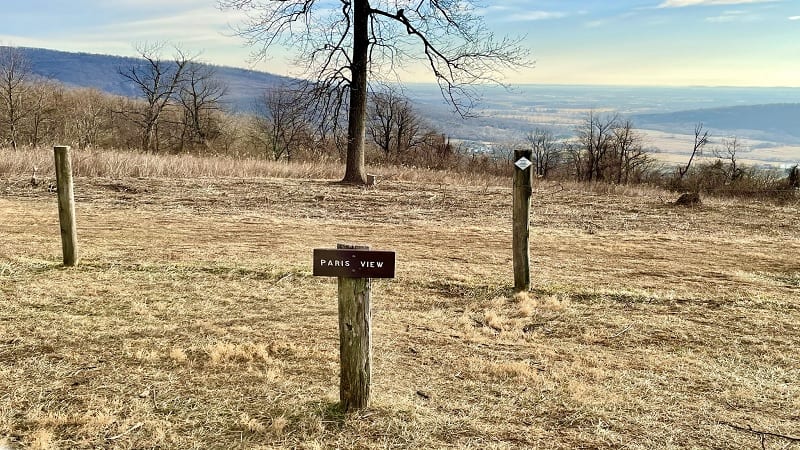 You will reach Whitehouse Overlook at the 1.5-mile mark. Here you can see all of Paris (Virginia). Note the wooden "Paris View" sign at the overlook.
Honestly, this section is a smidge confusing. This is (supposed to be) Whitehouse Overlook, yet there is a "Welcome to the Piedmont Memorial Overlook" sign.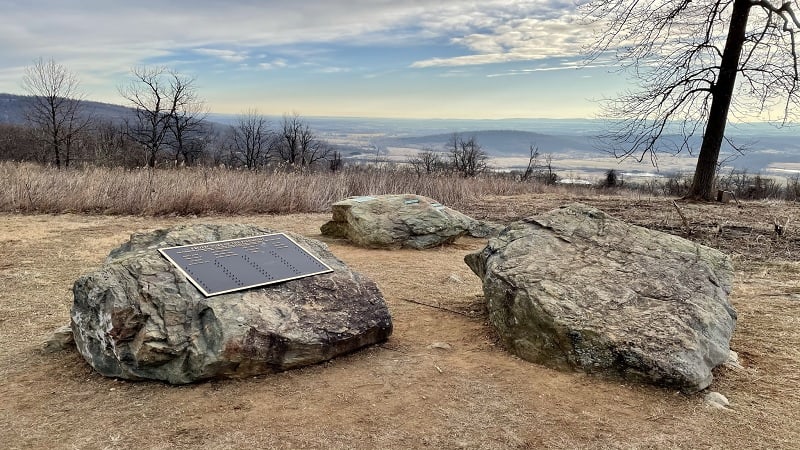 If you look at the park map, this area is outside the boundaries of the state park. In fact, this section is owned and managed by the Piedmont Environmental Council.
Walk to the other side of a fence to see several placards on the Piedmont Memorial Overlook that educate on habitat restoration and environmental conservation.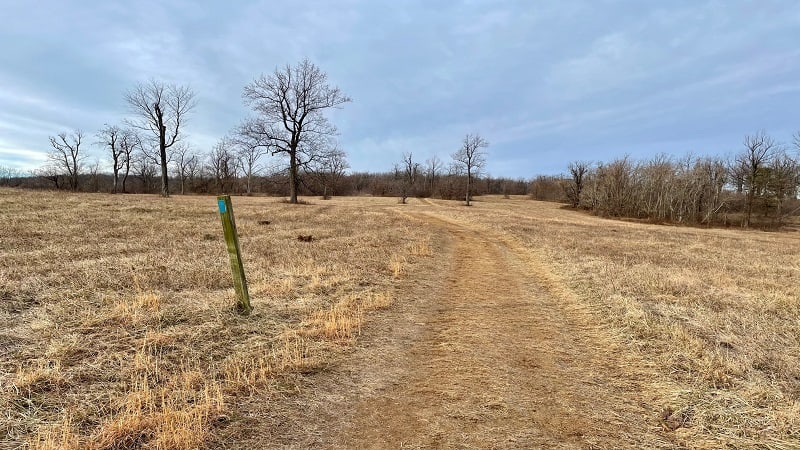 Once you savor all the views, continue on the trail, then veer left to stay on the blue-blazed North Ridge Trail. In a few more steps, you'll be back in the forest.
You'll connect with the white-blazed Appalachian Trail at the 1.9-mile mark, but not for long. In less than one-mile you'll turn left to link up with the North Ridge Trail.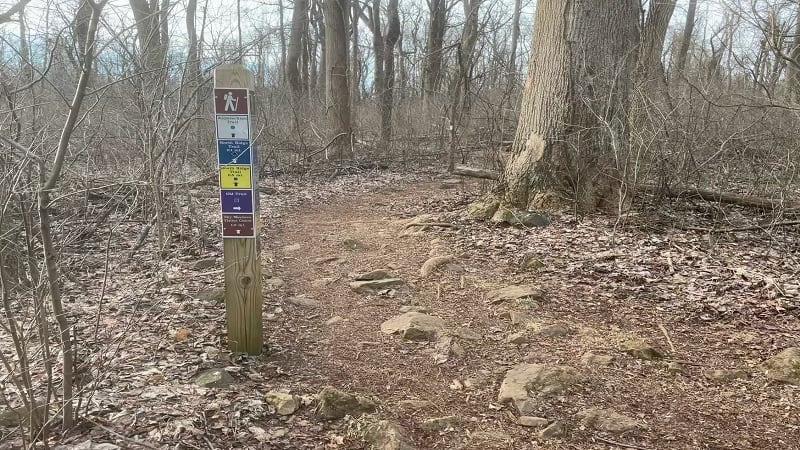 Walk through a gate, back into the state park, then turn right at the 3.0-mile mark onto the South Ridge Trail. From here, it's a straightforward walk in the woods.
Stay on this trail until you reach the 4.2-mile mark. At this point, your curiosities will be piqued by a trail sign that reads "Spur to George's Overlook." This is not on the map.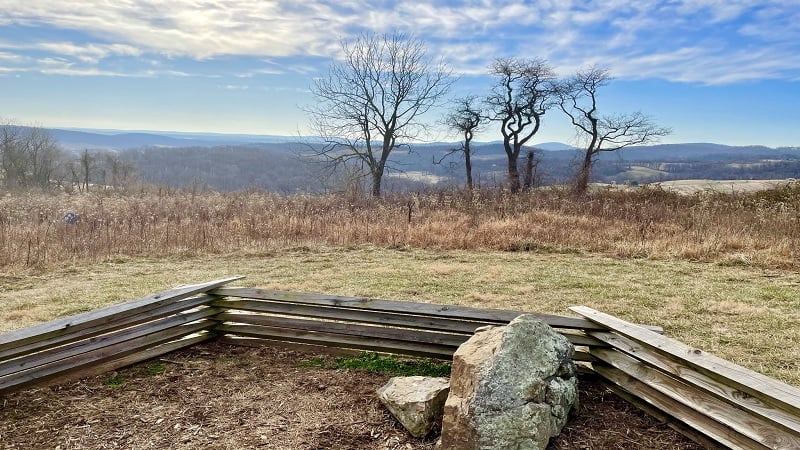 From here the overlook is just .1-mile. Of course, I had to go. It was literally just around the corner. It's a very nice overlook with southeast-facing views.
From here, re-trace your steps to return to the South Ridge Trail. You'll actually see a comfy east-facing bench right at the "Spur to George's Overlook" sign, too.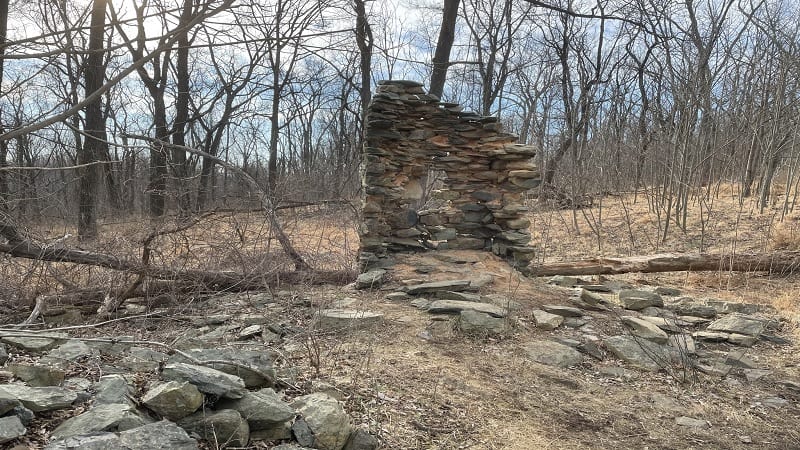 At the 4.6-mile mark, you'll arrive at a very short spur trail for the Snowden Manor Ruins Site. Here you'll find remains of a former home, including a stone fireplace.
Proceed. The trail splits in a few steps. There are no markers to indicate which way to go. I saw a bench to the left, so I walked up the hill. This is just an overlook.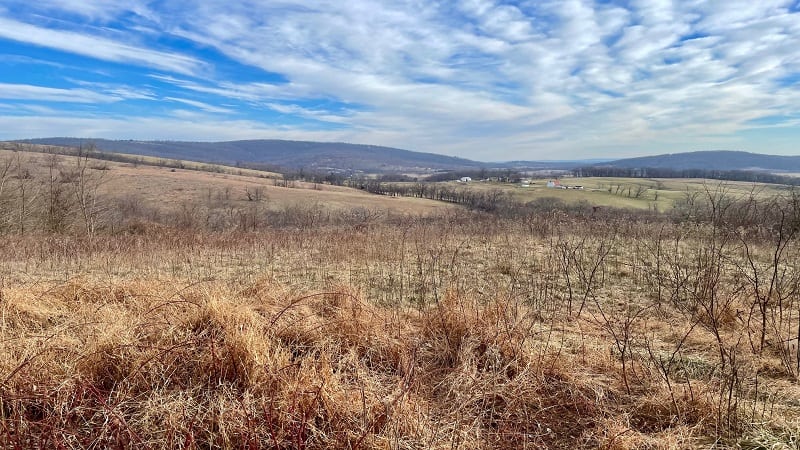 So, when the trail splits, stay to the right. Not left. To be honest, however, the bench would make a nice lunch spot if your timing is just right. Or maybe a snack.
You'll reach a dead-end at the 5.1-mile mark, just past the trail that leads to the camping area. Turn right here, then turn left in a few more steps onto Boston Mill Road.
You're now closing in on the end of the hike. You'll reach the Park Office again at the 5.5-mile mark. From here, turn right to walk back to the parking area.
Hike Options
Something to love about Virginia State Parks, in particular, is that there are so many trails that connect and criss-cross. Your options are nearly endless.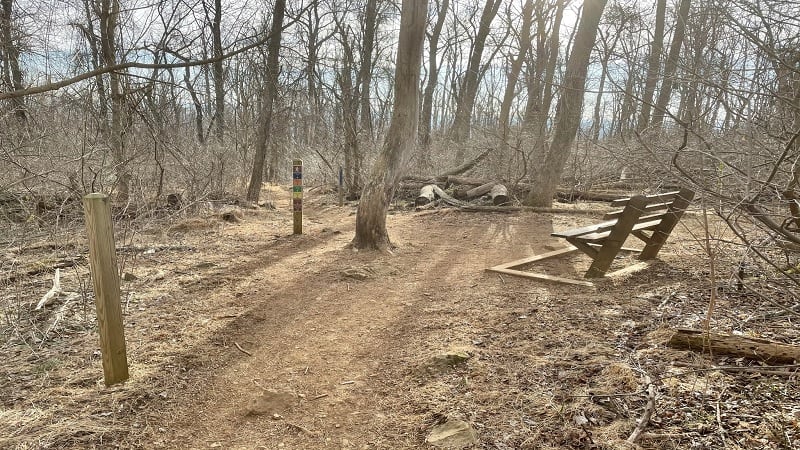 For example, when you turn right onto the South Ridge Trail at the 3.0-mile mark, you could instead stay on the North Ridge Trail.
Not only would this shorten the hike by a mile or so, but you would also have a second chance to enjoy Upper Piedmont Overlook and Lower Piedmont Overlook.
Wrap-Up Notes
From the trailhead, this hike took me just over two hours, including time spent ogling the views from the scenic overlooks.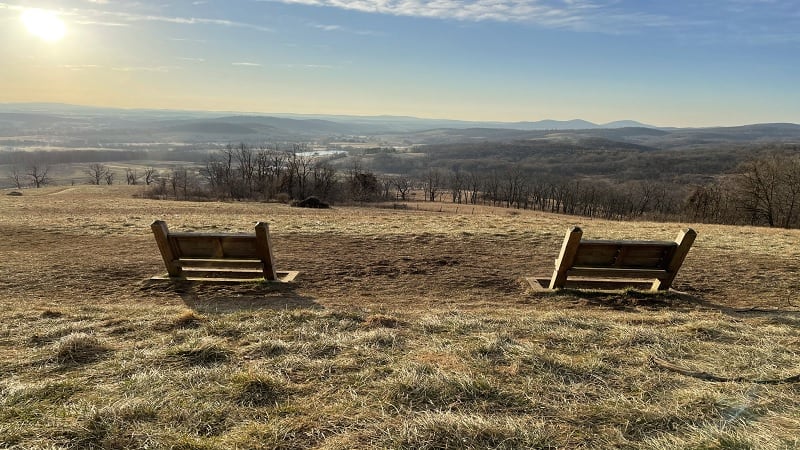 If you arrived at Sky Meadows State Park by way of Route 50, plan a stop on the return in Aldie or Middleburg. Both are walkable villages with snack or meal options.
In Aldie, it's a must to stop in Aldie Country Store & Café for a Maple Bacon Donut. Common Grounds and Cuppa Giddy Up are favorite coffee shops in Middleburg.
Hungry for more? Take a look at 15 of the best hikes near Bluemont, Virginia to find a few more hikes to add to your must-do hiking list.