Sky Meadows State Park: Camp at the Primitive Hike-In Campground in Delaplane, Virginia
Not long ago, my son and I made the short drive from our home to go camping at Sky Meadows State Park in Delaplane, Virginia.
It was a perfect day – cloudless blue skies – for an easy hike to the in-park park campground complete with a roaring campfire and toasty s'mores.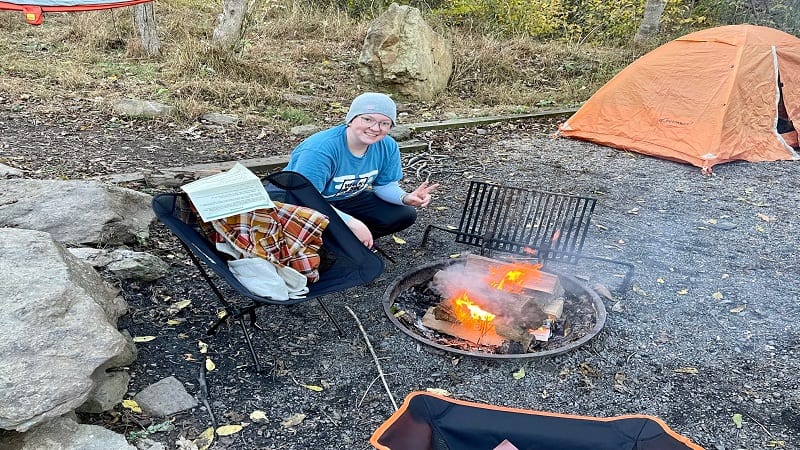 Set on a historic farm in Fauquier County, Sky Meadows State Park inspires with pastoral views of rolling farmland and vistas across the Blue Ridge Mountains.
To the east, we could see as far as Washington-Dulles International Airport – 25 miles away as the crow flies – from the Piedmont Overlook Trail. Wowza.
Sky Meadows State Park
Sky Meadows State Park is one of three state parks in the Shenandoah Valley, including Sky Meadows, Seven Bends and Shenandoah River.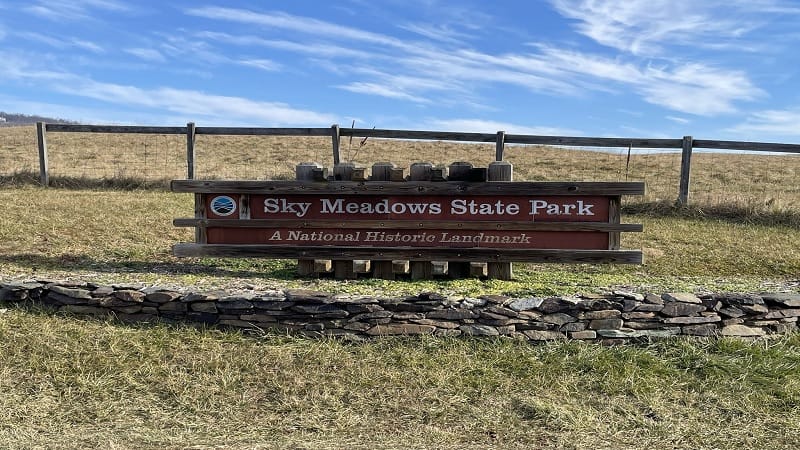 Sky Meadows is home to more than 20 miles of hiking trails that criss-cross this bucolic state park. Some trails are also accessible by horse and by mountain bike.
This state park is split into two sections by Winchester Road (U.S. Route 17). The east section is home to the pastoral Lost Mountain Trails.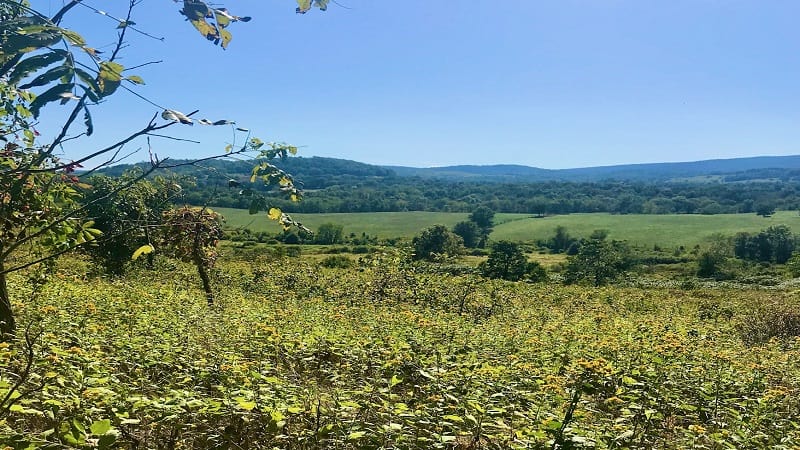 The west section is home to the visitor center, as well as the scenic overlooks, including Piedmont Overlook (upper and lower) and Whitehouse Overlook.
You'll also find the Old Trail Loop on the west side, which includes a 2.1-mile stretch of the white-blazed Appalachian Trail.
Sky Meadows State Park has a storied history that dates to 1731 when Lord Fairfax sold a tract of land that was divided, then divided again, then sold.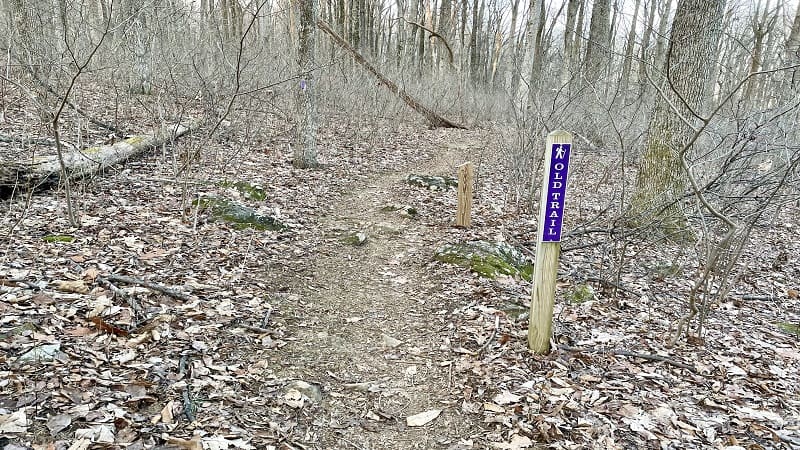 The Mount Bleak-Skye Farm historic district is located at Sky Meadows State Park and includes historic Mount Bleak House, which was built in 1843.
Land for the park was donated in three separate tracts between 1975 and 1991. The state park opened in 1983 after the first parcel was developed into park land.
Sky Meadows Campground
This was our first time camping at Sky Meadows State Park. It was fantastic and a great destination for first-time backpackers. Two thumbs up from me.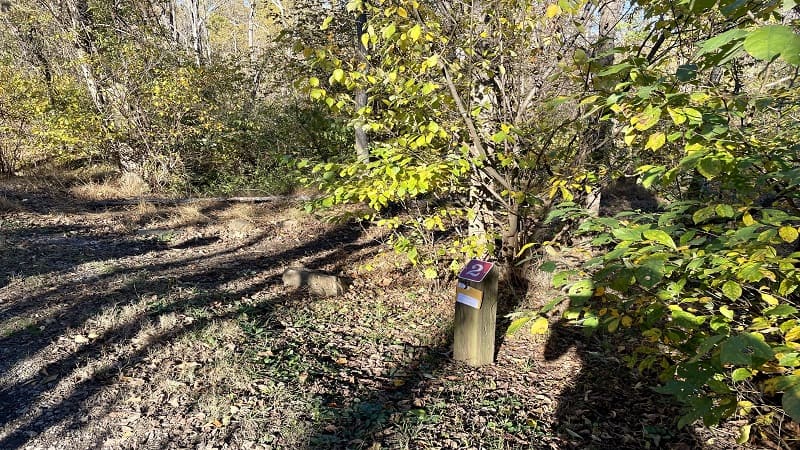 This is not a campground for car camping. There are no cabins, yurts or flush toilets. You must hike one mile from overnight parking to the campground.
But first, check in at the visitor center. You will receive parking passes, a punch code for the parking gate, park brochures and camping need-to-knows.
Hike-In Camping
The overnight parking area is adjacent to the park entrance station.
From here, walk across the main road to the teal-blazed Hadow Trail. Do not park at the visitor center.
At the .7-mile mark, turn left onto the green-blazed Boston Mill Road. Then, turn right onto the yellow-blazed South Ridge Trail.
In a few more steps you'll see a gravel service road leading up an easy hill. A sign reads "Camping Access Only." At the 1.0-mile mark, you'll reach the campground.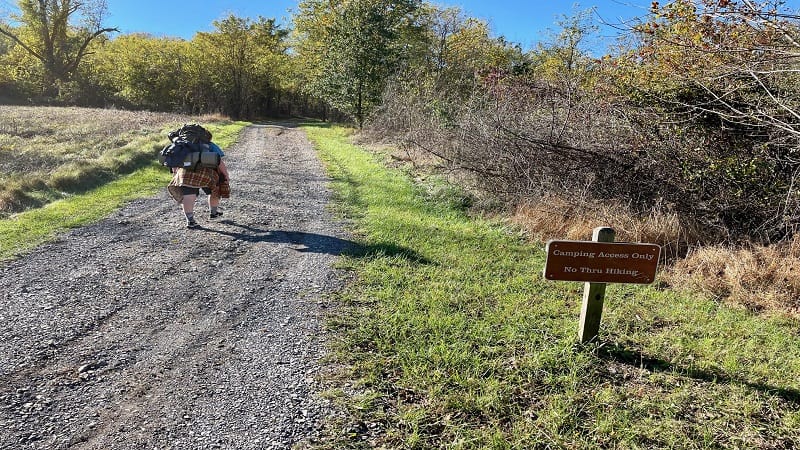 There are vault toilets on the left. A short trail leads to a backcountry camping map and unbundled firewood. The fee is $6 for 10 pieces of wood.
There is an honor system repository if you want to pay cash on-site for firewood. You can also pay for firewood at the visitor center when you arrive.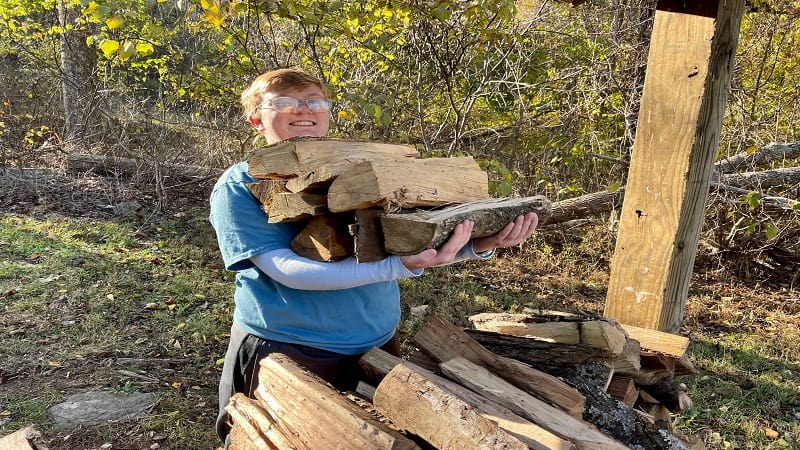 Ten pieces is a lot of firewood, so keep your eyes open for a wheelbarrow. We spied one adjacent to the restrooms closest to the campground entrance.
The wheelbarrow was helpful in getting all the wood to our camp site in one trip. Simply return the wheelbarrow once finished for the next camper to use.
Sky Meadows Camp Sites
Make your reservation online. When you do, you must choose a specific site. There are 15 red sites for primitive camping at Sky Meadows.
The fee is $20 per night for Virginia residents or $25 per night for non-Virginia residents. Including a transaction fee and sales tax I paid $26.06 for the night.
Site-specific reservations are for buddy sites (for two families, for example), as well as group camping areas, Camp Slater and Camp Washington.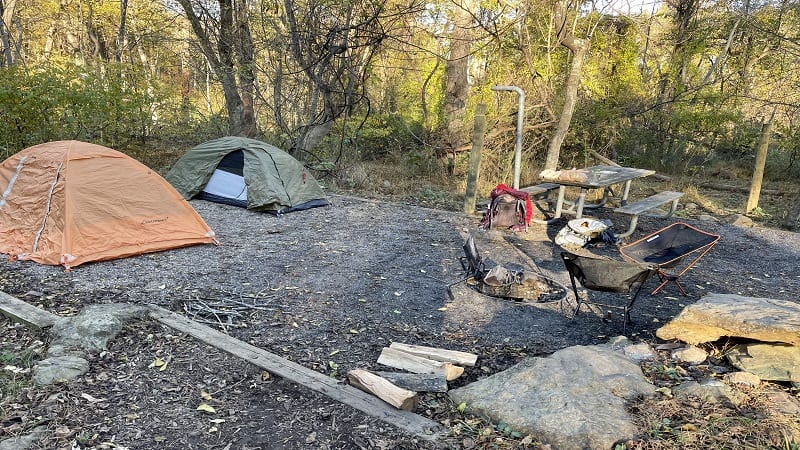 There are a lot of great wooded camp sites, but we opted for #2 because this site could accommodate two hammocks (eight sites have hammock posts).
Except for #15, all camp sites are tucked back, many along private paths that lead to the camp sites for added quiet and privacy.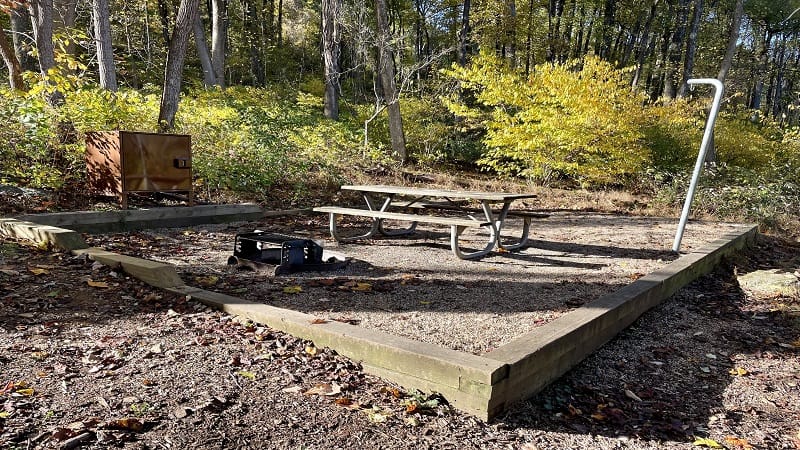 Some camp sites are terraced, with an upper tent pad for a picnic table and fire ring and a lower tent pad for tents. All sites also have a large metal bear box.
The bear box is for storing your food and trash, as well as any scented items, like lotion, deodorant or soap. It's so large that it can even store a couple of backpacks.
Campground Amenities
At the campground, there are two restrooms (each with two vault toilets). You'll see the first as you come in. The second is close to camp site #14.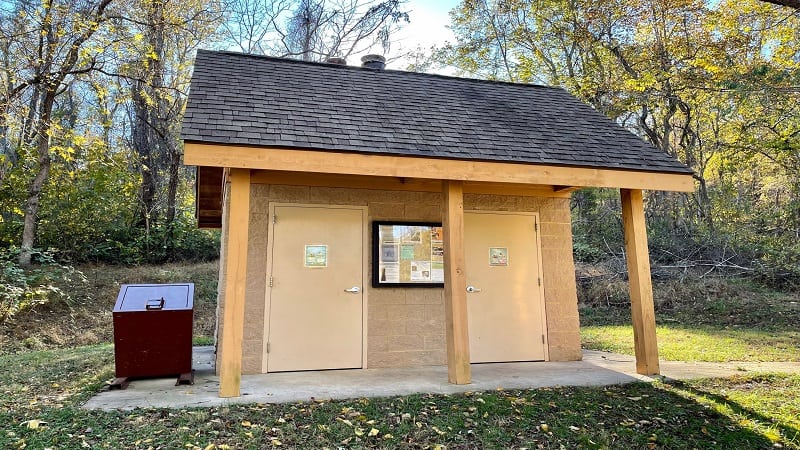 Each toilet has touchless hand sanitizer. There are at least two bear-proof trash cans next to each restroom. You'll find non-potable water at the second restroom.
There are also two firewood locations. The first is down a side path across from the restroom as you enter the campground. The second is close to camp site #14.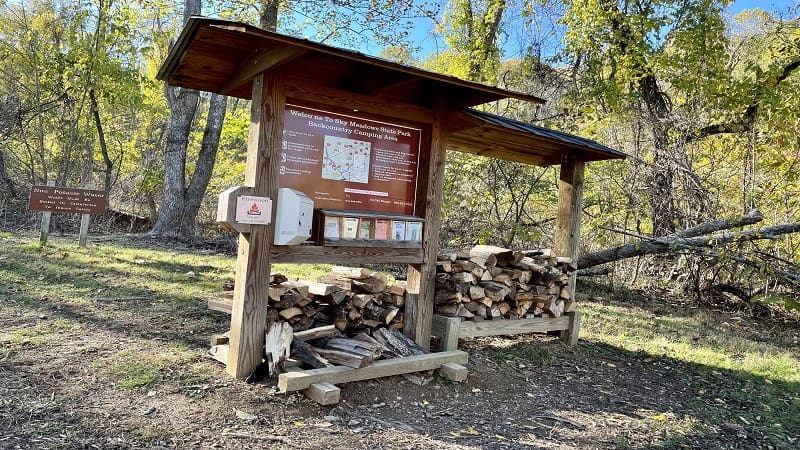 At both firewood locations you'll find a trail kiosk with plenty of paper brochures, including trail maps and guidelines for bringing pets into the state park.
No outside firewood may be brought into the park. However, campers can use dead and fallen wood at the camp sites (we used fallen wood as kindling).
Across from the second firewood station (near camp site #14), there is an open-air meeting space. I imagine scouts must use this area from time to time.
Hiking at Sky Meadows
Once we pitched our tents, set up our logs for a campfire and generally organized our camp site, we set off for a short hike before the sun got too low in the sky.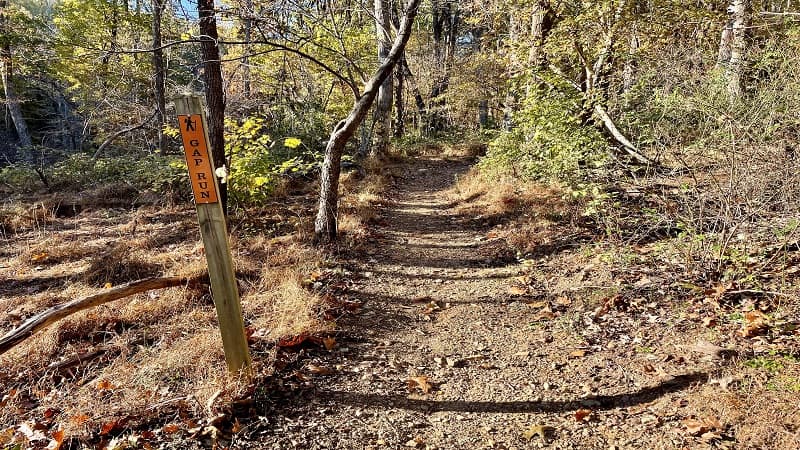 We opted for an easy 2.0-mile loop hike. From camp site #2, we walked the path to the back of the campground, checking out all the other sites along the way.
In .3-miles, this path meets up with the orange-blazed Gap Run Trail. We turned left onto the Gap Run Trail, then turned right on the blue-blazed North Ridge Trail.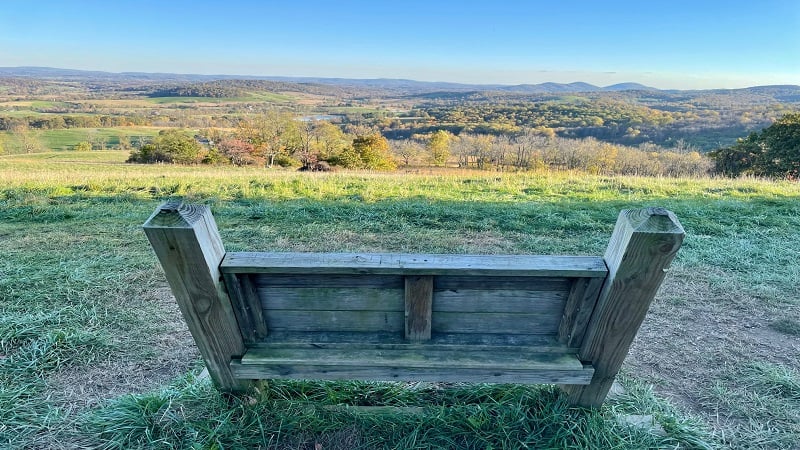 We soon turned left onto the red-blazed Piedmont Overlook Trail (at the .8-mile mark). In a few more steps, we were sitting at the Upper Piedmont Overlook.
The views across farmland and mountains are unbeatable. The Lower Piedmont Overlook is located at the 1.2-mile mark. The skies were clear and it was so quiet.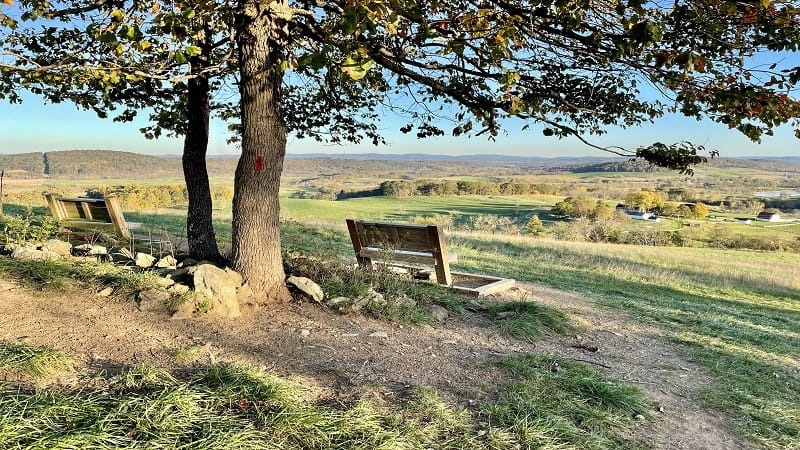 We walked down the hill and turned right at the 1.4-mile mark onto green-blazed Boston Mill Road. We then turned right onto the yellow-blazed South Ridge Trail.
In a few more steps, we were walking back into the campground and were at our camp site. It was a short and sweet pre-dinner hike.
Wrap-Up Notes
Camping at Sky Meadows State Park was a great experience. I loved that it was a short hike to the campground and that the sites offered quiet and privacy.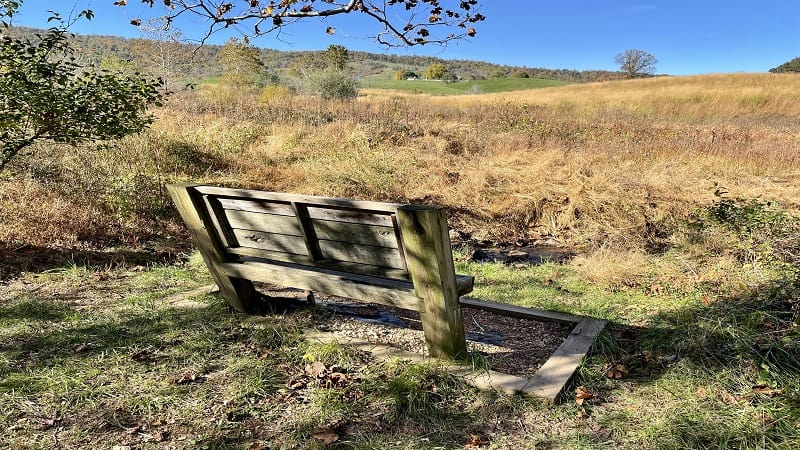 It was nice not to be so close to another site. We had neighbors, but could not see them. No car engines or flashlights could break the silence or the darkness.
Speaking of darkness, it's worth noting that Sky Meadows is an International Dark Sky Park. The park even holds monthly "Astronomy is for Everyone" programs.
I highly recommend Sky Meadows State Park in Virginia for camping on your own or with kids. It's also ideal as a very first backpacking trip.