In Haymarket, a Carefree Nature Hike at Leopold's Preserve
We recently explored a hidden gem in Haymarket called Leopold's Preserve. This 380-acre nature preserve rewards with seven miles of easy-going nature trails.
Leopold's Preserve surrounds Villages of Piedmont, a mid-size community of single-family homes and townhomes. The nature trail loops around the entire neighborhood.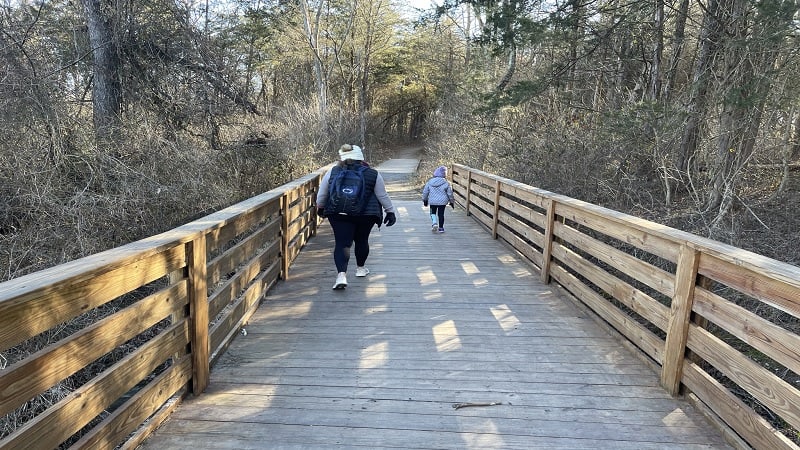 Plan to cross wooden boardwalks, stop for creeks and streams, climb atop tree stumps, observe wetlands and read up on nature at placards all across the preserve.
The full loop is nearly five miles, but there are a few different parallel path alternatives on the west side of the preserve, which allow you to create a short mini loop.
| Trail Stats | |
| --- | --- |
| Length | 4.7 miles |
| Difficulty | Easy |
| Trail Type | Loop |
| Elevation Gain | 154 feet |
| Duration | 2.5-3 hours |
| Terrain | Grass, gravel, boardwalk sections |
| Dog-Friendly | Yes |
| Fee | Free |
| Driving Directions | Click Here |
Arriving at the Trailhead
While this loop encircles a neighborhood, you do not need to park within Villages of Piedmont. Rather, there is a dedicated parking lot on Thoroughfare Road.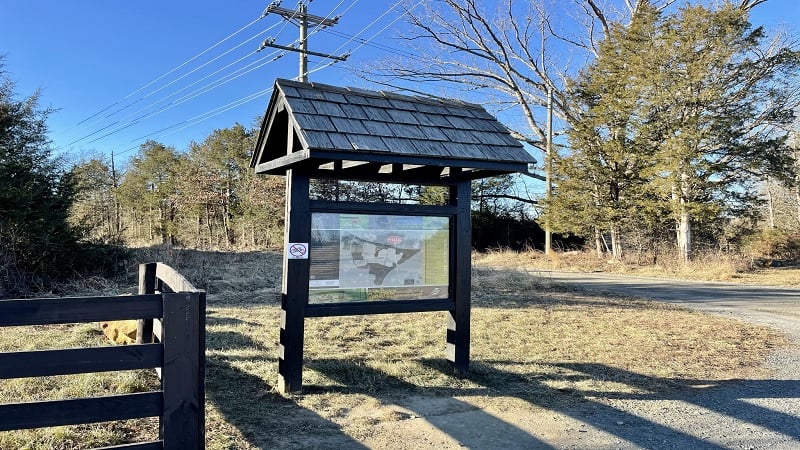 The parking area is a good size, with room for at least 30 cars. A large trail kiosk at the entrance features a trail map. The trail begins in the northeast corner of the lot.
You'll see two diverging paths at the trailhead. If you stay right, it's easy to create a short loop (see the AllTrails map below). We went left for the full loop (clockwise).
The First Steps
The trail begins alongside native grasses, but you'll quickly reach a relaxing small pond at the .2-mile mark. Then, the first of several stretches of wooden boardwalk.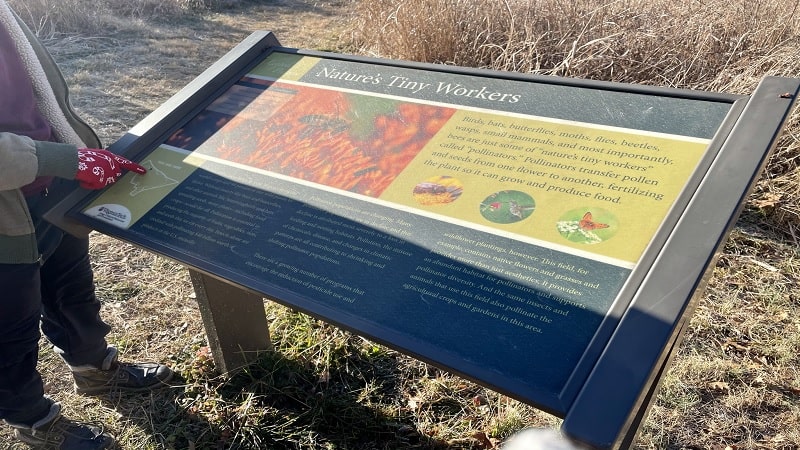 In a few more steps, you'll see the first of nearly three dozen colorful placards placed all along the trail. This one educates on pollinators, aka "Nature's Tiny Workers."
You may see a trail go off to the right at the .3-mile mark. Bypass this and continue on the left fork, which meanders alongside a casually flowing creek.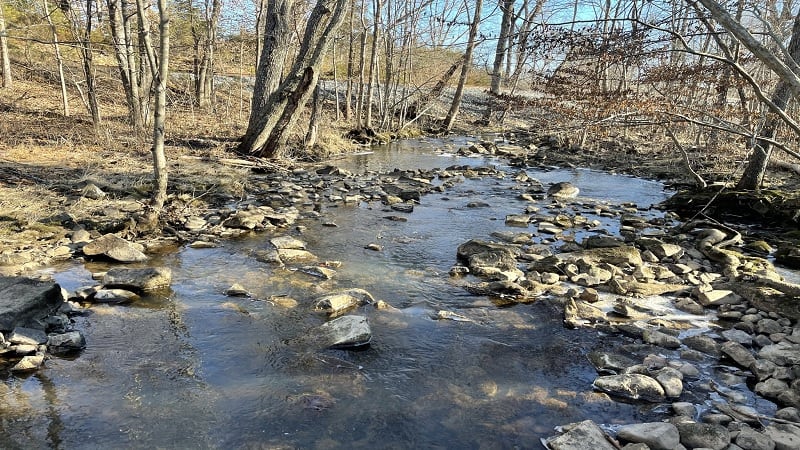 By the .6-mile mark you'll be able to get up close to the creek, which also parallels a section of railroad track. This will be your first opportunity to skip stones.
A grassy freshwater wetlands area turns up on the left at the .9-mile mark. In a few more steps you'll cross another boardwalk to enjoy the wetland views on both sides.
As you continue on, you'll pop back into old growth forest, alternating on stretches of wooden boardwalk and easy-going gravel trails.
In a few more steps, you'll be alongside the North Fork of Broad Run. At the 1.2-mile mark, you're in the perfect spot to toss in stones or enjoy creek stompin' in summer.
Proceed on and you'll spy an ideal tree stump for a pose or two. Then, at the 1.3-mile mark, another chance for good old-fashioned creek stompin'. Splash, splash.
From here, the trail meanders through the wooded forest. At the 2.2-mile mark, the trail transitions to paved path as you prepare to cross over Market Ridge Boulevard.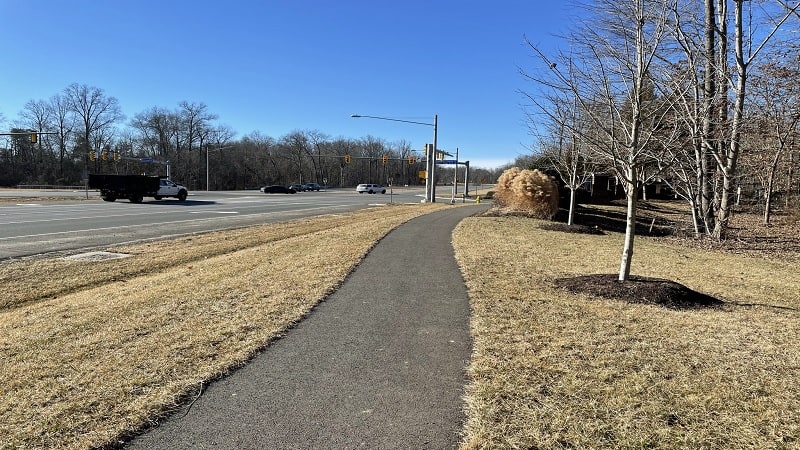 This is the main road into Villages of Piedmont. Once you cross over this road you'll quickly see the continuation of the nature trail, which dips back into the woodlands.
At the 2.4-mile mark, keep your eyes open for a second tree stump. It's taller than the first, but still well worth climbing on top for a strong man pose or two.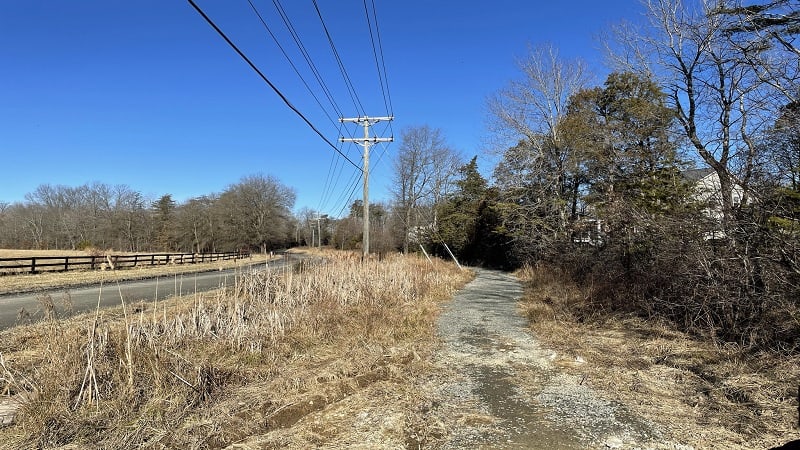 A beautiful pond appears on the right at the 3.2-mile mark. In a few more steps, you'll turn right to walk on gravel trail alongside Thoroughfare Road.
At the 3.7-mile mark, the nature trail leads back into the forest, but it's a touch confusing since there are two trails. We turned right, but both will close the loop.
We turned left at a split at the 4.3-mile mark. I honestly didn't know which way to go, but I was glad we veered left to see an old abandoned wooden shed.
In a few more steps, we reached a dilapidated, abandoned home that was built in 1960 on property of a former African-American family homestead from the 1900's.
You can peek inside the home, but I wouldn't go inside since it doesn't look entirely safe. There's plenty to see of the interiors from the open windows.
Continue on and turn left at the 4.6-mile mark. From here you're just a few steps from the trailhead. Your hike is complete. Celebrate.
Wrap-Up Notes
This Northern Virginia hike took us two hours, 30 minutes to complete, including time spent enjoying creek views and peering into the windows of the abandoned home.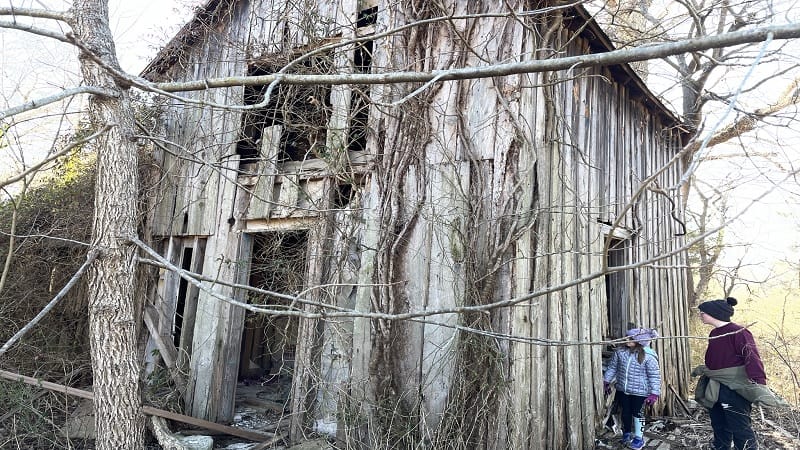 For post-hike snacks, the small town of Haymarket is only a five-minute drive. Even closer is The Farm Brewery at Broad Run (only three minutes by car).
At The Farm Brewery, you'll find brews, tunes and kid-friendly eats, like chicken tenders, personal pizzas, hot dogs and corn dogs.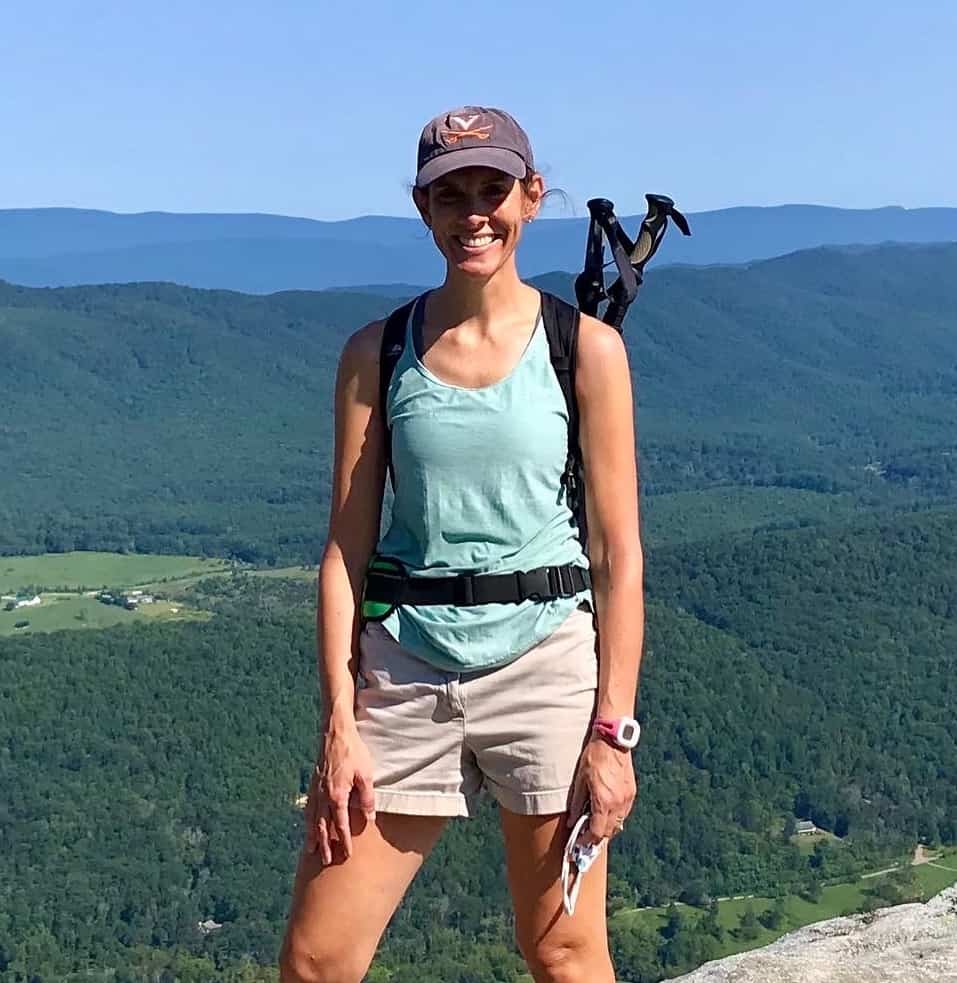 Erin Gifford is the editor of Go Hike Virginia. She has completed more than 300 hikes in Virginia. She is also the author of three hiking guidebooks from Falcon Guides. Need help finding a hike? Check out the Trail Finder feature or send Erin a message.