5 Enchanting Treehouse Rentals in Virginia
I'll admit, the thought of sleeping in an actual treehouse is pretty cool. You're tucked away in the woods. You can practically touch the tree branches.
There are several magical treehouse rentals in Virginia. These are actual weekend rentals in trees, up above the ground.
Treehouse Rentals in Virginia
All enable bird's eye views to allow you to enjoy the woods and forest from a new perspective. All are close to nearby hiking trails, too.
Here are five treehouse rentals in Virginia that you'll want to book now. Ranging from rustic to modern, these treehouses are the way to savor nature.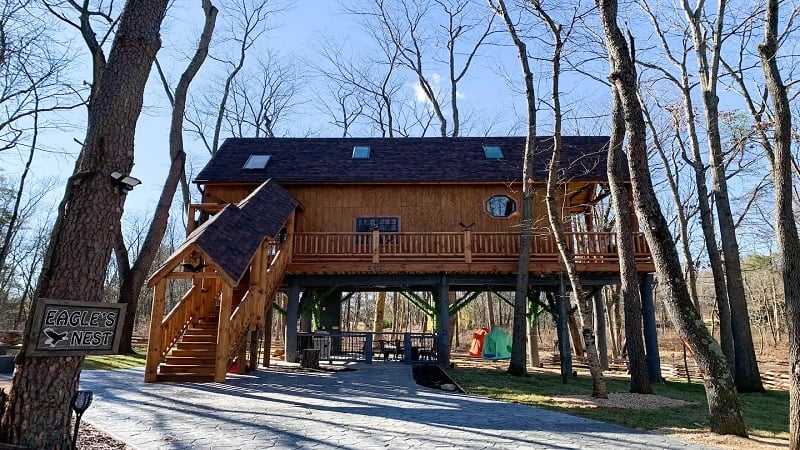 It's not hard to love this cabin up in the trees, especially when it's described as both rustic and luxurious. This treehouse stay will delight your inner child.
This one-bedroom treehouse is 17 feet above the ground. It has all the modern conveniences too, like a hot tub, wi-fi, gas fireplace and a screened porch.
Hanging rope chairs on the deck and swinging play forts under the treehouse at the lower patio area add to the fun. Rental rates start at $245/night.
This 400-square-foot treehouse is tucked away in a verdant pine forest, just waiting to be discovered. The porch allows for gorgeous river views.
This one-bedroom treehouse sleeps two guests and wows with a spiral staircase, salvaged barn beams and a gas fireplace, even a marble tile shower.
Guests enjoy access two kayaks, a canoe and a fire pit. Natural Chimneys Regional Park is a short drive for hiking. Rental rates start at $219/night.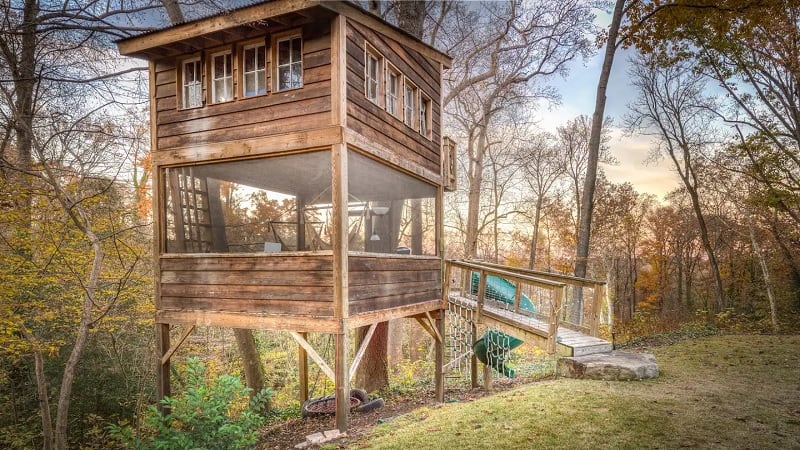 Let me tell you, the Trailside Treehouse makes all the "best of" lists. It's on my must-go list too, but make note, this is no luxury treehouse.
There is no central air or heat. There is also no bathroom. You enjoy both in the host's home, just steps from the treehouse. But, that's not why you book.
You book for the experience of a stay in an actual two-story treehouse that has a slide and is near the Buttermilk Trail. Rental rates start at $277/night.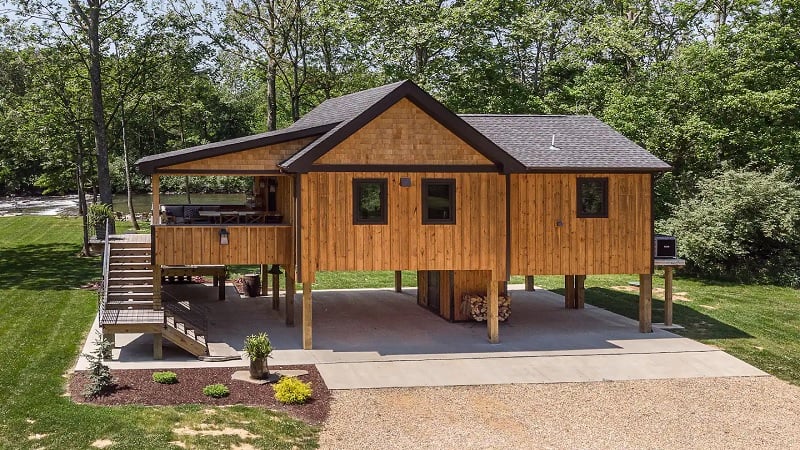 For a luxe treehouse rental with river views, book the Maury River Treehouse in Rockbridge County. This waterfront timber frame treehouse is beautiful.
This one-bedroom stay sleeps up to four people and wows with a stone fireplace, a gourmet kitchen and a deck that's just right for wildlife watching.
Just nine miles from Lexington, this treehouse is a short drive from Natural Bridge State Park for hiking and stargazing. Rental rates start at $379/night.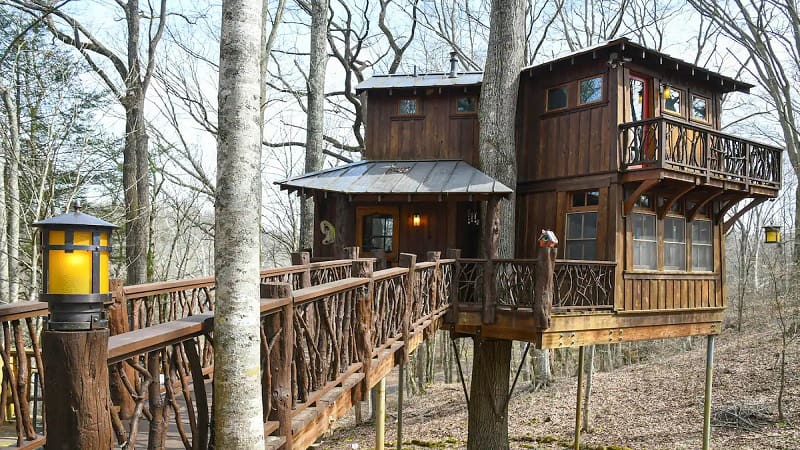 Set on the Virginia Creeper Trail in Abingdon, this treehouse rental is a great home base for biking along the 34.3-mile Virginia Creeper Trail.
The Virginia Creeper Trail runs from Whitetop to Damascus, crossing over trestle bridges and alongside cooling streams all along this rail-to-trail route.
This two-story treehouse has all the necessities, but do note that there is no wi-fi or television. Instead, hike Molly's Knob. Rental rates start at $249/night.
If you like these treehouse rentals in Virginia, you may also want out to check out these 20 cozy Shenandoah cabins to book for a weekend stay in nature, too.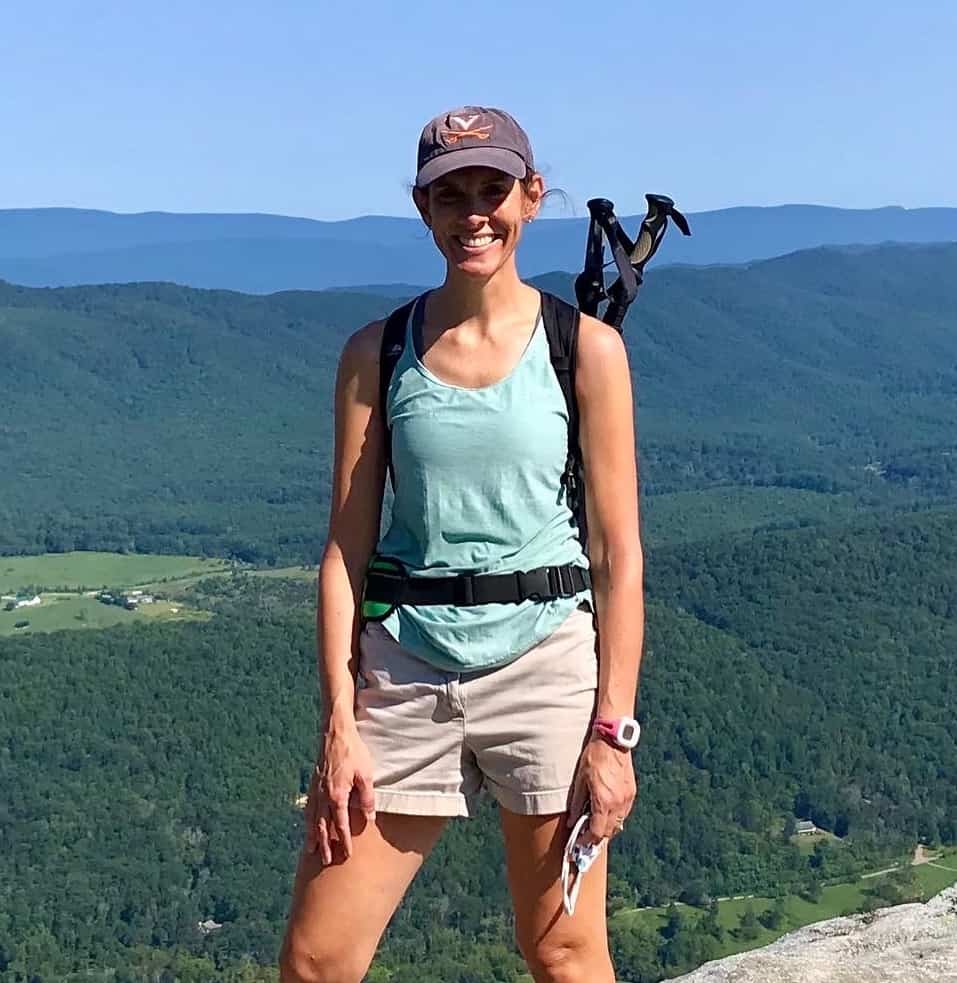 Erin Gifford is the editor of Go Hike Virginia. She has completed more than 300 hikes in Virginia. She is also the author of three hiking guidebooks from Falcon Guides. Need help finding a hike? Check out the Trail Finder feature or send Erin a message.