A Historic Hike on the Matthews Hill Loop in Manassas
A month or so ago, I hiked the First Battle of Manassas Trail at Manassas National Battlefield Park in Northern Virginia.
I really enjoyed this historic hike in Virginia, but I was eager to find a shorter alternative for those not on board to hike 5.5 miles.
I scoured AllTrails.com and reviewed the park's trail map for lower mileage options. Both were massive fails in their own ways.
I ended up hiking what I call the 2.6-mile Matthews Hill Loop, though it's hard to tell whether this is the same loop trail that the park identifies on the trail map.
The park map was an enigma and the lack of on-trail signage was frustrating. I only ever saw the one sign above near the end of my hike.
AllTrails.com, which I would recommend to anyone, let me down too. I was excited to hike the 2.3-mile out-and-back hike to Matthews Hill from the site.
It was terrible. No signage. No history. Worse, the hiking trail just ends on the GPS map and you turn around. Lame.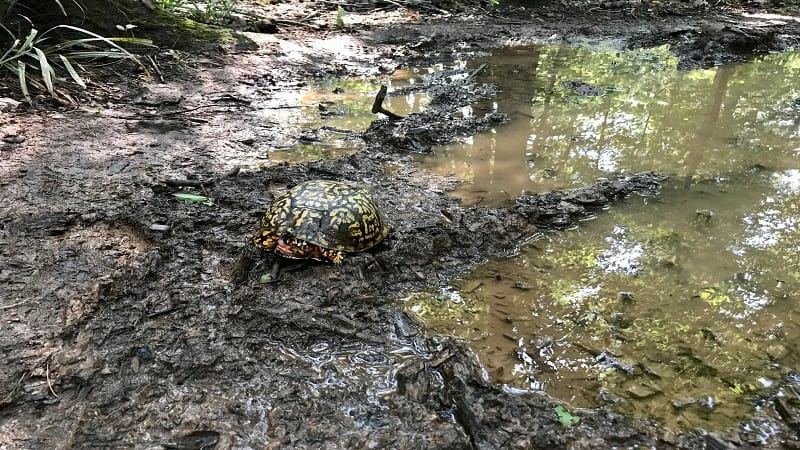 However, the 2.6-mile Matthews Hill Loop was mostly a success.
There was shade, there was history. There was also mud (and an adorable box turtle!), but fortunately not enough to make the trail impassable.
| Trail Stats | |
| --- | --- |
| Length | 2.6 miles |
| Difficulty | Easy |
| Trail Type | Loop |
| Elevation Gain | 121 feet |
| Duration | 1-1.5 hours |
| Terrain | Mostly dirt trail, some gravel and grass |
| Dog-Friendly | Yes |
| Fee | Free |
| Driving Directions | Click Here |
Arriving at the Trailhead
The parking lot for this trail is about 1.5 miles from the Henry Hill Visitor Center at Manassas National Battlefield Park.
It's not as large as the lot at the visitor center, but still large enough for a dozen or so vehicles.
The only trailhead at this parking lot is for the Matthews Hill Loop. There is a trail sign at the corner of what appears to be two trailheads.
One trail is a wide swath of paved grass going uphill under full sun to the right. The other is a shady forest trail to left.
I chose the cool, shady trail to the left. This is the way my AllTrails app wanted me to go. This was not the correct trail after later reading the trail sign in a photo I snapped while standing there confused.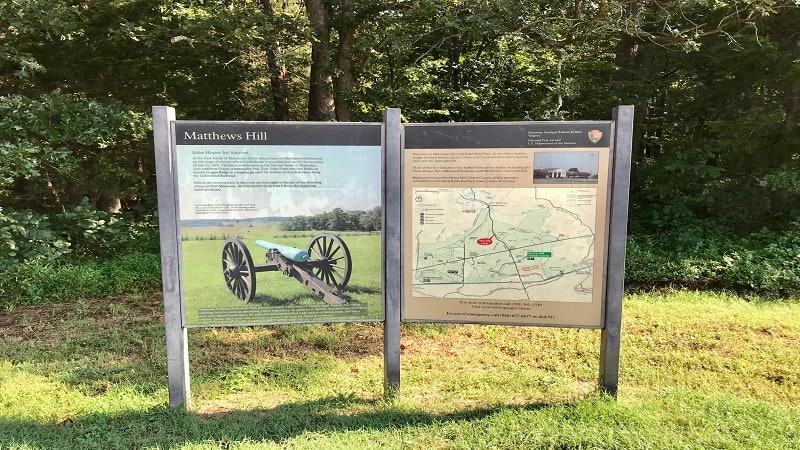 The First Steps
As you can imagine, my first steps were cool and relaxing. It was a mostly dirt trail with more than a few muddy patches after the rain we'd had this week.
Watch your step as this hiking trail is shared with horses (though the park does not offer guided horseback rides).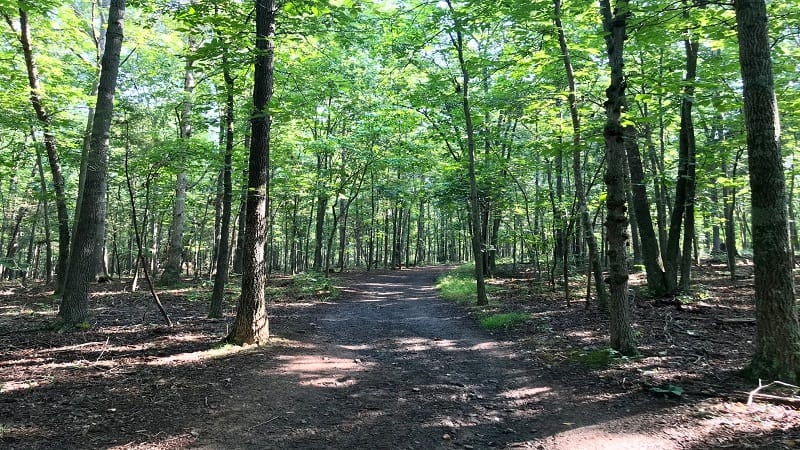 Given this is a national battlefield park, I was eager for placards or monuments to fallen Civil War soldiers and heroes. I saw not a single one on this first section of trail.
I did, however, spy an equestrian center on the left though the trees, but that was the closest I came to seeing horses on-trail.
At the .2-mile mark you'll reach an unmarked intersection, so turn right to stay on the trail. You'll reach another intersection at the .6-mile mark.
Continue straight to stay on the trail. Shortly after this, maybe by the 1-mile mark, the trail just ends (per AllTrails).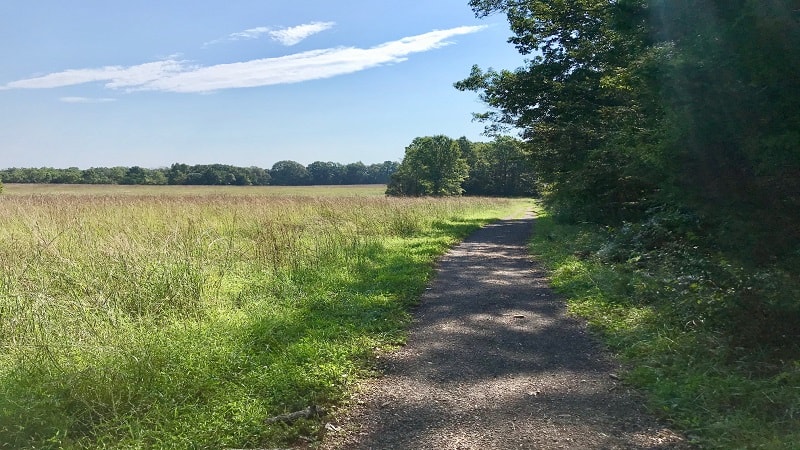 I just kept walking, hoping there was something more and that I could find my way back to my car without traversing the entire battlefield.
By the 1.15-mile mark you'll reach a gravel trail and a wide-open field. It was kind of exciting to imagine this as a battlefield years ago.
In another few steps, you'll reach another T-intersection. Turn right to stay on-trail. At the 1.5-mile mark, turn right onto the blue-blazed First Battle of Manassas Trail.
Soon you will see a sign indicating the Carter Cemetery is a short walk to the left down a spur trail.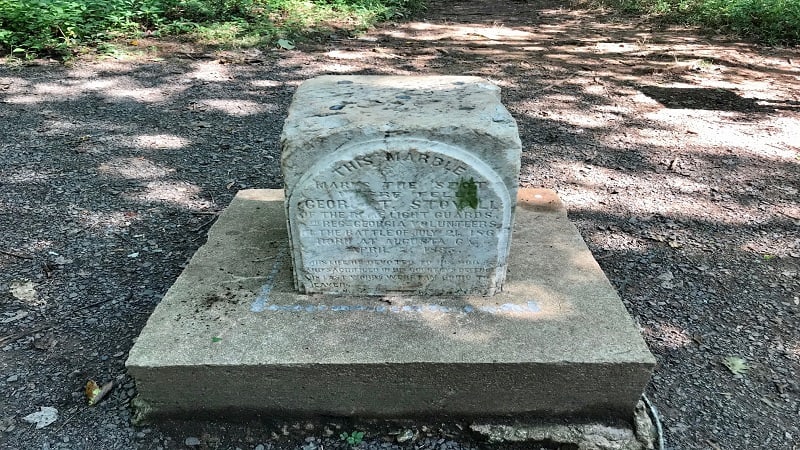 Continue on until you reach a historic marker for George T. Stovall, a fallen soldier from the 8th Georgia Infantry. You'll see a short spur trail at the 2.2-mile mark leading to this aging marker made of marble.
As I continue on the First Battle of Manassas Trail I see the very first sign indicating I am on the Matthews Hill Loop. Sigh.
In another few steps, the forest will clear for a wide-open space. Matthews Hill is in the southeast corner of a four-way intersection of mowed grass.
This site was recognized as a key location in the First Battle of Manassas in July 1861. Here, the Union troops were (falsely) on the brink of victory on the crest of Matthews Hill.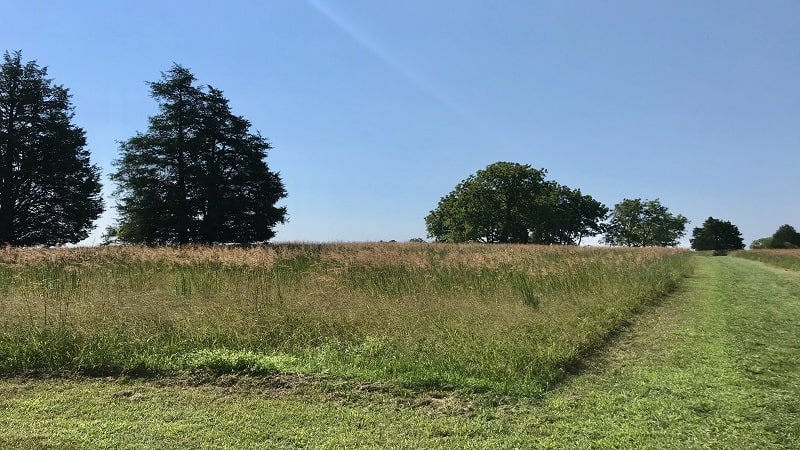 From here, turn right and walk down the hill to return to the parking area. All in all, it was a nice trail and there were some historical elements.
However, for Civil War history, I will return another day to re-hike the First Battle of Manassas Trail.
Hike Options
For a longer hike, add on the full First Battle of Manassas Trail for additional history-rich steps across the famed battlefield.
For a shorter hike, opt for the Henry Hill Loop. This 1.2-mile hike begins and ends at the Visitor Center, making several stops for monuments and placards that go into more detail on the events of the battles at this site.
Wrap-Up Notes
From the parking area, this hike in Northern Virginia took me 50 minutes. From Manassas National Battlefield Park, it's a short drive to Old Town Manassas.
Stop in quaint shops and galleries along historic Center Street. The 1950's style scoop shop, Jitterbugs Ice Cream Café, wows with tempting flavors like Campfire S'mores and Peanut Butter Pie.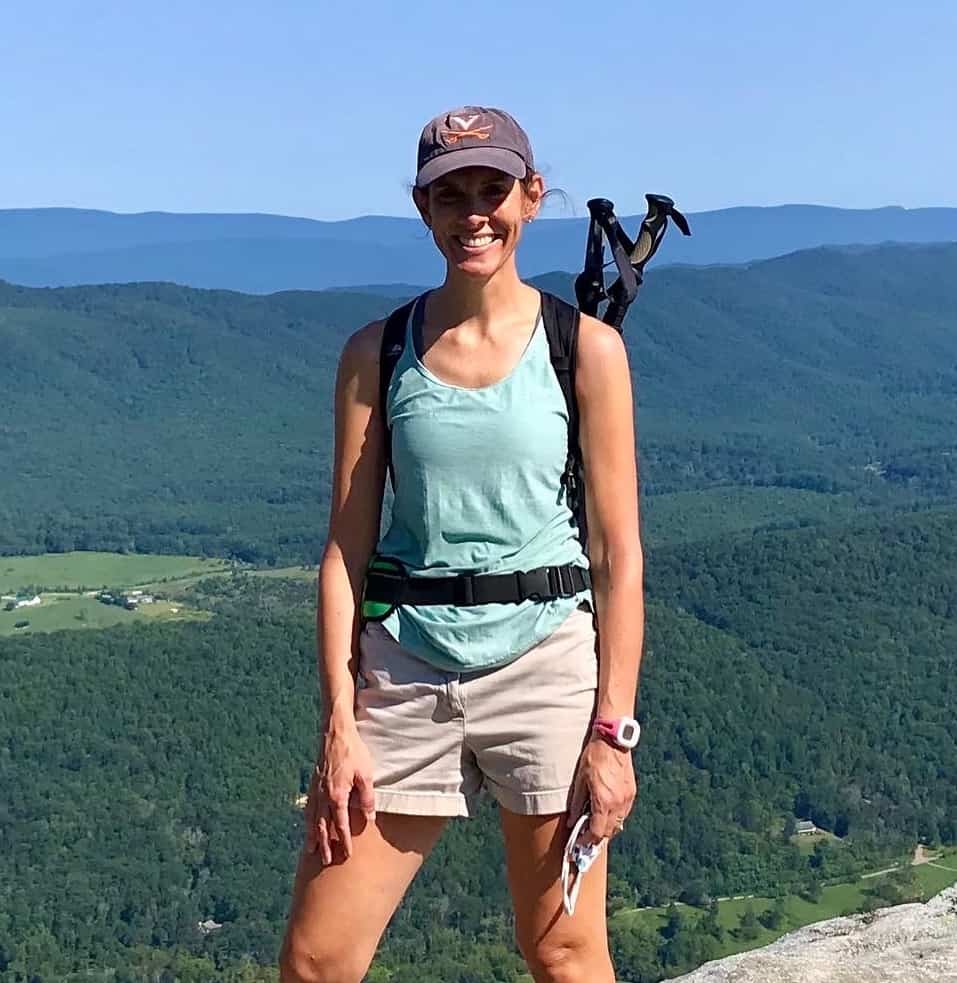 Erin Gifford is the editor of Go Hike Virginia. She has completed more than 300 hikes in Virginia. She is also the author of three hiking guidebooks from Falcon Guides. Need help finding a hike? Check out the Trail Finder feature or send Erin a message.