For Civil War History, Take a Hike on the First Battle of Manassas Trail
For a satisfying hike that goes beyond forest and trees, consider a historic hike in Virginia on the 5.5-mile First Battle of Manassas Trail at Manassas National Battlefield Park.
Wander open fields where Union and Confederate armies first engaged in combat on July 21, 1861 as cannons fired and troops from both sides clashed during the Civil War.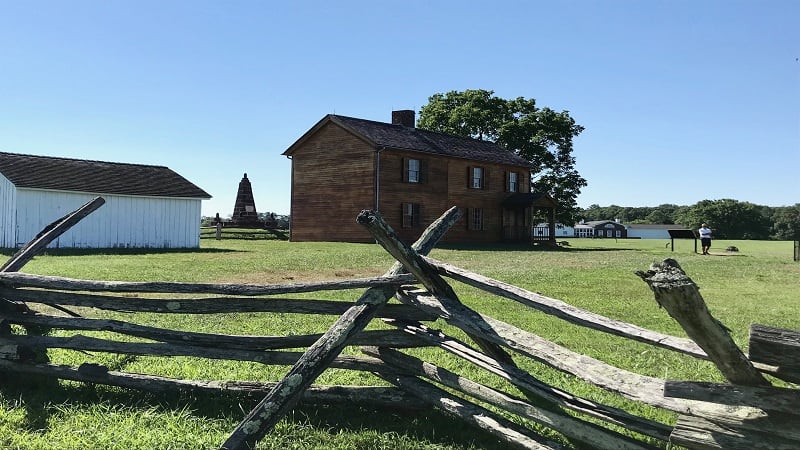 This Northern Virginia hiking trail also includes shaded miles across a dense forest to balance out time spent under full sun exploring field artillery.
Make stops for the two-story Stone House, which became a makeshift hospital for wounded soldiers and Henry Hill, the site of the Civil War's first and only civilian casualty.
| Trail Stats | |
| --- | --- |
| Length | 5.5 miles |
| Difficulty | Easy |
| Trail Type | Loop |
| Elevation Gain | 367 feet |
| Duration | 2-3 hours |
| Terrain | Grass, gravel, dirt, some boardwalk |
| Dog-Friendly | Yes |
| Fee | Free |
| Driving Directions | Click Here |
Arriving at the Trailhead
The trailhead is steps from the Henry Hill Visitor Center and a large parking lot. This loop trail can be completed in either direction.
I started clockwise, which allowed me to first explore key Civil War sites, such as Matthews Hill, which was home to the opening days of the First Battle of Manassas.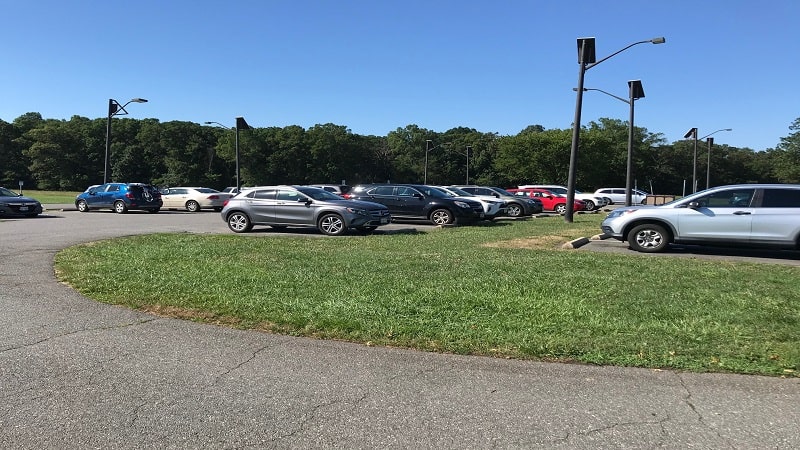 The First Steps
Not long into the hike, stop for a colorful placard to read up on the events that took place on Matthews Hill. It's hard to imagine thousands of Union troops rushing down this hill.
This location is now home to a fairly busy four-way traffic stop at Lee Highway and Sudley Road.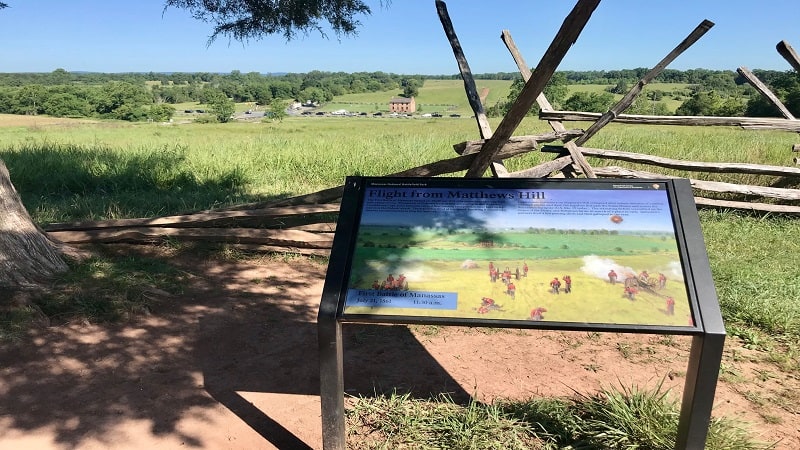 There is also a rock quarry just a few minutes up the road, so large dump trucks frequent this intersection.
I had to wonder what soldiers on both sides would think to see the site of this momentous battle in present day.
The first 1.5 miles of this trail puts one's imagination on overdrive as you cross the fields and ponder the events of this first battle.
Soon you will enter a fairly dense, shaded forest. Here, the scenery changes, but so does the trail make-up as it transforms from grass to gravel.
Every so often, the trail morphs from open field into green, leafy forest. The trail is flat, then there are rolling hills, allowing for an engaging terrain.
After about three miles, the slow-moving, meandering stream called Bull Run appears on the left alongside the trail.
You may even spot a handful of people with fishing poles trying their luck to see what they can catch in the clear stream.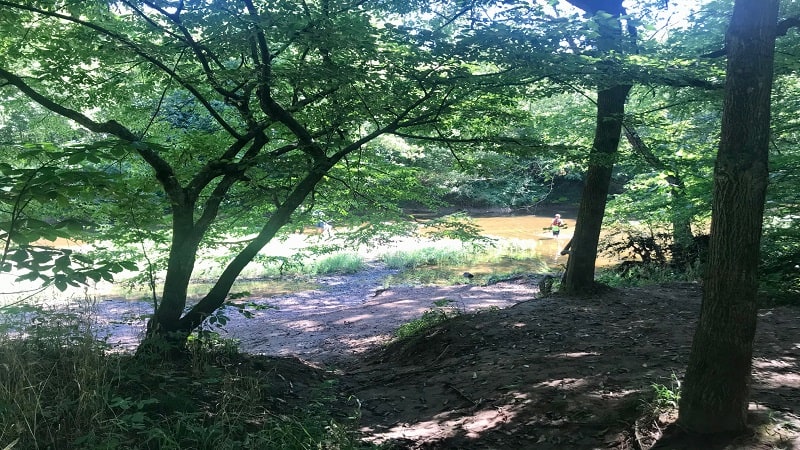 Continue on until you reach Stone Bridge near the 3.5-mile mark of the hike. Here the trail veers to the right, but before you turn right to stay on the trail, look left.
You'll spy a scenic spot that's perfect for a snack break and a quick splash in the stream waters. Maybe even see how you do skipping stones.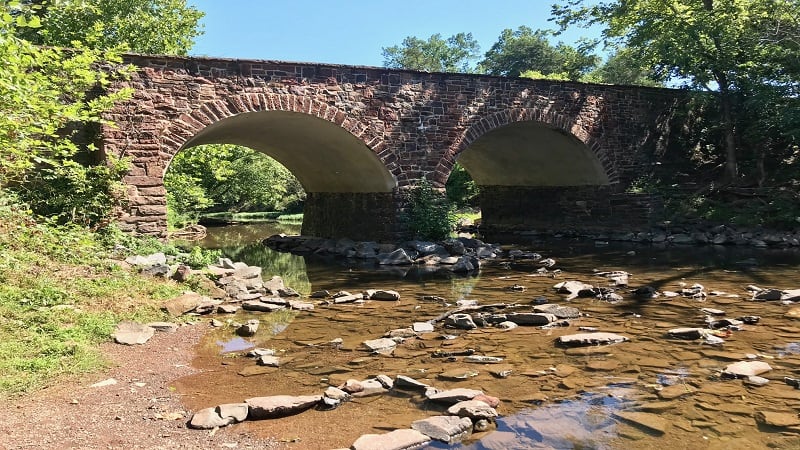 The trail soon turns into a delightful – though narrow – wooden boardwalk path.
From here, there is a mix of open fields and shady forest before you must carefully cross Lee Highway to connect with the First Battle of Manassas Trail.
The last 1.5 miles of the trail is quiet and serene, almost all forested trail and far from the sounds of dump trucks and commuters.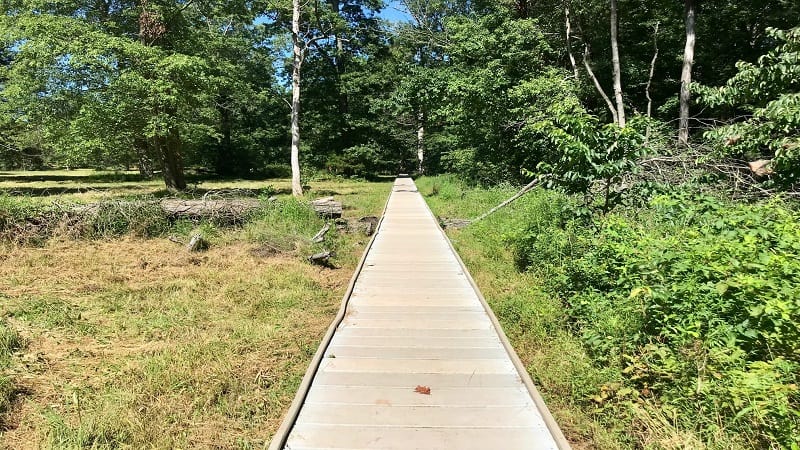 As the trail comes to an end, you'll see a half-dozen cannons set up for one more look at the military artillery of the Civil War era.
Continue on a few more steps to the Henry Hill Visitor Center. Restrooms are located behind the building.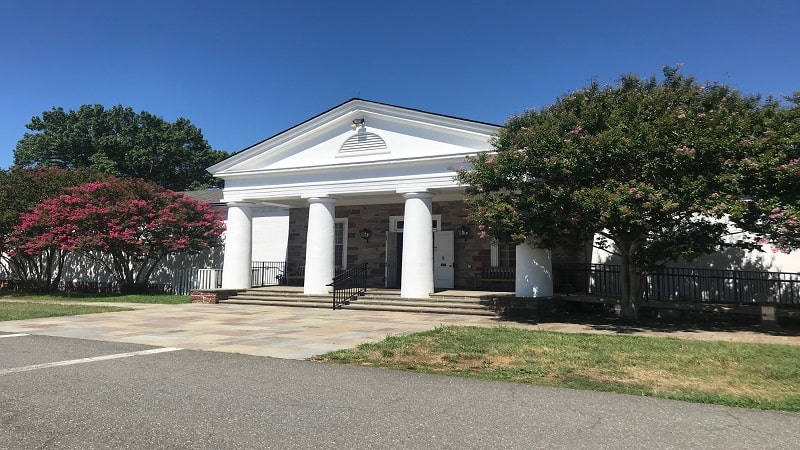 Inside the Visitor Center, ask for a Junior Ranger Activity Booklet (if you brought school-age children with you).
You'll want to pick one up before the hike as several activities in the booklet must be completed outside, like visiting the Henry Hill Monument and 7th Georgia Marker.
The Visitor Center also shows a park orientation film and has a variety of artifacts and exhibits on display.
Hike Options
For a longer hike, add on one of several loop trails that jut off from the main trail, such as the Matthews Hill Loop Trail (.9-mile) and Stone Bridge Loop Trail (1.3-miles).
Both offer additional history-rich steps across the famed battlefield.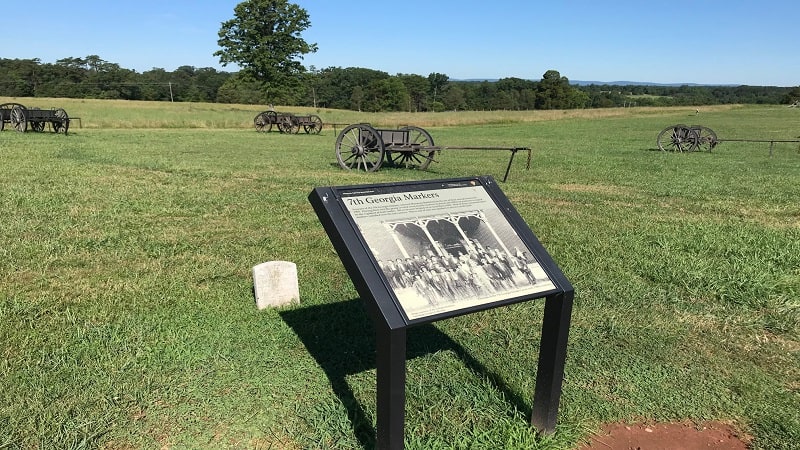 For a shorter hike, replace the First Battle of Manassas Trail with the Henry Hill Loop Trail. This 1.2-mile hike also begins and ends at the Visitor Center.
On this short hike, you'll also make several stops for monuments and placards that go into more detail on the events of the battles at this site.
Wrap-Up Notes
From the parking area, this hike took me just under two hours. However, this hike could take longer depending on how many placards you want to read along the way.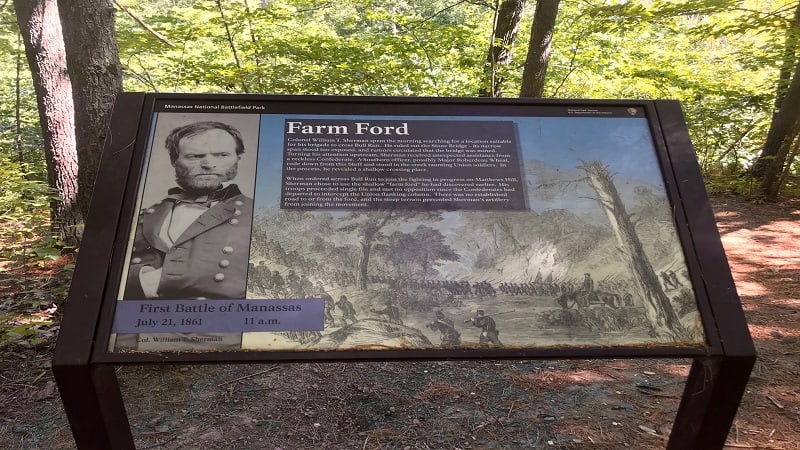 From Manassas National Battlefield Park, it's a short drive to Old Town Manassas. Pop into quaint shops and galleries that sit along historic Center Street.
Stop in the 1950's style scoop shop called Jitterbugs Ice Cream Café for tempting flavors like Campfire S'mores and Peanut Butter Pie.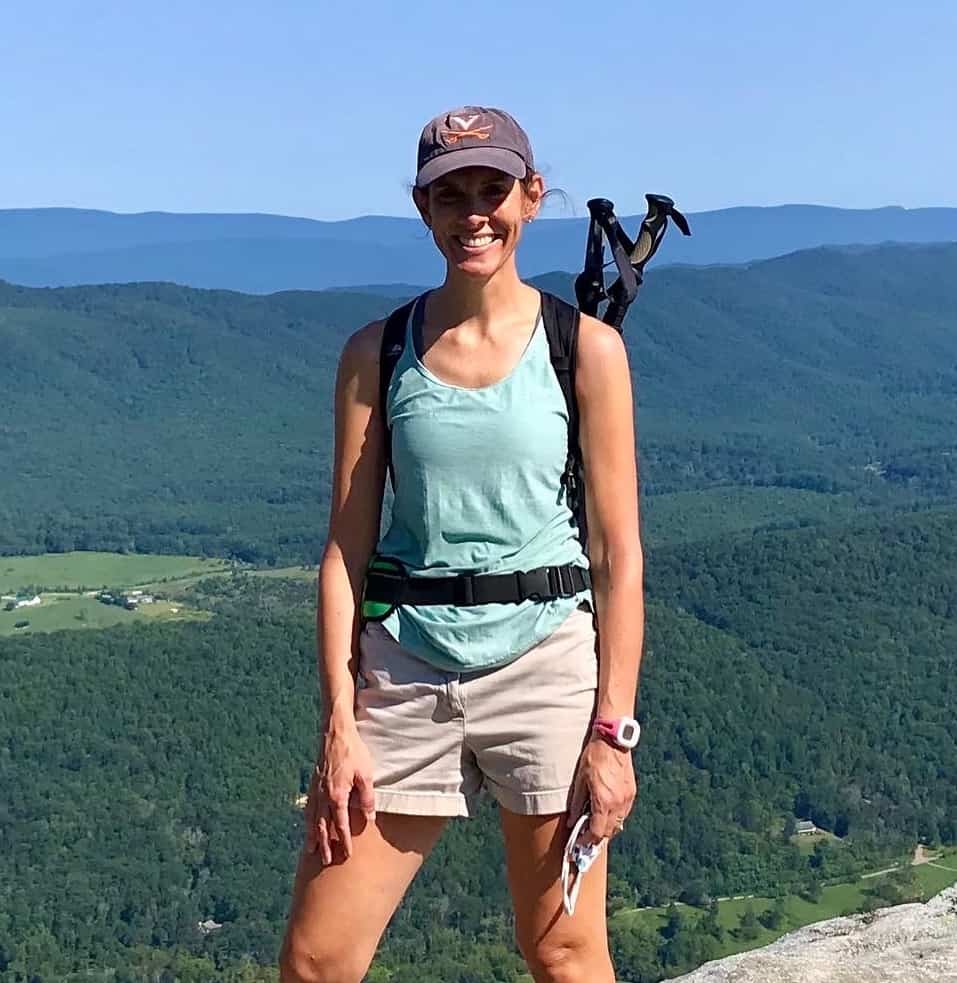 Erin Gifford is the editor of Go Hike Virginia. She has completed more than 300 hikes in Virginia. She is also the author of three hiking guidebooks from Falcon Guides. Need help finding a hike? Check out the Trail Finder feature or send Erin a message.