10 Easy Hikes in Virginia with Refreshingly Beautiful Water Views
There's just something about an easy-going hike that guides you alongside a lake or a reservoir, maybe a calmly flowing river. They are so peaceful and relaxing.
Especially during the pandemic, these mindful hikes with sweeping water views have been just right for self-care, if you know what I mean.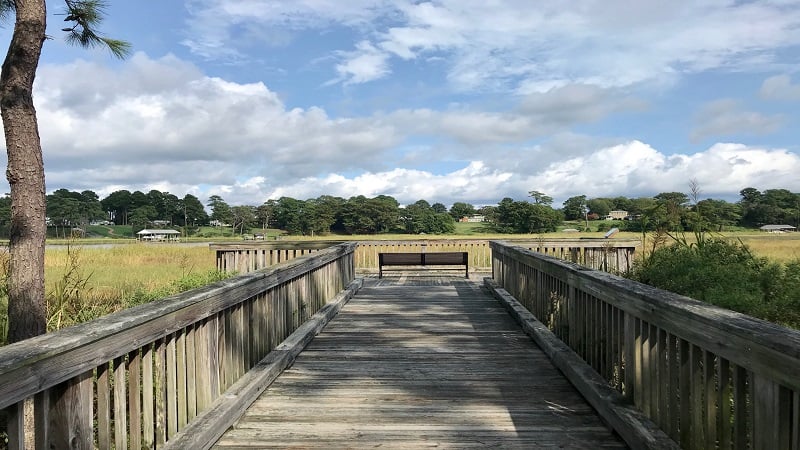 I've completed more than a few hikes over the last year to relish the views across pristine lakes, creeks, streams, ponds and reservoirs, even tidal marshes.
Here are 10 of my favorite hikes in Virginia with water views that are just right when you need a mental health break. Enjoy.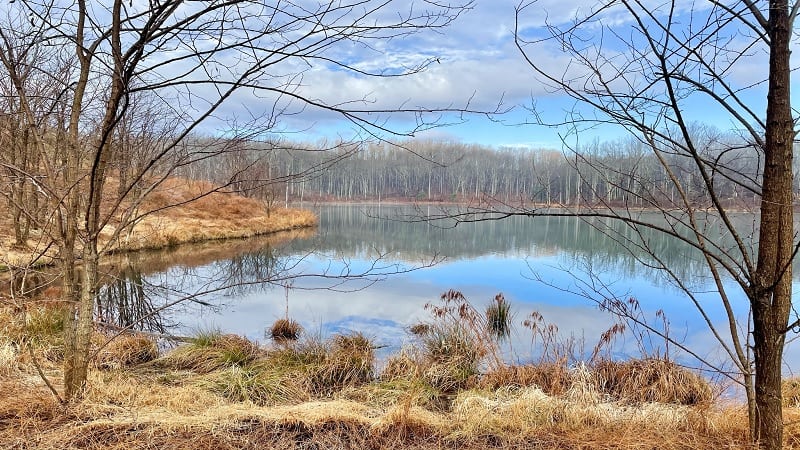 The centerpiece of Ragged Mountain Natural Area is Ragged Mountain Reservoir. The 7.0-mile Lake Front Trail circumnavigates the 170-acre reservoir.
Walk along the Lake Front Trail, making sure to stop to savor the views at Rocky Peninsula. Then, prepare yourself for a few surprises as you continue along the loop.
As in, wood carvings, including two owls, an eagle, two bears and a turtle, even a Davy Crockett-style pioneer. They are truly whimsical and such a delight.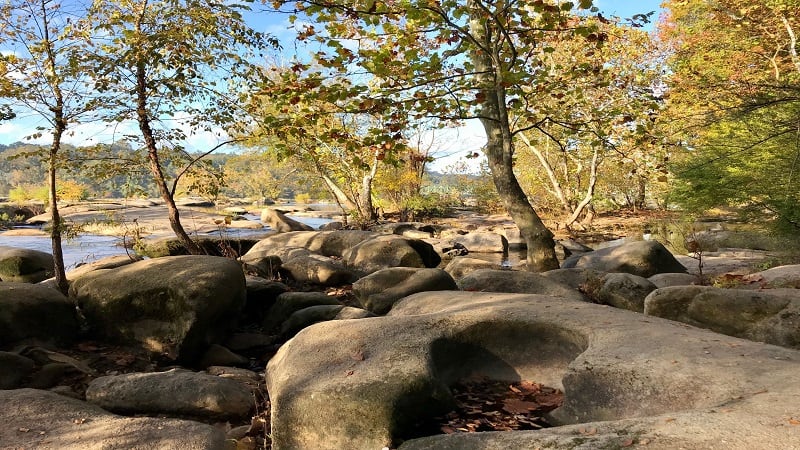 This leafy urban hike begins at the North Bank Entrance of James River Park, slowly guiding hikers to and along the flowing James River.
But first, get ready to be wowed by the colorful Texas Beach Murals that first cropped up in 2014 as a way to cover up graffiti in the stairwell that crosses over train tracks.
Nature- and wildlife-themed murals delight day hikers. Continue on for footbridges and dam-created waterfalls before reaching the sandy path alongside the James.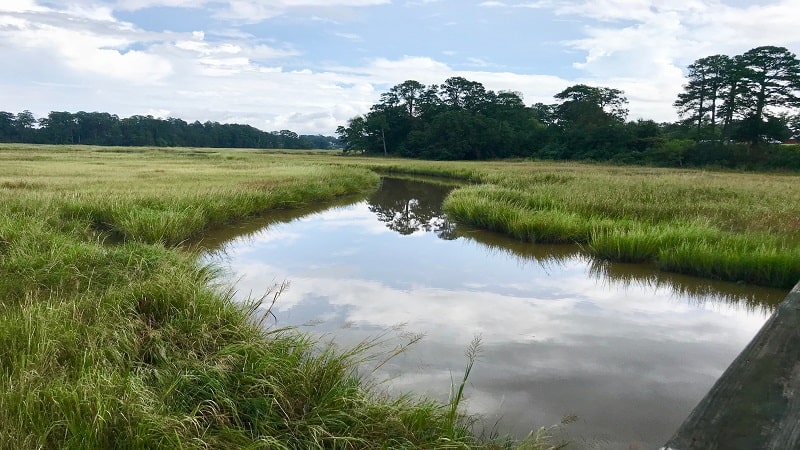 There's just something about a town park called Windsor Castle Park. So regal. The name alone begs a visit to this idyllic 208-acre riverside park in Smithfield, Virginia.
The Windsor Castle Park Trail encircles this delightful green space, forming two connected loops (or a figure eight). Along the way, cross over scenic tidal marshes.
If time allows, step off the path and continue on to reach a fishing pier, a kayak launch and a scenic overlook that juts out over the wetlands.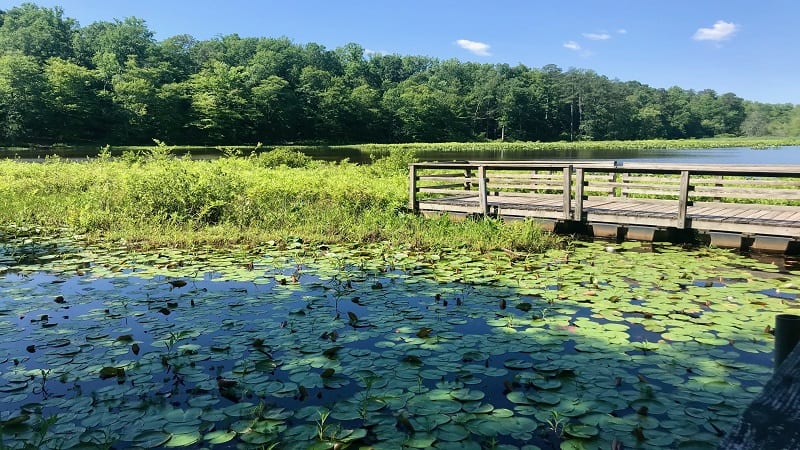 The walk around Beaver Lake at Pocahontas State Park is a relatively secluded loop with mild terrain and evolving scenery, like bridges and wooden boardwalks.
The views across lily pad-strewn Beaver Lake are especially delightful. Even better, wooden benches turn up every .5-mile along this shaded hiking trail.
Late in the hike, look for a dam that gracefully cascades water onto a scenic spillway. This is an exceptionally popular spot to stop for a snack break or to re-hydrate.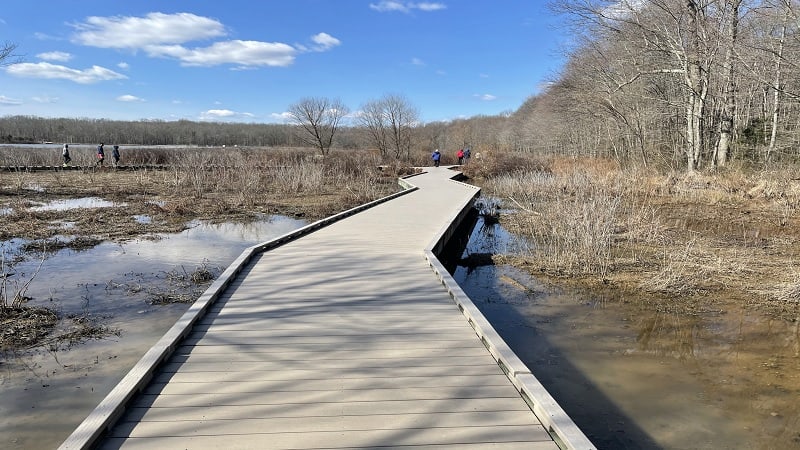 When you need your nature fix in Northern Virginia, you don't need to put many miles on your car. A wildlife-filled oasis awaits at Huntley Meadows Park in Alexandria.
This freshwater wetland area is one of the rarest natural habitats in Fairfax County. It's also home to a range of wildlife, from painted turtles to barred owls to great egrets.
Three hiking trails – Cedar Trail, Deer Trail and Heron Trail – create a relaxing 1.8-mile loop. The easy, flat trails are a favorite with families, as well as wildlife photographers.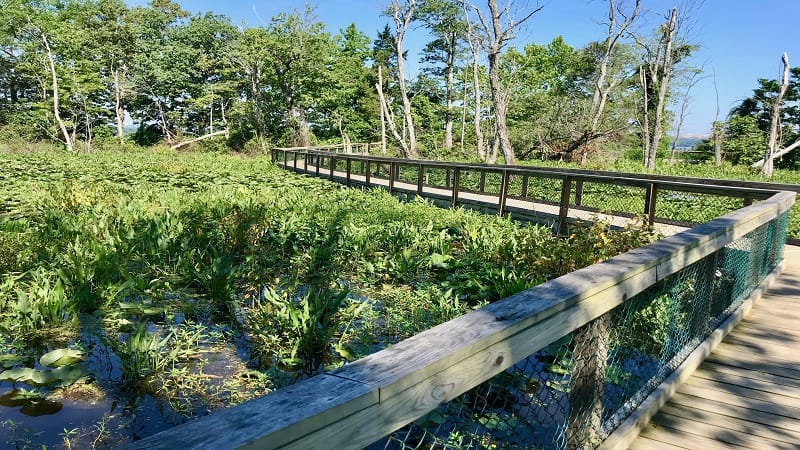 The flat, shady Bay View Trail at Mason Neck State Park may clock in at just 1.0-mile, but it's a nice loop hike that wows with dramatic views across Belmont Bay.
Take in the eclectic mix of wooded forest, sandy coastline and verdant wetlands. A wooden boardwalk guides visitors across a lily pad-strewn freshwater marsh.
Post-hike, enjoy lunch in the large picnic area, burn off energy on the playground or settle in under a shady tree on the small sandy beach at Belmont Bay.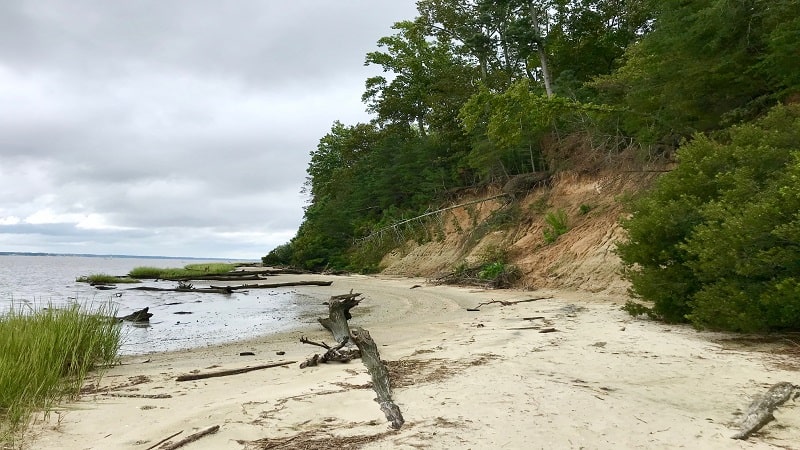 The coastal hike to Fossil Beach at York River State Park guides park-goers along the Woodstock Pond Trail and Mattaponi Trail to reach the soft sand of Fossil Beach.
Look for treasure-hunting fiddler crabs scurrying in the tall beach grasses. Keep your eyes open for sharks' teeth and fossilized mollusk shells, like the Chesapecten Middlesex.
Every visitor is allowed to take home one fossil from Fossil Beach as a souvenir. The best time to hunt for fossils is at low tide.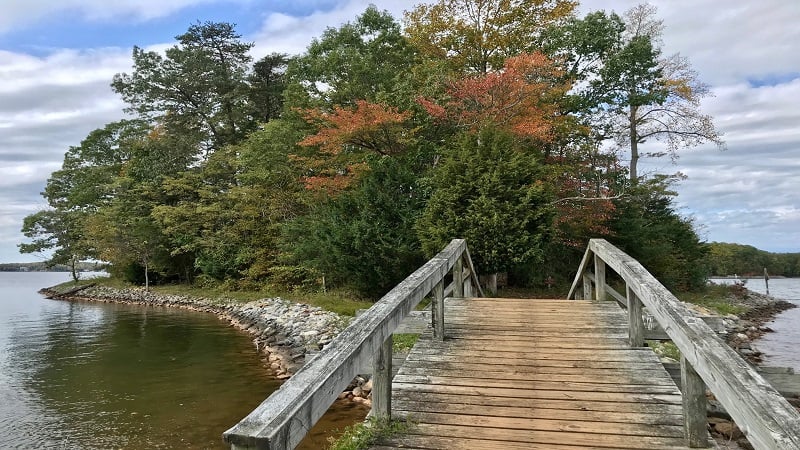 Smith Mountain Lake State Park may be better known as a go-to destination for water sports, but there's a lot to love on dry land too, like the Turtle Island Trail.
This popular 1.4-mile loop hike leads to a small island and a path that outlines the perimeter of the island. A small beach area precedes the footbridge to the island.
Look for placards early in this hike that educate park-goers on how abandoned fields at the state park transformed into a wooded forest over the course of 125 years.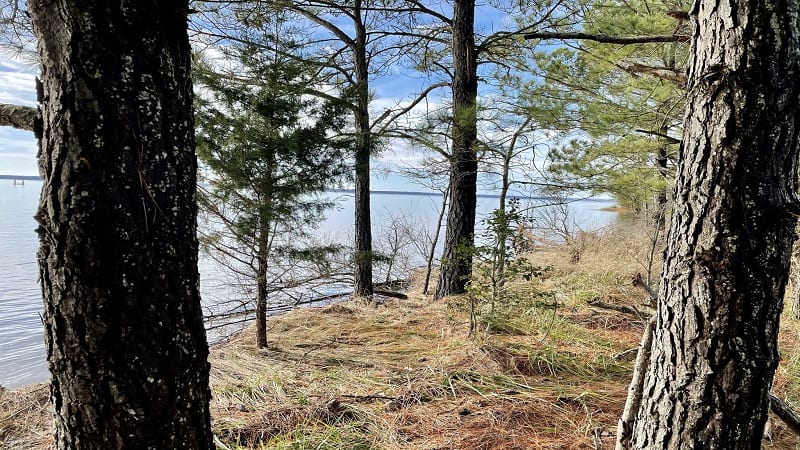 Easy coastal hiking trails wow visitors all across Belle Isle State Park. At 1.9 miles (one-way), the Mud Creek Trail is the longest trail in this state park.
On my recent visit, I patched together several trails, including the Mud Creek Trail, to create a delightful hike with boardwalk trail, coastal marshes, even a small beach.
Walking along the Mud Creek Trail near the campground, look right as you enter the White Oak Swamp Loop. In winter, you may spy a rainbow of colors on the murky waters.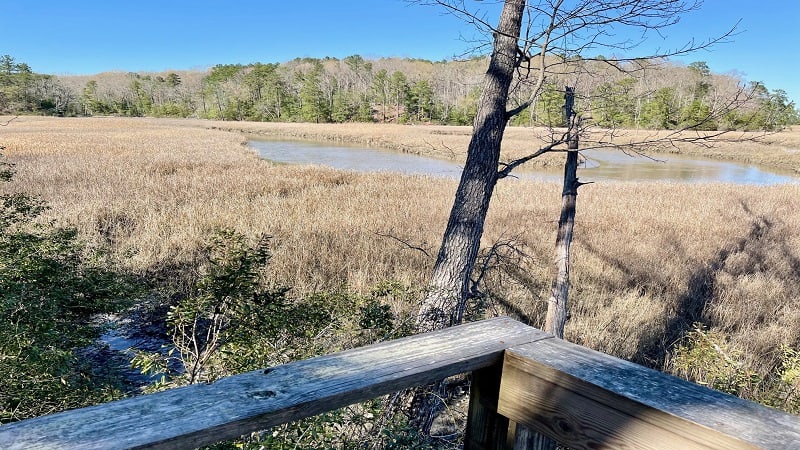 The hike along the Taskinas Creek Trail at York River State Park in Williamsburg wows with sweeping views across this small tributary of the flowing York River.
This easy-going hike includes forested views, wooden bridges, boardwalk sections and several overlooks for scenic views of the Taskinas Creek watershed.
The wetlands were still fairly brown when I visited the park at the end of March, but in a few more weeks, I'm certain the entire state park will green up quite nicely.