Hike the Appalachian Trail to Myron Glaser Cabin in Paris, Virginia
I love to check out Potomac Appalachian Trail Club (PATC) cabins, so a few days ago I hiked a northbound section of the Appalachian Trail to the Myron Glaser Cabin.
Located in Paris (Virginia, that is), Myron Glaser Cabin is one of more than 40 primitive PATC cabins for rent in Virginia, Maryland, West Virginia and Pennsylvania.
Most hike-in cabins, like Range View Cabin in Shenandoah National Park, can be rented by anyone. Some cabins, like Myron Glaser Cabin, are reserved for PATC members only.
Myron Glaser Cabin sits along the Appalachian Trail and can be rented for $40/night on weekdays and $55/night on weekends.
| Trail Stats | |
| --- | --- |
| Length | 4.5 miles |
| Difficulty | Moderate |
| Trail Type | Lollipop |
| Elevation Gain | 705 feet |
| Duration | 2-3 hours |
| Terrain | Mostly dirt & rocks |
| Dog-Friendly | Yes |
| Fee | Free |
| Driving Directions | Click Here |
Arriving at the Trailhead
I will start by noting that you will most likely miss the turn for the parking area just off Blue Ridge Mountain Road. The "Trailhead Parking" sign is very, very small.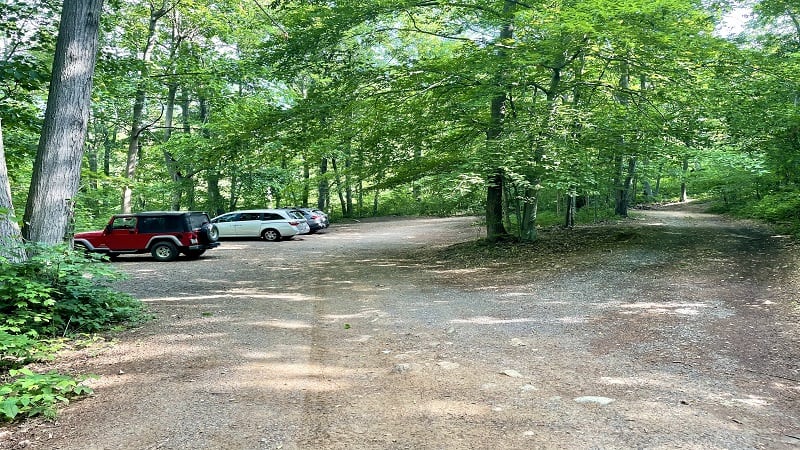 Worse, the turn-off road to the parking area dips steeply so you can't even see the lot from Blue Ridge Mountain Road. From Route 50, the lot will be on your left.
Stay laser-focused. If you miss the parking area, it's not easy to turn around. It's also more challenging to enter the lot from the opposite direction.
The First Steps
Once you've found the parking area (a major victory), you'll note blue blazes toward the back of the lot. Descend along the blue-blazed spur trail into the leafy forest.
At the .1-mile mark, you will arrive at the white-blazed Appalachian Trail. Turn right to hike north toward Myron Glaser Cabin.
As you hike, you will hear the sounds of cars and trucks motoring along Route 50. This slowly fades away and by the .8-mile mark you will only hear nature sounds.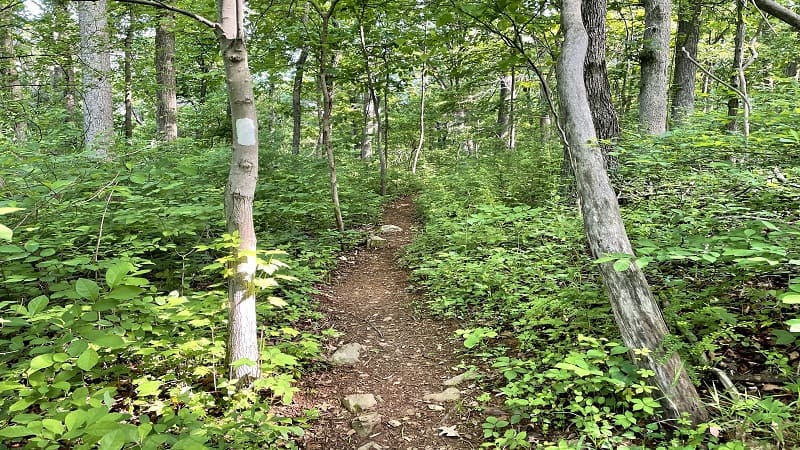 As in, birds chirping, woodpeckers pecking, leaves rustling in the trees, even the occasional small plane flying high above. It's quite relaxing, as you can imagine.
At the 1.3-mile mark, you'll reach a small water crossing, then a sign for the Myron Glaser Cabin at the 1.7-mile mark. Turn left here onto a blue-blazed spur trail.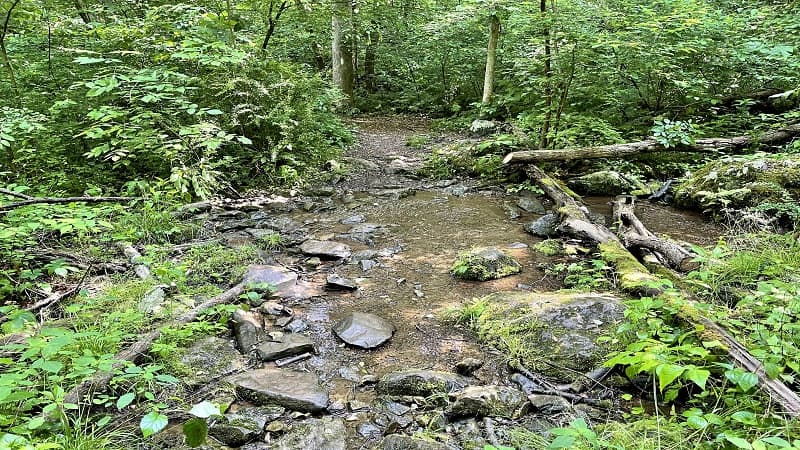 There's another small water crossing, then the primitive cabin appears at the 2.0-mile mark. It's a beautiful stone cabin with a picnic table and wooden bench swing.
The Myron Glaser Cabin was given to the PATC by an anonymous donor and dedicated to long-time PATC volunteer, Myron Glaser.
The stone cabin with skylights and large windows can only be rented by PATC members. The cabin sleeps up to 12 people on two double-deck bunks and a sizeable loft.
There is a wood stove inside the cabin and a stone fire pit outside the cabin. There is also an outdoor privy (though I could not seem to locate it).
I found a spigot for a spring along a blue-blazed trail leading away from the fire pit, but there was hardly a trickle of water. So, I wouldn't count on this as a water source.
Once you finish exploring the Myron Glaser Cabin, continue past the cabin on a separate blue-blazed trail. You will reach the Appalachian Trail at the 2.3-mile mark.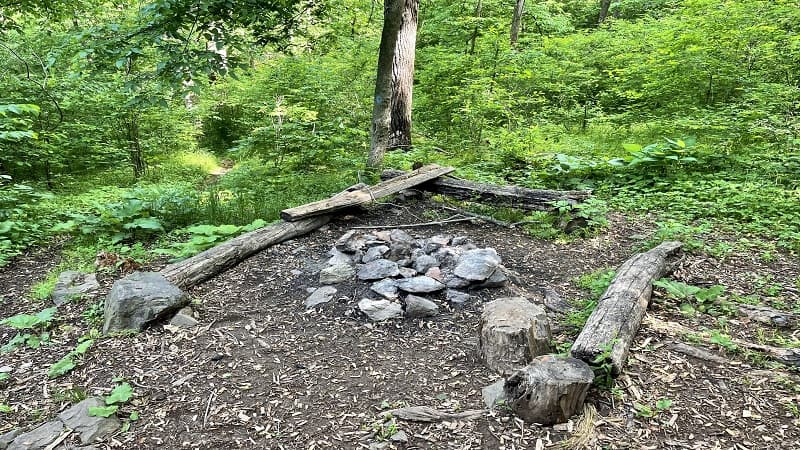 Turn right here to re-trace your steps along the AT to the parking area. For a shorter hike, you can simply re-trace your steps from the cabin for a 4.0-mile hike.
Wrap-Up Notes
From the parking area, this hike took me nearly two hours, including time spent exploring the cabin and chatting with an AT thru-hiker or two on the return.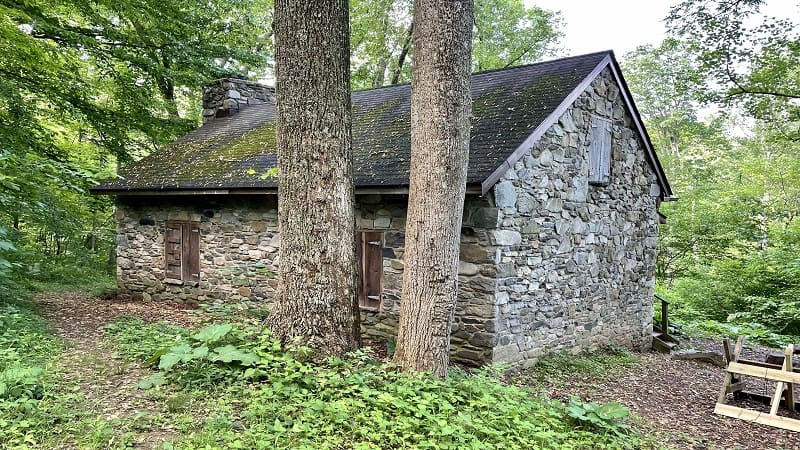 Unbeknownst to me, this is the time of year when the thru-hikers come through Virginia. In total, I counted 14 backpackers, some taking the AT all the way to Maine.
If you're eager to get in more miles after this hike, Sky Meadows State Park is less than a 10-minute drive. Here you'll find more than 20 miles of fantastic hiking trails.
Hungry for more? Take a look at 15 of the best hikes near Bluemont, Virginia to find a few more hikes to add to your must-do hiking list.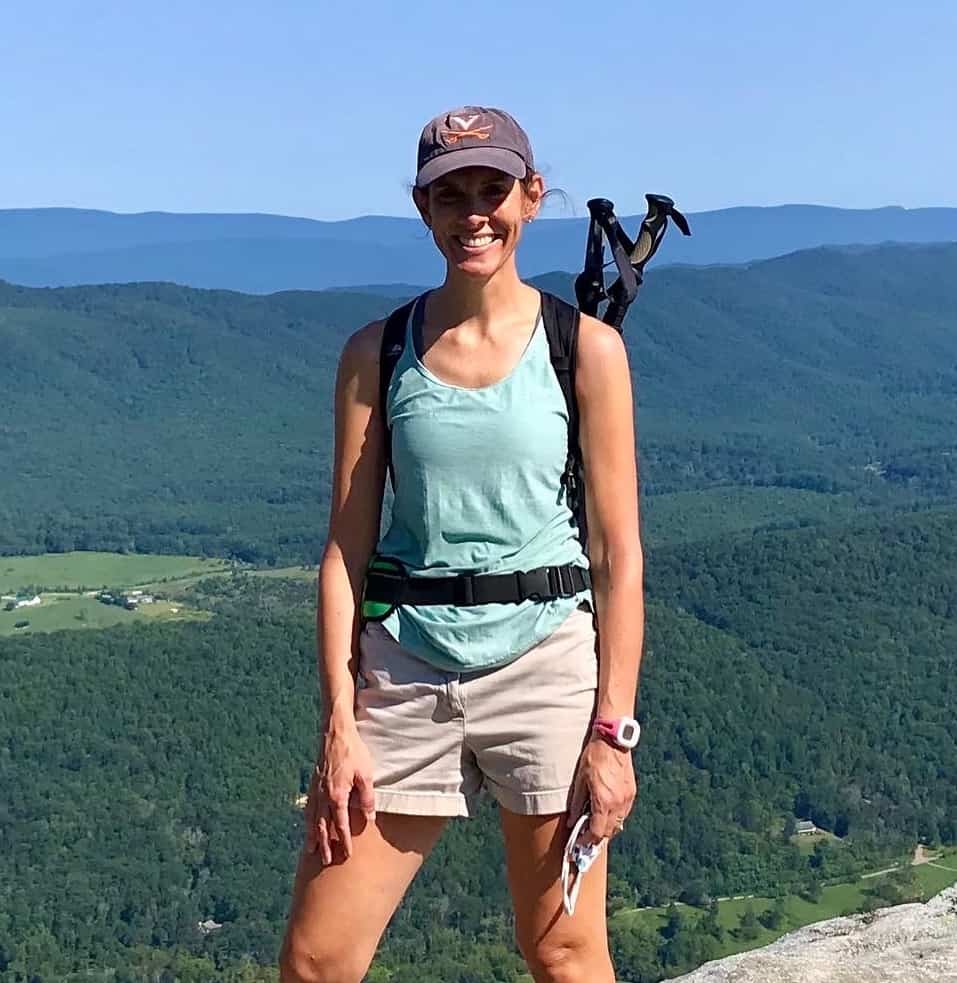 Erin Gifford is the editor of Go Hike Virginia. She has completed more than 300 hikes in Virginia. She is also the author of three hiking guidebooks from Falcon Guides. Need help finding a hike? Check out the Trail Finder feature or send Erin a message.