Bears Den: Hike to a Rocky Overlook with Big Views
Set in pastoral Loudoun County, the Bears Den hike takes visitors to a scenic overlook by way of a delightful, shady stretch of the Appalachian Trail in Bluemont.
The hike is short – not quite two miles round-trip – but the views are long. As you approach the overlook, you'll be glad you opted for this family-friendly hike in Virginia.
| Trail Stats | |
| --- | --- |
| Length | 1.9 miles |
| Difficulty | Easy |
| Trail Type | Out-and-Back |
| Elevation Gain | 289 feet |
| Duration | 1 hour |
| Terrain | Mostly rock & dirt trails |
| Dog-Friendly | Yes |
| Fee | Free |
| Driving Directions | Click Here |
Arriving at the Trailhead
This hike begins .25-mile from the AT, on a leafy stretch marked with blue blazes.
The primary parking lot adjacent to Route 7 is large too, ensuring that families don't get shut out from the insatiable views at Bears Den Overlook.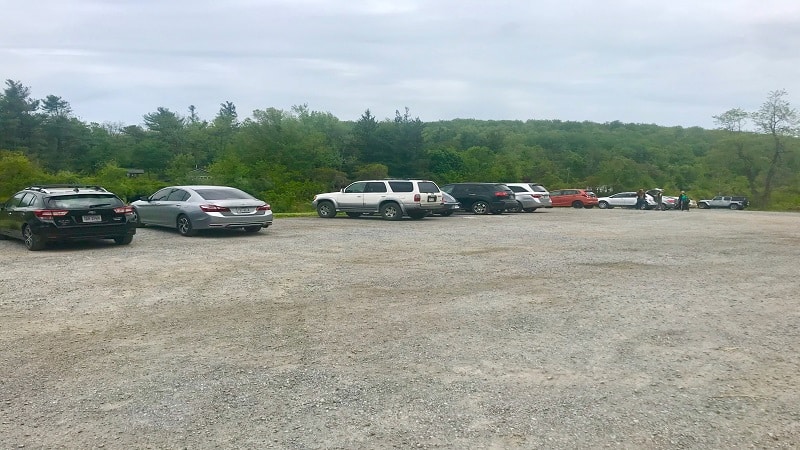 While the parking lot is large, it will behoove you to arrive early in the day to hike this trail, which has been open during the COVID pandemic.
The lot spaces are unmarked, so it can be something of a free for all at times. You'll also benefit from fewer hikers at the overlook (fall weekends can be especially crowded).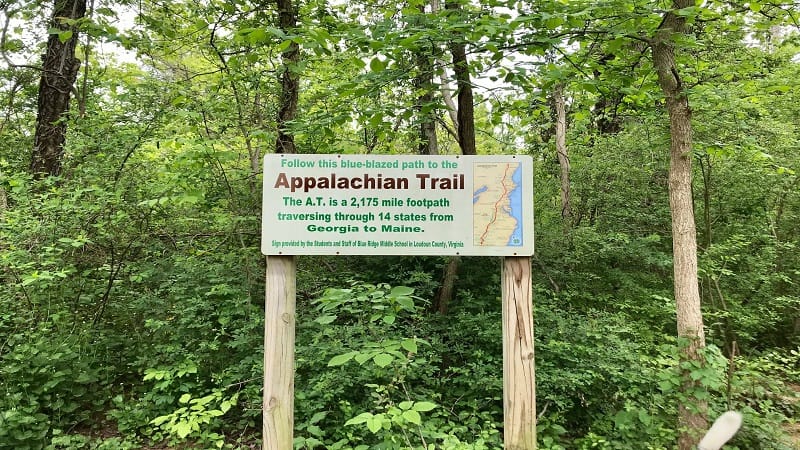 The First Steps
Given the parking lot and trailhead sit alongside a four-lane state highway, you will hear cars motoring along as you make your way to the overlook.
However, as if by magic, you will notice that the road noise dissipates as you approach the rocky cliffs. Kids navigate tree roots, boulders, wildflowers and rocky terrain across the trail.
Bears Den Overlook is a short .7-mile hike from the parking lot. This engaging, kid-friendly forest trail is interesting and fun for kids.
Plan to eat lunch or a snack at the overlook, which wows with panoramic views of the Shenandoah Valley and the Blue Ridge Mountains.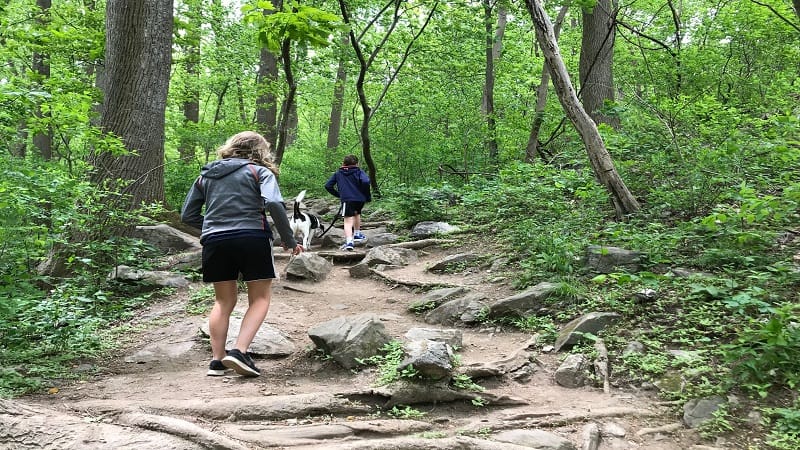 From Bears Den Overlook, the views are to the west and northwest, making this scenic viewpoint a go-to spot for colorful sunsets.
It's also a beautiful vantage point for enjoying gorgeous fall foliage in mid-October. The overlook is sizeable and relatively flat, enabling children to easily scramble.
Continue on past the overlook and follow the sign for the Bears Den Trail Center, which leads hikers onto a small gravel road to a well-kept, primitive campground in .25 miles.
The Bears Den Trail Center is adjacent to the campground and serves the needs of Appalachian Trail hikers with short-term resupply, showers, laundry and bunk rooms.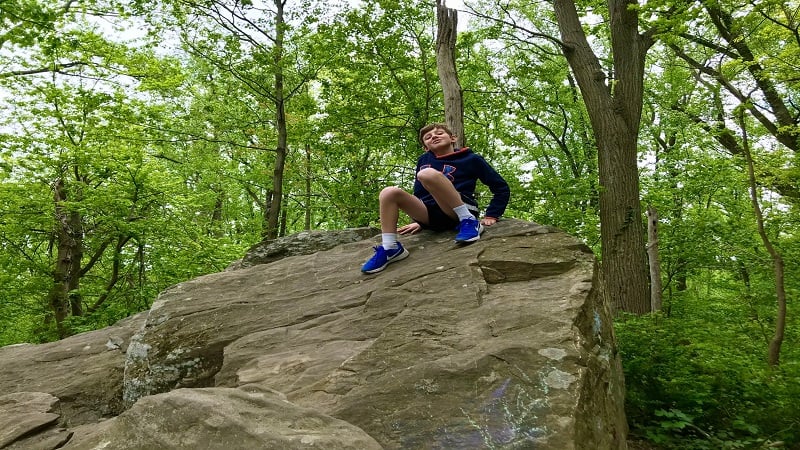 As you walk through the campground, you'll exit onto a nature trail that circles back to the overlook, allowing you to re-trace your steps as you hike back to the parking lot.
If you need to hit the restroom before you return, there are two vault toilets in the campground, as well as a restroom inside the Bears Den Trail Center.
As a side note, my first time tent camping was at the Bears Den campground with my son's Cub Scout pack.
Hike Options
It's a snap to make this hiker longer or shorter if you choose to do so. For one, you can decrease mileage by simply back-tracking from the overlook (1.4 miles).
For a very short hike (.5-miles round-trip), park at the Bears Den Trail Center adjacent to the campground for a short walk to the overlook to explore the area.
For more miles, simply keep trucking along the Appalachian Trail past Bears Den Overlook.
However, be warned that the trail quickly descends, meaning you'll be in for quite a steep hike on the return back to your car.
For a more strenuous hike, look across Route 7 to the Raven Rocks hike, a 5.1-mile hike on the roller coaster section of the Appalachian Trail.
Wrap-Up Notes
From the main parking lot, it took my kids and me 35 minutes to reach the overlook (.7 miles) and that included stops to pose on boulders and let hikers pass.
We then took another 35 minutes to walk to and through the campground, then looping back to the overlook and back to our car (1.3 miles). In total, the hike was 1.9 miles.
For those eager for a sip or a snack post-hike, look to Bear Chase Brewery
This delightful farm brewery in Northern Virginia is less than .5 mile from the parking lot and is a fantastic place to relax after a hike for views across the Shenandoah Valley.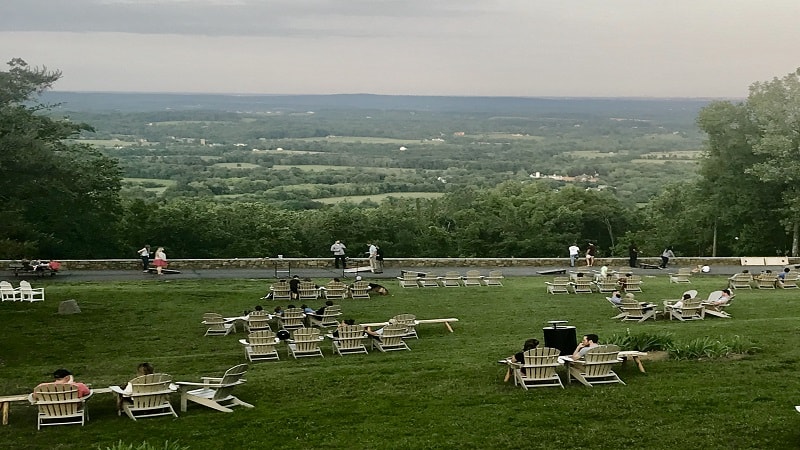 There is a huge grassy space and inviting Adirondack chairs that encourage visitors to sit and stay for a spell.
Bear Chase Brewery has a variety of craft beers on tap, as well as pizza, pretzels and cornhole. It's definitely a fan favorite in Loudoun County.
Eager for more? Take a look at 15 of the best hikes near Bluemont, Virginia to find a few more hikes to add to your must-do hiking list.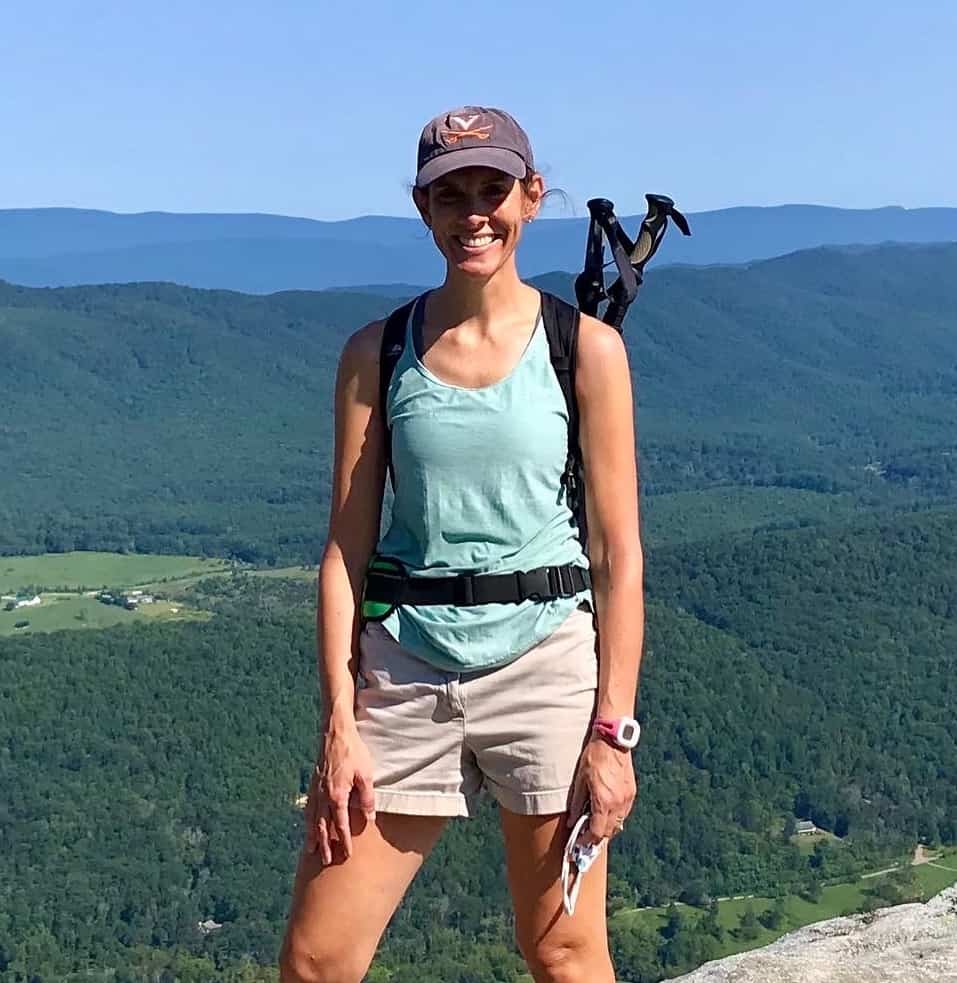 Erin Gifford is the editor of Go Hike Virginia. She has completed more than 300 hikes in Virginia. She is also the author of three hiking guidebooks from Falcon Guides. Need help finding a hike? Check out the Trail Finder feature or send Erin a message.