Where to Hike in Virginia Every Month of the Year in 2023
From experience, some hikes are better done at certain times of the year. It's also best to avoid some hikes in certain months and seasons.
For example, some coastal and wetland hikes are not at all ideal in August. The biting black flies can be terrible. These hikes can be beyond miserable.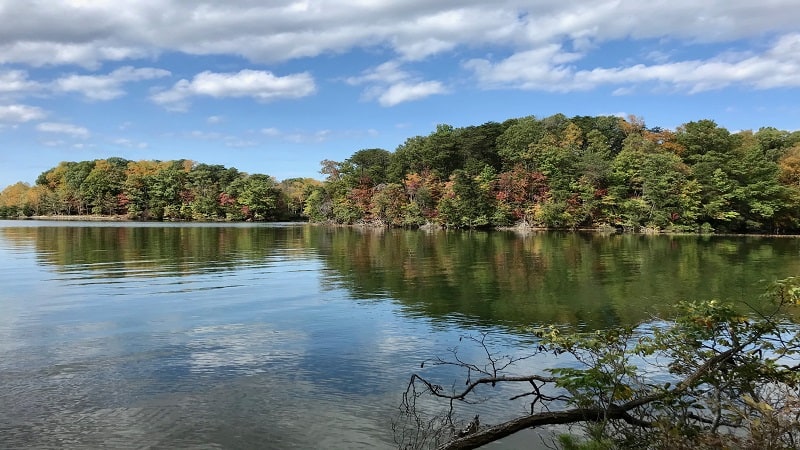 August is also not an ideal month for waterfall hikes. After a strenuous hike you don't want to be disappointed to arrive at barely a trickle of a waterfall.
With this in mind, I've identified the best hikes for each month of the year. Let me know how many of these hikes you've done and if you agree or disagree.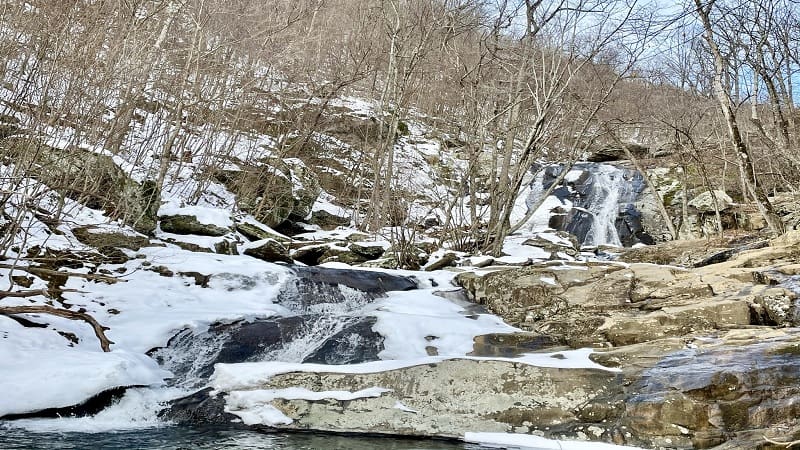 January is a good time for a snow-covered hike on the 8.8-mile loop that includes White Oak Canyon and Cedar Run at Shenandoah National Park .
Thanks to an overall elevation gain of 2,300+ feet and steps on north-facing slope (i.e., less sun), you may encounter snowy and icy sections of trail.
You may also encounter frozen waterfalls, which is the main reason to tackle this loop hike in January, the coldest month of the entire year.
Bring microspikes for hiking these trails, even if you don't take them out of your daypack. I found them to be a lifesaver on certain sections of this hike.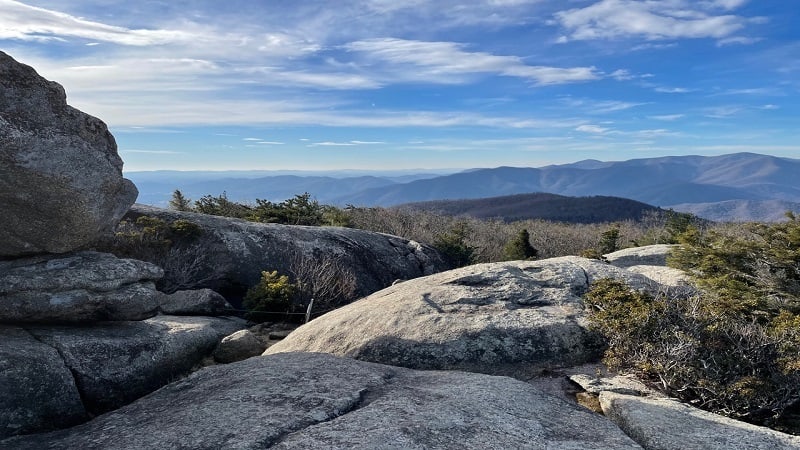 February is a great time to complete marquee hikes, like Old Rag or McAfee Knob. These wildly popular hikes are besieged with visitors from spring to fall.
Tackle these hikes when all the fair-weather hikers are at home, waiting until the temps reach 60 degrees again. Even in winter months, plan to arrive early.
February is the driest month in Virginia, so you're less likely to get shut out by snow or ice. Avoid this hike if it is actively snowing or raining.
This 9.4-mile loop hike has been ranked among the 25 best hikes in the world. Keep in mind that starting March 1 you need to secure a permit for this hike.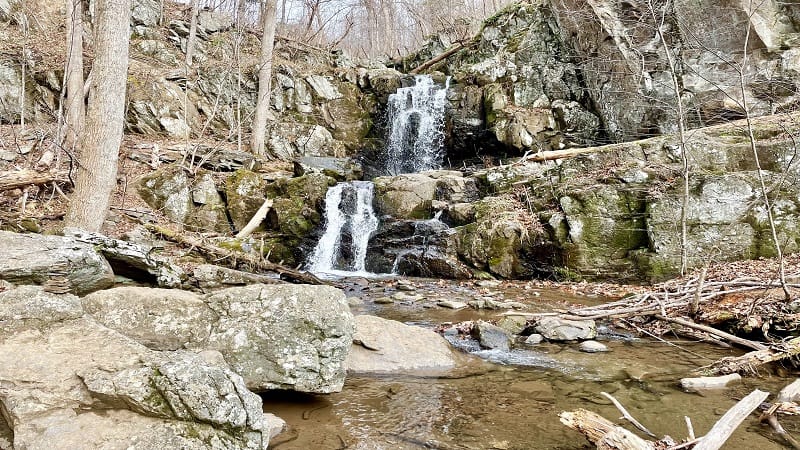 Waterfall hikes are best completed in the spring when winter snowfall is melting and the tumbling falls are actually tumbling (even crashing).
The Doyles River Falls hike includes stops at Upper Falls and Lower Falls, both of which are best viewed when there is plenty of water flowing.
This out-and-back hike at Shenandoah National Park is just 3.6-miles, but you can tack on extra steps by including a stop at Jones Run Falls.
This loop hike is 7.0-miles and includes three waterfall stops that can be beyond breathtaking in the spring when the water flow is at its peak.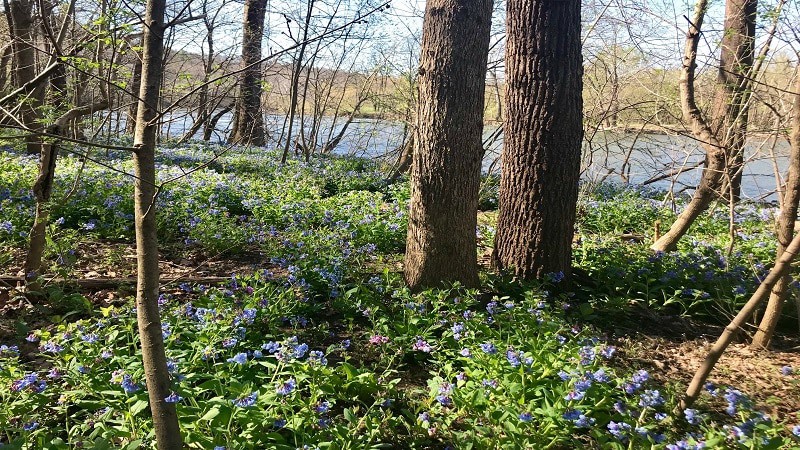 There are several parks and recreation areas that feature a Bluebell Trail, including Shenandoah River State Park and Bull Run Regional Park.
Bluebells range in color from a light lavender blue to a dark-blue violet. A lush carpet of cheerful bluebells is the true sign that spring has finally arrived.
Bluebells bloom over a period of three weeks from late-March to mid-April. At this time, a hike along the one-mile Bluebell Trail is an absolute must-do.
You'll also find delicate bluebells lining the Beach Trail alongside the gently-flowing Rappahannock River in Fredericksburg.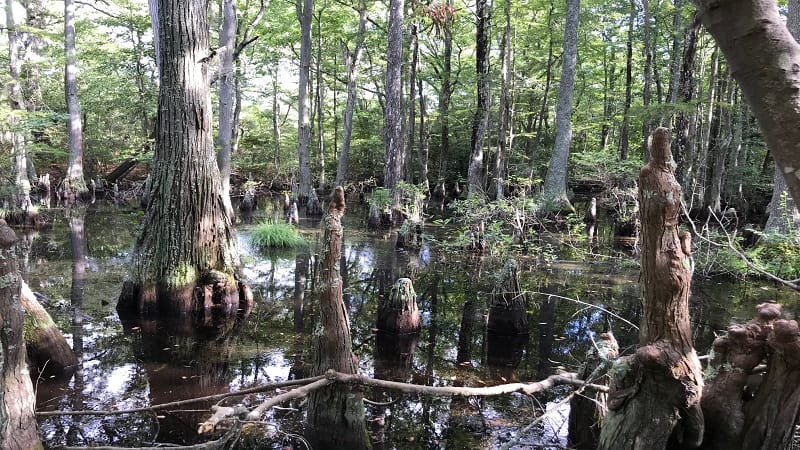 In Virginia Beach, the 1.8-mile Bald Cypress Trail at First Landing State Park is a good pick for May. Go when the cypress swamps have greened up for the season.
The quirky bald cypress trees that seem to grow up out of the water wow from the get-go with knobby "knees." Little ones will no doubt be awed by the sight.
For a longer hike, try the 3.2-mile Osmanthus Trail. Bring your bikes too to pedal along the 6.1-mile Cape Henry Trail (one-way).
Post-hike, drive across Shore Drive for a stop at the visitor center and a gentle stretch of sandy beach.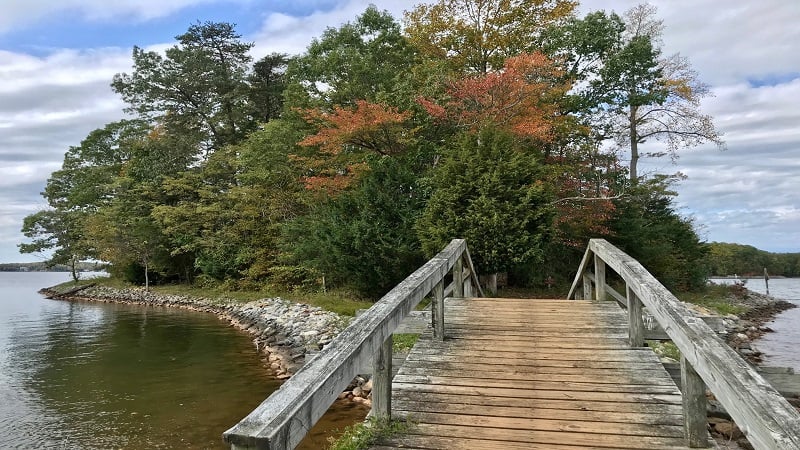 Smith Mountain Lake State Park is a fun destination in June thanks to water sports, like kayaking and wake boarding, on the second largest lake in Virginia.
There's a lot of fun on dry land too, including more than 15 miles of hiking trails, like the 1.4-mile Turtle Island Trail.
A shady hike on this green-blazed trail leads to Turtle Island. An easy path outlines the perimeter of the island. There is a small beach, too.
Just across Interpretive Trail Road from the Turtle Island Trail is the 1.7-mile Chestnut Ridge Trail, which also wows with plentiful lake views.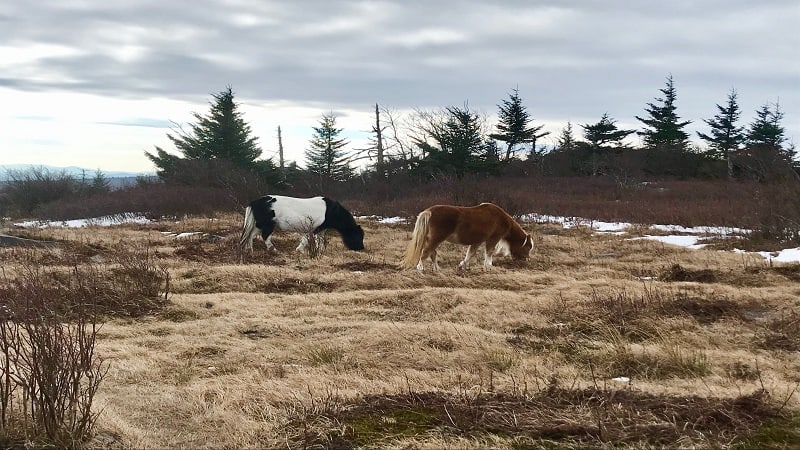 Grayson Highlands State Park is a wonderful state park to visit year-round thanks to wild ponies that roam along the white-blazed Appalachian Trail.
Summer is especially nice for blueberries and mountain laurel along the trails, as well as cooler temps. This is also a popular destination for backpacking.
Enjoy high elevation views, but be warned about wind gusts across the scenic balds and alpine meadows where there are no trees to break the wind.
From Massie Gap, it's a short hike to Wilburn Ridge, which is ground zero for wild ponies. From here, continue on to Mount Rogers, the state's highest point.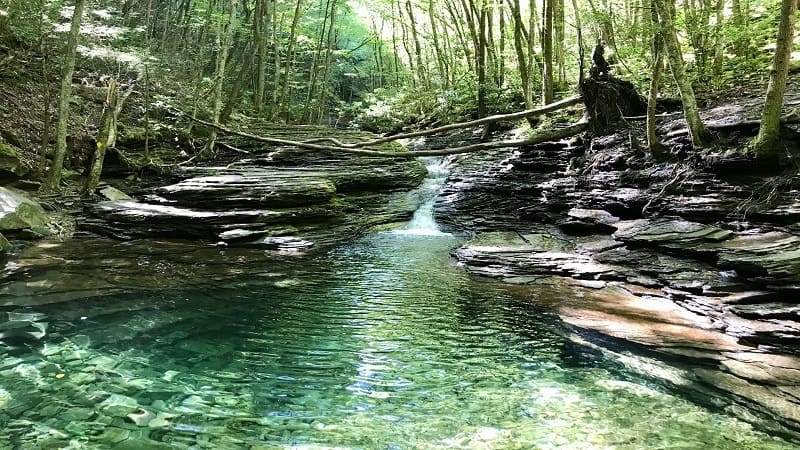 There's nothing like a hike to a swimming hole in August. Devil's Bathtub is among the best natural swimming holes too thanks to really, really cold water.
Even on the warmest of summer days, the water temperature rarely gets higher than 65 degrees. A couple of rope swings kick the fun up a notch, too.
Just beyond the swimming hole is the actual Devil's Bathtub. At the very least, it's a basin shaped like a tub. There is also a crystal-clear waterfall.
You can also enjoy a splash in a swimming hole at Sugar Hollow Reservoir (Blue Hole), Cascades Falls and Rose River Falls.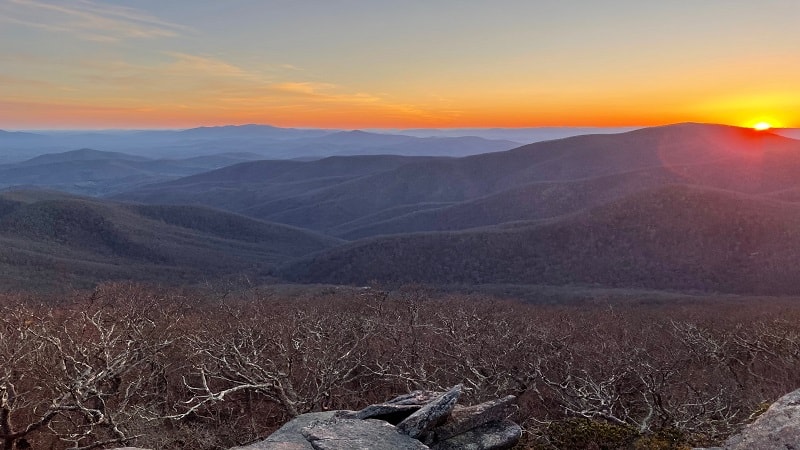 It can still be quite warm in September, so your best bet is to tackle an elevation hike that leads to a mountain summit, like Mount Pleasant.
The gentle breezes can be refreshing. They can also blow the flying insects away, though many bugs prefer lower altitudes for preferable oxygen levels.
From the summit, enjoy a colorful sunset, which is both highly satisfying and rewarding after the hike to the top.
If have time, pair this hike with Cole Mountain. This hike leads to wide-open views within the first mile if you opt to tackle this loop counter-clockwise.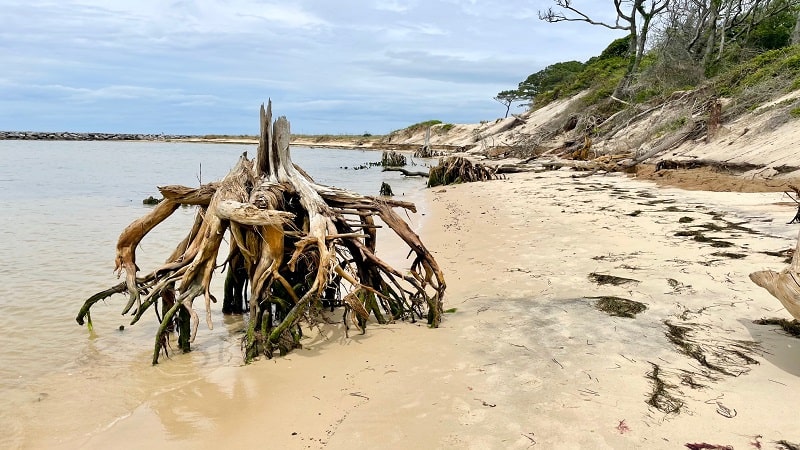 October is a phenomenal month to complete hikes up and down Virginia's Eastern Shore, which runs from Chincoteague to Cape Charles.
There are fewer beach crowds, the temps have cooled and there are few if any mosquitos (which can be absolutely blood-thirsty in the heat of summer).
Hike or bike around the Chincoteague National Wildlife Refuge for scenic wetlands, coastal pines and the red-and-white striped Assateague Lighthouse.
The Beach Trail in Cape Charles is another wonderful hike, which leads visitors across a migratory songbird habitat to a delightful stretch of white sand beach.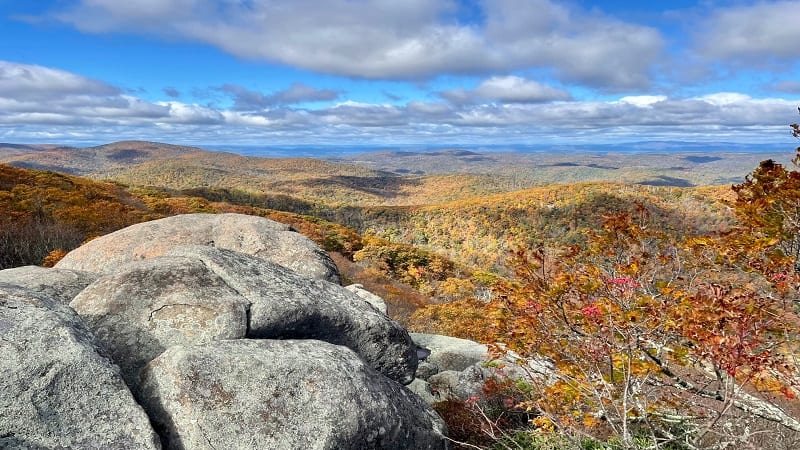 October and November are fantastic times to hike The Priest for a wildly colorful fall foliage hike across the George Washington National Forest.
The overall elevation gain is 3,100+ feet, but the summit views are beyond worth your efforts to reach the far-reaching views.
Just remember to hold onto your hat (literally). It can get pretty windy at the summit of The Priest, which is along the Appalachian Trail.
In the same area, you'll find Spy Rock and Crabtree Falls, both of which also wow with serious foliage views, including 360-degree views from Spy Rock.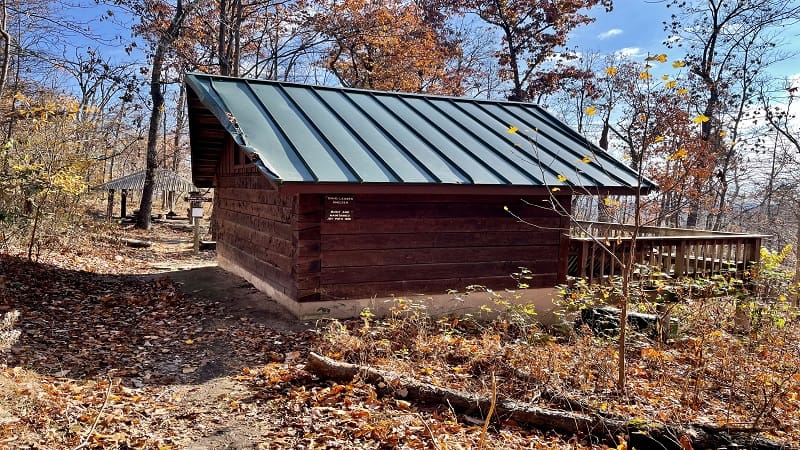 December is a perfect time to hike to Appalachian Trail shelters. As in, after the last leaves have fallen and before the first snow has fallen.
It's also a great time for hikes with vistas that were obscured by peak foliage in summer, but now offer views, like the hike to the David Lesser Shelter.
I've hiked to at least 10 shelters and always love exploring each one, like the Jim & Molly Denton Shelter, which has a shower, a picnic pavilion and horseshoes.
More than 40 shelters are managed by the Potomac Appalachian Trail Club (PATC), which helps maintain a 240-mile stretch of the Appalachian Trail.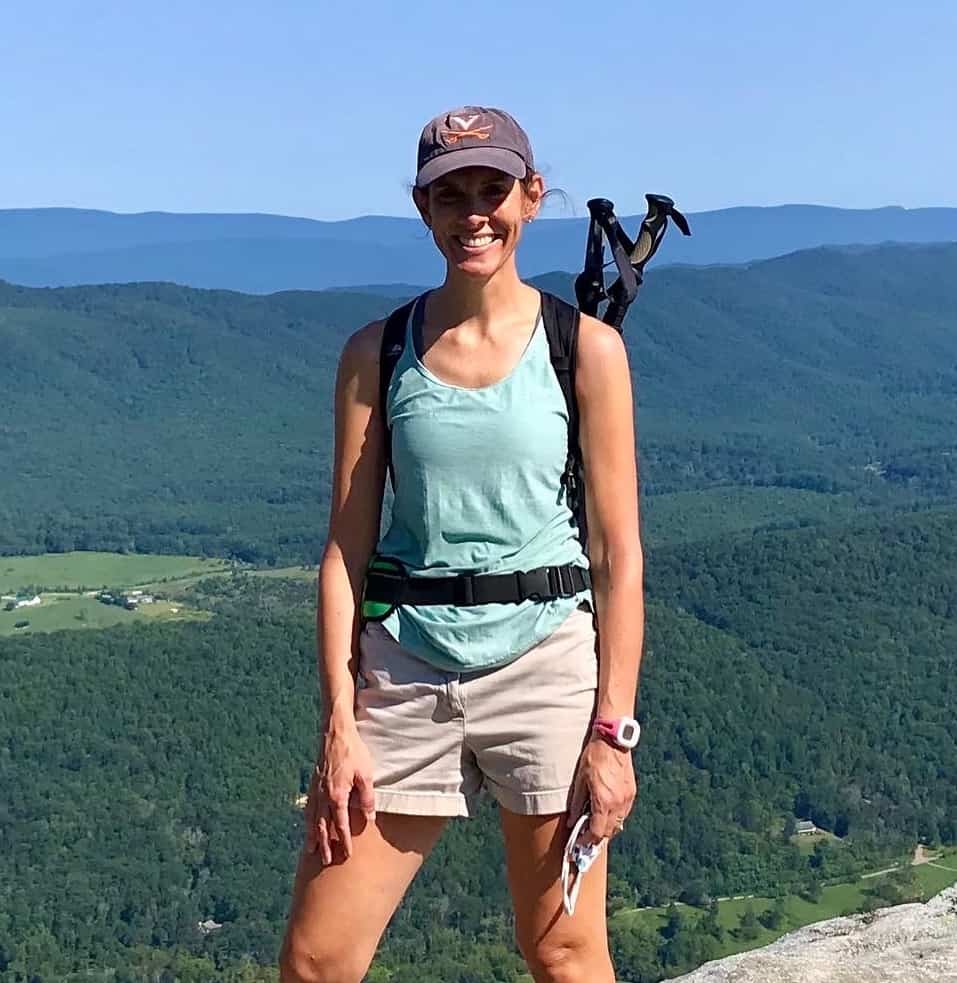 Erin Gifford is the editor of Go Hike Virginia. She has completed more than 300 hikes in Virginia. She is also the author of three hiking guidebooks from Falcon Guides. Need help finding a hike? Check out the Trail Finder feature or send Erin a message.