Cole Mountain: A Breathtaking Hike with Wide-Open Views Near Buena Vista, Virginia
The Cole Mountain hike is a 6.3-mile loop in the George Washington National Forest that starts east of Buena Vista in Amherst County, Virginia.
It's a beautiful hike and one that can be paired with the 6.5-mile Mount Pleasant hike over a weekend or as part of an overnight backpacking trip.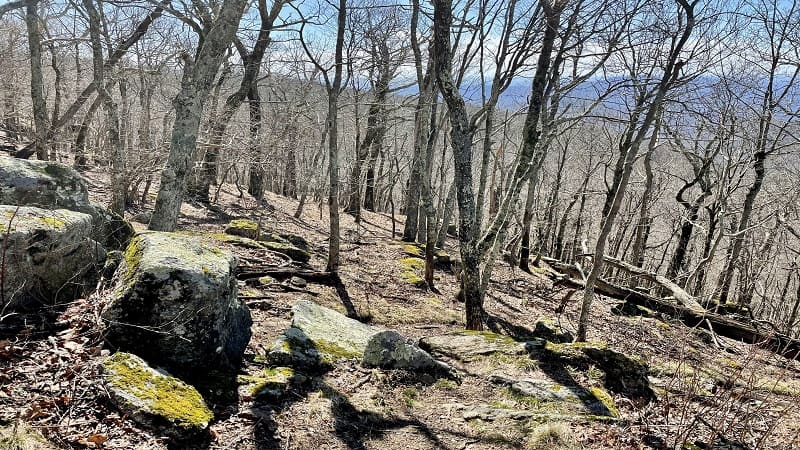 The trailheads are accessed by way of Wiggins Spring Road (a bumpy ride) and are an easy .25-mile walk from each other. You can feasibly tackle both in one day.
As you drive in, the lot for Cole Mountain appears first on the left. Continue on to the end to reach the lot for the Mount Pleasant hike.
| Trail Stats | |
| --- | --- |
| Length | 6.3 miles |
| Difficulty | Moderate |
| Trail Type | Loop |
| Elevation Gain | 1,319 feet |
| Duration | 2.5-3.5 hours |
| Terrain | Mostly dirt and grass trails |
| Dog-Friendly | Yes |
| Fee | Free |
| Driving Directions | Click Here |
Cole Mountain Hike
I'd read horror stories about the drive to the trailheads. They are both true and overblown. I drove a sedan and made it just fine, though some may prefer a 4WD.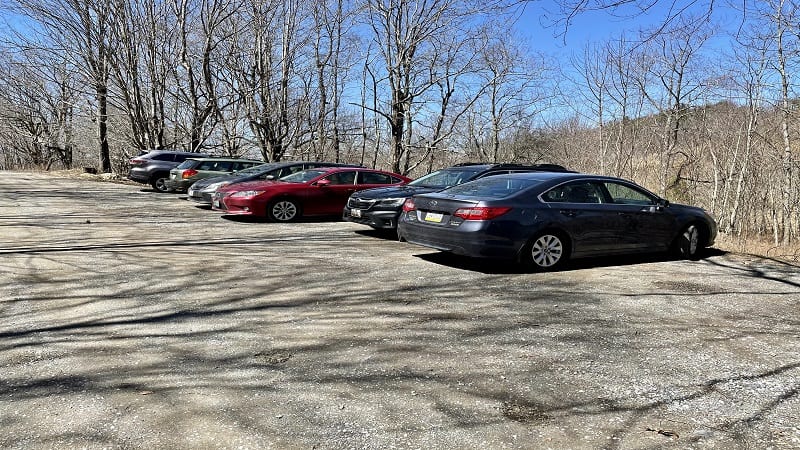 Once you turn onto Wiggins Spring Road (State Route 755), you've got 4.5 miles to reach the parking area. At the "End State Maintenance" sign, it starts to get tricky.
From here, the final 1.4 miles are potholed and jarring. I wouldn't do this drive in poor weather conditions, like rain or snow. Park in the first lot on the left.
Appalachian Trail
The hike begins across Wiggins Spring Road from the parking area. You will see a green Appalachian Trail marker, as well as two trails that go up the mountain.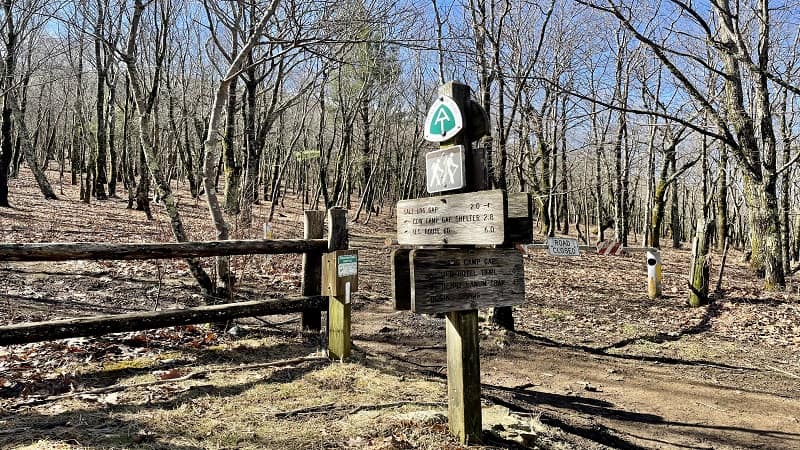 The white-blazed Appalachian Trail is the hiking trail on the left.
The ascent begins immediately as you hike along this wooded trail in the George Washington National Forest.
In the first mile, plan to ascend 400 feet, but then, you have arrived. Yes, atop Cole Mountain (elevation 3,927 feet). That was almost too easy, right?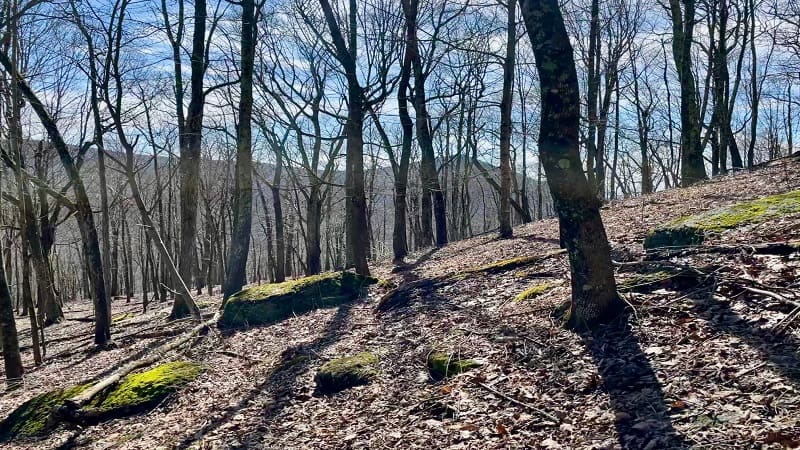 With this in mind, it's easy to make Cole Mountain a very short out-and-back hike. It's just 1.0-mile to the summit, so hike there, then hike back for a 2.0-mile hike.
Cole Mountain Summit
What's notable about Cole Mountain (also known as Cold Mountain) is that there is no rocky summit. Rather, it's a wide-open field or meadow. A bald, really.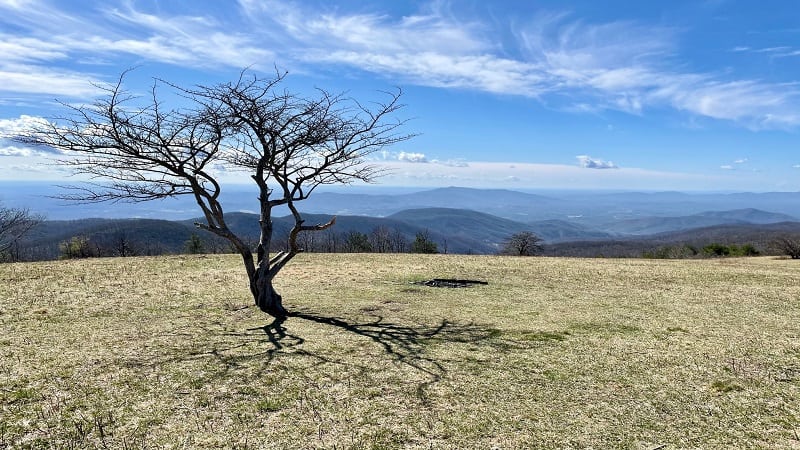 You will feel on top of the world. It's very Sound of Music. You'll also wish you had a soccer ball to kick around the massive open space with plentiful mountain views.
Camping and campfires are not allowed in any of the open or mowed areas. I could tell though that this rule is not followed 100% of the time by every visitor.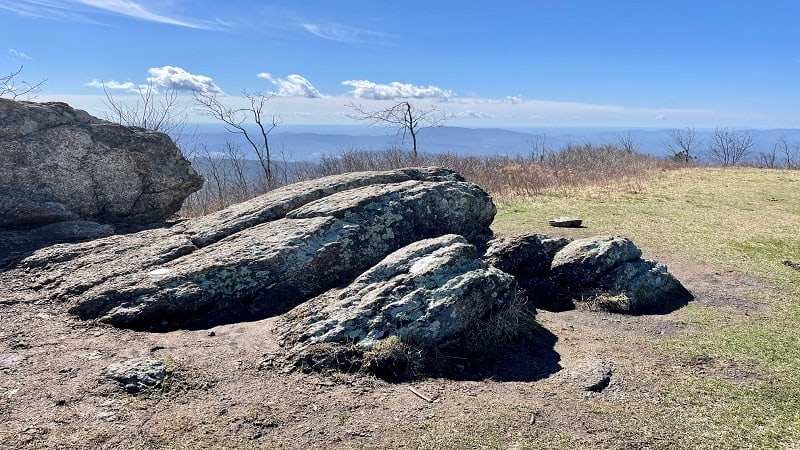 There are several large rocks at the top of Cole Mountain that are tops for making a stop for lunch. I drove 3+ hours before the hike, so I arrived in time for lunch.
Keep your eyes open for the cast bronze U.S. Geological Survey benchmark. I was glad that this one popped out at me. Snap a photo.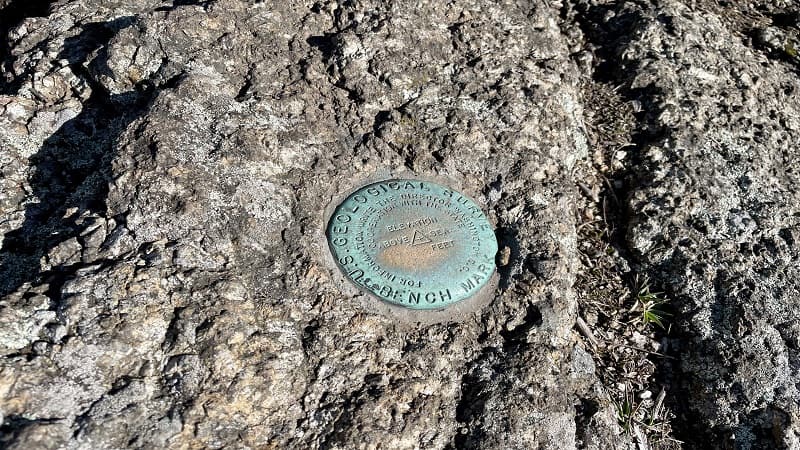 Continue following the white blazes across the top of Cole Mountain. By the 1.6-mile mark, the trail leaves the open bald and descends into the forest.
Old Hotel Trail
At the 2.2-mile mark, you will reach a rocky outcrop with gorgeous west-facing views of neighboring mountains. In a few more steps, the wooded trail splits.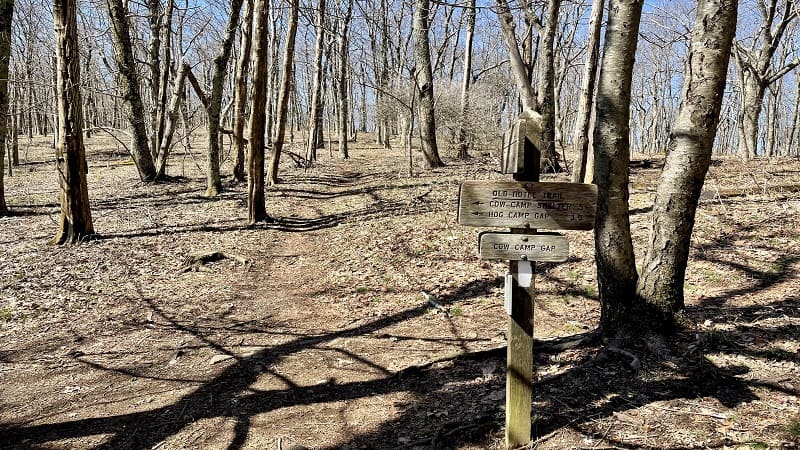 You'll see a trail sign on the right for the Old Hotel Trail. Turn left here to follow the blue blazes and walk toward the Cow Camp Shelter and Hog Camp Gap.
At the 3.1-mile mark, cross over a small stream and you will arrive at the Cow Camp Shelter.
Aside from a three-sided overnight shelter, there is a picnic table and an outhouse.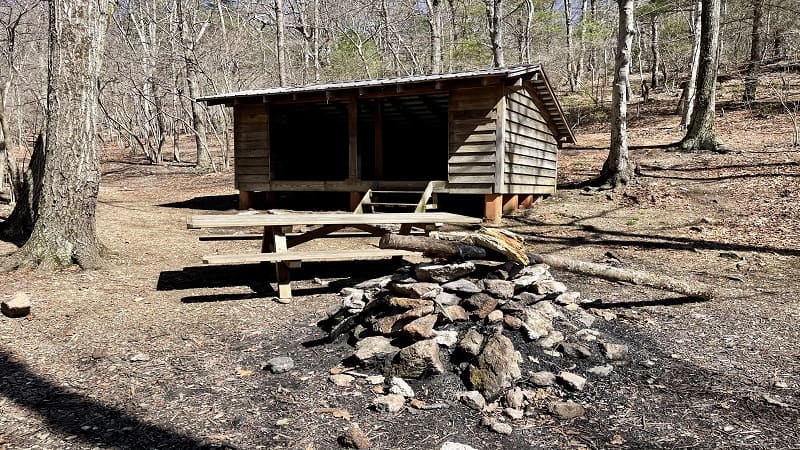 Re-trace your steps to the Old Hotel Trail, then turn left to continue on this mountain trail.
You'll descend until the 3.6-mile mark, but then you've got to make up the elevation loss.
Cole Mountain Camping
At the 4.8-mile mark, the blue-blazed trail opens up to a wide-open space. I noticed a few fire rings, so I assume this is a known space for tent camping.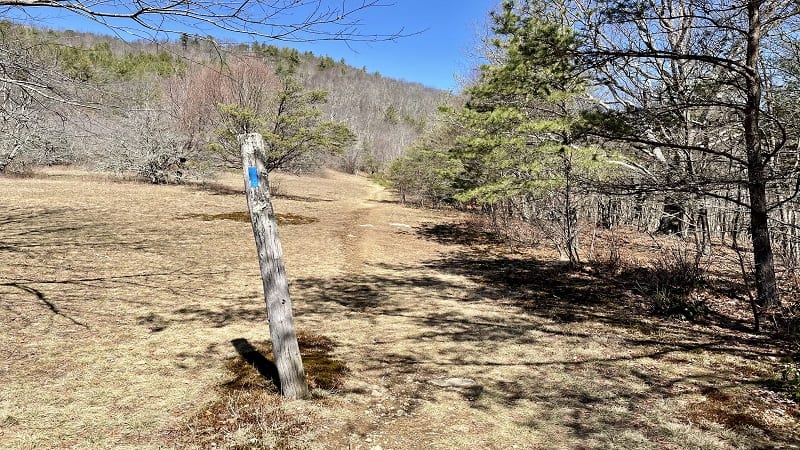 The trail splits in two at the 6.0-mile mark, but stay left to continue on the Old Hotel Trail. In a few more steps, you'll see hikers ascending Mount Pleasant.
The start of that trail is only feet from the end of this trail and you'll soon walk right past the small parking area for Mount Pleasant on the right.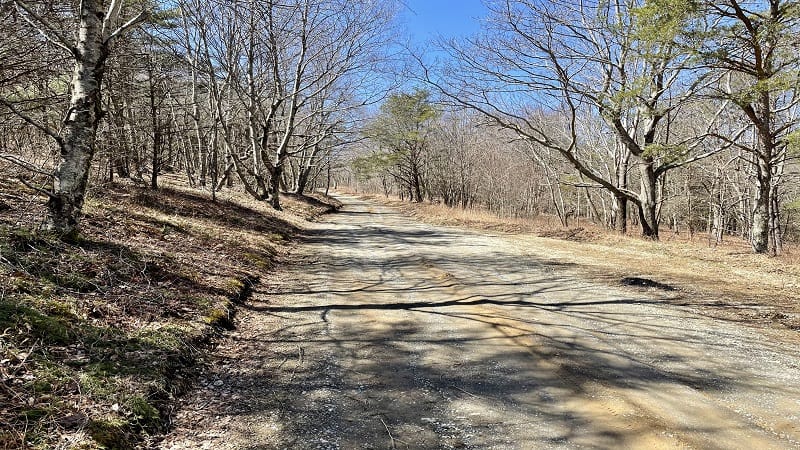 At the 6.1-mile mark, the trail exits onto the access road. From here, it's .2-mile to reach the Cole Mountain parking area. Your loop hike is complete.
Wrap-Up Notes
From the parking area, this loop hike in the Blue Ridge Mountains of Virginia took me nearly 2.5 hours, including a stop on one of the large rocks at the top for lunch.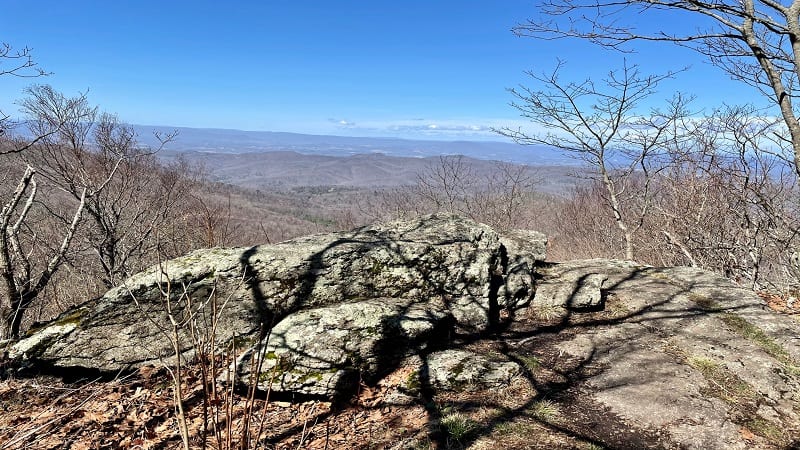 If you've got it in you, it's a snap to add on the 6.5-mile Mount Pleasant Hike. Though with a 1,300+ elevation gain, I guess I wouldn't exactly call it a snap.
I hiked to the summit of Mount Pleasant on the same day I hiked Cole Mountain, but then spent the night and hiked back down to my car the next day.
Eager to step foot on more scenic hiking trails after you hike to the top of Cole Mountain? Check out my favorite hikes near Lexington, Virginia.