15 Stunningly Gorgeous Southwest Virginia Hikes
More than a few people don't realize that Virginia – Southwest Virginia, in particular – continues past Roanoke and Blacksburg. Friends, it's true.
The region, which includes the Heart of Appalachia, is the real Southwest Virginia. The hikes are ah-mazing. If you get the chance, drop everything and go.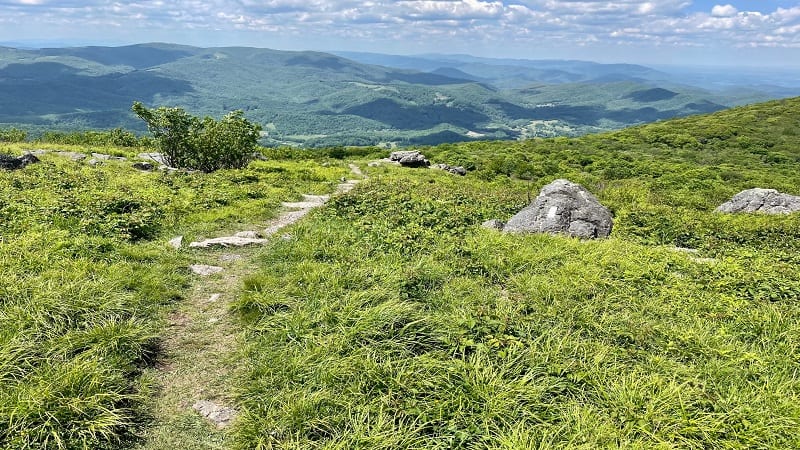 I've been to the area twice, and even wrote about it for The Washington Post. The Southwest Virginia hiking trails are first-rate, and the views. Woah.
Southwest Virginia Hikes
Here are 15 must-do Southwest Virginia hiking trails. All are considered moderate, with the exception of Big Cedar Creek Falls, which is an easy hike.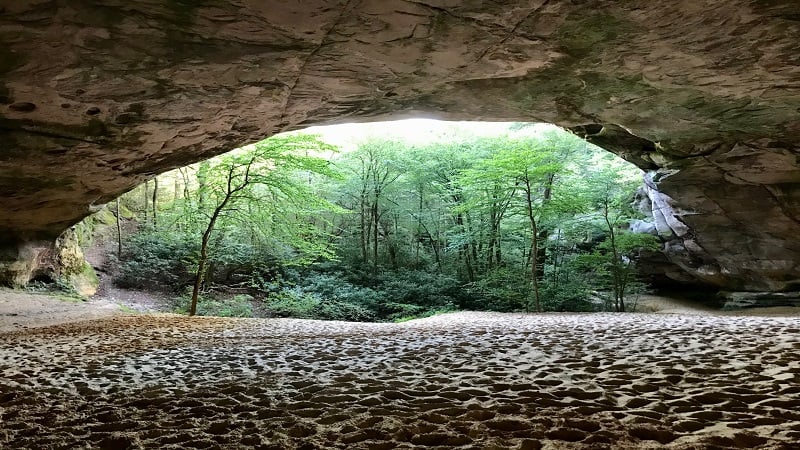 Sand Cave had simple beginnings. Once a massive rock, wind eroded the sandstone over many years to create 250-foot-wide half-dome Sand Cave.
Inside, an acre of beach-like sand awaits the driven few that choose to hike 4.0-miles on the Ewing Trail and Ridge Trail to reach the awe-inspiring natural cave.
The hiking trail is almost entirely in Virginia, but Sand Cave is inches over the Kentucky border. So, both states claim this geological wonder as their own.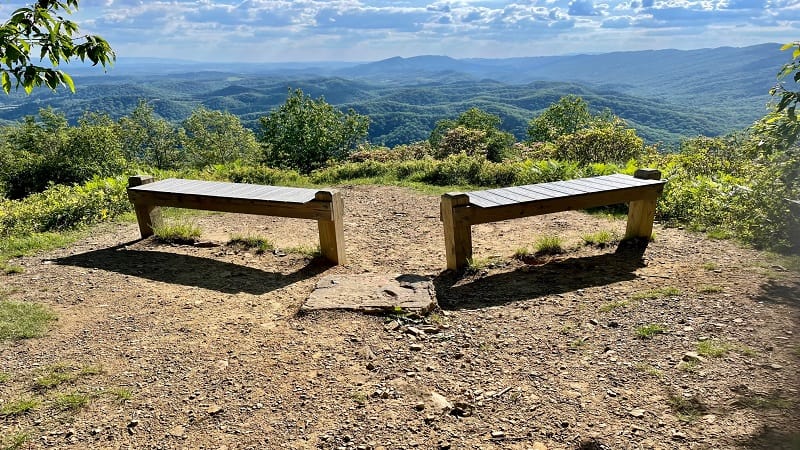 Hiking to Molly's Knob deserves a spot on your hiking bucket list, but it's not for the faint of heart thanks to an elevation increase of 200+ feet in the last .2-mile.
This hike really makes you earn the payoff views. When you reach Molly's Knob, two wooden benches welcome worthy hikers who have made it to the top.
The mountain views to the south and west are outstanding. Plan to sit awhile to re-hydrate and re-fuel before the relatively easy descent back to the parking lot.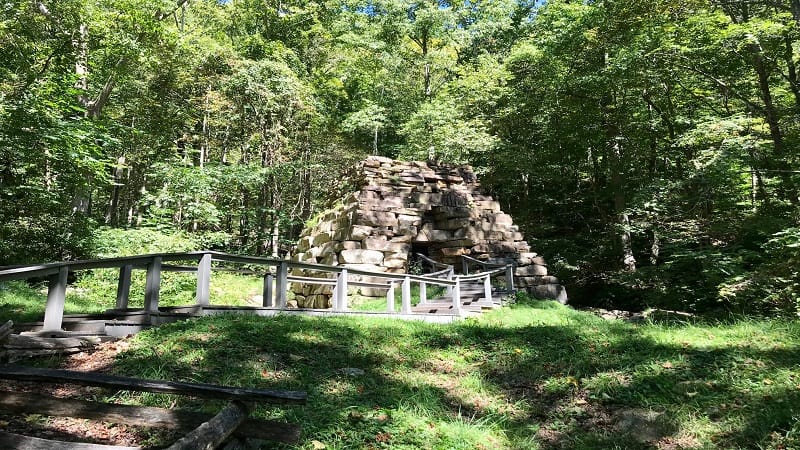 This hike at Cumberland Gap National Historical Park guides visitors to the 1,990-foot-tall peak at the point where Kentucky, Virginia and Tennessee meet.
In the first steps, you will see an Iron Furnace along Gap Creek that was used from the 1820's to the 1880's to create iron, which was then sold to area blacksmiths.
Placards educate on westward travels through the Cumberland Gap. A pyramid-shaped stone marker celebrates the work of early pioneer, Daniel Boone.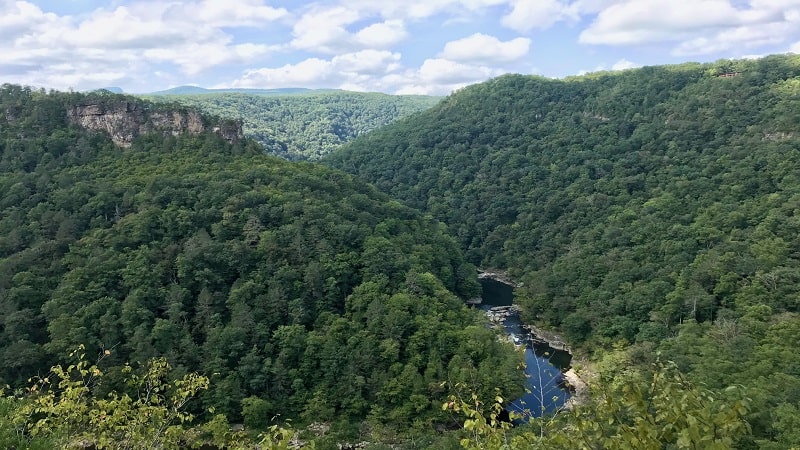 Home to the "Grand Canyon of the South," a five-mile gorge that's more than 1,650 feet deep, it's not hard to comprehend why Breaks Interstate Park is a must-go.
There are many short trails at this stately park, but cobbling together four or five different hiking trails creates a wondrous 3.6-mile loop hike that's a real winner.
Along the way, you'll be awed by scenic overlooks, rock scrambles, hidden springs, small caves, cliff overhangs and majestic forest, even a 40-foot mini-canyon.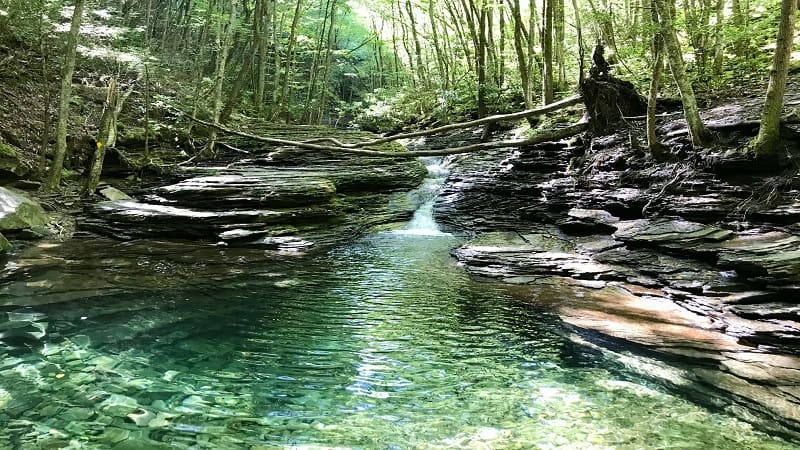 The Devil's Bathtub hike is well-known, even beyond state lines. With a name like Devil's Bathtub, it's hard not to inspire genuine curiosity.
A waterfall and a crystal-clear basin lure hikers in for a swim. You'll even find two rope swings, as well as the bathtub itself. At least, a bathtub-shaped basin.
Curious about the name? Explore Scott County alleges that it's called Devil's Bathtub because it's the "only water cold enough to squelch the fires of hell."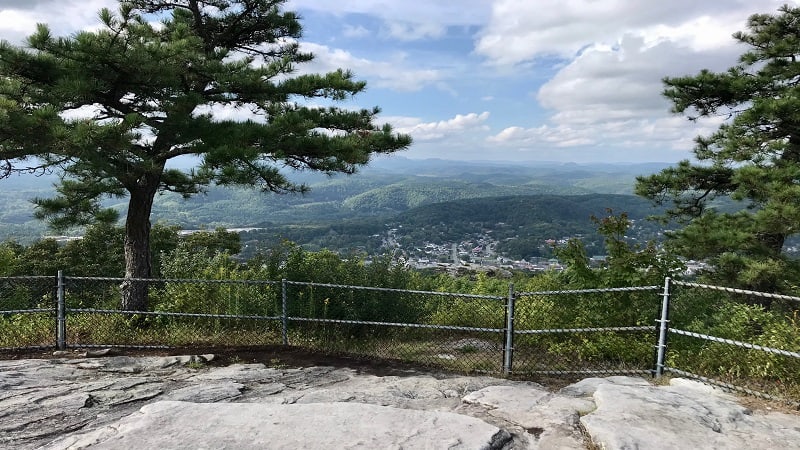 In search of the Woodbooger? A 2.9-mile out-and-back hike to Flag Rock Overlook leads you to this Bigfoot-like creature that lurks high above Norton.
Said to roam the woods of Southwest Virginia, the Woodbooger is partial to Norton's Flag Rock Recreation Area. His statue is steps from the overlook.
The west-facing views from Flag Rock Overlook are fantastic, making this rock a popular spot for watching colorful sunsets. With the Woodbooger, of course.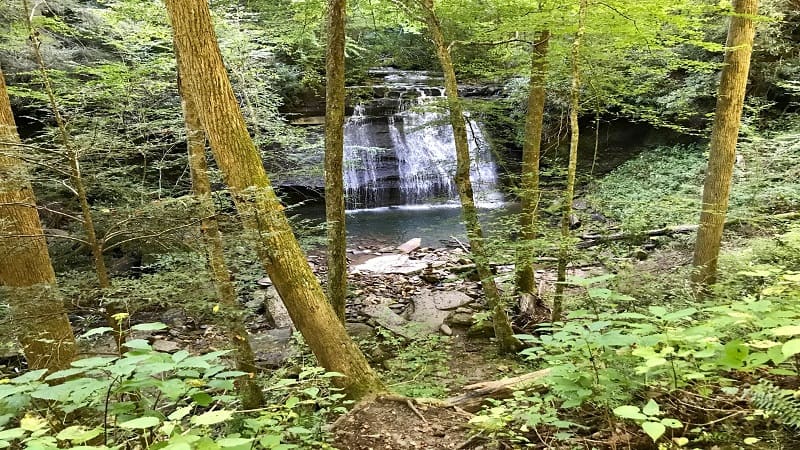 A peaceful 4.8-mile out-and-back hike rewards with Little Stony Creek alongside the trail as you make your way to the swimming hole at Little Stony Falls.
The trail follows Little Stony Creek through a 400-foot-deep and 1700-foot-wide gorge along an old railroad bed in Scott County, Virginia.
Allegedly, the falls you reach at the turn-around point is Middle Falls. You cannot continue hiking on to Upper Falls. However, this basin is beautiful.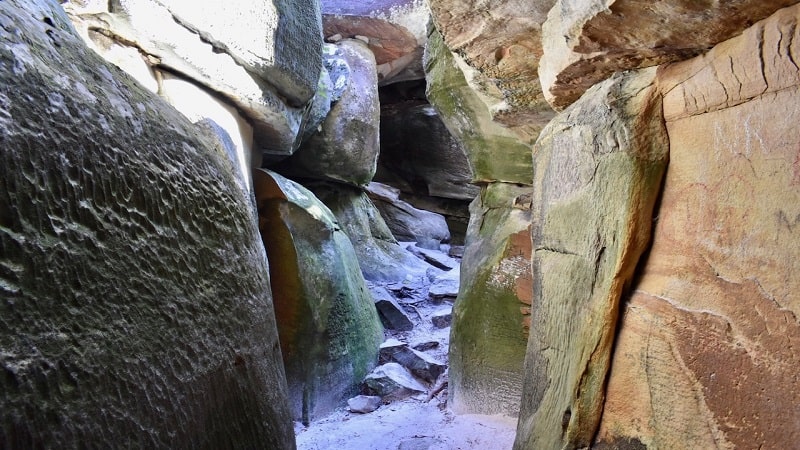 The 6.6-mile round-trip hike to the Great Channels along the Brumley Mountain Trail is a popular one, leading to a curious maze of sandstone crevices.
Plan to duck, squeeze, climb and crawl with child-like curiosity as you explore this 20-acre labyrinth set atop Clinch Mountain within Channels Natural Area Preserve.
This other-worldly sandstone maze was purportedly created by ice wedging and permafrost 10,000 years ago, much to the delight of present-day visitors.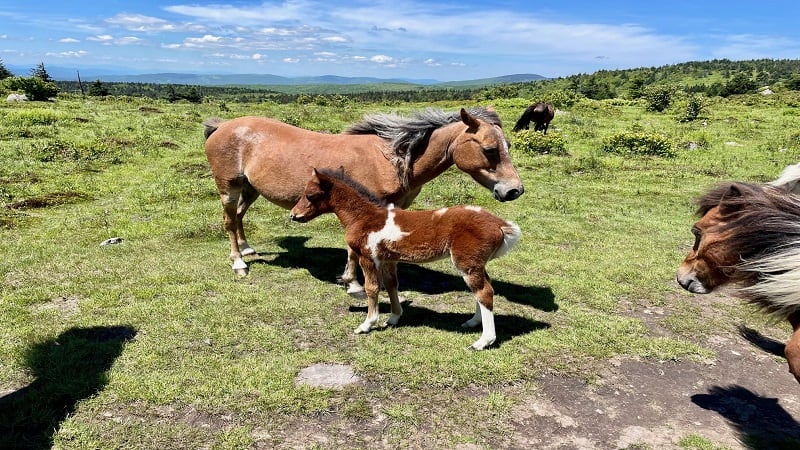 You can't go to Grayson Highlands State Park and not hike to see the free-roaming wild ponies, at least not on your first visit to this state park in Southwest Virginia.
Park at Massie Gap. Your first steps will be on the Rhododendron Trail on your way to Wilburn Ridge, a gorgeous landscape of grassy balds and alpine meadows.
From here, you can hike north on the Appalachian Trail to Wilburn Ridge or south to Lower Wilburn Ridge. You'll see plenty of wild ponies on both scenic routes.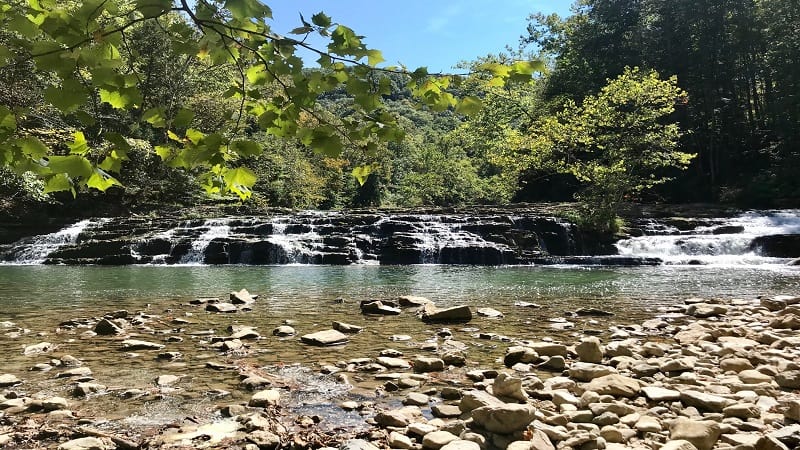 At Pinnacle Natural Area Preserve, a delightful hike leads to Big Cedar Creek Falls (aka Big Falls). Three different styles of falls are ready to impress.
Set your towel down on the stone-covered beach before you rush into the basin for a splash sure to be an adrenaline rush on this 3.1-mile out-and-back hike.
Stroll the Pinnacle View Trail to see the park's namesake, The Pinnacle. This formation of dolomite and sandstone towers 600 feet over Big Cedar Creek.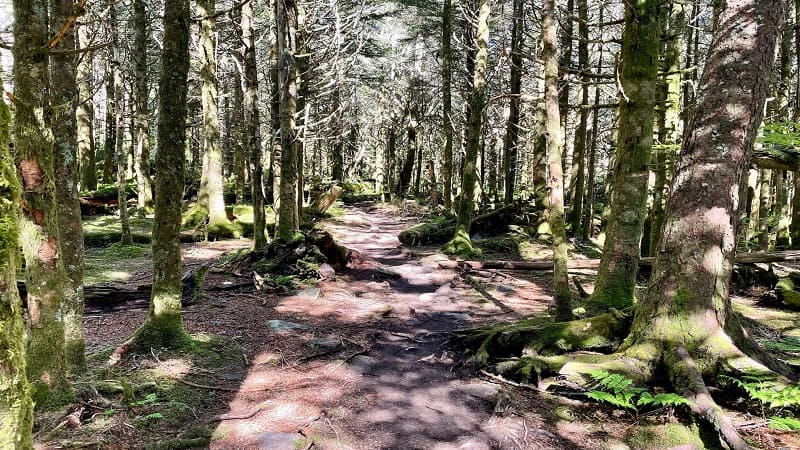 There are more than a few people who aspire to reach the highpoint of every U.S. state, which includes Mount Rogers, the highest point in Virginia.
At an elevation of 5,730 feet, it's far from the tallest highpoint in America, but it's still much higher than Britton Hill, the 345-foot-tall highpoint in Florida.
A 9.0-mile out-and-back hike along the white-blazed Appalachian Trail leads to the state's highpoint, but sadly not to big views.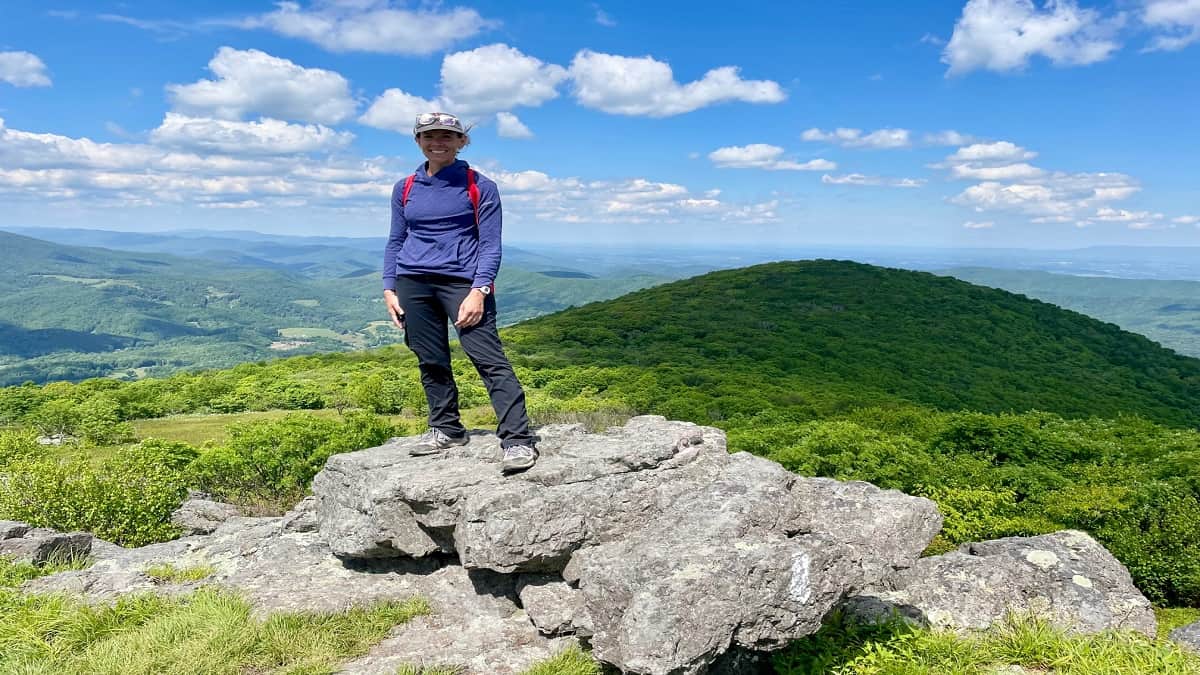 Many people know the Buzzard Rock near Front Royal. This hike along the Buzzard Rock Trail wows with commanding west-facing views.
Drive a few hours southwest along I-81 and you'll find another Buzzard Rock hike. This one is a stone's throw from Damascus, Virginia.
This 4.8-mile forested hike guides visitors along a section of the white-blazed Appalachian Trail, leading to open balds with far-reaching vistas. Incredible.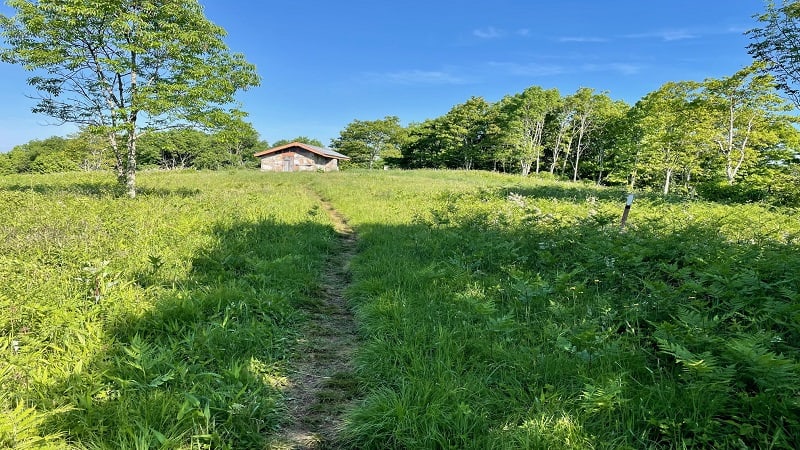 There are 62 Appalachian Trail shelters in Virginia, including the Chestnut Knob Shelter near Burke's Garden.
The Chestnut Knob Shelter sits atop Chestnut Knob (elevation 4,409 feet). A good-size grassy overlook allows for panoramic views across all of Burke's Garden.
A short hike on the Appalachian Trail – just 2.8-miles round-trip – leads to the shelter, as well as seriously monumental views.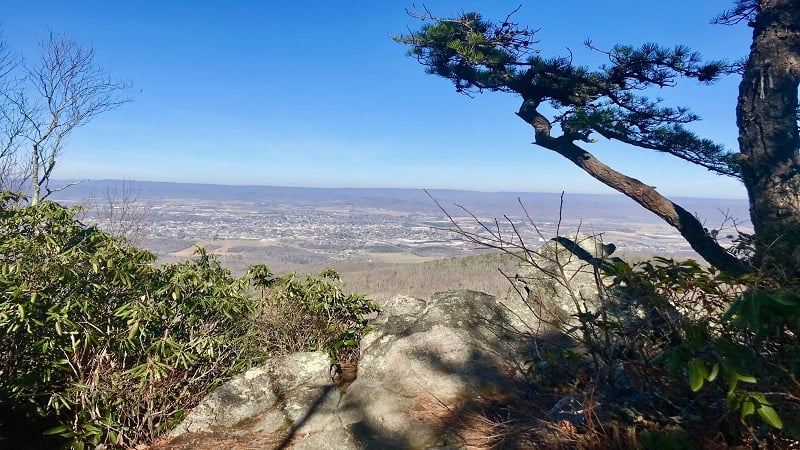 For big views of downtown Wytheville, make a beeline for High Rocks. Interestingly, there are two separate hikes that lead to the rocky summit.
You can go short and sweet (though rocky and steep) by way of the 2.9-mile out-and-back hike on the High Rocks Trail. This one gets you to the top in a flash.
Or, hike to High Rocks from Crystal Springs Recreation Area via a 9.2-mile out-and-back hike on the High Rocks Spur Trail. Either way, you'll be wowed by the views.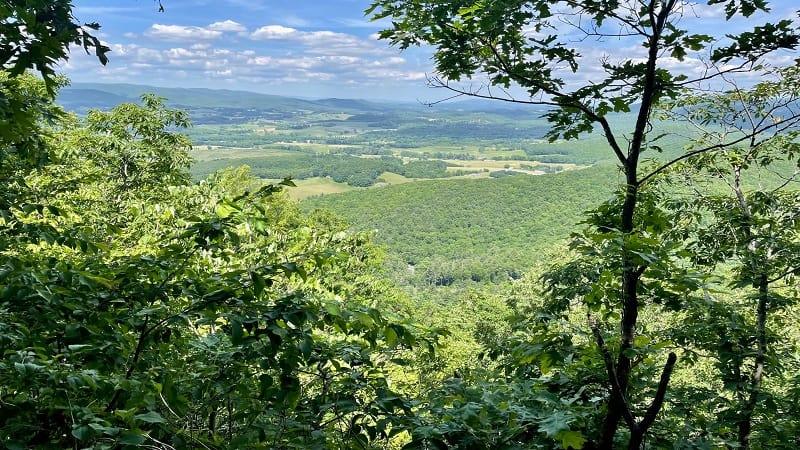 A stop at the Raccoon Branch Campground near Sugar Grove allows for a 4.8-mile out-and-back hike that includes the top of Dickey Knob.
The Dickey Knob Trail leads to the remains of a former fire tower, as well as northeast-facing vistas across the Rye Valley and Sugar Grove.
This forested hiking trail within the Raccoon Branch Wilderness in Smyth County is unmarked, but it's relatively easy to follow up to the high point.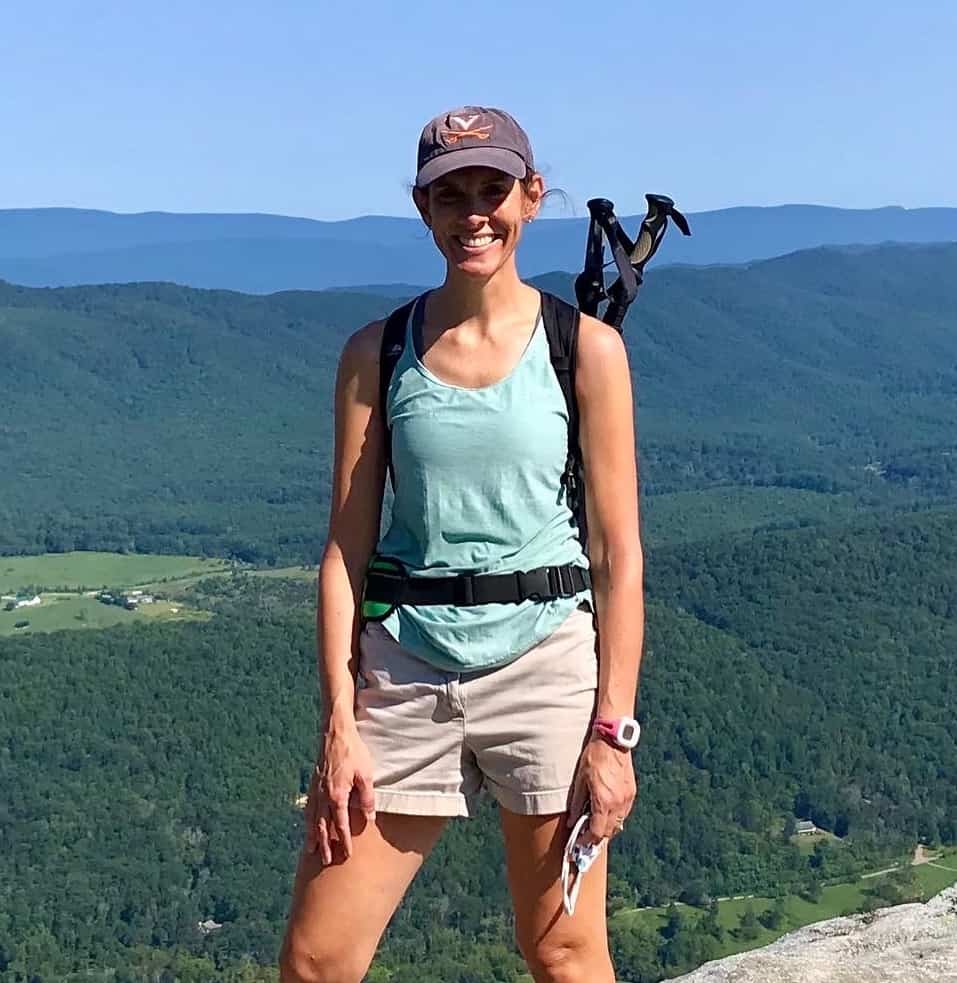 Erin Gifford is the editor of Go Hike Virginia. She has completed more than 300 hikes in Virginia. She is also the author of three hiking guidebooks from Falcon Guides. Need help finding a hike? Check out the Trail Finder feature or send Erin a message.