18 Spectacular Fall Foliage Hikes Across Virginia
The gorgeous fall colors in Virginia are on the way. Fiery orange, persimmon and golden yellow leaves are starting to pop, so it's time to line up fall foliage hikes.
The best time to see fall colors in Virginia is from mid- to late-October, possibly into early-November across the Tidewater Region and Eastern Shore.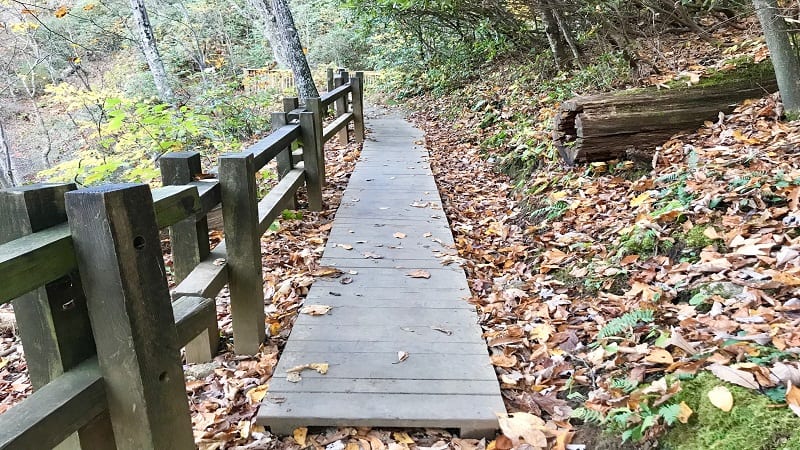 Among the best ways to experience Virginia's fall colors are road trips, scenic drives, bike rides, and of course, foliage hikes to get up close with fall leaves.
There are incredible hikes across the state that are fantastic when the leaves change colors. I chose three must-do hikes for each region. It was really hard.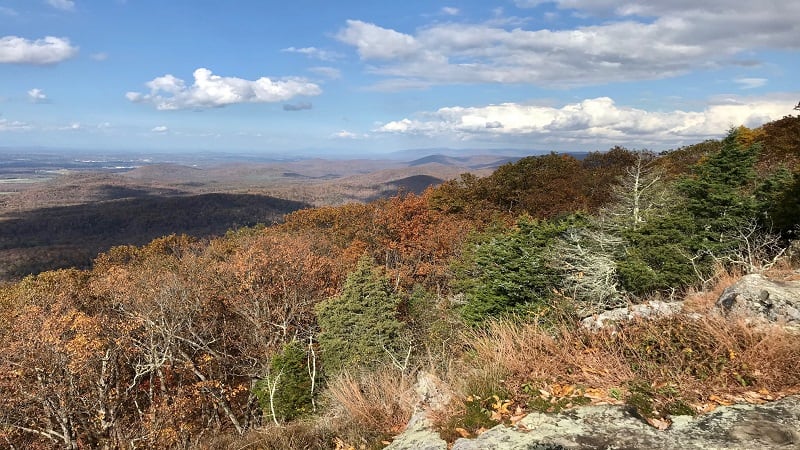 Some of these hikes may require a road trip to see fall colors, but who doesn't love a good road trip? Especially during cool, colorful autumn in Virginia.
This is not a be-all-end-all list, but I think (hope) you'll find that these foliage-filled hikes are located in some of the best places to visit in fall in Virginia.
Central Virginia Hikes
Fall foliage in Central Virginia is forecast to peak the weeks of October 23 and October 30. Here's where to go for dramatic fall colors: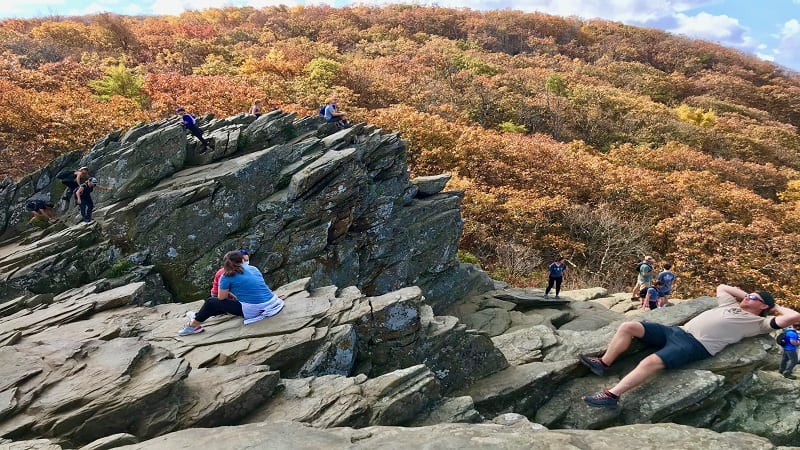 Tackle Humpback Rocks as a 4.3-mile loop or a 2.0-mile out-and-back hike. Either way, you'll be stunned by colorful 360-degree summit views.
Just off the Blue Ridge Parkway, Humpback Rocks wows with a multi-hued explosion of fall colors sure to impress any and all leaf peepers.
reward yourself with far-reaching views across Virginia's Shenandoah Valley. To the north, you may be able to see as far as Shenandoah National Park.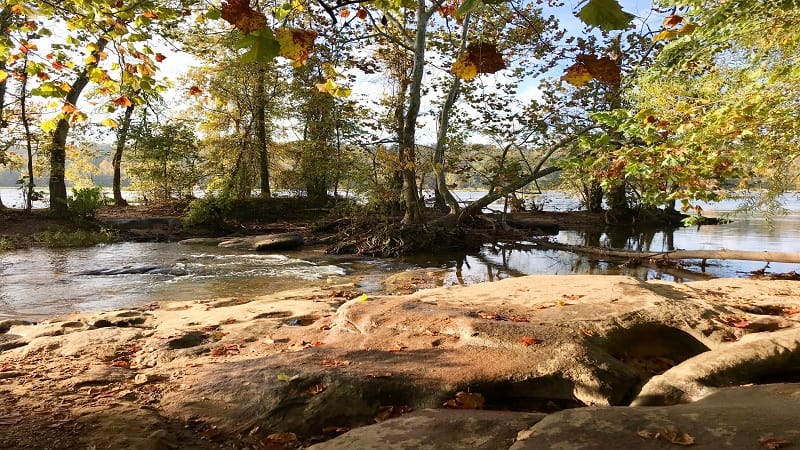 This leafy 3.2-mile urban hike at James River Park bursts with fall colors as the trail casually guides hikers to and along the gently-flowing James River.
Early in this hike, nature- and wildlife-themed murals wow day hikers. The Texas Beach Murals first appeared in October 2014 as a way to cover up graffiti.
Continue on for footbridges and dam-created waterfalls before reaching the sandy path alongside the James River. Settle down on a flat rock to savor the fall foliage.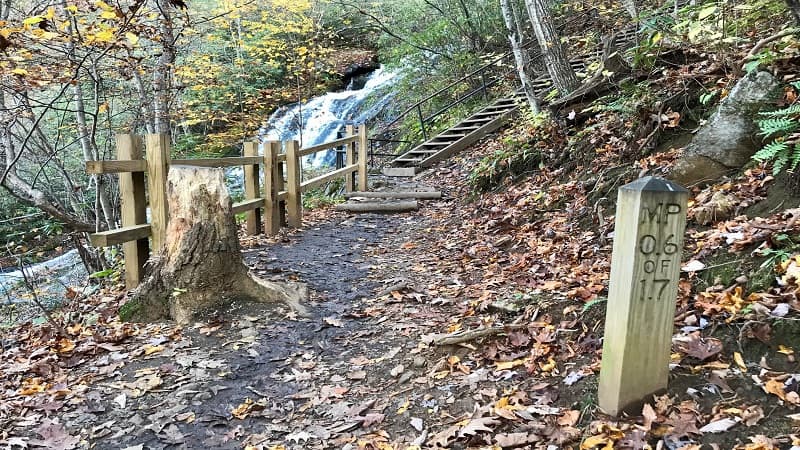 Crabtree Falls is stunning on its own thanks to dramatic cascades and rewarding views across the Blue Ridge Mountains from the top of the 1,214-foot-tall falls.
This show-stopping waterfall boasts five tumbling cascades that are within view nearly every step of this 1.7-mile hike (one-way) to the top along Crabtree Creek.
Once you reach the top, the wildly colorful vistas across the Blue Ridge Mountains and Tye River Valley are beyond spectacular. For extra steps, tack on Spy Rock.
Coastal Virginia Hikes
Fall foliage in Coastal Virginia is expected to peak the week of October 30. Here's where to go for spectacular fall colors:
The wooded Waller Mill Park in Williamsburg wows with several hiking trails and the 360-acre Waller Mill Reservoir. There's also a dog park and a disc golf course.
The 2.7-mile Lookout Tower Trail casually guides visitors along the perimeter of a vibrantly-hued forested peninsula. The leaves are striking against the water views.
With each step, enjoy a mix of fragrant coastal pines and leafy mature hardwoods that are bursting to be admired for their gorgeous fall colors.
At Caledon State Park in King George, the Boyd's Hole Trail leads visitors across an old growth forest that dazzles the eyes with a magnificent display of fall colors.
This state park is also a National Natural Landmark known for its bald eagles. The Boyd's Hole Trail is one of the best trails for spotting stately bald eagles.
Set up a hammock in the picnic area alongside the natural shoreline on the gently lapping Potomac River. It's easy to laze the day under a canopy of colorful leaves.
At Newport News Park, the White Oak Nature Trail crosses the Lee Hall Reservoir, offering views of coastal wetlands, cypress swamps and hardwood trees.
The colorful foliage is magnificent as you cross on a wooden boardwalk and can take in the eye-pleasing leafy views from a distance on this 2.7-mile hike.
Keep your eyes open for swimming turtles that frequent the reservoir's waters. They like to pop up now and then to revel in the fall colors at the park, too.
Northern Virginia Hikes
Fall foliage in Northern Virginia is forecast to peak the weeks of October 16 and October 23. Here's where to go for dramatic fall colors: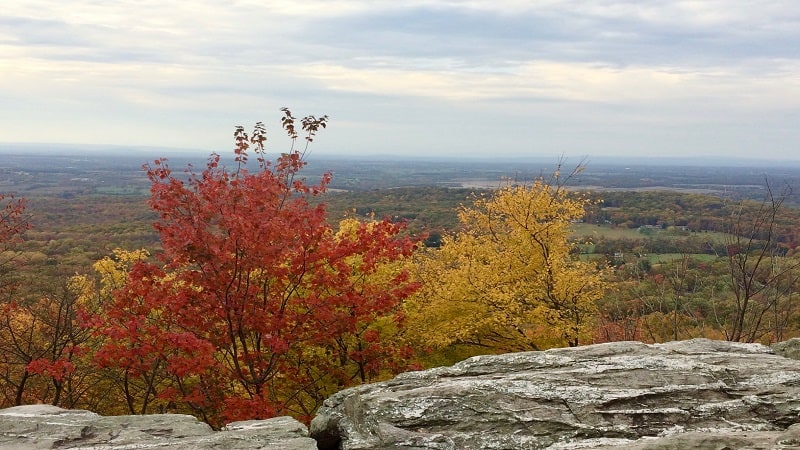 In Loudoun County, the hike to Bear's Den Overlook takes visitors along a leafy, eye-pleasing stretch of the white-blazed Appalachian Trail in Bluemont.
Bear's Den Overlook is a short 0.7-mile walk from the parking lot. Along the way, plan to navigate rocky terrain, tree roots, boulders and wildflowers.
The views are to the west and northwest, making this a spectacular go-to spot for vibrantly-hued sunsets set against the colorful pops of foliage in October.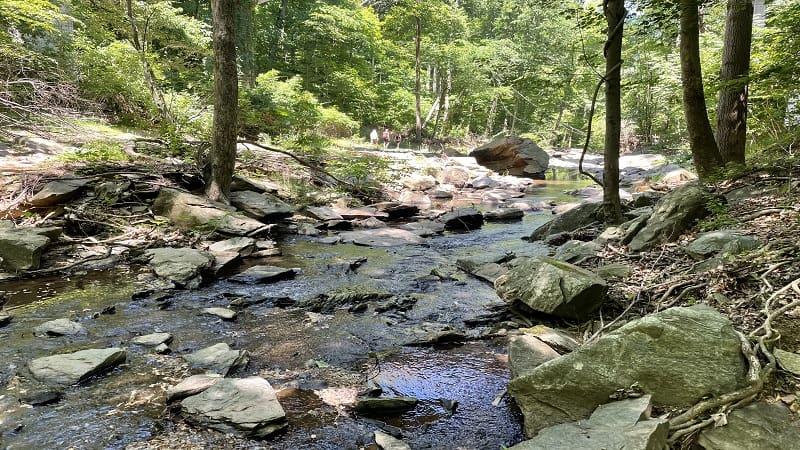 The 3.9-mile loop hike at Turkey Run Park is one of my favorite hikes. Kids will love this one too thanks to massive boulders, water crossings and rock scrambles.
Turkey Run Park is located in a wooded area adjacent to the Potomac River. The fall colors are impressive with bursts of red, yellow and orange.
Allow kids to scramble rocks at Dead Run as you revel in the fall foliage across this park in Fairfax County. This hike is absolutely one to love, especially in the fall.
A favorite hike in Loudoun County is the 5.1-mile out-and-back trek to Raven Rocks along the white-blazed Appalachian Trail in Bluemont.
It's a rocky climb with an elevation gain of more than 1,500 feet that rewards with valley and mountain views that are beyond breathtaking in the fall.
This hike follows a winding route along a rock-laden section of northbound trail. You may even bump into a section hiker or two savoring the foliage along the trail.
Shenandoah Valley Hikes
In the Shenandoah Valley, magnificent fall foliage is on track to peak the weeks of October 16 and October 23. Here's where to go for vibrant fall colors:
For a short hike from Skyline Drive with easy parking and big views, look to the 2.1-mile Loft Mountain Loop in the South District of Shenandoah National Park.
Prepare yourself for two jaw-dropping vistas. Counter-clockwise, you'll arrive at the first foliage-filled overlook at the 0.6-mile mark. Settle down for a mid-hike snack.
At the 1.2-mile mark, you will reach the second vista. It's a show-stopper too, wowing with east-facing mountain views that are bathed in fall colors.
The 6.2-mile out-and-back hike on the Buzzard Rock Trail in the George Washington National Forest is a stunner with rock scrambles and ridgeline views.
There are loads of rocky outcrops with far-reaching vistas with dramatic foliage as far as the eye can see. Look for stone fire pits and cleared tent camping areas.
For a shorter hike, take the Buzzard Rock Trail to the first overlook for vibrantly-hued views across the valley. This out-and-back hike clocks in at 2.9-miles.
Reaching the summit of Bearfence Mountain (3,485 feet) in the Central District of Shenandoah National Park is a feat worthy of a spot on any hiker's bucket list.
On a clear day, the mountains go on forever. The 360-degree views dazzle with fall leaves of all colors, including amber, gold and fiery orange.
The short distance can be deceptive. Use your hands, feet and arms, even knees to scramble to the top. I assure you, it's well worth every ounce of effort.
Southwest Virginia Hikes
In Southwest Virginia, eye-pleasing fall foliage is expected to peak the weeks of October 16 and October 23. Here's where to go for dramatic fall foliage: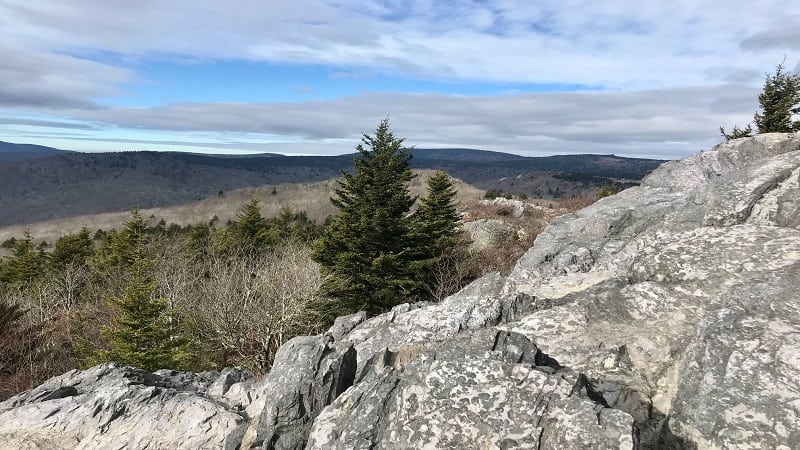 Of course, it's a must to see free-roaming ponies at Grayson Highlands State Park, but you can also hike to two of Virginia's tallest peaks while in the state park.
The forested Big Pinnacle Trail guides visitors on a 2.1-mile hike that boasts wildly scenic foliage-filled views from the top of Big Pinnacle and Little Pinnacle.
You'll need to scramble reach the top of Big Pinnacle, but oh the 360-degree views. At the top of Haw Orchard Mountain, you may not ever want to leave.
Home to the "Grand Canyon of the South," a five-mile gorge that's more than 1,650 feet deep, it's easy to see why Breaks Interstate Park is a must-go, especially in fall.
There are many short trails at this mountainous park. Cobbling together several trails creates a wondrous 3.6-mile loop hike that's replete with fall colors.
Prepare to be awed by scenic overlooks, rock scrambles, small caves, majestic forest, hidden springs and cliff overhangs, even a 40-foot mini-canyon.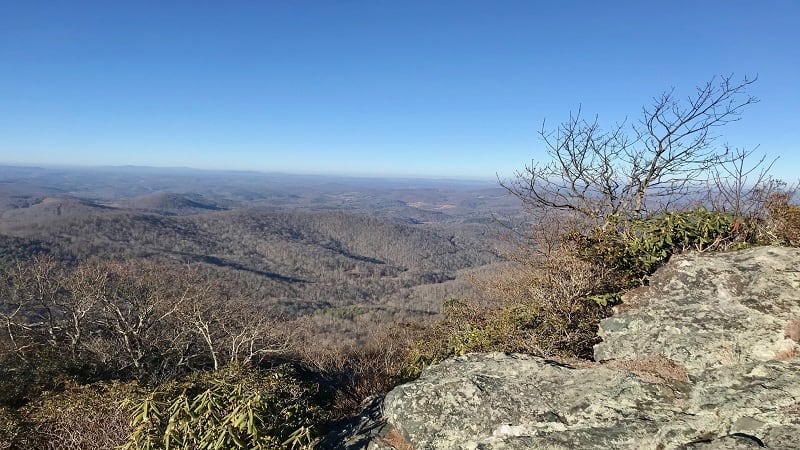 The 2.0-mile loop hike at Buffalo Mountain Natural Area Preserve in Floyd County features three trails: Oak Trail (red), Ridge Trail (blue) and Barrens Loop (orange).
At the summit, you'll find a roped off path designed to guide visitors and protect vegetation from being accidentally trampled. You'll also find spectacular 360-views.
The rounded, treeless summit is home to rare and diverse plant species. It's also home to dramatic fall colors in every direction. Sit and savor the views.
Virginia Mountains Hikes
In the Virginia Mountains, spectacular fall foliage is forecast to peak the weeks of October 23 and October 30. Here's where to go for stunning fall colors: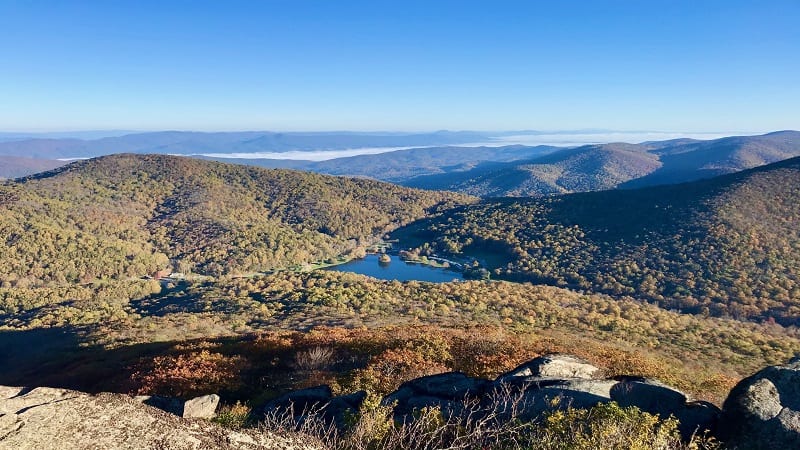 The 3.3-mile out-and-back Sharp Top hike is stunning, especially during peak fall foliage season. The 360-degree panoramas from the summit are simply incredible.
There are stone walkways, stairs and terraces at the summit, so there's no need to scramble rocks to navigate for the best views across the Blue Ridge Mountains.
On the way down, step off onto the short spur trail for Buzzard's Roost. Climb the massive rock for spectacularly colorful foliage views across the mountains.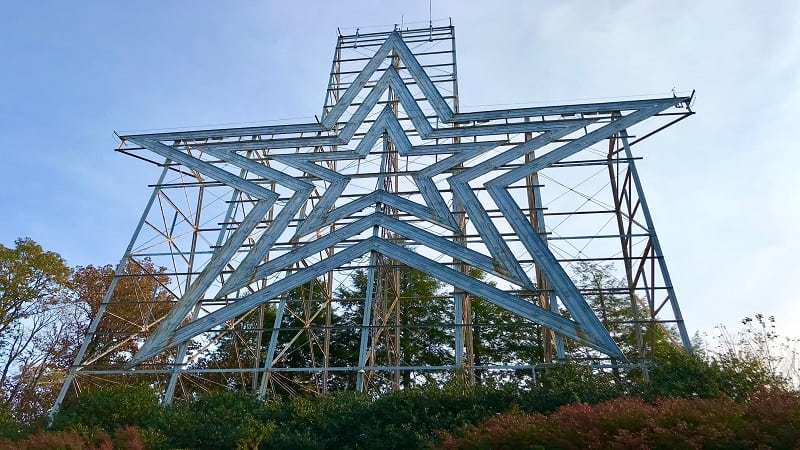 At 100 feet tall, the Mill Mountain Star earned the distinction of the largest man-made star. The iconic steel star has been welcoming visitors since late-1949.
This leafy 3.3-mile out-and-back hike at Mill Mountain Park allows you to see the star up close. It also allows you to savor glorious fall colors all the way to the star.
A stunning overlook at the top of the mountain allows for far-reaching foliage-filled views across the Roanoke Valley.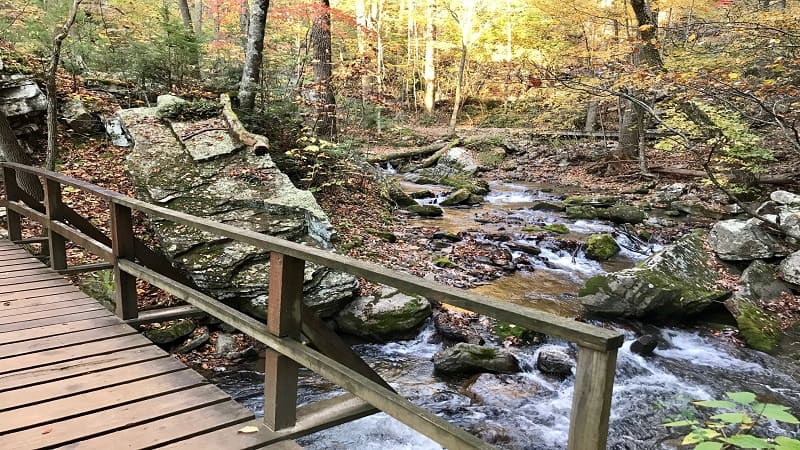 This 1.7-mile waterfall hike at Roaring Run Furnace Day Use Area in Jefferson National Forest is a rewarding hike that can be completed by hikers of all levels.
The trail meanders alongside Roaring Run to the falls via the Streamside Trail. On the return, take the Woodland Trail for a foliage-filled loop hike.
Take in dramatic fall colors as you cross bridges, ascend steps and stroll across wooden boardwalk. Stop for the historic iron furnace that dates back to the 1800s.