Spy Rock: Hike to Spectacular 360-Degree Mountain Views Across Nelson County, Virginia
The Spy Rock hike in Nelson County, Virginia is a real gem, especially as a fall foliage hike. Five stars, friends. I would do this one again (and again).
I completed this leafy hike near Montebello last fall and it was worth every ounce of effort to reach the summit for postcard-perfect 360-degree views.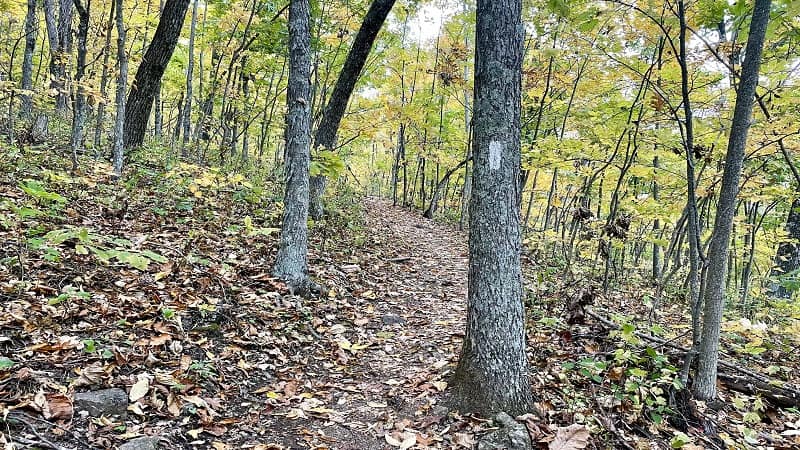 While the hike is five stars, the parking situation is more like one star. Eesh. If you can, plan to do this hike on a weekday. You will thank me.
The drive in on gravelly Meadows Lane is better for a weekday, too. It's a very narrow road and would be a challenge when sharing the road with other cars.
| Trail Stats | |
| --- | --- |
| Length | 5.9 miles |
| Difficulty | Moderate |
| Trail Type | Out-and-Back |
| Elevation Gain | 1,270 feet |
| Duration | 3-4 hours |
| Terrain | Mostly dirt & rock trails |
| Dog-Friendly | Yes |
| Fee | Free |
| Driving Directions | Click Here |
Directions to Spy Rock
First things first, let me share how to get to the trailhead. You'll want to use the driving directions for Spy Rock Trail via Cash Hollow.
These directions are good (not all AllTrails directions are good). On arrival, you'll see a sign pointing you to Spy Rock and the Appalachian Trail.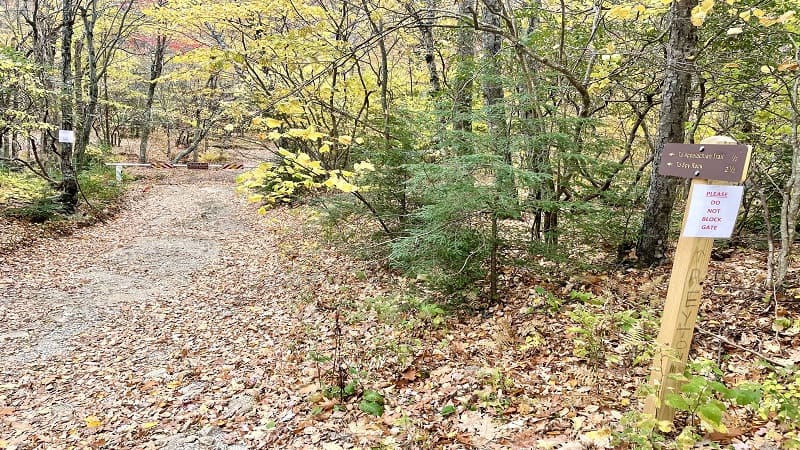 To get here, however, you must drive 3.2 miles along a narrow, gravelly road. Thankfully, there are no potholes, though there are two small stream crossings.
As you turn onto this road (Meadows Lane) from State Route 56, a sign warns that this road is only recommended for four-wheel drive vehicles.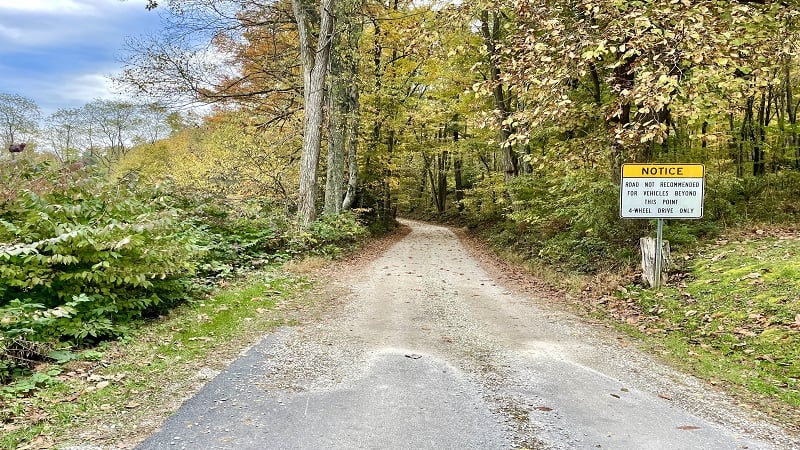 I have a minivan and had no problems. Just take it slow, especially since you will encounter two stream crossings. They are very small and did not pose a problem.
This trailhead is the best starting point. You may read about a start from behind the Montebello Fish Hatchery, but that lot is no longer open to hikers.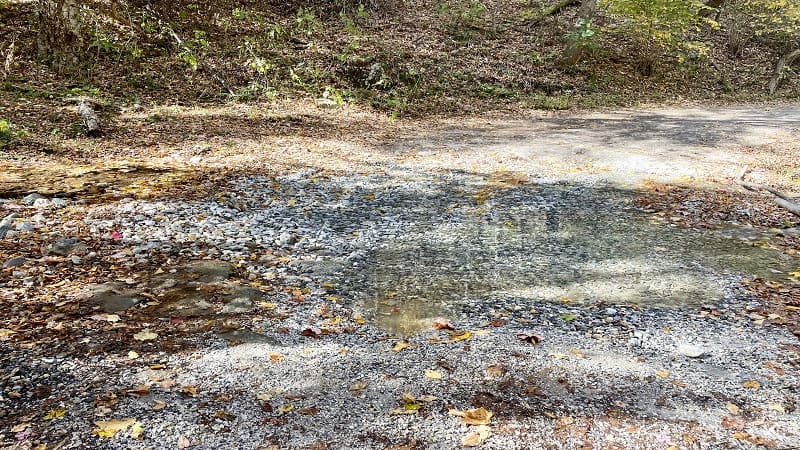 The U.S. Forest Service closed that parking lot and associated trail to Spy Rock in December 2020. Do not use the AllTrails directions for "Spy Rock" (3.1 miles).
Spy Rock Parking Lot
The tough part about the closure of the parking lot at the state fish hatchery is that parking at the new trailhead is an issue. As in, there really is no close parking.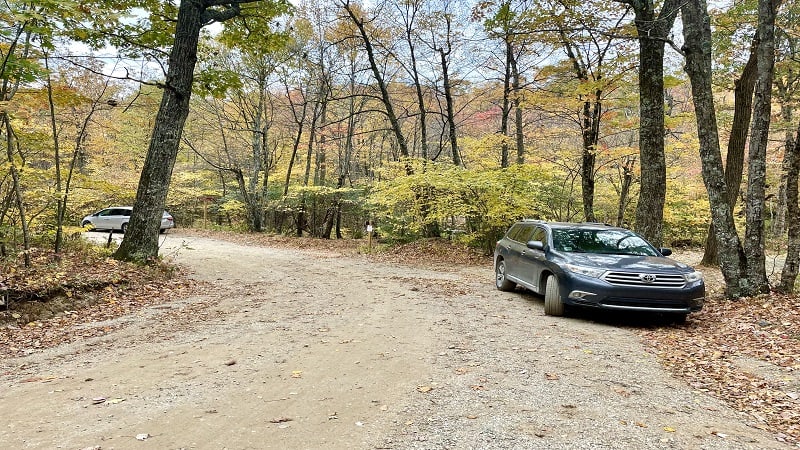 At the new trailhead, there is room for two or three cars to park along Meadows Lane. The alternative is to continue on Meadows Lane to Crabtree Meadows.
At Crabtree Meadows, you will see a parking lot that is suitable for at least 15 or 20 cars. There is also a vault toilet. From here, it's a .6-mile walk to the trailhead.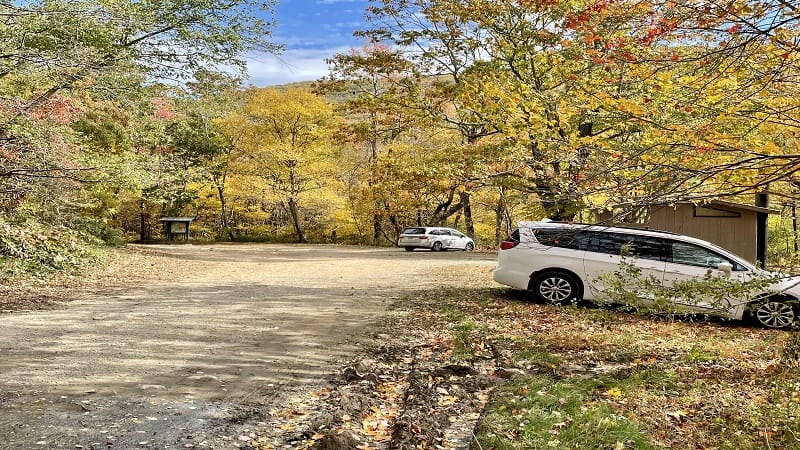 The walk from the Crabtree Meadows parking area to the trailhead isn't terrible, but of course, it tacks on an extra 1.2 miles to your total mileage for the day.
Spy Rock Hike
From the trailhead, the hike to Spy Rock begins on Cash Hollow Road (also called Spy Rock Trail). It's essentially a gravel fire road that leads to the Appalachian Trail.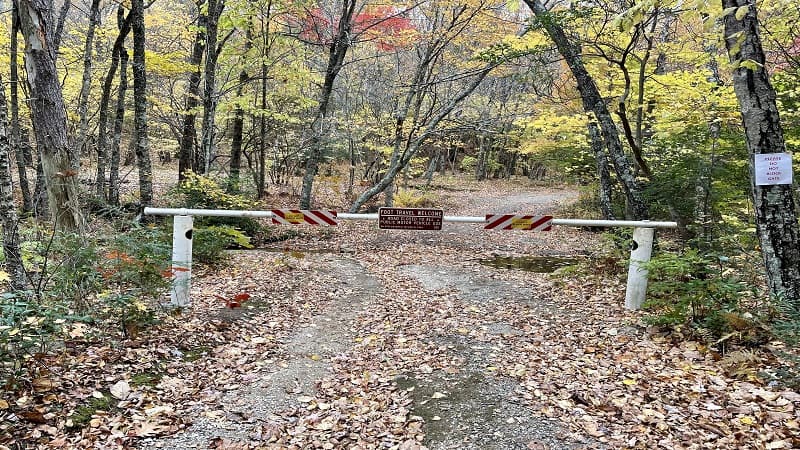 Walk around the "Foot Travel Welcome" gate and begin your ascent along this wide trail. Note the good-size primitive campground on your left as you begin to hike.
At the .5-mile mark, you will reach a trail sign. Turn right for the southbound Appalachian Trail to Spy Rock. The trail is behind you. Essentially, make a U-turn.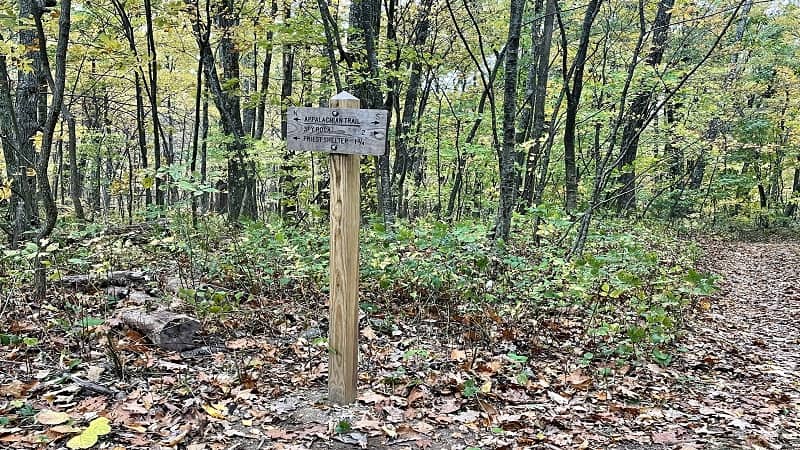 Follow the white blazes as you gently ascend the iconic trail. While Spy Rock is the big prize, there are a few small rewards along the way.
At the 1.8-mile mark, wide-open south-facing views are a real treat. You'll definitely want to stop to savor the vistas and snap a few photos.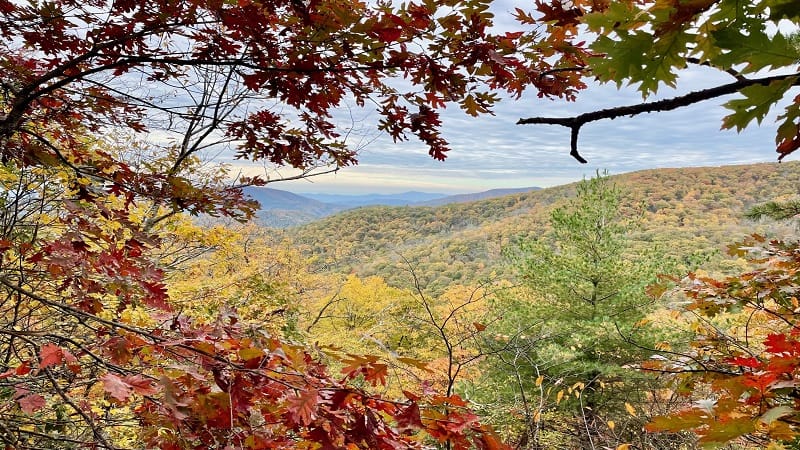 You will hop off the Appalachian Trail at the 2.7-mile mark. Turn left for the blue-blazed spur trail that leads to Spy Rock.
You'll see a wooden Spy Rock sign, then a large trail kiosk with what to know about camping and protecting rare plants while at Spy Rock.
In the final .2-miles to the bare rock at Spy Rock you will climb steps, then scramble Spy Rock to be awed by views across the Blue Ridge Mountains.
Note the sign on the right before you scramble to the top. Stay within the fenced in area to protect a rare plant known to grow on just two high-elevation peaks.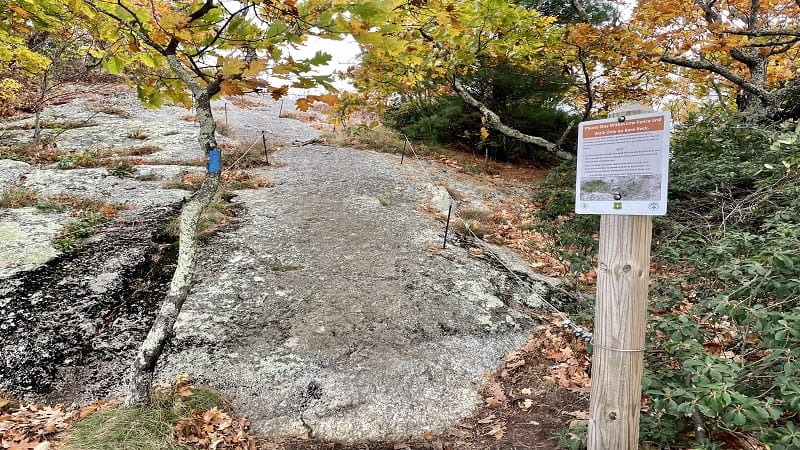 Even with the low fence, you will not feel restricted. You will also be able to take plenty of photos from within the fenced in area that do not include the fence.
For those not keen to scramble to the summit of Spy Rock, there is a gorgeous wide-open view just to the left of the final rock scramble.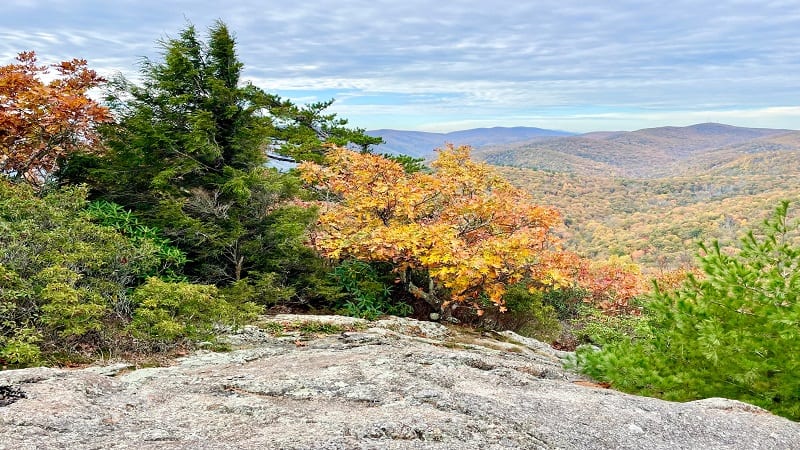 There is plenty of space for everyone on top of Spy Rock. It's a great spot to enjoy a snack or take a lunch break. From here, re-trace your steps to your vehicle.
Spy Rock Camping
For those eager to camp near Spy Rock, you're in luck. There are plenty of primitive camping spots for car campers and backpackers.
As you drive in – along Meadows Lane – there are a half-dozen spots tucked away with parking spaces. There's even a camp site to the right of the trailhead.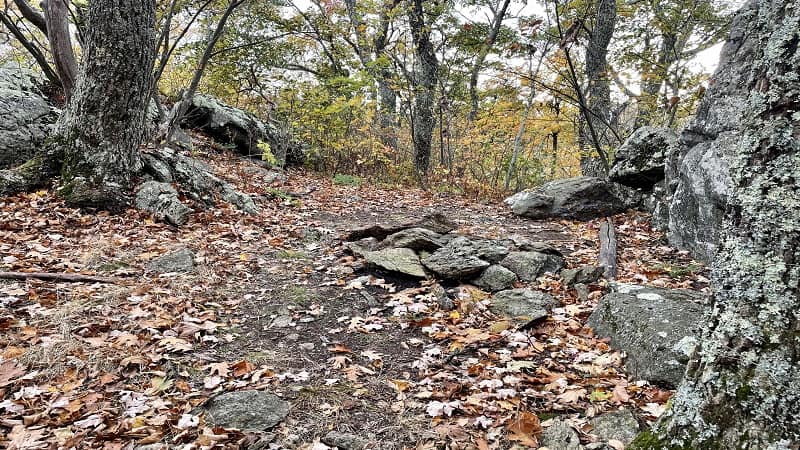 Another camp site is to the left after you go around the "Foot Traffic Welcome" gate. From here, you'll see fire rings here and there.
Once you turn left onto the spur trail for Spy Rock at the 2.7-mile mark, there are large camp sites (big enough for small groups) on both sides of the trail.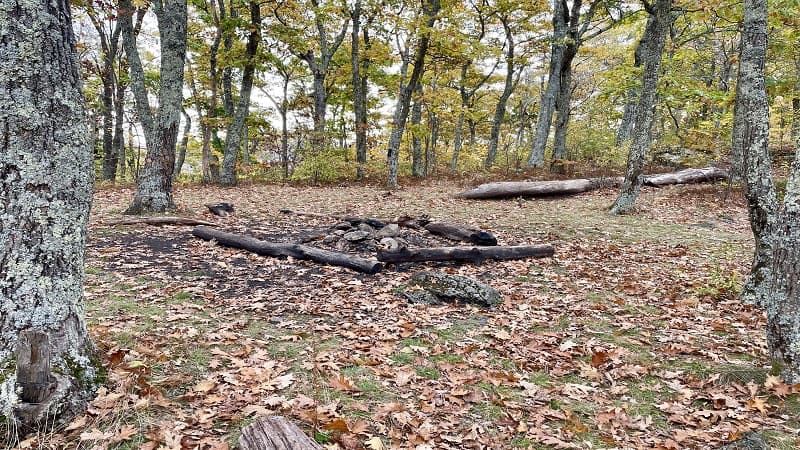 These two sites are the closest camp sites to Spy Rock. Camping is not allowed at or near the Spy Rock summit. Note that there is also no water source.
It's free to camp in the George Washington & Jefferson National Forest and sites are fairly plentiful near Spy Rock. All camp sites are first-come, first-served.
Wrap-Up Notes
From the trailhead, the 5.9-mile out-and-back Spy Rock hike in the George Washington & Jefferson National Forest took me just over 2.5 hours.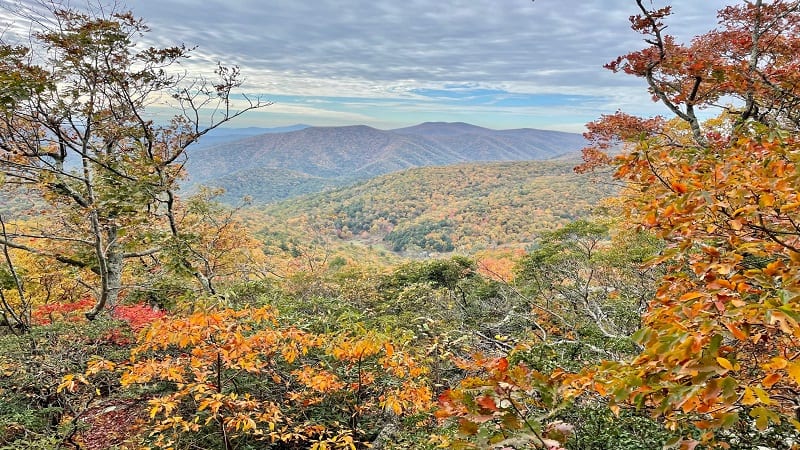 This is a beautiful Central Virginia hike and one that I highly recommend in fall. The colorful fall foliage was so spectacular. I could have sat at the summit all day.
Post-hike, I suggest a drive to the Crabtree Meadows parking area (if you want to continue hiking). From here, there are two short and scenic hikes.
The first is a 2.5-mile hike from the back of the parking lot that leads to the viewing platform atop Crabtree Falls. There are plenty of spots to sit and revel in the views.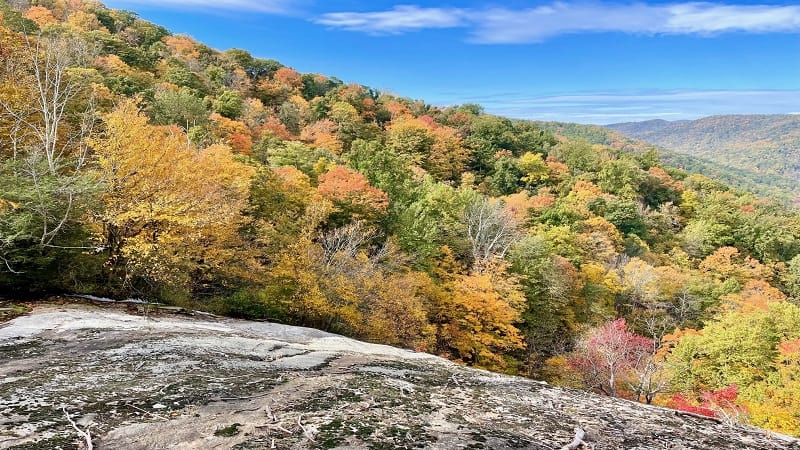 The second hike is a 3.7-mile hike that starts at the front of the lot and leads to Pinnacle Rocks. It's a quiet, less-traveled trail with big, big views.
Alternate Route
For an alternate route, with plentiful parking to boot, tack Crabtree Falls onto the Spy Rock hike. You will, however, also more than double the length of this hike.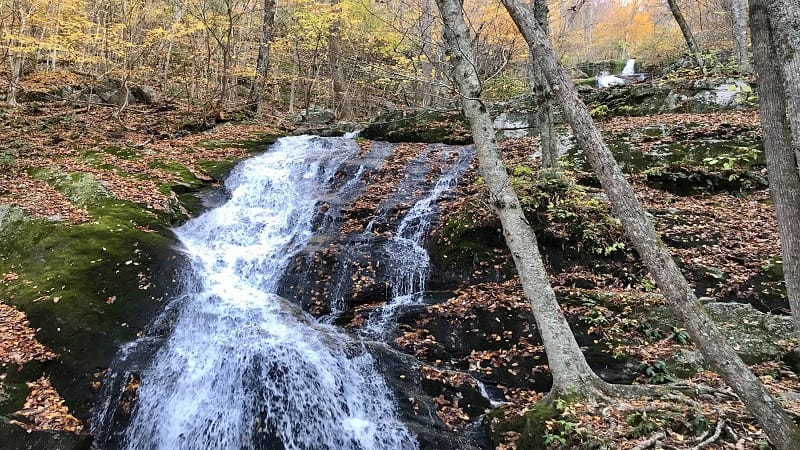 Start at the Crabtree Falls Day Use Area on State Route 56. It's a moderate 1.7-mile hike (one-way) to the top of the falls.
Sit and savor the views across the Blue Ridge Mountains and Tye River Valley from the viewing platform. Then, continue south on the Crabtree Falls Trail.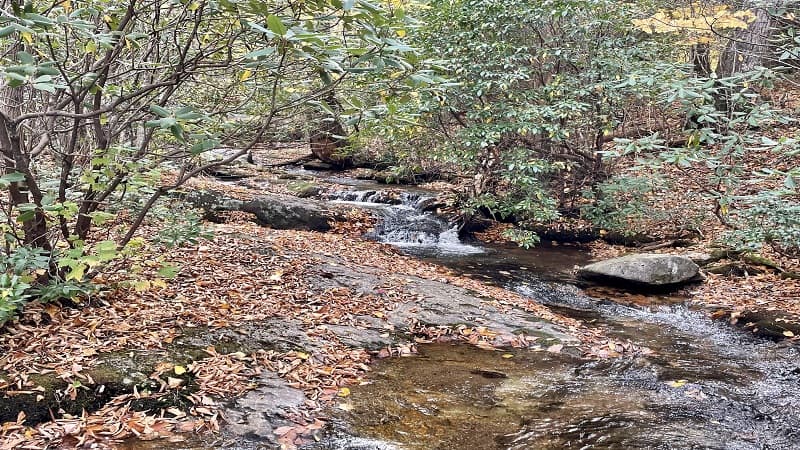 You will walk alongside burbling Crabtree Creek for 1.3 miles until you reach the Crabtree Meadows parking area.
From here, turn right and walk .6 miles to the Spy Rock trailhead, then make your way to the summit. This out-and-back hike is 13.1 miles.
Eager to step foot on more scenic hiking trails? Check out my favorite hikes near Lexington, Virginia.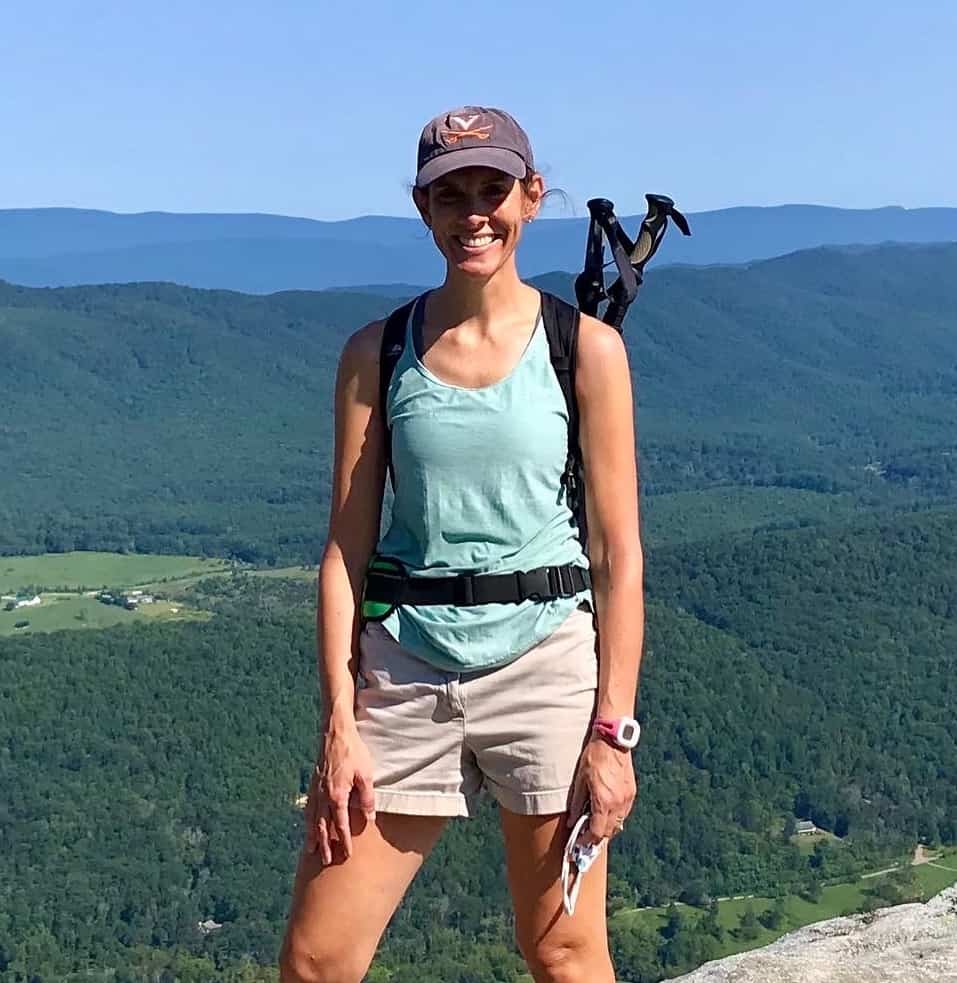 Erin Gifford is the editor of Go Hike Virginia. She has completed more than 300 hikes in Virginia. She is also the author of three hiking guidebooks from Falcon Guides. Need help finding a hike? Check out the Trail Finder feature or send Erin a message.