Gear Up to Hike to These 14 Appalachian Trail Shelters in Virginia
There are 62 Appalachian Trail shelters in Virginia. I thought I'd been to a lot, but when I counted, I realized I'd only seen 14 of these backpackers' shelters.
The iconic Appalachian Trail is nearly 2,200 miles from Georgia to Maine. More than 500 miles run through Virginia. That's more miles than any other state.
Assuming mile 0 is in Georgia, the AT mile points in Virginia are roughly 478.3 (Saunders Shelter) to 1013.8 (David Lesser Memorial Shelter).
Appalachian Trail Shelters in Virginia
Clearly, I need to step up my game. There are nearly 50 shelters I still need to explore and photograph along the Appalachian Trail.
Meantime, here are hikes that feature 14 fabulous shelters along the AT. They are in order from south-to-north as you'd reach them on your way to Maine.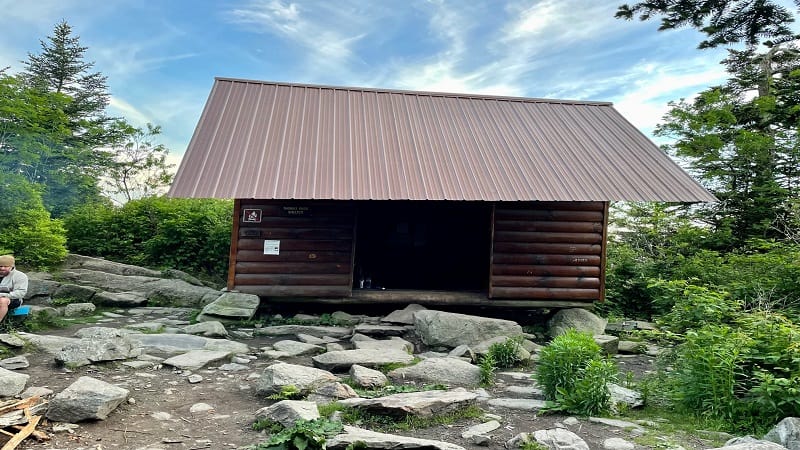 The Thomas Knob Shelter is located at Mount Rogers National Recreation Area. It's also a stone's throw from Mount Rogers, the highest point in Virginia.
Here you're also at ground zero for wild ponies. They are all over the Appalachian Trail near Mount Rogers and Wilburn Ridge.
Unlike most shelters, which can be reached by way of a short walk down a spur trail, this shelter is literally alongside the trail. You can't miss this one.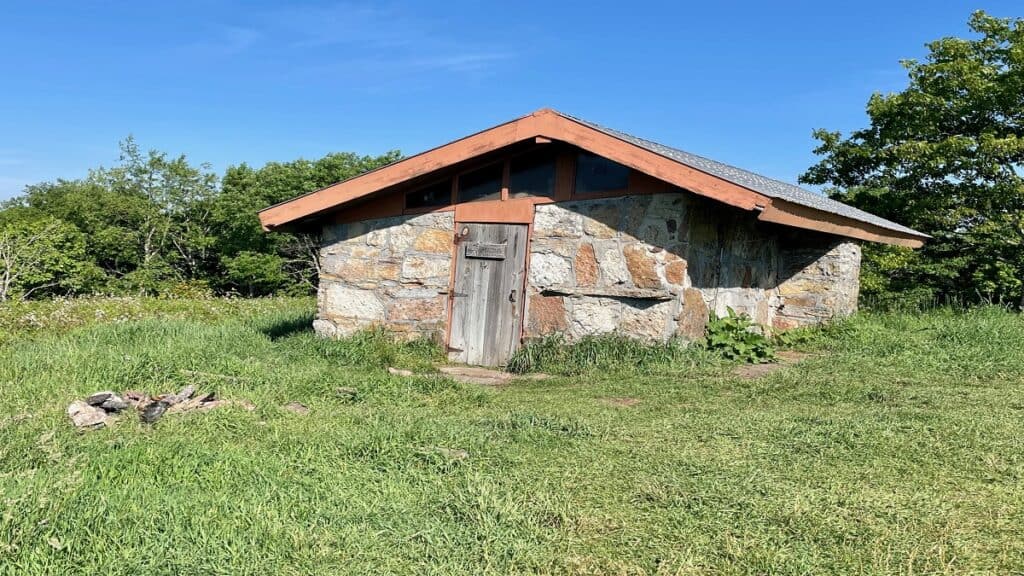 The Chestnut Knob Shelter sits atop Chestnut Knob. A good-size grassy overlook allows for panoramic views across all of Burke's Garden.
This stone shelter for hikers is unique in that it has four walls and a door. Most hiker shelters are lean-to shelters with three walls and a roof overhang.
A short hike on the Appalachian Trail – just 2.8-miles round-trip – leads to the shelter, as well as seriously monumental views.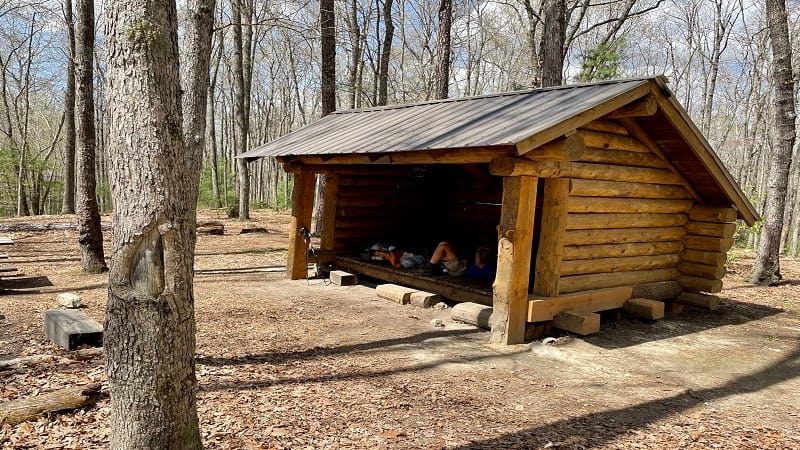 The hike to the top of Sugar Run Mountain rewards with big views, but you've definitely got to earn them on this 10.8-mile loop hike in Southwest Virginia.
Over the course of the hike, you'll experience a 2,000+ elevation gain, but thankfully the first three miles are flat, allowing for a nice warm-up.
You'll reach Wapiti Shelter at the 2.8-mile mark. From here, it's all uphill until you reach the overlook, so make this a stop for lunch or a water break.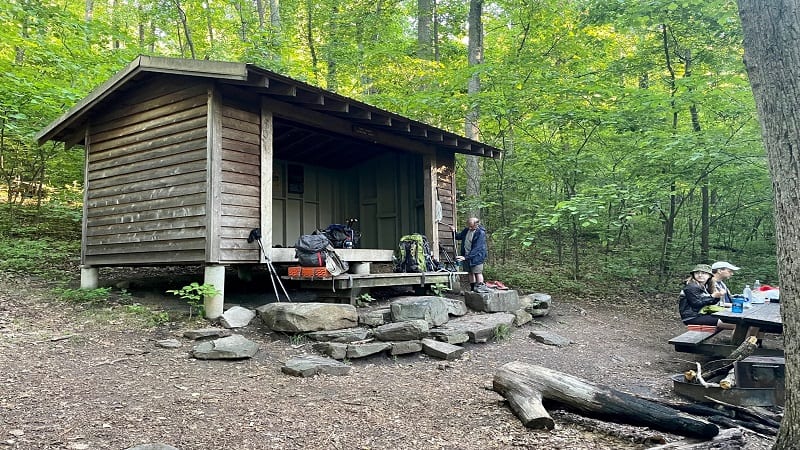 The Johns Spring Shelter is the first of two shelters on the 4.0-mile (one-way) stretch from the parking area on Catawba Valley Drive to McAfee Knob.
This lean-to shelter is just 1.0-mile north on the trail. There's a picnic table, a fire pit and a smattering of camp sites just right for a backpacking tent.
From this shelter, it's 3.0 miles to McAfee Knob, which is widely considered the most photographed spot on the entire Appalachian Trail.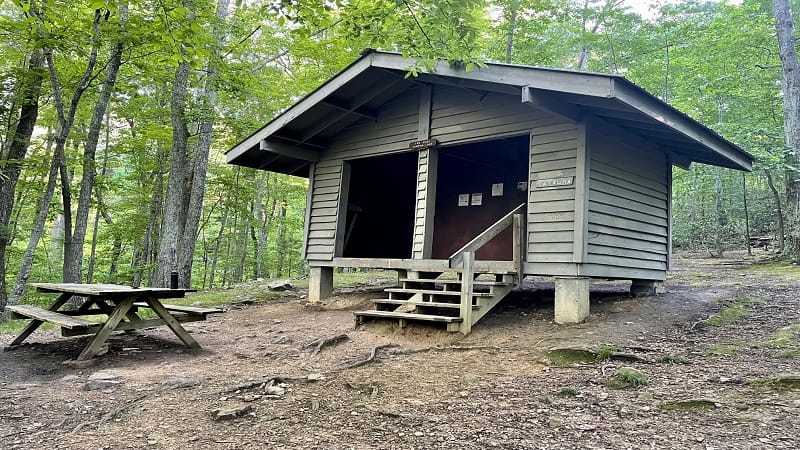 The 8.0-mile out-and-back hike to McAfee Knob includes not one, but two hiker shelters for backpackers eager to set up their tents along the trail.
The Catawba Mountain Shelter is the second shelter you will see when hiking to McAfee Knob from the parking area. There's also a larger area for tents.
This shelter is just 2.2 miles up the trail from Catawba Valley Drive. It's very well-shaded and is only a few steps off the trail.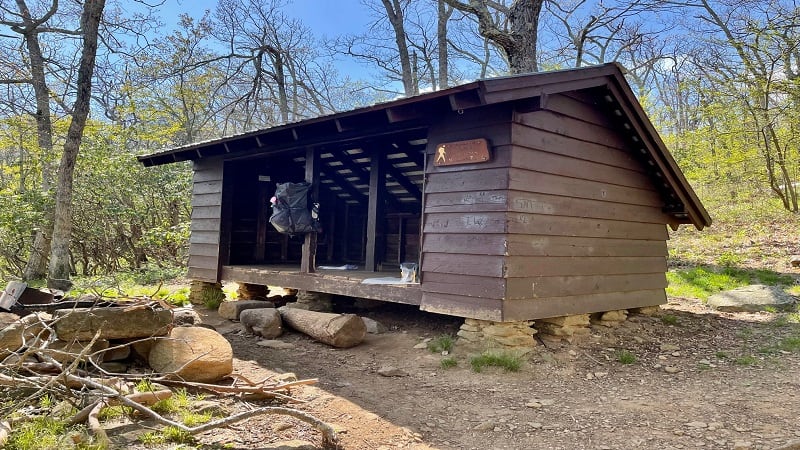 The hike to Apple Orchard Mountain starts at the Thunder Ridge Overlook, a stone viewing deck with gorgeous 180-degree vistas across the Arnold Valley.
From here, it's an easy, forested hike along a southbound stretch of the Appalachian Trail. At the 1.4-mile mark, you'll reach a short spur trail.
Turn left here for the Thunder Hill Shelter. It's a fairly basic lean-to shelter with a wooden picnic table and a stone fire pit, as well as a bear box.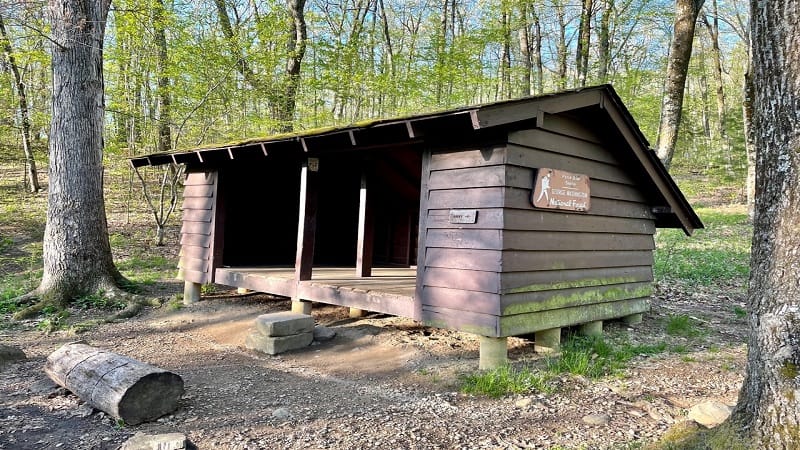 The hike to the top of Bluff Mountain on a southbound stretch of the Appalachian Trail is straightforward. Hike two miles up, then two miles back.
On the way up, you'll see a spur trail after just .4 miles. Turn right here for a short walk to Punch Bowl Shelter. In spring, enjoy all the colorful wildflowers.
This hike begins on the north side of the Blue Ridge Parkway. The parking area is at milepost 51.7. At the summit, you'll see remains of a one-time fire tower.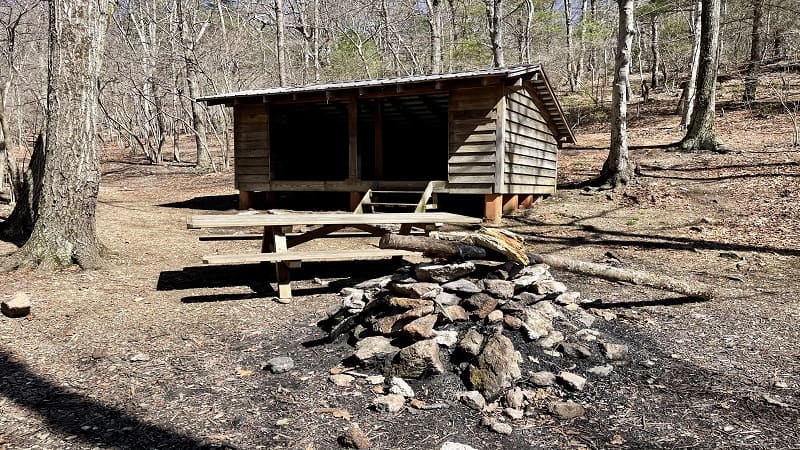 A 6.3-mile Cole Mountain loop hike includes the Cow Camp Shelter. It's about .6 miles off the Appalachian Trail, on the blue-blazed Old Hotel Trail.
This wooden shelter sits in Hog Camp Gap, adjacent to a cool stream. This is a nice mid-way point if you're completing the Cole Mountain hike.
From the shelter, get ready for an ascent, regardless of whether you're hiking this loop clockwise or counter-clockwise. Savor the Cole Mountain vistas. Gorgeous.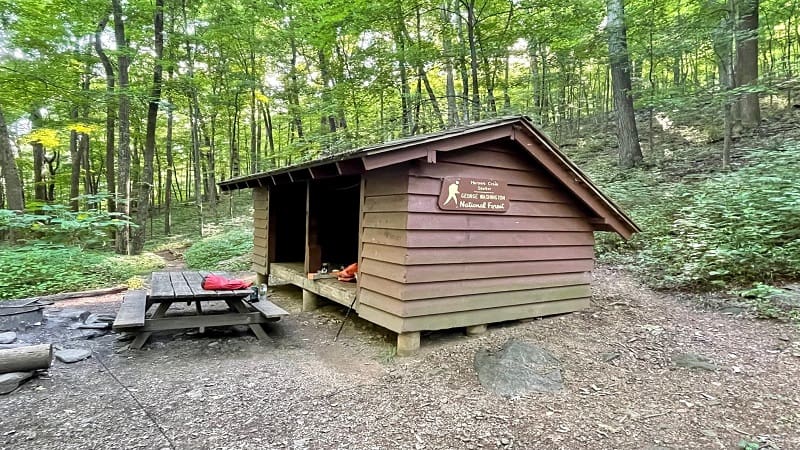 The Harpers Creek Shelter is one of two shelters for hikers that you will see on the scenic Three Ridges hike. It sits right on the edge of Harpers Creek.
This shelter is at the lowest point elevation-wise on this loop hike. It's a good place to stop for the night or for a break. There are tons of camp sites, too.
If nothing else, you'll want to refill your water bottles in the creek. The area is well-shaded. There is a privy and a picnic table.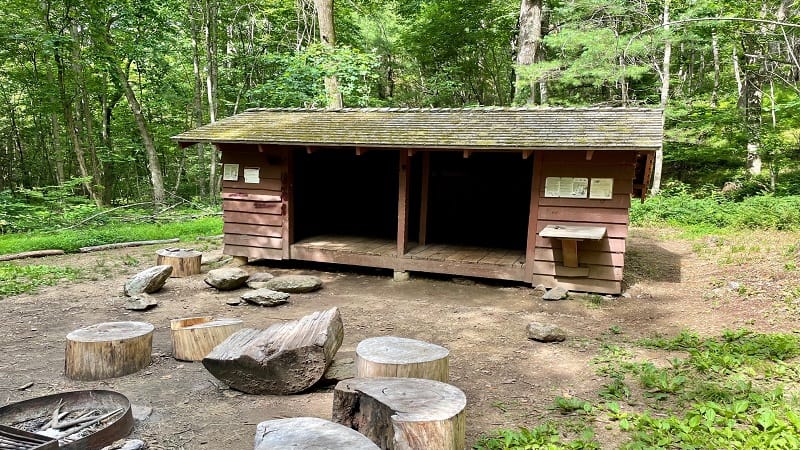 The strenuous 15.0-mile Three Ridges loop hike includes stops at two shelters, including the Maupin Fields Shelter.
Technically, this hikers' shelter is on the Mau-Har Trail, but it's less than .2-miles from the Appalachian Trail. There are lots of camp sites here, too.
It's also just a 1.9-mile (one-way) hike to this shelter from the Reeds Gap parking area. No need to feel locked into a long strenuous loop hike.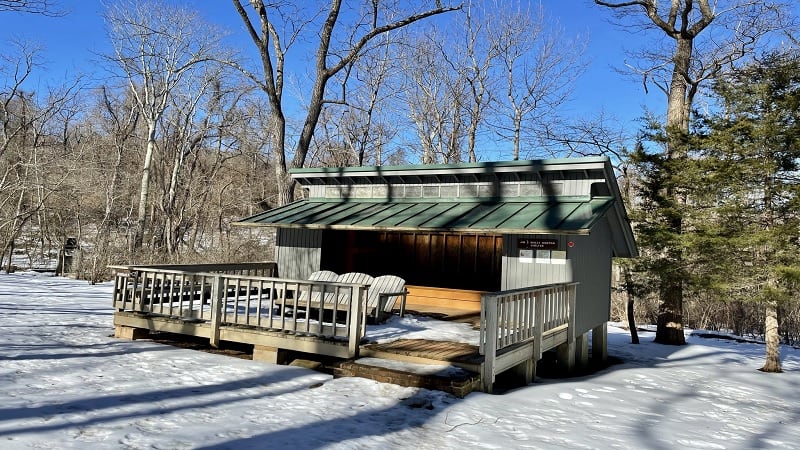 The hike to the Jim & Molly Denton Shelter by way of Trumbo Hollow guides hikers through a quiet stretch of the white-blazed Appalachian Trail.
A 6.4-mile out-and-back hike features switchbacks, grassy meadows and water crossings. Then, an oasis when you reach the shelter. At least for hikers.
This pristine shelter has a covered picnic pavilion, a stone fire pit, horseshoes, a wooden deck and an Adirondack bench. Gorgeous.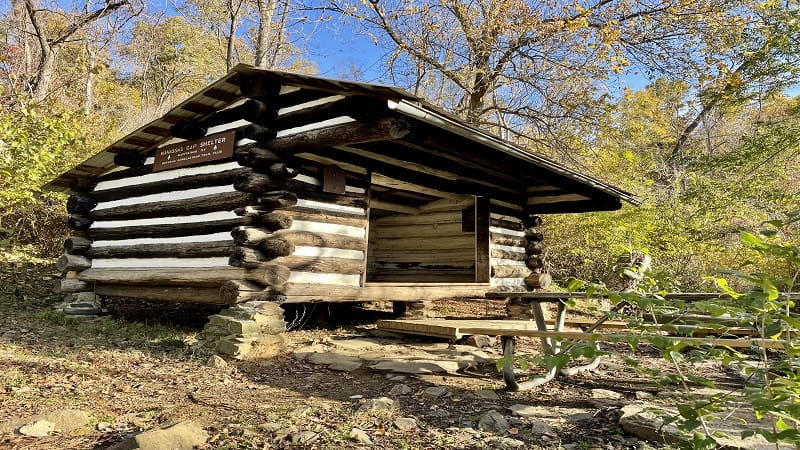 A 4.9-mile out-and-back hike along the Appalachian Trail in Virginia allows hikers to check out the Manassas Gap Shelter.
There is not a lot of green space, but there is a picnic table, a large fire pit, a bear pole and several primitive camping sites for backpacker tents.
Side trails lead to an outdoor privy and a spring. The lean-to shelter has pegs inside and outside for hanging backpacks.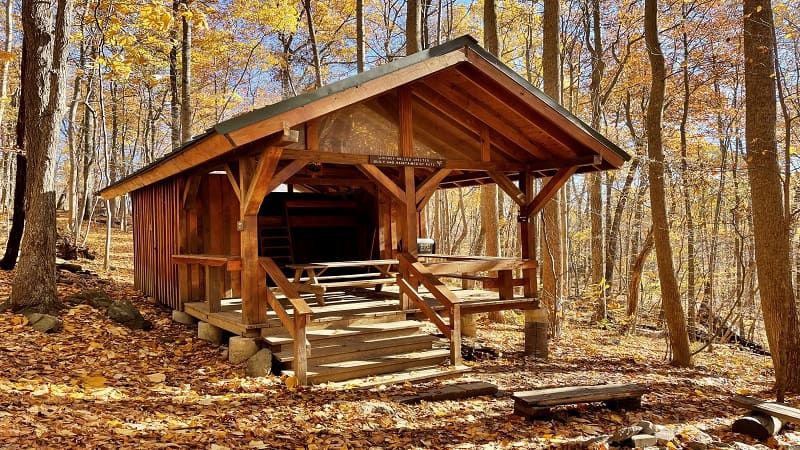 The 3.8-mile hike to Whiskey Hollow Shelter starts near 10-acre Lake Thompson at the G.R. Thompson Wildlife Management Area in Markham.
A moldering privy (a type of composting toilet) is just past the Whiskey Hollow Shelter. Whiskey Creek is also a short walk from this trail shelter.
A large stone fire pit in front of the shelter welcomes backpackers and day hikers, as do two benches adjacent to the fire pit. There is a bear pole, too.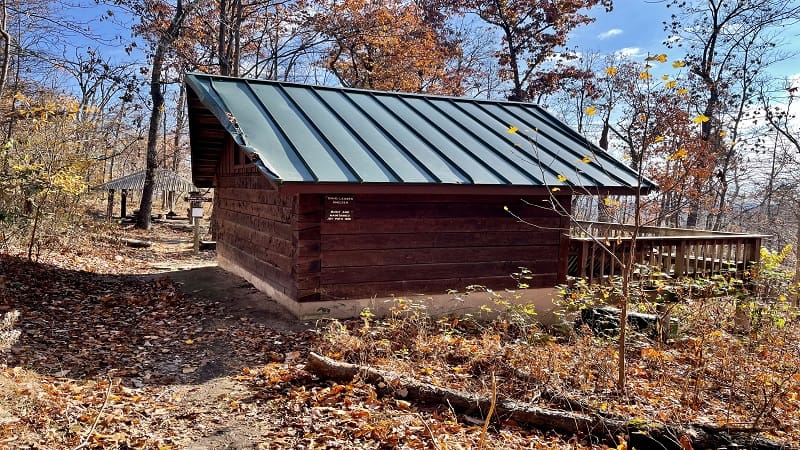 The hike to the David Lesser Shelter on the Appalachian Trail begins at Keys Gap, which sits on the border between Virginia and West Virginia.
There are lovely views on this hike, but they are best viewed from late-fall to early-spring when there are no leaves. You can see working farms in Hillsboro.
The star of this hike is the sizeable David Lesser Shelter, which even has a small campground. Continue past the shelter to Buzzard Rocks View.