Fredericksburg Quarry Trails: Hike Along the Free-Flowing Rappahannock River
I hate to say this, but I've never really given much thought to Fredericksburg. Traveling along I-95, it's always kind of been the bane of my existence.
There's often highway construction and traffic always seems to come to a near standstill on I-95 just as I'm approaching Fredericksburg. Blurgh.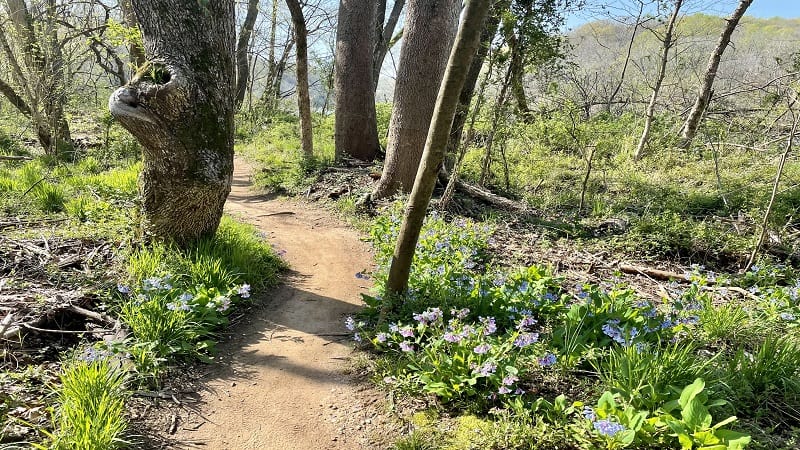 I need to give Fredericksburg a chance, however, since it's the mid-way point between where I live and where my hiking BFF lives. So there we go, Fredericksburg.
Fredericksburg has a lot of historic hikes, but there are also lovely trails that sidle up against the Rappahannock River. Maybe I need to give Fredericksburg a real chance.
| Trail Stats | |
| --- | --- |
| Length | 6.6 miles |
| Difficulty | Easy |
| Trail Type | Out-and-Back |
| Elevation Gain | 135 feet |
| Duration | 3-3.5 hours |
| Terrain | Mostly dirt trails, some gravel |
| Dog-Friendly | Yes |
| Fee | Free |
| Driving Directions | Click Here |
Arriving at the Trailhead
The trail begins from the back of a small parking lot adjacent to a neighborhood of single-family homes. This is part of the Fredericksburg Quarry Trail System.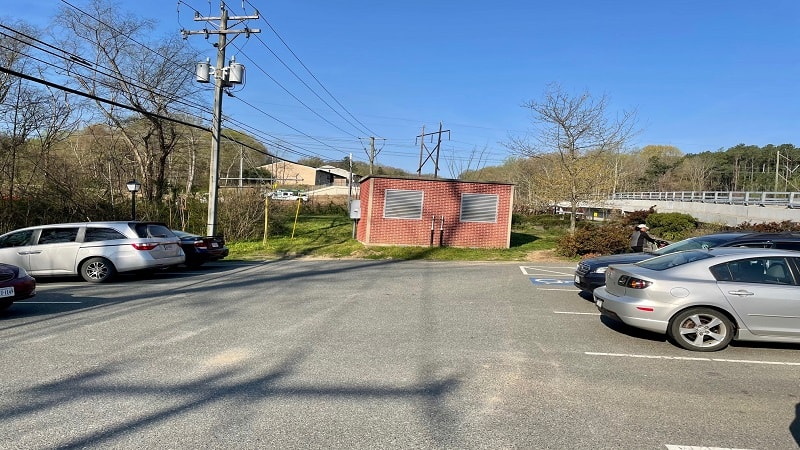 This trail system includes both hiking trails and mountain biking trails. I guess technically all are open to both, but some are better suited for casual hikes.
From the parking lot, we connected with the Scout Trail, which led to the Beach Trail for an uber-relaxing forested hike alongside the Rappahannock River.
The First Steps
From the parking lot, walk along a paved trail, then turn right to cross the Old VEPCO Canal and under the bridge for Faith Hill Avenue. Turn right again to cross the canal once more.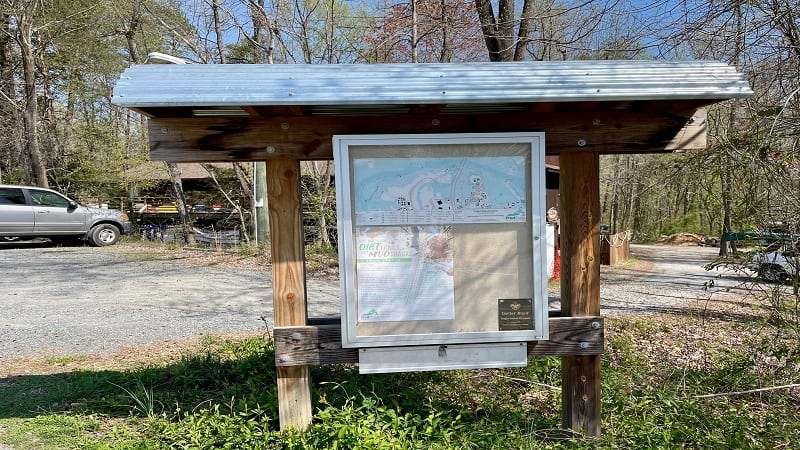 You'll shortly reach a trail kiosk. Turn left here to proceed along a gravel path. At the .4-mile mark, the gravel path ends and the Scout Trail begins (as far as I can tell).
On the left, you'll see a couple of educational placards on the Early Explorers, like John Smith, as well as the Falls of the Rappahannock River.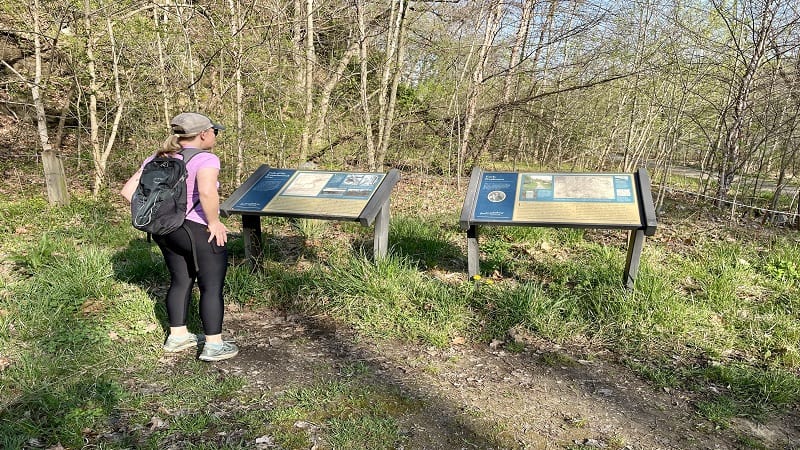 From here, the hiking trail narrows. At the 1.0-mile mark, you can step out to a pseudo-overlook for beautiful views of the Rappahannock River.
In a few more steps, prepare to turn right onto a gravel road. Going straight would put you onto a challenging mountain bike trail (Monolith Trail). No, thank you.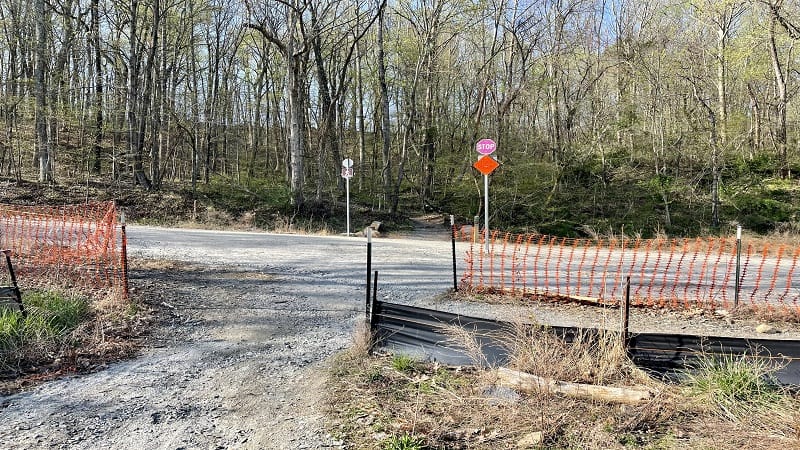 The Scout Trail connects with the Beach Trail by way of this gravel road that goes under I-95. Guess what, you will encounter construction, too (it's everywhere).
Once you go under the bridge, you will be on the Beach Trail. At the 1.3-mile mark, stay as far right as you can to walk alongside the river on the Beach Trail.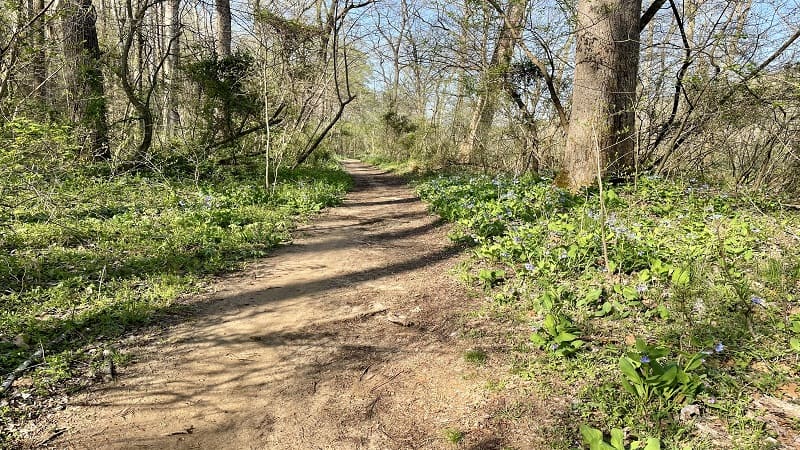 From here, the trail becomes more relaxing and peaceful. You may see a mountain biker or two (we did, on a Wednesday), but generally, they stick to the harder trails.
Continue on and you will be rewarded with river views. At the 2.0-mile mark, you will arrive at the ruins of an old lock, as well as at a comfy bench.
At the 2.2-mile mark, you will reach more ruins. I don't know what exactly they were but I imagine they had something to do with the former canal locks. Curiosity.
As we proceeded, we began to see bluebells here and there along the trail (in early-April), as well as more up-close river views.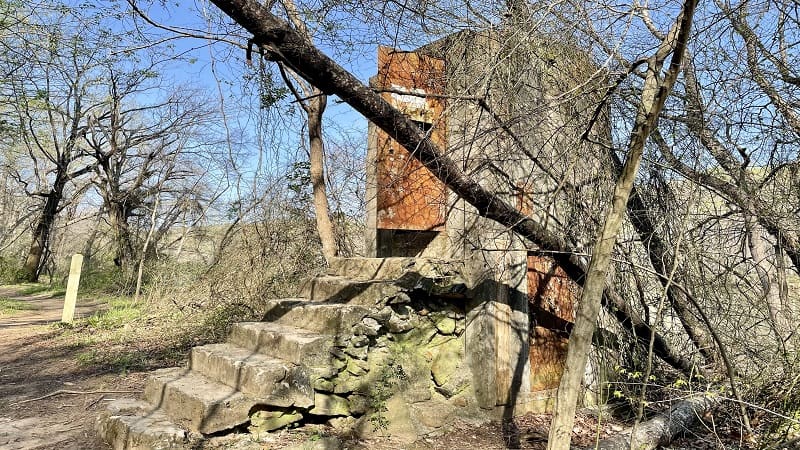 A good turn-around point is at the 3.3-mile mark. Here the trail is right up against the water. It would be the perfect spot to lay down a blanket for a picnic.
However, the trail does continue on for another .5-mile, I'd say. So long as you can tolerate mountain bikers sneaking up on you every once in a while, it's a nice hike.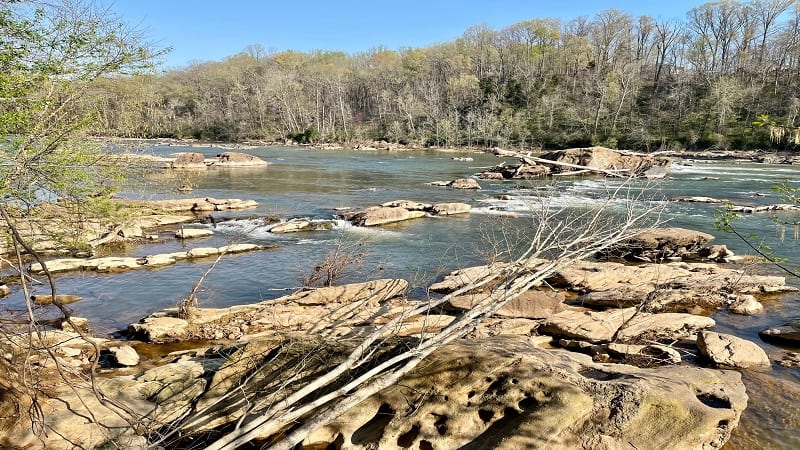 Since this is an out-and-back hike, simply turn around whenever you like, though I'd recommend walking along the Beach Trail at least until the picnic point.
It's worth noting that there are no blazes or trail signs for either trail though both trails are noted on the map. Stick close to the water and you should be just fine.
Wrap-Up Notes
From the parking area, this Central Virginia hike took us 2.5 hours to complete, including time spent snapping photos of wildflowers and river views all along the way.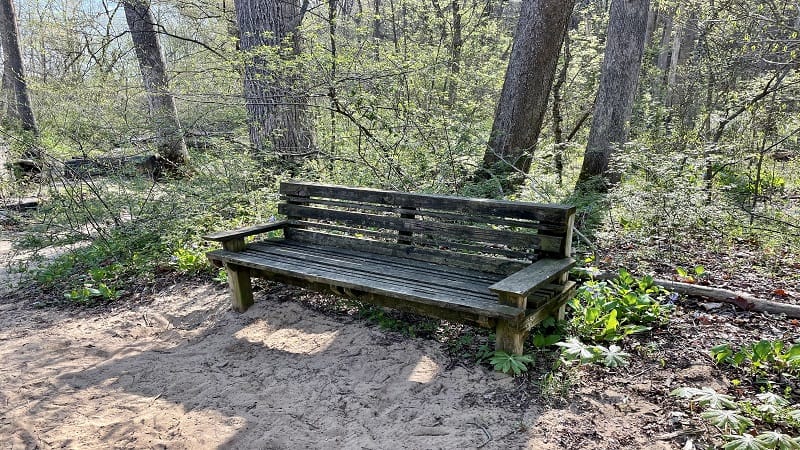 For lunch, historic Fredericksburg is less than a 10-minute drive from the parking area. There are a variety of restaurants, as well as boutiques and historic sites.
I recommend Foode on Princess Anne Street. Order the fried chicken sandwich. Oh my gosh, so good. I'll return to Fredericksburg for this deliciousness. Yum.