Devil's Bathtub: A Wickedly Good Hike to a Magical Swimming Hole
The Devil's Bathtub hike in Southwest Virginia is well-known, even beyond state lines. Even outside the United States. But not always for good reasons.
In May, this watery oasis made national news when 20 hikers needed to be rescued when heavy rains led to flash flooding.
It wasn't the first time a rescue team was dispatched to this natural swimming hole in Southwest Virginia.
This swimming hole hike is not long, but over the course of two miles to Devil's Bathtub, you will cross more than a dozen creeks and streams.
If the region has seen any rain (not just torrential rain) in the last three or four days, the glistening streams can swell up and become more like raging rivers.
Scott County advises visitors to abandon the hike if water levels are above the knees. I wouldn't attempt this hike if water levels were above my ankles.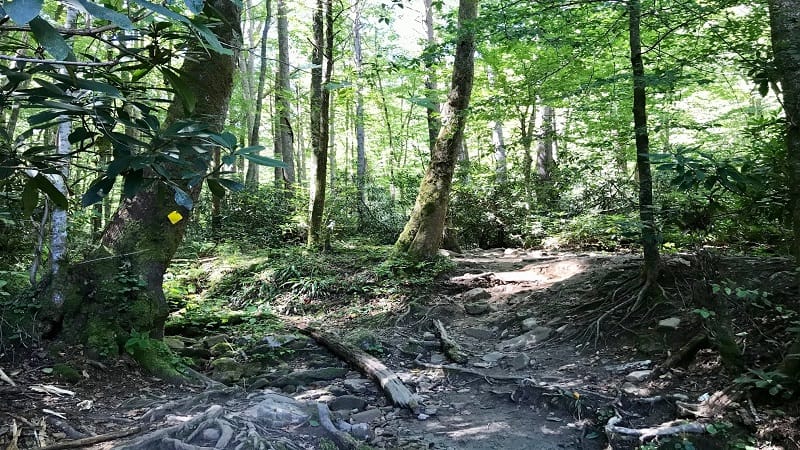 Typically, water levels are manageable. However, it's wise to bring water shoes and/or neoprene socks for creek and stream crossings.
I was recently in Southwest Virginia for six days. I really wanted to do this hike, but certainly did not want to get swept away in tempestuous waters.
Thankfully, the day I hiked this trail, my boots hardly got wet. More on this down the page. But first, let me answer the most-asked questions about Devil's Bathtub.
1. Where is Devil's Bathtub located?
It's not close. As in, no matter where you live in Virginia, it's not close. It's so not close that Google Maps (for driving directions) gives me the option to fly.
Devil's Bathtub is located in Stony Creek Park in Duffield. That's in Scott County, in Southwest Virginia.
By car, it's 6.5 hours from Northern Virginia, 6 hours from Richmond and more than 3 hours from Roanoke. Like I said, it's not close.
2. How long is the Devil's Bathtub hike?
It all depends on you, but it took me 2 hours to complete this 4-mile out-and-back hike on a weekday. Your mileage may vary, of course. This is moving time only.
However, I need to put an asterisk on this hike time. The parking lot for the hike is a solid .5-mile walk from the trail.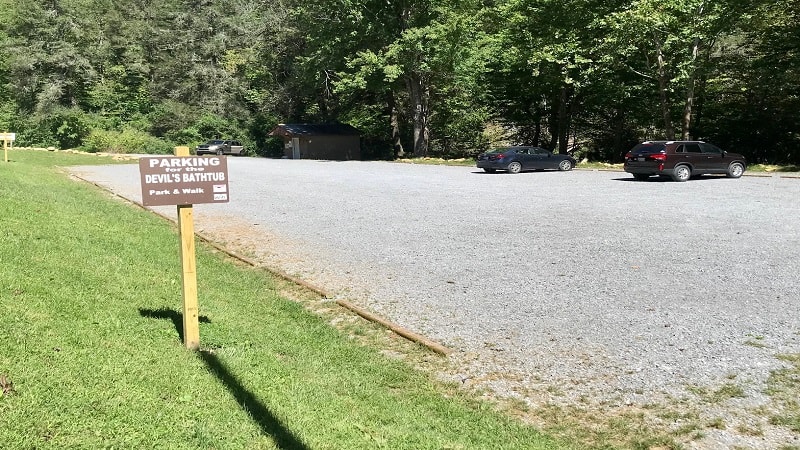 This is to the gravel road that acts like a trail, but is not a trail. Still, I used this as my starting point in calculating the length of the hiking trail.
I did the out-and-back hike, but there is also a loop hike that takes you past Devil's Bathtub. The Devil's Fork Loop Trail (really, it's a lollipop) is more than 7 miles.
3. Can you swim at Devil's Bathtub?
Yes, you can swim at Devil's Bathtub! I did not swim, but I did see a group exiting the cold water when I arrived at the first of two aquamarine basins of water.
When you reach the first swimming hole, you will see a waterfall and a crystal-clear basin that beckons you to come in for a swim. Plus, there are two rope swings!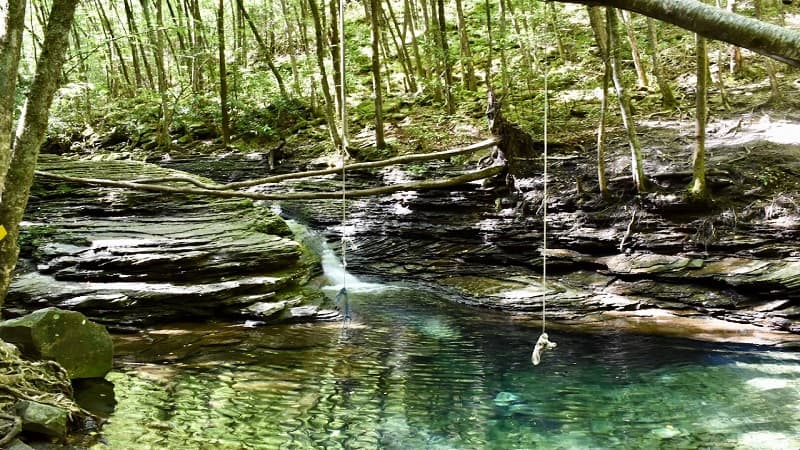 If you end your journey here, you'll miss Devil's Bathtub. I literally almost did even though it's obvious because it's shaped like a bath tub!
It's a bit precarious, but if you navigate your way over the rocks and past the waterfall you will reach the actual Devil's Bathtub.
4. How deep is Devil's Bathtub?
I didn't measure the basin while I was there, but I would guess that Devil's Bathtub itself is 10 to 12 feet deep.
I read that the bath tub length is roughly 20 feet. For width, I read 8 feet. That sounds right to me.
5. Why is it called Devil's Bathtub?
That's a great question. I was curious too. As you would, I Googled for answers, but didn't get a definitive reason as to why it's called Devil's Bathtub.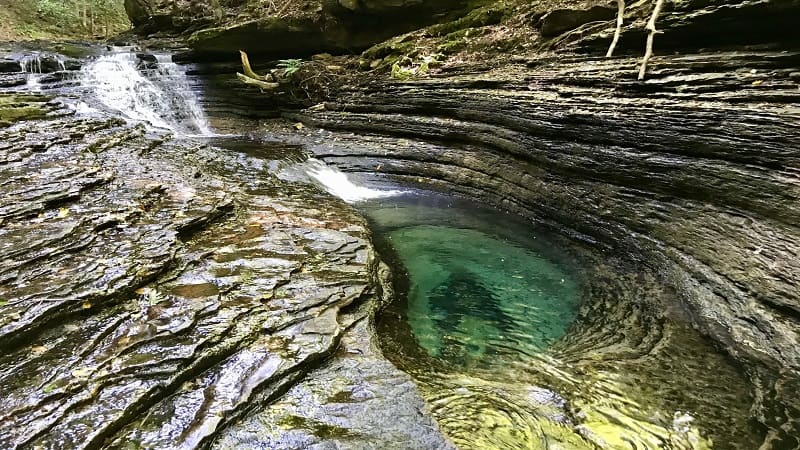 Per Explore Scott County, the county's tourism division, it's allegedly called Devil's Bathtub because it's the "only water cold enough to squelch the fires of hell."
Honestly, the water is really, really cold. As in, only as high as 65 degrees – on the very warmest of days. Now that's teeth-chattering cold.
Of course, it's shaped like a large bath tub, too. The basin fills with waters from the Devil's Fork in Jefferson National Forest. Now let's get to the hike.
Devil's Bathtub Hike
Navigate to Stony Creek Park in Duffield. This idyllic public park is set alongside Stony Creek. There are picnic tables, a sizeable parking lot and a vault toilet.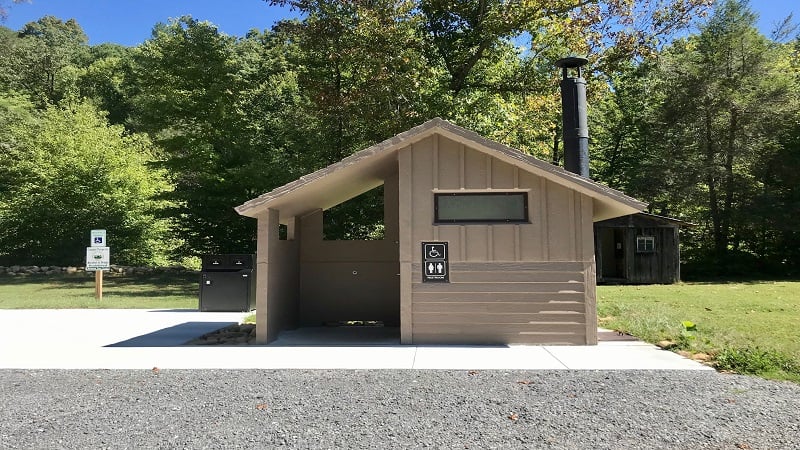 You'll see a sign or two indicating that this is the official parking area for Devil's Bathtub. But where exactly is Devil's Bathtub?
From here, walk up High Knob Road, past the parking lot and around the bend. Turn left onto a smaller road that also appears to be named High Knob Road.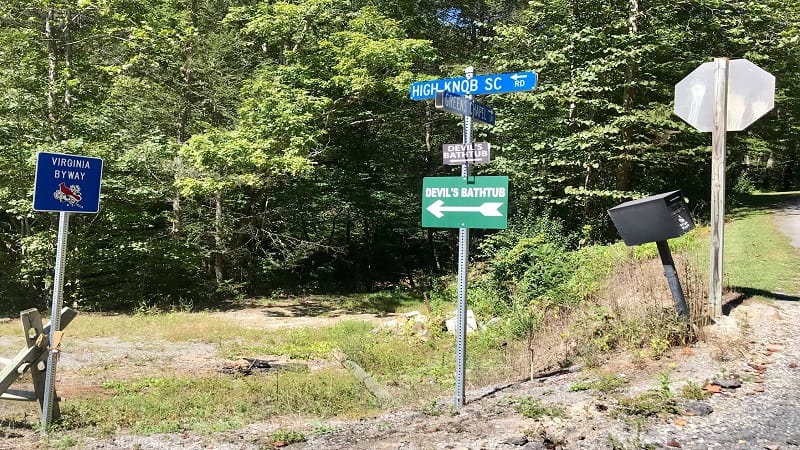 Once you make this left turn, you'll see a couple of signs for Devil's Bathtub. You may also be wondering, where the heck is the trailhead? You'll be there soon.
After a half-mile of walking, you'll reach a gravel road. Turn left where you see signs indicating that Devil's Bathtub is just down the road.
You may also wonder whether you could have parked closer to the trailhead. Like, were you duped into parking so far away? Well, it's complicated.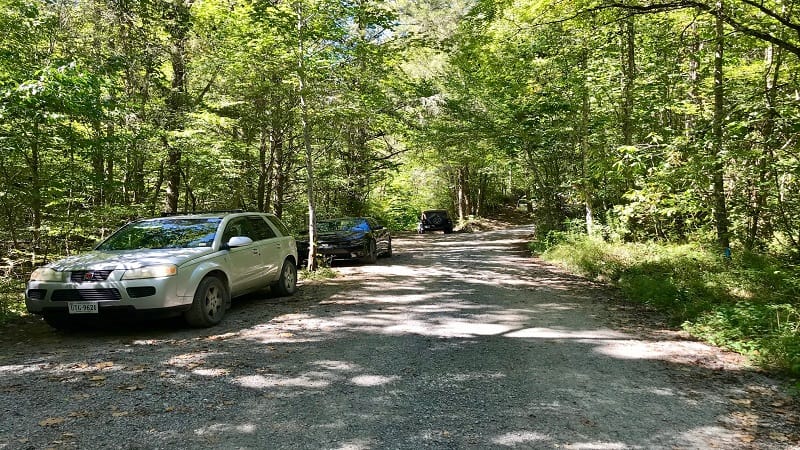 As you begin to walk on the gravel road toward the trailhead you may see a few cars parked parallel alongside the road. By a few, I mean maybe three or four.
You will see a parking lot in the back, adjacent to the trailhead. However, you must navigate a gravel road wrecked by massive potholes.
The potholes are so intense, they could swallow your car. I have a minivan and I would have absolutely been stuck, eaten alive by the pothole. No exaggeration.
I did see one vehicle in the back parking lot, a massive four-wheel drive SUV. Only attempt a drive to this back lot if you have a similar vehicle.
I reached the trail map kiosk after a .85-mile walk from my car. It stinks to have such a long walk before even stepping one foot on the trail. I totally get you.
Devil's Fork Trailhead
At the trail kiosk for the Devil's Fork Trailhead, veer right to access the trail. You're at a fork with the back parking lot on the left and the gravel trail on the right.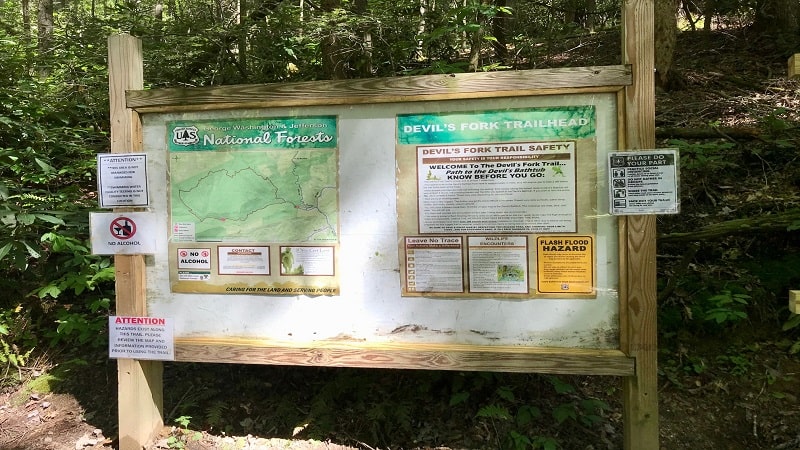 By this point I had already started my recording of the trail, so I'd already walked more than .3-mile up the gravel road. I know, so confusing.
You'll see an iron gate to (legally) walk around to stay on-trail. In a few more steps, you'll reach a water crossing. Then a trail sign. Turn left for Devil's Bathtub.
From here, follow the yellow blazes as the trail turns from all gravel to mostly dirt and rocks. You'll also need to cross creeks and streams a dozen or more times.
Beyond water crossings, there are more obstacles, like massive downed trees. Sometimes you go over, sometimes you go under. You decide.
The day I attempted this hike, the water levels were just right. There had not been any rain the last few days. There were lots of dry stones to skip across.
Near the two-mile mark you will reach a precarious ledge. Fortunately, there is also a hand-rope to help keep your balance. You may not even need it.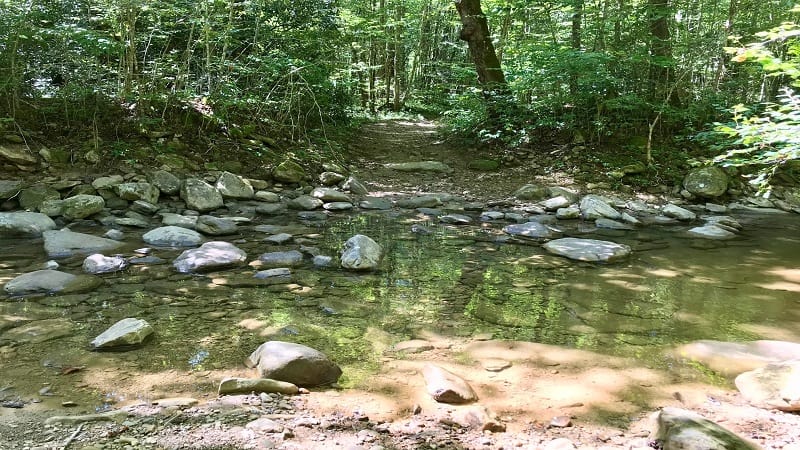 Then, the much-photographed swimming hole. It's as beautiful as I had expected.
There is a small, cascading waterfall and two rope swings hanging down on the left. These promise a picture-perfect splash into the swimming hole.
I was there on a weekday in fall, so it was quiet. When I arrived, two couples who had been swimming were gathering up their belongings for the return hike.
I can only imagine how busy this spot must be on a warm summer weekend.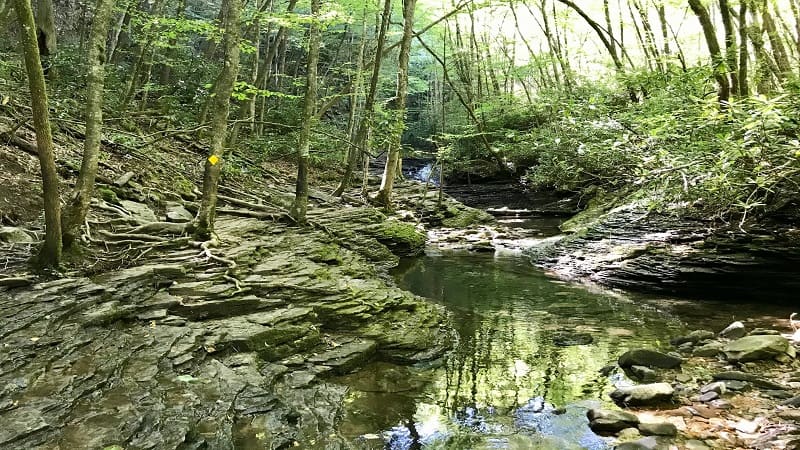 But wait, there's more. Walk up, over and past the waterfall, then over some stacked rocks to the larger waterfall that lies behind this watering hole area.
There it is, Devil's Bathtub. It's shaped like a bathtub and it's absolutely unmistakable. The water is as beautiful as the water in the swimming hole, too.
Since this is an out-and-back hike, re-trace your steps to return to your vehicle.
Wrap-Up Notes
I did this as an out-and-back hike, but there is a loop hike that is at least 7 miles.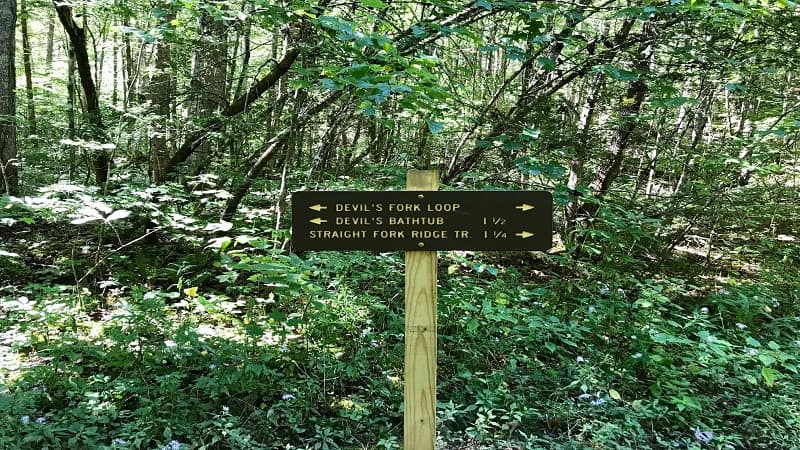 This hike took me two hours to reach Devil's Bathtub, take a bunch of photos, then return to my starting point. Then I of course I had another .5-mile walk to my car.
If you look in AllTrails, you'll note that this hike is listed as hard. In my opinion, this is due to the potentially tricky stream and creek crossings.
If the water levels are high, it could be a hard hike. The day I did this hike, the water levels were low. My hiking boots hardly got wet. I'd say this a moderate hike.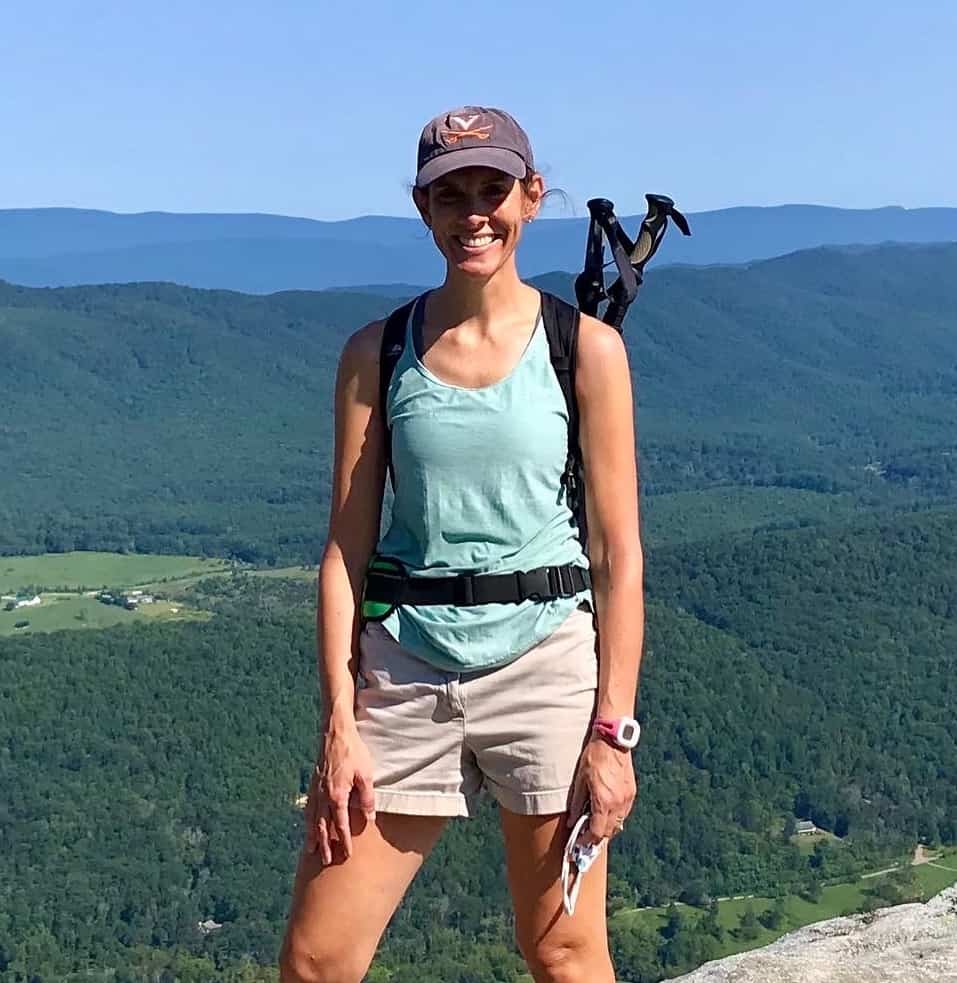 Erin Gifford is the editor of Go Hike Virginia. She has completed more than 300 hikes in Virginia. She is also the author of three hiking guidebooks from Falcon Guides. Need help finding a hike? Check out the Trail Finder feature or send Erin a message.