Spring Bluebells at Shenandoah River State Park
The first day of spring may fall in the third week of March, but the true sign of spring is the cheerful bloom of the first bluebells along the hiking trails in Virginia.
These wildflowers can be spotted at several parks, including Shenandoah River State Park. The park's Bluebell Trail wows visitors with a lush carpet of iconic bluebells.
The blooms last just three weeks, but by many accounts (including mine) they are very much worth the wait. And worth the drive to this state park in Warren County.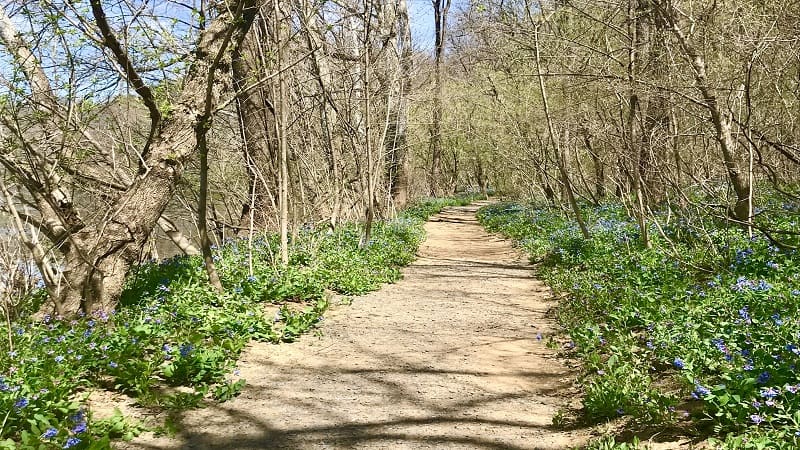 Shenandoah River State Park boasts more than 24 miles of easy to moderate hiking trails, including the one-mile Bluebell Trail.
This wooded point-to-point trail set along the Shenandoah River is mostly flat, making it a good pick for families with small children.
It's easy to access the dog-friendly Bluebell Trail, too (white blazes). From the main entrance, continue on Daughter of the Stars Drive until you reach a T-intersection.
From here, turn left. You will then come to a dead-end at the trail parking lot.
It's easy to extend the hike for those eager for more miles. At the end of the Bluebell Trail, connect with the .6-mile Campground Trail (purple blazes).
Then, step foot on the .5-mile Overlook Trail (burgundy trail) and finally the .5-mile Hemlock Hollow Trail (green blazes). It sounds somewhat complicated, but it's easy-peasy.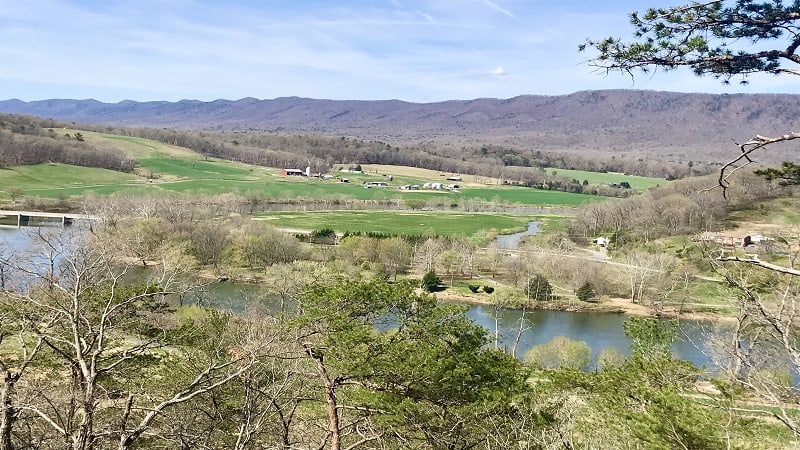 These additions make the overall hike more moderate than easy (thanks to added elevation), but you gain a scenic stop at Culler's Overlook.
Settle in on the bench at the overlook for pastoral farmland views. The ever-scenic Massanutten Mountain sits off in the distance.
It's easy to stay overnight or make it a weekend at Shenandoah River State Park. Make a reservation to pitch a tent or stay the night in a yurt or camping cabin.
The park is also home to one six-bedroom lodge that sleeps up to 16 guests. There are RV sites as well. Before you exit the park, stop in the Visitors Center.
It's a must to purchase a park patch to mark your visit to this delightful state park, which is often overlooked in favor of its neighbor, Shenandoah National Park.