David Lesser Shelter: An Appalachian Trail Hike from Keys Gap in Loudoun County
I recently hiked to yet another Appalachian Trail shelter (I swear, it's an addiction). This time, it was the David Lesser Shelter near Keys Gap.
The shelter is in Virginia, but this section of the Appalachian Trail toggles back and forth along the border with West Virginia.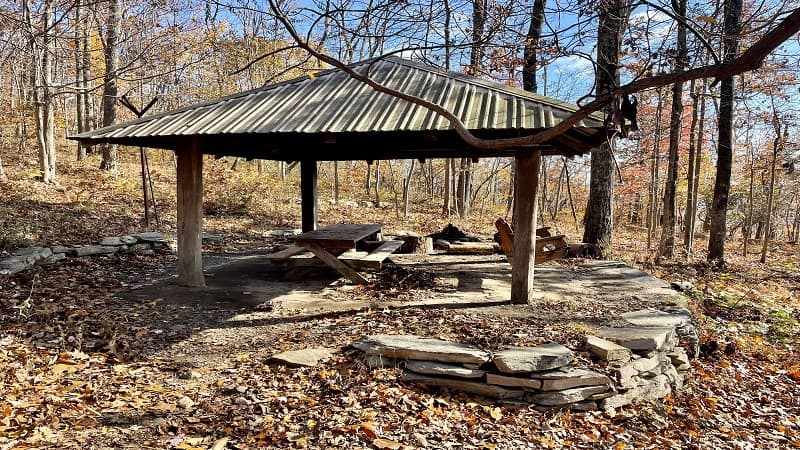 The parking area for Keys Gap is actually in between the "Welcome to Virginia" and the "Welcome to West Virginia" signs on Charles Town Pike (Route 9).
It's a stone's throw from Harpers Ferry, too. It's just 12 minutes away by car. As a bonus, continue past the shelter and there's an overlook, Buzzard Rocks.
| Trail Stats | |
| --- | --- |
| Length | 7.8 miles |
| Difficulty | Moderate |
| Trail Type | Out-and-Back |
| Elevation Gain | 1,037 feet |
| Duration | 3-4 hours |
| Terrain | Mostly dirt & rock trails |
| Dog-Friendly | Yes |
| Fee | Free |
| Driving Directions | Click Here |
Keys Gap
Keys Gap is a wind gap between Loudoun County, Virginia and Jefferson County, West Virginia. It's among the lowest crossings in the Blue Ridge Mountains.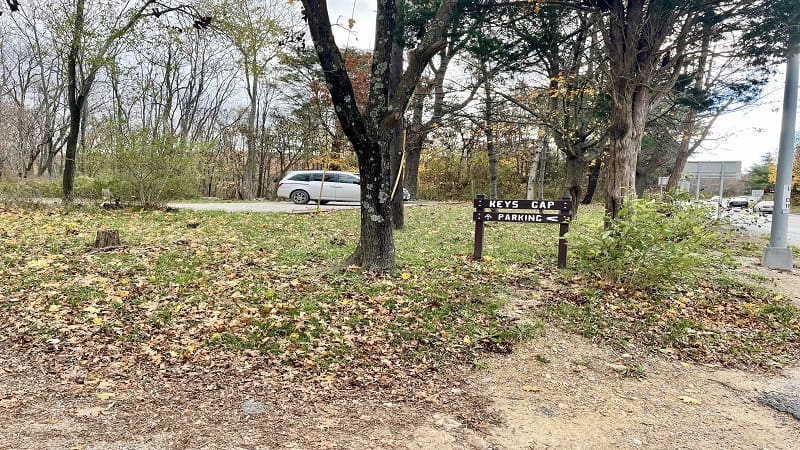 Interestingly, Keys Gap (also, Keyes Gap) played a strategic role during the Civil War, serving as an alternate back route from Virginia to Harpers Ferry.
Today, Keys Gap is a stop on the white-blazed Appalachian Trail, one that is crossed by thousands of weary hikers every year.
The parking area is not large, but is suitable for at least 10 cars. You'll see a large trail kiosk at the back of the parking lot.
On the trail kiosk, you'll see the core Leave No Trace principles, as well as several images, cartoons and need-to-know info about the hiking trail.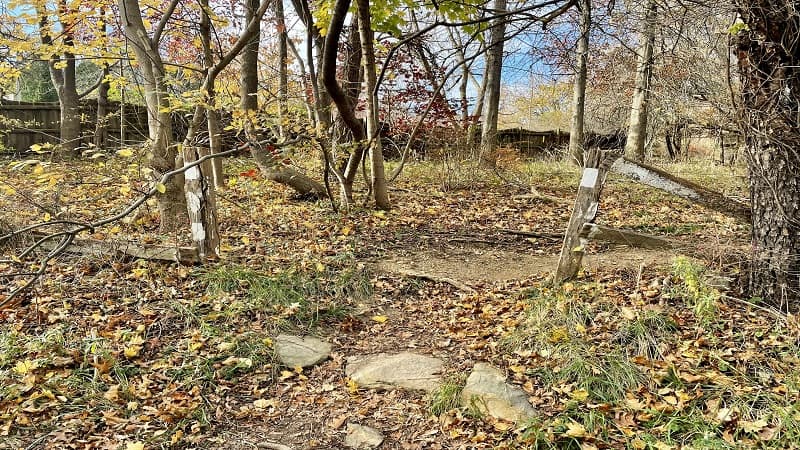 From here, head south and cross over two-lane Charles Town Pike. Be careful. There is no crosswalk and cars drive very, very fast on this road.
Appalachian Trail
The ascent begins immediately. There's not a lot to see, just a lot of woods. Sometimes though you just need to be in nature and this section fits the bill.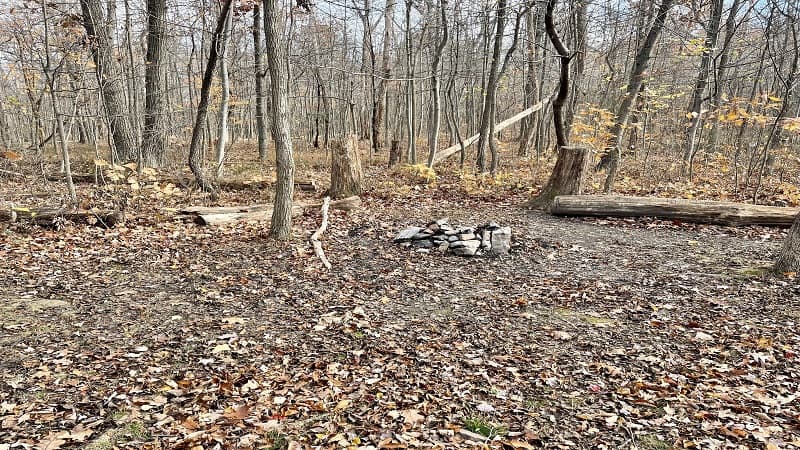 At the 1.2-mile mark, after a fairly consistent climb, you will see a small primitive camp site with a stone fire ring on the left side of the hiking trail.
In another mile, at the 2.2-mile mark, you'll reach another primitive camp site with a fire ring on the left side of the trail.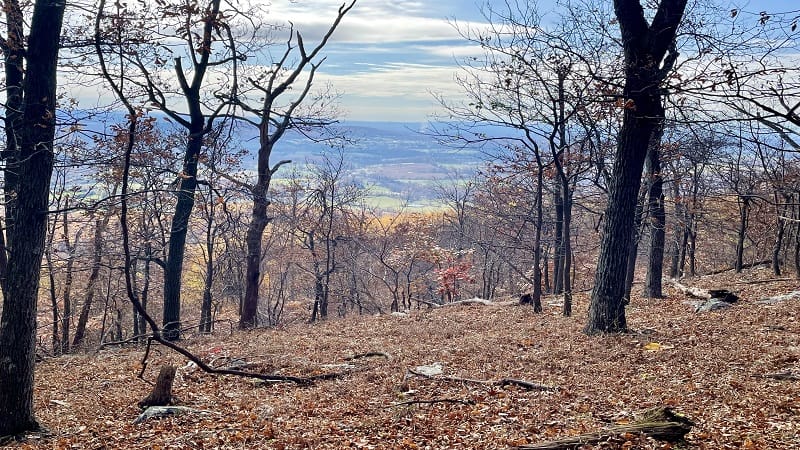 At the 2.3-mile mark, you'll arrive at a scenic view you can only enjoy in the late-fall and winter when all the leaves have fallen.
Through the trees, you can enjoy views of working farms below in Hillsboro and Mechanicsville. There is a small opening in the trees for views.
You'll note a small pile of stones on the left with a stick coming out of the top. I can only assume that this is to alert hikers to the view.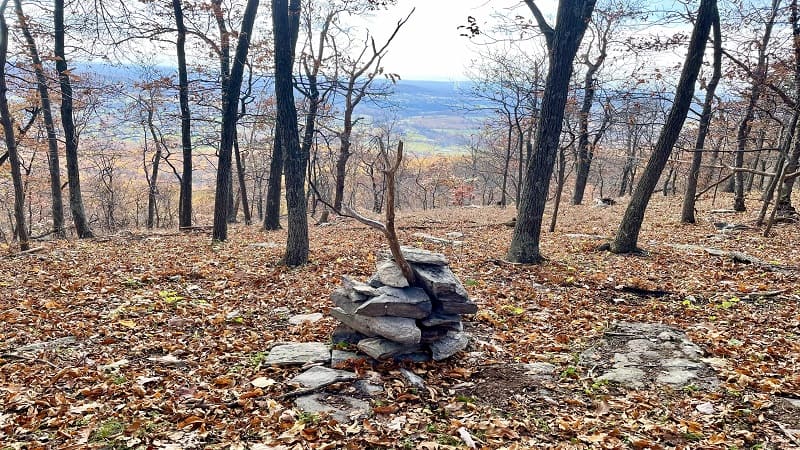 I'm guessing that this is the view referred to as the "scenic overlook" in this Keys Gap to Scenic Overlook route on AllTrails.
The route seems to stop at this same point. Most hikers complain that there is no view, but I assume that they did this hike when there was full foliage.
David Lesser Shelter
Continue on and you will arrive at a trail sign and the blue-blazed spur trail to the David Lesser Memorial Shelter at the 3.1-mile mark.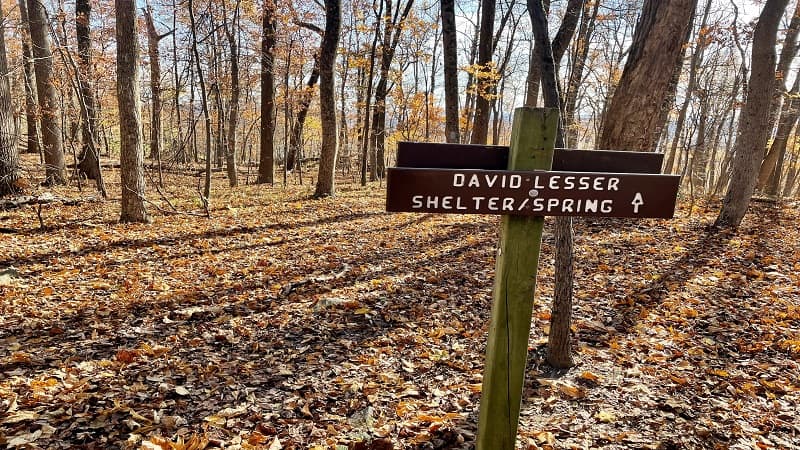 It's a short walk to the shelter – just .1 miles. Really, it's more like a complex. There's a lean-to shelter, a picnic shelter and five tent pads with stone fire rings.
There's also a privy and a spring. The David Lesser Shelter is located between the Ed Garvey Shelter in Maryland and the Sam Moore Shelter in Virginia.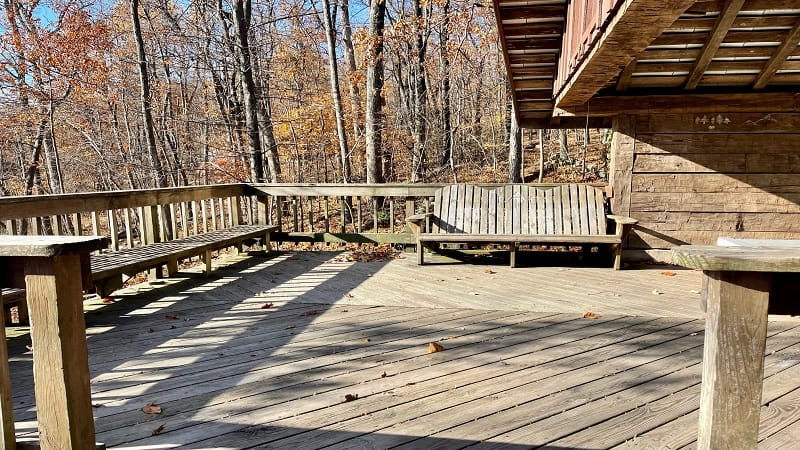 The shelter has a nice wooden deck with a long bench and an Adirondack-style bench that can seat three. The picnic shelter has a wooden bench swing.
In the campground, there are benches at each tent pad. There's also at least one picnic table in the area. It's huge and really nice.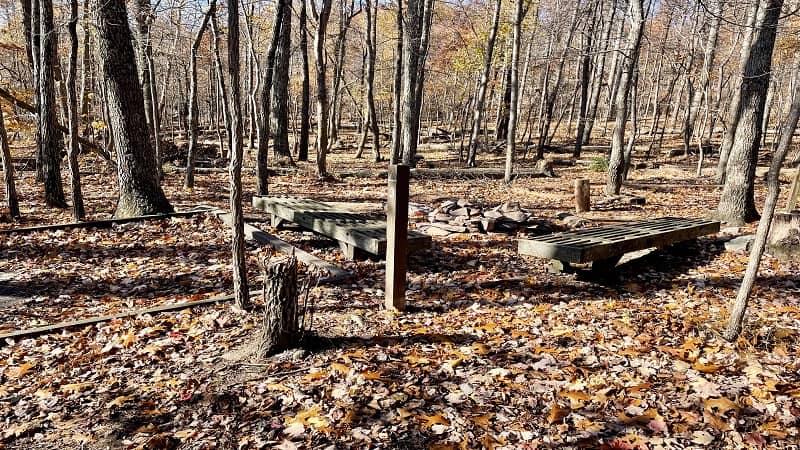 This shelter is maintained by the Potomac Appalachian Trail Club (PATC). They manage 45 trail shelters on a 240-mile stretch of the Appalachian Trail.
Buzzard Rocks
From the David Lesser Shelter, re-trace your steps to the Appalachian Trail. Turn left to continue southbound to the Buzzard Rocks overlook.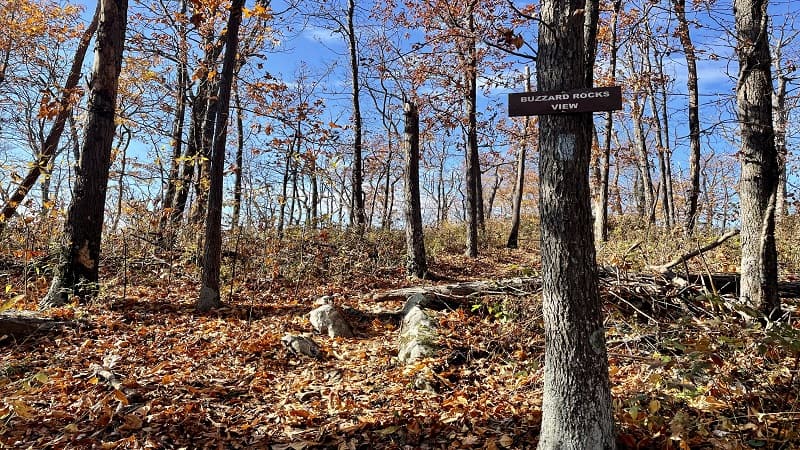 At the 4.1-mile mark, you'll see a sign nailed to a tree for the Buzzard Rocks View. Turn right here to follow the blue-blazed spur trail.
It's a short walk to a rocky overlook with a big view that I think is best enjoyed in fall and winter as there are some leafy trees that could block the view.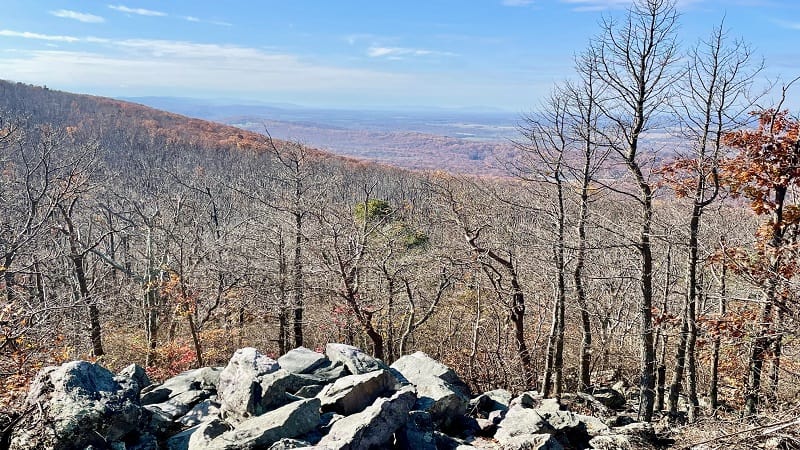 From here, you can revel in the far-reaching views of the Massanutten Mountains. This is a great spot to relax and enjoy the vistas. Re-hydrate and fill up on a snack.
Re-trace your steps to Keys Gap when you've gotten your fill of the views.
Wrap-Up Notes
From the Keys Gap parking area, this hike took me under three hours, including time spent exploring the trail shelter and campground.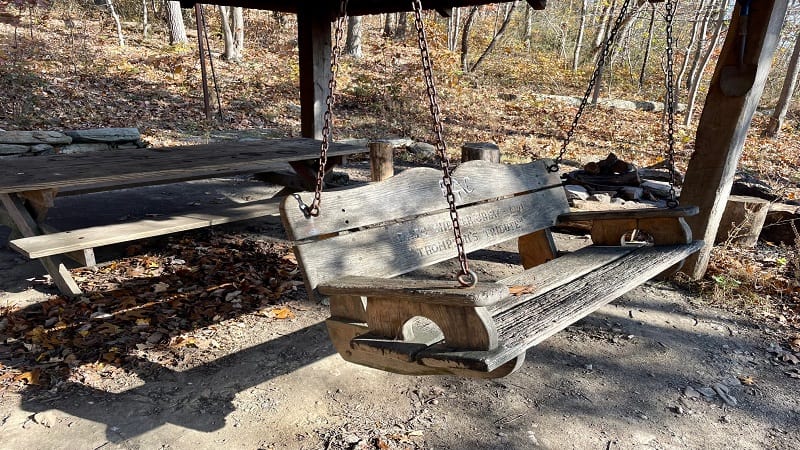 If you like Appalachian Trail shelters too, check out the Whiskey Hollow Shelter or the Jim & Molly Denton Shelter.
Hungry for more? Take a look at my favorite hikes near Leesburg and hikes near Bluemont to find a few more hikes to add to your must-do hiking list.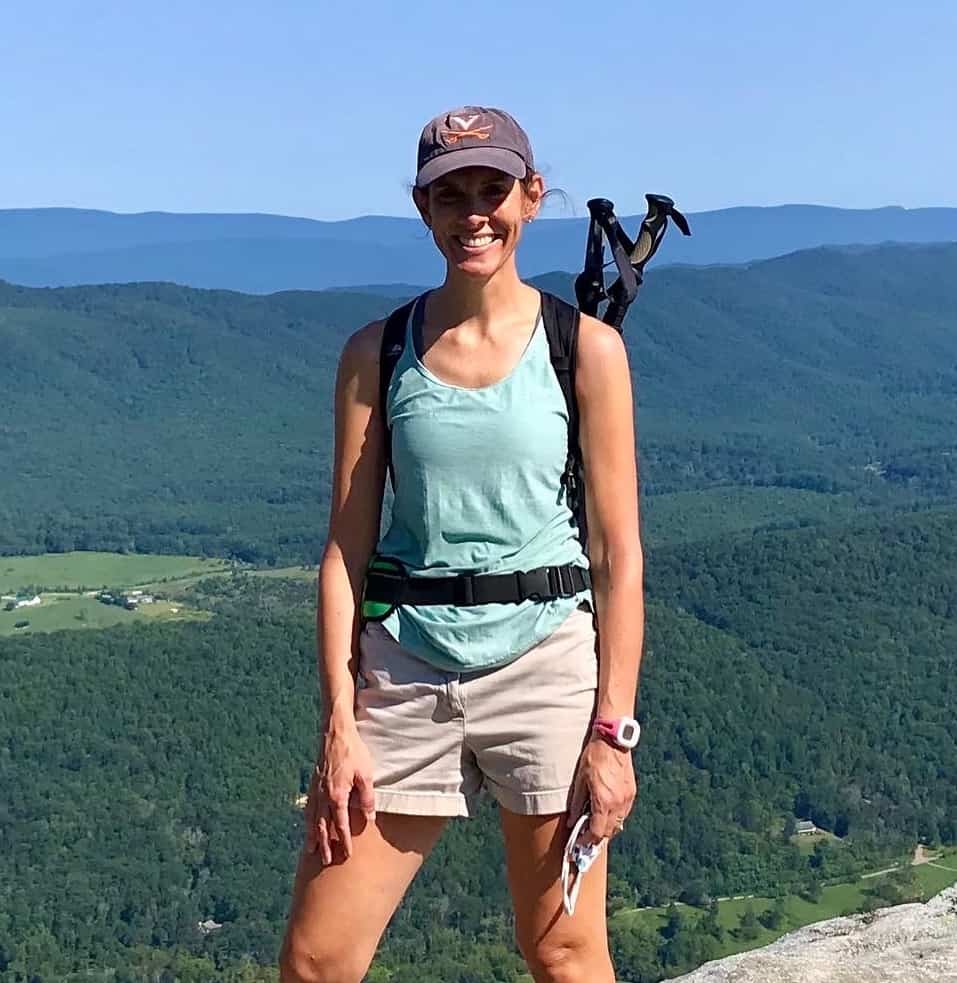 Erin Gifford is the editor of Go Hike Virginia. She has completed more than 300 hikes in Virginia. She is also the author of three hiking guidebooks from Falcon Guides. Need help finding a hike? Check out the Trail Finder feature or send Erin a message.