Rod Hollow Shelter: An Appalachian Trail Hike Near Ashby Hollow in Bluemont, Virginia
A couple of weeks ago, I got back on the Appalachian Trail to hike to the Rod Hollow Shelter near Ashby Hollow in Bluemont, Virginia.
The Rod Hollow Shelter is located on the infamous Roller Coaster section of the Appalachian Trail in Northern Virginia.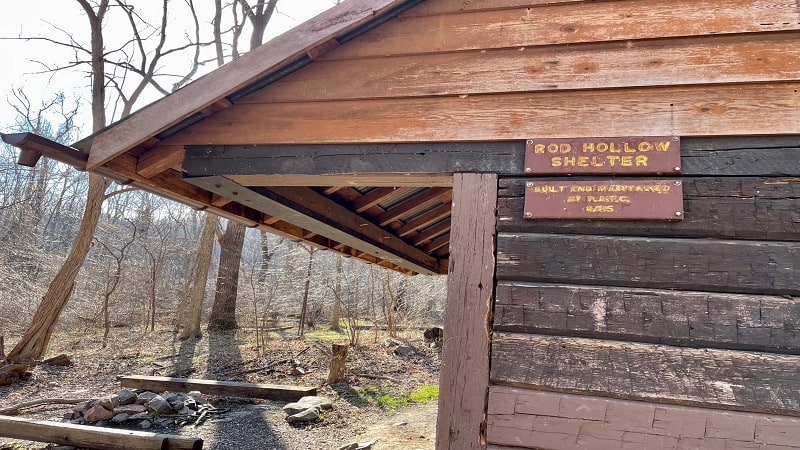 This 13.5-mile section runs from Snickers Gap (Route 7) to Ashby Gap (Route 50). As the name implies, there are ups and downs, ups and downs.
The overall elevation gain on this hike to see the Rod Hollow Shelter was nearly 2,200 feet. It was more than I expected, but it was also a very good workout.
| Trail Stats | |
| --- | --- |
| Length | 7.8 miles |
| Difficulty | Strenuous |
| Trail Type | Out-and-Back |
| Elevation Gain | 2,182 feet |
| Duration | 5-6 hours |
| Terrain | Mostly dirt & rock trails |
| Dog-Friendly | Yes |
| Fee | Free |
| Driving Directions | Click Here |
Morgans Mill Road
This wooded hike begins just south of a good-size parking area on Morgans Mill Road, which is shared with hikers going north on the Buzzard Hill hike.
The southbound trailhead to the Rod Hollow Shelter isn't well-marked, so your best bet is to look for the no parking sign just up from the parking area.
Once at the no parking sign, you'll see a white blaze. From here, you'll begin your descent along this forested section of hiking trail.
But first, Morgans Mill Road. You won't need a four-wheel-drive vehicle, but keep in mind that this 1.4-mile stretch of road is unpaved and very narrow.
Appalachian Trail
Once you begin hiking on the southbound stretch of the Appalachian Trail, you'll descend for .5-mile into a hollow.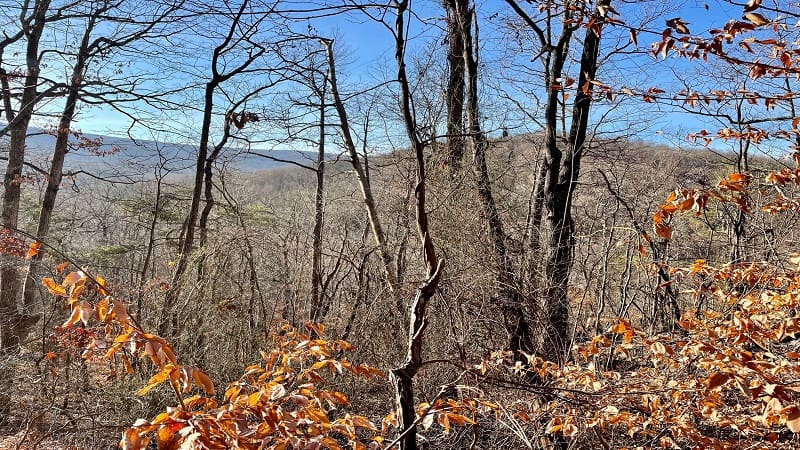 From late-fall through early-spring, enjoy the views of nearby mountains through leafless trees on the way down, but also mind your footing.
At the .5-mile mark, you'll cross a wooden footbridge over a flowing stream, Ashby Hollow. In a few more steps, you'll see a camp site and a stone fire pit.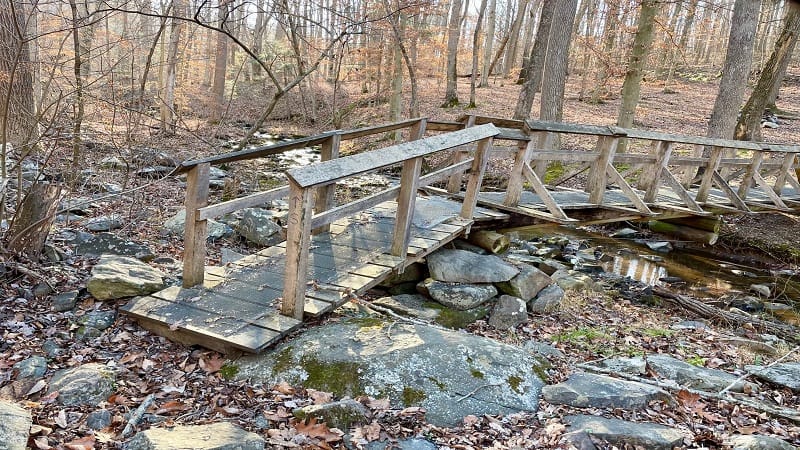 You'll then cross over an old fire road, which originates at Morgans Mill Road and leads down to the edge of the water, maybe even through the water.
It's a quiet walk too since you're far enough away from major roads, like Route 7 and Route 50, the two major roads that book-end the Roller Coaster.
The Roller Coaster
Once you pass the camp site, you'll begin your first climb on this section of the Appalachian Trail Roller Coaster.
If you're like me, you may be head down in an effort to keep from tripping on a tree root or slipping on fallen leaves.
It's a long slow climb, nearly .8-mile. You'll also gain close to 600 feet of elevation over the course of the climb, too.
Then, as you would imagine, it's time to go down the mountain, just like on a roller coaster. As you near the bottom, heads up at the 2.0-mile mark.
You'll see a sign on a tree directing you left to stay on AT South. Either the Appalachian Trail was re-routed or there were once other area trails.
Either way, if you miss this turn, you'll end up on some other trail, going in the wrong direction. So, don't miss the turn.
From here, get ready for at least eight switchbacks as you make your way back up on the Appalachian Trail. I know, I'm tired too.
Hiker Warning
Once you make it up and over this mountain, you'll descend and reach a sign of note. As in, a "Hiker Warning" about entering the Roller Coaster section.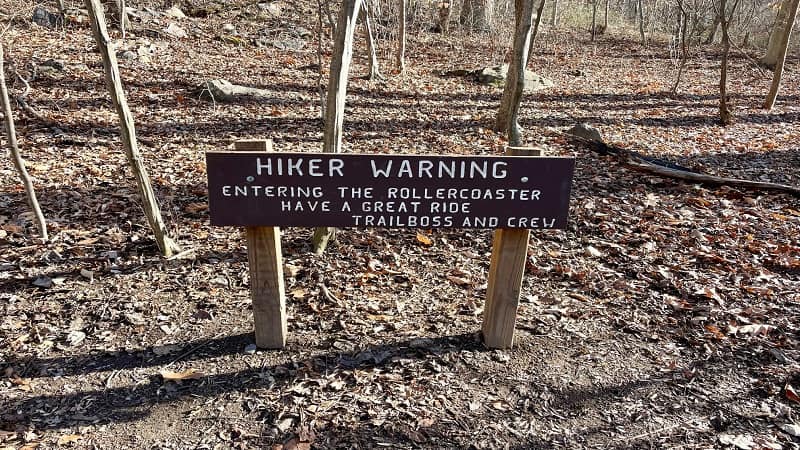 To be honest, at this point, you're practically in the middle of the Roller Coaster. For more on the Roller Coaster, check out The Green Tunnel podcast.
This podcast episode covers the ups and downs of this section, including an interview with the volunteer who laid out this stretch ages ago. So cool.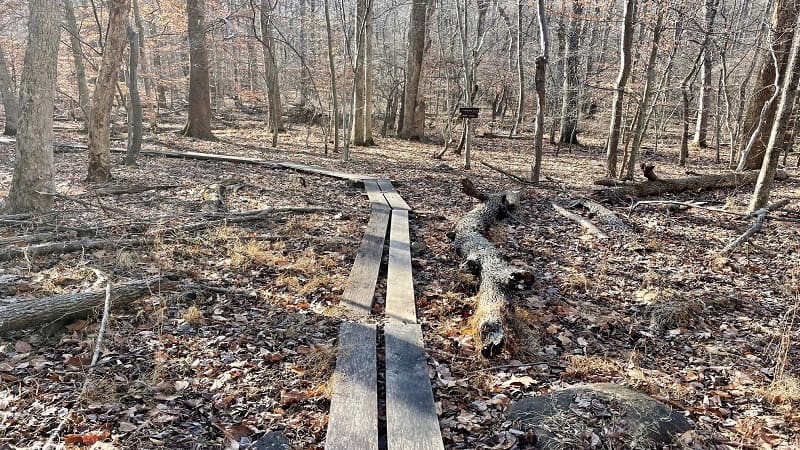 A few steps later, you'll approach my favorite stretch of this hike. You'll see a path that's two slats wide, presumably to take you over sensitive vegetation.
Or maybe, this low area just gets really mucky and muddy after a rain, making this wooden path an absolute blessing. It's pretty fun to tiptoe across, too.
There are three separate stretches of wooden walking paths. Then, at the 3.7-mile mark, you'll see a sign for the Rod Hollow Shelter.
Rod Hollow Shelter
At the trail sign, turn right to exit onto a blue-blazed spur trail to the Rod Hollow Shelter, as well as several tent pads for hikers.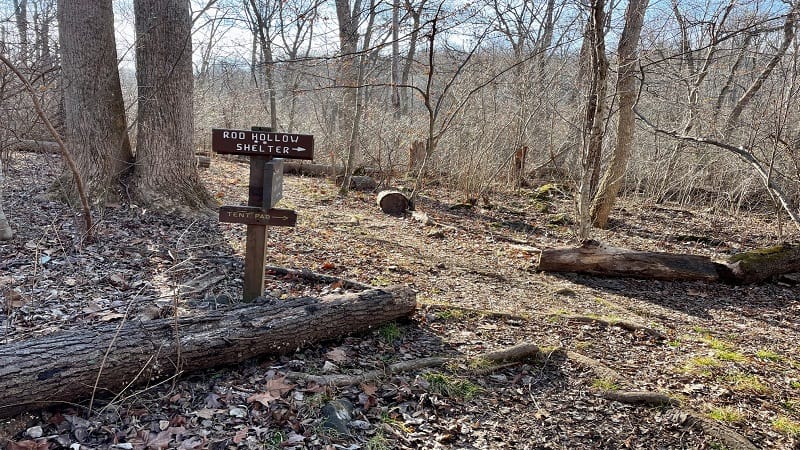 Plan to hopscotch over a small stream, and then you're at Rod Hollow Shelter. It's a typical lean-to hiking shelter, but this one has two sleeping levels.
There is also a large stone fire pit with a couple of long log benches, as well as a picnic pavilion. Essentially, it's a covered picnic table.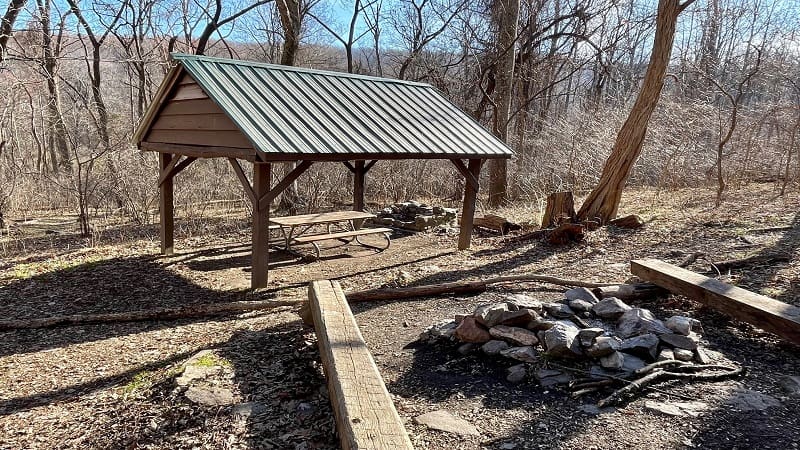 Just past the shelter, you'll see at least three square tent pads. A privy is located behind the Rod Hollow Shelter.
Inside is a log book on the wall. It's fun to flip through to read the notes and trail updates from those who had passed through in previous months.
The trail shelter is a good spot to re-fuel and re-hydrate. Once finished, re-trace your steps to the parking lot. Your hike is complete at the 7.8-mile mark.
Wrap-Up Notes
The hike to the Rod Hollow Shelter took me nearly four hours to complete, including time spent snacking and flipping through the shelter log book.
This is mostly a quiet, forested hike. There's not a lot to see, but it's ideal when you're looking for solitude and a good workout in the woods.
The Rod Hollow Shelter is one of 62 Appalachian Trail shelters in Virginia. It's also now the 16th shelter I've been able to visit along the hiking trail.
This section of the Appalachian Trail is maintained by the Potomac Appalachian Trail Club. If you like this hike, consider volunteering or making a donation.
Hungry for more? Take a look at 15 of the best hikes near Bluemont, Virginia to find a few more hikes to add to your must-do hiking list.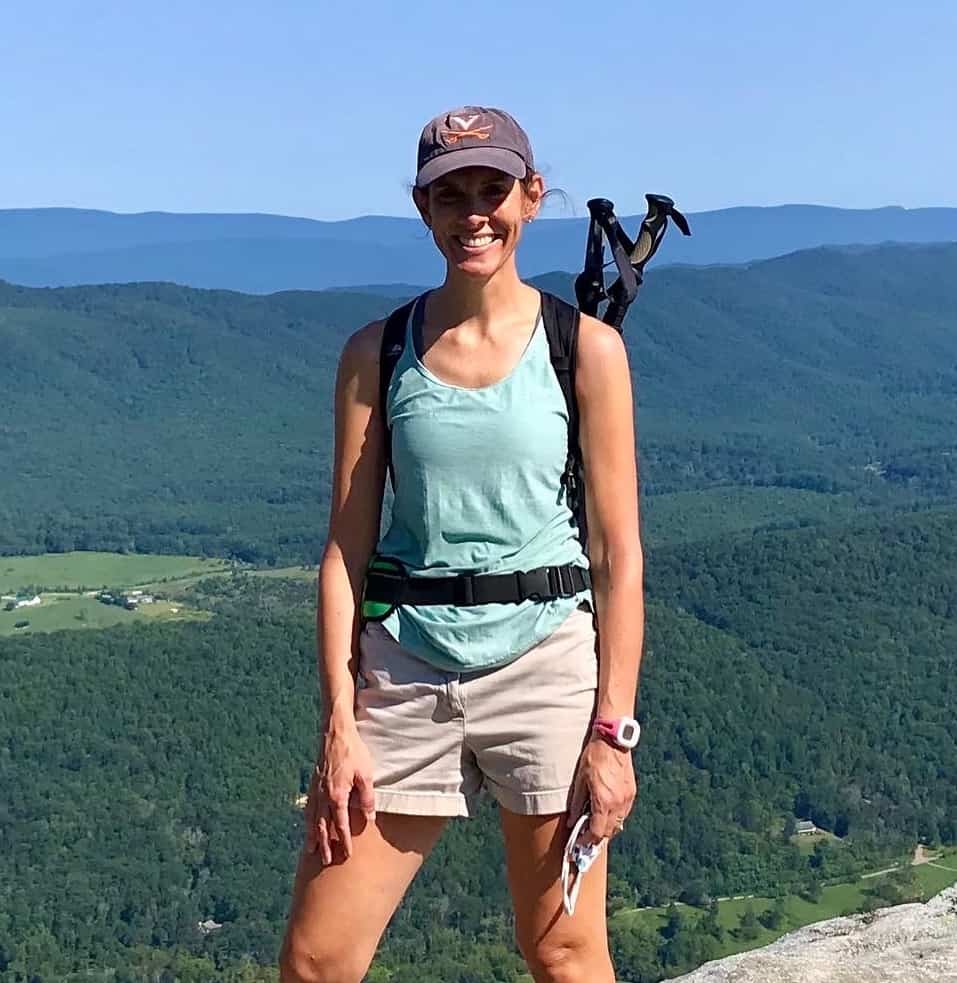 Erin Gifford is the editor of Go Hike Virginia. She has completed more than 300 hikes in Virginia. She is also the author of three hiking guidebooks from Falcon Guides. Need help finding a hike? Check out the Trail Finder feature or send Erin a message.