Appalachian Trail: Hike to the Manassas Gap Shelter in Linden, Virginia
Over the weekend, I set off to hike a short northbound stretch of the white-blazed Appalachian Trail to the Manassas Gap Shelter in Linden, Virginia.
Interestingly, I had no idea that the Manassas Gap Shelter was the next shelter north from the Jim & Molly Denton Shelter. I hiked to that shelter back in February.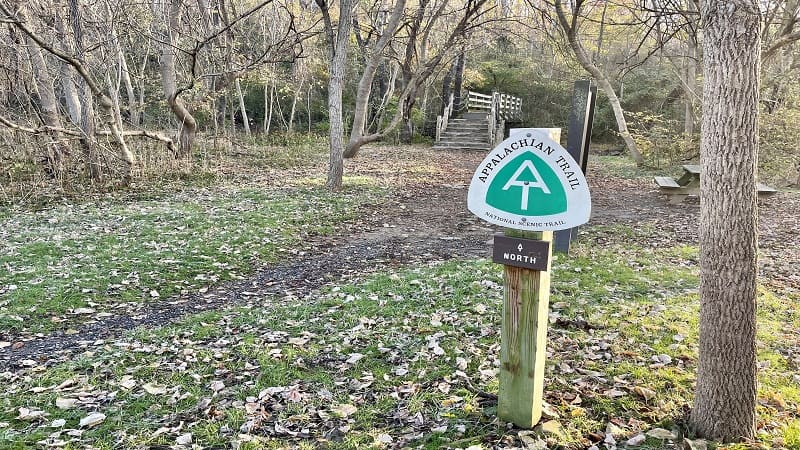 As an Amazon Associate I earn from qualifying purchases. If you click and purchase, I receive a commission at no cost to you.
Maintained by the Potomac Appalachian Trail Club (PATC), the Manassas Gap Shelter is more rustic, but it was very clean and would make a nice overnight stop.
This 4.9-mile out-and-back hike has an overall elevation gain of 1,102 feet, so your heart will be pumping, but bring a snack or lunch to enjoy at the shelter picnic table.
| Trail Stats | |
| --- | --- |
| Length | 4.9 miles |
| Difficulty | Moderate |
| Trail Type | Out-and-Back |
| Elevation Gain | 1,102 feet |
| Duration | 2.5-3 hours |
| Terrain | Mostly dirt & rock trails |
| Dog-Friendly | Yes |
| Fee | Free |
| Driving Directions | Click Here |
Appalachian Trail (Linden, Virginia)
There are two hikes that set off on the Appalachian Trail in Linden, Virginia. The southbound hike is 6.4-miles round-trip and leads to the Jim & Molly Denton Shelter.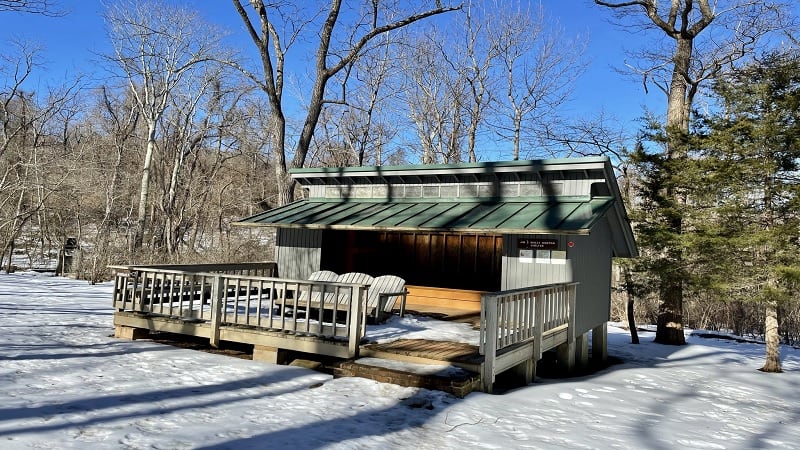 This Appalachian Trail shelter is very nice. The three-walled shelter has a wooden deck with an Adirondack bench, as well as a covered picnic table pavilion.
There's also a stone fire pit, an outdoor privy and a game pit to play horseshoes. Lots of green space surrounds the shelter for those who want to pitch a tent.
This 6.4-mile forested hike departs from a parking area on the south side of two-lane State Route 55 (John Marshall Highway). Some also call this the Trumbo Hollow hike.
Meanwhile, the northbound hike to the Manassas Gap Shelter starts from a parking area on the north side of State Route 55. The lot is just past the underpass for Route 66.
As you drive along Tuckers Lane, look for the parking area on the right. There is a picnic table and a trail kiosk with an AT trail map (Snickers Gap to Chester Gap).
The parking area is rather large. There is enough room for 12-15 vehicles. Your first steps on this 4.9-mile hike are across a wooden footbridge over a refreshing stream.
Manassas Gap Hike
Once you cross over the stream, the ascent to the Manassas Gap shelter begins right away. While there are a few flat sections, you are largely climbing the entire way.
You'll also note a lot of noise from cars and trucks motoring along Route 66. It's kind of bothersome, but by the 1.0-mile mark you won't hear any cars or trucks at all.
At the .7-mile mark, you'll notice a blue-blazed spur trail that goes off to the right. A sign marked "View" is nailed to a tree about 15-20 feet down the wooded path.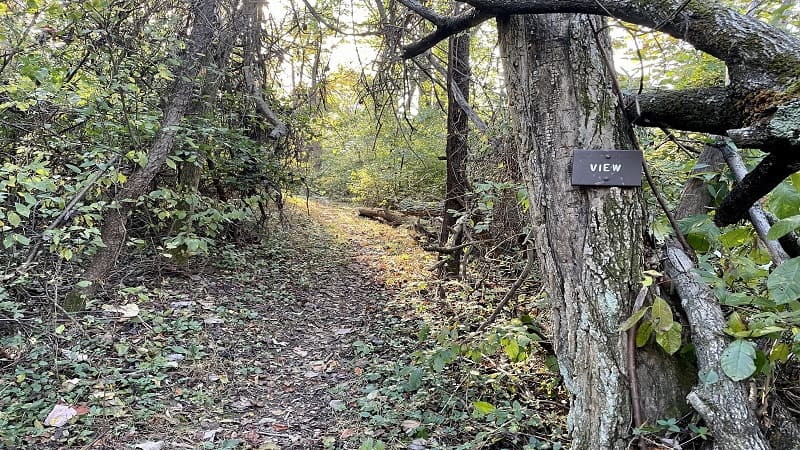 I made note that AllTrails reviewers said to bypass this spur trail. There is no view. However, I wanted to check it out for myself. Thankfully, it was a short side trail.
It's .1 miles to a wooden bench. There may have been a view many years ago, but I don't think that even in winter (with no leaves) that there would be much to see.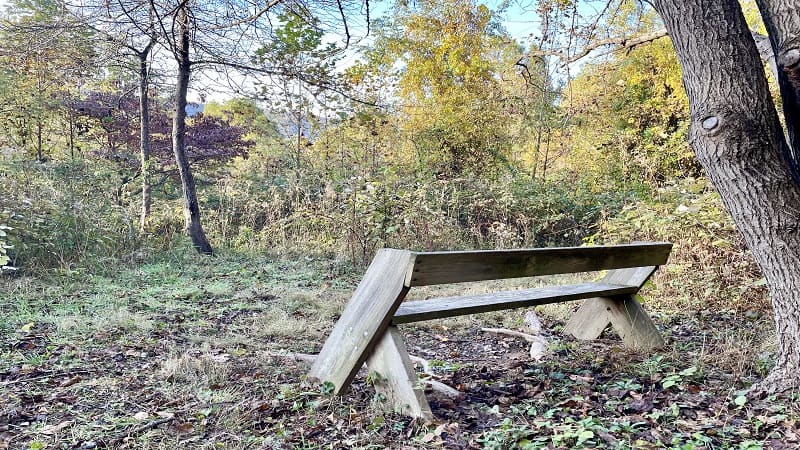 Still, it was a very short detour, and after an uphill climb for .7 miles, many may find this wooden bench to be a welcome sight.
Re-trace your steps from the bench, then turn right to continue ascending along the Appalachian Trail to the Manassas Gap Shelter.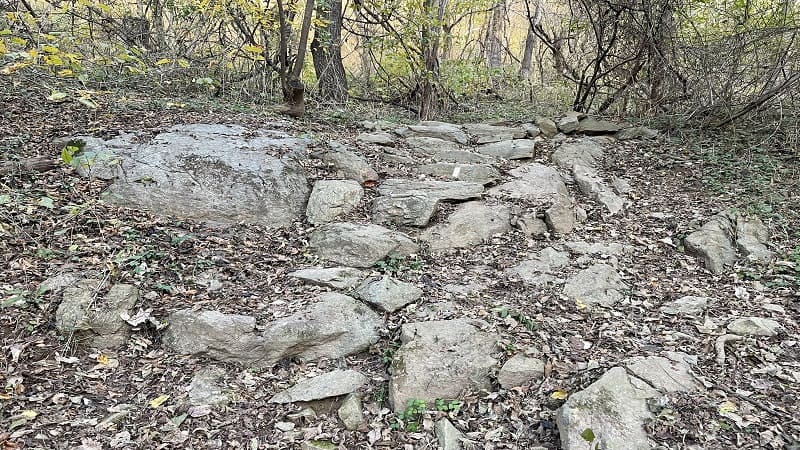 You will enter the G. R. Thompson Wildlife Management Area at the 1.9-mile mark. There is no bold signage and nothing really changes on the trail.
The only indication is the yellow marks on several trees. You'll also notice an overview sheet with rules as they relate to the Appalachian Trail (no bikes, no horses, etc.).
You will see a sign at the 2.4-mile mark when the AT intersects with the Ted Lake Trail. Stay right for the northbound Appalachian Trail.
In a few more steps, a second sign directs you to turn right onto a blue-blazed spur trail that leads to the Manassas Gap Shelter.
Manassas Gap Shelter
You will reach the Manassas Gap Shelter at the 2.5-mile mark. You'll first note a couple of primitive camping sites and a bear pole (for hanging food up high).
There is not a lot of green space – certainly not like at the Jim & Molly Denton Shelter – but there is a picnic table and a large fire pit (with a camping shovel).
Side trails on either side of the shelter lead to an outdoor privy and a spring. The slanted roof shelter (a "lean-to") has pegs inside and outside for hanging backpacks.
Inside this backcountry shelter, a log book allows visitors to write a few words about their travels, where they are from, their trail names and what's next for them on the hiking trail.
There are no real views to take in from the Manassas Gap Shelter, but it's a nice spot to take a break for lunch or to re-hydrate before the return hike to the parking lot.
Wrap-Up Notes
From the parking area, this hike took me two hours, including time spent taking a break at the picnic table and flipping through the trail log book.
If you have time for a second hike, consider Shenandoah River State Park. It's a short 25-minute drive from the parking area.
Set on the South Fork of the Shenandoah River, there are many Shenandoah River State Park trails with water views, as well as vistas from Culler's Overlook.