8 Scenic Nature Preserve Hikes in Virginia
Who else is looking forward to spring and summer hikes? Me. Me. Me. I especially love hikes in nature preserves when delicate species of plants and trees come back to life.
There are more than a few nature preserves in Virginia, including several owned by The Nature Conservancy, a non-profit dedicated to protecting environmentally fragile lands.
The hikes are beautiful too, taking nature-loving visitors to far-reaching summits, gushing waterfalls, rocky beaches, flowing rivers and gently-moving streams.
Here are eight nature preserves across Virginia that are worth exploring on foot during the spring and summer hiking season.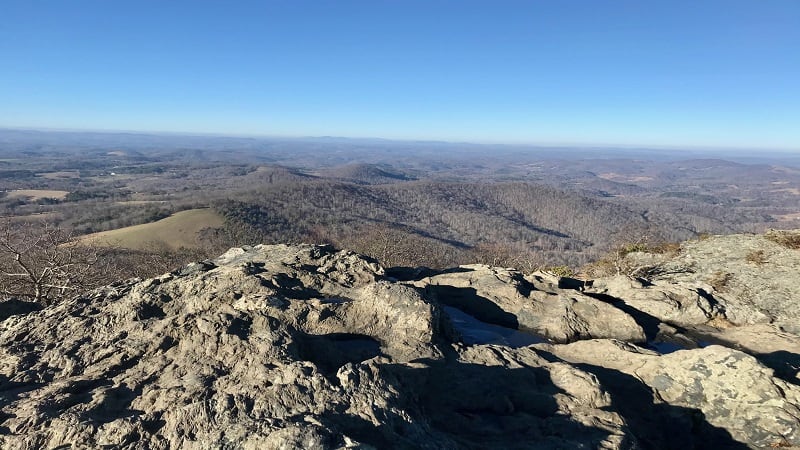 The easy 2.0-mile loop hike at Buffalo Mountain Natural Area Preserve in Floyd County includes three trails: Oak Trail (red), Ridge Trail (blue) and Barrens Loop (orange).
At the summit, you'll find a rocky path that's roped off to guide visitors and protect vegetation from being inadvertently trampled. You'll also find spectacular 360-views.
The rounded, treeless summit is home to rare and diverse plant species, even an insect found only atop Buffalo Mountain. It's aptly named the Buffalo Mountain mealybug.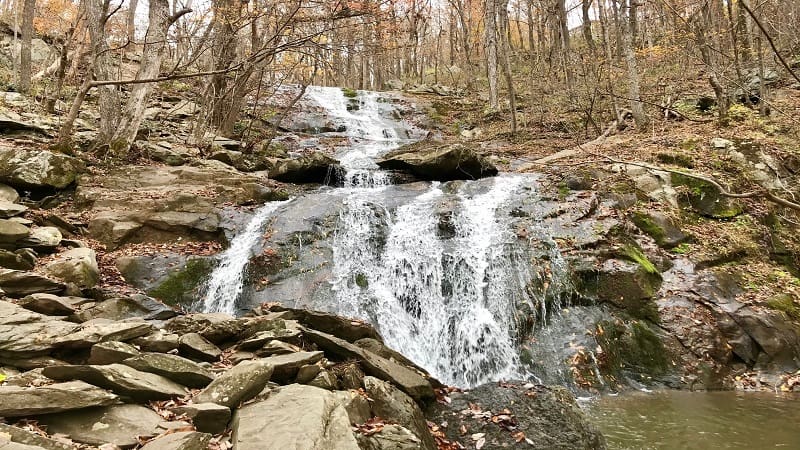 Located within the four-season Wintergreen Resort, a moderate 2.9-mile out-and-back hike delights thanks to cascading Upper Shamokin Falls.
There are plenty of rocks to scramble at the base of the falls and on either side of Stoney Creek as it tumbles along to Lower Shamokin Falls.
This hike is located within the Shamokin Springs Nature Preserve, a protected 13-acre section of hardwood forest. This is a small slice of the 6,000 acres preserved as open space.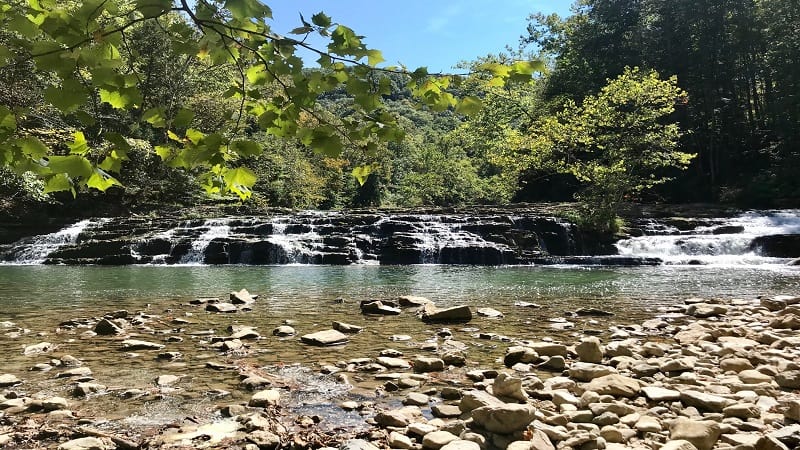 At Pinnacle Natural Area Preserve in Russell County, a delightful hike leads to Big Cedar Creek Falls (aka Big Falls). Three different styles of falls are ready to impress.
Set your towel down on the stone-covered beach before you rush into the basin for a splash sure to be an adrenaline rush on this 3.1-mile out-and-back hike.
Stroll the Pinnacle View Trail to ogle the park's namesake, The Pinnacle. This massive geological formation of dolomite and sandstone towers 600 feet over Big Cedar Creek.
At Bottom Creek Gorge Preserve in Montgomery County, you can hike to one of Virginia's tallest waterfalls. As in, 200-foot-tall Bent Mountain Falls in Shawsville.
By cobbling together several trails you'll hike an easy 4.0-mile loop around the nature preserve, including down to Bottom Creek to see a stair-step series of waterfalls.
Continue on to reach the Malcolm and Jimmie Black Overlook. You can't get up close to the falls, but it's still quite a nice view of one of the tallest waterfalls in the state.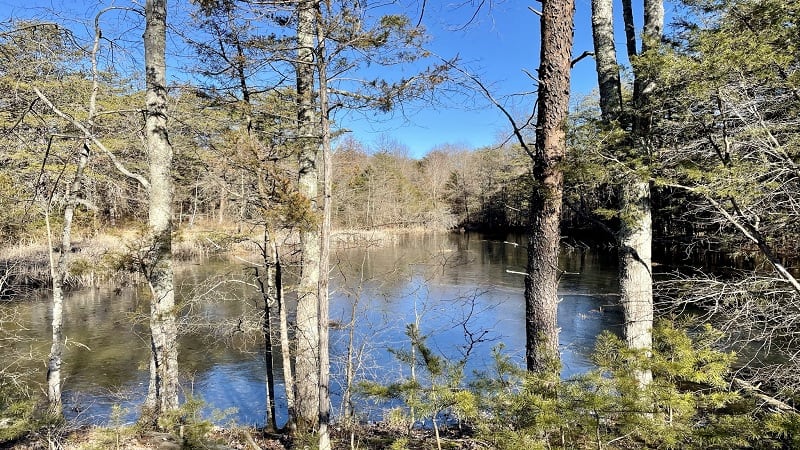 Leopold's Preserve is a 380-acre nature preserve that surrounds Villages of Piedmont, a mid-size community of single-family homes and townhomes in Prince William County.
Plan to cross wooden boardwalks, stop for creeks and streams, climb atop tree stumps, observe wetlands and read up on nature at placards all across the preserve.
There are seven miles of easy-going nature trails. The nature trail loop is nearly five miles and encircles the entire neighborhood.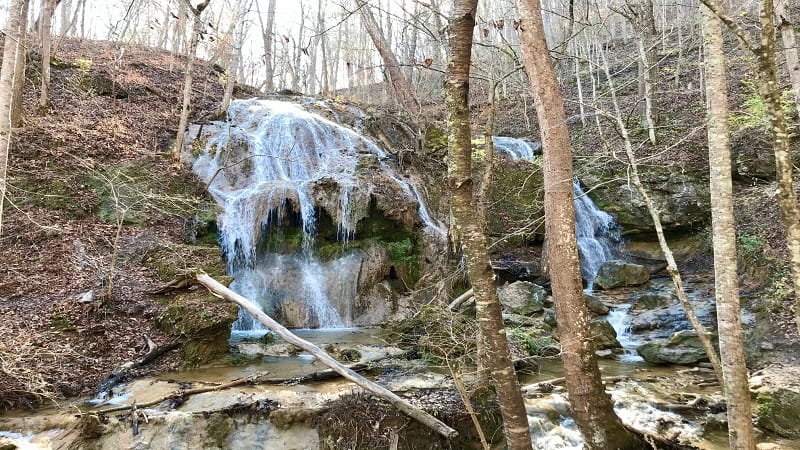 Falls Ridge Preserve is one of multiple parks, natural areas, gorges, caves and natural preserves across the country that are protected by The Nature Conservancy.
Here you'll find two hiking trails, as well as an 80-foot-tall spring-fed waterfall, cascading waters, travertine cliffs, dark caves and a loop around Mill Knob.
It's easy to connect the two trails, including Red (Chamberlain) and Silver (Bradley), to create a moderate 3.1-mile lollipop hike. Dogs are not allowed at this nature preserve.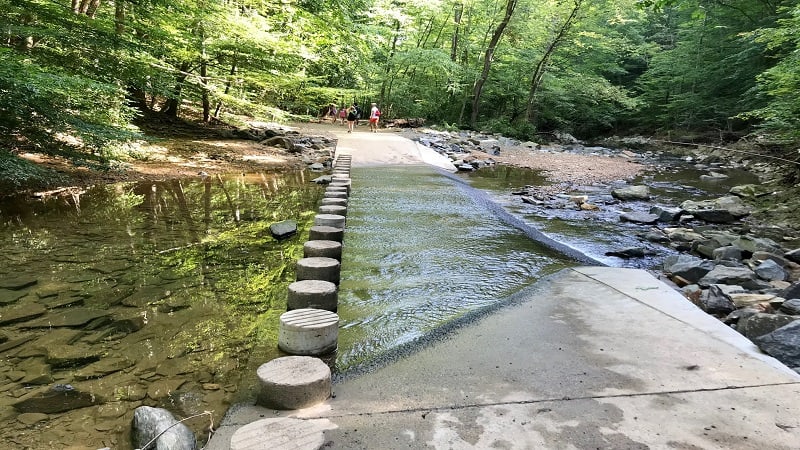 Scott's Run Nature Preserve has long been known for its beautiful, cascading waterfall that effortlessly flows into the Potomac River.
The falls are a short and scenic .7-mile hike from the parking lot, but there's far more to this wooded gem than its watery oasis.
There are multiple options to explore the river, wildflowers, stream crossings and mature trees, but please, be respectful. Take out your trash to allow others to enjoy Scott's Run.

A hike along the 18-mile Mount Vernon Trail affords scenic views across the Potomac River. Across Dyke Marsh Wildlife Preserve too, if you begin from Belle Haven Park.
The .75-mile Haul Road Trail guides visitors to the shores of this tidal marsh. It can be reached from the paved road that leads to the adjacent Belle Haven Marina.
Or, stay on the Mount Vernon Trail to reach a delightful wooden boardwalk with grassy views across Dyke Marsh. Look for an overlook, a bench and a colorful placard.