12 Fantastic Hikes In and Near Lexington, Virginia
There's a lot of history in Lexington, Virginia, but you'll also find a lot of fantastic outdoor recreation, including a wide range of hiking trails.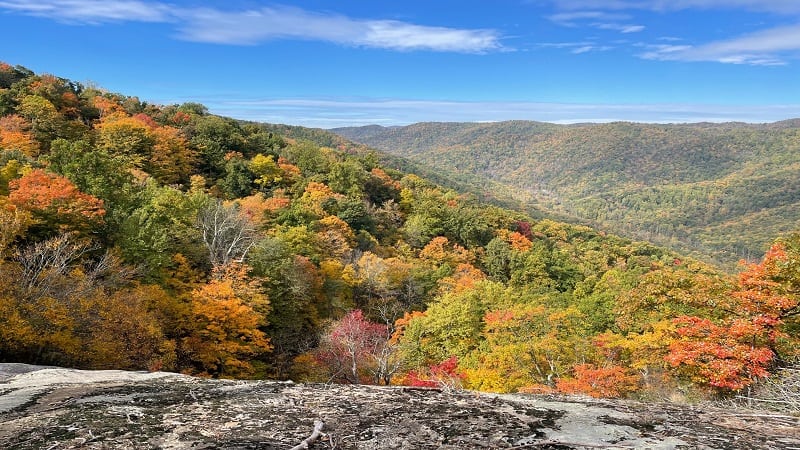 I know I've barely scratched the surface, but from what I've seen, I'm ready to head back to Lexington to explore more of the area's scenic trails.
Whether you're looking for hikes that wow with mountain vistas, rock scrambles or tumbling waterfalls, you can't go wrong with Lexington's trails.
Hikes Near Lexington
To make it easy to navigate, I've organized Lexington hiking trails by difficulty level so you have a good idea what to expect before stepping foot on the trails.
For the hikes, I share what's to love and how far each trail is from Lexington (from Stonewall Jackson House, to be precise). Get ready for some fantastic hikes.
Easy Hikes
It's not hard to love an easy hike that leads to big views, whether tumbling waterfalls or scenic mountains. These hikes in and near Lexington fit the bill.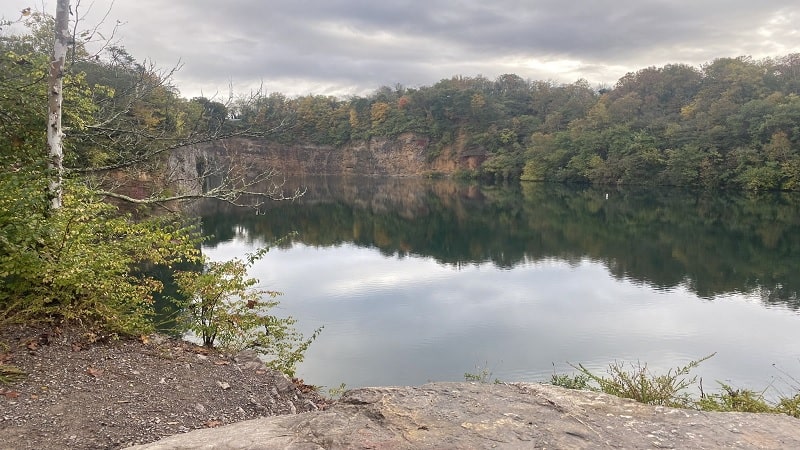 The Chessie Nature Trail runs alongside the gently-flowing Maury River for seven miles (one-way) between Lexington and Buena Vista.
Follow mile markers once used by the Chesapeake and Ohio Railroad as you savor picturesque rural countryside along this breathtaking rail-trail route.
Hike or bike this easy-going trail and be sure to count all the cows you see. You'll also pass through a handful of self-close gates that corral the cows.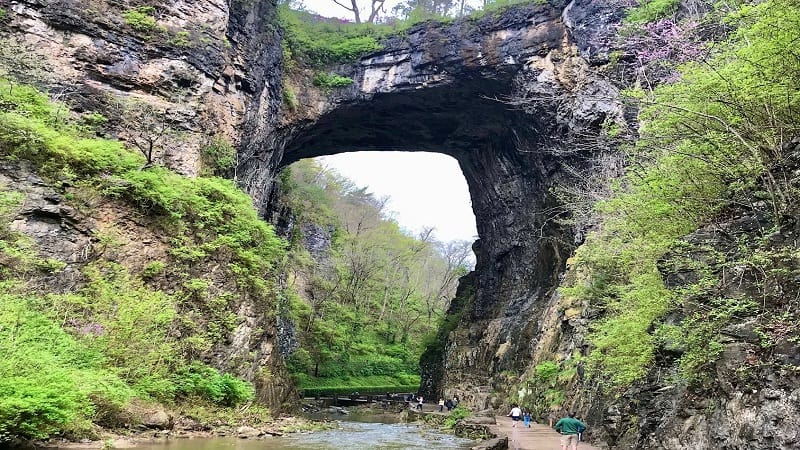 The hike to Lace Falls on the Cedar Creek Trail is one to do at Natural Bridge State Park. This trail guides you under the 215-foot-tall namesake arch.
It's not hard to be awed by this natural limestone arch that holds a place on the National Register of Historic Places. It was once owned by Thomas Jefferson.
Under the bridge, look up and to the left to see George Washington's initials. He carved them on the bridge in 1750. A white outline calls out the initials.
From the Crabtree Meadows parking area, an easy northbound hike leads visitors alongside burbling Crabtree Creek all the way to Crabtree Falls.
This leafy walk in the George Washington National Forest is quiet and serene. Even better, it's just 1.25-miles to the wildly scenic observation platform.
From the platform, you're at the top of Crabtree Falls, able to enjoy far-reaching views across the Tye River Valley and Blue Ridge Mountains.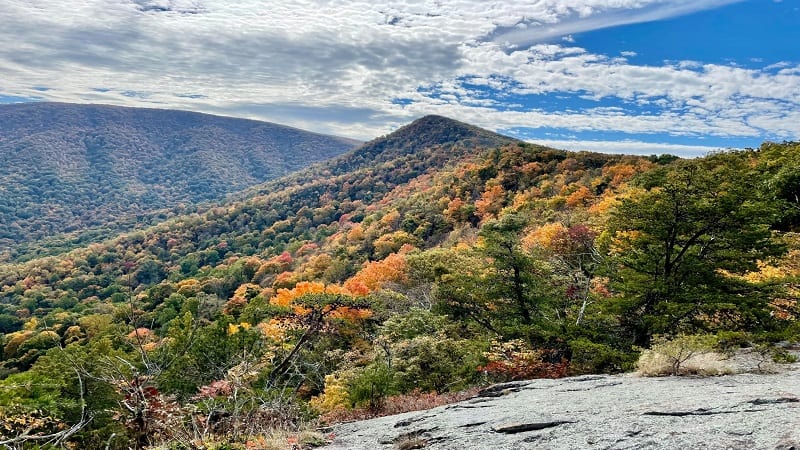 A second scenic hike sets off from the Crabtree Meadows parking area, this time a northeast bound trek to Pinnacle Rocks.
This pleasant hiking trail meanders through the forest until you reach a rock face that's just right for a snack and a water break. Oh, the incredible views.
You'll reach the first set of vistas at the 1.6-mile mark. There is so much mountain scenery to take in. Sit and stay awhile, then re-trace your steps to the trailhead.
Moderate Hikes
For more of a challenge, as well as more mileage, check out these hikes near Lexington that wow with mountain vistas and roaring waterfalls.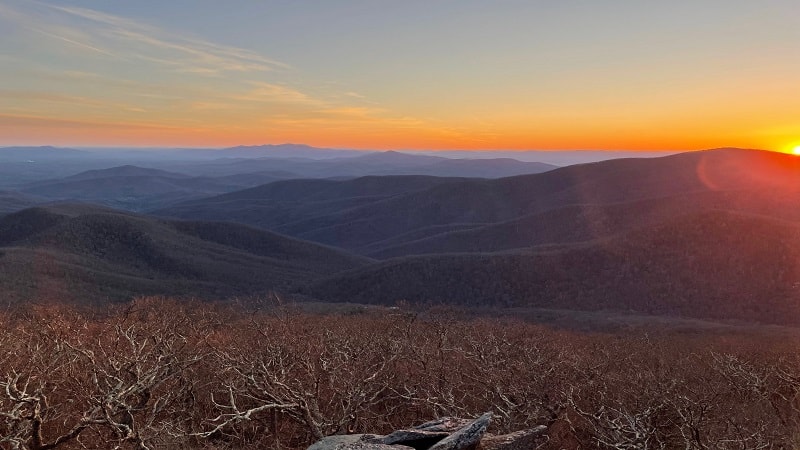 The rugged 6.5-mile Mount Pleasant hike in the George Washington National Forest is a stunner. It's great for both hiking and backpacking, too.
As you near the top, you'll realize there are two summits, East and West. Take in views from both points, which are no more than .1-miles from the center.
Both have rocky summits that are ideal for savoring all the sensational views. The west side really puts on a show with an incredibly colorful sunset.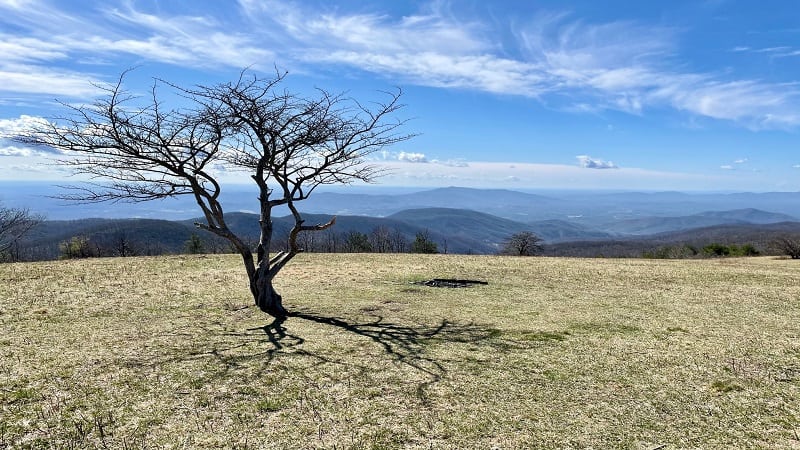 The 6.3-mile Cole Mountain hike begins on the Appalachian Trail, guiding you to 360-degree views and a cast bronze U.S. Geological Survey benchmark.
What's notable about Cole Mountain (aka Cold Mountain) is that there is no rocky summit. Rather, it's a wide-open field or meadow. A bald, really.
You will feel on top of the world. It's very Sound of Music. You'll also wish you had a soccer ball to kick around the open space with plentiful mountain views.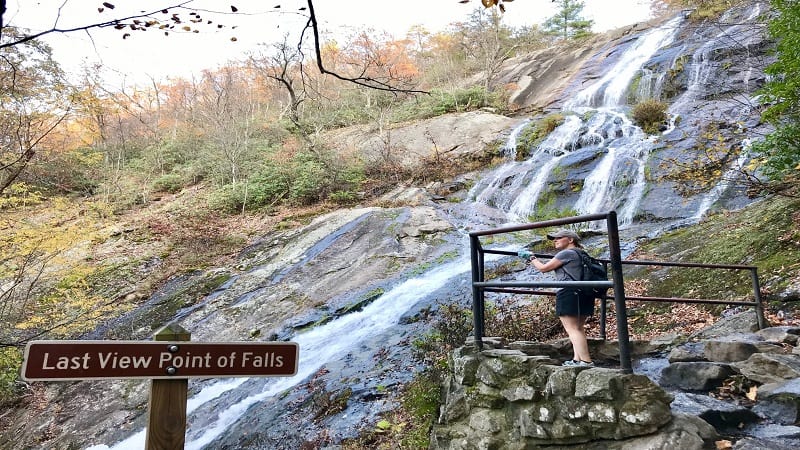 Crabtree Falls is a stunner for its dramatic cascades and rewarding views across the Blue Ridge Mountains from the top of the 1,214-foot-tall falls.
Crabtree Falls is the "highest vertical drop cascading waterfall east of the Mississippi River." Believe it or not, it's taller than the Eiffel Tower (984 feet).
This show-stopping waterfall wows with five tumbling cascades that are within view all the way to the top along Crabtree Creek.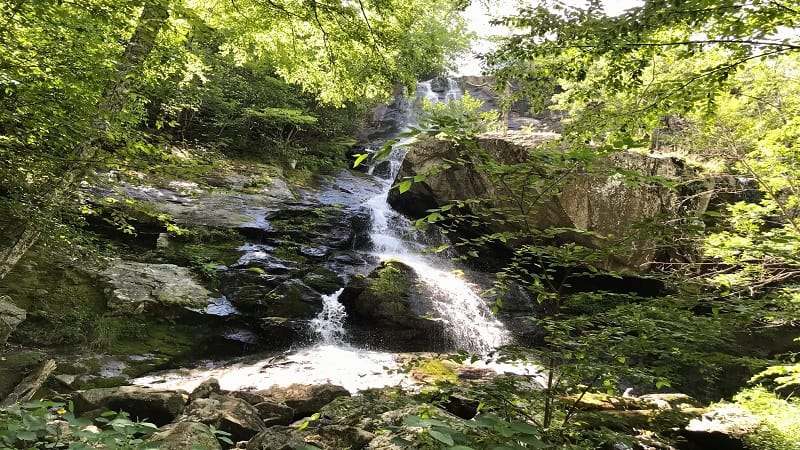 The trailhead for the hike to dramatic 200-foot-tall Apple Orchard Falls begins at the scenic Sunset Field Overlook on the Blue Ridge Parkway.
Your first steps quickly envelop you in the rich, green canopy of the forest. Plan to cross streams, even wooden bridges, on the way to the tumbling falls.
At the 1.1-mile mark, you'll spy an inviting waterfall. Break to re-hydrate, but press on, for this is not the waterfall you've worked so hard to reach.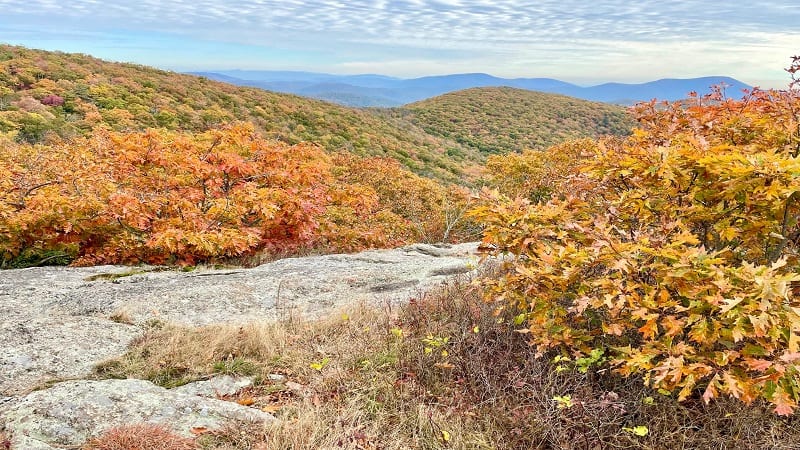 This hike may be nearly one hour from Lexington, but it's worth all of your time and effort for postcard-perfect 360-degree views from atop Spy Rock.
This hike begins on an old gravel fire road that leads to a southbound stretch of the white-blazed Appalachian Trail. A short rock scramble leads to the top.
From the summit of Spy Rock, you can see in all directions. In the fall, the colorful foliage that drapes the Blue Ridge Mountains is wildly beautiful.
Strenuous Hikes
For a real challenge, as well as an abundance of sensational mountain views, these strenuous hikes near Lexington are just what you need.
For the ultimate two-for-one hike, look to the House Mountain Trail near Lexington for big views from Big House Mountain and Little House Mountain.
At the 2.2-mile mark, a right turn takes you to Little House Mountain, while a left turn leads to the House Mountain Shelter and Big House Mountain.
This is a steep hike with an elevation gain of 2,800+ feet, but you'll probably agree that the vistas are worth every ounce of effort on this mountain hike.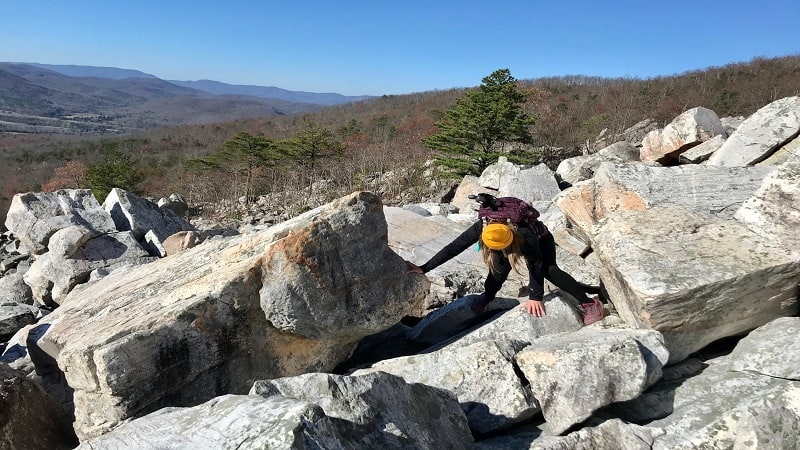 Devil's Marbleyard is the granddaddy of all rock scrambles. You must climb up, over and around boulders across an eight-acre rock field to reach the top.
This naturally-formed super-size scramble was likely created many years ago by frost wedging, when water froze and broke large rocks down over time.
A forested hike along the Belfast Trail leads to this never-ending field of quartzite boulders – some the size of cars – that will leave you in awe.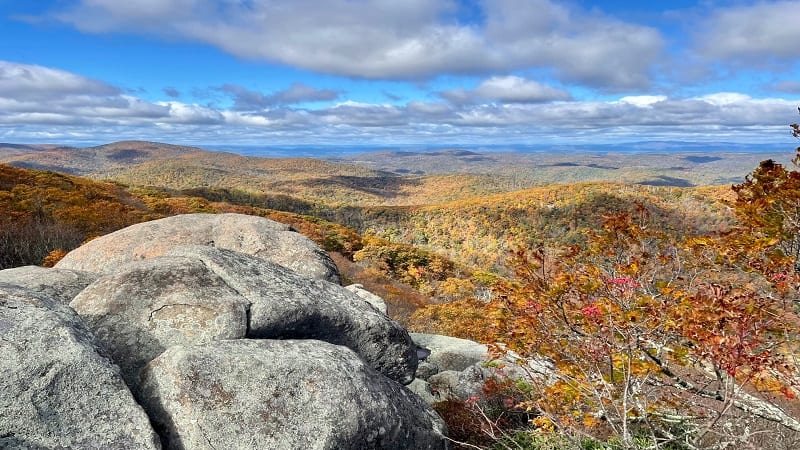 At 4,063 feet tall, The Priest is the highest point in Nelson County, Virginia. It also requires that hikers climb more than 3,000 feet to reach the top.
The entire 9.0-mile hike is along a southbound stretch of the Appalachian Trail. At some points, you will feel the trail is unrelenting, but you will be rewarded.
To reach the summit, you'll encounter more than 30 switchbacks. Thankfully, the far-reaching views from the top are beyond your wildest imagination.