Banshee Reeks Nature Preserve: Explore More Than 20 Miles of Hiking Trails in Loudoun County
I discovered Banshee Reeks Nature Preserve in Loudoun County during the pandemic. For 13 years, I lived 11 minutes away, yet I had no idea this natural area existed.
More than 20 miles of hiking trails criss-cross the 695-acre Banshee Reeks Nature Preserve, which includes forests, fields, ponds and streams.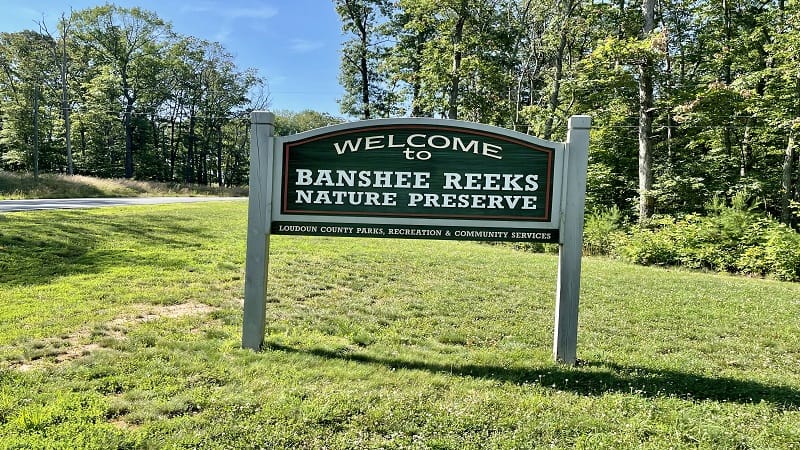 Last year, I took two of my kids and our dog for a brief exploration. Last week, I returned to hike a few of more than a dozen named hiking trails.
It's easy to create your own hike at Banshee Reeks, so I did just that, connecting several trails together to form a 2.9-mile loop across the western section of the park.
| Trail Stats | |
| --- | --- |
| Length | 2.9 miles |
| Difficulty | Easy |
| Trail Type | Loop |
| Elevation Gain | 171 feet |
| Duration | 1.5-2 hours |
| Terrain | Mostly dirt & mowed grass trails |
| Dog-Friendly | Yes, on a six-foot leash |
| Fee | Free |
| Driving Directions | Click Here |
Arriving at the Trailhead
Banshee Reeks Nature Preserve is only open on select days and during set hours. A front gate opens and closes promptly at the start and end of each day.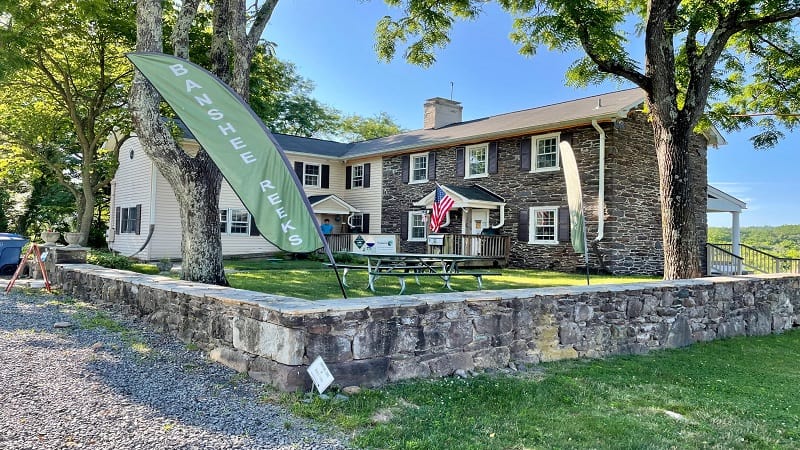 Generally, the natural area is open Tuesday-Thursday and Saturday-Sunday. It is not open Monday or Friday. It always opens at 8 am, but closing time varies by season.
The trailhead for this hike is located just behind the visitor center. In fact, many hikes across the park begin from this same trailhead.
The First Steps
Just behind the visitor center, you'll see a brown sign urging visitors to "stay on marked trails." It doesn't say the trail name, but a paper map notes it's the Cathedral Trail.
The trail begins as a mowed grassy trail and quickly descends into the shaded forest. Keep your eyes open for signs identifying trees on the way, like pin oak and boxelder.
At the .1-mile mark, you'll notice ruins of some kind on the right, like a brick foundation, but there is no signage to indicate what was once there.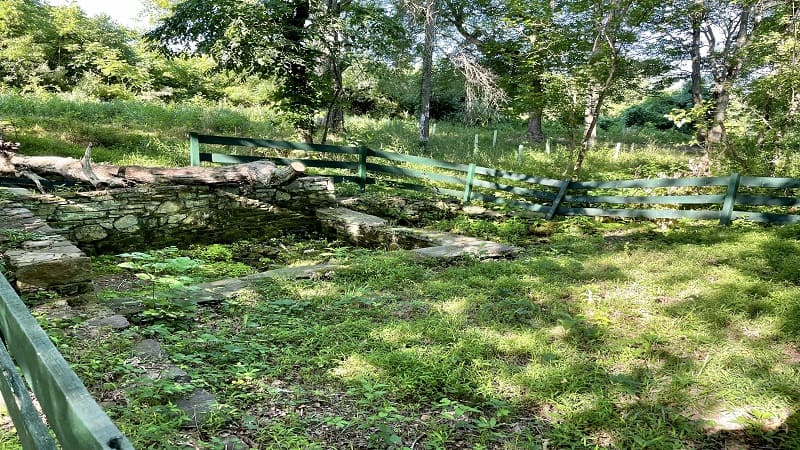 In a few more steps, veer left to stay on the Cathedral Trail. At the .2-mile mark, I turned right onto the Goose Creek Trail. It's essentially more mowed grassy trail.
At the .4-mile mark, you can either turn left to hop back on the Cathedral Trail or you can take a shortcut by staying right for the Goose Creek Trail.
I turned left for the Cathedral Trail to create a larger loop in the southwest section of the nature preserve. At this point, you also begin to descend along the hiking trail.
By the .7-mile mark, you will be at the lowest point on the hike in terms of elevation as you begin to walk alongside Goose Creek.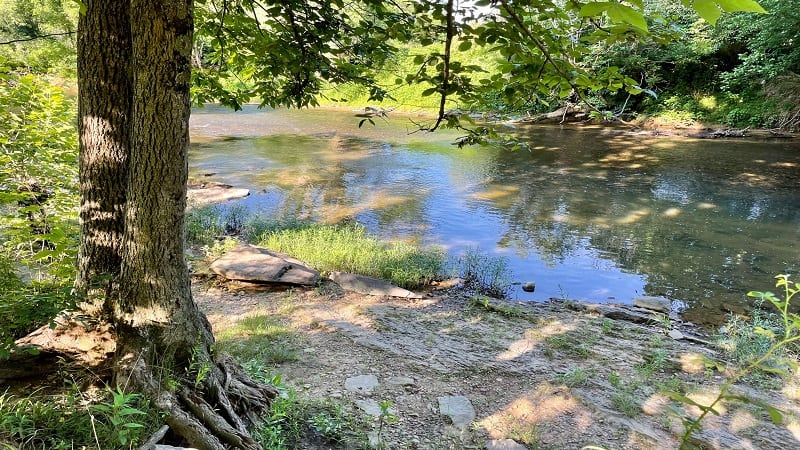 In a few more steps, you will be at Goose Creek. Unfortunately, you can no longer walk out to water's edge. A metal chain prohibits you from walking any further.
A posted sign also notes that there is no swimming, wading and bathing. I assume this sign went up due to visitors who opted to do all three during the pandemic.
I took my kids and our dog on this trail last summer and there was no sign. We walked out to the edge to toss in rocks. Anyway, it was disappointing.
Continue on. Then at the 1.1-mile mark, turn left at the trail marker loop back to the water a second time. In a few more steps, you'll reach Goose Creek once more.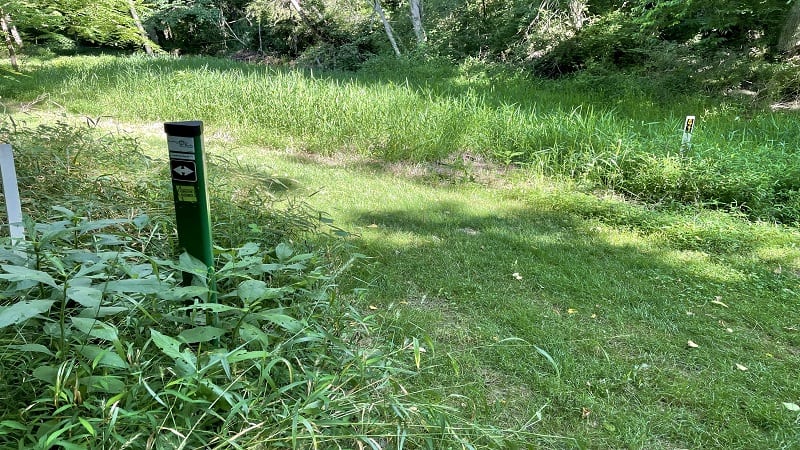 Again, there is no opportunity to walk out to the creek. You are now on the Bluebell Trail. At the 1.6-mile mark, turn left onto the Lookout Rock Trail.
At this point, given the name of the trail, I was hoping for a nice, scenic lookout. At the 1.9-mile mark, after an easy ascent, there is a bench overlooking Goose Creek.
Unfortunately, the foliage is so dense that you can hardly see the creek. At the 2.0-mile mark, stay left to continue on the Lookout Rock Trail.
You'll stay on this trail, then follow the signs for Spring House Pond, which is a nice, small pond for fishing. There are several wooden docks to drop in a line.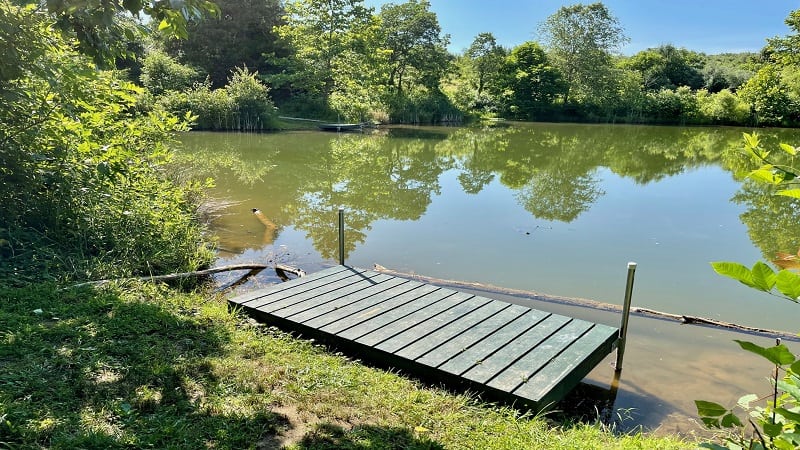 Walk along the north side of the pond until the 2.9-mile mark. At this point, turn left for the Cathedral Trail to return to your starting point behind the visitor center.
Hiking Options
If you look at the trail map, you'll note that there are many, many ways to create a longer or shorter hike depending on what you're looking for on a given day.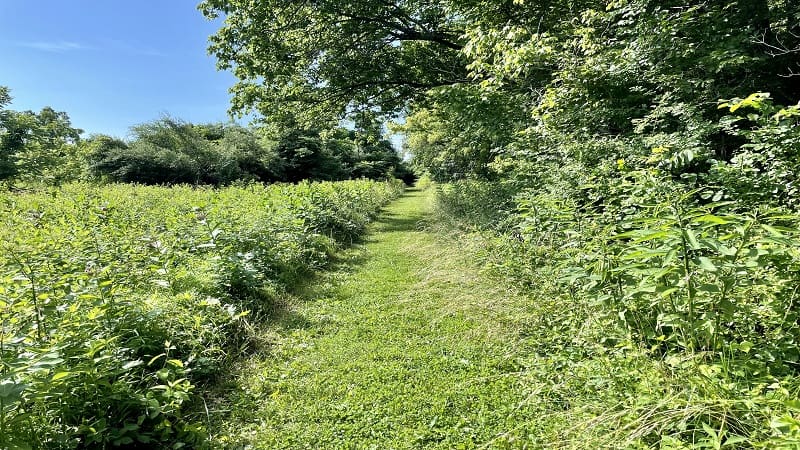 I also recommend using the AllTrails map so you can see at-a-glance where you can turn for a shortcut or a larger loop as you are hiking along the trails.
I kept to the far west side of the nature preserve since it was closest to the visitor center, but there is a lot to see and explore on the east side, too.
Wrap-Up Notes
From the visitor center, this Northern Virginia hike took me just over one hour to complete, including time spent snapping a few photos here and there along the trails.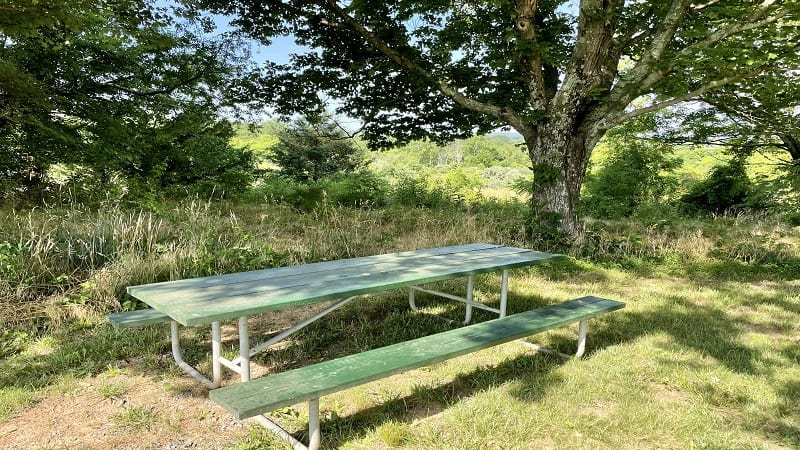 Banshee Reeks Nature Preserve is a great place to go hiking in Ashburn. It's mostly shaded and very quiet. It's a nice place to escape for an hour or two.
Unfortunately, there are few views or worthy overlooks at this nature preserve, but it is a nice walk in the park when that's just what you need.