Lost Mountain: A Quiet Hike at Sky Meadows State Park in Delaplane
Set in far northwest Fauquier County, Sky Meadows State Park is a delightfully scenic state park split into two sections by U.S. Route 17 (Winchester Road).
The larger west section is home to a dozen Blue Ridge Trails, including Old Trail and Piedmont Overlook Trail. The east section is home to the Lost Mountain Trails.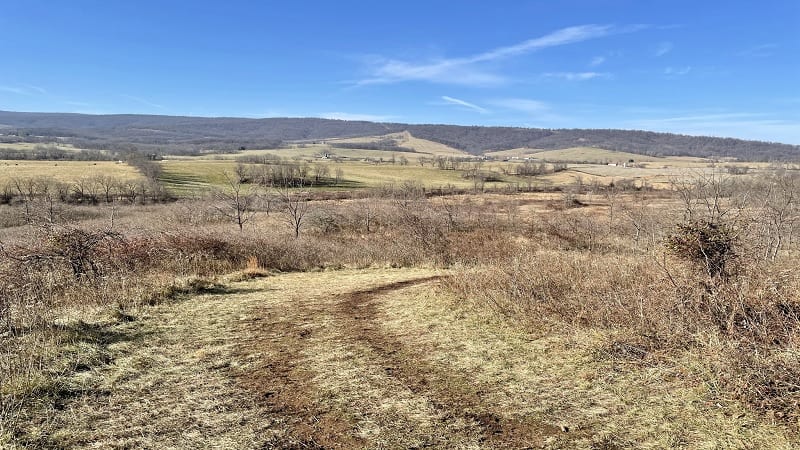 A few weeks ago, I hiked in the more pastoral Lost Mountain section along the Lost Mountain and Rolling Meadows Trails, which formed a serene and relaxing loop.
It was a beautiful hike, but also a quiet hike as most park visitors set off on trails in the west section, which is home to several spectacular overlooks and the Appalachian Trail.
| Trail Stats | |
| --- | --- |
| Length | 4.0 miles |
| Difficulty | Moderate |
| Trail Type | Loop |
| Elevation Gain | 571 feet |
| Duration | 2-2.5 hours |
| Terrain | Mostly dirt and grass trails, some gravel |
| Dog-Friendly | Yes |
| Fee | $7 per vehicle weekdays ($10 per vehicle weekends, Apr-Oct) |
| Driving Directions | Click Here |
Arriving at the Trailhead
The parking area is north of the main park entrance on U.S. Route 17. It is not staffed by a park ranger. Instead, plan to pay park fees at an unmanned kiosk on arrival.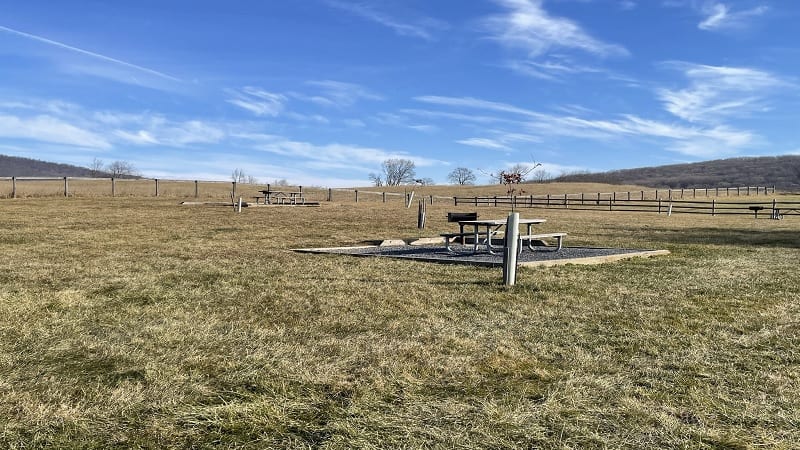 There is room for 10 or 12 cars to park. You'll also find space for horse trailers to park as all of the primary trails at Lost Mountain are open to horseback riders.
Two or three picnic tables are in a large grassy space adjacent to the parking area. You'll also find a porta-potty to the left of the trailhead, behind a large trail kiosk.
The First Steps
The hike begins at the back of the parking lot, along the blue-blazed Rolling Meadows Trail. It starts as a gravel road, then transitions to a mostly dirt multi-use trail.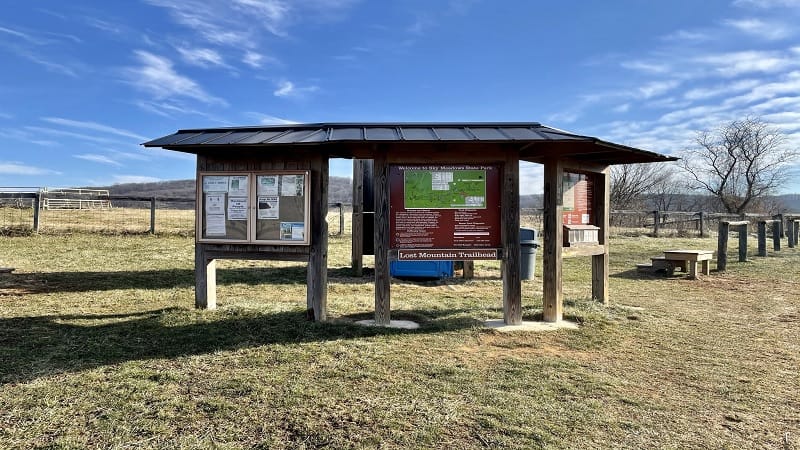 At the .1-mile mark, a dead-end. The loop begins. There is no benefit to clockwise or counter-clockwise. I opted for counter-clockwise (as I tend to do) and turned right.
From here, a large meadow is on the left, a dividing line of trees is on the right. It's mostly shaded. At the .7-mile mark, you'll cross over a small creek or stream.
As you continue along, there are several opportunities to shorten the hike by creating smaller trail loops. If you look at the map below you'll see what I mean.
It's a cinch to turn left on the Hayfield Trail, Old Pasture Trail or Washington's Ridge Trail. All close the loop by turning left once you reach the Rolling Meadows Trail.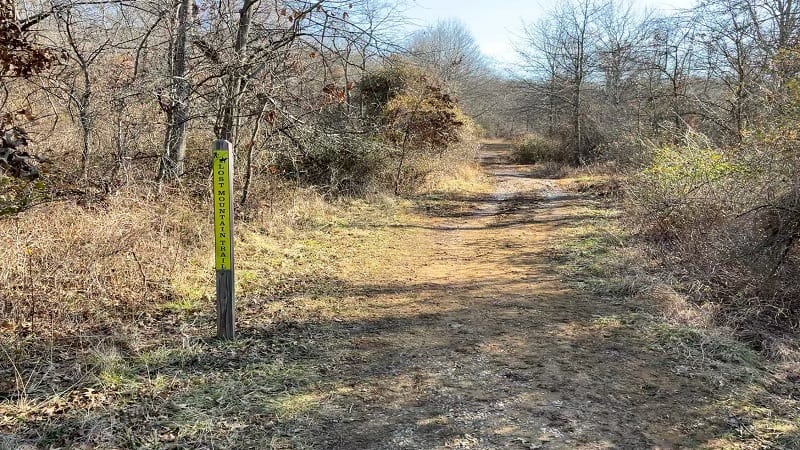 I opted to stay on the Rolling Meadows Trail. It connects in a few steps with the yellow-blazed Lost Mountain Trail. Once it does, it feels more wooded and mountainous.
Once you pass the Washington's Ridge Trail, you will begin to ascend into the woods. Thankfully, you will be rewarded with wide-open valley views at the 2.4-mile mark.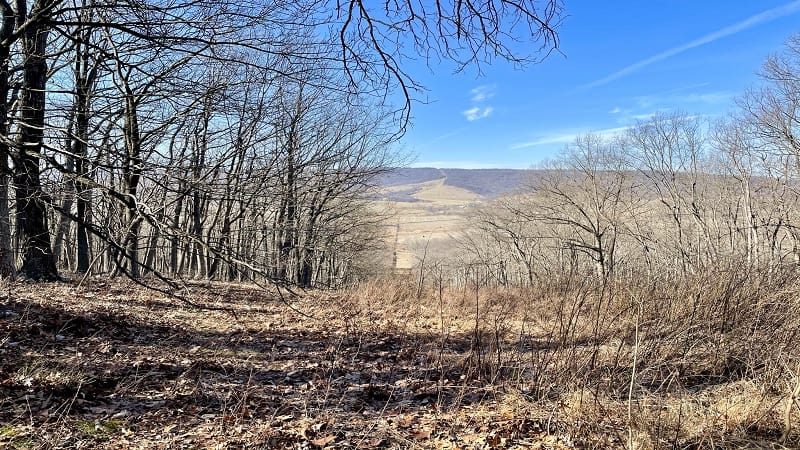 The views are very, very nice and certainly worth a photo or two, but even better views are a few more steps along the Lost Mountain Trail.
From here, you'll dip back into the dense woods until you reach a wide-open grassy area and a welcoming wooden bench at the 2.8-mile mark.
Settle in with a trail snack and savor the far-reaching views. This bench is also at an X-junction of four different trails. Thankfully, there are several wise trail markers.
Once you've taken a rest, hook back up with the Rolling Meadows Trail, which descends to the right. From here, you'll experience a mix of forest and open fields.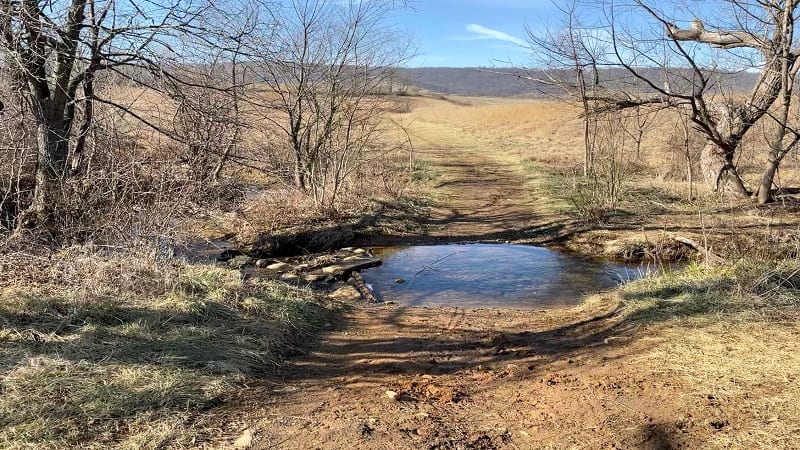 At the 3.3-mile mark, you'll cross back over the stream and continue on across a wide grassy area. You'll close the loop by turning right at the 3.9-mile mark.
From here, you're just a few more steps to the parking area. Your hike is complete.
Wrap-Up Notes
From the parking area, this hike took me 90 minutes, including time spent ogling the wide-open valley views from the comfy wooden bench.
If you arrived at Sky Meadows State Park by way of Route 50, plan a stop on the return in Aldie or Middleburg. Both are walkable villages with snack and meal options.
In Aldie, it's a must to stop in Aldie Country Store & Café for a Maple Bacon Donut. Common Grounds and Cuppa Giddy Up are favorite coffee shops in Middleburg.
Hungry for more? Take a look at 15 of the best hikes near Bluemont, Virginia to find a few more hikes to add to your must-do hiking list.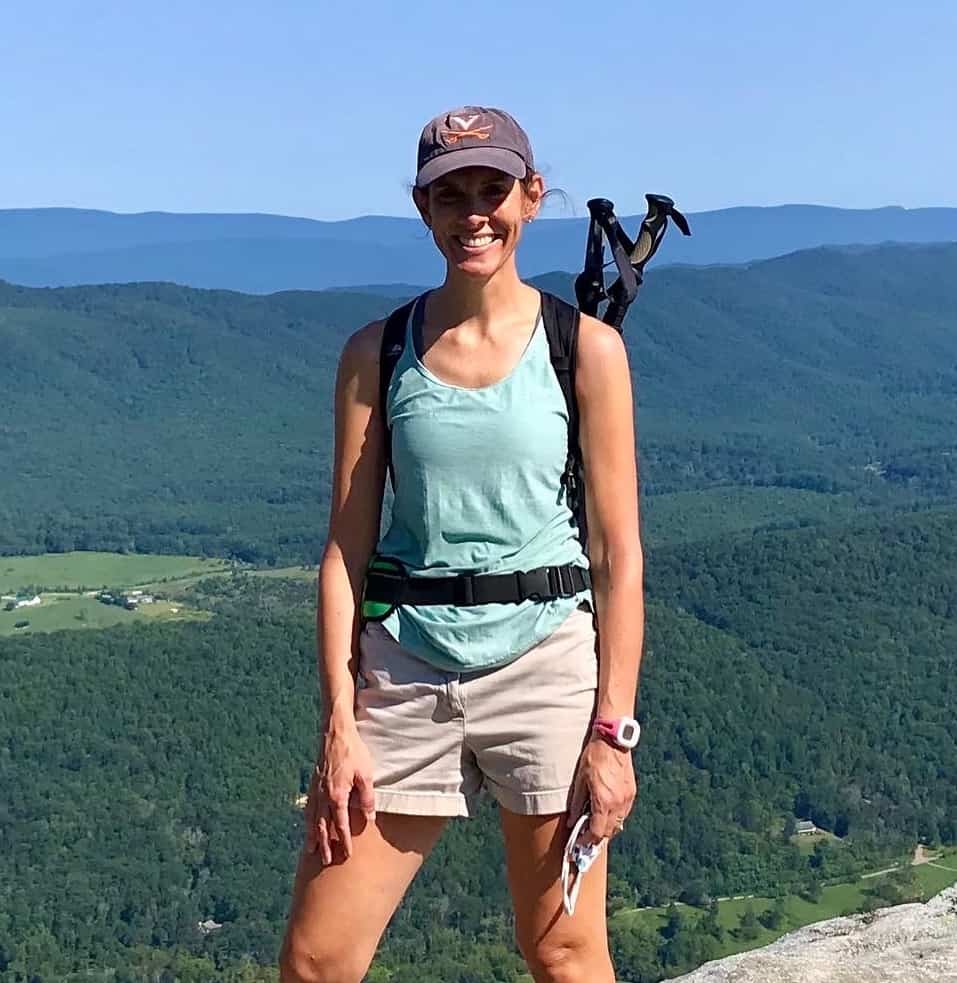 Erin Gifford is the editor of Go Hike Virginia. She has completed more than 300 hikes in Virginia. She is also the author of three hiking guidebooks from Falcon Guides. Need help finding a hike? Check out the Trail Finder feature or send Erin a message.