5 Must-Do Appalachian Trail Roller Coaster Hikes Near Bluemont, Virginia (+ 3 Bonus Hikes)
Thanks in large part to the Appalachian Trail, there are several fantastic hikes near Bluemont, Virginia that wow with scenic vistas and rock scrambles, even waterfalls.
The Appalachian Trail cuts across Bluemont in Loudoun County from the West Virginia border on the north side to Sky Meadows State Park on the south side.
These Northern Virginia hikes are both fantastic and close to go-to spots for post-hike sips and snacks, like Bear Chase Brewery and Bluemont Vineyard.
Hikes Near Bluemont, Virginia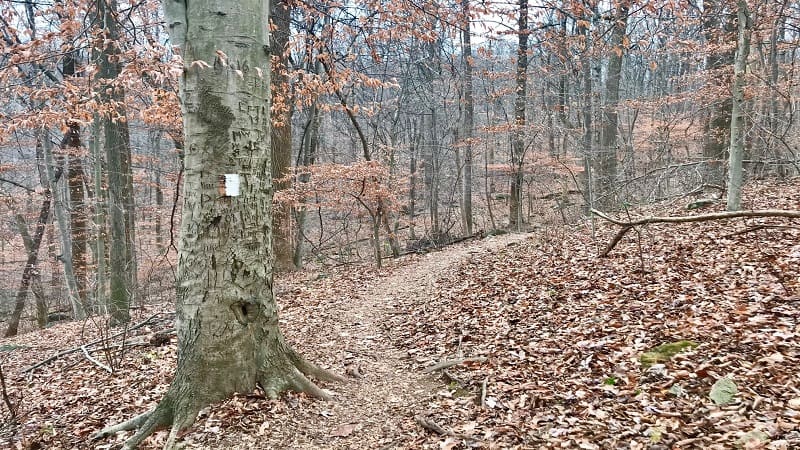 Bluemont hikes traverse a 13.5-mile stretch of the Appalachian Trail known affectionately as the "roller coaster" thanks to its ups and downs, ups and downs.
The AT roller coaster runs from Route 7 (Snickers Gap) to Route 50 (Ashby Gap). Some say the roller coaster is among the hardest parts of the Appalachian Trail.
I'll let you decide, but I think these hikes are manageable, even when hiking alone. From north to south, here are five fantastic roller coaster hikes in Bluemont, Virginia.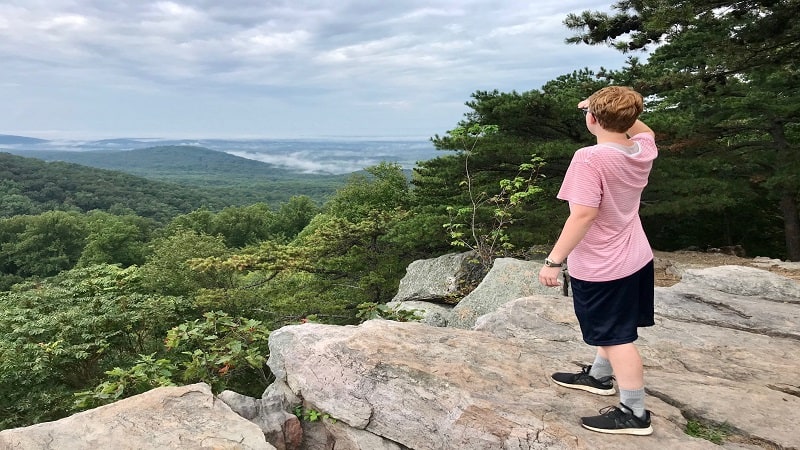 Across Route 7 from the Bears Den Hike (below) is the more challenging Raven Rocks Hike, which guides visitors along a stretch of the white-blazed Appalachian Trail.
This 5.1-mile out-and-back hike begins from a very small parking lot off Pine Grove Road. There is only space for a dozen cars and it can easily fill to capacity by 9 am.
For this reason, some hikers either park very illegally or park in the Bears Den parking area. The latter adds an extra 1.0-mile round-trip to the hike.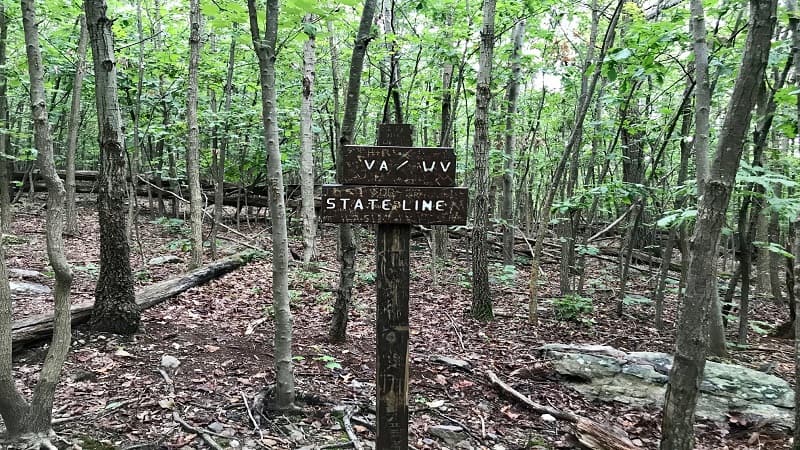 Parking in the large Bears Den lot also requires crossing the four-lane Route 7. Cars travel very fast on this scenic byway so be safe as you cross over to the other side.
The Raven Rocks hike is a rocky climb with an elevation gain that exceeds 1,500 feet. However, you will be rewarded with far-reaching valley and mountain views.
This hike follows a winding route along a rock-laden northbound section of the Appalachian Trail. Keep your eyes open for thru-hikers, maybe even section hikers.
You'll also want to keep your eyes peeled for the "VA / WV Stateline" sign since the Raven Rocks overlook is just barely over the border in West Virginia.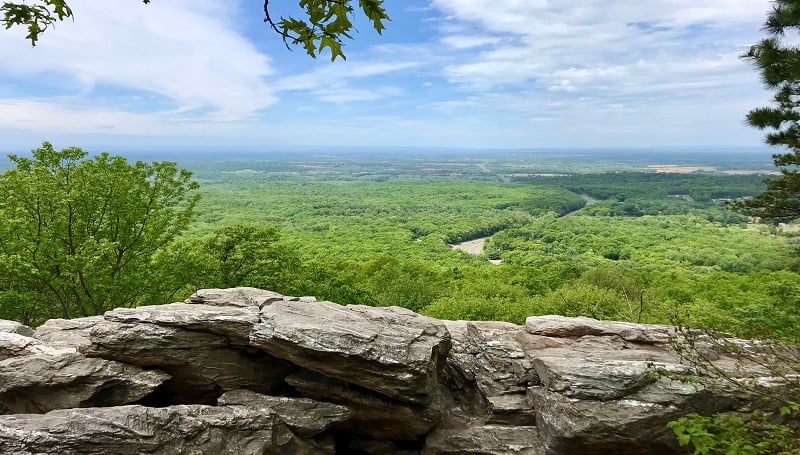 The wildly popular Bears Den Hike guides visitors along a scenic stretch of the white-blazed Appalachian Trail. A large rocky overlook ensures far-reaching views for all.
The hike begins from a large parking area on Route 7. The Bears Den parking lot sits in Snickers Gap, which straddles Loudoun County and Clarke County.
While the lot is large, don't be fooled as it can fill up very quickly, especially on fair-weather weekends. From the lot, your first steps are on a blue-blazed spur trail.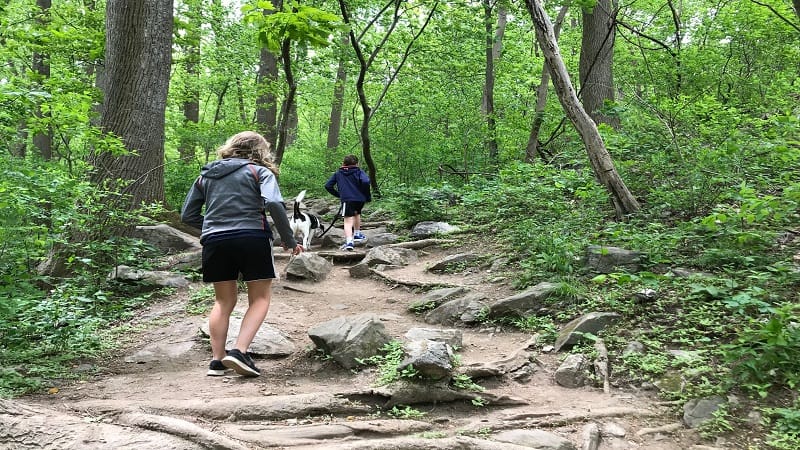 At the .3-mile mark, you will reach the Appalachian Trail. From here, it's a short walk to the ever-scenic Bears Den Overlook that's known spectacularly colorful sunsets.
The rocky overlook is the perfect place to sit for lunch or a snack while savoring panoramic views of the Blue Ridge Mountains and Shenandoah Valley.
The Bears Den Hike is just 1.9 miles, but this easy out-and-back hike in Bluemont is well-worth your time. It's also among the most kid-friendly hikes in Virginia.
At Bears Den, there is a hiker hostel, a primitive campground, a lodge for groups and a small store for the short-term resupply needs of trail hikers.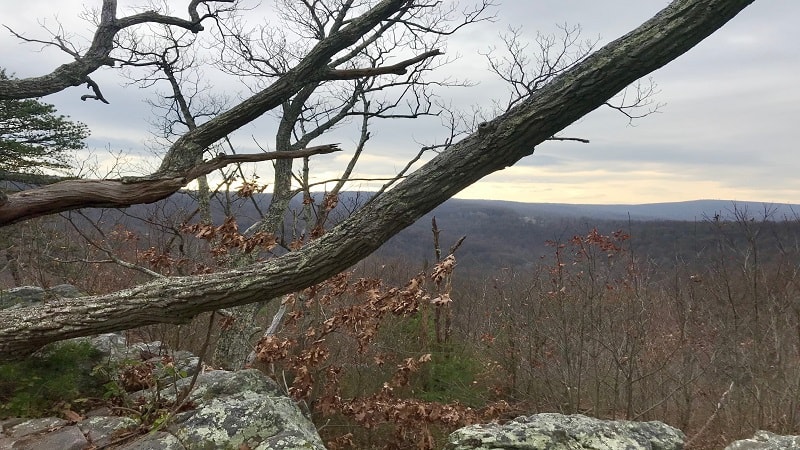 This hike on the Appalachian Trail goes by several names (confusing, I know). On AllTrails, this moderate 3.5-mile out-and-back hike is referenced as Buzzard Hill.
On HikingUpward, this hike goes by Hollow Brook (sometimes, Hollow Brook Trail). These are both the exact same hike. It's one I think you will really enjoy, too.
This undulating, wooded hike begins east of a relatively new parking area on Morgans Mill Road. Note that Morgans Mill Road is all gravel and is a fairly bumpy ride.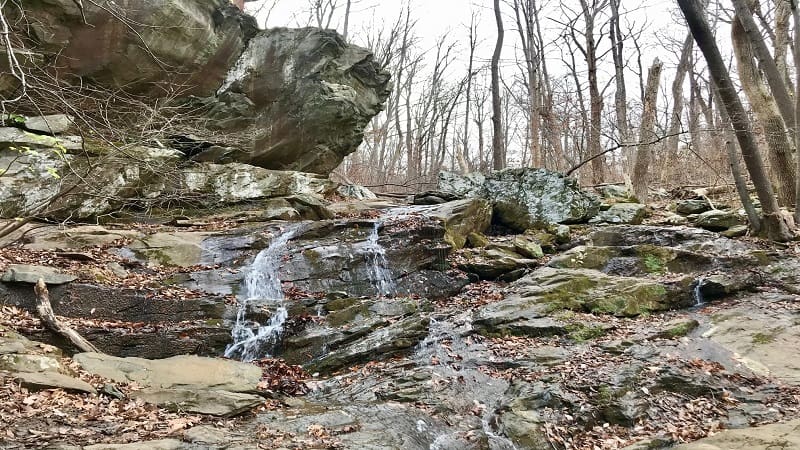 There are two sections of the Appalachian Trail that set off from this parking area. This hike runs along a northbound section (same side of the road as the parking lot).
You will reach an easy water crossing in Reservoir Hollow at the .7-mile mark, then a short spur trail on the right that leads to a fun rock scramble and a small waterfall.
Arrive at west-facing views from atop Buzzard Hill (elevation 1,266 feet) at the 1.7-mile mark. Steps from the overlook, you'll pass a primitive camp site and stone fire ring.
Ashby Hollow Hike
From the parking area on Morgans Mill Road (see Hollow Brook Hike above), you can also access a southbound section of the white-blazed Appalachian Trail.
This is called the Ashby Hollow Hike. However, it's not nearly as popular as the Hollow Brook Hike since there is no waterfall and there are no especially scenic views.
The Ashby Hollow Hike also guides visitors along the Appalachian Trail's roller coaster section, so expect plenty of ups and downs on this rocky hike near Bluemont.
Along this moderate 5.3-mile out-and-back hike, you will encounter a couple of water crossings, a small wooden bridge and a few small camp sites along the way.
If you're looking for solitude and serenity, as well as a fairly good workout thanks to an elevation gain of more than 1,700 feet, the Ashby Hollow Hike is for you.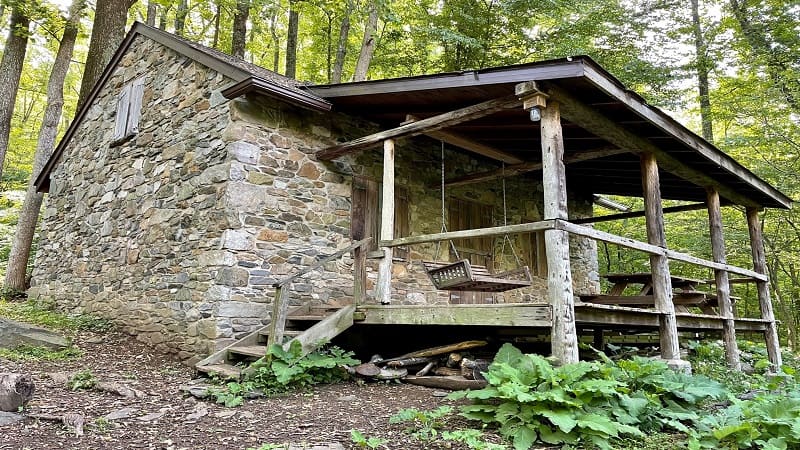 Myron Glaser Cabin is one of several dozen primitive Potomac Appalachian Trail Club (PATC) cabins for rent in Virginia, Maryland, West Virginia and Pennsylvania.
Most hike-in cabins, like Range View Cabin in Shenandoah National Park, can be rented by anyone. Some cabins, like Myron Glaser Cabin, are reserved for PATC members only.
Myron Glaser Cabin sits along the Appalachian Trail and can be rented for $40/night on weekdays and $55/night on weekends.
This 4.5-mile out-and-back hike begins from a small parking area off Blue Ridge Mountain Road, near Route 50. Note that the "Trailhead Parking" sign is very small.
You will begin by descending along a .1-mile stretch of blue-blazed trail until you reach the Appalachian Trail. Turn right to hike all the way to Myron Glaser Cabin.
Plan to tackle two easy water crossings before reaching a short spur trail to the primitive stone cabin at the 2.0-mile mark. There is a picnic table and wooden bench swing.
There is a wood stove inside the cabin, which can sleep up to 12 people on two double-deck bunks and a rather large loft space. There is also a stone fire pit.
Hikes South of Route 50
At Route 50, you will leave Bluemont (Loudoun County) and enter Fauquier County near Ashby Gap. You will also arrive at Sky Meadows State Park in Delaplane, Virginia.
For those eager to continue southbound along the Appalachian Trail, here are a few more hikes at Sky Meadows that begin just south of Route 50 in Virginia.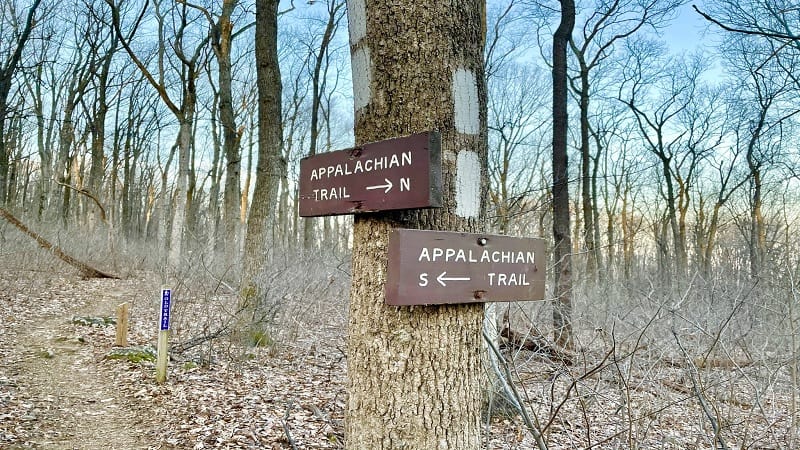 For this 5.1-mile loop hike, you can begin at Ashby Gap (on the north side of Route 50), but I found would suggest a start that does not require crossing a major road.
Park just outside the state park on Liberty Hill Lane. There is a small lot with room for six or seven cars. A bright-yellow boundary blaze marks the start of the hike.
This quiet, wooded hike includes both the white-blazed Appalachian Trail and purple-blazed Old Trail, a hiking trail that was a part of the AT from 1983 to 2004.
In 2004, the iconic Appalachian Trail was re-routed to its current route through Sky Meadows State Park. Old Trail was left to become a part of the state park trail system.
This 5.5-mile loop hike begins just west of the main parking area for Sky Meadows State Park. Start on green-blazed Boston Mill Road, which is left of the Park Office.
From here, you'll connect with the red-blazed Piedmont Overlook Trail. It's a steady ascent, but you'll be rewarded with views from Lower and Upper Piedmont Overlooks.
On the back side of the loop, you will take in views from Whitehouse Overlook, then connect with a southbound section of the Appalachian Trail.
Near the end of the hike, turn right at the sign that reads "Spur to George's Overlook" for southeasterly views. It's also a must to stop for the Snowden Manor Ruins Site.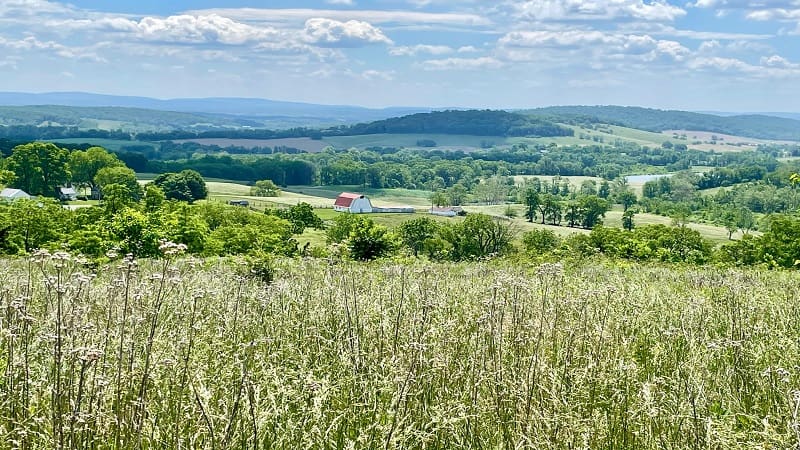 Let me start by noting that this Sky Meadows hiking trail does not touch the Appalachian Trail, but it is one of my favorite trails at this vista-filled state park.
The far-reaching views on this 3.5-mile loop hike are first-rate. Plan to hike clockwise. I hiked counter-clockwise, but feel the clockwise views would have been superior.
Like the Piedmont Overlook Hike, begin from the main parking area for Sky Meadows State Park. Start on green-blazed Boston Mill Road, which is left of the Park Office.
Plan to ascend the yellow-blazed South Ridge Trail, then descend on the blue-blazed North Ridge Trail. On the way up, stop at the Snowden Manor Ruins Site.