Are Teva Sandals Good for Hiking?
Not everyone likes to wear heavy hiking boots or trail runners when hitting the trails. You might be wondering: are Teva sandals good for hiking?
Tevas are a popular brand of adventure sandal that's been around since 1984. People love them for all sorts of outdoor activities from land to water.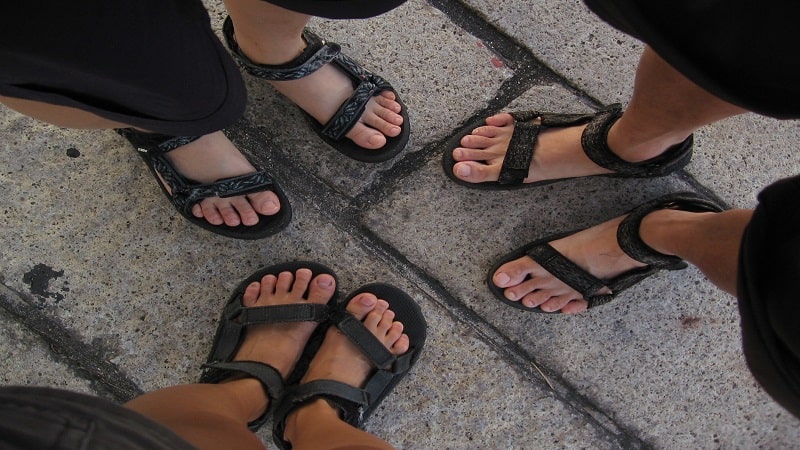 But are they good for hiking? Are they comfortable, and more importantly, do they provide the right kind of support for your feet while hiking?
We're taking a closer look at all that in this article. Let's get into the pros and cons of wearing Tevas, or open-toed sandals, for your outdoor adventures.
Pros of Wearing Tevas
If you already wear and love Tevas, there's a good chance you have your own list of pros. If not, here are some pros of wearing Tevas while hiking.
Tevas are waterproof. Rather, they're water-resistant. If you're hiking on trails with streams or river crossings, then Tevas are a breeze.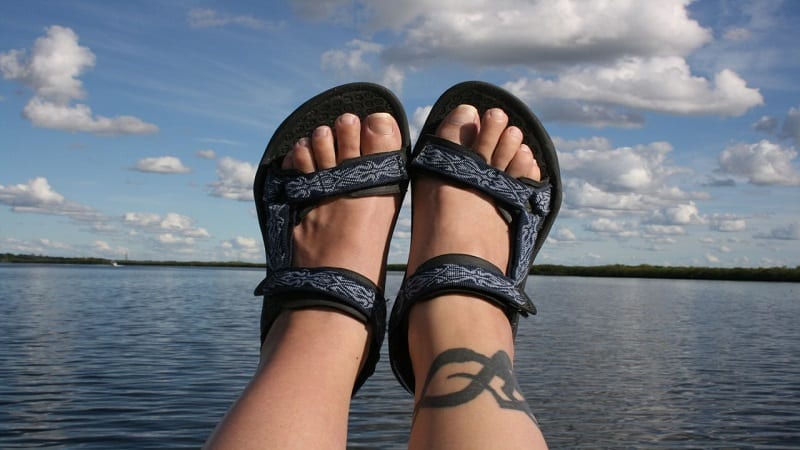 They're so comfortable. Tevas are easily among the most comfortable sandals. With a soft footbed and velcro straps, what's not to love?
Your feet can breathe and dry easily. You don't have to worry about developing blisters and hot spots from wet feet in Teva sandals.
They're lightweight. If you hate how clunky hiking shoes or a hiking boot can be, Tevas are like a breath of fresh air because of how lightweight they are.
Tevas are great on hot days. There's just something about wearing a pair of sandals in the summer and getting that Teva tan line on your feet.
Cons of Wearing Tevas
With all good things come bad things, too. Tevas aren't great for hiking in every scenario, and this list of cons helps explain why that is.
Your toes are exposed. Hiking in Tevas exposes your toes to stubbing on rocks or tree branches, getting scrapes, poison ivy and sharp objects.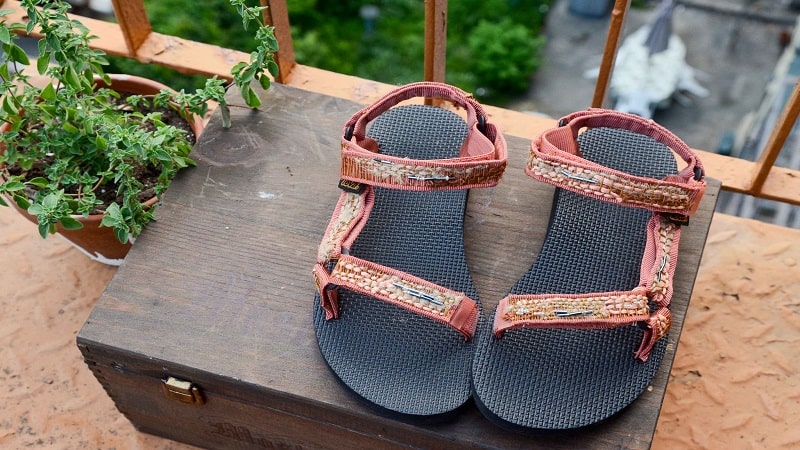 Lack of arch support. Tevas have a bit of arch support built-in, but they still don't compare to boots or shoes that are made specifically for hiking.
No ankle support. Tevas are lightweight and have lightweight straps. These straps don't provide much stability for your ankles on uneven terrain.
Exposed heels. When hiking in Tevas over rocks and roots, you run the risk of injuring your heel if you slip. We know this from personal experience!
Tevas aren't great four-season footwear. These sandals just aren't great for cold weather, even if you wear them with socks.
Best Teva Sandals for Hiking
If you want to wear Tevas for hiking, you might be wondering if there are certain types of Tevas that are best for hiking. The answer is: yes, there are.
Teva makes many different kinds of shoes and sandals. The best ones for hiking have more support and a thicker sole, like the three sandals below.
The Teva Hurricane XLT2 sandals are made for hiking. These sandals feature durable, grippy soles for hiking and adventuring or just running errands.
This style of sandal has a different footbed than traditional Tevas. There is more support and a more rugged sole that can stand up to rough terrain.
Just like original Tevas, this is a comfortable sandal with a foam midsole. These sandals also have hook-and-loop closures for easy on-and-off.
The nylon shanks on these sandals stabilize and support your feet on uneven terrain, which makes them a good choice for a hiking sandal.
The Teva Original Universal sandal is the sandal most people think of when they think of Tevas. These sandals are a very good option for hiking, too.
Teva Originals are durable, comfortable, and dry quickly after getting wet. They can go from land to water and back again easily.
The foam footbeds provide comfort and cushioning for active adventures and impact on the trail, and the rubber outsoles can handle most terrain.
These sandals come in many different styles, sizes, and colors, and have the classic Teva look we know and love. If you want to hike in these, try them out!
The Teva Universal Trail sandal is like the Teva Original, but with a few upgrades that make them even better on the hiking trails.
This style of sandal has an elevated footbed, increased arch support, and a more rugged outsole to handle any terrain. These are made for hiking!
The straps are reinforced with soft linings that help prevent blisters and hot spots and also keep the sandals snug on your feet during adventure.
The outsoles are made from Vibram Megagrip soles for durable, sticky traction on many hiking trail types – even slippery creek beds.
Best Hiking Sandals
Tevas are decent sandals for hiking, but there are others that are even better. From Chacos to Keens and more, you've got options for day hikes.
We put together this list of Teva alternatives that are great for hiking. These sandals come in many different styles, sizes, and types for any personality.
The Chaco Z1 Classic sandal is a great option for hiking. This particular style is a great intro to Chacos because it doesn't have the toe loop like the Z2.
Chacos have adjustable straps to fit any size and width of foot. They also have a podiatrist-certified footbed for all day comfort and support.
These sandals are great for hiking, water sports, and more. The material on Chacos dries quickly so they can easily go from land to water and back.
The outsole is made of ChacoGrip rubber and is specifically designed for grip and stability on many terrain types.
If you want the breathability and breeze of a sandal but you also want a rugged sole and toe protection, Keen is a great choice for you.
The Keen Newport H2 sandals are a beast on and off the trail. These sandals have a 10-point fit to keep your feet secure on rugged terrain.
The Keen sandals are great for both land and water and come with EVA insoles with arch support for all day comfort both on and off the trails.
These closed-toe shoes are treated with a pesticide free anti-odor control to keep them fresh and they're machine washable, too.
The ECCO Women's Yucatan sport sandal has a similar styling to Teva, but these sandals are much more rugged – both in look and in function.
So if you like the look of Tevas but want a more rugged outsole, these sandals are a great option. The molded footbed also has a 1" heel lift.
The footbed is lightweight, too. It has great cushioning and provides stability for your feet for both smooth and uneven terrain and trails.
The ECCO sandals come in many different color variations and styles, too. There's something for every personality with these sandals.
The Bedrock Cairn 3D Adventure Sandals are a flip-flop style sandal hybrid with a heel strap and rugged outsole for outdoor adventuring.
These sandals have a minimalist footbed that conforms to your feet for superior ground feel and flexibility. However, they're still supportive, too.
The lightweight Vibram Regolith outsole provides plenty of grip for dry conditions. If you want grip in wet conditions, check out the Pro version.
The only downside to the Cairn Adventure sandals is that more of your foot is exposed. But if that's what you're looking for, they're perfect!
Last but not least, the Hoka Hopara is great high performance hiking sandal that combines the breathability of a sandal with the support of a hiking shoe.
These sandals offer closed-toes, heel protection and all-around support. They also have cutouts for breathability.
These sandals are made to move through any terrain, whether wet or dry. The outsoles have multidirectional lugs for grip on uneven and slippery surfaces.
They have a responsive and cushioned feel and provide great support where you need it when hiking on any trail. The Hopara is a great hiking sandal.
Frequently Asked Questions
Whether or not you choose Tevas, they're a great sandal and have been the go-to footwear for many adventurers since they were created in 1984.
And if you've got questions, we've got answers. Here are some frequently asked questions about hiking in open-toe adventure sandals like Tevas.
* How do you pronounce Teva?
According to their FAQ on their website, Teva is pronounced TEH-VAH, with a soft "e." Teva is the Hebrew word for nature.
Of course, most people don't know this and still pronounce it with a hard "e." If that's you, don't worry. We still know what you're talking about.
* Are Tevas waterproof?
Yes, Tevas are waterproof in the sense that the materials they are made from are impervious to water damage because they dry quickly.
But they're not waterproof in the sense that your feet won't get wet. They are open sandals, after all. They're made for water activities.
* Is it okay to wear socks with Tevas?
Yes it's totally okay to wear socks with Tevas. In fact, Teva encourages it and even sells their own socks to wear with their sandals on their website.
Whether or not it's socially acceptable is another question, but it seems like the socks-with-sandals thing is coming back into style. We say: go for it!
* Are Tevas vegan?
Some Tevas are vegan, but not all of them. Teva makes vegan versions of almost all of their most popular styles, which you can shop for on their site.
If you're looking for strictly vegan sandals, you'll be happy to know that Teva has a whole section of their website dedicated to their vegan offerings.
* Do Tevas get slippery when wet?
Tevas are made to be worn in the water, so the outsoles provide great traction on slippery surfaces. However, the footbed can still become slippery.
One good thing about Tevas is that they dry quickly and are as breathable as a shoe can get, so the footbed doesn't stay slippery for long.
* How do you clean Teva sandals?
According to Teva, the best way to clean your sandals is by hand washing them with antimicrobial soap and warm water in a sink or bucket.
Teva advises against machine-washing your sandals as this can cause undue stress and wear and tear on the materials. Hand washing is best.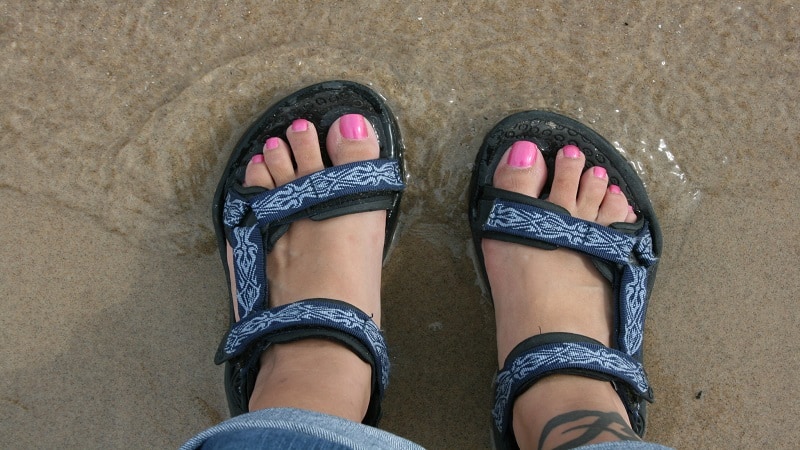 * Can you recycle Tevas?
Yes, Teva has a recycling program for their worn sandals called TevaForever. This program will recycle any and all kinds of Teva sandals.
You don't need to clean them to send them in. And, they don't need to be in good condition. TevaForever accepts any worn out Teva sandal for recycling.
* Can you get blisters from hiking in Tevas?
Tevas can cause blisters, just like any other shoe can. However, wearing Tevas doesn't make you more likely to get blisters on your feet.
Blisters form from shoes rubbing on one spot, or walking for a long time with wet feet. Be sure your Tevas have a perfect fit to avoid blisters.
* How far can you walk in a pair of Tevas?
You can walk as far as you want to in a pair of Tevas. Of course, as long as they're comfortable and aren't causing you issues with sore feet.
Tevas are high-quality sandals and have many different styles and support levels to choose from, so there really is no limit to how much you can wear them.
* Can you wear Tevas on rocky terrain?
Yes, you can wear Tevas on rocky terrain. Some versions of Teva sandals like the Hurricane or the Universal Trail style are made for rocky terrain.
Most Tevas are made for varying types of terrain. From smooth to rugged, wet to dry, you'll find comfort and stability in Tevas.
* How are Tevas different from flip flops?
Tevas are a high-quality sandals with support, a great outsole, and straps to stay on your feet. Flip flops aren't much more than foam and a rubber strap.
Tevas provide more support and comfort and they're much more stylish than a pair of flip flops. They're also a great camp shoe at the end of a long day.
Wrap-Up Notes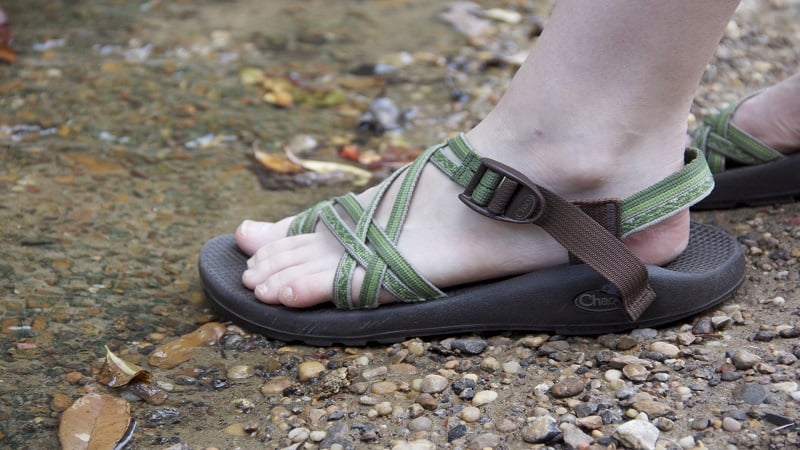 So, are Tevas good for hiking? Yes, they can be, but not in all weather or situations. It's really up to you to decide for yourself.
There are many pros and cons to wearing Tevas for hiking, so it's really personal preference. And, sometimes the trail will dictate that for you.
If you're looking for a lightweight, breathable, and breezy shoe for easy spring and summer hikes, Tevas can be a great and comfortable option.
But if you know you'll be on a particularly rugged trail with lots of scrambles, roots, and obstacles, you may prefer sandals from Keen or Hoka.
The best way to find out? Go try them yourself!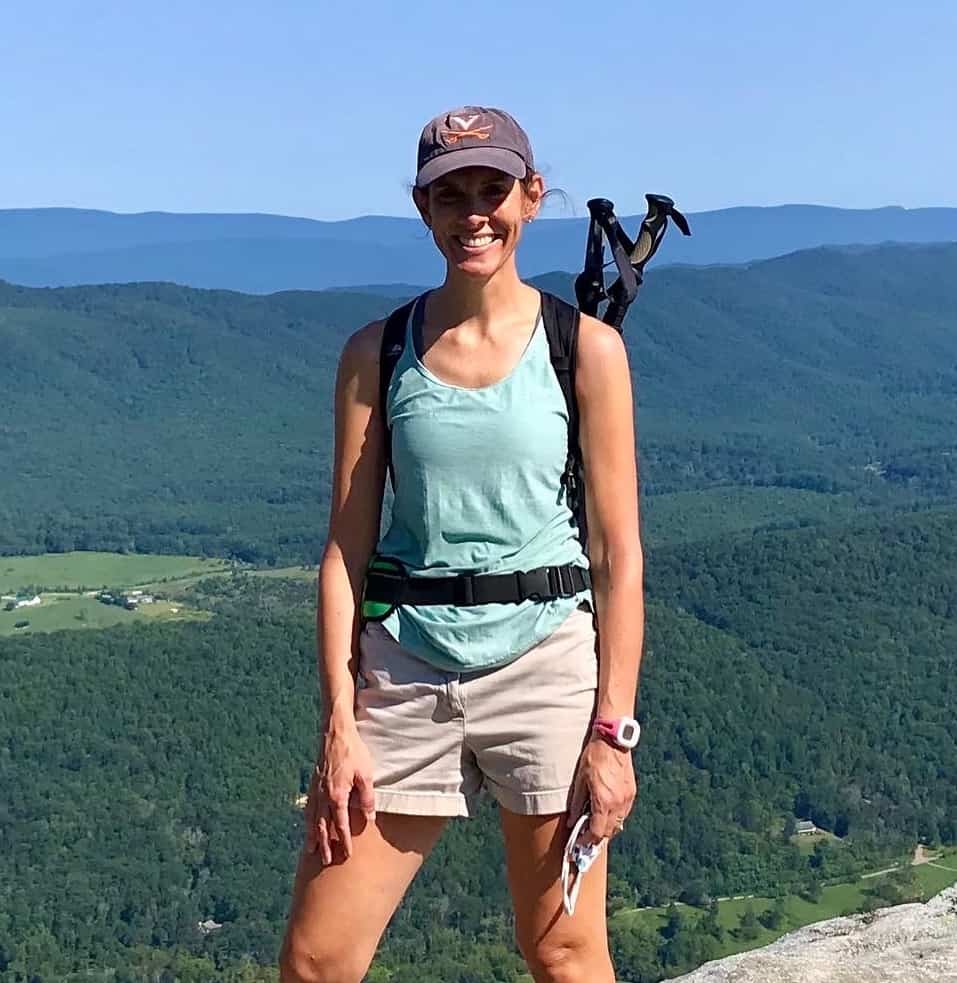 Erin Gifford is the editor of Go Hike Virginia. She has completed more than 300 hikes in Virginia. She is also the author of three hiking guidebooks from Falcon Guides. Need help finding a hike? Check out the Trail Finder feature or send Erin a message.